Blueberry Buttermilk Pie is truly as delicious as it sounds.
We recently dined at one of our favorite restaurants in the Dallas/Fort Worth area called The Classic Cafe at Roanoke and, as always, we were incredibly impressed with the food coming out of very talented kitchen led by Executive Chef Charles Youts.
The Classic Cafe has been open for 25 years, and just keeps getting better and better. Curtis and Chris Wells are brothers, founders and co-owners of the iconic restaurant and make sure guests receive the highest quality experience in ambiance, experience…and especially food and drink.
After a spectacular lunch, Chris suggested we try a dessert item that had returned to the menu after many years. You guessed it…Blueberry Buttermilk Pie.
THIS PIE CAN BE MADE IN YOUR OWN KITCHEN
After one bite, we were hooked. The pie was delicious and though we were stuffed from lunch, we gobbled it up within minutes.
We loved the pie so much that we wondered if Chef Youts would share the recipe with us. Sure enough..he did! And now, we get to share it with you!
Watch us show you how to make this amazing Blueberry Buttermilk Pie!
All the ingredients in this pie work beautifully together.
Now, if you are going to make a pie this wonderful, why not go ahead and make the pie crust from scratch?
It's easier than you might think! Just follow our recipe for Perfect Pie Crust for a flakey, delicious crust! It can even be made a day (or two) ahead of time!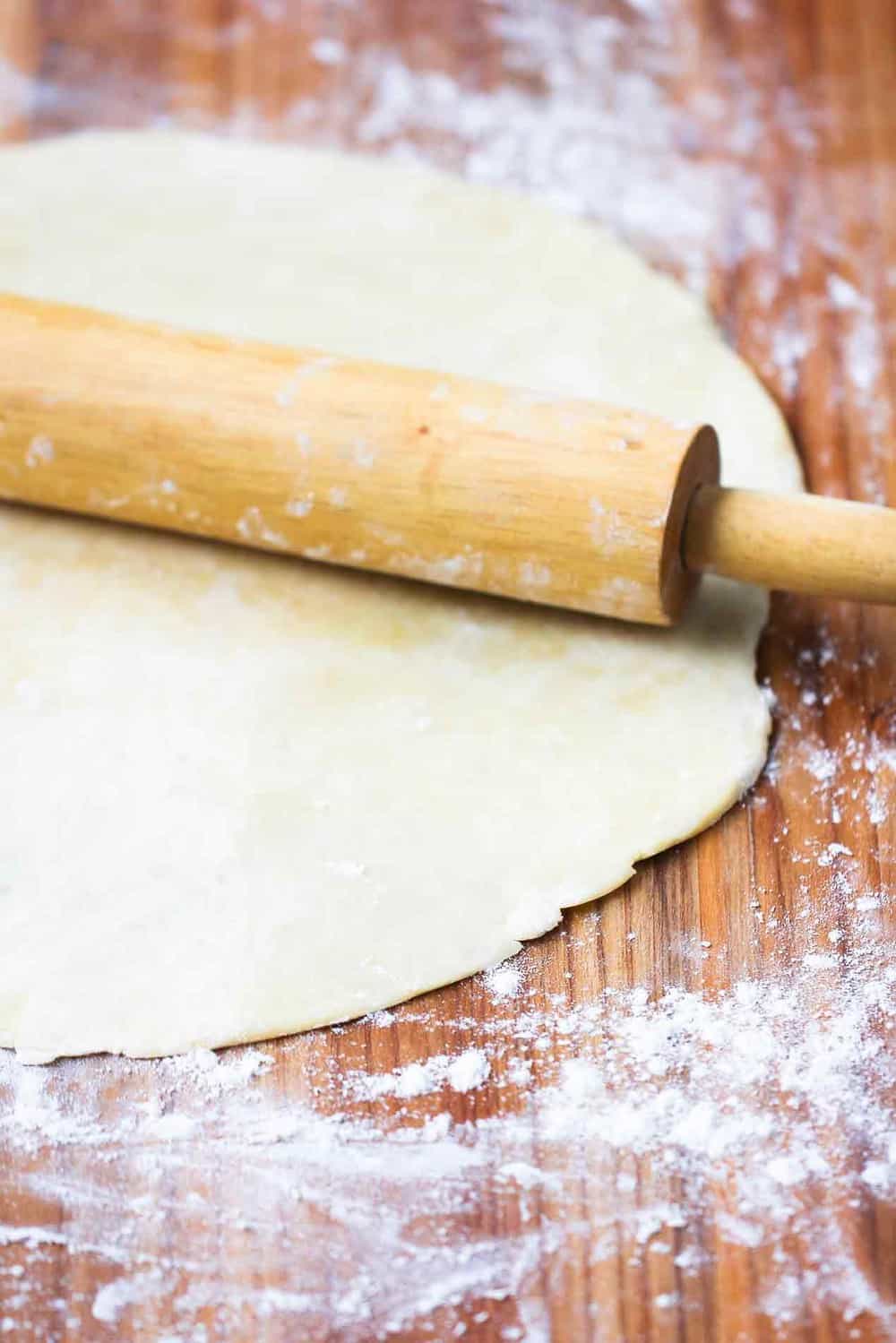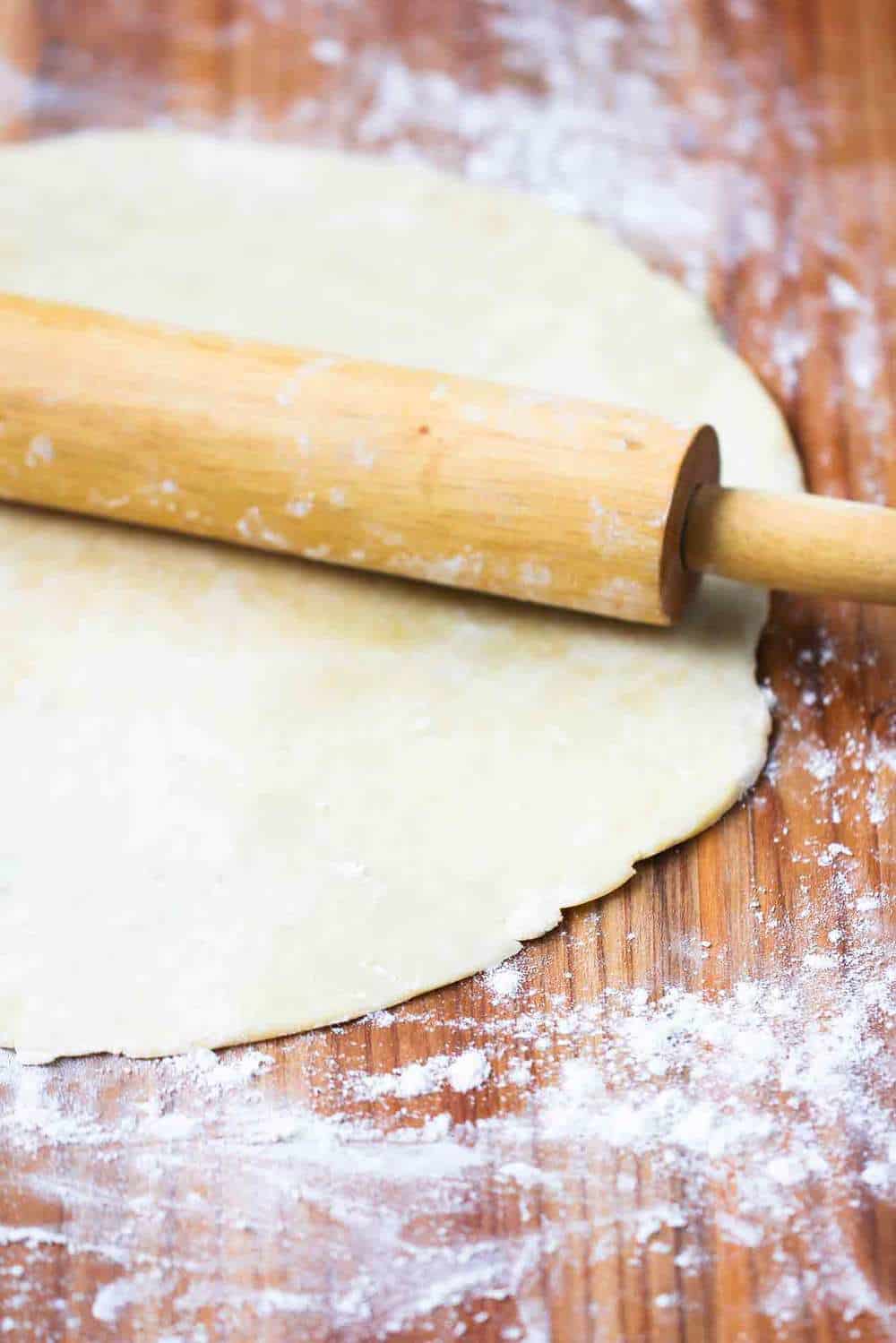 BLUEBERRIES ARE IDEAL FOR BUTTERMILK FILLING
We love blueberries.
Fresh, vibrant and bursting with flavor.
You could substitute raspberries or blackberries, but we have a special place in our hearts for blueberries. Maybe they remind of us of the gorgeous Texas bluebonnets that inhabit the state during Spring and Summer months.
If you love blueberries as much as we do, you'll flip for our: Homemade Blueberry Tarts, White Chocolate and Blueberry Muffins and our Lazy Day Blueberry Cobbler!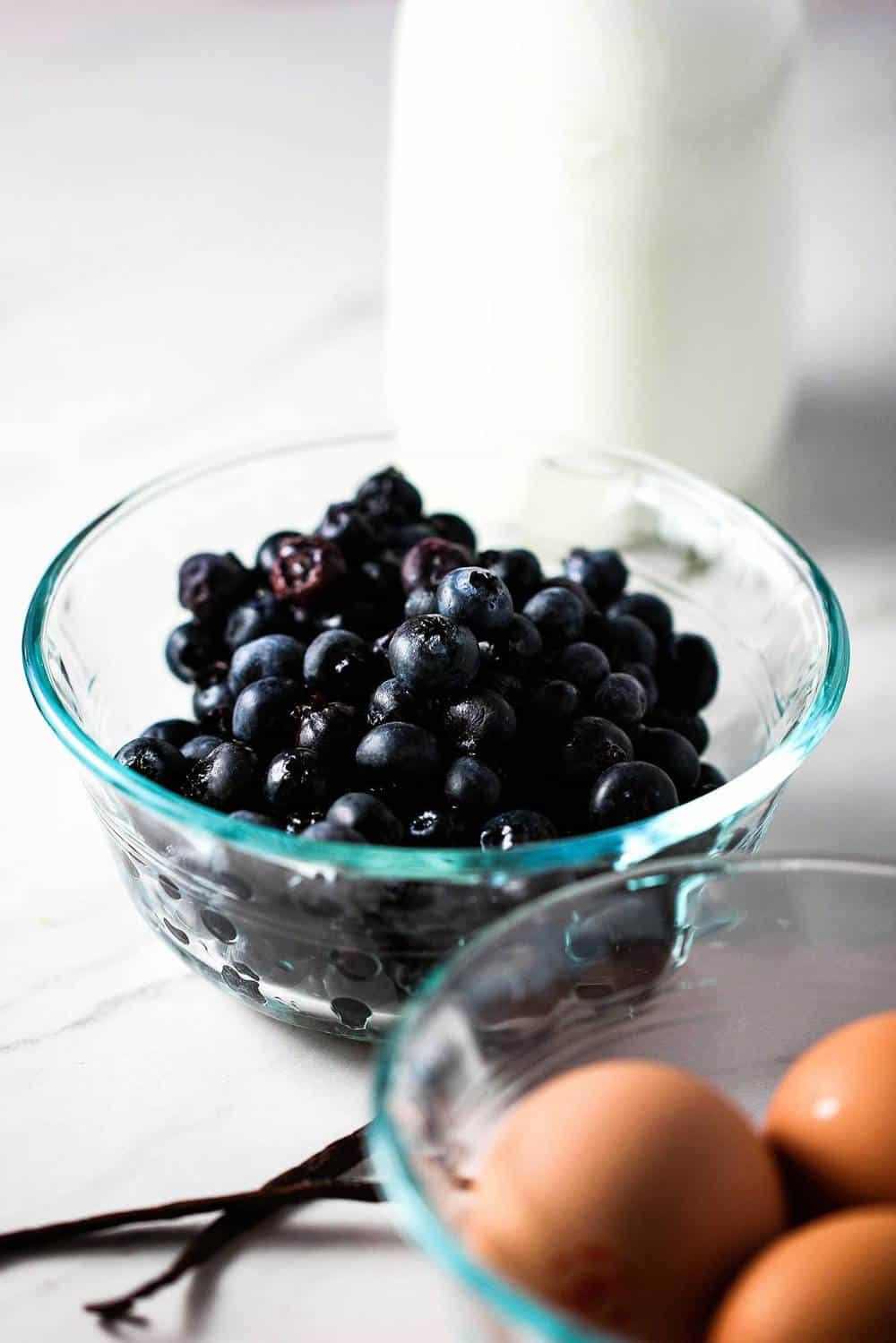 The custard filling is so silky and creamy.
You can just imagine the taste of this amazing Blueberry Buttermilk Pie as you gently pour it into the pie dough.
This is the good stuff!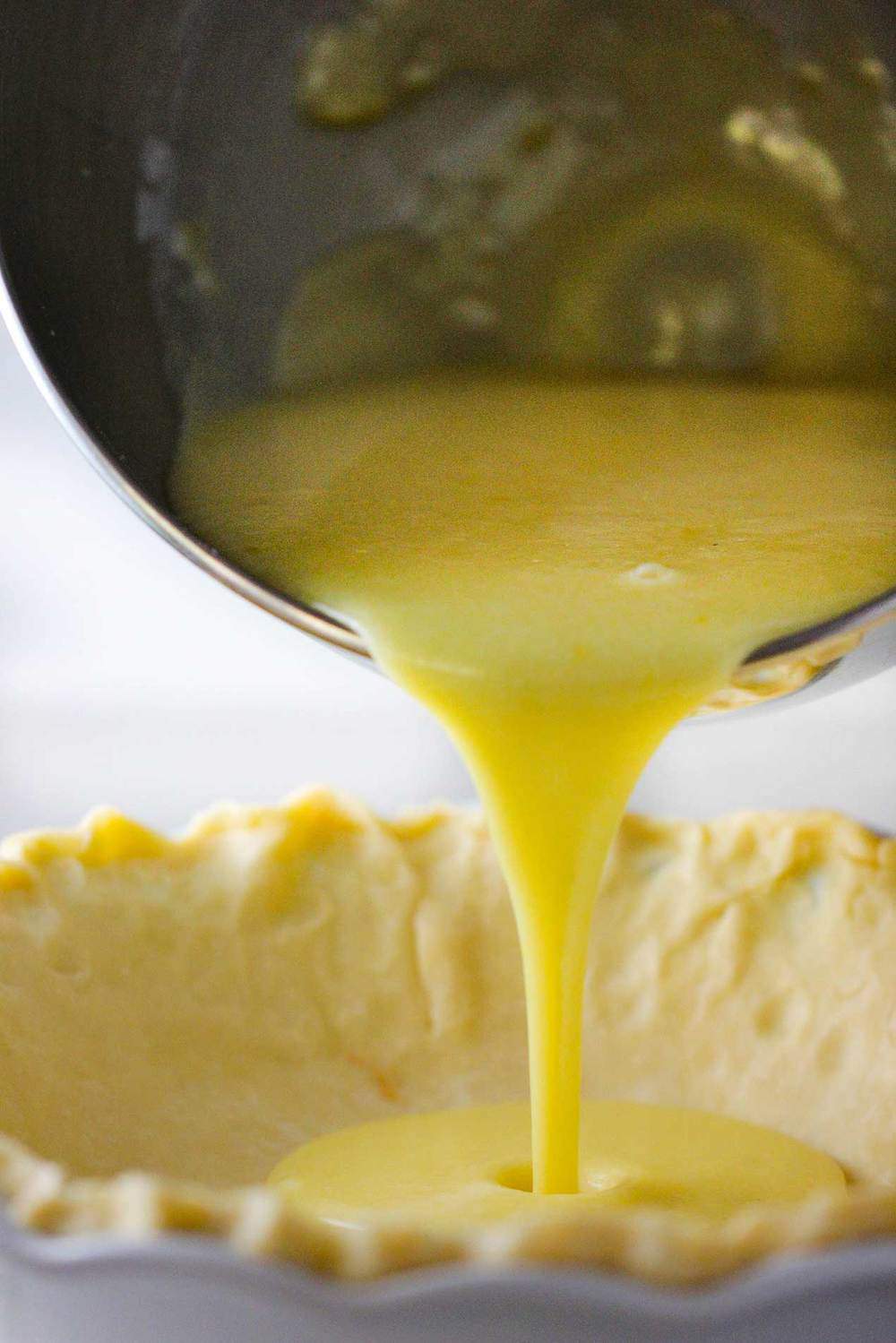 Simply drop the blueberries into the custard before baking. If you can't find fresh, you can certainly substitute frozen. But…try and find fresh!
As the pie bakes, a few of the blueberries will pop open and release their amazing juice.
Did we mention how much we love blueberries?
BAKE THE PIE UNTIL GOLDEN ON TOP
When you place the pie in the oven, the filling will be, obviously, very liquid in nature.
Let the pie bake for 60 minutes, although since some ovens vary, keep an eye on it. It may take a little less, maybe a little more.
You're going to love the way your kitchen smells as it bakes!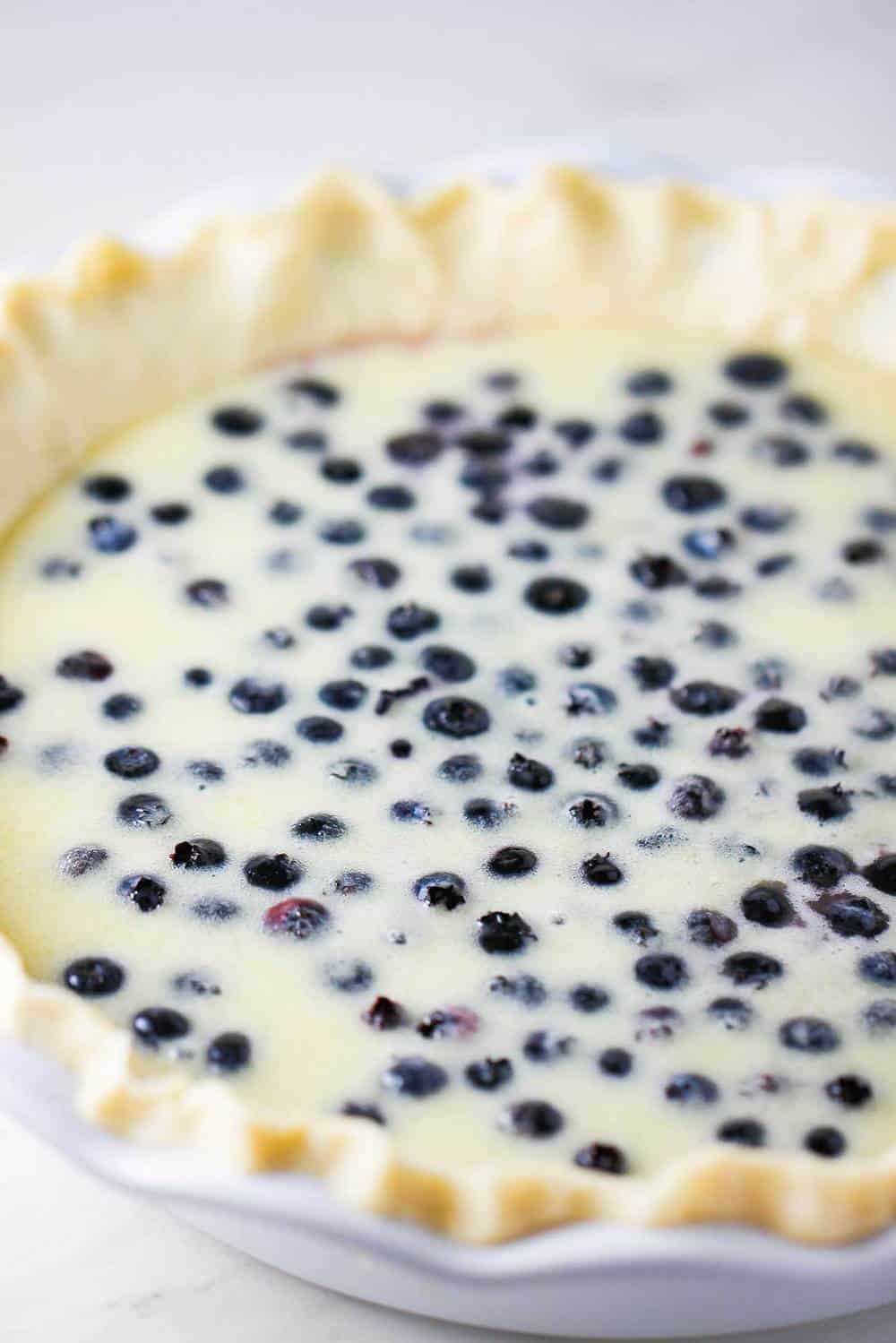 It should get golden brown on top and the center should set. When you remove it from the oven, it may still "jiggle," but that's okay, as it cools, it will completely set.
Once cooked, we like to sprinkle some confectioner's sugar (aka: powdered sugar).
You'll want the pie to completely cool before serving. Which is torture…but hang in there…good things come to those who wait.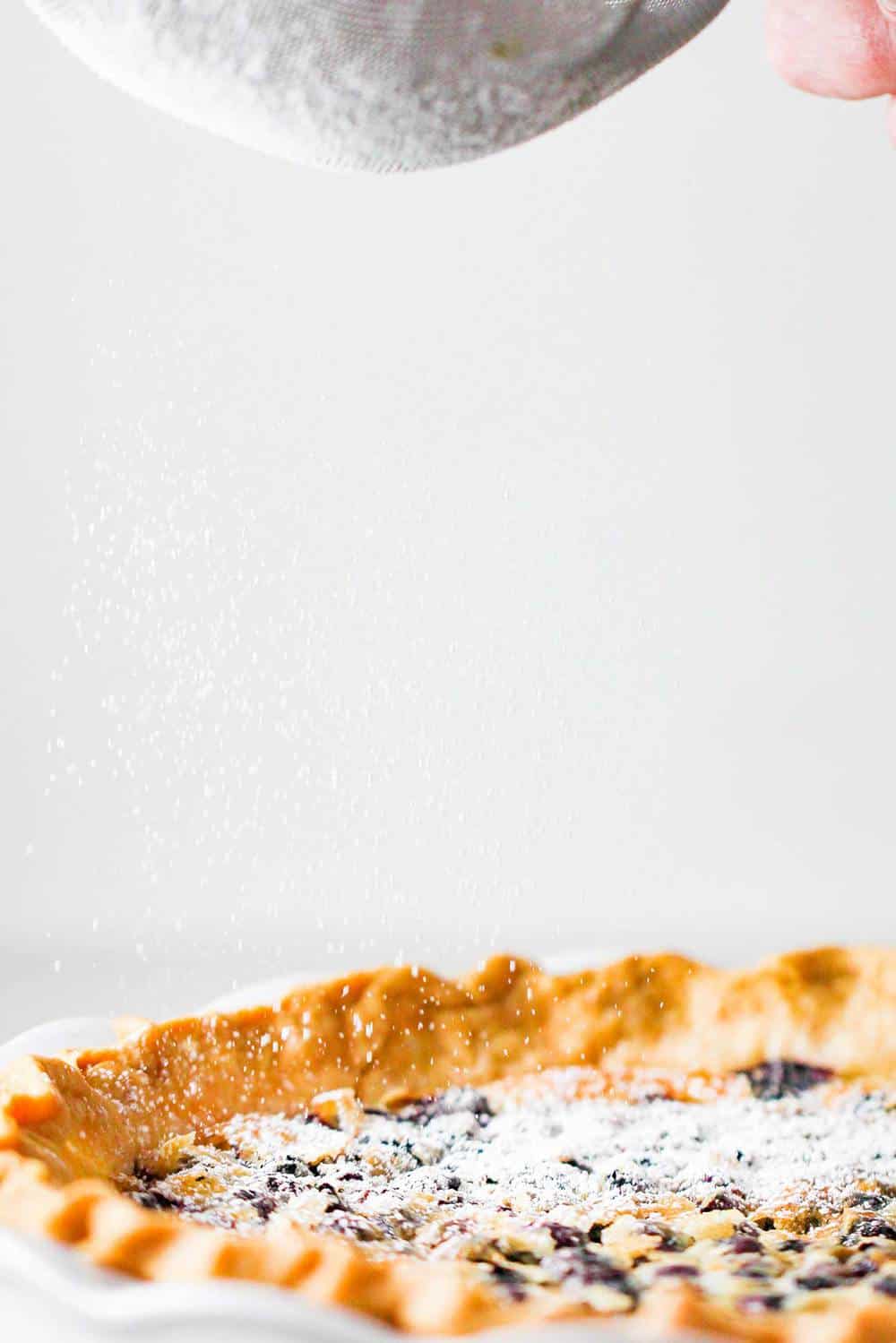 OTHER PIE RECIPES TO TRY
Here are some of our other favorite pies that you've got to try:
Southern Chess Pie
S'Mores Pie
Key Lime Pie
Lemon Meringue Pie
Classic Pecan Pie
In the meantime, go and make this amazing Blueberry Buttermilk Pie!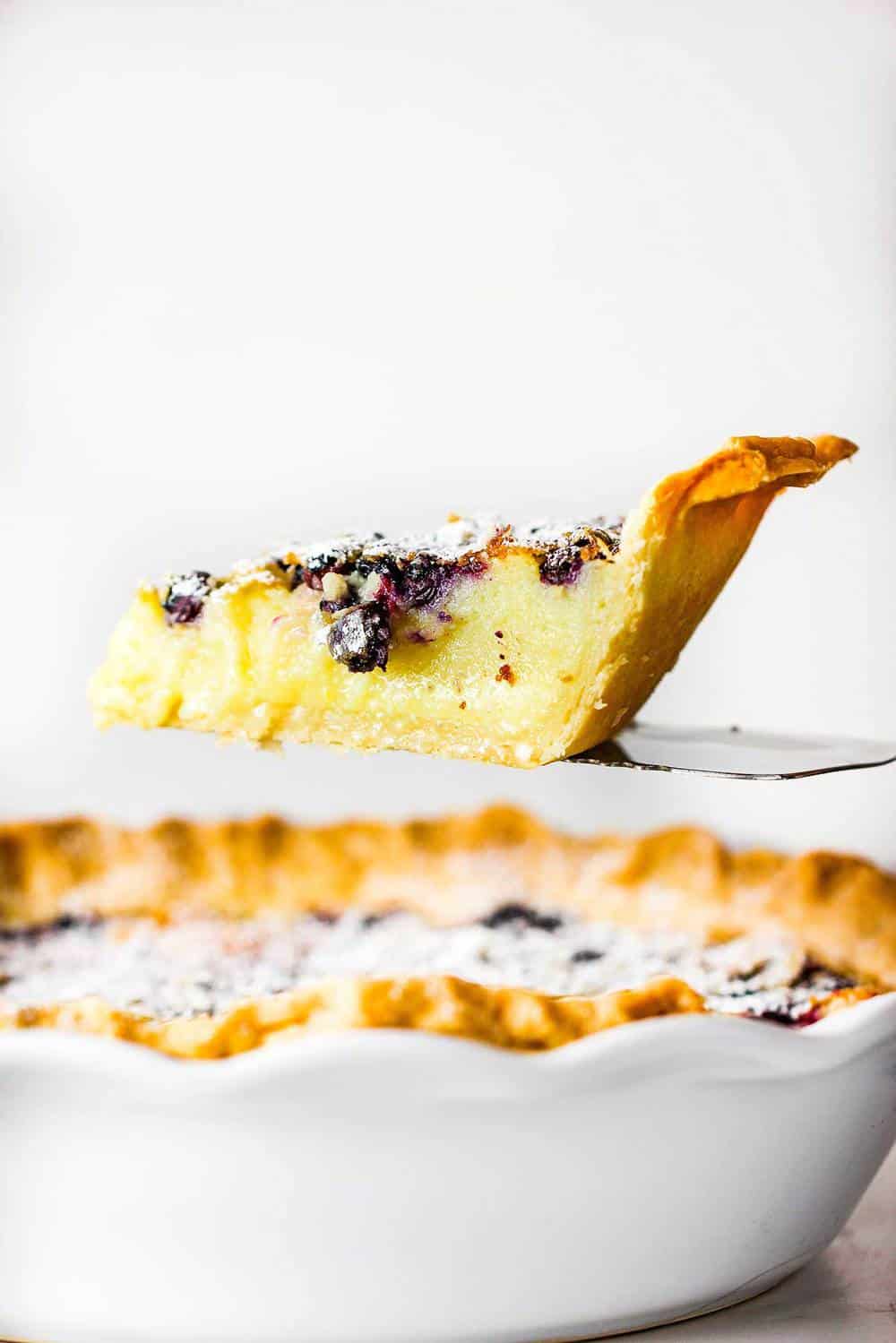 Blueberry Buttermilk Pie
This Blueberry Buttermilk Pie is truly something special. Direct from Chef Charles Youst of the Classic Cafe in Roanoke, TX, this is a pie that is not difficult to prepare in your own kitchen, and one you and you're loved ones will want time and time again. Be sure to make the Perfect Pie Crust!
Print
Pin
Rate
Servings: 6 people
Calories: 328kcal
Ingredients
1 13-inch pie dough
1 1/2 cups granulated sugar
1/4 cup all-purpose flour
8 tbsp unsalted butter melted
3 large eggs
1 cup buttermilk
1/2 tsp vanilla extract
1 pint blueberries fresh, or frozen
Confectioners sugar for dusting
Instructions
Pre-heat oven to 325°F.

Lightly spray a 9-inch pie dish with cooking spray. Place the pie dough into the dish and flute edges, if desired. Set aside.

In a large bowl, mix together the flour and sugar.

Using a whisk, pour the melted butter into the flour mixture. Mix until totally incorporated.

Slowly add the eggs in one at a time, allowing each addition to be totally incorporated before adding the next.

Add the buttermilk and vanilla.

Whisk until mixed together.

Pour into pie shell, and then drop fresh (or frozen) blueberries into the custard.

Bake for 60 minutes, or until golden on top and is set in the middle.

Let cool before cutting.

Dust the top of the pie with confectioner's sugar.
Nutrition
Calories: 328kcal