This pie is about as classic as they come, and honestly, not difficult to prepare.
Everyone loves a good slice of pie. Especially when it's made from scratch. There are only a handful of ingredients in this pie, and the homemade pie crust is a must. Of course, this pie is made even better with a dollop of homemade vanilla ice cream. Dessert perfection!
How To Make Peach Pie
As you would probably guess, peaches are the most important ingredients in peach pie.
If you can get your hands on Stone Free, they are really easy to work with (the pit comes out easily), but you have other options, too. See below for more information on that.
NOTE: If you liked this video, please subscribe to our YouTube channel. Remember to click the little 'bell' icon so you'll never miss a new video. Thank you!
The Ingredients You Will Need
As mentioned, there are just a handful of ingredients needed for this incredible pie. If you can make the pie dough, it really makes a big difference.
Here's What You'll Need to Have on Hand
Pie dough – You'll need enough for two 9-inch pies, one for the bottom of the pie, and one for the lattice top. Store-bought is okay, but homemade is easy and amazing!
Peaches – We get ours from The Peach Truck, but, you seek out the best that is near you. Farm-grown is great. However, frozen will work, too.
Lemon juice – Fresh is best. It brightens the flavor and keeps the peaches from browning.
Sugar – Granulated.
Cornstarch – This helps to thicken the peach mixture once it bakes.
Cinnamon – Ground.
Egg – Lightly beaten, to brush the tops of the pie.
Coarse Sugar – Such as cane or turbinado. Also for topping the pie.
EXPERT TIP: To help with peeling fresh peaches, first make a small 'X' with a paring knife at the bottom of each peach. Then bring a pot of water to a boil. Grab a large bowl and fill it with ice water. Add the peaches to the boiling water for about 30 to 60 seconds. Then use a slotted spoon to transfer them to the ice bath. The skin can now easily be peeled away.
Tips for Making a Perfect Peach Pie
The great thing about this pie is it's not complicated and practically foolproof. But, here are a few tips to make sure you make the best peach pie that will rival the best pie shop in Georgia!
Use Fresh and Ripe Peaches – Fresh and ripe peaches are essential for a delicious peach pie. Look for peaches that are fragrant, slightly soft to the touch, and have a deep yellow or orange color.
Make Your Own Pie Crust – Homemade pie crust is easy to make and tastes much better than store-bought versions. Use a combination of butter and shortening for the best flavor and texture. Use a pastry wheel cutter for an attractive look for the strips of dough on top.
Use an Egg Wash for a Golden Crust – Brush the top of the pie crust with an egg wash made with beaten egg and a little milk or cream. This will give the crust a beautiful golden color and a shiny finish.
EXPERT TIP: See the NOTES in the Recipe Card for instructions on how to make a beautiful lattice top for your gorgeous pie.
How To Serve
You are going to be tempted to cut into the pie before it completely cools after coming out of the oven.
Just be aware that if you do this, the pie will not have "set" and the filling will ooze significantly, and it will be hard to serve. You can easily reheat individual slices in the microwave before serving. Homemade vanilla ice cream is a must!
We recommend letting it rest for at least 4 hours (overnight is even better), and then slice. The first slice is tricky to get out nice and clean.
EXPERT TIP: You can do this in view of your guest, or out of view: Cut the first "sacrificial" slice. It will still get eaten, but for serving, cutting clean slices after that first slice is removed is much, much easier.
Other Classic Pie Recipes to Try
There's really nothing much more festive and crowd-pleasing than a homemade pie. Here are some of our all-time favorites that you and your family will love:
Chocolate Meringue Pie
Classic Cherry Pie
Lemon Meringue Pie
Old-Fashioned Apple Pie
Sweet Potato Pie with Pecan Topping
Key Lime Pie
Southern Chess Pie
Buttermilk Blueberry Pie
Homemade Caramel and Apple Pie
These are amazing in their own right, but right now, isn't this catching your eye?
Folks, there are classic pies and there are classic pies. This is about as classic as they come.
Always a huge hit when served to guests. It's the perfect dessert for an outdoor BBQ, a wedding shower, an anniversary, or just a fun weekend at home with the family.
And, we can't stress the following enough: Have ice cream on hand!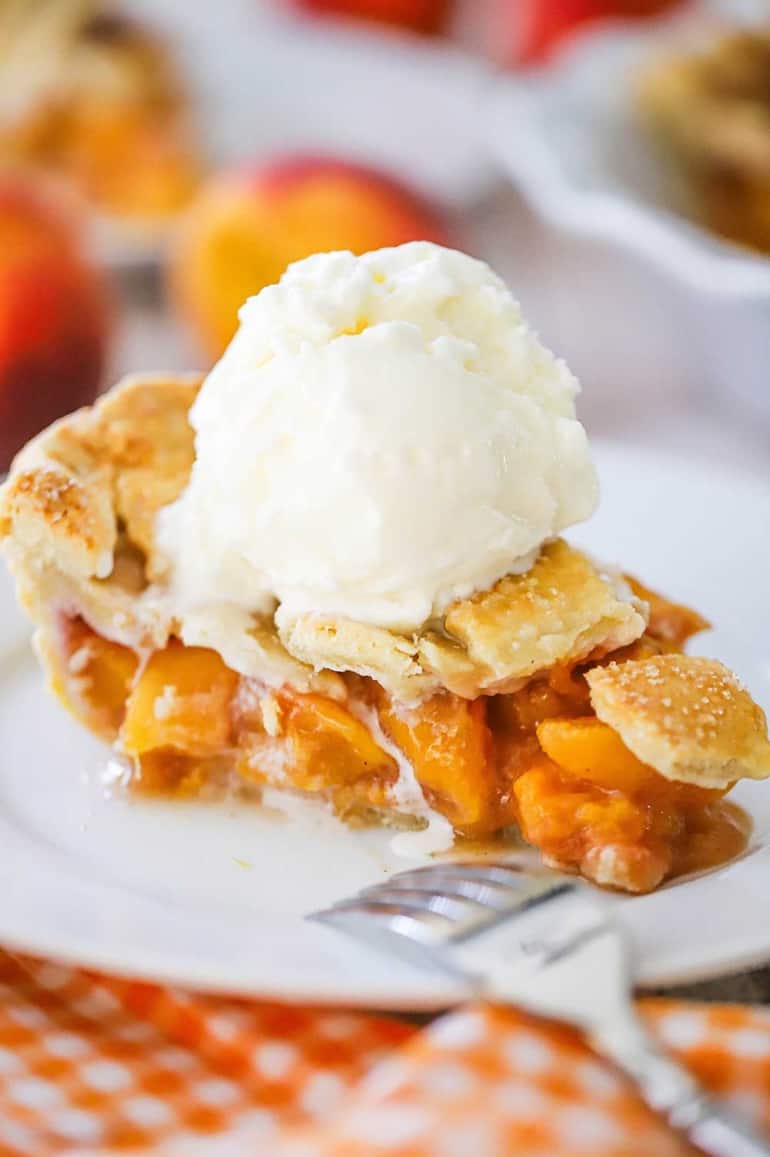 Ready to make the best peach pie this side of Savannah, Georgia? Go for it!
And when you do, be sure to take a photo of it, post it on Instagram, and tag #HowToFeedaLoon and hashtag #HowToFeedaLoon!
Homemade Peach Pie
Homemade Peach Pie is about as classic of a pie as you will find. Fresh peaches at the height of the season are best, but this pie is so good, you could use frozen peaches, in a pinch. The homemade pie dough is not hard to prepare and truly puts the pie in a league of its own!
Print
Pin
Rate
Servings: 8
Calories: 467kcal
Equipment
1 9-inch pie dish glass, ceramic, or metal
Ingredients
2 pie dough enough for 2 9-inch pies
2 lbs peaches peeled, pitted, and sliced (See NOTES)
1 tbsp lemon juice juice from 1 lemon
⅔ cup sugar
2 tbsp cornstarch
¼ tsp Kosher salt
½ tsp cinnamon ground
1 large egg lightly beaten
1 tsp cream or milk, or water
2 tbsp cane sugar or turbinado
Instructions
Do Ahead
Prepare 2 pie doughs (for 2 9-inch pie dishes)

2 pie dough
Prepare the Pie
Roll one of the pie doughs out on a floured surface to an 11 to 12-inch diameter. Gently fold in half, and then quarter. Lift the dough and place it in a 9-inch pie dish. Unfold the dough and press it into the bottom of the dish, allowing the excess to hang over the edge of the dish. Place the dough in the refrigerator for 30 minutes.

Preheat oven to 350°F.

Add the peaches to a large bowl and add the lemon juice. Use two large wooden spoons to gently toss the peaches to coat them with the lemon juice.

2 lbs peaches, 1 tbsp lemon juice

In a medium-sized bowl, mix together the sugar, cornstarch, salt, and cinnamon. Sprinkle over the peaches and gently stir to fully coat.

⅔ cup sugar, 2 tbsp cornstarch, ¼ tsp Kosher salt, ½ tsp cinnamon

Remove the pie dish from the refrigerator and spoon the peaches onto the pie dough. Use the wooden spoon to spread them out evenly.

Roll out the other pie dough into a 10x12 rectangle. Use a pastry wheel cutter, pizza cutter, or knife to cut the dough into strips (1 to 2 inches thick). Create a lattice pattern on the top of the pie. See NOTES for instructions on how to do this.

Gently cut away excess dough along the edge of the pie dish and then use your fingers to flute the dough (see video for reference).

Add the cream to the beaten egg in a small bowl. Brush the egg wash over the dough on the top of the pie. Sprinkle the cane (or turbinado) sugar over the dough on the top of the pie.

1 large egg, 1 tsp cream, 2 tbsp cane sugar

Bake the pie for 45 to 55 minutes, until bubbly and the crust is golden brown. You may need to cover the edges of the crust with foil or a pie crust protector if browning too much.

Remove the pie from the oven and place on a baking rack. Allow the pie to cool completely before serving (4 hours to overnight).
Notes
See the video near the top of the blog post for visual guidance. If you liked the video, please subscribe to our YouTube channel.
Two 16-oz frozen packages of sliced peaches can be substituted for fresh ones. Thaw completely, and do not drain.
The pie will keep refrigerated for up to 5 to 6 days. It will keep on the counter for 48 hours. The pie can be frozen (before baking) for up to 2 months. Let thaw completely before baking as directed.
Use a pastry wheel cutter to make an attractive design for the strips on the top of the pie.
HOW TO CREATE A LATTICE CRUST ON TOP:
Roll out the dough to a 10x12" rectangle.
Cut the dough into 1 to 2-inch strips.
Lay half of the strips across the top of the filled pie.
Fold every other strip back halfway, and then lay down another strip perpendicular across the unfolded strips.
Unfold the strips back into place.
Fold back the alternate strips, and repeat to lay down a strip perpendicular.
Repeat to place the remaining strips of dough evenly across the top, folding back the alternate strips each time.
Cut away excess dough around the edge of the pie,
Use your fingers to flute the top edge of the pie dough (see video for reference).
Nutrition
Calories: 467kcal | Carbohydrates: 54g | Protein: 4g | Fat: 19g | Saturated Fat: 4g | Polyunsaturated Fat: 2g | Monounsaturated Fat: 6g | Trans Fat: 0.003g | Cholesterol: 24mg | Sodium: 271mg | Potassium: 192mg | Fiber: 3g | Sugar: 29g | Vitamin A: 414IU | Vitamin C: 5mg | Calcium: 18mg | Iron: 2mg