Fried Mozzarella is one of those appetizers that I think everyone absolutely loves. You just can't beat the gooey, stringy, and utterly yummy taste sensation that you get with this addictive dish.
And let us tell you, our Fried Mozzarella with Fresh Marinara recipe is about as good as they come.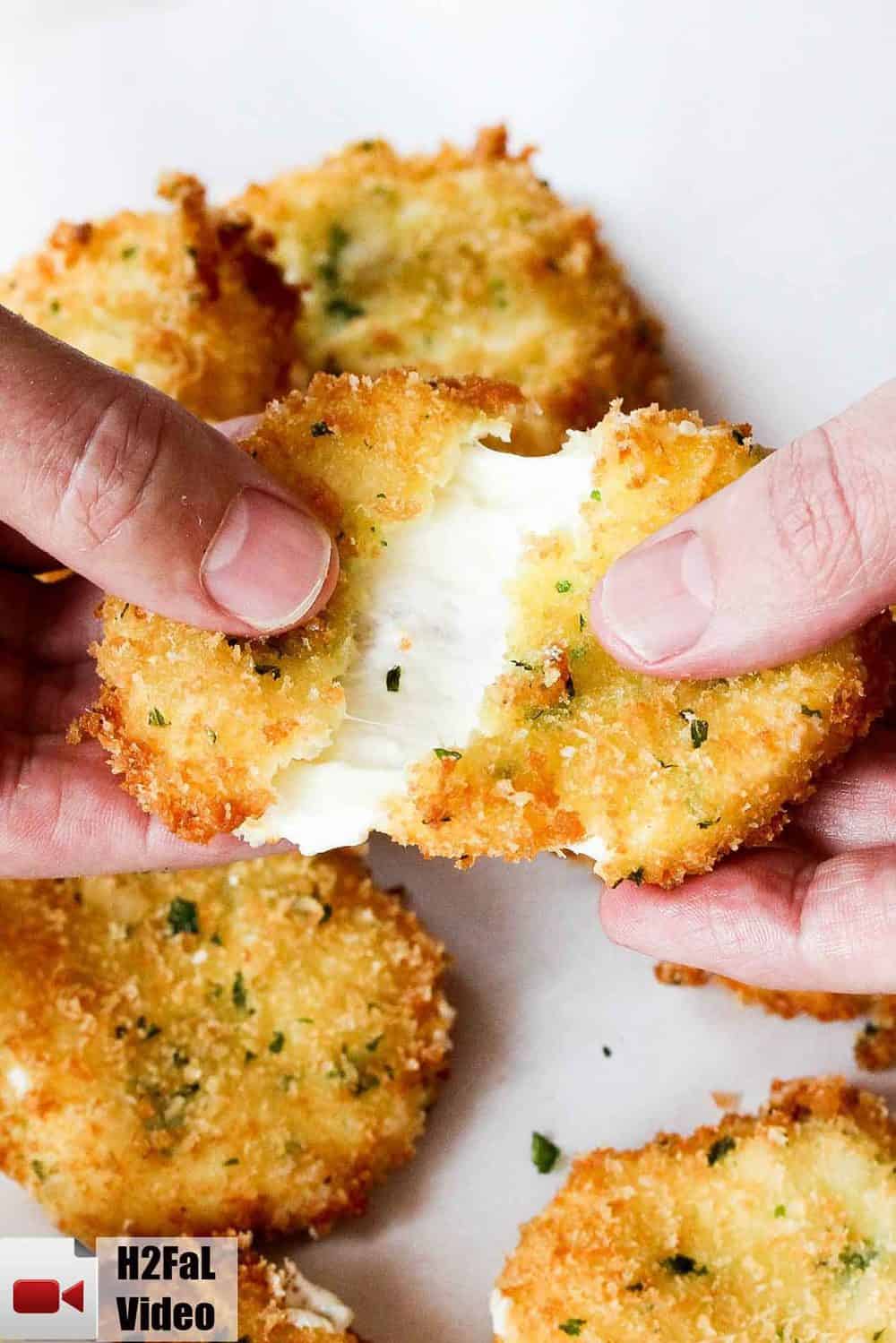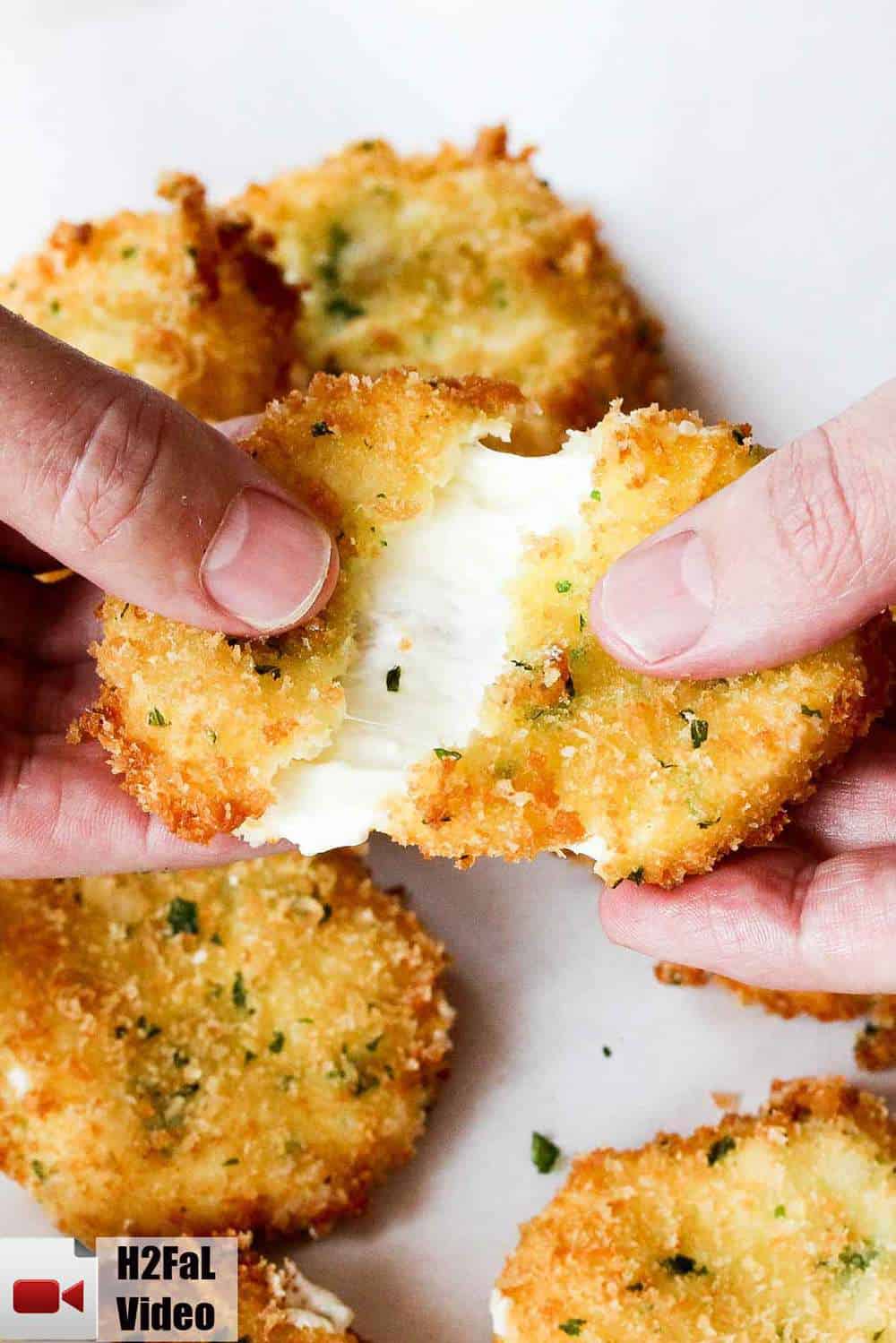 HOW TO MAKE FRIED MOZZARELLA
Making this iconic appetizer is really pretty simple. As with all recipes, choosing top-notch ingredients will always help produce top-notch taste and texture.
Watch us show you how easy it to make homemade Fried Mozzarella!
It should go without say that using a quality mozzarella cheese is key. Don't buy the mozzarella sticks that are in the supermarket cheese section. There is an edible casing around the cheese that makes it impossible for the breading to adhere to. It also doesn't fry very well.
We love to get a beautiful block of fresh mozzarella and cut it into 1/4-inch to 1/2-inch rounds.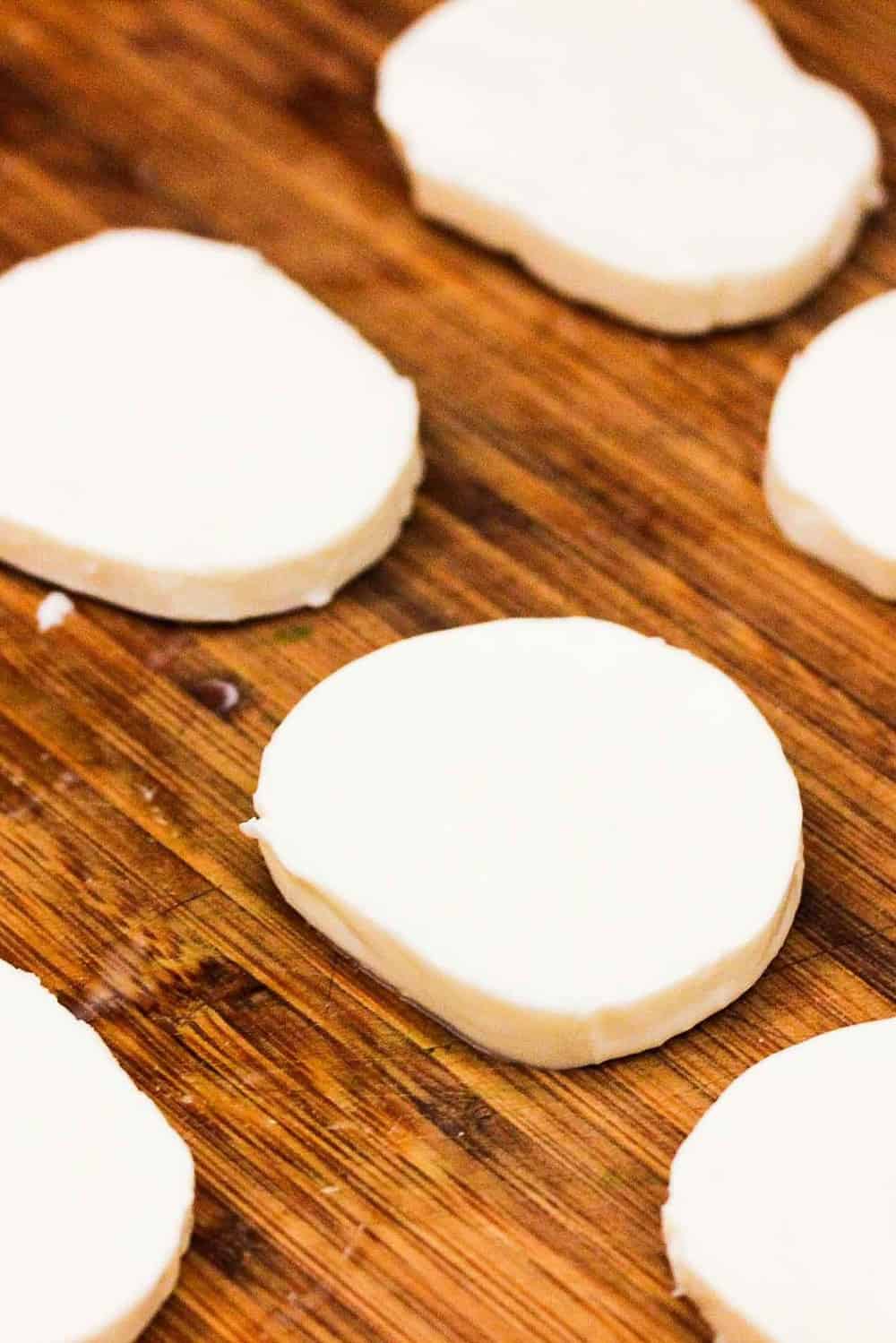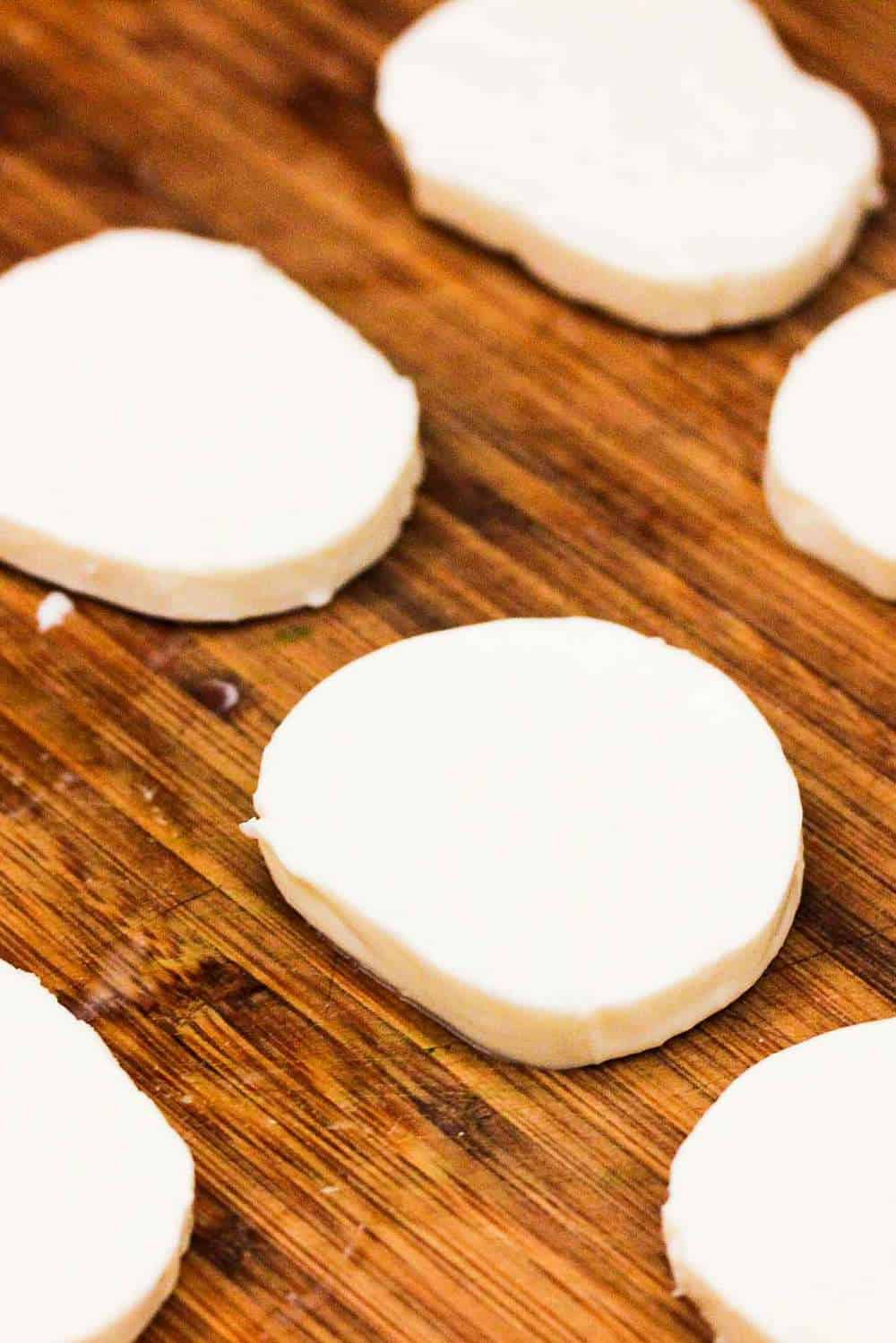 Next, all you need to do is set up your standard dredging line of flour, eggs and breadcrumbs.
Now, the breading is what can set set an average plate of fried mozzarella from a stellar, can't-get-enough-of-this-stuff dish.
We go with a combination of fresh country white bread and Japanese panko breadcrumbs that deliver that ideal crispy, crunchy exterior. Then lock in amazing flavor with parmesan cheese, garlic and herbs.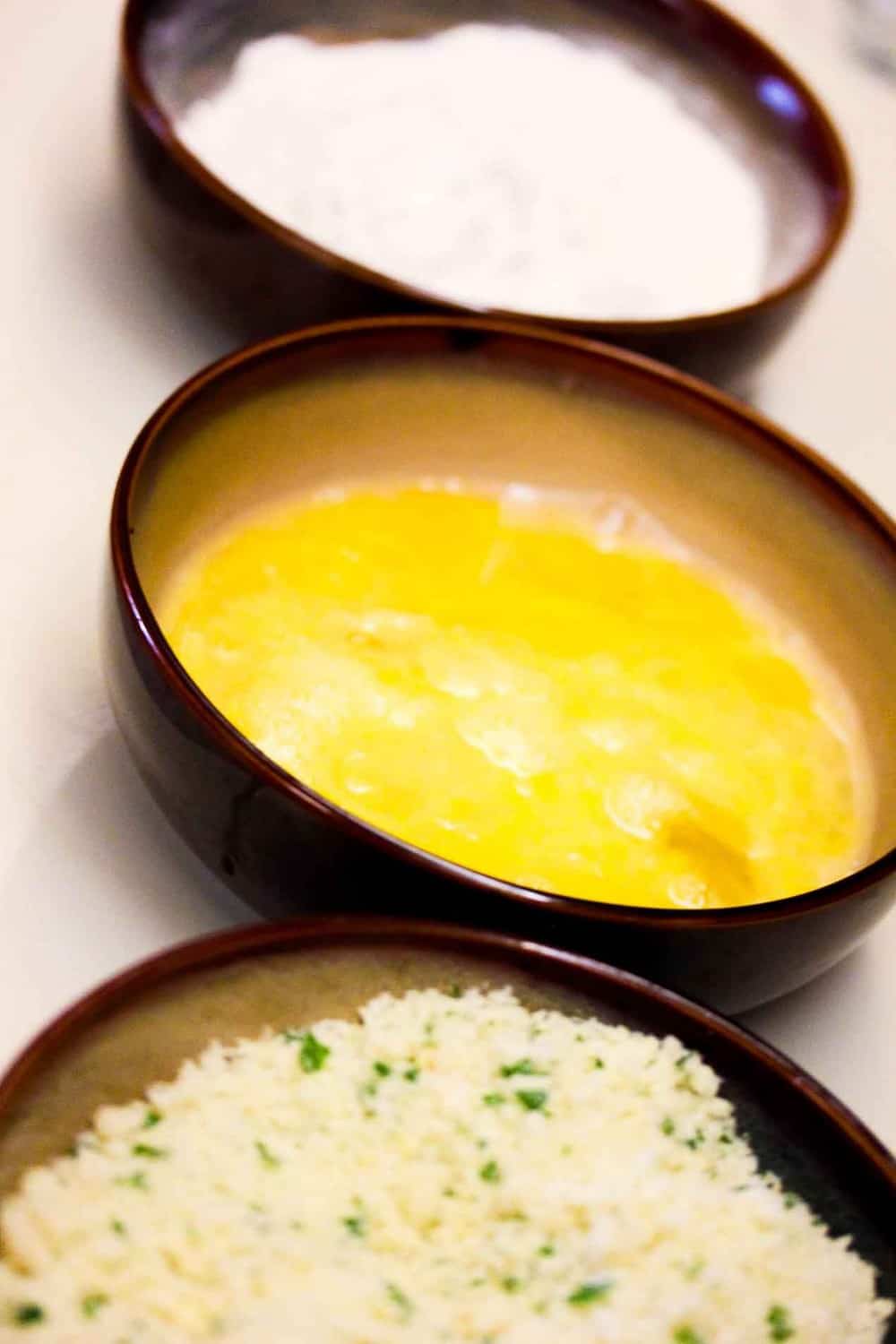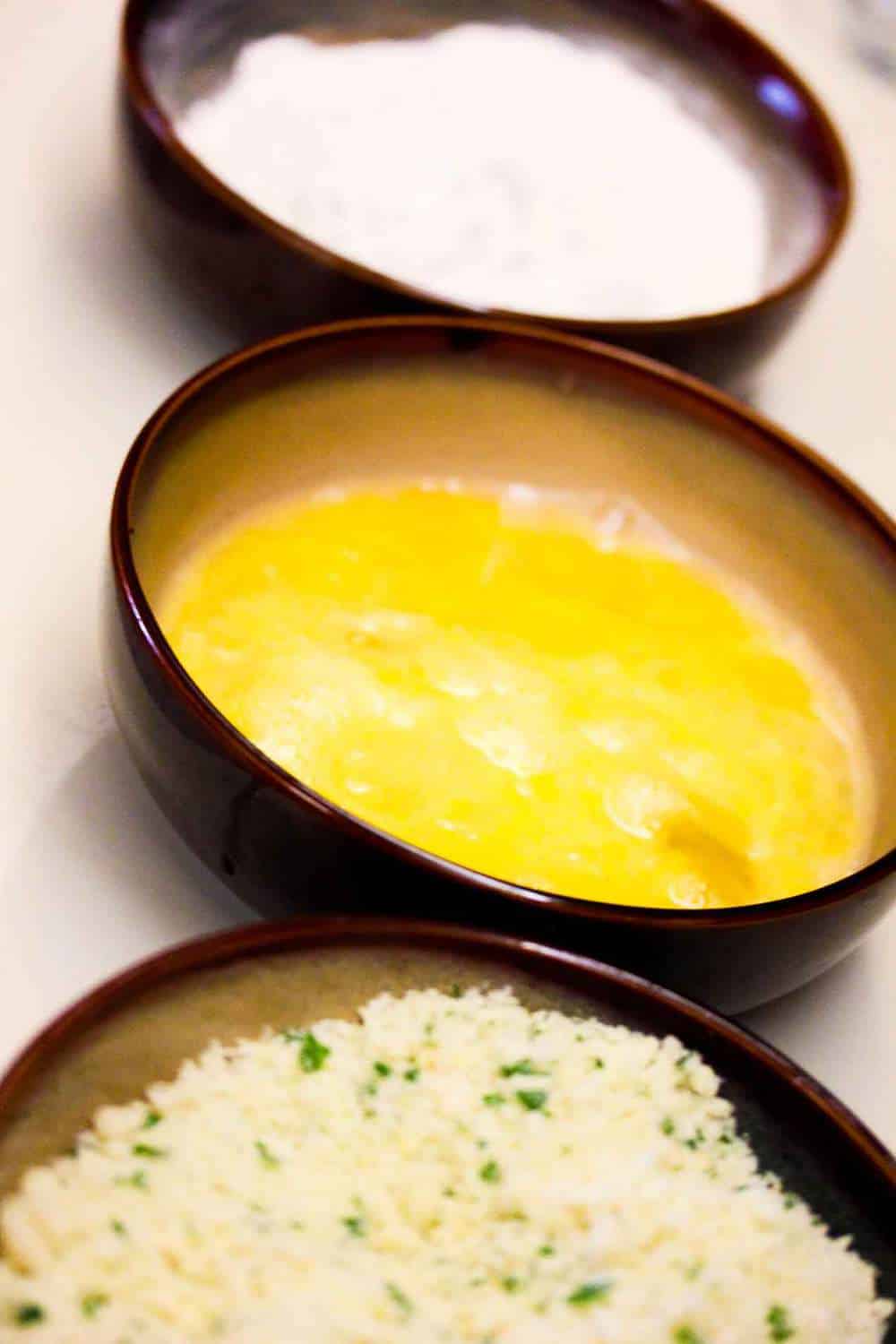 AN UNUSUAL HISTORY
So, like us, you would assume that this delicious plate of food has its roots secured in Italian cuisine, right? Well, actually, that's not the case.
Read more about Who Invented Fried Mozzarella Sticks from this really interesting article from ThrillList.com.
You know what? We really don't care where it came from (but we are grateful for its origins); we're just really glad it's here right now, and we can go make it anytime we feel like it.
Which is often. Like right now.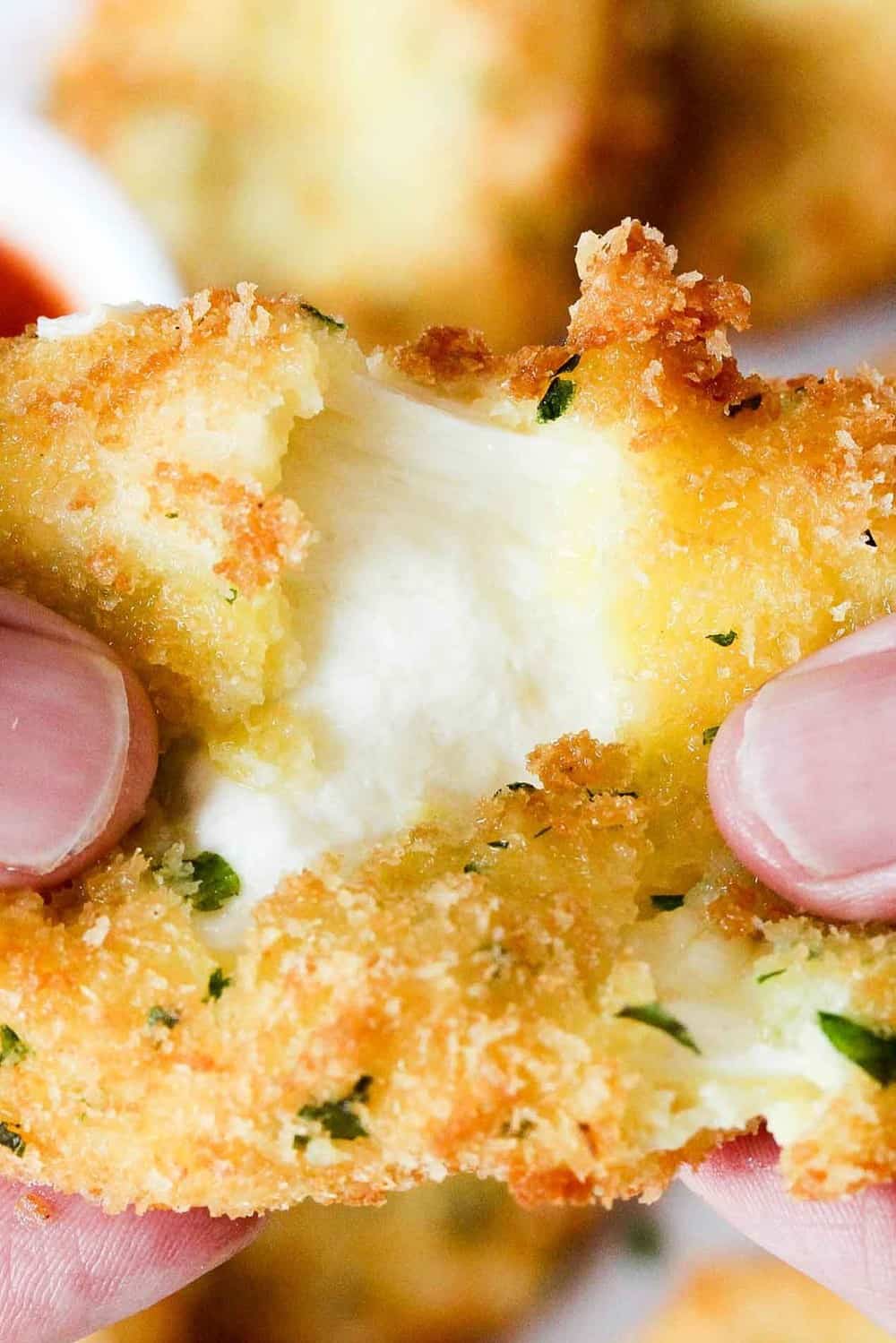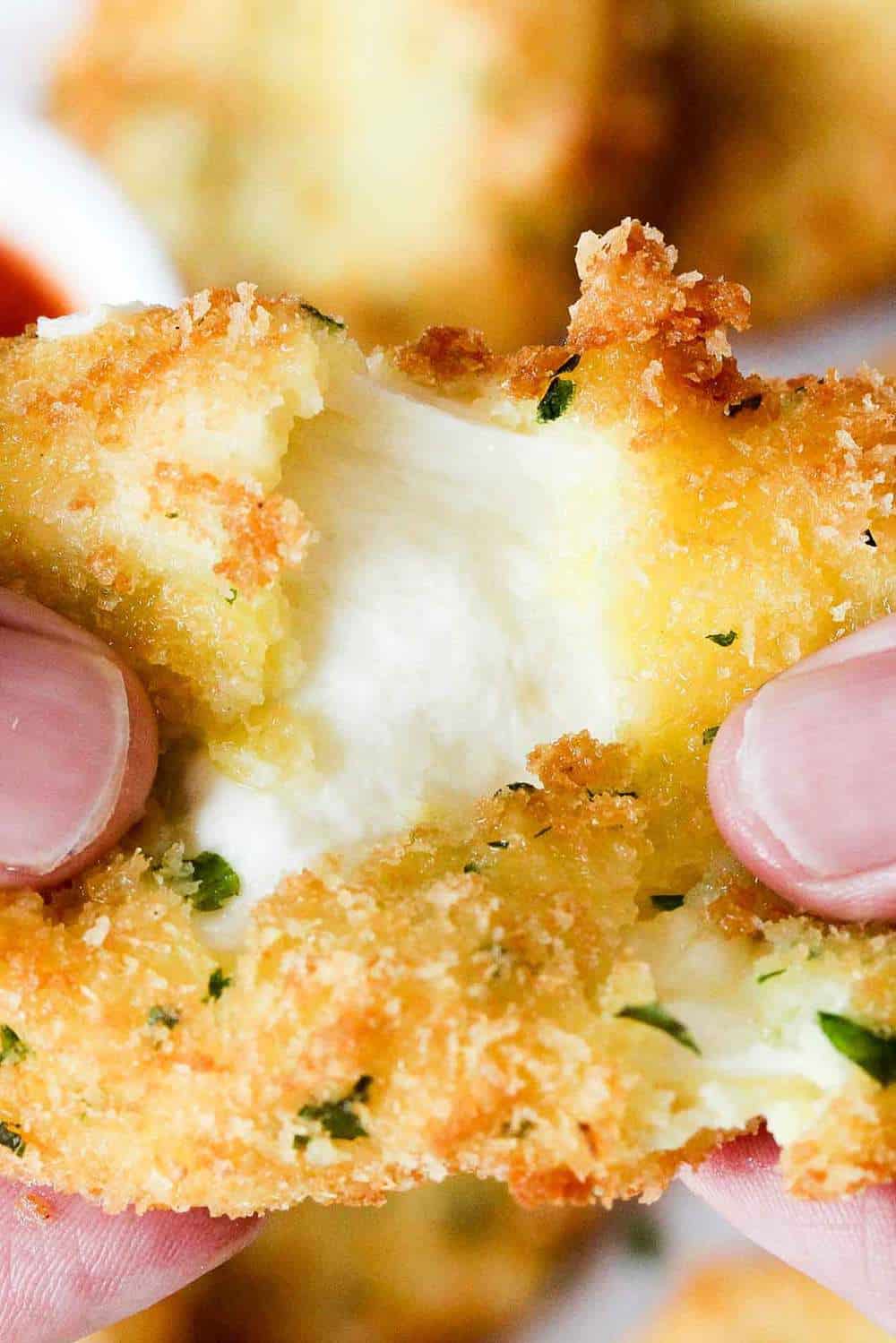 Okay, one more secret to making the best Fried Mozzarella in the world: You've got to have amazing Fresh Marinara. Our marinara recipe is so flavorful and is the perfect compliment to the crunchy and creamy fried mozzarella.
I think we can safely safe this is about the best fried mozzarella you'll ever have, and you're guests will absolutely love it. But don't worry, you'll still enjoy ordering elsewhere. It probably won't compare to yours, once you make this recipe at home…but fried mozzarella is so yummy, even the second-best versions are sill pretty tasty.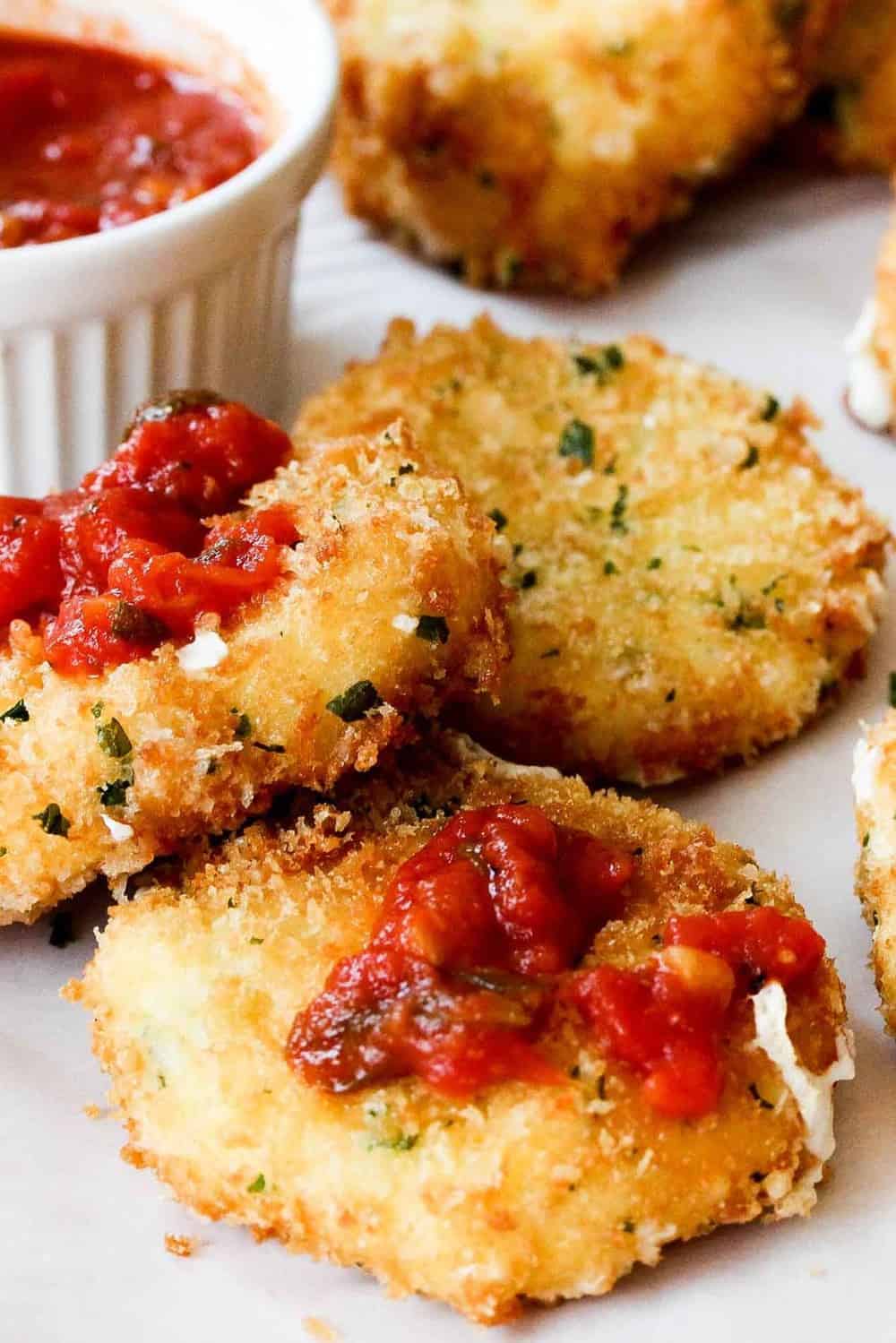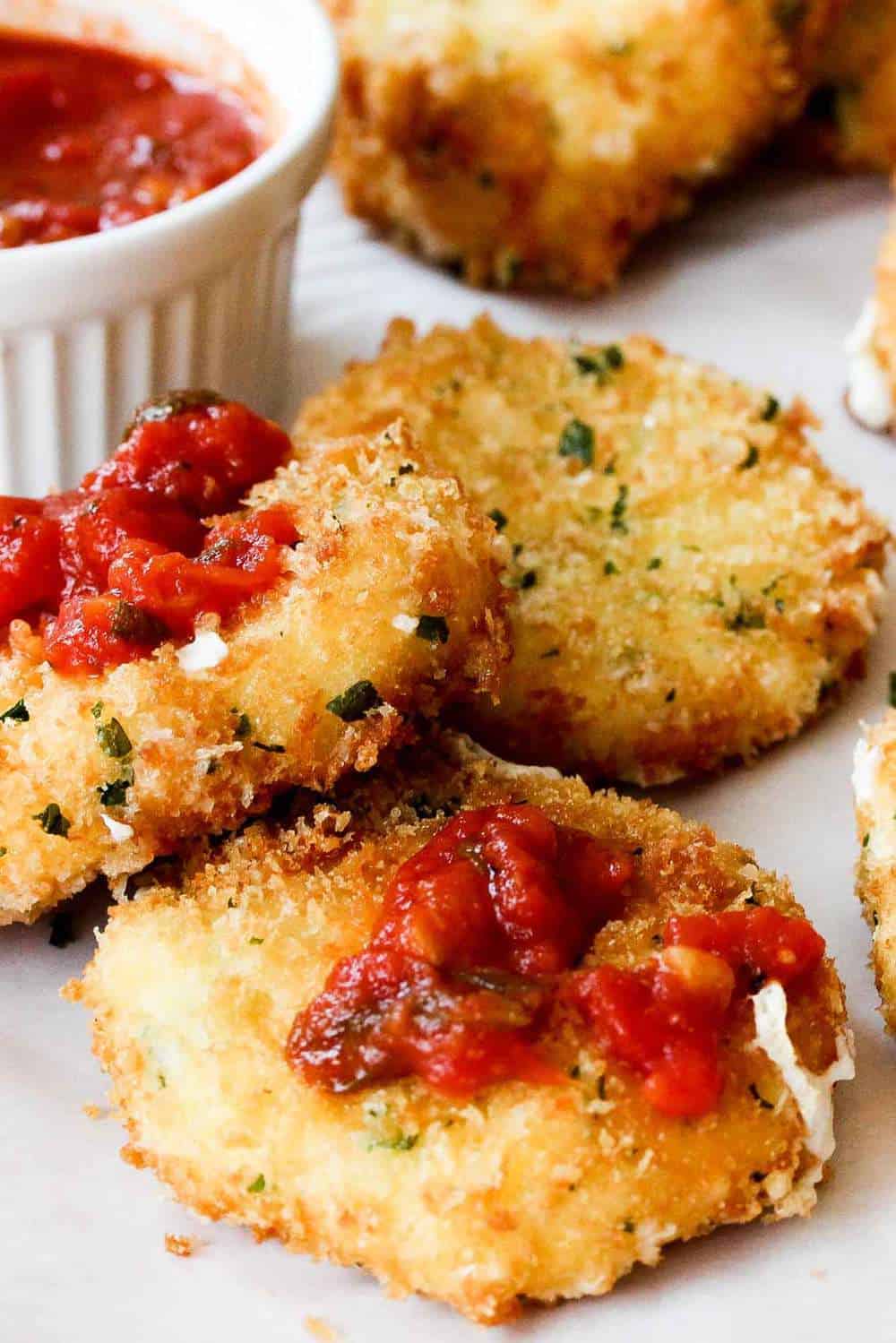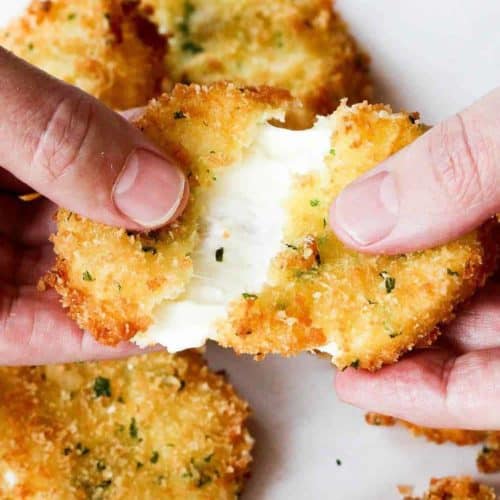 Fried Mozzarella
This Fried Mozzarella is about as good as they come. Go with quality fresh mozzarella, fresh breads combined with panko, Parmesan and herbs, and serve it with our incredible fresh marinara, and you won't believe how amazing this iconic appetizer is.
Print
Pin
Rate
Servings: 8 people
Calories: 489kcal
Ingredients
16 oz fresh mozzarella, cut into 1/4-inch to 1/2-inch medallions, or 1/4-inch sticks
Vegetable oil, for frying
1 cup all-purpose flour
2 large eggs, slightly beaten
3 pieces country white bread, crusts removed, torn into pieces
1 cup panko bread crumbs
1/4 cup fresh Parmesan cheese, grated
2 cloves garlic, minced
2 tbsp fresh parsley, chopped
1 tsp dried oregano
1/2 tsp Kosher salt
1 pinch freshly ground black pepper (link to recipe below)
Instructions
Pour enough oil into a sturdy skillet so it's about 2 inches deep. Heat to 350°F, using a candy thermometer to accurately gauge temperature, or toss a small piece of bread in the hot oil and when it sizzles and starts to turn brown, it's ready.

Make the breadcrumb mixture by placing the white bread, panko, Parmesan cheese, garlic, parsley, oregano, salt and pepper into the bowl of a food processor and pulse until well combined and bread has become coarse crumbs.

Set up a dredging station by taking three medium-sized bowls and placing the flour in one, the eggs plus a tablespoon of water in another, and the prepared breadcrumbs in the remaining bowl.

Dredge each mozzarella piece first in the flour, then into the egg bath (shaking off excess), and then into the breadcrumbs. Use your fingers to help the bread crumbs adhere to the cheese. For extra crispy fried mozzarella, repeat the egg and breadcrumbs steps once again. Set breaded cheese pieces on a plate as you continue to work.

Carefully add the breaded cheese pieces to the hot oil and fry until golden, about 2 to 3 minutes. Do this in batches, don't over crowd the pan! Drain on paper towel-lined plate.
Nutrition
Calories: 489kcal