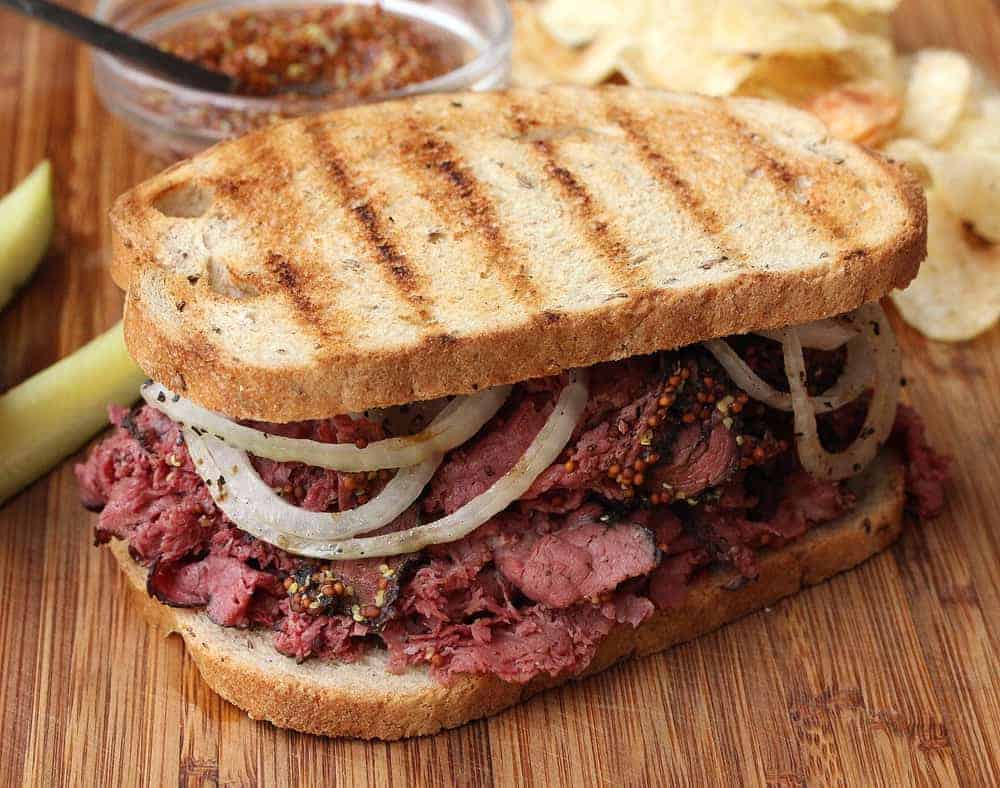 Wagyu Pastrami Sandwich is absolute perfection.  We got our wagyu pastrami from the amazing Food Shed Exchange Marketplace.  This place is incredible, and you'll be hearing much more about it from Kris & Wesley soon.   I actually had never made pastrami sandwiches before, so I did a little research, and I came across Emeril Lagasse's version.  It is so wonderful in its simplicity.  Obviously, I wanted the wagyu pastrami to be the star.   I can only describe this sandwich in 3 word:  Oh. My. God.  Wagyu isn't a cheap beef, but with one bite, you'll understand why it's about as a delicious bite you'll ever experience.
Wagyu Pastrami Sandwich
This wagyu pastrami sandwich is pure perfection. Order the wagyu pastrami from www.FoodShedExchange.com. There isn't much to say about this sandwich, other than INCREDIBLE.
Author: Emeril Lagasse
Recipe type: Sandwich
Cuisine: American
Serves: 3
Ingredients
1 lb wagyu pastrami, sliced
4 tablespoons whole grain mustard
1 bottle of beer
6 onion slices, rings intact
2 tablespoons olive oil
Salt and pepper
6 slices rye bread
Instructions
Pre-heat a grill.
Season onions with oil, salt and pepper.
In a pot, combine beer and mustard and bring to boil.
Add pastrami and simmer for 3 minutes.
Grill onions on both sides.
Toast bread on one side on the grill, until nicely toasted.
When all ingredients are heated, assemble the sandwiches.
Enjoy!!