We're taking this iconic sandwich to new heights. Amazingly delicious new heights.
Folks, this is a sandwich for the record books. You can go all out and purchase the wagyu pastrami and the homemade Jewish rye bread, or you can get these items locally. Either way, you'll have a sandwich that is nothing short of epic.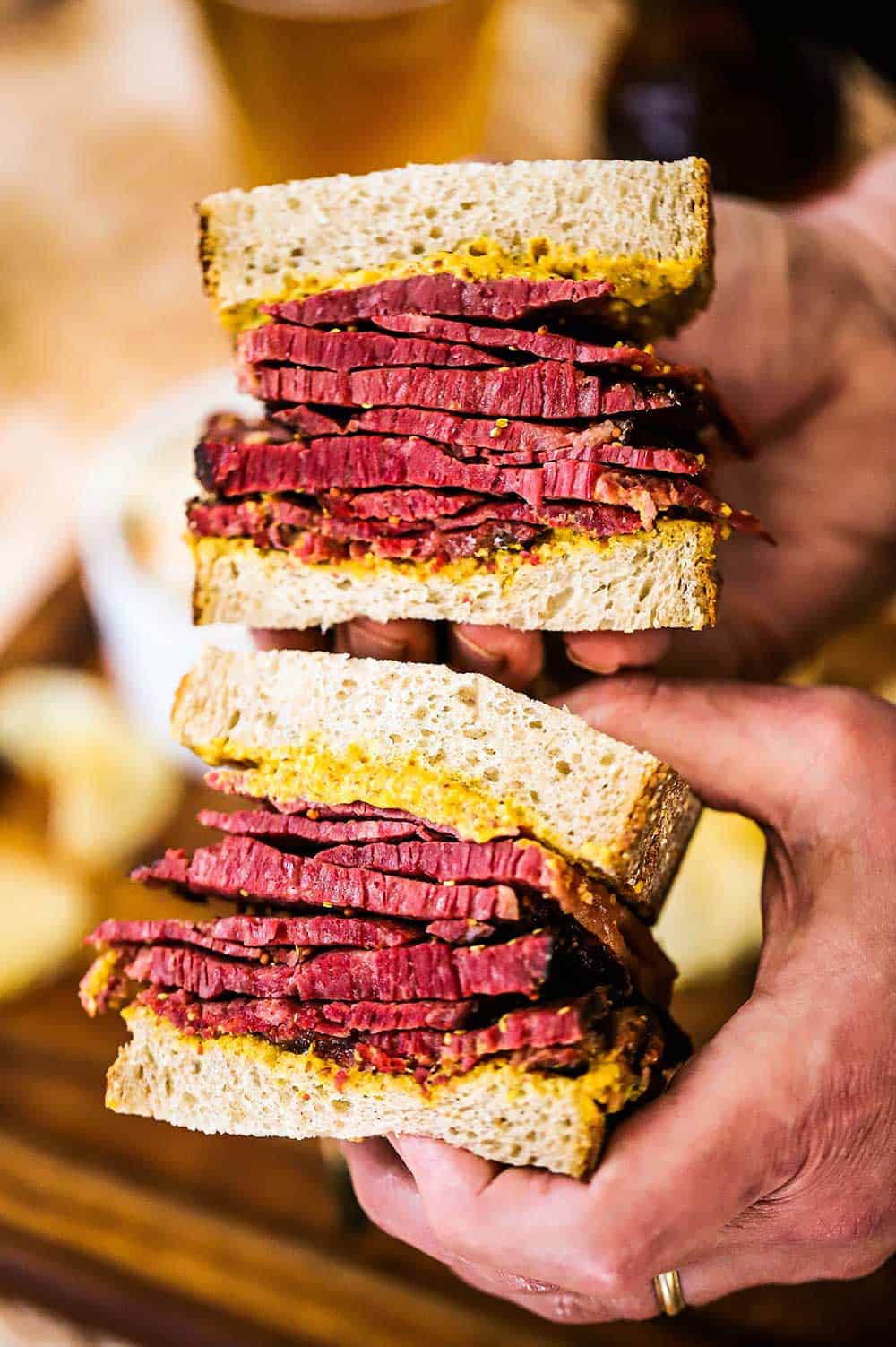 How to Make a Pastrami Sandwich
There aren't many ingredients in an authentic pastrami sandwich. Pastrami, rye bread, brown mustard.
No matter what, make sure you seek out quality ingredients.
Then, it all falls right into sandwich perfection.
NOTE: If you like this video, please subscribe to our YouTube channel. Remember to click the 'bell' icon so you'll never miss a new video!
Where To Find Wagyu Pastrami
We love making things from scratch, no doubt
But, if you're like us, you don't have 10 days to make pastrami at home. And you REALLY don't have time to locate Wagyu beef and turn it into pastrami.
EXPERT TIP: If you're wanting to make the best of the best, order your wagyu pastrami from Gourmet Food Store. You'll get an 8 lb cut of meat that has been brined for days, smoked for hours, and steamed to perfection for hours. It's going to cost a little extra, but the end result is phenomenal. The pastrami freezes beautifully, too.
Where To Find Jewish Rye Bread
It is important to stress that you can find quality pastrami at many top-notch delis around the globe. Following this recipe with decent pastrami will give you an amazing sandwich.
It's also important to know that you can find really great rye bread in most well-stocked supermarkets and at quality bakeries around the globe. Again, give you a great sammy!
But, if you want to ensure you're Jewish rye bread is about as good as you could possibly find, then order a loaf or two from Zimmerman's Bakery.
You'll get a beautiful crunchy crust on the outside, and a flavorful pillowy inside. Amazing!
How To Heat the Pastrami
If you have whole pastrami, i.e., from Gourmet Food Store, you'll want to heat the meat before serving. Give yourself a few hours for this.
Simply remove the meat from the plastic and place it in a large pot with enough simmering water to submerge the whole pastrami. Simmer on medium for 3 hours. Carefully remove and use a large sharp knife to cut the meat into thin slices.
To reheat pre-cut pastrami, or even to amp up the flavors of the slices you've just cut from the heat whole pastrami, try the following:
In a medium saucepan, add 1 can of dark beer and 4 tablespoons of whole-grain mustard. Bring to a boil, slightly lower the heat, and then add the pastrami slices. Simmer for about 3 minutes. This step isn't completely necessary, but beautifully heats the slices and adds another layer of amazing flavor.
What To Put on a Pastrami Sandwich
This pastrami sandwich recipe is keeping it simple. Just like they do at the legendary Katz's Delicatessen in New York City.
Take your rye bread slices and slather on a good helping of brown mustard (we love the spicy variety).
Now, layer slices of the hot pastrami on top of one slice of bread. Don't be shy, you'll want at least a couple of inches of meat piled high.
Wagyu Pastrami Sandwich FAQs
What's the best way to slice whole pastrami? We highly recommend using a nice sharp knife. Try not to cut thick slices. You don't need to cut one full slice each time you cut through the meat. Turn the knife to an angle and cut off slivers. The slices in our photos here are as big as you'd want. You can have them sliced with a deli meat slicer, but we find you get better results with hand-cut slices.
Can the pastrami be served cold or at room temperature? Of course! We prefer a hot pastrami sandwich, but all that amazing flavor will still be there when serving chilled or at room temp. You can place the sliced meat on a platter and let guests build their own sandwiches!
What are other types of bread can be used? Jewish rye bread is definitely traditional, but you'll still have great results with pumpernickel, sourdough, whole grain, or even good ole country white bread.
When To Serve and How To Store
This sandwich is truly something special. It's amazing for any occasion, but we love having friends over to watch the big game and serve these. The fun is letting them build their own epic sandwich.
New York-style pickles can be found in the deli section of most well-stocked supermarkets and are must to have on the side. We love serving with homemade coleslaw, potato salad, and/or Kettle chips.
EXPERT TIP: If you've ordered the Wagyu pastrami from Gourmet Food Store, chances are you'll have plenty of leftovers. Wrap the cut of meat, whole or in slices, in butcher paper or parchment paper, and then wrap in foil. The meat freezes beautifully for up to 2 months. Leftovers will keep in the fridge for a week.
So amazing!
Other Amazing Sandwiches To Try
Any and all of these other epic sandwiches are so good!
In the meantime, don't you just want to sink your teeth into this masterpiece?
Ready to make a sandwich that even Katz's Deli in NYC would be impressed with? Go for it!
And when you do, be sure to take a photo of it, post it on Instagram, and tag @HowToFeedaLoon and hashtag #HowToFeedaLoon!
Wagyu Pastrami Sandwich
This sandwich really is epic. You can order the Wagyu pastrami and homemade Jewish rye bread and have it delivered to your doorstep (see NOTES), or you can pick them up from your favorite deli and bakery. No matter what, you'll have amazing results.
Print
Pin
Rate
Servings: 4
Calories: 417kcal
Ingredients
2 lbs pastrami wagyu or regular, sliced
4 tbsp whole grain mustard
1 bottle dark beer
6 slices rye bread
1 cup brown mustard i.e., spicy
Instructions
Heating the Whole Pastrami (if using whole pastrami)
Heat a large pot (big enough to fit the entire whole pastrami) with enough water to fully submerge the cut of meat. Bring to a gentle boil. Add the pastrami and simmer for 3 hours. Carefully remove from the water and place on a cutting board. Use a sharp knife to cut away thin slices of the meat.
Prepare the Sandwiches
In a pot, combine beer and mustard and bring to boil. Add pastrami and simmer for 3 minutes. Remove with a pair of tongs.

Generously spread the brown mustard on one side of the sliced bread.

Stack the slices of pastrami on half of the bread slices (about 1 to 2 inches tall).

Top with the remaining bread slices (with mustard facing down). Slice down the middle of each sandwich and serve at once.
Notes
See the video near the top of the blog post for visual guidance. If you liked the video, please subscribe to our YouTube channel.
We love to order our Wagyu pastrami from Gourmet Food Store. Fresh homemade Jewish rye bread is amazing from Zingerman's Bakery.
Of course, you can get pastrami and rye bread from your favorite deli and bakery and still have absolutely amazing results.
Whole pastrami (or sliced pastrami) can be wrapped and frozen for up to 2 months. Leftover sliced pastrami can be kept in the fridge for up to 1 week.
Nutrition
Calories: 417kcal | Carbohydrates: 32g | Protein: 51g | Fat: 7g | Saturated Fat: 1g | Polyunsaturated Fat: 1g | Monounsaturated Fat: 4g | Trans Fat: 1g | Cholesterol: 107mg | Sodium: 2755mg | Potassium: 685mg | Fiber: 4g | Sugar: 2g | Vitamin A: 16IU | Vitamin C: 79mg | Calcium: 84mg | Iron: 8mg
POST UPDATE: This recipe was originally published in May 2015, but was updated with improved tweaks to the recipe with new tips and photography and a fabulous new video in February 2022!