We love sandwiches of all kinds, but this one is absolutely one of our favorites.
The history of the Banh Mi is fascinating and explains the French and Vietnamese influences that come together to make this incredible sandwich. Make almost all of the components of the sandwich a day or two in advance, and then the assembly is a snap when you're ready to serve!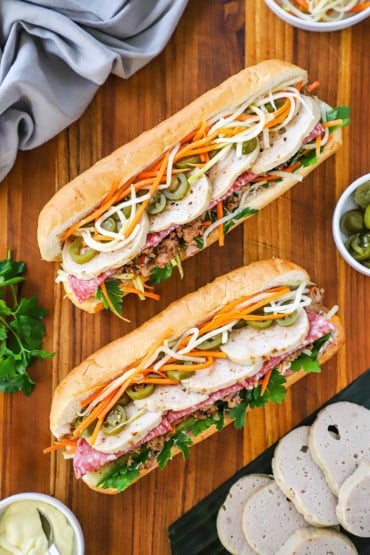 How to Make a Banh Mi Sandwich
This sandwich has become a global favorite sandwich and when you make it for yourself (and hungry guests), you'll understand why it's so popular.
There are plenty of variations for the key components of the sandwich, but we're going to give you the elements that we think bring together the best banh mi sandwich outside of Vietnam.
NOTE: If you liked this video, please subscribe to our YouTube channel. Remember to click the little 'bell' icon so you'll never miss a new video. Thank you!
The Ingredients You Will Need
You may need to schedule a trip to your local Asian market to pick up some specific ingredients. Or, you can order them online. The hardest ingredient to find is most likely the Vietnamese baguette. See below for alternatives.
Here's What You'll Need to Have on Hand
Cha Lua – Vietnamese ham. This can be prepared several days in advance
Vinegar – White vinegar, rice wine vinegar, or white wine vinegar all work.
Sugar – Granulated.
Carrots – Julienned, or cut into match strips.
Daikon – A radish found in well-stocked produce sections or at an Asian market. Julienned.
Soy sauce – Low sodium, if desired.
Sesame oil – Found in the Asian section of most supermarkets, or at an Asian market.
Sriracha sauce – Could substitute chili sauce, all found in the condiments section of most supermarkets.
Onion powder
Garlic powder
Black pepper – Freshly ground
Vietnamese baguettes – Not French, it's too dense. Seek out a Vietnamese market. If you can't find them, go with a hoagie (or submarine) soft bun/bread.
Paté – Pork is traditional.
Mayonnaise – We love Kewpie, but any variety will work.
Pork cold cuts – Genoa salami is a great choice.
Cilantro – Cut into sprigs.
English cucumber – Sliced lengthwise very thinly.
Condiments – Maggi seasoning is very traditional and can be found at Asian markets. Chili oil is also delicious.
Peppers – Pickled jalapeños are our favorite.
EXPERT TIP: The cha lua can be made up to 3 days in advance. Slice the ham into approximately ¼-inch slices.
Tips for a Perfect Banh Mi Sandwich
Make the Cha Lua – The most involved part of this recipe is making the cha lua (Vietnamese pork loaf), but it really is so authentic, delicious, and gives the sandwich the most authentic taste. Make it several days in advance! It's fun and really amazing.
Don't Skimp on the Paté – The paté adds a distinctive depth of flavor but is not overpowering. Be liberal when smearing it onto the bottom bun. Then add a nice layer of mayonnaise on top of it. It's incredible how the flavors meld.
Use Soft Bread – Do your best to seek out a Vietnamese market to find the baguette. If you don't have access to one, then use a soft hoagie or subway bun. If you know of an eatery that serves banh mi sandwiches, give them a call and see if they will sell you use the buns, often times they will!
EXPERT TIP: Use a mandolin or a sharp knife to cut the carrots and daikon radish into 1-inch strips. Soaking them in hot vinegar water will pickle them in about 30 minutes. Drain before building the sandwich.
Pork Is Traditional in a Banh Mi
We're using three types of pork for our version of the sandwich.
Of course, the cha lua is a classic Vietnamese ham loaf. And we'll also add a layer of pork cold cuts. In Vietnam, you'll see your sandwich filled with lots of classic pork cold cuts that aren't readily available in North America or Europe. Substituting your favorite accessible cold cuts is perfectly fine. We love using Genoa salami.
We also love cooking up an amazing Asian-seasoned ground pork mixture. Probably not as traditional, but we absolutely love it and think you will, too.
How To Serve
The classic banh mi sandwich is by nature going to be a bit messy to eat.
Carefully layer all of the components into the split-open bread, and then use a large knife to press the innards down as you bring the top bun over it all.
One full sandwich is filling but is ideal for 1 serving (to a hungry guest). This recipe will comfortably make 4 to 6 sandwiches.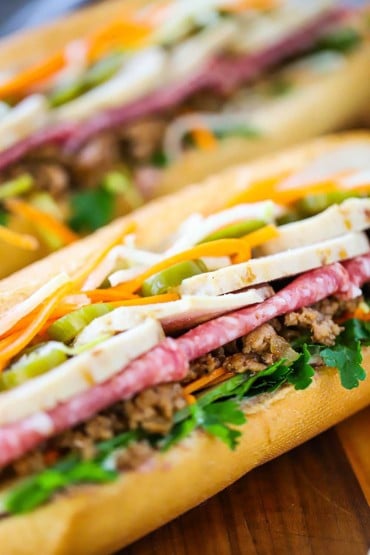 This sandwich is one of the most epic sandwiches in the world.
It's fun to make and always a huge hit when serving guests.
Make the cha lua, seasoned pork, and even the pickled vegetables in advance, and assembly happens in a matter of minutes. Amazing!
Ready to make one of the most iconic and epic sandwiches of all time? Go for it!
And when you do, be sure to take a photo of it, post it on Instagram, and tag @HowToFeedaLoon and hashtag @HowToFeedaLoon!
Banh Mi Sandwich
This Banh Mi sandwich is so loaded with flavor, it's unreal. Drawing from French and Vietnamese influences, this is one of our favorite sammys. Make the cha lua ahead of time...it's fun, and so worth it! The flavors complement each other perfectly here. Enjoy!
Print
Pin
Rate
Servings: 6 people
Calories: 454kcal
Ingredients
For the Pickled Vegetables
⅓ cup white vinegar
⅓ cup sugar
1 tsp Kosher salt to taste
½ cup carrots julienned
½ cup daikon radish julienned
FOR THE SEASONED PORK
1 tbsp olive oil
1 cup onion chopped
1 lb pork ground
2 tsp hoisin sauce
2 tsp soy sauce
1 tsp sesame oil
1 tsp Sriracha sauce
1 tsp Chinese five-spice powder
1 tsp onion powder
1 tsp garlic powder
½ tsp black pepper
For the Sandwich
4 Vietnamese baguettes or hoagie buns, split open
4.5 oz pork paté
¼ cup mayonnaise
1 cup cilantro sprigs
1 English cucumber cut lengthwise into thin slices
12 ¼-inch slices cha lua or bologna
12 slices salami
1 cup pickled jalapeños
4 tsp Maggi seasoning or soy sauce
chile oil optional
Instructions
Make the Cha Lua (can be made up to 2 to 3 days in advance)

1 loaf cha lua (Vietnamese Ham)
Pickle the Carrots and Daikon
Bring the vinegar, sugar, salt, and ½ cup water to a boil in a medium saucepan over high heat.

⅓ cup white vinegar, ⅓ cup sugar, 1 tsp Kosher salt

Place the julienned carrots and daikon in a medium-sized heatproof bowl. Pour the vinegar mixture over the vegetables. Set aside for at least 30 minutes, then drain.

½ cup carrots, ½ cup daikon radish
Make the Seasoned Pork
Heat the oil in a large skillet over medium heat. Add onion and sauté until soft, about 4 minutes.

1 tbsp olive oil, 1 cup onion

Add the ground pork and cook until no longer pink. Spoon off excess grease, if desired.

1 lb pork

Stir in the hoisin, soy sauce, sesame oil, sriracha, five-spice powder, onion and garlic powders, and pepper. Cook, stirring often, for another 5 minutes. Remove from the heat and set aside.

2 tsp hoisin sauce, 2 tsp soy sauce, 1 tsp sesame oil, 1 tsp Sriracha sauce, 1 tsp Chinese five-spice powder, 1 tsp onion powder, 1 tsp garlic powder, ½ tsp black pepper
Assemble the Sandwich
Liberally smear the pork paté over the inside bottom bun. Add a layer of mayonnaise over the paté.

4 Vietnamese baguettes, 4.5 oz pork paté, ¼ cup mayonnaise

Layer the banh mi components in the following order:

Cilantro, cucumber, carrots, daikon, seasoned pork, sliced cha lua, salami, a drizzle of Maggi (or soy), pickled jalapenos, and a drizzle of chili oil, if using.

1 cup cilantro sprigs, 1 English cucumber, 12 ¼-inch slices cha lua, 12 slices salami, 1 cup pickled jalapeños, 4 tsp Maggi seasoning, chile oil

Add the top portion of each baguette. Cut in half, if desired, and serve.
Notes
See the video near the top of the blog post for visual guidance. If you liked the video, please subscribe to our YouTube channel.
The cha lua can be prepared up to 3 days in advance. Thick slices of bologna can be substituted. Ask your local deli (or deli at the supermarket) to slice 1/4-inch slices for you.
The seasoned pork and pickled vegetables can be made up to a day in advance.
If you can't find Vietnamese baguettes (soft French baguettes), then use soft hoagie or subway buns. Don't use a regular baguette or Italian loaf, they're too tough.
Leftover sandwiches can be wrapped in plastic wrap and stored in the fridge for up to 3 days. Let come to room temperature before serving.
Nutrition
Calories: 454kcal | Carbohydrates: 21g | Protein: 18g | Fat: 24g | Saturated Fat: 8g | Polyunsaturated Fat: 4g | Monounsaturated Fat: 7g | Trans Fat: 0.02g | Cholesterol: 73mg | Sodium: 998mg | Potassium: 528mg | Fiber: 2g | Sugar: 16g | Vitamin A: 2236IU | Vitamin C: 10mg | Calcium: 48mg | Iron: 2mg
POST UPDATE: This recipe was originally published in August 2018, but was updated with improved tweaks to the recipe with new tips and photography, and a fabulous new video in April 2023!