Banh Mi is one of the most flavorful sandwiches there is.   It is a French-Vietnamese hybrid that draws its flavors from these two amazing cuisines.  It starts with an airy baguette, lightly toasted, and is then loaded with cucumber, cilantro, cha lua (Vietnamese ham / pork roll), sweet and sour minced pork, salami, slaw of carrots and diakon radishes;, and pickled jalapenos.  My mouth just watered as I wrote this.  Making the cha lua from scratch, obviously, helps to put this sandwich through the roof for taste.  This takes a little planning, most likely a trip to an Asian market, but that is so much fun.  Start the cha lua the night before..and then bring it all together the next day.  Truly spectacular.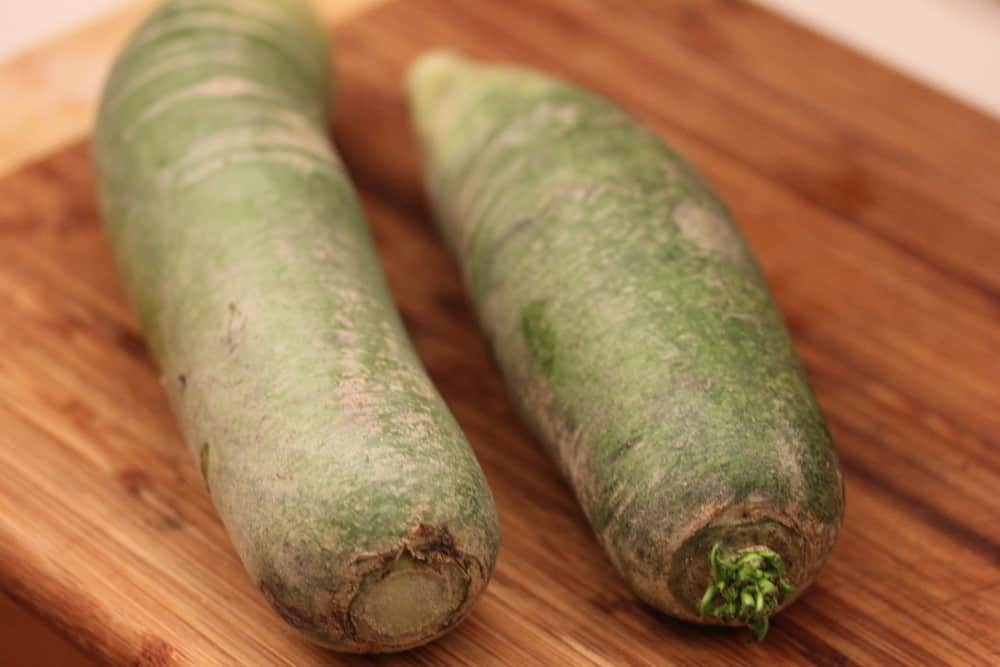 Banh Mi
This Banh Mi sandwich is so loaded with flavor, it's unreal. Drawing from French and Vietnamese influences, this is one of our favorite sammys. Make the Cha Lua ahead of time...it's fun, and so worth it! The flavors compliment each other perfectly here. Enjoy!
Author: Adapted from Charles Phan
Recipe type: Sandwich
Cuisine: Vietnamese / French
Serves: 4
Ingredients
FOR THE SLAW:
¼ cup white vinegar
¼ cup sugar
½ cup julienned carrots
½ cup julienned daikon radish*
Kosher salt, to taste
FOR THE SEASONED PORK:
1 tablespoon canola oil
½ small yellow onion, finely chopped
1 lb of ground pork
2 tablespoons hoisin sauce**
2 teaspoons soy sauce
1 tablespoon Asian sesame oil**
½ teaspoon Sriracha sauce
½ teaspoon Chinese five-spice powder*
½ teaspoon onion powder
½ teaspoon garlic powder
¼ teaspoon freshly ground black pepper
FOR THE SANDWICH:
4 10" baguettes, split, and cut in half (this will make 4 sandwiches)
8⅛"-thick slices of cha lua, or bologna
8 slices of salami
4 teaspoons soy
½ cup cilantro sprigs
½ English cucumber, cut lengthwise into 4 thin slices
Asian-style chile oil, to taste
*Available in the Asian section of most supermarkets, or an Asian market
**Available in Asian markets
Instructions
MAKE THE SLAW:
Bring vinegar, sugar, and ½ cup water to a boil in a medium saucepan over high heat.
Transfer to a medium bowl and stir in the carrots, radish, and salt (usually about ½ teaspoon).
Set aside for 30 minutes, then drain.
MAKE THE SEASONED PORK:
Heat the oil in a large skillet over medium heat.
Add onion and saute until soft, about 3 minutes.
Add pork, hoisin, soy sauce, sesame oil, hot sauce, five-spice powder, onion and garlic powders, and pepper.
Cook, stirring often, until browned, about 5 - 6 minutes.
Remove from heat and set aside.
MAKE THE SANDWICH:
Turn your broiler on high.
Place the baguettes, cut side up, on a baking sheet, and place under the broiler for about 2 minutes until lightly browned and toasted. Keep an eye on them! Don't let them burn!
On the bottom portion of each baguette: stack the Banh Mi components in the following order:
Cilantro, Cucumber, Slaw, Seasoned Pork, Cha Lua, Salami, Drizzle of Soy, Pickled Jalapenos, Drizzle of Chile Oil.
Add the top portion of each baguette.
Serve at once. Enjoy!!