Warm Spinach and Bacon Salad. Doesn't just sound inviting and delicious?
The combination of the smoked applewood bacon with the marinated mushrooms and spinach is simply comfort at its best.
This has become our go-to salad all year long.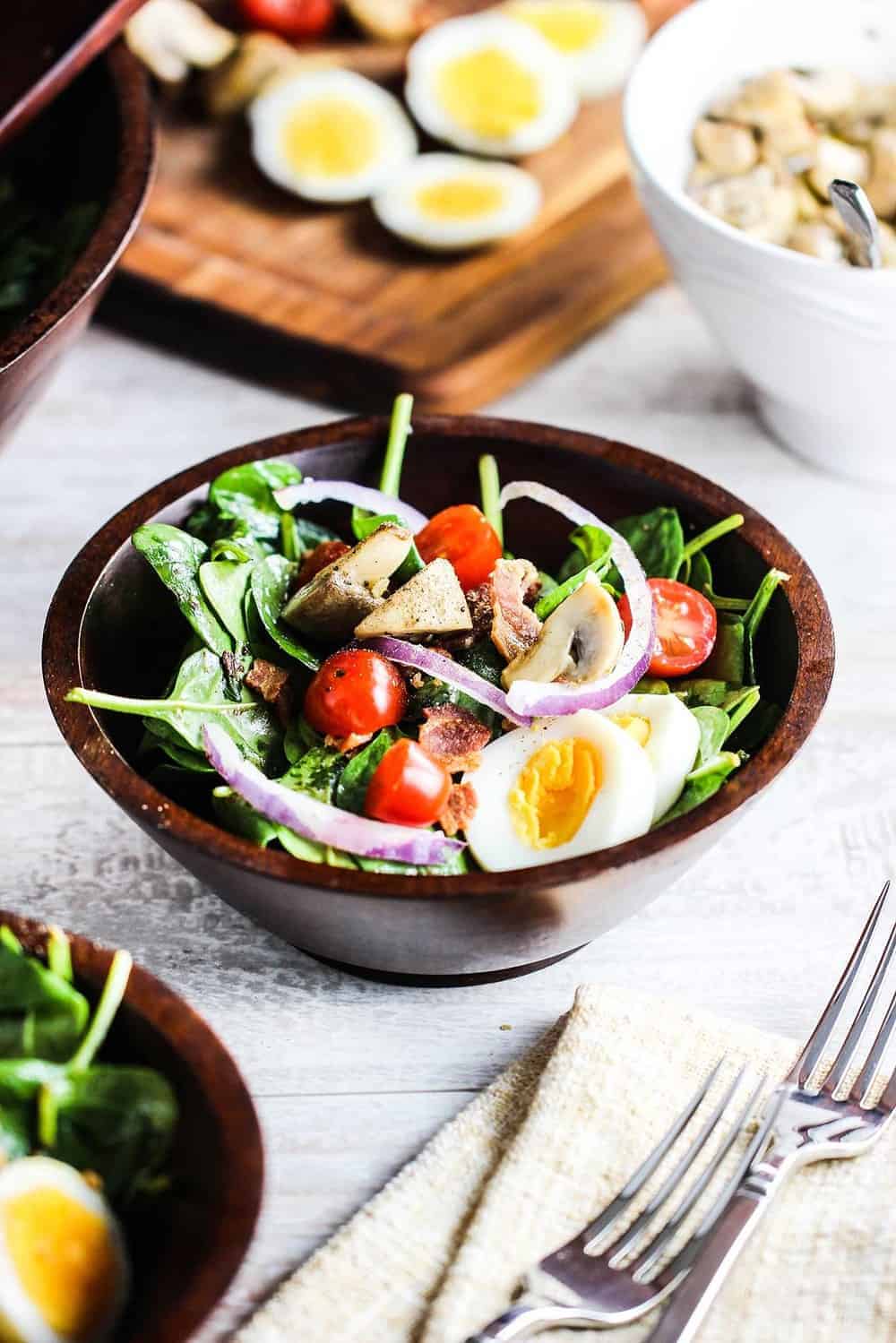 The mushrooms are first cooked until soft and lightly browned. Then they marinate in lemon, garlic, fresh thyme and seasonings.
Biting into one of these mushrooms is an explosion of flavor that is just so delicious! Oh, yes!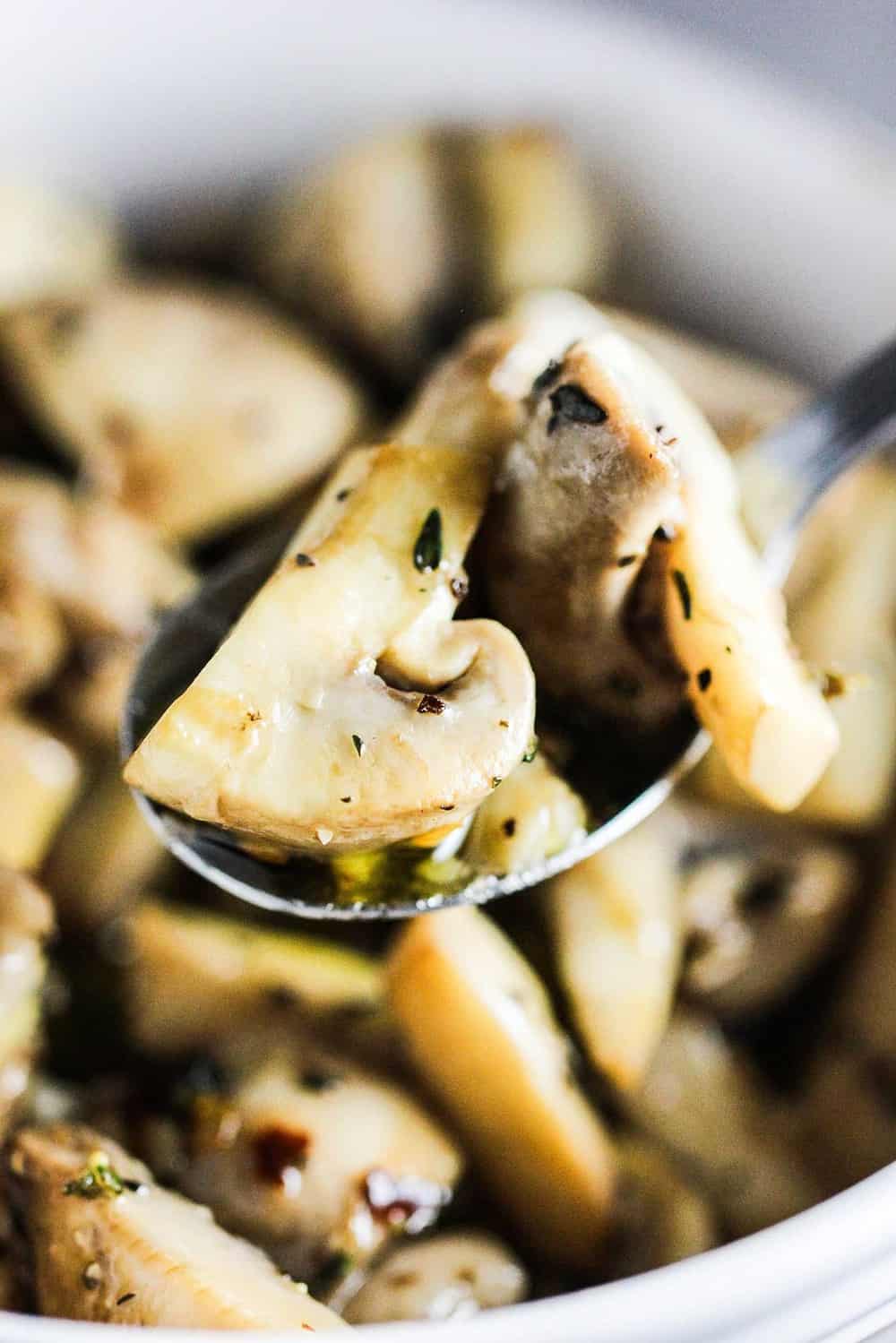 And now let's talk a bit about this simple but incredibly flavorful warm vinaigrette. It starts off with a little bit of the warm bacon fat (just a little, but oh so worth it) and then balsamic vinegar and whole-grain mustard gets whisked in.
This vinaigrette pulls the salad together and makes it perfect. Mmmmmmm.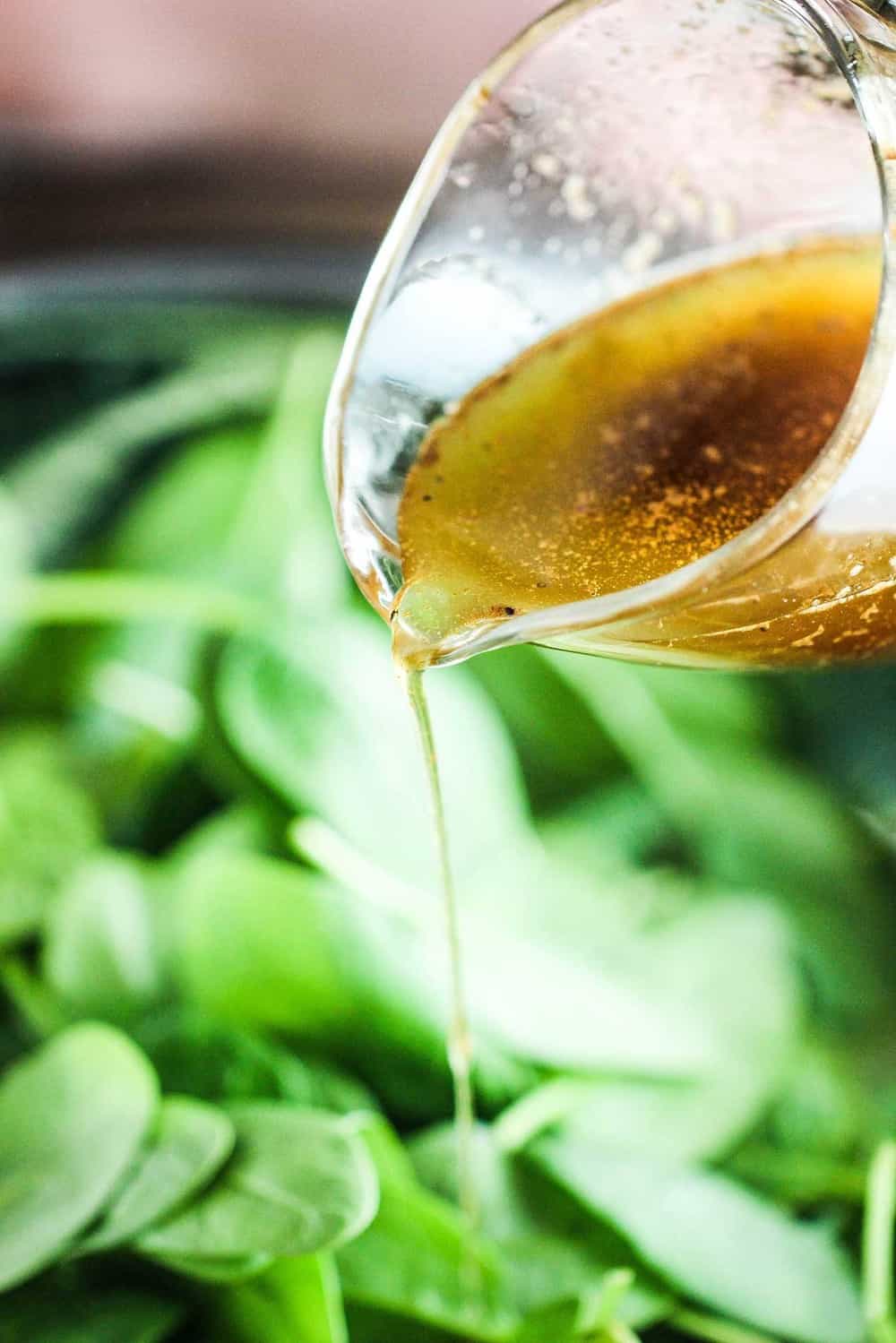 And fresh baby spinach is packed with flavor and is so nutritious.
It is the perfect pairing for the wonderful warm bacon vinaigrette.
Just look at that beautifully dressed spinach! So, so good!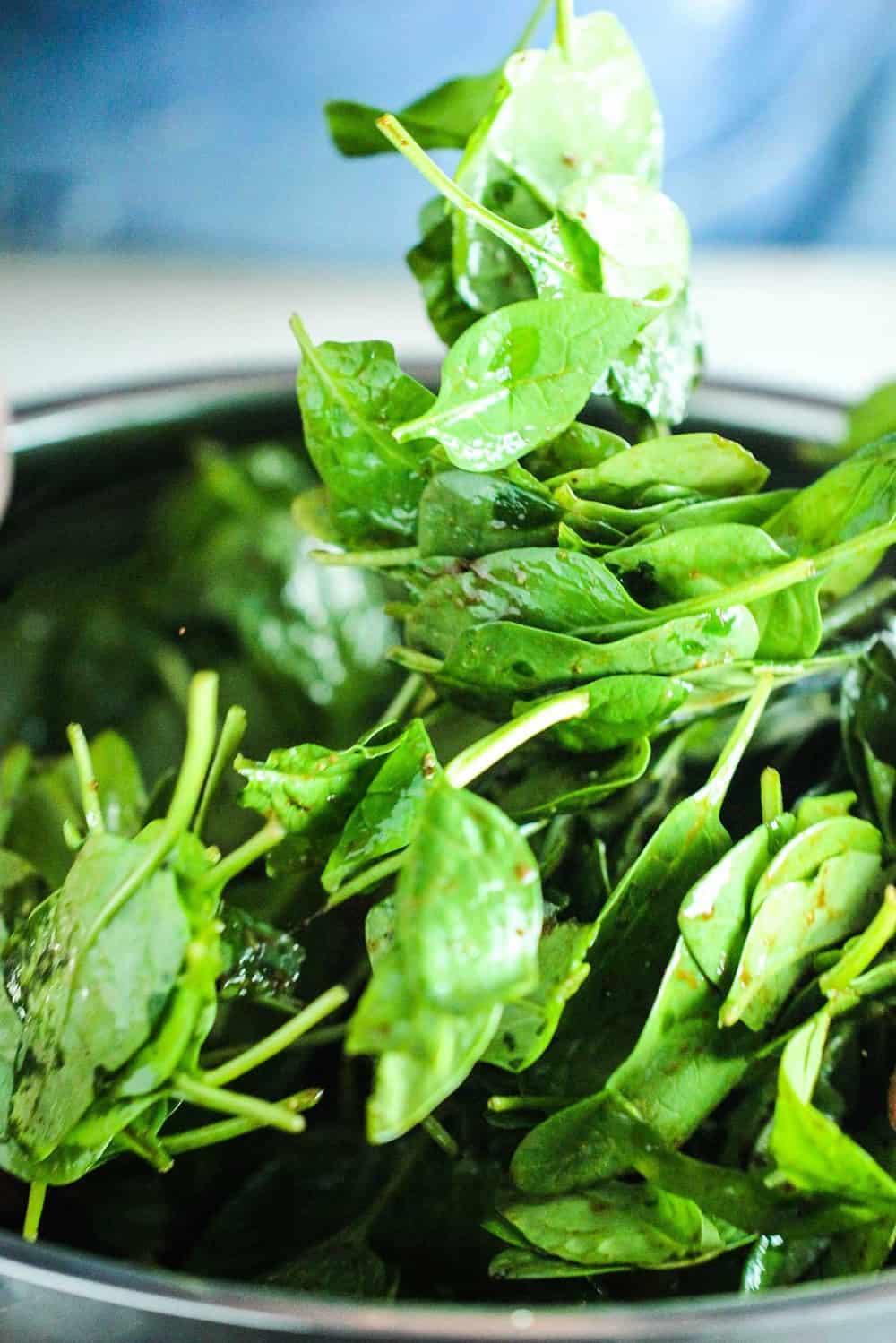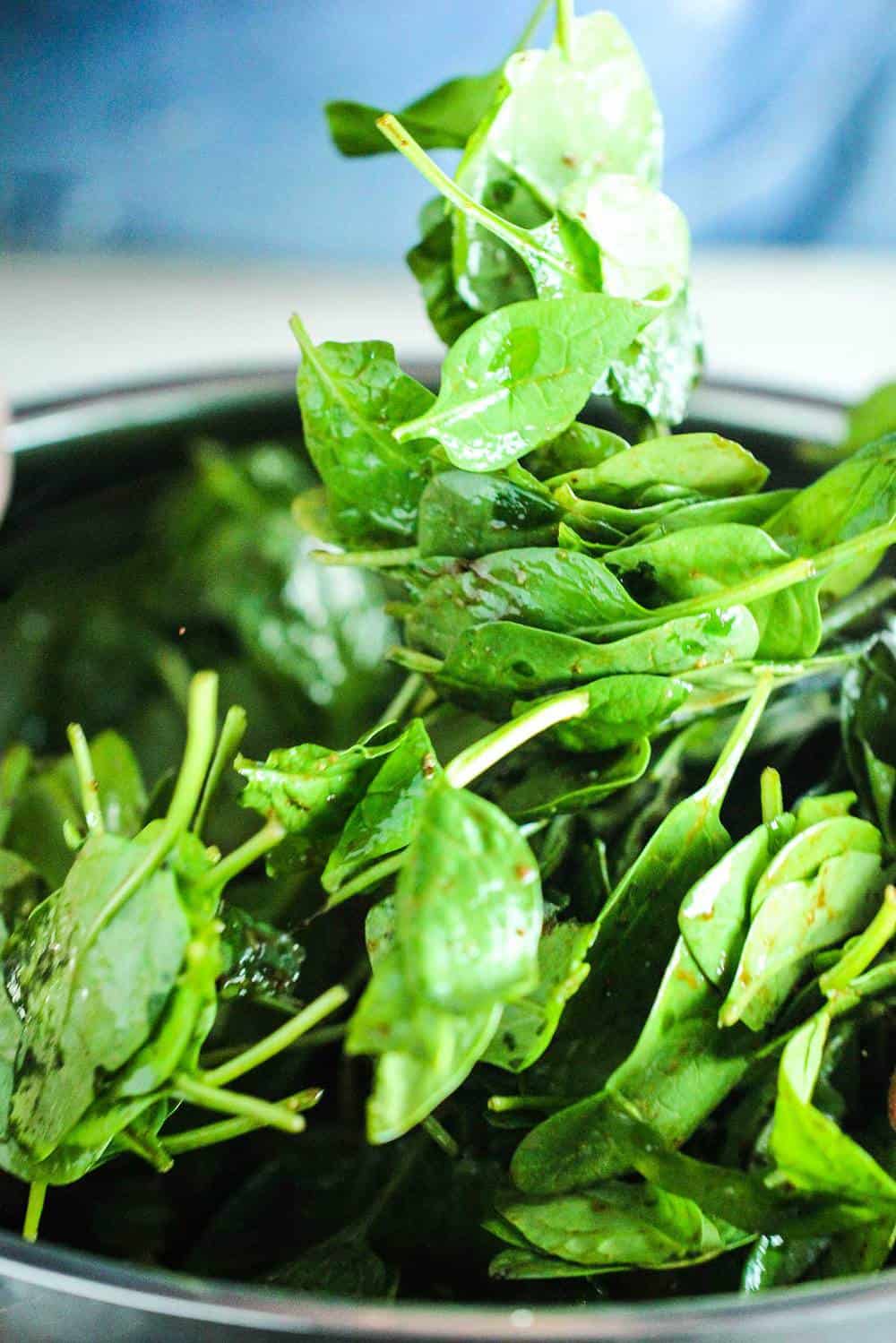 This Warm Spinach and Bacon Salad is really something special.
The perfect kick-off to a really wonderful meal.
Or, serve it with your favorite hot soup on a chilly day, and you will be so comforted. This is the good stuff.
Another one of our all-time favorite salads is our Roasted Beet Salad with Burrata.
Now, go and make this amazing Warm Spinach and Bacon Salad recipe. You and your loved ones will love it!
Warm Spinach and Bacon Salad
This Warm Spinach and Bacon Salad is pure comfort in a bowl. The warm vinaigrette is so satisfyingly delicious and brings the wonderful components of this salad together perfectly. Bacon, marinated mushrooms and hard-boiled eggs were made for this incredible salad. So very tasty!
Print
Pin
Rate
Servings: 6 people
Calories: 212kcal
Ingredients
1/2 cup good-quality extra virgin olive oil
1 lb button mushrooms halved, or quartered
2 tsp fresh lemon juice
2 cloves garlic minced
1 tsp fresh thyme chopped
1/4 tsp red pepper flakes
Kosher salt and freshly ground black pepper
3 large eggs
10 oz fresh baby spinach
8 thick slices applewood-smoked bacon roughly chopped
3 tbsp balsamic vinegar
1 tbsp whole-grain mustard
1 small red onion thinly sliced
1 cup cherry tomatoes halved
Instructions
In a large skillet, heat 2 tablespoons of the oil over medium-high heat.

Add the mushrooms and cook, stirring frequently, until they have softened, are lightly browned and giving off their juices, about 6 minutes.

Transfer the mushrooms to a bowl. Add 4 tablespoons of the oil, the lemon juice, garlic, thyme, red pepper flakes, and a pinch of salt and pepper.

Toss the mushrooms to coat and let marinate for at least 1 hour, up to 24 hours.

Hard boil the eggs by placing them in a pot just large enough to hold them. Add cold water to cover by about an inch and bring to a boil over high heat.

Remove the pan from the heat and cover. Let stand for 15 minutes.

Drain the eggs, then transfer to a bowl of ice water and let cool. Peel and slice the eggs. Set aside.

Put the spinach in a large salad bowl.

Fry the bacon pieces in a large skillet over medium heat, stirring occasionally, until crisp, about 7 minutes.

Transfer the bacon to paper towels to drain.

Pour off all but 2 tablespoons of the bacon fat in the pan.

Off the heat, whisk the vinegar and mustard into the bacon fat, then whisk in the remaining 2 tablespoon of oil.

Season to taste with salt and pepper and then drizzle over the spinach and then toss to coat.

Divide the dressed spinach among individual bowls and top with the cooked bacon, marinated mushrooms, sliced eggs, onion slices, and tomatoes.
Nutrition
Calories: 212kcal