Roasted Beets and Watercress Salad with Burrata is an incredible combination of flavors.
Beets are just so amazing and so delicious.. They are chock full of vitamins, and literally explode with flavor when roasted. Matched agains the peppery watercress, the tangy vinaigrette, and the incredibly creamy burrata cheese, it just can't be beat.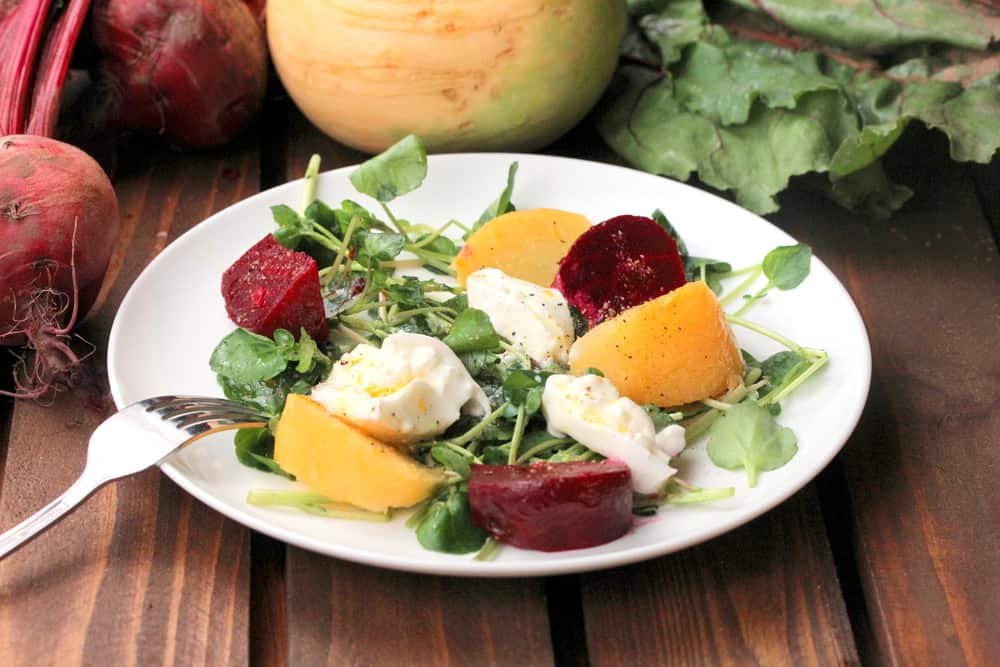 ROASTED BEETS AND WATERCRESS SALAD IS EASY TO MAKE
Roasting beets are fun and deliver one of our most favorite vegetables in the world to eat. It is amazing how flavorful they are with from just a simple roasting in the oven with a little olive oil.
We love using a combination of beets for this salad. Most folks are familiar with the bright red beets.
But golden beets are so delicious, too, and have a slightly different taste.
EXPERT TIP: We like to keep the roasted red beets separate from the golden because the red beets will stain and turn the golden beets a pinkish color.
HOW TO ROAST BEETS
You simply won't believe how easy it is to roast the beets.
Place each beet in a foil pouch and roast in the oven for about an hour. That's it!
They will then become so easy to peel and cut into chunks for the amazing Roasted Beets and Watercress Salad!
THE PERFECT VINAIGRETTE
You're going to want a bright, slightly acidic dressing for this salad.
Champagne vinegar and orange work beautifully together and are perfect!
EXPERT TIP: The vinaigrette can be made up to 3 days before serving. Store in an air-tight container in the refrigerator and then shake well before using.
Burrata is an extra creamy mozzarella that is filled with a creamy texture that is just divine.
If you can't find burrata, a good-quality mozzarella cheese will still work wonderfully!
If you love this salad, you'll probably also like our Classic Caesar Salad or our Warm Bacon Spinach Salad.
In the meantime, hurry and make this incredible Roasted Beets and Watercress Salad with Burrata. You will be so glad that you did!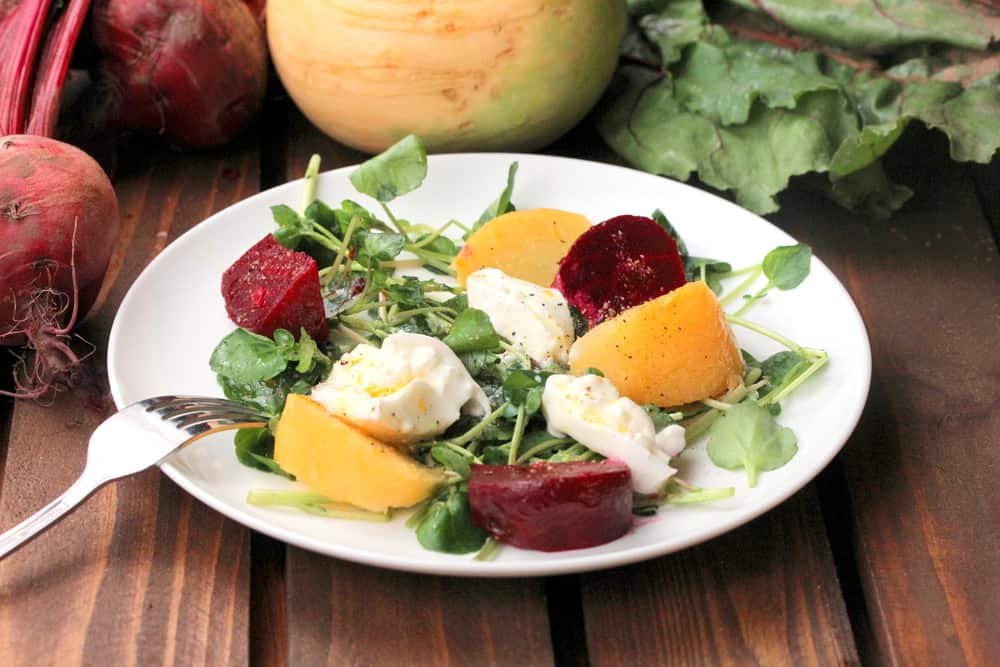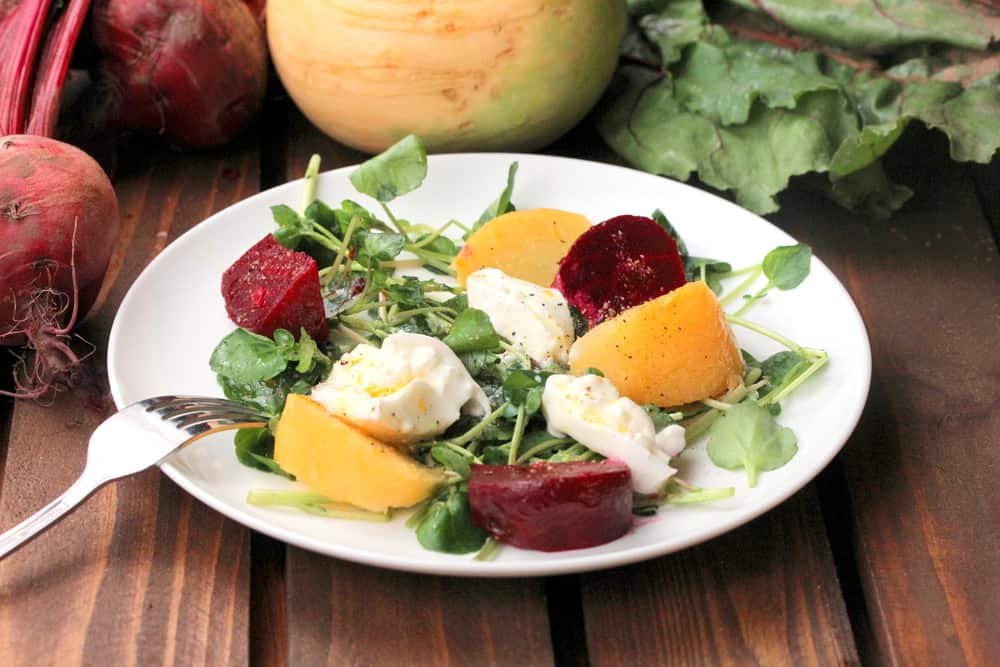 Roasted Beets & Watercress Salad with Fresh Mozzarella
This roasted beets & watercress salad with fresh mozzarella is amazing. Roast the beets, whip up a nice orange/vinegar/oil vinaigrette, then add sliced burrata cheese...and you won't believe the results. So over-the-top good!
Print
Pin
Rate
Servings: 4 people
Ingredients
2 lbs red and/or golden beets trimmed of their stems and washed
2 tbsp champagne vinegar
1 tsp grated orange zest
2 tbsp fresh orange juice
Salt and pepper
3 tbsp extra-virgin olive oil
1/4 lb watercress tough stems removed
1 lb fresh mozzarella preferably burrata, sliced into bite-size wedges
Instructions
Pre-heat the oven to 400 F.

Wrap each beet in foil and place on a baking sheet.

Roast until the beets can easily be pierced with a knife, about 1 hour.

Unwrap and let cool.

Gently peel the beets, cut into quarters, and put in two small bowls (keep the red and golden beets separate).

In a large bowl, whisk together the vinegar, orange zest and juice, and 1/2 teaspoon of salt.

Add the oil in a thin stream, whisking constantly until smooth.

Pour half of the dressing over the beets and stir to coat.

Add the watercress to the remaining dressing and toss to coat.

Arrange the watercress on individual plates (or one large platter).

Top with beets.

Arrange the cheese around the beets and drizzle with any remaining vinaigrette.

Season with black pepper, and another pinch of salt.