This salad truly is an incredible combination of flavors.
Beets are just so amazing and so delicious. They are chock full of vitamins, and literally explode with flavor when roasted. Matched against the peppery arugula, the tangy vinaigrette, and the incredibly creamy burrata cheese, it just might possibly be the perfect salad! And it all can be made in advance, just assemble right before serving!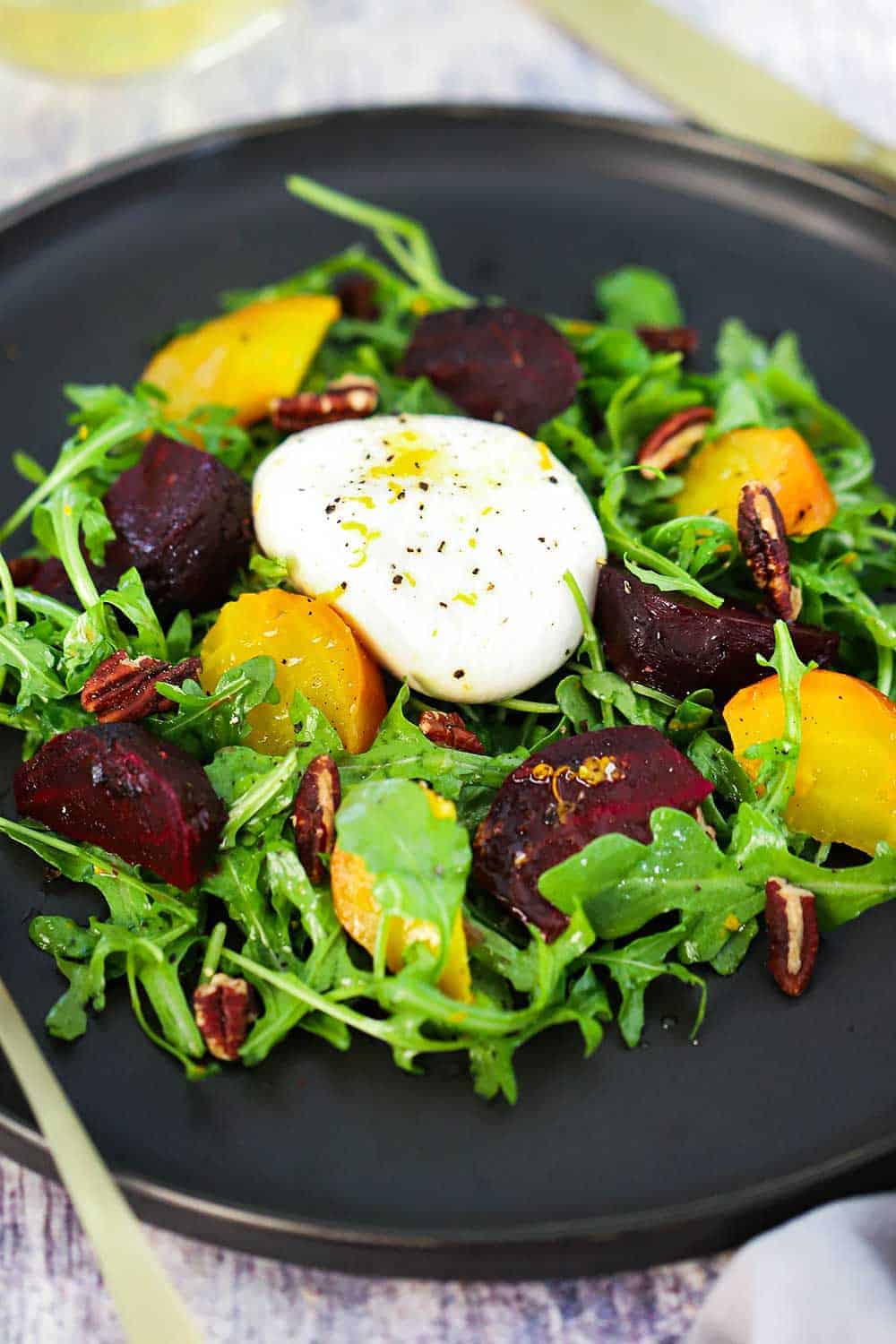 How To Make Roasted Beet and Burrata Salad
We say this a lot, but this particular recipe is so easy to prepare. It really, really is!
The beets can be roasted up to 1 day in advance and the vinaigrette can be prepared up to a couple of days in advance.
How To Roast Beets
Roasting beets are fun and deliver one of our most favorite vegetables in the world to eat. It is amazing how flavorful they after spending an hour in the oven, wrapped in foil. Roasted beets in foil are so good, they are delicious on their own!
We love using a combination of beets for this salad. Most folks are familiar with the bright red beets.
But golden beets are so delicious, too, and have a slightly different taste.
EXPERT TIP: To roast the beets, simply wrap each one in foil, place on a baking sheet, and place in a preheated oven to 400°F for 1 hour. Let cool, and then peel away the skin. We recommend keeping the red beets separate from the golden because the red beets will stain and turn the golden beets a pinkish color. Gloves are highly recommended when peeling and slicing the red beets.
The orange vinaigrette for this salad is simple and the perfect match for the burrata, beets, and arugula.
We simply combine together the orange zest, orange juice, and Champagne vinegar, then whisk in the extra-virgin olive oil
EXPERT TIP: If you don't have a zester or microplane for the orange zest, you can simply scrape the orange along a box grater with the smallest holes. Cut the orange in half and squeeze to get the juice. We wrap ours in cheesecloth to keep out any pulp, but this isn't 100% necessary. The vinaigrette can be made a couple of days in advance and stored in a jar with a tight-fitting lid in the fridge. Give the jar a good shake to emulsify the vinaigrette just before serving.
Choosing the Best Lettuce for Roasted Beet Salad
We love going with fresh baby arugula for this salad, but the following types would be wonderful, too:
Watercress
Baby spinach
Field greens (Mesclun)
Kale (chopped)
Romaine (chopped)
EXPERT TIP: Once ready to assemble, we like to toss a couple of tablespoons of the vinaigrette with the red beets and then also the golden beets. Toss the lettuce with most of the remaining vinaigrette, leaving some leftover to drizzle over the burrata once everything is plated.
What Is Burrata
Burrata is an extra creamy mozzarella that is filled with an even creamier milk cheese that is just divine.
Burrata is usually found in the gourmet cheese section of most well-stocked supermarkets. They are slightly larger than a golf ball and are typically packed in groups of 3 to 5 and packed with water.
If you can't find burrata, a good-quality mozzarella cheese will still work wonderfully!
When To Serve Roasted Beet and Burrata Salad
This beet and mozzarella salad is the perfect pre-dinner salad to serve to guests.
You could add a protein, such as grilled shrimp or chicken, and make it a nice entree salad.
But, it really is the perfect salad to start off an amazing meal with. So versatile and every bite is so satisfying. The toasted pecans add a depth of flavor and a contrast of texture that is spectacular.
If you love this salad, you'll probably also like our Classic Caesar Salad or our Warm Bacon Spinach Salad.
In the meantime, hurry and make this extremely beautiful and delicious salad!
You will be so glad that you did!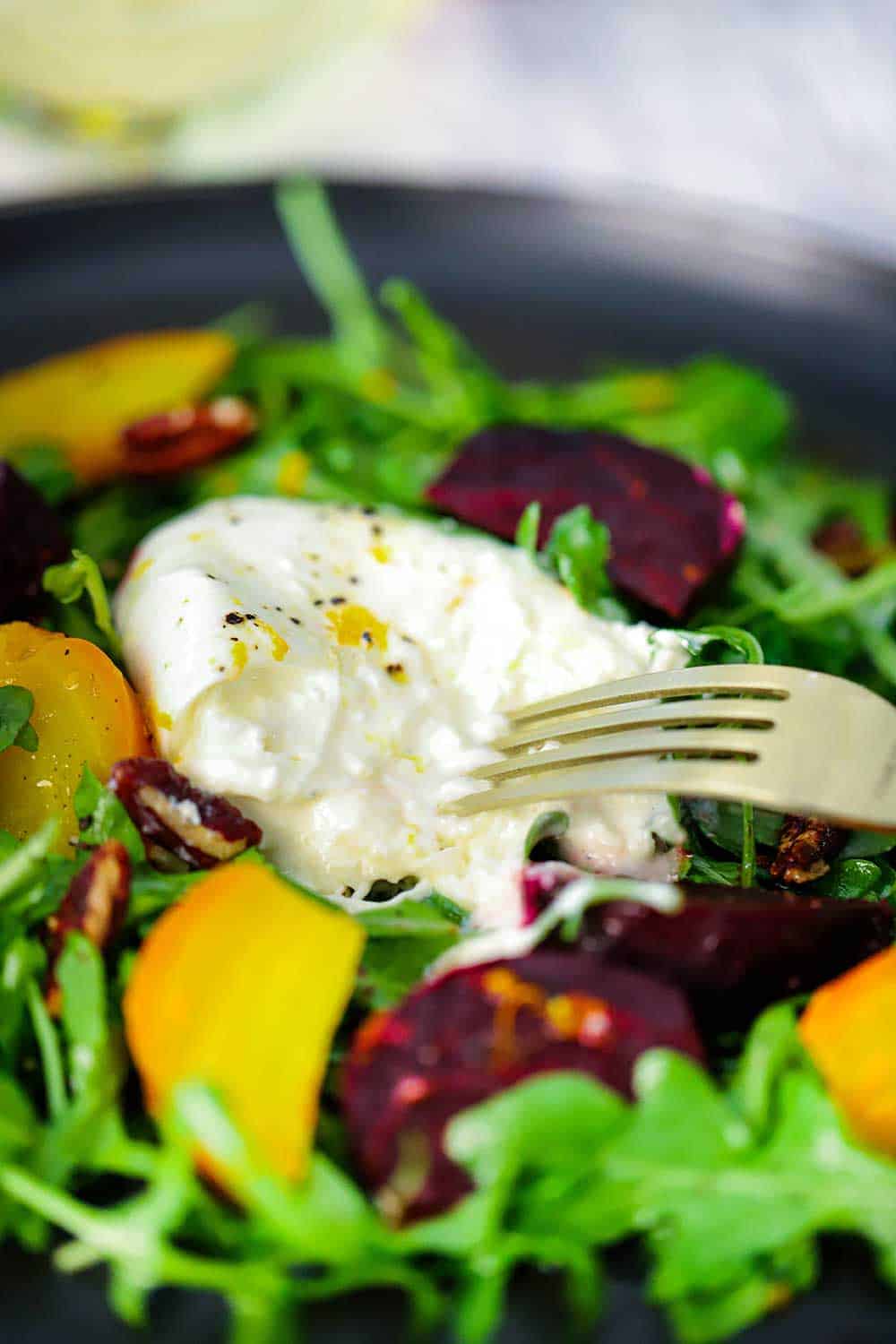 Ready to make what we think quite possibly could be the most perfect salad of all time? Go for it!
And when you do, be sure to take a photo of it, post it on Instagram, and tag @HowToFeedaLoon and hashtag @HowToFeedaLoon!
Roasted Beet and Burrata Salad
Roasted Beed and Burrata Salad is so wonderful in its simplicity. The beets can be roasted up to 24 hours in advance, and the vinaigrette can be made a couple of days in advance. Assemble just before serving! So good!
Print
Pin
Rate
Servings: 4 people
Calories: 695kcal
Ingredients
1 lb red beets trimmed of their stems and ends cut off
1 lb golden beets trimmed of their stems and ends cut off
1 tsp orange zest
3 tbsp champagne vinegar or white wine vinegar
3 tbsp orange juice fresh
1 tsp Kosher salt
½ tsp black pepper freshly ground
4 tbsp extra-virgin olive oil
6 oz baby arugula
1 lb burrata in water, or fresh mozzarella
1 cup pecans chopped, toasted
Instructions
Preheat the oven to 400F.

Wrap each beet in foil and place on a baking sheet. Roast until the beets can easily be pierced with a knife, about 1 hour. Let cool and then unwrap.

Gently peel the beets with your fingers (gloves recommended), or a peeler. Cut in half and then cut into wedges, like slicing an apple. Set aside.

In a large bowl, whisk together the orange zest, orange juice, vinegar, salt, and pepper. Add the oil in a thin stream, whisking continuously, until fully combined.

Place the arugula in a large salad bowl and pour about half of the vinaigrette over the lettuce. Toss to coat. Pour about 2 tablespoons of the dressing over the red beets and then 2 more tablespoons over the golden beets. Gently toss to coat.

Arrange the watercress on individual plates (or one large platter). Top with the beets and pecans, and place one burrata piece on top of each salad. Drizzle the remaining vinaigrette over the top of each piece of burrata.

Season with black pepper and serve at once.
Notes
Go with whatever beets you can get your hands on. We love a combination of red and golden. Remember to use gloves when handling the red beets as they will stain your fingers. After you have peeled them, keep the red separate from the gold, otherwise, the red will turn the golden beets a pinkish color. The beets can be roasted up to 24 hours in advance in an air-tight container with a lid in the fridge. Slice them before serving (up to an hour before serving). The vinaigrette can be made a couple of days in advance. Keep in a jar with a tight-fitting lid and shake vigorously just before assembling the salad. Watercress, kale, endive, or even chopped Romaine are all perfectly fine substitutes for the arugula.
Nutrition
Calories: 695kcal | Carbohydrates: 28g | Protein: 26g | Fat: 28g | Saturated Fat: 8g | Cholesterol: 81mg | Sodium: 771mg | Potassium: 1021mg | Fiber: 9g | Sugar: 18g | Vitamin A: 1917IU | Vitamin C: 25mg | Calcium: 723mg | Iron: 3mg


POST UPDATE: This recipe was originally published in January 2015, but was updated with improved tweaks to the recipe with new tips and photography and a fabulous new video in September 2020!