Jalapeño-Cilantro-Cheddar Soup is the perfect soup for when the weather turns chilly and you're looking for a dish that will warm you and make your and your friends smile.   The cooked jalapeno is the perfect balance to the cream and cheese.  It's a little decadent, but so comfy and yummy.  You won't believe how quickly this heart-warming soup will disappear.  Enjoy…absolutely Loon approved.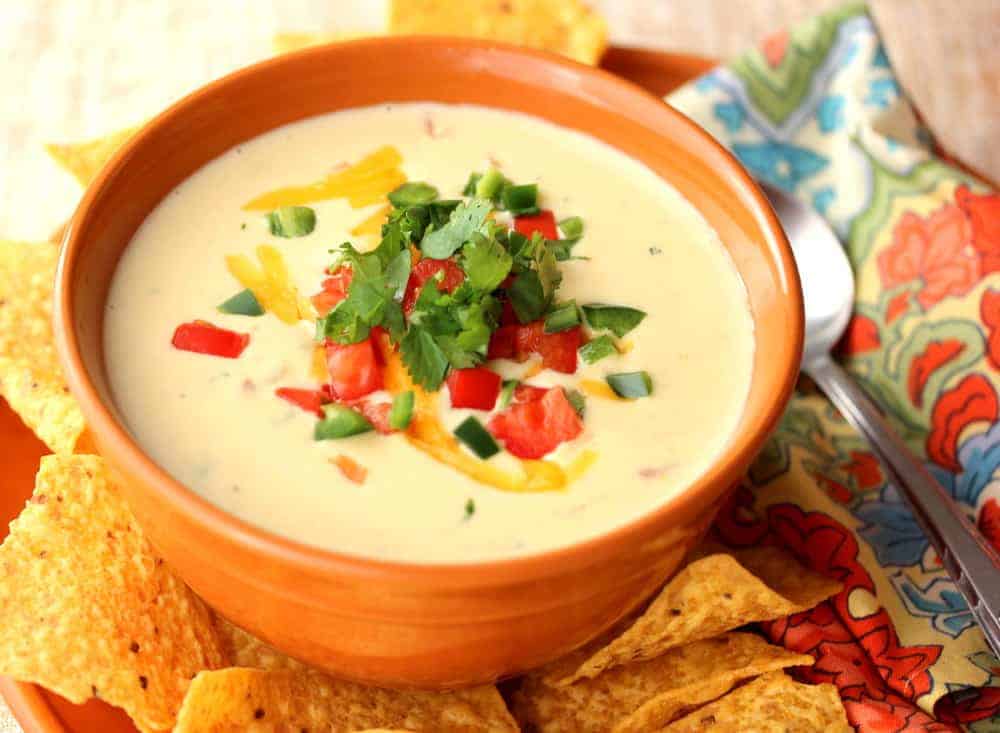 Jalapeño-Cilantro-Cheddar Soup
This Jalapeño-Cilantro-Cheddar Soup warms you to the bone. You and your guests will love this soup! The heat from the jalapeno offsets the cream and cheese. Perfection!
Print
Pin
Rate
Prep Time: 10 minutes
Cook Time: 20 minutes
Total Time: 30 minutes
Servings: 6 people
Calories: 312kcal
Ingredients
1/2 tbsp unsalted butter
5 jalapeno peppers seeded and minced
2 tbsp garlic minced
3/4 cup red onion finely chopped
1 avocado peeled and chopped
4 roma tomatoes diced
4 cups heavy cream
8 oz good quality cheddar cheese shredded
Kosher salt
Fresh ground black pepper
1 bunch of cilantro stemmed and chopped
Tortilla chips
Instructions
In a large pot (preferably a Dutch oven), heat the butter over medium-high heat.

Saute the jalapenos, garlic and onions for about 10 minutes (save a little for garnish).

Remove from the heat and add the avocado, tomatoes and cream. (save some tomatoes for garnish)

Turn the heat to low and add the cheese, stirring frequently until the cheese has melted (save some cheese for garnish).

Slowly bring the soup to a simmer, cooking to reduce by about 30 percent - about 15 to 20 minutes.

Season with salt (about a teaspoon) and pepper (about a half a teaspoon).

Just before serving, add the cilantro, reserving about 1 teaspoon per serving for garnish.

Garnish with chopped cilantro, cheese, jalapeno and tomatoes. Serve with tortilla chips.
Nutrition
Calories: 312kcal