Jalapeño-Cilantro-Cheddar Soup is the perfect soup for when the weather turns chilly and you're looking for a dish that will warm you and make your and your friends smile.
The cooked jalapeno is the perfect balance to the cream and cheese. It's a little decadent, but so comfy and yummy. You won't believe how quickly this heart-warming soup will disappear. And it comes together in less than an hour!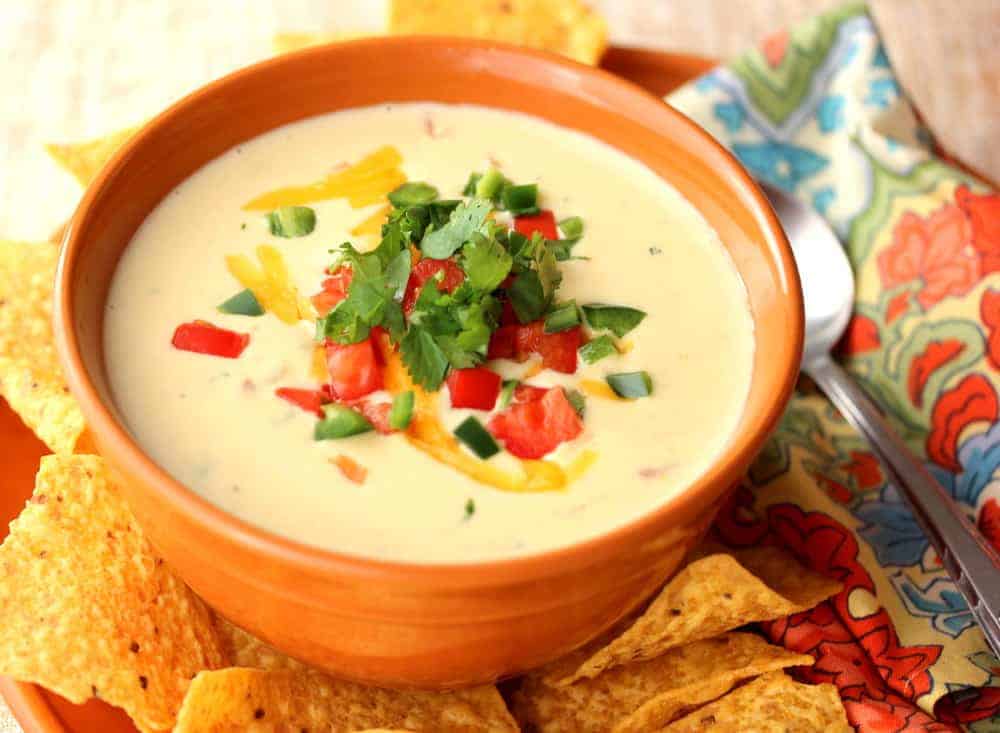 HOW TO MAKE JALAPEÑO-CILANTRO-CHEDDAR SOUP
This soup is so loaded with flavor and it is truly easy to prepare.
We take a nice sturdy pot, such as a Dutch oven, and heat the oil over moderate heat.
The mix of red onions, jalapeños, and tomatoes are the basis of the soup. Avocados and limes bring more depth to the flavor profile.
Now, folks, we're going to get a little decadent, but it's okay…it's soup!
Heavy cream is so luxurious for this Jalapeño-Cilantro-Cheddar Soup, but of course, you can use half and half, whole milk, or a combination of them.
The creaminess of the soup is essential in elevating the comfort level. It is the perfect complement to the little bit of heat from the peppers.
CHEDDAR CHEESE AND CILANTRO ARE PERFECT TOGETHER
Add the shredded cheddar by the handful, and stir until completely melted and heated through.
Don't add the cilantro until just before serving.
Speaking of cilantro, some folks just don't like cilantro, and boy, oh boy, will they let you know. Actually, evidence shows that some folks are genetically wired to not like the taste. If that's you, or any of your guests, just leave the cilantro out!
Folks, this soup is so good. We put it right up there with our White Chili with Roasted Poblanos and Tortilla Soup!
But in the meantime, go make this incredible soup! And when you do, be sure to take a picture, post it on Instagram, and tag @howtofeedaloon and hashtag #howtofeedaloon!
Jalapeño-Cilantro-Cheddar Soup
This Jalapeño-Cilantro-Cheddar Soup warms you to the bone. You and your guests will love this soup! The heat from the jalapeno offsets the cream and cheese. Perfection!
Print
Pin
Rate
Servings: 8 people
Calories: 594kcal
Ingredients
½ tbsp unsalted butter
5 jalapeno peppers seeded and minced
2 tbsp garlic minced
¾ cup red onion finely chopped
1 avocado peeled and chopped
4 tomatoes diced
4 cups heavy cream
8 oz cheddar cheese shredded
Kosher salt
Fresh ground black pepper
1 bunch cilantro stemmed and chopped
Tortilla chips
Instructions
In a large pot (preferably a Dutch oven), heat the butter over medium-high heat.

Saute the jalapenos, garlic and onions for about 10 minutes (save a little for garnish).

Remove from the heat and add the avocado, tomatoes and cream. (save some tomatoes for garnish)

Turn the heat to low and add the cheese, stirring frequently until the cheese has melted (save some cheese for garnish).

Slowly bring the soup to a simmer, cooking to reduce by about 30 percent - about 15 to 20 minutes.

Season with salt (about a teaspoon) and pepper (about a half a teaspoon).

Just before serving, add the cilantro, reserving about 1 teaspoon per serving for garnish.

Garnish with chopped cilantro, cheese, jalapeno and tomatoes. Serve with tortilla chips.
Nutrition
Calories: 594kcal | Carbohydrates: 11g | Protein: 11g | Fat: 36g | Saturated Fat: 26g | Cholesterol: 195mg | Sodium: 228mg | Potassium: 441mg | Fiber: 3g | Sugar: 3g | Vitamin A: 2766IU | Vitamin C: 24mg | Calcium: 298mg | Iron: 1mg