Smoked Ham and White Bean Stew is about as comforting of a soup as you'll find.
The flavors are deeply comforting and it all comes together in about an hour. We love this served with our Homemade Country White Bread.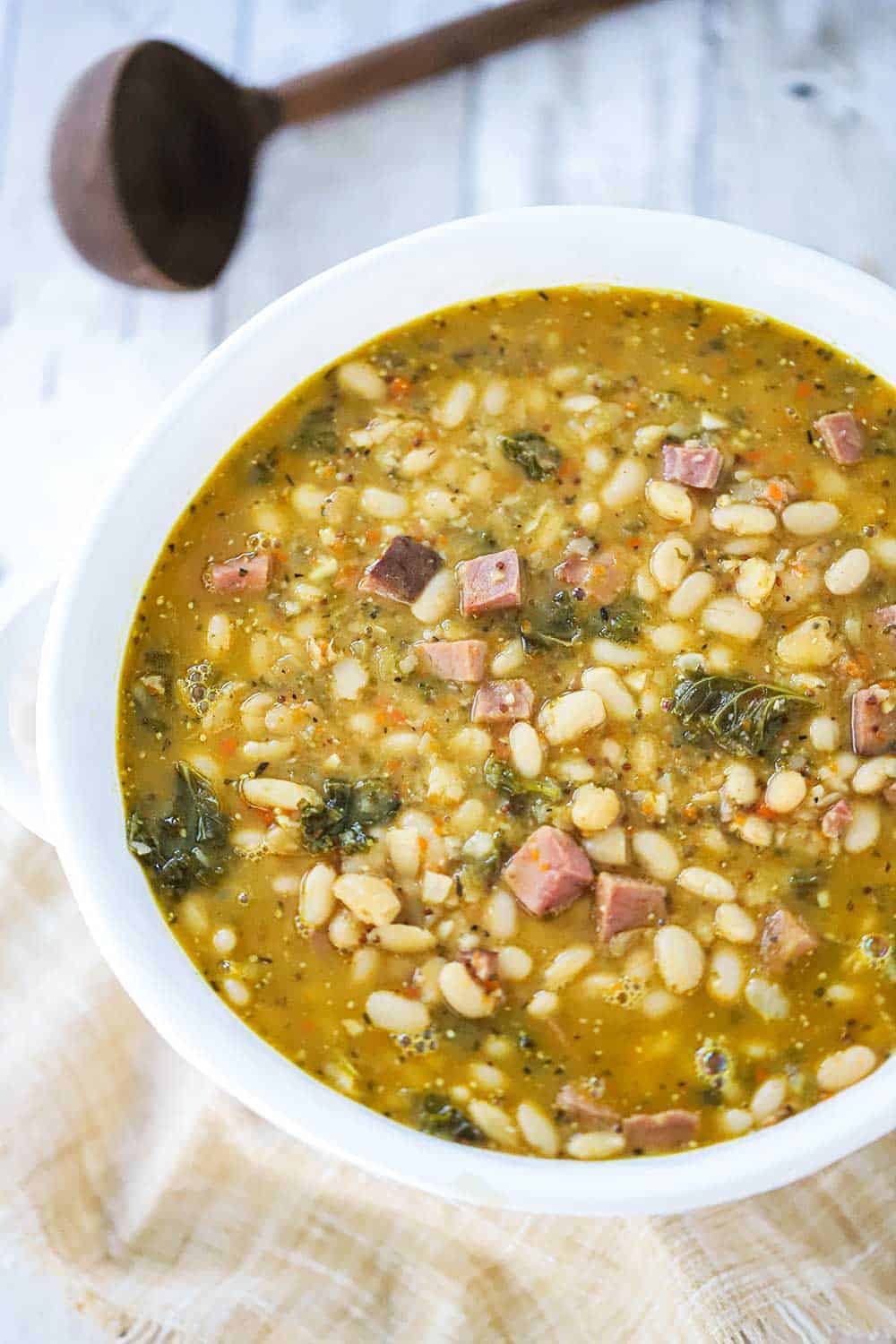 SMOKED HAM AND WHITE BEAN STEW IS NOT HARD TO PREPARE
There is no doubt about it, this smoked ham and white bean stew has been an instant classic in our home.
Be sure to soak the beans overnight. In a pinch, you can bring unsealed dried beans to a boil and boil them 2 minutes. Remove from heat; cover and let stand for at least 1 hour (or up to 4 hours). Or, in a real pinch…use canned beans.
Sautéing the vegetable with the herbs and mustard brings about such amazing flavor in the stew.
EXPERT TIP: Be sure to have all of your ingredients prepped before you begin putting together the soup. This helps to ensure everything cooks evenly and in the correct timeframe.
A DELICIOUS GERMAN STEW
This is a recipe adapted from the Robert Cove Germanfest in Louisiana a while back.  
The smoked ham, matched against the kale (or collard greens), white beans, whole grain mustard gives this stew such a distinct German flavor.
We love all kinds of mustard, but we really feel the coarse whole grain is such a key part of this recipe. The best!
Kale is so nutrias and a wonderful addition to the stew.
Collard greens are an excellent option, too.
Drop the greens in right at the end of the simmering time.
EXPERT TIP: When the stew is almost done, we like to puree a couple cups and add back to the stew…it gives it a wonderful creamy texture that just can't be beat!
Cold weather on the way?  Friends and family coming for a visit?  There is nothing much more inviting and comforting than this wonderful stew. Seriously, this will be one you'll make over and over again.  And if you like this as much as we think you will, you'll also love our Instant Smoked Sausage Stew or our Slow-Cooker Provençal Chicken Stew!
In the meantime, make this amazing stew!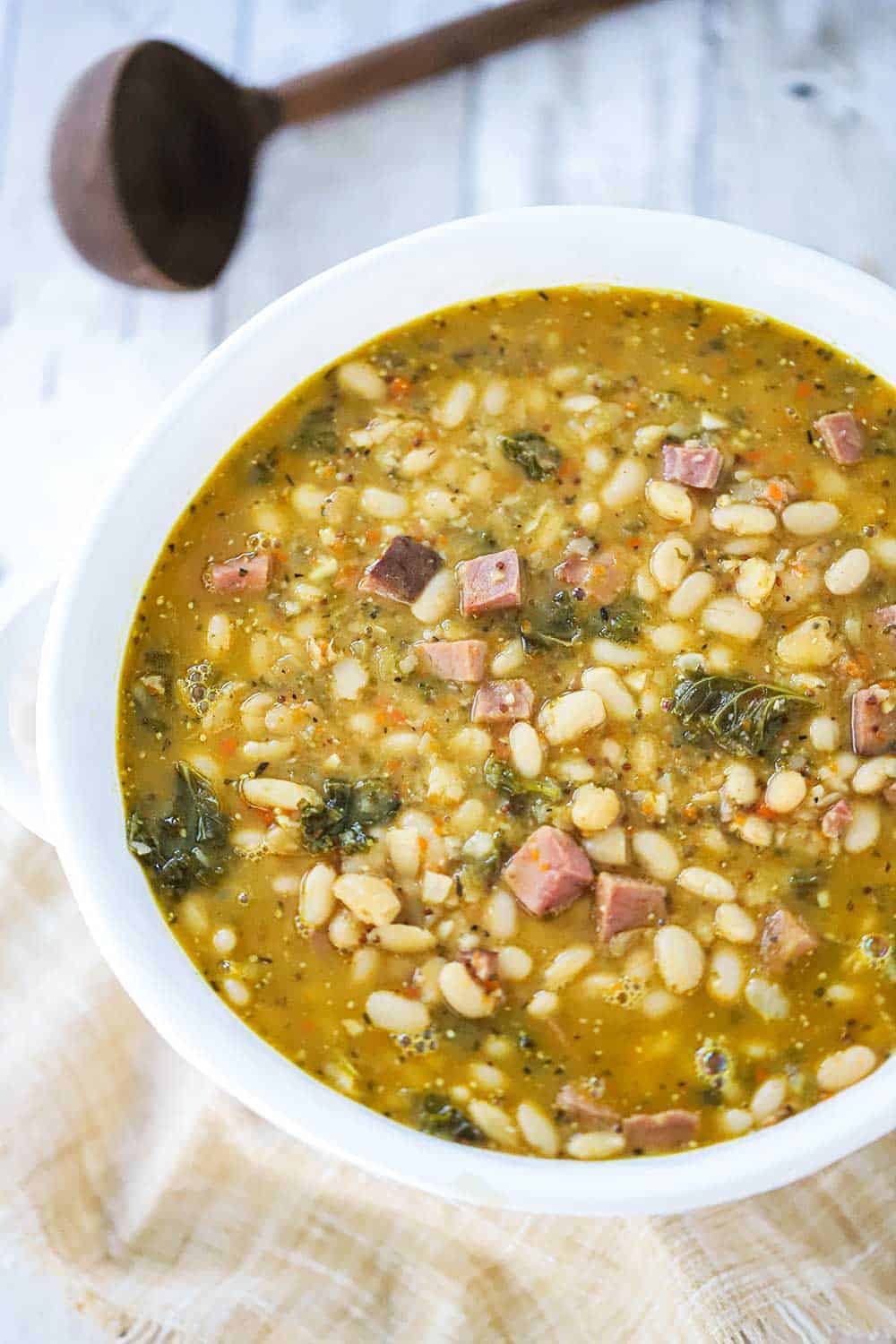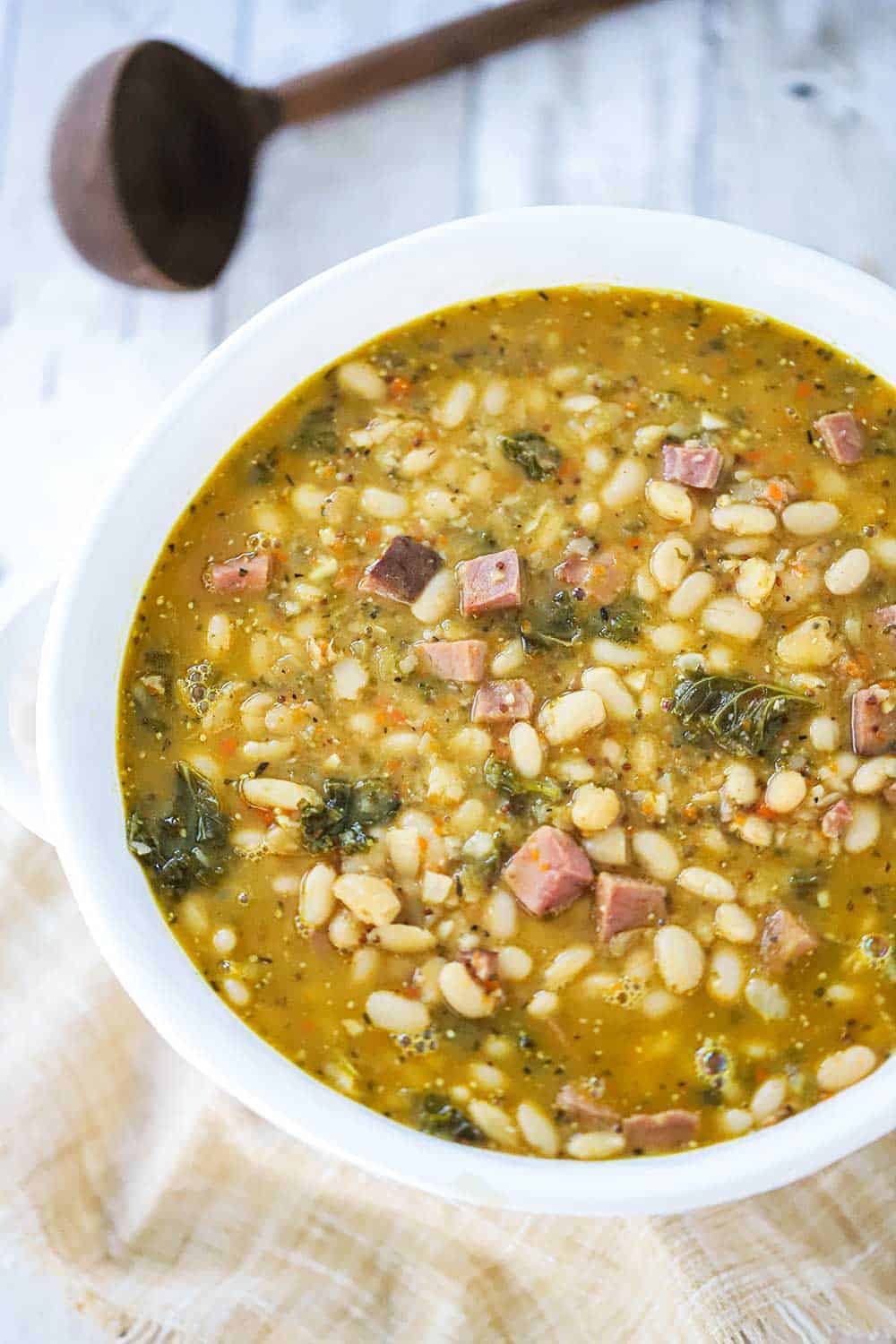 Smoked Ham, Kale and White Bean Stew
This smoked ham, kale and white bean stew is an instant family classic. The flavors are so deep, and so comforting. Perfect for a cold, winter day. The aroma will fill your house with pure joy. This is a wonderful German stew!!
Print
Pin
Rate
Servings: 8 people
Calories: 276kcal
Ingredients
3 cups dried white beans
2 tbsp unsalted butter or bacon fat
1 large lonion chopped
4 celery stalks diced
1 medium carrot finely chopped (I use my food processor)
5 garlic cloves minced
1 jalapeno pepper stemmed, seeded, and minced
5 fresh bay leaves or 3 dried
1 1/2 tsp Kosher salt or more to taste
1 tsp ground black pepper or more to taste
1/4 tsp cayenne pepper
2 lbs best-quality smoked ham cut into 1/2-inch dice
2 tbsp whole-grain mustard
1 rosemary sprig minced
9 cups chicken stock
1 bunch a good handful of fresh kale, large stems cut out, leaves torn into about 2-inch pieces - or you can use collard greens
Instructions
Place the beans in a large pot with enough water to cover them by 4 inches. Soak overnight.

Heat the butter or bacon fat in a heavy pot (preferably a Dutch oven) over medium-high heat and add the onion, celery, carrot, garlic, jalapeno, bay leaves, salt, pepper, and cayenne...and cook, stirring until the veggies have softened, about 10 minutes.

Add the ham, mustard, and rosemary, cook for 3 minutes more, stirring occasionally.

Drain and rinse the beans and add them to the pot along with the chicken stock. Bring to a boil, then reduce the heat to low and cook the stew at a simmer for 1 hour.

Add the kale and cook for 30 minutes more.

Turn off the heat and let sit for 15 minutes, discard the bay leaves.

You can serve the soup as is at this point, but, to make it creamier...puree 2 cups of the stew in a blender and return to the pot.

Taste for more seasonings, adding more salt and pepper if desired.

Serve with good, crusty bread, or over cooked rice.
Nutrition
Calories: 276kcal