We know it's pretty bold to refer to this dish as the best of its kind. But, wait until you make it.
There are so many things to love about this iconic Italian-American dish. It can be made in advance. It feeds a lot of hungry people. Leftovers are amazing. But, more than anything, it is incredibly delicious. The homemade marinara sauce is what puts it over the top! Serve it with a Caesar salad and cheesy garlic bread for a meal your guests won't soon forget!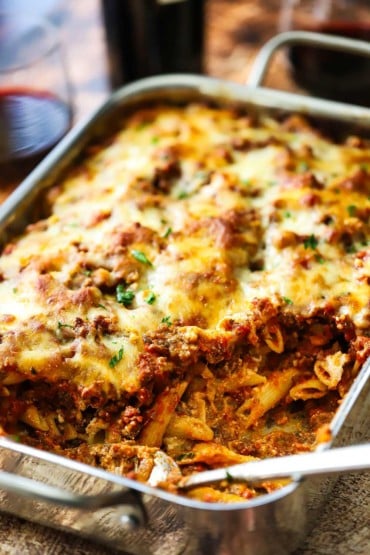 How To Make Baked Ziti
Though the history of baked ziti goes back for generations and generations, this recipe delivers that authentic taste that we all love so much!
We love that so many of the elements of this dish can be made in advance.
NOTE: If you liked this video, please subscribe to our YouTube channel. Remember to click the little 'bell' icon so you'll never miss a new video. Thank you!
The Ingredients You Will Need
This is one of those dishes that has more than a handful of ingredients, but, none of them are exotic.
Here Is What You'll Need to Have on Hand
Marinara sauce – This can be made well in advance. It freezes beautifully. It should be repeated, this marinara is key to making a best-ever dish.
Oil – Olive oil or extra-virgin olive oil is recommended.
Mirepoix – Onions, celery, carrots – chopped.
Italian sausage – We love a combination of sweet and hot, but that's up to you.
Ground beef – 85% lean has lots of flavor. Be sure to discard rendered grease responsibly.
Seasonings – Kosher salt and freshly ground black pepper is all you need.
Red wine – Not 100% necessary, but it definitely adds a depth of flavor to the sauce.
Tomato paste – Adds more to the flavor profile and helps to slightly thicken the sauce.
Ricotta – Whole milk, please.
Mozzarella – Shredded is fine, just use a top-notch variety.
Parmesan cheese – Grated.
Dried pasta – Any small tubular pasta will work, but, obviously, ziti is traditional.
Parsley – Freshly chopped, for a pretty garnish.
EXPERT TIP: 99.5% of the alcohol from the wine will evaporate out during the simmering process. If you prefer to not cook with wine, just omit it. You'll still get a delicious sauce.
Tips for Perfect Baked Ziti
Use High-Quality Ingredients – For the best flavor, use high-quality ingredients, including fresh herbs, San Marzano tomatoes, and good quality ricotta and mozzarella cheese.
Make the Marinara Sauce – Homemade marinara sauce is easy to make and tastes much better than store-bought versions. Use San Marzano tomatoes, garlic, onion, and fresh herbs to create a rich and flavorful sauce.
Cook the Pasta Until It Is al Dente – Overcooked pasta will become mushy and won't hold up well in the baked ziti. Be sure to cook the pasta until it is just tender, then rinse it under cold water to stop the cooking process.
EXPERT TIP: Use a ladle or large spoon to add the layers of meat sauce. Add it in dollops and then use the back of the spoon (or your fingers) to spread the sauce over the cheese and noodles. Be sure to leave plenty of sauce for the top of the ziti.
How To Serve and Store
As mentioned, the ziti can be prepared several days in advance before baking. Simply wrap in plastic wrap or foil and keep refrigerated for no more than 3 days. It can also be frozen (before baking) for up to 2 months. Let thaw completely before baking.
This dish is perfect for serving right from the pan. If passing tableside, be sure to include hot pads, or kitchen towels to grip the warm handles.
Leftover baked ziti is spectacular. You can easily heat it up in the microwave on HIGH for 1 to 2 minutes. Or, cover the pan with foil and cook in a 350°F oven for 30 minutes, or until warm all the way through and bubbling.
For wine, a good solid red is ideal, such as a cabernet or zinfandel.
Other Classic Italian-American Dishes to Try
Some of these dishes are strictly Italian, and some of them are Italian-American. All of them are authentic and truly spectacular. Give them all a try!
Rustic Bolognese Lasagna
Homemade Stuffed Manicotti
Spinach and Cheese Cannelloni
Best-Ever Eggplant Parmesan
Chicken Piccata
Baked Eggplant Rollatini
Classic Spaghetti and Meatballs
Penne alla Vodka
Spaghetti Vongole (Pasta with White Clam Sauce)
Shrimp Marinara
Salmon Puttanesca
These are so classic and through-the-roof delicious! But, in the meantime, isn't this dish grabbing your attention?
There is truly something magical about this dish.
You can easily cut the recipe in half if not serving a group. But, remember, leftovers are excellent and will keep in the refrigerator for up to 5 to 7 days.
Just wait until you lift that first steaming spoonful from the pan. Get ready for big anticipation!
When we serve this, we love to garnish the top of the dish with freshly chopped parsley.
And be sure to have plenty of Parmesan cheese available for guests and family to add more, if they desire.
We pass a block of Parmesan and a cheese grater, for a nice touch.
This dish is truly about as good as it comes when you're looking for Italian-American comfort food.
Ready to make the best baked pasta dish this side of Little Italy? Go for it!
And when you do, be sure to take a photo of it, post it on Instagram, and tag @HowToFeedaLoon and hashtag #HowToFeedaLoon!
Best-Ever Baked Ziti
This Best-Ever Baked Ziti recipe really is the best ever. Go with quality ingredients and be sure to make the marinara from scratch, and you won't believe the results. This meat sauce can be made a day in advance and kept in the fridge or freeze up to 2 weeks. The dish can also be made a day in advance and kept in the fridge or freeze for up to 2 weeks. Just let thaw before baking. This is one to serve to people you really love and want to make them happy.
Print
Pin
Rate
Servings: 8
Calories: 624kcal
Equipment
Lasagna pan or large casserole dish (9x13, or larger)
Ingredients
For the Meat Sauce
¼ cup olive oil
1 medium onion chopped (about 1/2 cup)
2 stalks celery chopped (about 1/2 cup)
1 medium carrot peeled and chopped (about 1/2 cup)
½ lb sweet Italian sausage casings removed, if links
½ lb hot Italian sausage casings removed, if links
1 lb ground beef 85% lean
Kosher salt and freshly ground black pepper
½ cup red wine
5 cups fresh marinara sauce click for recipe
3 tbsp tomato paste
For the Baked Ziti
16 oz ziti dried, or rigatoni
16 oz ricotta cheese whole milk
3 cups mozzarella cheese shredded
1 cup Parmesan cheese grated
2 tbsp Italian parsley chopped, for garnish
Instructions
Do Ahead
Prepare the marinara sauce (see link to recipe in Ingredients List)

fresh marinara sauce
Make the Meat Sauce
Heat the oil in a large pot over medium heat. Add the onion, celery, and carrot and cook until soft, about 7 - 10 minutes.

¼ cup olive oil, 1 medium onion, 2 stalks celery, 1 medium carrot

Crumble the sausage with your hands into the pot and then add the beef. Cook until almost no longer pink.

½ lb sweet Italian sausage, ½ lb hot Italian sausage, 1 lb ground beef

Season with 1 tsp salt and ½ tsp pepper.

Kosher salt and freshly ground black pepper

At this point, if too much grease has been rendered, tilt the skillet and use a spoon to remove excess fat. Discard safely. Leave a little in the pan for added flavor.

Add the wine and cook until the liquid is almost all gone, about 3 to 4 minutes.

½ cup red wine

Add the prepared marinara and tomato paste and simmer for 20 to 30 minutes. Set aside.

5 cups fresh marinara sauce, 3 tbsp tomato paste
Assemble and Bake the Dish
Preheat the oven to 350°F.

Bring a large pot of salted water to a boil. Cook the ziti according to package instructions for al dente. Drain and set aside.

16 oz ziti

In a lasagna pan (or a deep casserole dish), ladle a thin layer of the meat sauce on the bottom of the dish, about 2 cups.

Add a layer of cooked ziti, a little more than a third of the pasta.

Top with dollops of half of the ricotta and then 1 cup of the mozzarella.

16 oz ricotta cheese, 3 cups mozzarella cheese

Sprinkle about ¼ cup of Parmesan on top of that.

1 cup Parmesan cheese

Repeat this process again. (You'll want to leave a handful of the cooked pasta and then several cups of the sauce for the topping of the dish).

Top with a handful of pasta, then another layer of the sauce, 1 cup of mozzarella, and another ¼ cup of Parmesan on top.

Baked, uncovered, for 45 to 50 minutes, until lightly browned on top and bubbly.

Garnish with chopped parsley. Let rest for about 5 minutes, and then serve with additional grated Parmesan on the side.

2 tbsp Italian parsley
Notes
See the video near the top of the blog post for visual guidance. If you liked the video, please subscribe to our YouTube channel.
The marinara sauce can be made several days in advance or frozen for up to 2 months (thaw completely before using). The meat sauce can be prepared up to 3 days before assembling the ziti.
The dish can be assembled and then refrigerated (covered) for several days. If chilled, you will need to add another 15 to 20 minutes of baking. Cover with foil if getting too brown on top.
Leftovers are fantastic and we keep covered in the fridge for up to 5 days. You can freeze leftover baked ziti, but the cheese will lose its creamy texture. We don't recommend freezing once baked.
Nutrition
Calories: 624kcal | Carbohydrates: 49g | Protein: 42g | Fat: 31g | Saturated Fat: 9g | Polyunsaturated Fat: 3g | Monounsaturated Fat: 8g | Trans Fat: 1g | Cholesterol: 132mg | Sodium: 822mg | Potassium: 610mg | Fiber: 3g | Sugar: 4g | Vitamin A: 2129IU | Vitamin C: 5mg | Calcium: 519mg | Iron: 3mg
POST UPDATE: This recipe was originally published in April 2018, but was updated with improved tweaks to the recipe with new tips and photography and a fabulous new video in July 2023!