I know it's quite a claim to call this Best-Ever Baked Ziti recipe the best ever, but wait until you try this Best-Ever Baked Ziti. One bite, and we're pretty sure you'll agree.
This truly is the Best-Ever Baked Ziti recipe!!
Though the history of baked ziti goes back for generations and generations, this recipe delivers that authentic Italian taste the we all love so much!
Watch us show you how to make what we believe truly is the Best-Ever Baked Ziti!
You can do it! Watch, laugh…and get ready to make the Best-Ever Baked Ziti recipe!
Of course, the sum of this dish is greater than it's parts. But…the parts are pretty amazing, too. And that starts with a robust, deeply flavorful meat sauce. You can easily make the marinara sauce several days in advance.
In fact, you can make it weeks in advance because it freezes beautifully! Mmmmm…meat sauce.
Using top quality ingredients is key to making this the best-ever baked ziti recipe, as well. Seek out top-quality ricotta cheese and mozzarella.
We just can't stress this enough. This dish serves a nice-sized gathering of friends and family.
We love to serve this with our Classic Caesar Salad and our Fantastic Focaccia with Rosemary and Olive Oil.
OTHER AMAZING BAKED DISHES TO TRY
Rustic Bolognese Lasagna
Spinach and Cheese Cannelloni
Best-Ever Eggplant Parmesan
Macaroni and Cheese with Roasted Cauliflower
Baked Eggplant Involtini
But folks, in the meantime, check out this incredible baked ziti!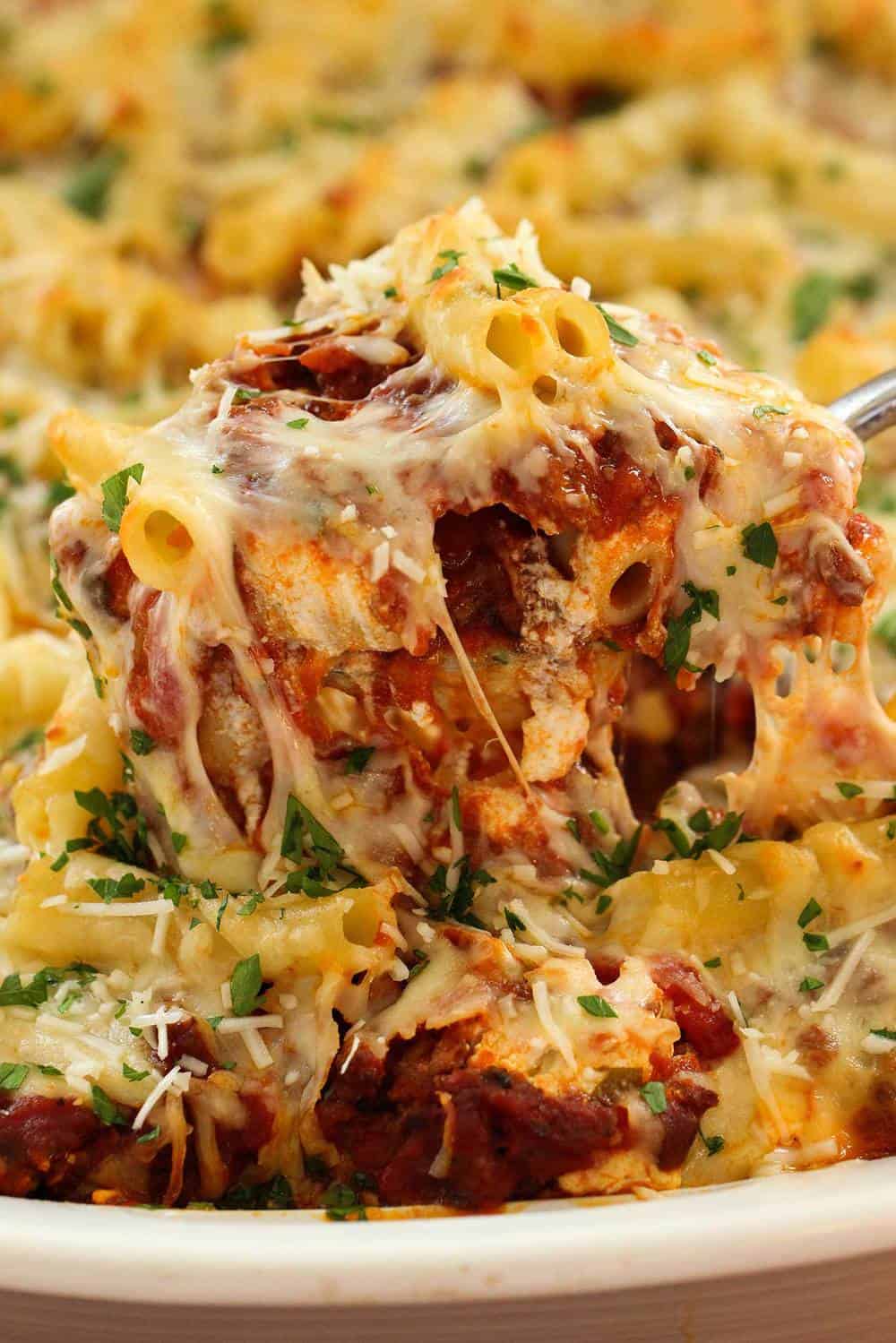 Give this dish the kind of love you would your best friends and closest relatives, and the love it gives you back in return will make your heart sing!
Ah…this incredible dish really is simply the BEST!
EXPERT TIP: You can make the meat sauce up to 1 week in advance. You can assemble the dish up to 2 days in advance. Bring to room temperature before baking, or just add an additional 15 minutes if chilled, and an additional 40 minutes if frozen!
Now, make this Best-Ever Baked Zite recipe! You can make this up to 2 weeks in advance and freeze. Let thaw before baking.
Enjoy!
Best-Ever Baked Ziti
This Best-Ever Baked Ziti recipe really is the best ever. Go with quality ingredients and be sure to make the marinara from scratch, and you won't believe the results. This meat sauce can be made a day in advance and kept in the fridge or freeze up to 2 weeks. The dish can also be made a day in advance and kept in the fridge or freeze for up to 2 weeks. Just let thaw before baking. This is one to serve to people you really love and want to make them happy.
Print
Pin
Rate
Servings: 6
Calories: 525kcal
Ingredients
FOR THE MEAT SAUCE
1/4 cup olive oil
1 medium yellow onion chopped (about 1/2 cup)
2 celery stalks chopped (about 1/2 cup)
1 large carrot peeled and chopped (about 1/2 cup)
1/2 lb sweet Italian sausage casings removed
1/2 lb hot Italian sausage casings removed
1 lb ground beef
Kosher salt and freshly ground black pepper
1/2 cup red wine
5 cups fresh marinara sauce click for recipe
3 tbsp tomato paste
FOR THE BAKED ZITI
16 oz quality ricotta cheese
16 oz quality mozzarella cheese shredded
1 cup Parmesan cheese finely shredded
1 lb dried ziti
2 tbsp fresh parsley chopped
Instructions
MAKE THE MEAT SAUCE
Heat the oil in a large pot over medium heat.

Add the onion, celery and carrot and cook until soft, about 7 - 10 minutes.

Crumble the sausage with your hands into the pot and then add the beef. Cook until almost no longer pink.

Season with 1/2 teaspoon salt and pepper, each.

At this point, if too much grease has rendered, you can drain it off.

Add the wine and cook until liquid is almost all gone, about 4 - 5 minutes.

Add the prepared marinara and tomato paste and simmer for 1 hour.

Taste and adjust seasonings, if necessary. Set aside until ready to assemble dish.
ASSEMBLE AND BAKE THE ZITI
Pre-heat the oven to 350°F.

Bring a large pot of salted water to a boil.

Cook the ziti according to package instructions for al dente. Drain and set aside.

In a large baking dish (a lasagna dish/pan works well), ladle a thin layer of the meat sauce on the bottom of the dish.

Add a layer of cooked ziti.

Top with dollops of ricotta and then about 3/4 cup of mozzarella.

Sprinkle about 1/4 cup of Parmesan on top of that.

Repeat this process again.

Top with a handful of pasta, then another layer of the sauce, a 1/2 cup of the mozzarella, and another 1/4 of Parmesan on top.

Baked, uncovered, for 45 to 50 minutes, until lightly browned on top and bubbly.

Garnish with chopped parsley.
Notes
NOTE: The cook time does NOT include the preparing the marinara sauce. We recommend you make this in advance. It freezes beautifully. Also, the marinara recipe makes more sauce than you may end up using for this ziti recipe. Keep it on hand for plenty of other amazing uses!
Nutrition
Calories: 525kcal