Has there ever been a more universally-loved comfort dish than this? We think not.
Folks, this is it. It's deep in flavor. And meaty. And cheesy. It feeds a hungry group of loved ones. And many of the components can be made in advance. This classic meat lasagna recipe is one you will want to make time and time again.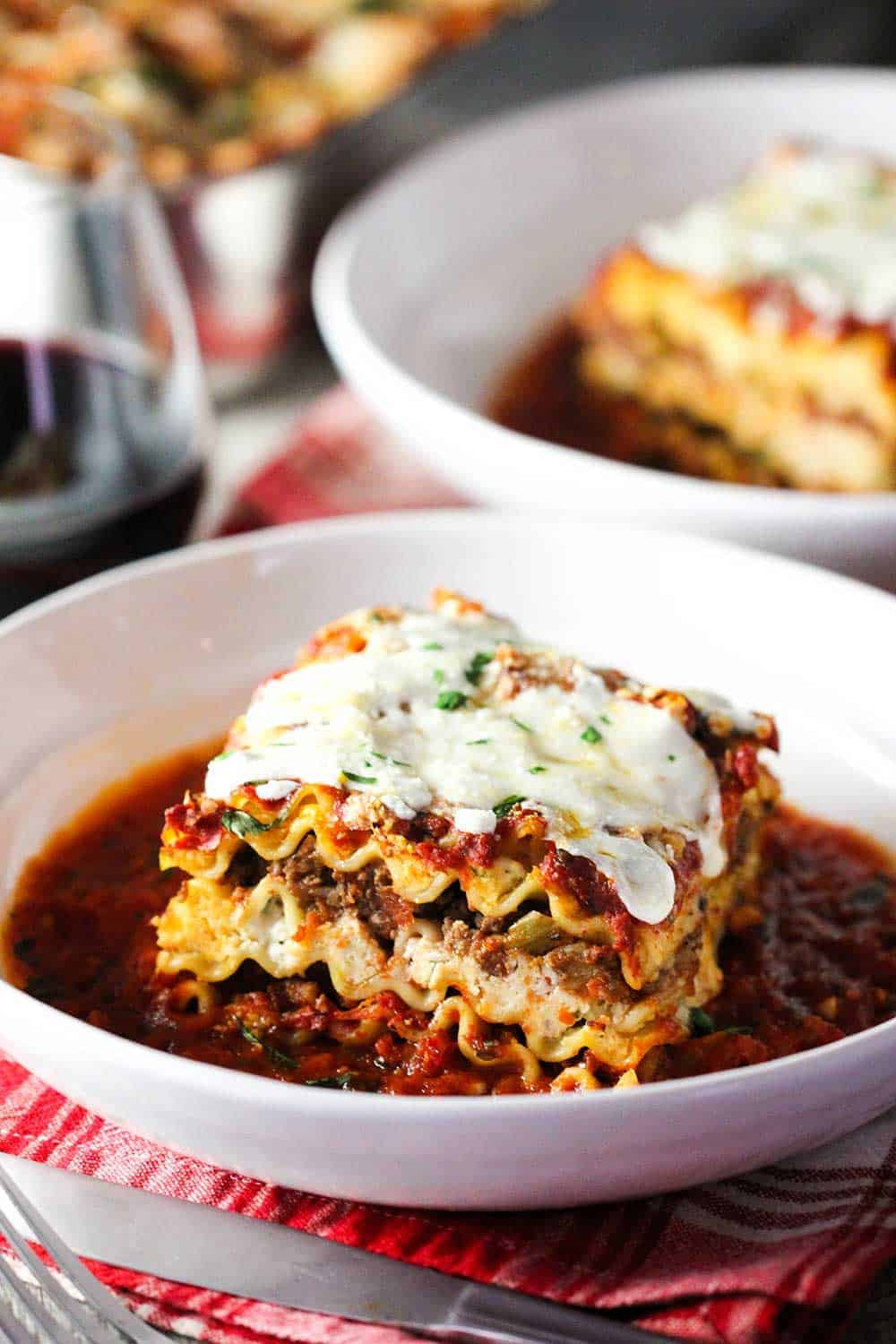 HOW TO MAKE CLASSIC MEAT LASAGNA
As mentioned, many of the layers of this incredible lasagna can be made in advance. We strongly suggest making a batch of homemade marinara for this lasagna.
The incredible meat sauce can be made up to 2 days in advance. And even the noodles can be prepared a couple of hours before assembly.
Watch us show you how to make this incredible crowd-pleasing dish!
A CLASSIC MEAT SAUCE
We love using a combination of beef and pork for our meat sauce, but you can also include ground veal, too. (Simply use ½ lb of pork and ½ lb of veal).
Layering the flavors is key here, and we start with chopped prosciutto. Next goes your mirepoix, which is chopped onions, carrots, and celery. Garlic, bay leaves, fresh herbs, red wine, and crushed tomatoes deliver that classic sauce.
Letting the sauce simmer for 30 minutes will allow it to reduce, which will help to prevent the lasagna from having too much liquid after it bakes.
EXPERT TIP: After the pork and beef have cooked, you may have more rendered fat than you desire. Simply tilt your skillet to the side and remove the grease with a large spoon. We strongly encourage you to not remove all of it! There is a ton of flavor in the grease and at least 2 or 3 tablespoons is perfect for mixing in with the sauce.
Another layer to this simple meat lasagna is a ricotta cheese mixture. We love ricotta, but like every layer of this dish, you don't want too much.
We recommend whole milk ricotta for the mixture.
The addition of two eggs creates the perfect texture that you're looking for. Chopped fresh parsley adds a nice flavor and adds to the classic look of this Italian-American classic lasagna.
ASSEMBLING THE LASAGNA
We use a straight-edge 9″x13″ lasagna pan for this recipe. It allows us to create 5 layers of noodles.
If you use a glass 9″x13″ dish, the sides may be beveled, and you might not be able to get 5 layers of noodles. In this case, we recommend one layer of sauce, and one layer of the ricotta mixture. Which will result in 3 layers of noodles.
The order of layering is as follows:
Marina – 1 cup
Noodles – Usually 4 full noodles lengthwise, and then another noodle cut down the center and slightly shortened to fill in the end.
Meat sauce – 3 cups, topped with Parmesan cheese
Noodles
Ricotta mixture (2 cups) and mozzarella (1 cup) – topped with Parmesan cheese
Noodles
Meat Sauce – 3 cups, topped with Parmesan cheese
Ricotta mixture (2 cups) and mozzarella (1 cup) – topped with Parmesan cheese
Noodles
Marina – 1 cup
Mozzarella – 2 cups, topped with Parmesan cheese
CLASSIC MEAT LASAGNA CAN BE MADE IN ADVANCE
We love to add another layer of mozzarella on the top of the lasagna, just because…why not?
Cover the lasagna with foil and then bake for 45 minutes, and then remove the foil for and bake for another 15 minutes.
EXPERT TIP: The lasagna can be made up 2 days in advance, prior to baking. You can also freeze the unbaked lasagna for up to 1 month. We recommend letting the lasagna thaw before baking, however, you can bake frozen, just add another 45 minutes to the entire baking process.
IDEAL FOR SERVING A CROWD
This lasagna easily feeds 8 to 10 people.
We love serving it with crusty Italian bread and our Classic Ceasar Salad.
And leftovers? If there are any, we think it's even better the next day. Just simply re-heat in the oven. Don't forget the extra marinara sauce for serving!
HOW TO NOT HAVE A RUNNY LASAGNA
Follow these guidelines, and when you pull that first piece of classic meat lasagna, it won't be a watery, runny mess:
Make sure to cook the meat sauce down so it's nice and thick
Use good quality ricotta and mozzarella, fresh is ideal
IMPORTANT: Cook your noodles until just barely al dente. Using tongs, quickly remove them from the salted water, shaking off excess water. Lay them on baking sheets and cover with kitchen towels, pressing down to absorb water.
SUPER IMPORTANT: Let the baked lasagna rest for a minimum of 30 minutes, or up to two hours.
Just look at this, will you?
I have been tweaking this recipe for decades, and I am thrilled to share it with you now.
It holds a special place for Wesley and me. We loved it so much, I made it on our anniversary every single year.
We sincerely hope you enjoy it as much as we do!
Ready to make the best meat lasagna in town? Go for it!
And when you do, be sure to take a picture of it, post it on Instagram, and tag @howtofeedaloon and #howtofeedaloon!
Classic Meat Lasagna
This is the ultimate in comfort food. You can make the marinara sauce and meat sauce several days in advance. You can also make the entire lasagna a couple of days in advance of baking. Delicious and feed a hungry family or group of friends!
Print
Pin
Rate
Servings: 12
Calories: 705kcal
Equipment
9"x13" straight edge lasagna pan
Ingredients
FOR THE MEAT SAUCE
2 oz prosciutto chopped
1 tbsp olive oil
1 cup onion chopped
1 cup carrot peeled and chopped
1 cup celery chopped
3 cloves garlic minced
1 lb ground beef 85% lean
1 lb ground pork
½ cup red wine
2 tsp Kosher salt
1 tsp Black pepper freshly ground
1 tsp oregano fresh, chopped
1 tsp rosemary fresh, chopped
1 tbsp parsley fresh, chopped
¼ cup basil fresh, chopped
2 bay leaves
1 cup beef stock
1 28 oz. can crushed tomatoes
FOR THE RICOTTA MIXTURE
32 oz ricotta cheese whole milk
2 large eggs lightly beaten
2 tbsp parsley fresh, chopped
1 tsp Kosher salt
¼ tsp black pepper freshly ground
FOR ASSEMBLY AND SERVING
1 cup Parmesan cheese grated
4 cups Mozzarella cheese whole milk, grated
1 tbsp parsley fresh, chopped
1 lb lasagna noodles you'll need 23 to 24 noodles
5 cups marinara sauce
Instructions
MAKE AHEAD
Make the marinara sauce ahead of time,
MAKE THE MEAT SAUCE
Heat the oil in a large saucepan over medium heat and add the chopped prosciutto. Cook until crispy, about 4 minutes.

Add the onion, carrots, and celery and cook until soft and translucent, about 6 to 8 minutes. Add the garlic and cook until fragrant, about 30 seconds.

Add the oregano, rosemary, parsley, and basil and cook for 1 minute, stirring to combine.

Add the beef, pork, and 1 tsp of salt. Cook until meat is no longer pink. If desired, tilt the skillet to the side and use a large spoon to remove some of the rendered fat. You'll want to leave at least 2 tbsp of grease in the pan.

Add the wine and cook until nearly evaporated, about 4 minutes.

Add the bay leaves, beef stock, and tomatoes and simmer for 30 minutes, until the sauce has thickened. Set aside to cool.
COOK THE NOODLES
Bring two pots of liberally salted water to a rolling boil. Add the noodles and cook until just barely al dente, usually about 7 to 8 minutes.

Immediately remove from the heat and use a pair of tongs to remove the noodles from the water and place them on baking sheets. Place a kitchen towel over the noodles and press down to soak up any excess water.
MAKE THE RICOTTA MIXTURE
In a medium bowl, use a wooden spoon to mix together the ricotta, eggs, parsley, salt, and pepper. Set aside.
ASSEMBLY AND SERVING
Preheat the oven to 375°F.

In a lasagna dish, spread 1 cup of the marinara sauce across the bottom of the pan. Place 4 noodles over the sauce, lengthwise and a fifth noodle, cut in half and about an inch cut off the end to place at the end of the 4 noodles.

Use a spoon to spread 3 cups of the cooled meat sauce over the noodles. Sprinkle ¼ cup of the grated Parmesan cheese over the meat mixture. Add another layer of noodles.

Use another spoon to spread 2 cups of the ricotta mixture over the noodles. Add 1 cup of the shredded mozzarella over the ricotta, and then ¼ cup of the Parmesan over that. Top with another layer of noodles.

Add the remaining meat sauce, another layer of noodles, the remaining ricotta mixture/1 cup mozzarella/¼ cup Parmesan, and top with one more layer of noodles.

Spread 1 cup of the marinara over the top layer of noodles, and then add 2 cups of mozzarella and another ¼ cup of Parmesan.

Cover with foil and bake for 1 hour, removing the foil after 45 minutes.

Let the lasagna rest for at least 30 minutes or up to 2 hours. Garnish with chopped parsley. Use a sharp knife to cut the lasagna into 12 squares.

Heat marinara and place a thin layer in each serving plate. Top with a piece of lasagna and serve at once.
Notes
The marinara and meat sauce can be made up to 2 days in advance. The noodles can be prepared up to 2 hours before assembly. Be sure to cook the noodles until just al dente. As they bake, they will soak up any additional liquid and make them perfectly cooked. This also helps to reduce excess liquid in your finished lasagna. A straight-edge pasta pan is ideal for this recipe. If you are using a 9"x13" glass dish with beveled edges, there may not be enough room for 5 layers of noodles. If this is the case, go with 3 layers of noodles, with one layer of meat sauce and one layer of the ricotta. Be sure to let the lasagna rest for at least 30 minutes, or up to 2 hours before slicing and serving. This also reduces the chance of lasagna with too much liquid when serving. Best served over a small layer of homemade marina. The baked lasagna will keep in the refrigerator for up to 1 week and can be frozen for up to 2 months. Unbaked lasagana can be prepared 2 days in advance, or frozen up to one month in advance. We recommend letting the lasagna thaw before baking. But if you do bake it frozen, keep covered with foil (until the last minutes of baking), and bake for approx. 1 hour and 45 minutes.
Nutrition
Calories: 705kcal | Carbohydrates: 41g | Protein: 42g | Fat: 24g | Saturated Fat: 8g | Cholesterol: 166mg | Sodium: 1099mg | Potassium: 902mg | Fiber: 4g | Sugar: 7g | Vitamin A: 3105IU | Vitamin C: 11mg | Calcium: 500mg | Iron: 4mg