Cheesy Garlic Bread is a classic Italian-American treat that is so easy to make.
The roasted garlic puts it over the top and is the perfect side dish for your favorite Italian dish, or as an appetizer.
And…after roasting the garlic, it only takes about 20 minutes to prepare!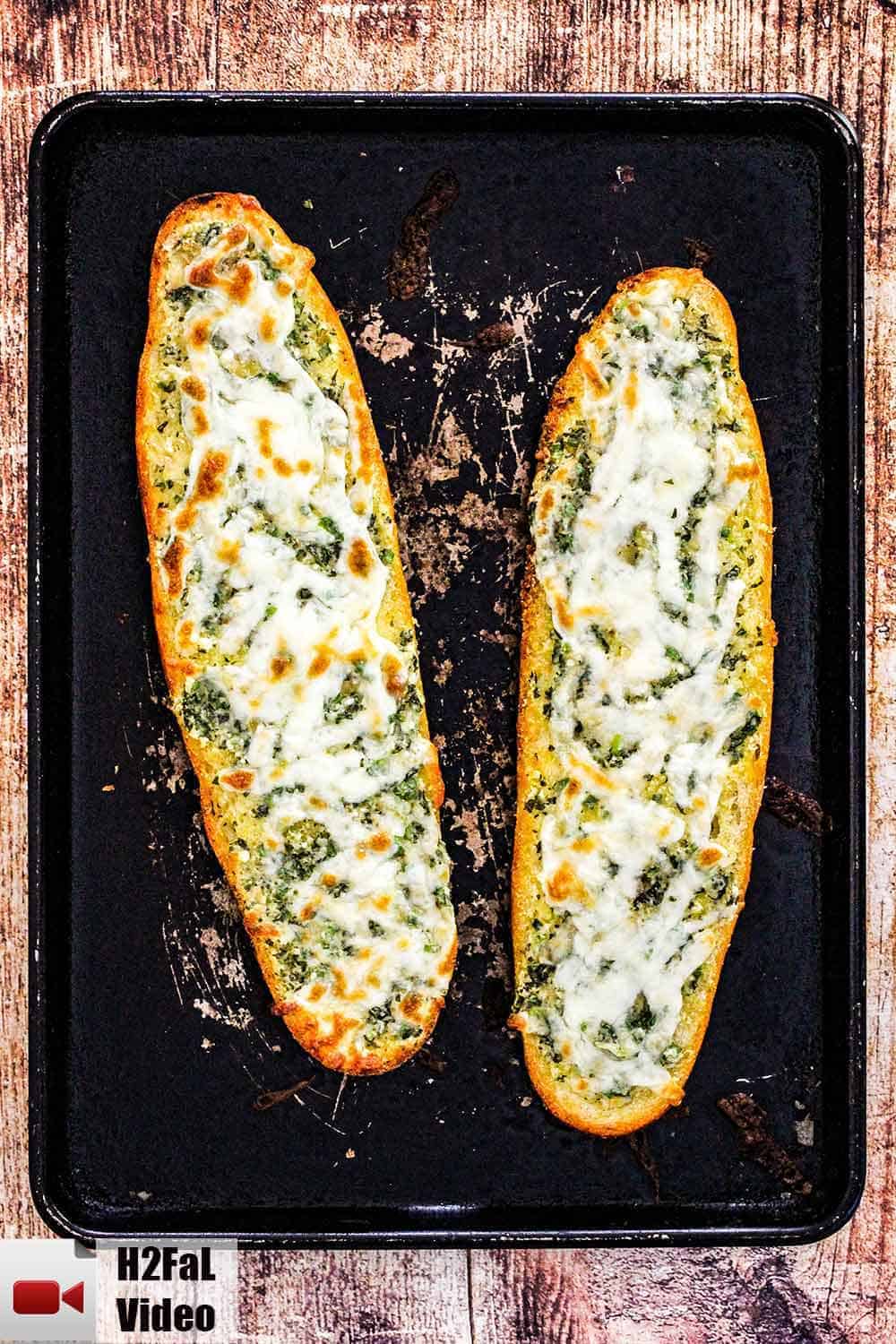 HOW TO MAKE CHEESY GARLIC BREAD
Cheesy garlic bread is so heart-warming and is easily prepared at home.
We love serving our cheesy garlic bread alongside:
Watch us show you how easy it is to make this awesome Cheesy Garlic Bread
ROASTED GARLIC ADDS A DEPTH OF FLAVOR
If you've never roasted a head of garlic before, boy, oh boy, are you in for a treat. The process is so simple. Simply pre-heat your oven to 400°F and then cut the top off of a head of garlic with a large knife. Don't worry if a few cloves come un-attached.
Simply place a square piece of foil on your counter, then gather the cut garlic head (with any cloves that came unattached) and drizzle a little olive oil over the top. Gather the foil up around the garlic, and twist to seal. Place in the oven for 40 minutes and then let cool slightly.
Next, squeeze the creamy garlic out of each clove's shell into a bowl.
EXPERT TIP: The garlic mellows in flavor as it roasts, so an entire head of garlic is the perfect amount for cheesy garlic bread, and won't be too garlicky in taste.
HOW TO SELECT THE BEST BREAD
We find that a nice freshly baked Italian or French loaf, about 12 inches long, works perfectly for Cheesy Garlic Bread.
To split in half, simply take a serrated knife and very carefully cut the loaf down the middle, lengthwise.
Although the butter/garic mixture can be prepare ahead of time, we don't recommend cutting the bread more than an hour before baking.
WHAT YOU NEED FOR THE SPREAD
Unsalted butter, room temperature
Roasted garlic
Parmesan and Mozzarella cheese
Fresh basil and chives
Salt
Mix everything together in a medium-sized bowl.
EXPERT TIP: If you need to soften butter in a hurry, simply fill a measuring cup with hot water, place in the microwave and cook on high for 2 minutes, until the water is very hot. Slice the butter onto a plate and place the plate in the microwave with the hot water and close the door. The heat and steam from the water will make the butter perfectly soft within 10 minutes.
Now, it's time to spread to that amazing roasted garlic butter mixture onto your bread slices!
Place about 4 or 5 equal spoon fulls of the butter mixture on each slice.
Take a knife to carefully spread the mixture all over the bread slices. During this time, you'll need to pre-heat your oven to 450°F.
THE BEST CHEESE TO USE
The rule of thumb you want to remember for selecting a cheese is it needs to be a good-quality melting cheese.
We love using mozzarella, but Gruyere, fontina or smoked gouda would be delicious, too. Or, a combination of any, or all, of them.
We use just enough cheese to top off the bread. But if you want extra cheese, then by all means, double up on the cheese!
CHEESY GARLIC BREAD FAQs
Can this be made ahead of time? You can absolutely make the butter/garlic/herb mixture up to several days before using. Just bring back to room temperature before spreading. You can assemble the bread up to 1 hour before baking, any longer, and the bread could start to dry out.
Can the uncooked, prepared bread be frozen? Absolutely! Prepare the recipe as written up to baking. Then, place in a large freezer bag (or wrap in foil) and freeze up to 1 month. When ready to serve, remove from freezer bag (or foil) and bake at 450° for 15 to 20 minutes, until fully cooked with the cheese melted and the edges of the bread just starting to brown.
Can dried herbs be substituted for fresh? Yes! We do feel fresh will deliver the best overall taste, but in a pinch, you can certainly go with dried. If using dried, go with half the amount that is called for fresh. A combination of dried basil, oregano, parsley and other herbs is a nice touch.
Can I use fresh garlic in place of the roasted? Of course! Just fold 3 minced garlic cloves into the butter mixture instead of the roasted garlic. No problem!
CHEESY GARLIC BREAD IS BEST SERVED HOT
Make sure you time your meal so that the bread is being served just as folks are sitting down to the table.
Slice the bread and serve immediately. Was there ever a better accompaniment to Italian Meatballs than this yummy toasty bread?
And the smell? Heavenly. And then the taste?…What do you think?
Ready to make the world's best and most yummy Cheesy Garlic Bread? Go for it!
And when you make it, be sure to take a pic of it, post on Instagram and tag @howtofeedaloon and #howtofeedaloon!
Cheesy Garlic Bread
Cheesy garlic bread is the perfect accompaniment, or starter, to a great Italian feast, or for a party...or whatever! It's so easy, and is really, really delicious. Enjoy!
Print
Pin
Rate
Servings: 6 people
Calories: 480kcal
Ingredients
1 head garlic
1 tbsp olive oil
6 tbsp butter unsalted, room temp
¼ cup Parmesan cheese grated
1 to 2 tbsp basil fresh, chopped
1 tbsp chives fresh, chopped
¼ tsp Kosher salt
1 large loaf bread Italian or French work very well
½ cup mozzarella shredded
Instructions
MAKE THE ROASTED GARLIC
Pre-heat oven to 400 F.

Use a sharp knife to carefully cut the top of the head of garlic off. It's okay if some of the cloves fall away from the head. No need to peel any of the garlic at this point.

Place the garlic head and any loose cloves on a square piece of aluminum foil (about 6"x6"). Drizzle the oil over the top of the garlic and then bring the edges of the foil around the garlic and twist to close.

Roast the garlic in the oven for 40 minutes. Remove and let cool.
PREPARE THE CHEESY GARLIC BREAD
Pre-heat oven (or increase, if still heated) to 450°F.

Place the soft butter, parmesan cheese, basil, chives, and salt into a medium-sized bowl. Using your fingers, squeeze out the creamy roasted garlic of the garlic paper-like shells.

Using a fork, mix until the mixutre is blended.

Using a serrated knife, cut the bread in half, lengthwise, into two halves. If desired, trim away the top portion of the bread slice that was the top of the original loaf. This will allow the slice to sit evenly, and also bake more evenly with the other slice (see video for referecne).

Add about 4 to 5 equal dollops of the butter mixture on each bread slice. Use a knife to carefully spread the mixture over the cut side of each slice.

Sprinkle the cheese over the two prepared slices.

Place the bread slices on large baking sheet and bake untl cheese has melted and the edges of the bread are golden brown. Slice and serve hot.
Notes
You can roast the garlic up to 2 days in advance. Keep refrigerated in a covered small bowl. Although the roasted garlic has a deeper, yet more subtle flavor, fresh garlic can be substituted for the roasted garlic. Use 3 cloves, minced. Add more cheese if a cheesier bread is desired. Dried herbs can be used in place of the fresh, however, you'll need to cut the amount used in half. Dried basil, parsley, oregano and marjoram all work well together. The bread can be assembled ahead of time and frozen in a large freezer bag for up to 1 month. When ready to serve, remove from the bag and bake at 450°F for 15 to 20 minutes until bubbly and golden brown on the edges.
Nutrition
Calories: 480kcal | Carbohydrates: 58g | Protein: 16g | Fat: 21g | Saturated Fat: 10g | Cholesterol: 41mg | Sodium: 913mg | Potassium: 232mg | Fiber: 5g | Sugar: 7g | Vitamin A: 496IU | Vitamin C: 2mg | Calcium: 265mg | Iron: 4mg
POST UPDATE NOTE: This recipe was originally posted in December, 2014, but was updated with recipe improvements, new photography and video in August, 2019.