Homemade Italian Meatballs are about as good of a comfort food as you will find.
We love them, of course, on pasta, but they also make an incredible appetizer.
Mmmmm.
Just make smaller-sized meatballs and you won't believe how fast these go at your next party or church pot luck!  
They are easy to keep heated in your trusty slow cooker.  I've been making these for years, and are always a huge hit.
The Loon, of course, loves them like crazy.
Using homemade fresh marinara sauce is key to make these Italian meatballs amazing.
These take some time to make, so start thinking about prepping a couple days in advance.
The end result, though, are something to behold!
Talk about flavor!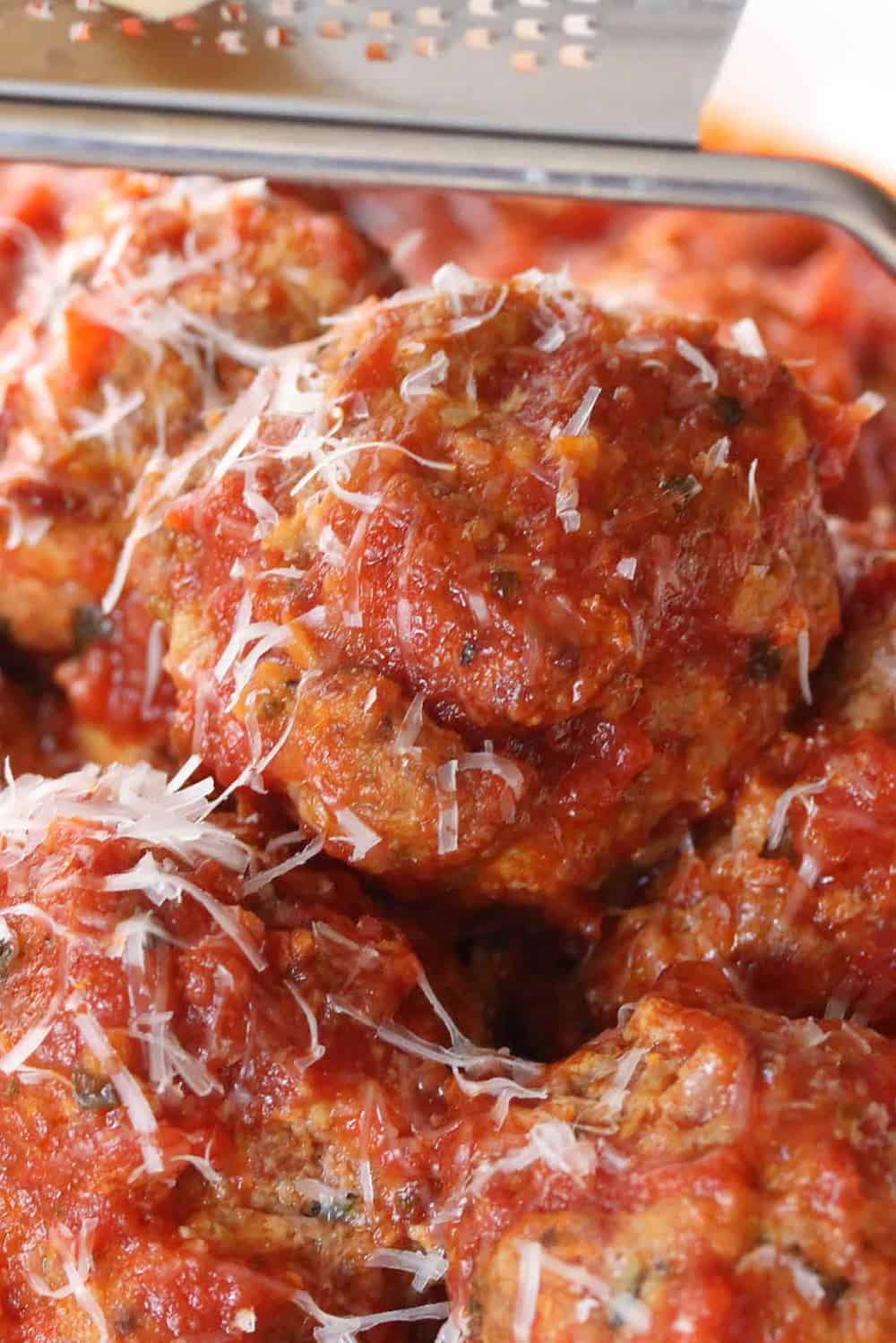 Make the marinara up to a week ahead of time. These also freeze wonderfully well!
You just gotta make this incredible Italian Meatballs recipe!
Enjoy!  
These are simply the BEST!
Go for it!

Homemade Italian Meatballs
These Homemade Italian Meatballs are wonderful over pasta or as an appetizer. They take a little time to make, but are they ever worth it. You won't believe how incredible your house will smell as these gems are simmering in the made-from-scratch marinara sauce. Incredible.
Author: Kris Longwell
Recipe type: Appetizer
Cuisine: Italian
Serves: 15 - 20
Ingredients
FOR THE MEATBALLS:
1 & ½ lb ground beef (80% is what I prefer)
½ lb ground veal
½ lb ground pork
2 large eggs, beaten
¼ cup fresh Italian bread crumbs (recipe below)
3 tablespoons fresh parsley, chopped
2 tablespoons fresh basil, chopped
1 tablespoon salt
2 cloves of garlic, finely diced
1 tablespoon fresh ground black pepper
4 slices of firm Italian bread, crusts removed (let them sit out for about an hour to firm up)
1 cup of milk
1 cup of freshly grated Parmesan cheese
10 cups of [url undefined]fresh marinara sauce[/url]
FOR THE FRESH BREAD CRUMBS:
3 slices of white Italian bread, torn into large pieces
¼ cup of freshly grated Romano cheese
1 tablespoon of chopped garlic
1 tablespoon of chopped parsley
1 teaspoon of dried oregano
Salt and pepper, to taste
Instructions
MAKE THE BREADCRUMB MIXTURE:
Process the bread in a food processor until coarsely ground.
Add the rest of the ingredients and pulse until finely ground.
MAKE THE MEATBALLS:
In a large mixing bowl, using your hands, mix together the beef, veal, pork, and eggs.
Gently mix, don't over do it!
Now add the bread crumbs, parsley, basil, salt, garlic, and pepper and mix it well.
Tear the bread into pieces and put in a bowl.
Add the milk and let it sit for about 8 minutes, press the bread with your fingers, make sure the milk is absorbed by the bread.
Add the soaked bread to the meat mixture and mix it in. Next add the grated cheese, and 1 tablespoon of the milk (discard the remaining milk).
Cover the bowl with plastic wrap and place in the fridge about an hour.
Using an ice cream scoop, pull out chunks of meat and roll them between your hands that have been dampened with water. Place the balls on a baking sheet lined with parchment or wax paper. Refrigerate the rolled balls for at least 10 minutes.
Meanwhile, pre-heat oven to 375 F.
Bake meatballs for 30 minutes. Flipping once, halfway through cooking.
(Alternatively, you can brown the meatballs in a skillet with olive oil - about 1 tablespoon - until browned on all sides).
Meanwhile, in a large pot, heat the marina over medium-high heat.
Slowly, and carefully, add the browned meatballs and any accumulated juice to the marina.
Lower the heat to medium and cook them for at least 45 minutes. Give them plenty of time to let the sauce and meatballs to get very familiar.
Use tongs to remove the meatballs from the sauce and place in serving bowl. Ladle on a little sauce and grate fresh Parmesan cheese over the top.
Serve with extra sauce on the side!