When done right, this is one of the best pasta dishes in the world. Seriously, it's that good.
But that's the trick, making sure you follow the simple, but important steps to get that authentic taste and texture. No butter or cream is used, just top-notch Pecorino Romano cheese and freshly ground black peppercorns that have been lightly toasted and crushed. Tonnarelli is classic, but plain spaghetti works wonderfully, too. Start with a nice Caesar Salad and finish the meal with homemade tiramisu for an Italian feast you won't soon forget.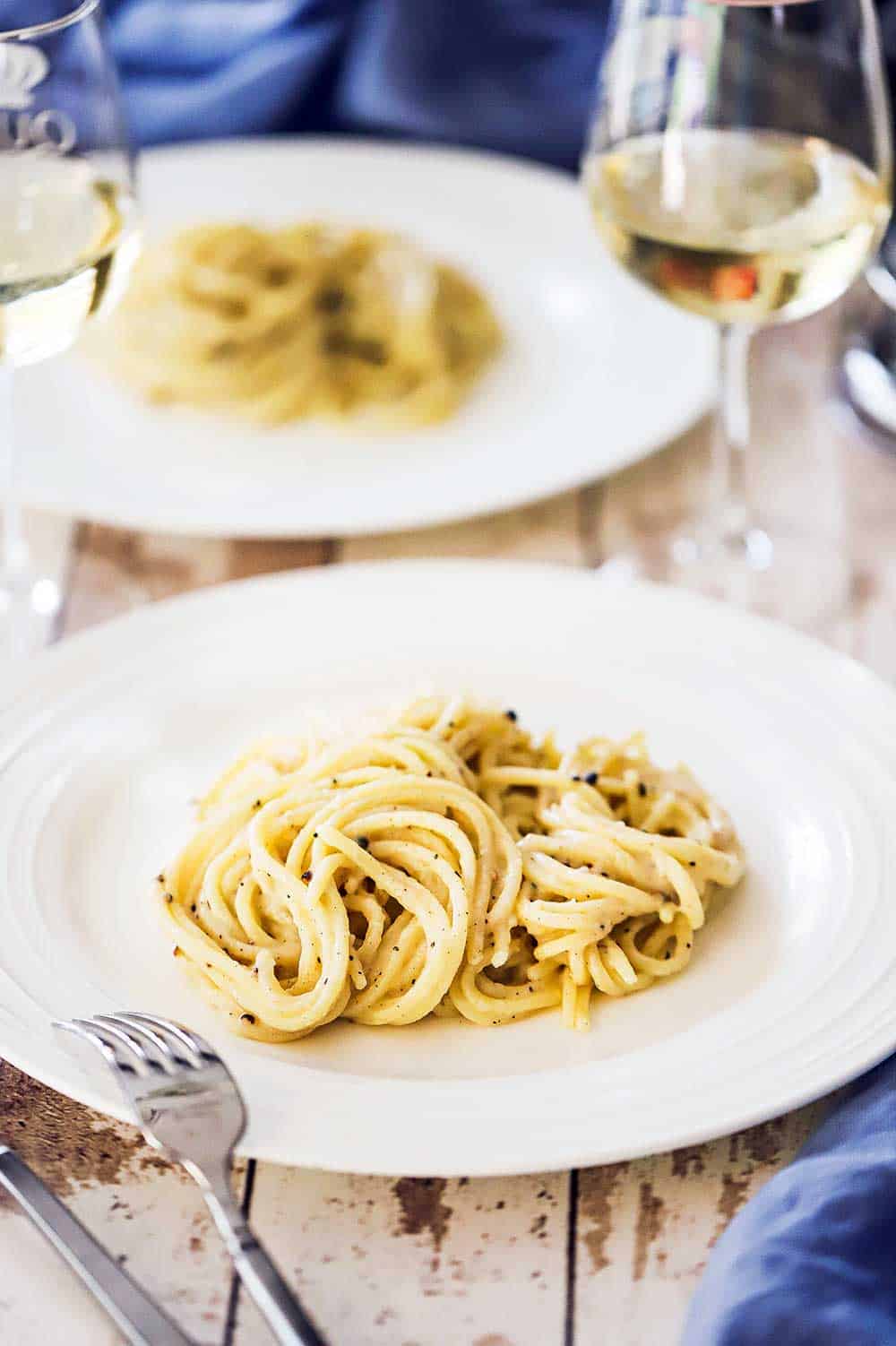 How To Make Authentic Cacio e Pepe
There aren't a lot of steps in this recipe, and there are even fewer ingredients, but they are all so important.
This is one of those dishes that it's worth it to seek out top-notch ingredients, which usually call for a little planning ahead of time. More on that in a moment.
But, it's so much fun to make!
NOTE: If you liked this video, please subscribe to our YouTube channel. Remember to click the little 'bell' icon so you'll never miss a new video. Thank you so much!
The Ingredients You Will Need
Coarse Sea or Kosher Salt – You'll need this to add to the water for boiling the pasta. You'd normally add twice this amount to the water, but Pecorino Romano is a fairly salty cheese, so half the amount is just right.
Pasta – Long tubular pasta is what you want. Spaghetti or bucatini is commonly used, but if you can find it (or order it online), then go with tonnarelli.
Pecorino Romano – This is cheese made from sheep's milk and is used in authentic Cacio e Pepe. Seek out high-quality, if possible. The more aged the better. You can usually find this at Italian specialty markets or online.
Black Pepper – For the best results, toast whole peppercorns until fragrant and then crush them with a mortar and pestle.
EXPERT TIP: The best way to prepare the Pecorino Romano is to buy in block form and then use the small grate holes in a box grater to grate the cheese. You'll need about 7 to 8 ounces. This may seem like a lot, but you'll use almost all of it, if not all.
Tips for Making Cacio e Pepe
Mise en Place – Once you've prepped the cheese and peppercorns, and you're certain you have the correct measurements, you'll want to have them all ready to go. The dish comes together quickly.
Adding Salted Pasta Water – Be sure to hold onto a least of the pasta water. You'll want to add this, along with the grated Pecorino Romano, together while tossing the pasta. Ladle the water, about 1 cup at a time, along with the cheese.
Toast and Ground Peppercorns – This may not seem like a big deal, but it really does elevate the flavor. Place whole peppercorns in a large skillet and toast them on the stove over medium-high heat until they become aromatic. Remove from heat and transfer them to a mortar and pestle. It takes a little elbow grease, but ground them until they are mostly pulverized and slightly grey in color.
How To Serve
This dish is absolutely best when served right after being tossed with pasta water, cheese, and pepper.
It makes for a wonderful appetizer or "primi" dish. Just before a wonderful main dish, or "secondi" dish, such as Italian pot roast, chicken piccata, or haddock agrodolce.
But it's so flavorful and satisfying that you could serve it as the entree alongside a Ceasar salad and cheesy garlic bread.
WINE PAIRING: Cacio e Pepe pairs wonderfully with red, white, and/or rosé. For white, a nice Pinot Grigio is our 1st choice. For red, Pinto Noir or Cabernet. For Rosé, we love Whispering Angel.
EXPERT TIP: We add the pepper in while we're tossing the pasta with the water and cheese. We add at least 2 tablespoons. Be sure to have extra at the table for guests to add more to their liking.
Other Classic Pasta Dishes
We love all kinds of pasta dishes, here are some of our favorites and ones we think you'll love, too.
Pesto Pasta
Pappardelle Bolognese
Fettuccine with Creamy Sausage Sauce
Best-Ever Baked Ziti
Classic Stuffed Shells
White Chicken Lasagna with Spinach
Creamy Shrimp Fettuccini
But in the meantime, you've got to try this classic Roman dish.
This dish is spectacular in its simplicity.
Plan ahead and do your best to get your hands on top-notch ingredients.
Follow the recipe closely and you'll have a pasta dish that will rival any in town.
Ready to make the best pasta dish on this side of Rome? Go for it!
And when you do, be sure to take a photo of it, post it on Instagram, and tag @HowToFeedaLoon and hashtag #HowToFeedaLoon!
Tonnarelli Cacio e Pepe
Tonnarelli Cacio e Pepe is a popular Roman dish that is made from just 4 ingredients, including salt. Going with top-notch ingredients is key. Plan ahead of time. See out a high-quality Italian market or order online.
Print
Pin
Rate
Servings: 6
Calories: 478kcal
Equipment
Pot for boiling pasta

Box grater for grating the Pecorino Romano

Mortar and pestle or spice grinder

Large pasta bowl
Ingredients
½ cup black peppercorns
2 tbsp coarse sea salt or coarse Kosher salt
14 oz pasta tonnarelli or spaghetti
10 oz Pecorino Romano grated
Instructions
Do Ahead
Heat a large skillet over medium-high heat. Add the whole peppercorns and stir gently until they become aromatic, about 1 to 2 minutes. Remove from the heat.

Add to a mortar and pestle and grind them until they become powdery and grey in color, about 4 to 5 minutes. Set aside.
Prepare the Cacio e Pepe
Bring a large pot of boiling water to a boil. Add 2 tbsp of coarse salt.

Add the pasta to the water. Stir to keep the pasta from sticking together. A couple of minutes before the pasta becomes al dente, place your pasta bowl over the pot. (This heats the pasta bowl and helps to make a creamy sauce).

Use kitchen towels to remove the pasta bowl and check the pasta to make sure it's cooked to al dente.

Drain the pasta but save the water.

Add the pasta to the warmed pasta bowl. Working in batches, add the cheese and ladle in some pasta water, stirring everything together constantly.

Add about 2 tbsp of the ground pepper and keep stirring until the cheese and water create a creamy sauce that clings to the pasta. If too runny, add more cheese. If too thick, add more pasta water.

Serve immediately with additional ground pepper tableside.
Notes
See the video near the top of the blog post for visual guidance. If you liked the video, please subscribe to our YouTube channel.
Dried spaghetti or bucatini are perfectly acceptable substitutions for the tonnarelli.
Be sure to grate the cheese with the small holes on your box grater, not the larger shredding holes. This helps to make the perfect sauce.
This dish is definitely best served right after tossing together. You can reheat with the addition of more pasta water. (Keep some on hand in case you have leftovers).
We don't recommend freezing this dish.
Nutrition
Calories: 478kcal | Carbohydrates: 64g | Protein: 26g | Fat: 14g | Saturated Fat: 9g | Polyunsaturated Fat: 1g | Monounsaturated Fat: 4g | Cholesterol: 49mg | Sodium: 2900mg | Potassium: 451mg | Fiber: 7g | Sugar: 2g | Vitamin A: 304IU | Calcium: 605mg | Iron: 3mg