Classic Pasta Carbonara is one of our favorite pasta dishes in the world!
As you will see, this dish is so easy to make, and is really wonderful in its simplicity.
Talk about pure deliciousness!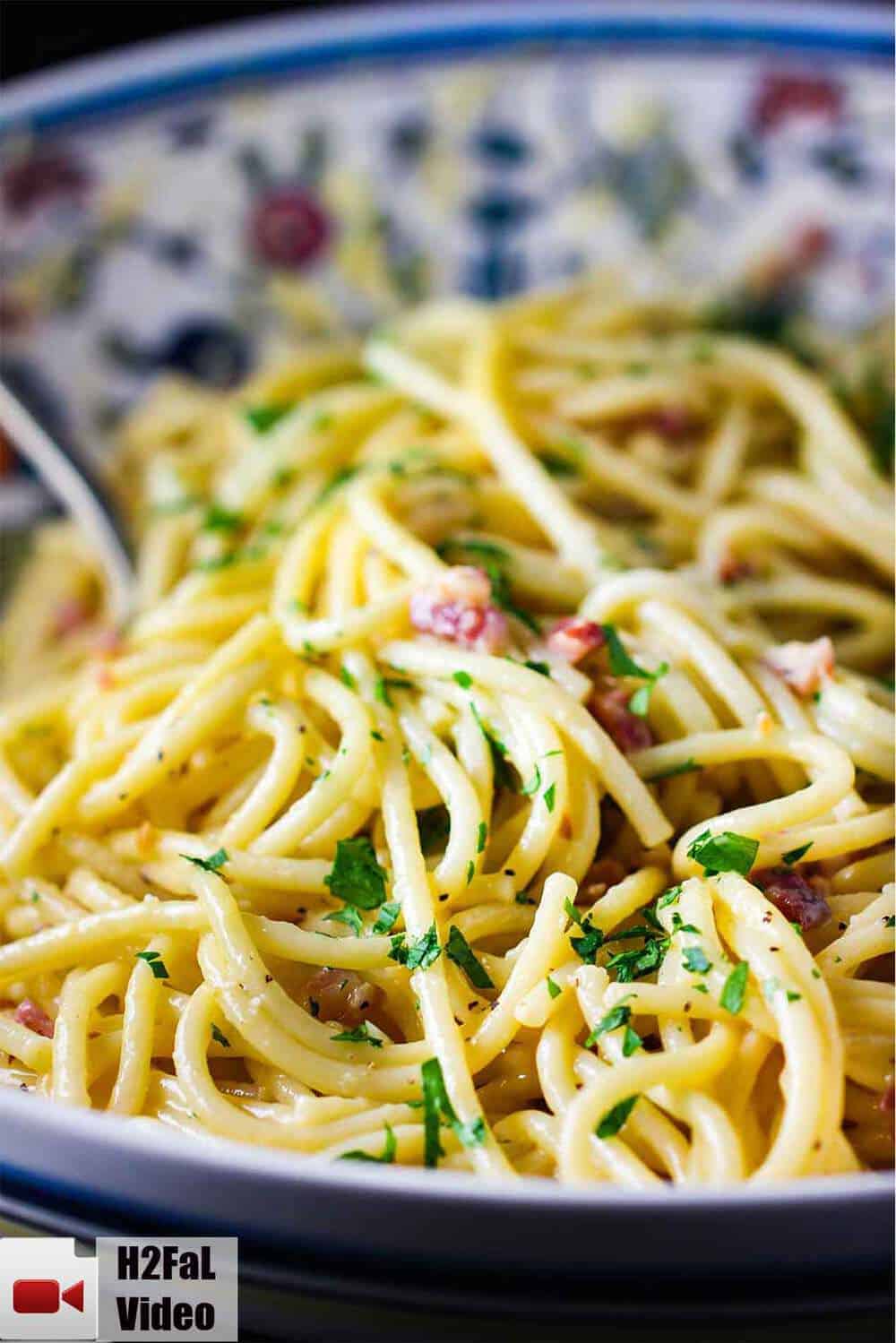 PASTA CARBONARA IS VERY SIMPLE TO PREPARE
This is one of those dishes that has incredible taste and texture, and yet, only takes a matter of minutes to prepare.
It's perfect for a formal dinner party, or a quick weeknight dinner.
Watch us show you how easy (and FUN) it is to prepare Pasta Carbonara at home!
There are just a handful a ingredients in this dish, but, wow, do they ever make an impact.
Ingredients needed for Pasta Carbonara:
Pasta
Pancetta
Garlic
Eggs
Shaved Cheese
Parsley
COOK THE PANCETTA UNTIL COOKED, THEN ADD GARLIC
Pasta Carbonara is an Italian dish that originated in the Rome Region.
Although guanciale is the protein commonly used in Italian kitchens, cured pancetta is also very popular, and is much more readily available in most well-stocked supermarkets.
Cook the pancetta until fat starts to render and just beginning to crisp. Then, add the garlic and cook for a few more minutes, until both items are nicely cooked and lightly browned.
We absolutely love using bucatini pasta, which is similar to spaghetti, but is a little thicker and is hollow in the center.
Types of pasta that are best for Pasta Carbonara:
Spaghetti
Bucatini
Linguin
Fettuccini
THE EGGS WILL COOK SLIGHTLY WITH THE HOT PASTA
Don't worry about using raw eggs…as the hot pancetta, and then hot pasta hits them, they cook to pure perfection.
The egg, cheese, and pasta water blend together perfectly to make the most decadently, smooth, creamy pasta dish.
Pasta Carbonara is Pasta Perfection. With a little extra cheese sprinkled on top!
We just can't rave about Pasta Carbonara enough.
With one bite, you're transported to Italian culinary bliss.
And it all comes together in about 20 minutes, tops! What can be better than that?
Looking for other amazing pasta dishes? These are pretty awesome:
Pasta alla Vodka
Best-Ever Baked Ziti
Spaghetti Pesto
Pasta alla Norma
Italian Baked Stuffed Shells
Italian Country Pasta with Sausage and Broccoli
But in the meantime, hurry and make this incredibly delicious and easy Pasta Carbonara!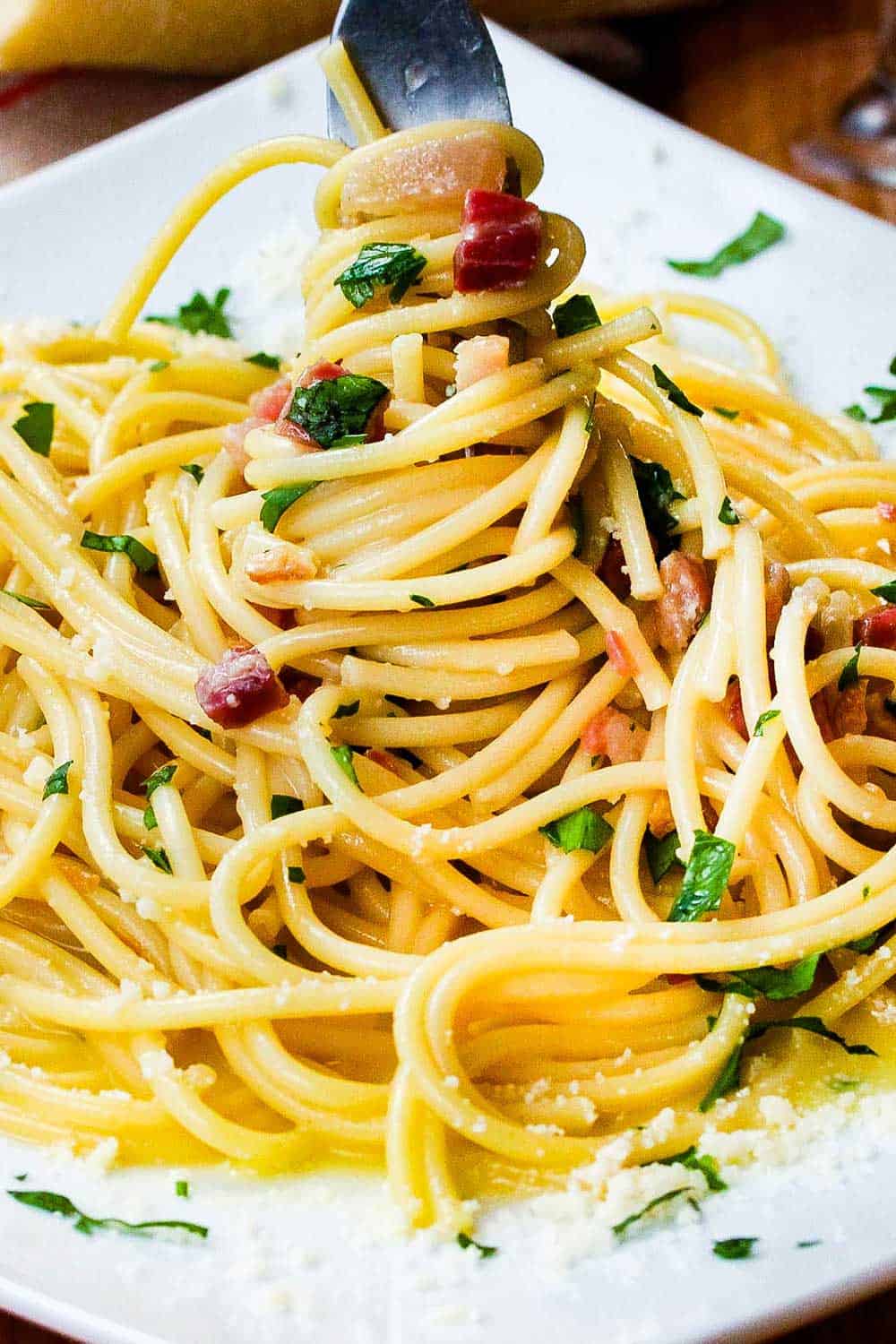 Pasta Carbonara
This Classic Pasta Carbonara is amazing in it's simplicity and incredible flavors. We love to use a pasta called bucatini - which is a fat, tubular spaghetti - but really, any good pasta will work. So easy for a busy week night. Enjoy!
Print
Pin
Rate
Servings: 4 people
Calories: 285kcal
Ingredients
1 lb dry bucatini or spaghetti
8 ounces pancetta diced, or quality slab bacon
5 cloves garlic minced
4 eggs
3/4 cup freshly grated Parmigiano-Reggiano cheese or Parmesan or Pecorino-Romano
Salt and freshly ground pepper to taste
1/4 cup fresh flat-leaf parsley chopped
Instructions
Bring a pot of salted water to a boil to cook the pasta.

Heat a large skillet over medium heat.

Add the pancetta to the skillet. Cook until the fat has rendered, about 4 minutes.

Drain excess fat...there should be about 2 tablespoons left in the skillet.

Add the garlic and cook until golden, about 5 minutes.

Meanwhile, add the pasta to the boiling water and cook to package directions (usually, about 9 - 12 minutes for al dente).

Add the eggs and cheese to a large pasta bowl and mix thoroughly.

Add the cooked pancetta/garlic mixture to the egg/cheese mixture and stir to combine.

Once ready, drain the pasta, but be sure to reserve about 1 cup of the pasta liquid.

Immediately add the pasta to the egg/cheese/pancetta mixture and fully incorporate.

Add salt and pepper to taste.

Mix in half of the parsley.

Add about a 1/2 - 3/4 cup of the pasta water to thin the sauce a little.

Plate the pasta and garnish with additional cheese and parsley.
Notes
Be careful when adding the salt. The pancetta is somewhat salty to begin with. A good helping of freshly ground pepper deepens the flavor. You can also used grated Parmesan or Pecorino-Romano Cheese.
Nutrition
Calories: 285kcal