This is a dessert that really is the perfect ending to the perfect Italian meal.
There are just a handful of ingredients in this iconic Italian dessert, so, we recommend using the best of the best to make every component come together to make a dessert you won't soon forget.
How To Make Tiramisu
We're presenting you the traditional method for making classic tiramisu.
We're not including heavy cream, and we're not heating our egg white peaks or egg yolks.
EXPERT TIP: Go with top-notch eggs here that are very fresh and preferably organic. If you are serving this to anyone who is immunocompromised, consider using pasteurized eggs, or placing the egg yolks and egg white over simmering water for a few minutes. Or, just move on to the next Italian dessert, such as Ricotta Cheesecake!
The Essential Ingredients
Besides eggs (whites and yolks separated), you'll need to get your fingers on some ladyfingers.
These can be found in the Italian section of many well-stocked supermarkets, Italian specialty food markets, or online.
A strong dose of espresso deepens the flavor intensely but in such a good way!
Mascarpone cheese is also essential and should be at room temperature.
EXPERT TIP: We use our hand mixer to beat the room temperature egg yolks with the sugar. Beat for about 2 to 4 minutes, until a pale yellow. Next, gently mix in the room temperature mascarpone until just mixed.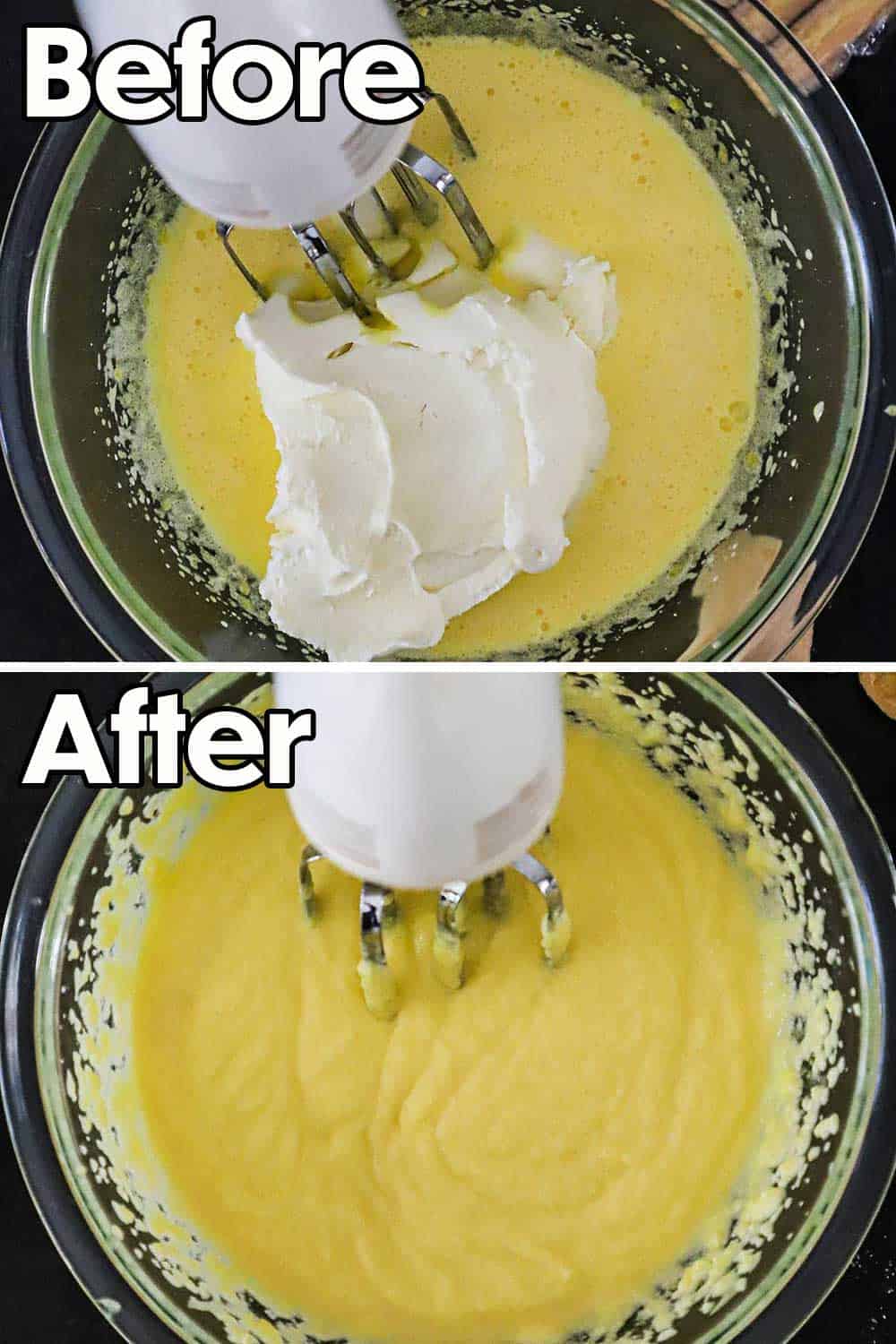 How To Build the Tiramisu
Now, it's time to layer all the delicious elements.
IMPORTANT: Don't over soak your ladyfingers! Drop them in the espresso for literally a second and then quickly remove them.
Add a layer of cream, then the soaked ladyfingers, another layer of the cream mixture, another layer of soaked ladyfingers, and then finally the rest of the cream.
Now, it's time to top this amazing dessert!
Just grab that unsweetened cocoa powder you have in the back of the pantry and add a couple of tablespoons into a small sifter (or, just use your fingers).
Sift the powder liberally all over the top.
EXPERT TIP: We use an 8″x8″ baking dish to build the tiramisu. It may feel small, but you'll get 9 nice-sized cuts from this size. You could also go with a 9″x9″, and still have great results.
When To Serve
This is a light dessert that is perfect after a wonderful Italian feast.
It's amazing after Rustic Lasagna, Eggplant Parmesan, Chicken Marsala, or Pasta alla Norma.
EXPERT TIP: It's really best served the day it is assembled, but you can absolutely make this up to 24 hours in advance of serving. Keep chilled in the fridge.
Can Cream Be Added to Tiramisu
Some folks like to include whipped heavy cream into the egg yolk mixture.
Although purists will tell you this is strictly forbidden, it's still yummy and makes the dish even fluffier (but you didn't hear this from us).
But trust us, this version right here is simple and incredibly delicious.
No stellar meal is complete without a knock-out dessert.
Folks, here you go.
Creamy. Italian. Scrumptious.
Ready to make the best Italian dessert this side of Venice? Go for it!
And when you do, be sure to take a picture of it, post it on Instagram, and tag @HowToFeedaLoon and #HowToFeedaLoon!
Tiramisu
Tiramisu is a classic Italian dessert. Use any liqueur of your choice, or, leave it out completely. Amaretto is a great choice, but so is Marsala wine, Kahlua, or dark rum. Allow the tiramisu to set in the fridge for at least 2 hours, overnight is best.
Print
Pin
Rate
Servings: 9
Calories: 441kcal
Equipment
electric mixer

8"x8" dish 9"x9" works well, too
Ingredients
6 egg yolks room temperature
½ cup sugar
1 lb mascarpone room temperature
6 egg whites room temperature
25 ladyfingers
2 cups brewed espresso or strong coffee, cooled
½ cup unsweetened cocoa powder for dusting
4 tbsp Amaretto or Marsala wine, Kahlua, dark rum (or omit)
Instructions
Use an electric mixer to whip the egg yolks with the sugar until pale, making sure the sugar is completely dissolved.

Mix in the mascarpone cheese and whip for about 1 to 2 minutes until well combined and smooth. Mix in the Amaretto.

In a separate bowl, use your cleaned electric mixer to whip the egg whites to stiff peaks. Fold the egg white into the egg yolks/mascarpone mixture in several additions.

Spread a thin layer of the cream mixture in your baking dish (8x8 or 9x9).

Very briefly submerge a ladyfinger into the cooled espresso and then place it in the dish on top of the cream (don't over-soak the ladyfingers!). Continue until you filled the dish with one layer.

Spoon another layer of the cream mixture (half of the mixture) over the ladyfingers and then repeat with another layer of lightly espresso-soaked ladyfingers.

Cover with foil or plastic wrap and chill for at least 2 hours, preferably overnight.

Just before serving, dust the top with the cocoa powder with a fine-mesh sieve.
Notes
See the video near the top of the blog post for visual guidance. If you liked the video, please subscribe to our YouTube channel.
Ladyfingers can be found in the Italian section (or in the cookies section) of many well-stocked supermarkets, at an Italian food market, or online.
For best results, allow the tiramisu to chill in the fridge for 12 hours.
Leftovers will keep covered in the fridge for up to 3 days. We don't recommend freezing tiramisu.
NOTE: Consuming raw eggs may increase your risk of foodborne illness, especially if you have certain medical conditions.
Nutrition
Calories: 441kcal | Carbohydrates: 34g | Protein: 12g | Fat: 29g | Saturated Fat: 17g | Polyunsaturated Fat: 1g | Monounsaturated Fat: 3g | Cholesterol: 248mg | Sodium: 113mg | Potassium: 153mg | Fiber: 2g | Sugar: 11g | Vitamin A: 1049IU | Calcium: 108mg | Iron: 2mg
POST UPDATE: This recipe was originally published in August, 2014, but was updated with new tips and photography and a fabulous new video in March, 2022!