This Classic Rustic Bolognese Lasagna recipe is the real deal. Deep in flavor and about as comforting a dish as you will ever find. Serve this with lots of love, and be prepared for lots of love in return.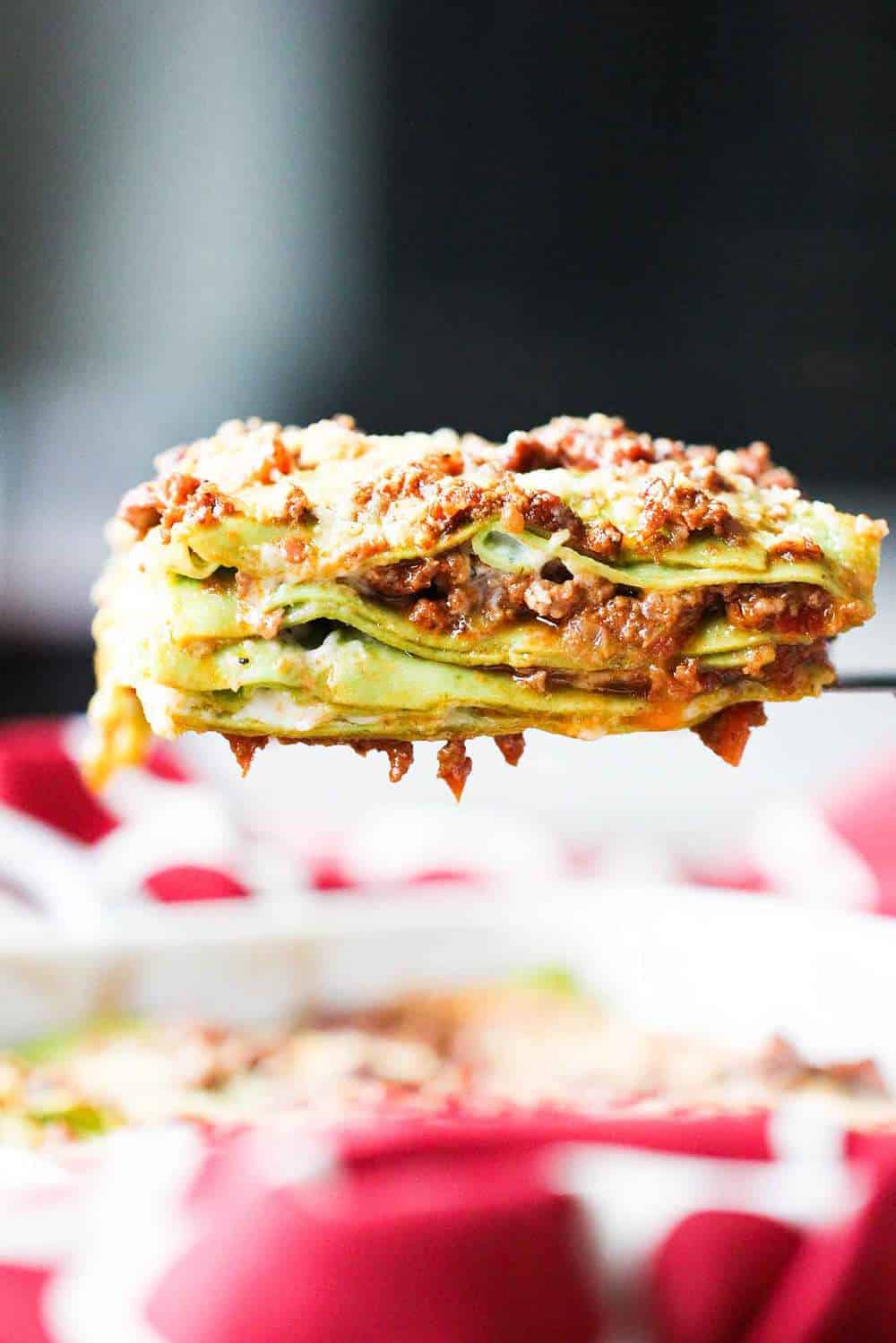 The fresh spinach pasta is such a nice touch, but you can go with regular egg pasta, too. Making it from scratch puts this dish over the top!
The layers are simple and straightforward, but so perfect. Making the bechamel sauce is the delicious glue that holds this authentic lasagna together. Amazing!
There is just something so heart-warming and satisfying about homemade Classic Rustic Bolognese Lasagna. This has been an all-time favorite in our house for many, many years.
If you like this lasagna recipe, you'd probably like Shrimp Fra Diavolo, too!
Now, let's make this Classic Rustic Bologense Lasagna recipe!

Rustic Lasagna With Fresh Spinach Pasta
This is probably my #1 signature dish. I've truly been perfecting this for over 20 years. This dish holds a special place for Wesley and me. We just love it. It takes a lot of special loving to make this come to life...but boy, oh boy, is it divine. Wait till you have it the next day!
Author: Kris Longwell
Recipe type: Pasta
Cuisine: Italian
Serves: 10
Ingredients
FOR THE BOLOGNESE SAUCE
2 tablespoons of olive oil
⅛ lb of proscuitto, finely chopped
1 cup of carrot, chopped
1 cup of celery, chopped
1 cup of yellow onion, chopped
1½ lb of ground beef
½ lb of ground pork
½ lb of ground veal
½ cup of red wine
1 28 oz cans of San Marzano tomatoes, chopped in food processor, juice reserved
2 teaspoons of Kosher salt
1 teaspoon of crushed red pepper
1 teaspoon of black pepper
1 tablespoon of garlic powder
1 tablespoon of dried oregano
1 tablespoon of dried basil
FOR THE BECHAMEL SAUCE::
3 tablespoons of unsalted butter
4 tablespoons of all-purpose flour
2 cups of hot milk
Large white onion halved
1 large bay leave
2 cloves
S&P to taste
FOR THE RICOTTA MIXTURE:
2 lbs of fresh ricotta cheese
2 eggs, gently beaten
¼ cup flat-leaf parsley, chopped
½ teaspoon of Kosher salt
FOR ASSEMBLY:
Fresh fresh spinach pasta, cooked
Freshly grated Parmigiano-Reggiano cheese (about 1 cup)
Instructions
MAKE THE BOLOGNESE SAUCE:
Heat the olive oil in a large pot over medium-high heat
Add the prosciutto, and cook for 5 minutes
Add the carrots, celery, and onion...cook until soft...about 15 minutes
Add the beef, pork and veal, cook until almost no longer pink
Add the wine...cook for about 4 minutes
Drain off the fat through a colander, or fine mesh sieve, Add back to the pot.
Add the tomatoes and their juice
Mix well. Add remaining spices.
Simmer over low-medium heat for about 3 hours, stirring occasionally
Cook the fresh spinach pasta
MAKE THE BECHAMEL SAUCE:
Take the onion half and use two cloves to stick through a bay leave to adhere to the flat side of the onion.
Heat the butter in a medium-sized, heavy pan
Add flour, and whisk for about 2 minutes, to form lightly browned roux
Slowly add the heated milk
Add the onion, with the bay leaf/cloves facing down.
Whisking the milk around the onion continuously until thickened, about 5 minutes.
MAKE THE RICOTTA CHEESE MIXTURE
In a medium-sized bowl, add the ricotta cheese, eggs, parsley, and salt.
Mix thoroughly and set aside.
ASSEMBLE AND FINISH OFF THE LASAGNA:
Pre-heat the oven to 350 degrees:
Start with a thin layer of bolognese sauce at the bottom of a lasagna pan
Add a layer of pasta noodles
Spoon a layer of the bechamel sauce
Sprinkle about ¼ cup of the grated parm-reg cheese over the sauce
Add another layer of pasta
Add another layer of grated parm-reg cheese
Add another layer of sauce
Add another layer of pasta
Add another layer of bechamel sauce
Add another layer of grated parm-reg cheese
Add another layer of pasta
Add another thin layer of sauce and then sprinkle more cheese to top.
Bake for 1 hour, uncovered.
Let rest for at least 30 minutes.
Cut, serve, and enjoy!