Dried pasta is great, it really is. But, there is something transcendent about freshly homemade.
Homemade egg pasta is absolutely delicious and we love cooking with it. But the addition of spinach not only adds a beautiful color, the taste is incredible. Follow this foolproof recipe and you will discover the joy of making pasta from scratch.
How to Make Homemade Spinach Pasta
Making spinach pasta from scratch may seem intimidating, but it's actually much easier than you might think.
You just need the right tools and ingredients. We'll show you the steps to make unforgettable pasta.
NOTE: If you liked this video, please subscribe to our YouTube channel. Remember to click the little 'bell' icon so you'll never miss a new video. Thank you!
The Ingredients and Tools You Will Need
There are not a lot of ingredients to make fresh pasta, but getting the right amount of moisture to dry ratio correct is key.
You can also do all this by hand, but the following tools make the process so much easier and will help you produce pristine pasta every single time.
The Ingredients
Spinach – We recommend using mature fresh spinach (not baby). However, baby spinach will work, too. Frozen will work in an absolute pinch.
Eggs – Room temperature is best
Oil – Quality olive oil is best
Salt – Kosher, if possible
Flour – We highly recommend a combination of semolina and all-purpose.
The Tools
9 to 12-cup food processor – It brings the dough together easily
KitchenAid Stand Mixer with Pasta Attachment – This tool is designed so the pasta won't stick the rollers
EXPERT TIP: The dough will be very sticky at first. When you lift the dough out of the food processor, be sure your hands are liberally floured. If the dough is too sticky and won't form a ball, place it back in the food processor and add several tablespoons of flour, and pulse until a ball forms.
Tips for Perfect Homemade Spinach Pasta
Squeeze Out Excess Water – After blanching the fresh spinach in boiling water for a couple of minutes, you'll want to immediately drain the spinach. Use a wooden spoon to press as much of the liquid out of the spinach as possible. Once cool enough to handle, use your hands to wring the spinach. Then, give the spinach a rough chop.
Use Semolina Flour, if Possible – Semolina is milled durum wheat flour that is ideal for making pasta. We recommend using a combination of all-purpose and semolina flour. It can be found in the baking section or the 'specialty products' area of many well-stocked supermarkets. If you can't find it, you can easily order it online. In a pinch, use just all-purpose.
Keep the Pasta Moist and Separated – After you've rolled out the pasta, and especially if you've cut it, it's important to keep the pasta covered with a kitchen towel and to sprinkle semolina (or cornmeal) all over the uncooked pasta. This keeps the pasta from drying out and from sticking to each other. Don't worry, the semolina will fall off the pasta once you cook it.
EXPERT TIP: As you work the dough, especially before you run it through the pasta press, it's important to maintain the right level of moisture, but not too much. Work on a floured surface and keep your hands nicely floured. As you roll out the dough throughout the process, keep an eye on it. If it's overly moist, sprinkle more flour on it and rub it in. We pasta can have the tendency to stick to the pasta roller, and won't cook properly.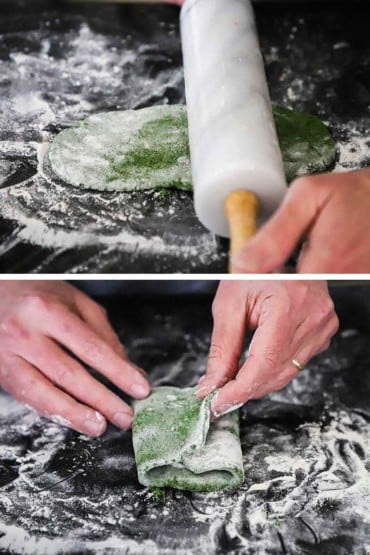 Storing
Fresh pasta is best when served and consumed soon after it's made. However, you can absolutely store it for days, if done properly.
Serving Next Day
If you plan on serving the pasta the next day, simply toss the fresh pasta in a little flour and curl them into circular clusters. Place in a container with a tight-fitting lid and keep in the fridge for up to 24 hours.
Freezing for Future Use
You can easily freeze fresh pasta. If you want to freeze a ball of pasta dough, simply tightly wrap it in plastic wrap and place it in a freezer baggie and then freeze it for up to 1 month. You can also freeze pasta noodles by tossing them in flour and then allowing the pasta to air dry for 1 hour. Then place in a freezer bag and freeze for up to 8 months.
How To Dry Fresh Pasta
If you don't plan on cooking your fresh pasta within an hour or two of rolling the dough out, you will need to dry it. It's easy to do.
First, sprinkle flour (semolina or all-purpose) all over the pasta (cut or sheets). Then lay it on a baking sheet, preferably lined with parchment or wax paper, or on a pasta rack. Keep the pasta out of direct sunlight and allow the pasta to rest for 24 hours, or until the pasta is completely dried. You will know it is dried when it easily snaps.
Place the dried pasta in a baggie or container with a lid. It will stay in your pantry for up to 6 to 7 months. Cook in salted boiling water until tender and al denté, usually about 8 to 10 minutes.
Pasta Dishes to Try with Fresh Pasta
We use quality dried pasta often when making dishes such as baked ziti, spaghetti and meatballs, or country pasta. However, here are some pasta dishes that are perfectly suited for homemade fresh pasta:
Pappadelle with Seasonal Vegetables
Creamy Sausage with Fresh Fettuccini
Rustic Lasagna
Fresh Spinach Pasta with Wild Mushroom Sauce
Spaghetti Vongole (White Clam Sauce)
Shrimp Scampi with Fresh Linguine
Ready to make the best pasta this side of Tuscany? Go for it!
And when you do, be sure to take a photo of it, post it on Instagram, and tag @HowToFeedaLoon and hashtag #HowToFeedaLoon!
Homemade Spinach Pasta
Homemade spinach pasta takes many pasta dishes to levels you just can't believe. Don't let the dough become too dry, but also incrementally add more flour if too wet. See the video (in the blog post) for visual guidance.
Print
Pin
Rate
Servings: 8 people
Calories: 153kcal
Equipment
Food processor 6 to 10 cup

Pasta roller and cutter
Ingredients
8 oz spinach fresh, washed and stems removed
2 large eggs room temperature
1 tbsp olive oil
½ tsp salt
¾ cup semolina flour
1 cup all-purpose flour plus more for handling pasta
Instructions
Bring a pot of salted water to a boil.

Cook spinach for about 2 to 3 minutes, until fully wilted.

8 oz spinach

Drain spinach, when cool enough to handle, press out excess water. Roughly chop with a large knife. Set aside.

In a small bowl, add the eggs, olive oil, and salt. Mix together with a fork.

2 large eggs, 1 tbsp olive oil, ½ tsp salt

Add egg mixture to a food processor and pulse a few times. Add the cooked spinach and pulse several times until combined with the egg mixture.

With the motor running, slowly add the semolina flour through the tube. Next, add the all-purpose flour. Keep processing, pulsing if desired, until a ball forms. You may need to add more flour if the dough is too wet to form a ball.

¾ cup semolina flour, 1 cup all-purpose flour

Dust hands with flour, and remove the dough from the food processor. Dust the dough with plenty of flour, and form into a ball.

Divide into 4ths, and cover each with plastic wrap, place in the refrigerator, and let rest for 10 minutes.

Take the first 4th of the dough, and flatten with your hand into a round disc, dusting with flour if too wet to the touch.

Use a rolling pin to flatten the dough into a rectangle.

Fold the right side in, and then the left, and roll again to flatten. Repeat this 5 times.

Attach the pasta roller to your stand mixer, and place it on the widest setting. If using a manual pasta roller, set it to the widest setting.

Carefully lower the dough through the roller.

Continue to fold the edges in, like an envelope, for another 5 times, keeping the roller on the widest setting.

The dough is now ready for turning into pasta. Move to the next setting (usually the #2 setting) and place the dough through the roller. Move to the next setting (usually the #3 setting). Continue this process until you've reached the desired thickness of the pasta. You may need to cut the pasta sheet in half during this process. If desired, change to the linguine or angel hair attachment, and then cut the pasta.

Once ready, place on a baking sheet lined with parchment (or wax) paper that has been sprinkled with semolina (or cornmeal) (this keeps the pasta from sticking to each other). Sprinkle with more semolina. Cover the pasta with a kitchen towel.

Repeat the process with each other quarters of the pasta. As one layer is filled on the baking sheet, place parchment or wax paper on the pasta, sprinkle with more semolina, and continue.

Once the pasta has been rolled out, bring a large pot of salted water to a boil.

Drop the pasta into the boiling water and cook for 3 minutes, or until fully cooked (don't overcook it!).

Drain. The pasta is now ready to use in your favorite pasta recipes!
Notes
See the video near the top of the blog post for visual guidance. If you liked the video, please subscribe to our YouTube channel.
Baby spinach can be substituted for mature spinach. In a pinch, you can use frozen spinach, but make sure it is completely thawed and as much of the water is squeezed out of it as possible.
See the blog post for instructions on storing and drying fresh pasta.
Nutrition
Calories: 153kcal | Carbohydrates: 25g | Protein: 6g | Fat: 6g | Saturated Fat: 1g | Polyunsaturated Fat: 1g | Monounsaturated Fat: 2g | Trans Fat: 0.01g | Cholesterol: 47mg | Sodium: 186mg | Potassium: 222mg | Fiber: 2g | Sugar: 0.2g | Vitamin A: 2726IU | Vitamin C: 8mg | Calcium: 40mg | Iron: 2mg
POST DATE: This recipe was originally published in December, 2013, but was updated with improved tweaks to the recipe with new tips and photography and a fabulous new video in April, 2023!