Everyone loves a great heartwarming bowl of pasta, right?
We think it's one of the great treasures in life, we love pasta that much! Wesley's favorite pasta dish is our Country Italian Pasta, loaded with broccoli, Italian sausage, all in a white wine sauce with rigatoni. Ever since my last round of tweaking of this recipe, however, he is now pronouncing it his new all-time favorite. It is really, really good. And is easy enough for a weeknight diner, but spectacular enough for a dinner party!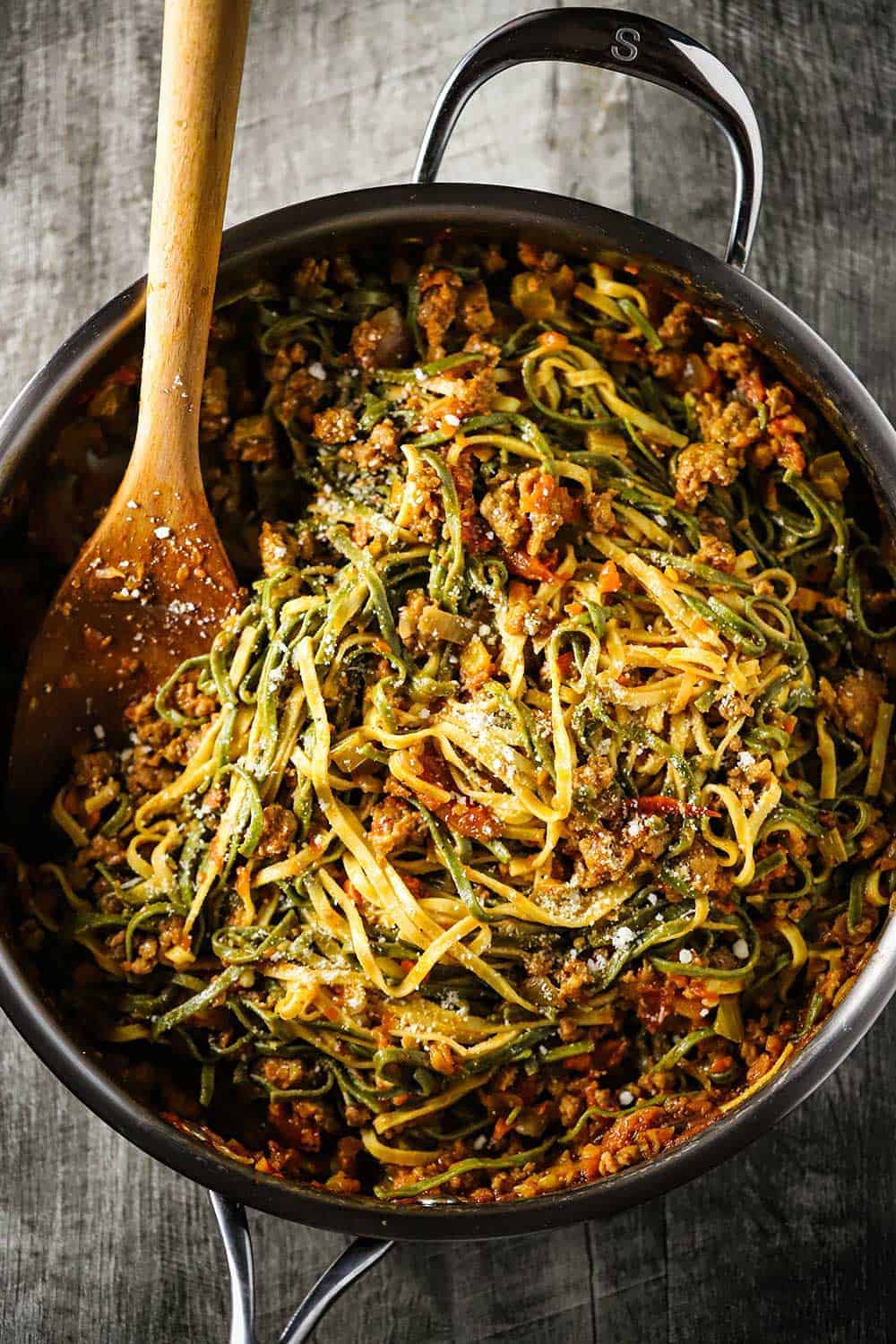 How To Make Fettuccine with Creamy Sausage Sauce
This pasta dish is really quite a snap to make and bring to the table.
The sauce is so good, we often double the recipe and freeze half of it for later!
The Ingredients You Will Need
As with many classic Italian pasta dishes, we're going to start off with a classic mirepoix.
First, we heat a couple of tablespoons of olive oil, then toss in a couple more tablespoons of unsalted butter. Sauté the onions, carrots, and celery until soft, about 4 to 5 minutes.
EXPERT TIP: You want equal quantities for the mirepoix components. For even cooking, it's also important to try and chop the onions, carrots, and celery into similar size pieces. We use our food processor to roughly chop the peeled carrots. Processing onion and celery in the food processor will break the vegetables down too much, and we don't recommend this.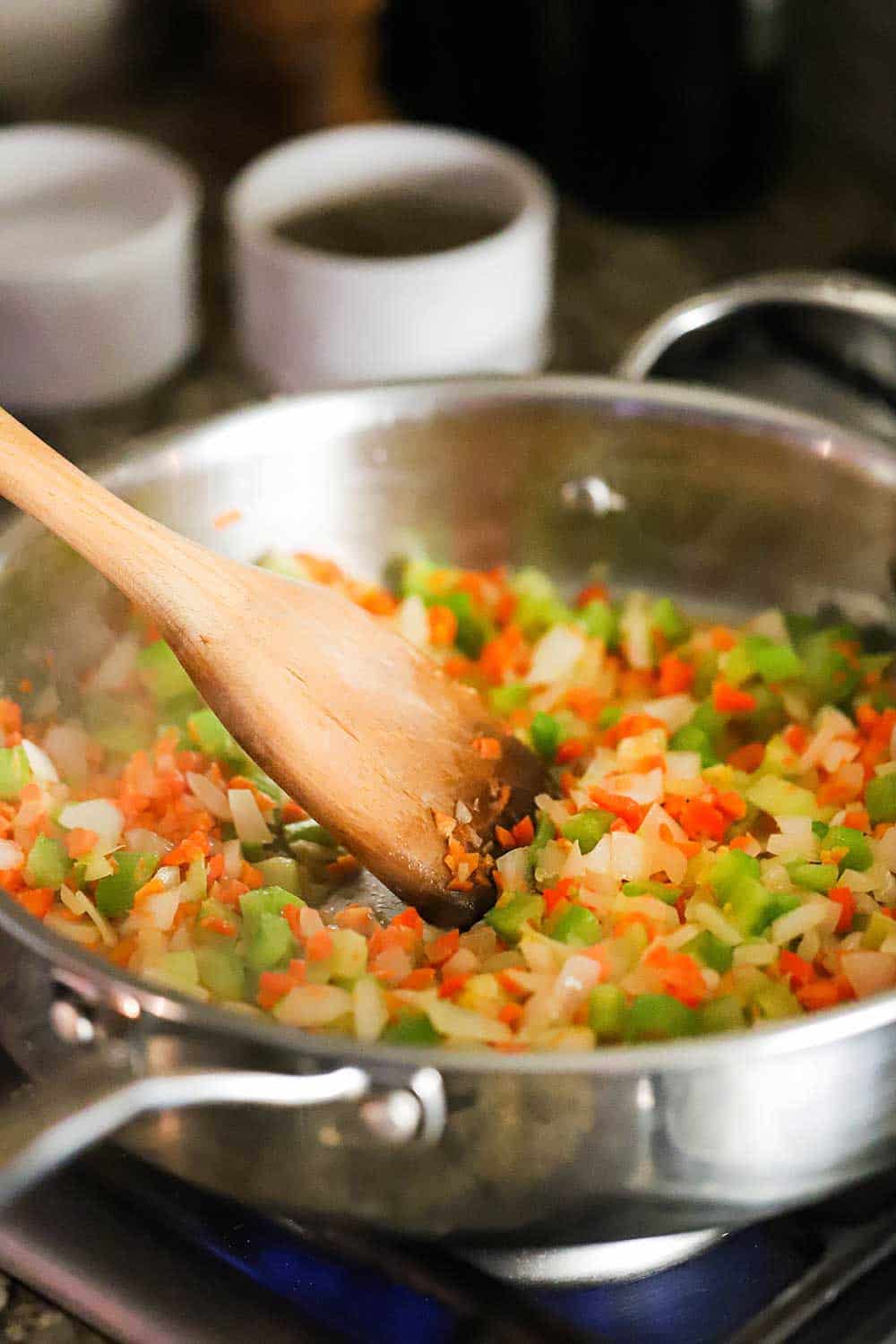 For the tomatoes, we love going with whole canned San Marzano tomatoes.
They are packed at the height of their freshness and come from the nutrient-rich region at the foot of Mount Vesuvius. If you can't find certified San Marzano canned tomatoes, any kind of canned whole tomatoes will work just fine.
EXPERT TIP: I was taught in my early years of cooking that your hands are the best tools for crushing tomatoes into your sauce. I was told this was the way home cooks in Italy have been doing it for generations. Who am I to disagree with this? And I do believe it makes for a better sauce, so I've been hand crushing my tomatoes for a long time.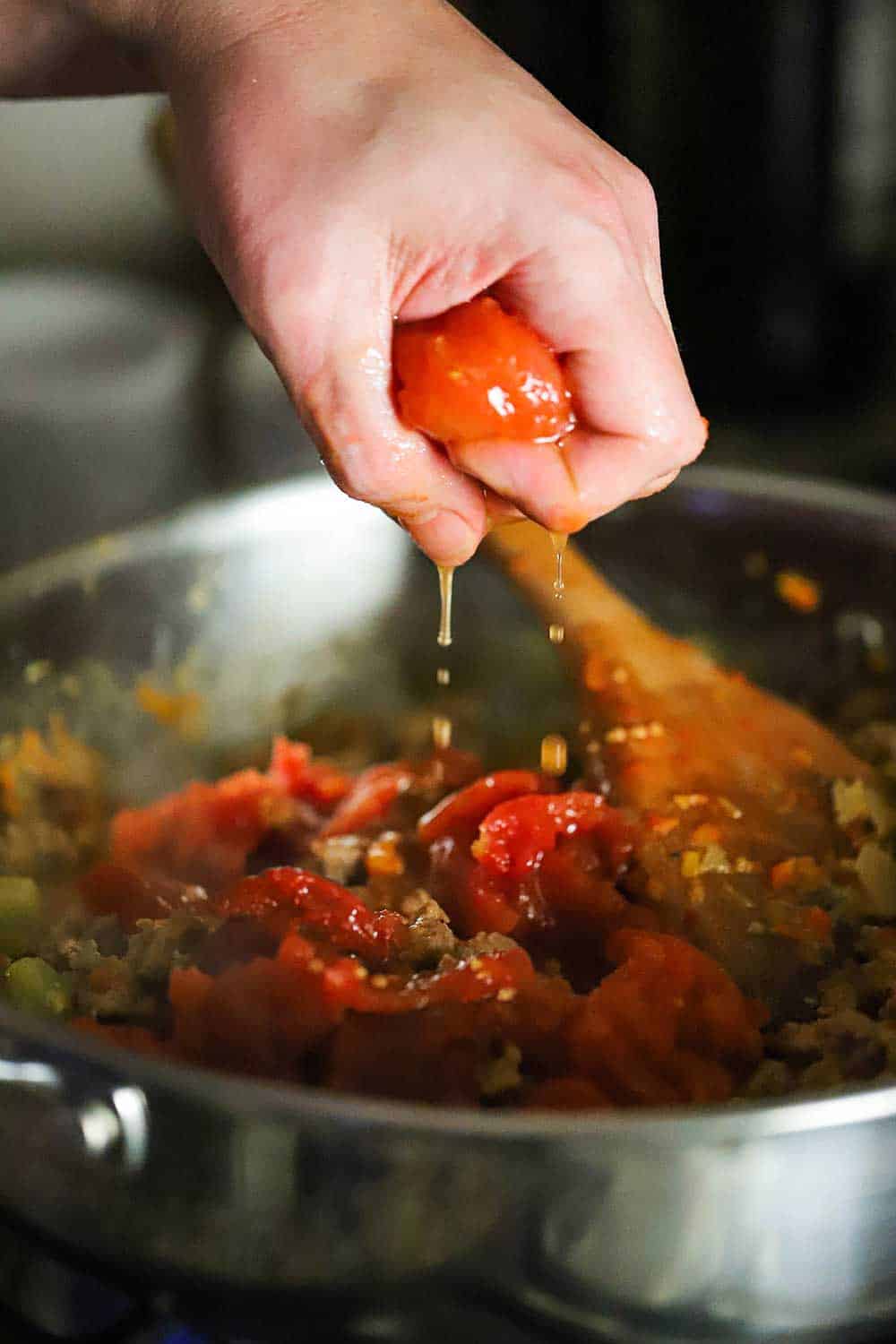 Choosing the Right Type of Italian Sausage
Italian sausage is already loaded with flavor, so not a ton of additional seasoning is need for the pork.
In most well-stocked supermarkets, you can find Italian sausage in the fresh meat section, or in the frozen section. You can often get hot, sweet, or regular sausage. If you have a local butcher, see if they have Italian sausage. We often use a combination of sweet and hot. You'll need about 1 lb of sausage.
Remove the casings from the links and crumble into the pan with the sautéd mirepoix.
Now, it's time to start making this sauce a little creamy!
We love going with half and half, but you could use whole milk, or heavy cream, or a combination of any of these.
EXPERT TIP: You want to start off by adding only ½ cup of the cream to the sausage. This will allow the meat to absorb the cream and become extra velvety and flavorful. We'll finish the sauce up with the other ½ cup of half and half right before adding in the cooked pasta.
Selecting the Best Pasta
We think fresh pasta is just wonderful for a sauce like this.
In many well-stocked supermarkets or gourmet food shops, you can find package fresh pasta. This is pasta that has not gone through the drying process. We love using a combination of fresh egg pasta and fresh spinach pasta. Or, you can make your own egg pasta and homemade spinach pasta!
Once the sauce has simmered for about 45 minutes, it's time to add in the cooked pasta. Add it in batches and use a pair of tongs or a couple of wooden spoons to work it into the sauce. Be sure to save a cup of the pasta water. You will probably need some of this to the pasta in the pan to help loosen it all up.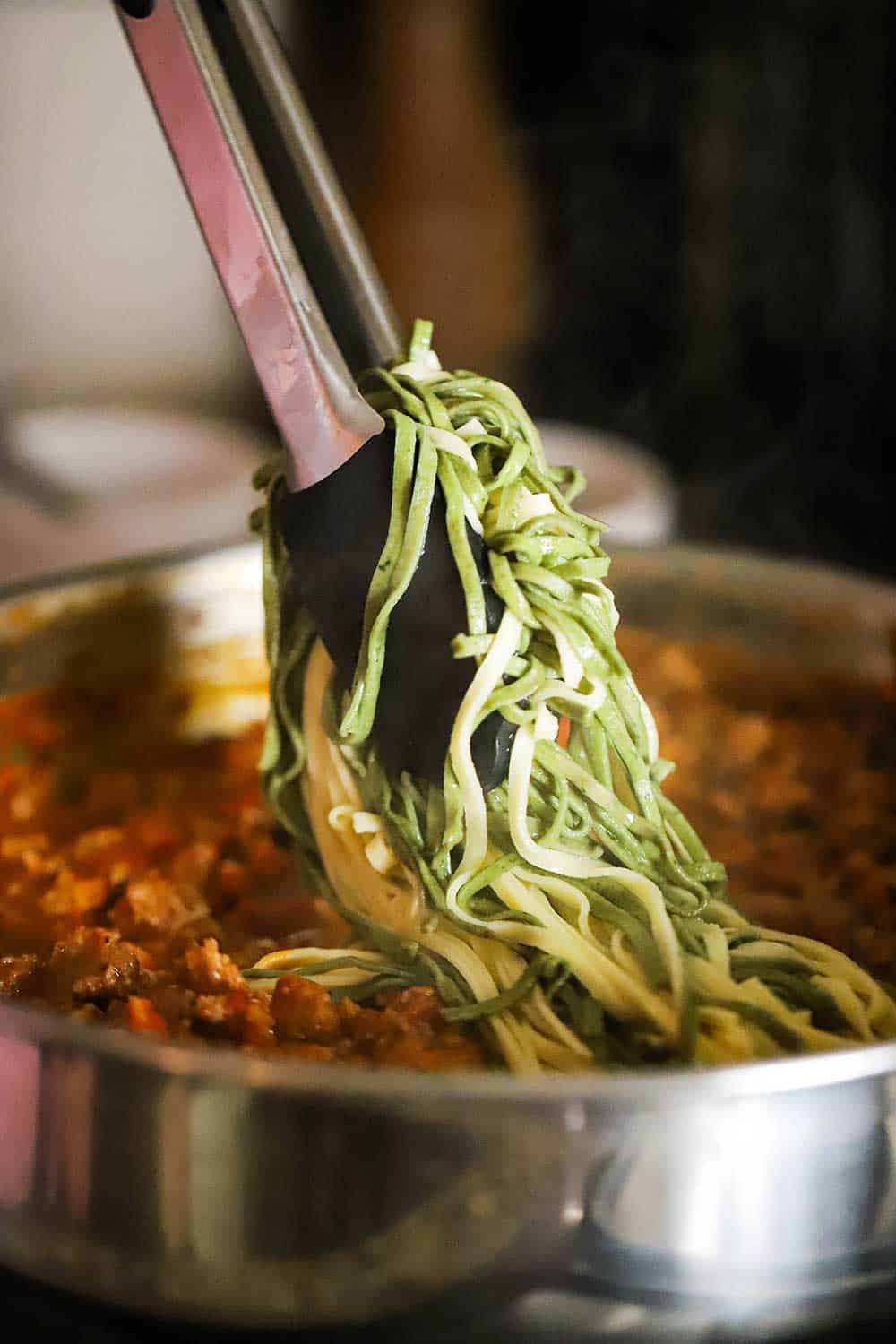 How To Serve Fettuccine with Creamy Sausage Sauce
This pasta dish is so loaded with flavor and is quite filling, all you really need to serve it with is a nice crusty loaf of Italian bread and a bottle of red wine!
Of course, a nice leafy green salad would be a great start for this amazing bowl of pasta.
EXPERT TIP: We love serving this pasta with freshly grated Parmesan cheese. The cheese is the perfect match for the zesty and creamy sauce.
This pasta is so flavorful and it is always a huge hit whenever we serve it to guests.
But, it's so easy to prepare, it makes for a wonderful weeknight meal. The sauce freezes beautifully and leftovers are just as good as when it's served right off the stove!
EXPERT TIP: If you're looking for an alternative to pork, nowadays, you can find really great chicken Italian sausage or even turkey Italian sausage. Ground beef seasoned with salt, pepper, and Italian seasoning would be great, too. You can leave the meat out and add sautéd mushrooms in their place for a vegetarian dish.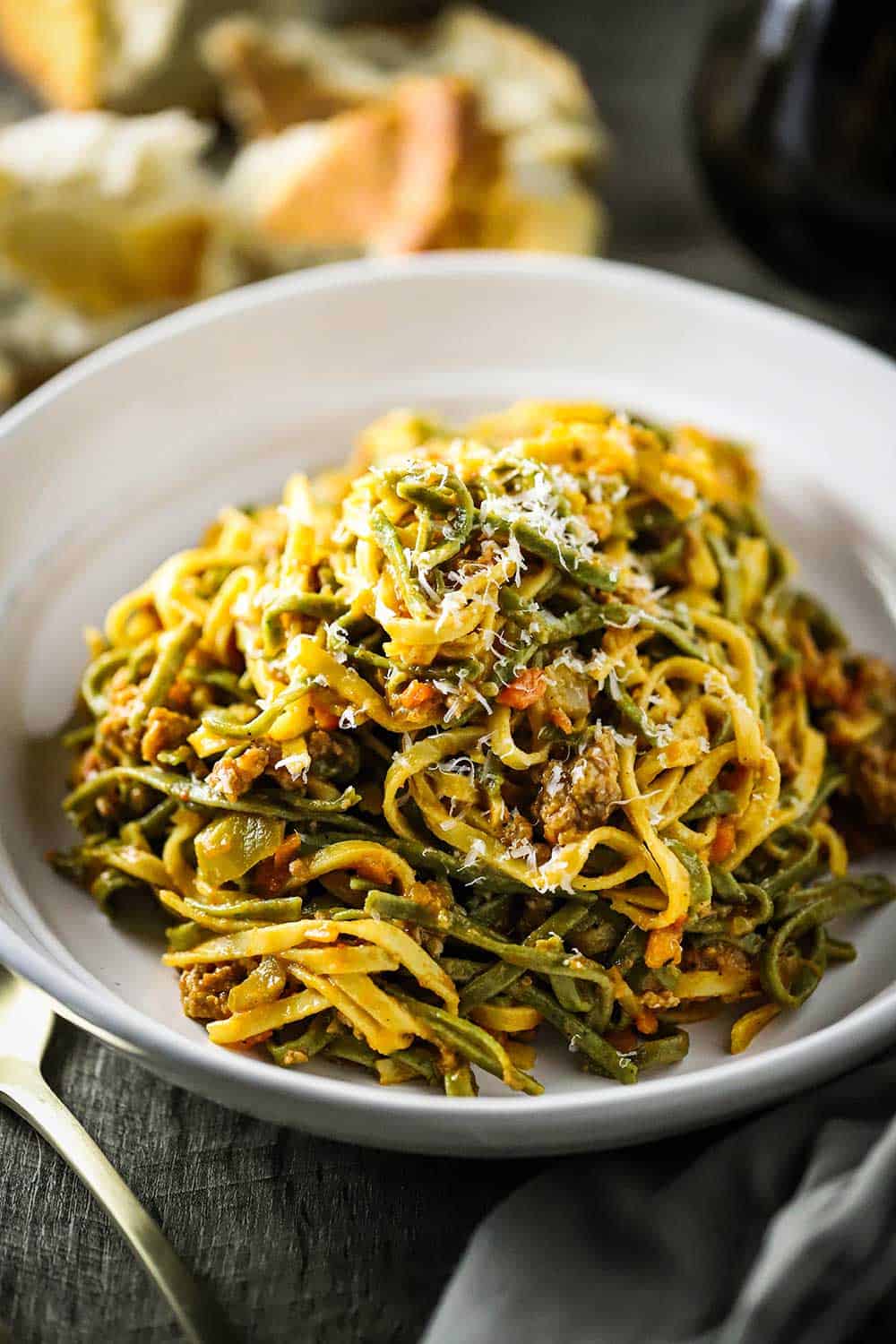 If a bowl of heartwarming pasta with an incredibly delicious sauce sounds good to you, then you've come to the right place. If you love this dish, you'll probably also love our Shrimp Fettuccine Alfredo!
With one bite, you'll understand why this has become an all-time favorite dish in our house.
So good and couldn't be easier to prepare. Now, that's something to cheer about!
Ready to make one of the most delicious pasta dishes in the world? Go for it!
And when you do, be sure to take a photo of it, post it on Instagram, and tag @HowToFeedaLoon and hashtag #HowToFeedaLoon!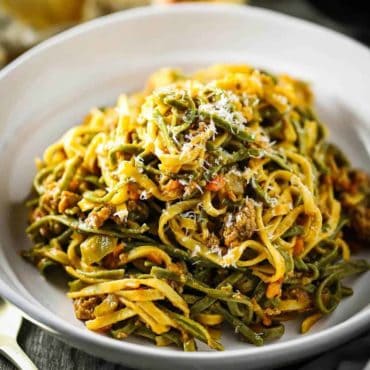 Fettuccine with Creamy Sausage Sauce
Fettuccine with Creamy Sausage Sauce is pure Italian pasta heaven. The flavors of this dish just work perfectly together. The sauce can be made up to 4 days in advance. It also freezes beautifully!
Print
Pin
Rate
Servings: 6 people
Calories: 682kcal
Equipment
Large skillet/saucepan and pot for boiling pasta
Ingredients
2 tbsp olive oil
2 tbsp unsalted butter
1 cup onion chopped
1 cup celery chopped
1 cup carrot peeled and chopped
1 lb Italian sausage sweet, hot, or combo, with casings removed
½ tsp nutmeg grated
Kosher salt and fresh ground black pepper
1 cup half and half divided
2 tbsp tomato paste
1 28 oz. can whole tomatoes drained
1 cup beef stock
Parmesan cheese grated, for serving
Instructions
In a large skillet, heat the olive oil over medium heat until shimmering. Add the butter and stir with a wooden spoon until melted. Add the onion, celery, and carrot and saute until tender, about 4 to 5 minutes.

Add the sausage and stir to break into smaller clumps. Sprinkle with the nutmeg and season with ½ tsp salt and ½ tsp pepper. Reduce heat to medium-low and cook until the sausage is almost fully cooked, about 8 minutes.

Add ½ cup of the half-and-half, stir well, and cook for 8 minutes, using a wooden spoon to incorporate the half-and-half into the sausage mixture.

Stir in the tomato paste. Use your hand to squeeze tomatoes into the sauce, mixing well. Add another ½ tsp salt and ¼ tsp pepper to the sauce.

Reduce the heat to low and cook for 30 minutes. Stir occasionally, adding the beef stock in increments to keep the sauce from not drying out. After simmering for 30 minutes, and after you've added all of the beef broth, stir in the remaining ½ cup of half-and-half.

Meanwhile, bring a pot of salted water to a boil. Add the pasta and cook until al dente, according to package instructions. If using fresh pasta, it will only need to cook for about 2 minutes. Be sure to save a least a cup of pasta water.

Add the pasta to the sauce in the skillet and toss until the strands are well coated with the sauce. Add reserved pasta water to help loosen the pasta and mix with the sauce. Serve at once with grated cheese passed at the table.
Notes
You'll need 1 lb of the sausage. Sometimes this is 3 links, sometimes that's 4 links. Just use your best judgment. We love using a combination of hot and sweet sausage, but that's up to you! Italian sausage can be found in the meat department of most well-stock supermarkets. Often, they are in the frozen meat area. Chicken sausage or turkey sausage are great substitutions. If not already seasoned, you'll need to season the meat as it cooks with 1/2 tsp of salt, pepper, and 1 tsp of Italian seasonings, such as dried oregano, basil, and fennel. We like using half-and-half for the cream, but you can use all whole milk, or heavy cream, or a combination of any of these. Remember, to use ½ a cup to sauté into to the meat, and then another ½ cup when the sauce is finished simmering. We love either making fresh pasta or purchasing fresh pasta from the market. Remember that fresh only takes a couple of minutes to cook. Dried pasta, such a fettuccine, linguine, or spaghetti are all great options. Follow the instructions on the package for al dente pasta. Remember to save some pasta water to thin the sauce, if necessary! The sauce can be made up to 1 week in advance. Keep in an air-tight container in the fridge. The sauce also freezes beautifully for up to 2 months.
Nutrition
Calories: 682kcal | Carbohydrates: 65g | Protein: 24g | Fat: 28g | Saturated Fat: 9g | Cholesterol: 83mg | Sodium: 725mg | Potassium: 691mg | Fiber: 4g | Sugar: 5g | Vitamin A: 3982IU | Vitamin C: 7mg | Calcium: 97mg | Iron: 2mg
POST UPDATE: This recipe was originally published in January 2016, but was updated with improved tweaks to the recipe, with new tips and photography, and a fabulous new video in December 2020!