There are comfort pasta dishes, and then there's this dish.
This dish is hands-down one of the Loon's all-time favorite dish and one he requests often. It's especially good during the cold months. And it comes together in about 30 minutes! All it needs is a crusty Italian loaf of bread and a nice glass of red wine. Perfection!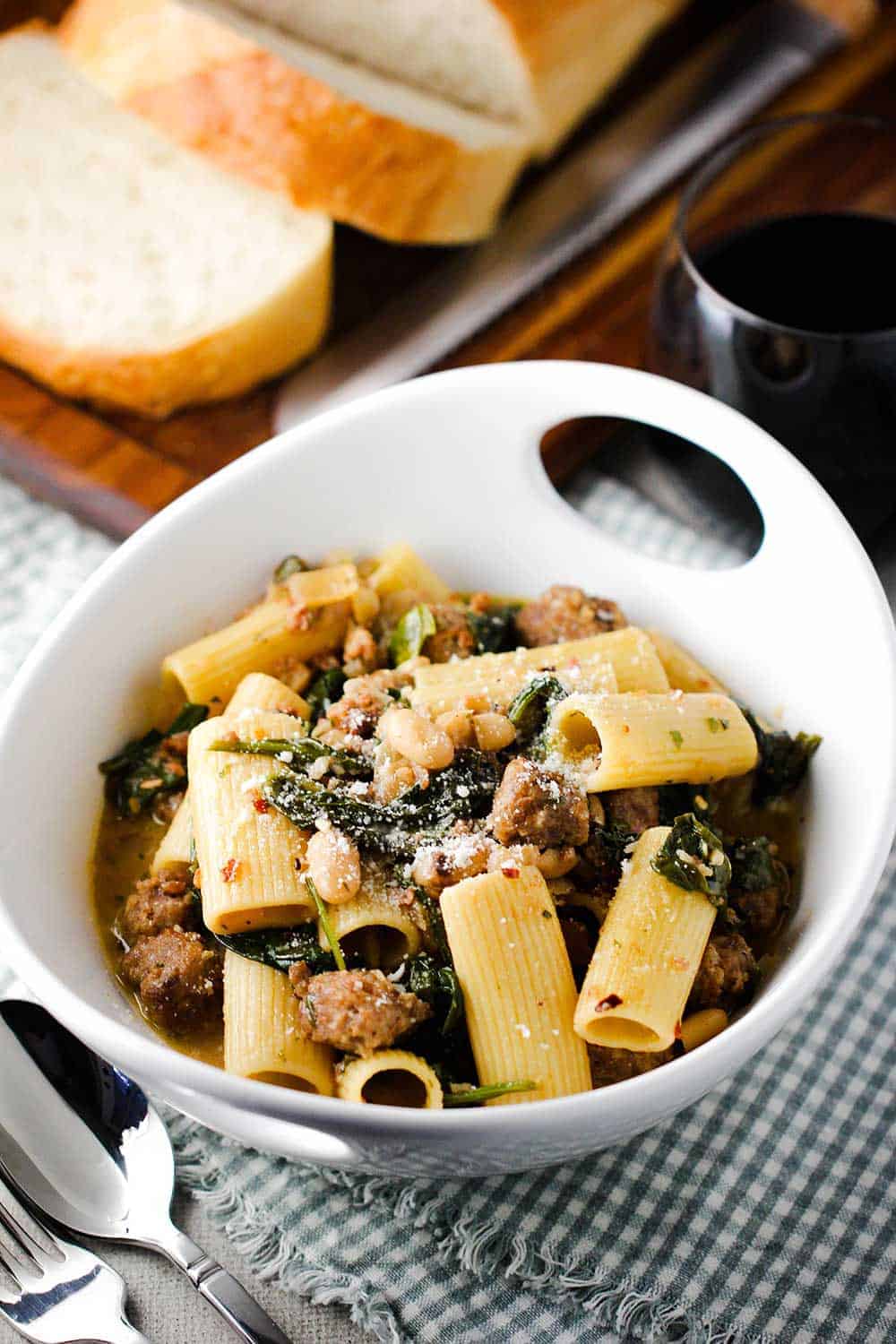 HOW TO MAKE COUNTRY ITALIAN PASTA
This pasta dish is so simple to make. And when you take your first bite, you won't believe how deeply flavorful it is.
The Italian sausage, spinach, cannellini beans, parmesan cheese, fresh herbs, and stock all work perfectly together.
Watch us show you how to make one of our favorite pasta dishes of all time!
QUICKLY BUILDING THE FLAVORS
There are almost as many kinds of pasta dishes as there are stories about the history of pasta itself. But we think a good robust pasta, such as rigatoni is perfect for this sauce.
For the protein, we start off with Italian sausage and then throw in some chopped prosciutto, both cooked until nicely browned.
EXPERT TIP: For a little extra heat in the dish, choose 'hot' Italian sausage links. Our preference for this dish, however, is 'sweet.' Simply take a knife to cut away the outer casings of the links, and then use your fingers to make bite-sized sausage balls about the size of a large marble (approx. ½-inch in diameter). Cook them in a large saucepan with a little olive oil. This can be done up to 1 day in advance.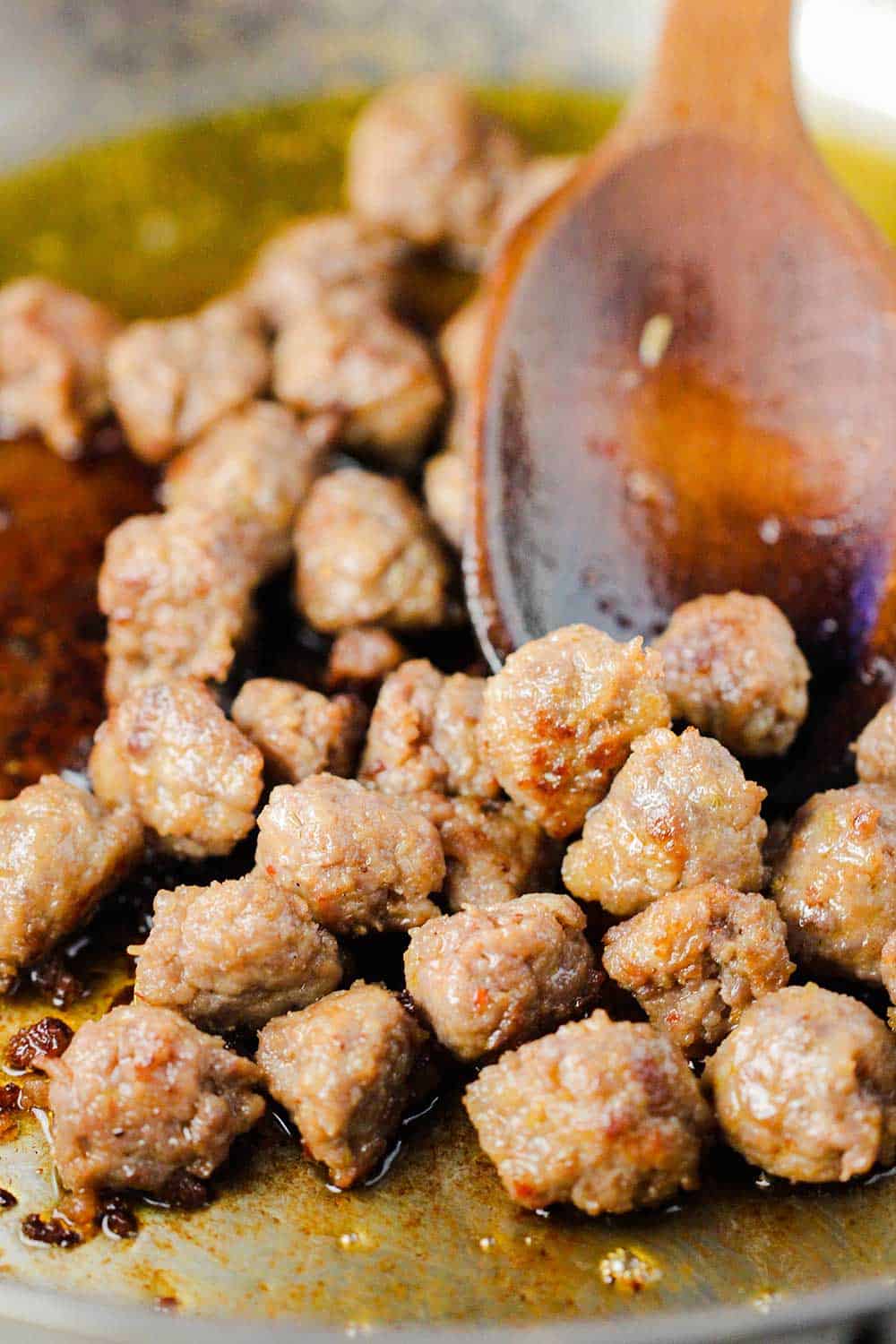 After sautéing chopped onion and garlic in the same pan as where you cooked the sausage and prosciutto, it's time to de-glaze.
A nice dry white wine will do the trick.
EXPERT TIP: The wine will add a dimension to the sauce that is subtle, but delicious. As the wine cooks and reduces, the alcohol will evaporate out. If you prefer to not cook with alcohol at all, you can substitute a tbsp of white wine vinegar, or lemon juice, which contains no alcohol.
FRESH SPINACH IS AN IDEAL ADDITION
Now, it's time to add the liquid. Chicken stock is perfect, and, of course, homemade chicken stock puts this dish over the top!
Adding fresh spinach is so simple and brings such a wonderful taste and texture to the sauce.
No need to cook (or blanch) the spinach first. Simply add 8 to 10 ounces of fresh baby spinach to the sauce, stir, and watch the leafy greens wilt beautifully down.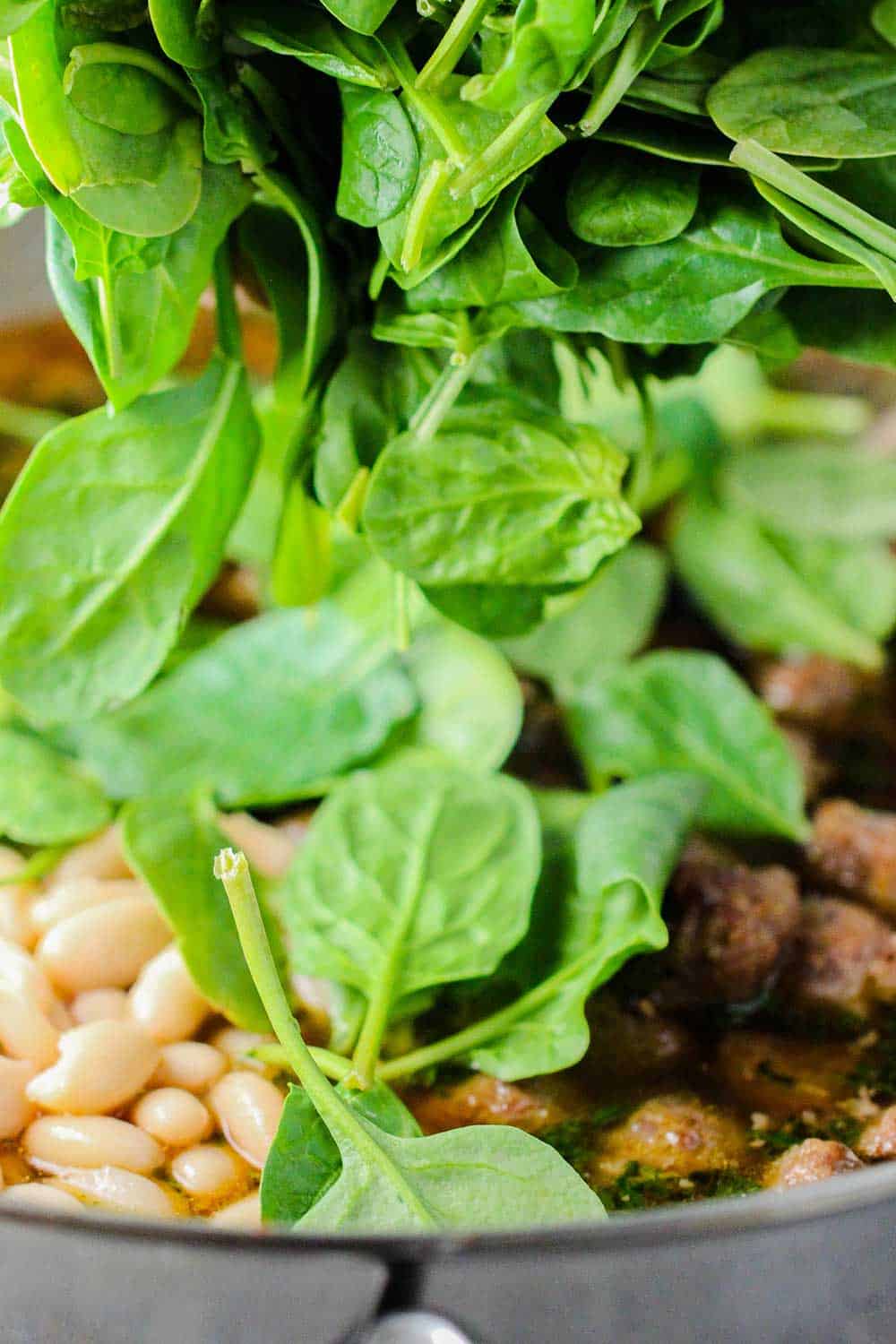 The addition of cannellini beans (drained and rinsed) gives amazing texture and taste to the sauce.
And finally, freshly grated parmesan cheese thickens the sauce perfectly.
EXPERT TIP: You can use whatever your favorite type of bean is. Alternatives to cannelloni beans are Great Northern or Navy Beans. If using dried beans, let soak overnight, drain, and then simmer in salted water for 1 to 1½ hours (or until tender) before adding to the sauce.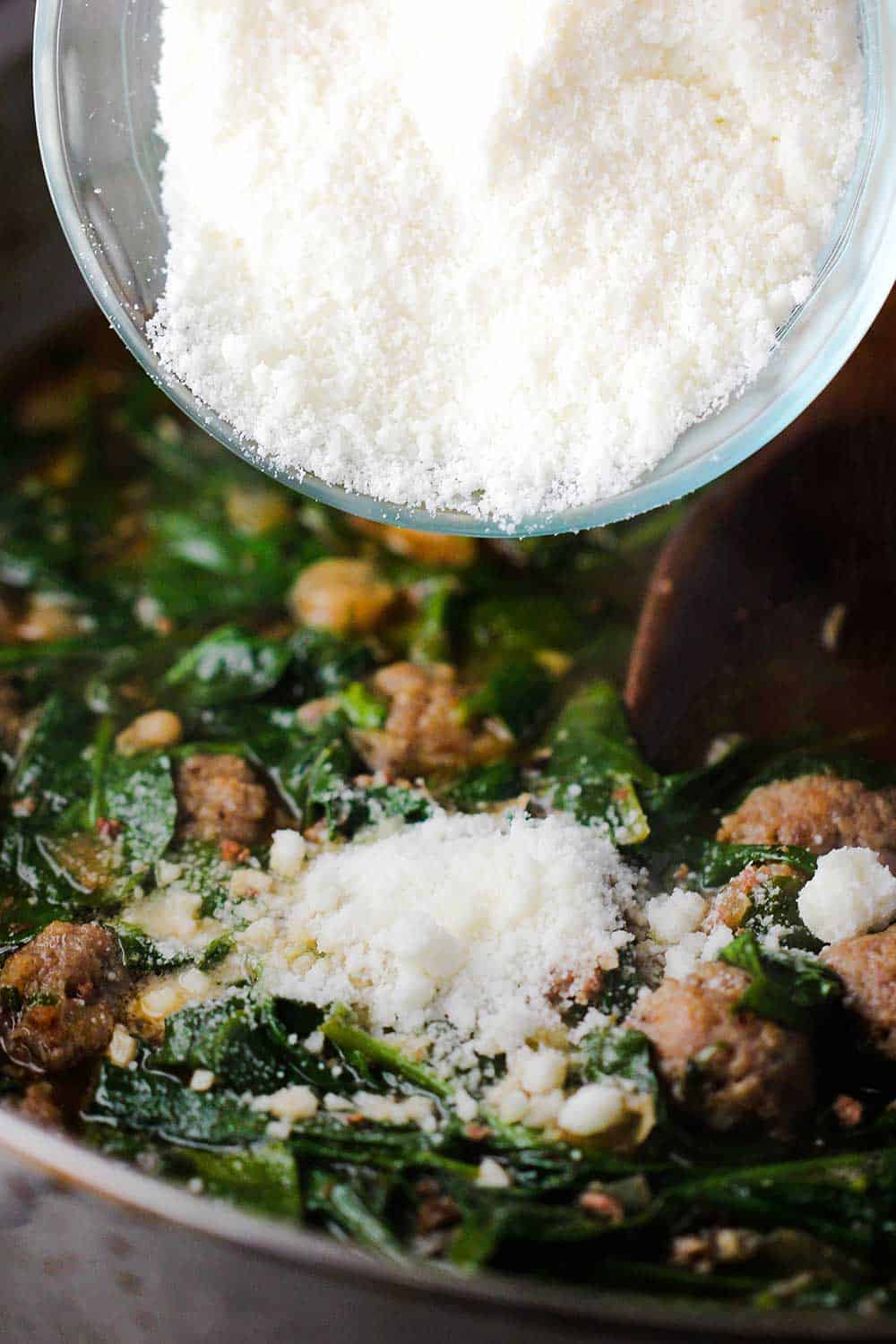 COUNTRY ITALIAN PASTA FEEDS A HUNGRY FAMILY
As mentioned, this dish holds a special place for us. We've been making it for many years and it never gets old.
It's so easy to prepare, it's perfect for a busy weeknight pasta dinner, but it's so gorgeous in presentation and delicious in taste, it's ideal for a dinner party, too.
Either way, you cannot go wrong with our favorite Country Italian Pasta!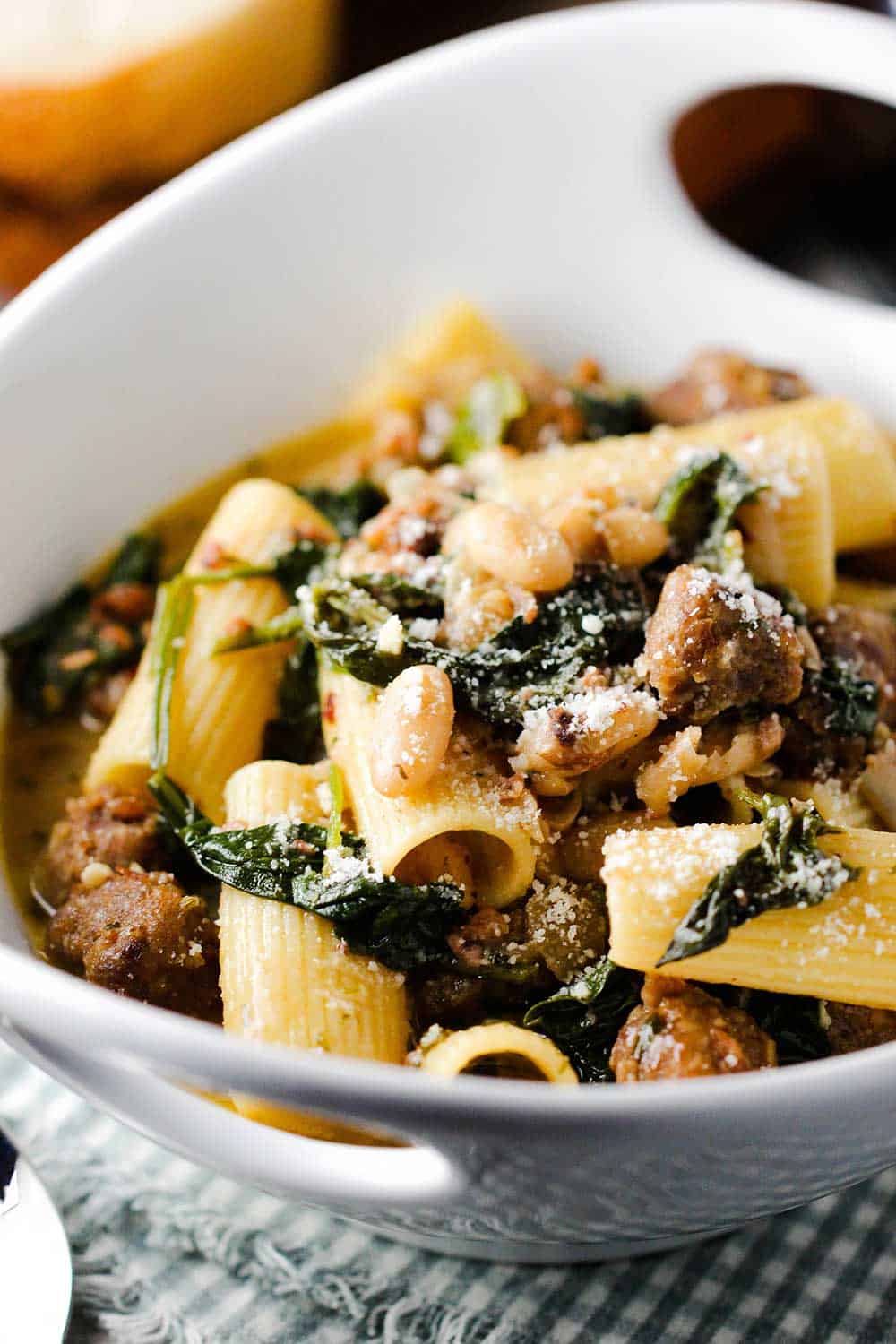 Ready to make this awesome pasta recipe? Go for it!
And when you do, be sure to take a photo of it, post to Instagram, and tag @howtofeedaloon and #howtofeedaloon!
Country Italian Pasta
This Country Italian Pasta is perfect on a cold night....or anytime, for that matter! This will truly warm your cockles. A Loon Favorite for sure!
Print
Pin
Rate
Servings: 6 people
Calories: 566kcal
Ingredients
2 tsp olive oil
10 oz Italian sausage about 3 or 4 links, sweet or hot, casings removed, shaped into small balls
3 oz prosciutto chopped
1 cup onion chopped
2 cloves garlic minced
2 tbsp flat-leaf parsley fresh, chopped
3 tbsp basil fresh, chopped
Kosher salt and fresh ground black pepper
¼ cup white wine dry
3 cups chicken stock
10 oz baby spinach fresh
1 can 15.5 oz cannellini beans drained, rinsed
1 cup Parmesan cheese grated, divided (¾ cup for sauce, ¼ cup for garnish)
12 oz rigatoni pasta dried
Instructions
In a large skillet, heat 1 teaspoon of olive oil. When heated add the sausage and cook until browned...place on paper towels to remove excess oil.

In the same skillet, heat the rest of the olive oil (1 tsp) over medium-high heat. When the oil is hot, add the prosciutto. Cook until browned and crisp, about 4 to 5 minutes.

Add the onion. Cook until translucent, about 6 minutes.

Add the garlic, stir for another minute.

Add basil, parsley, and salt (one teaspoon) and pepper (1/2 teaspoon). Stir for 1 minute.

Add the wine to de-glaze the pan, scraping up brown bits stuck to the skillet. Cook, stirring often until almost evaporated, about 2 to 3 minutes.

Add the chicken stock, beans, and cooked sausage. Bring to a simmer. Add the spinach and stir until cooked and wilted.

Raise the heat to medium-high and simmer for about 10 minutes.

Add ¾ cup of the cheese...stir until slightly thickened.

Meanwhile, bring a large pot of salted water to a boil...add in the rigatoni. Cook for 8 minutes, or until al dente, stirring occasionally.

Drain pasta. Add the pasta to the spinach mixture and mix well.

Serve at once, passing additional parmesan cheese at the table.
Notes
Bulk sausage or sausage links can be used. If using links, be sure to remove the outer casings and then form into small meatballs. The sausage can be prepared up to 1 day in advance. Navy beans or Great Northern beans can be used in place of the cannellini. If using dried beans, soak for 8 hours, or overnight, drain, and then simmer in salted water for 1 hour, or until beans are soft. If making in advance (which is great, because the flavors meld even further), prepare the sauce without the pasta. When ready to serve, re-heat the sauce while cooking the pasta. Stir in the cooked pasta when ready to serve. This will keep in the refrigerator for up to 1 week and freezes beautifully for up to 2 months.
Nutrition
Calories: 566kcal | Carbohydrates: 53g | Protein: 26g | Fat: 14g | Saturated Fat: -41g | Cholesterol: 57mg | Sodium: 890mg | Potassium: 722mg | Fiber: 3g | Sugar: 5g | Vitamin A: 4652IU | Vitamin C: 18mg | Calcium: 277mg | Iron: 3mg
POST UPDATE: This recipe was originally published in November 2015, but updated with improved tweaks to the recipe, along with new photography, tips, and a fabulous video in February 2020.