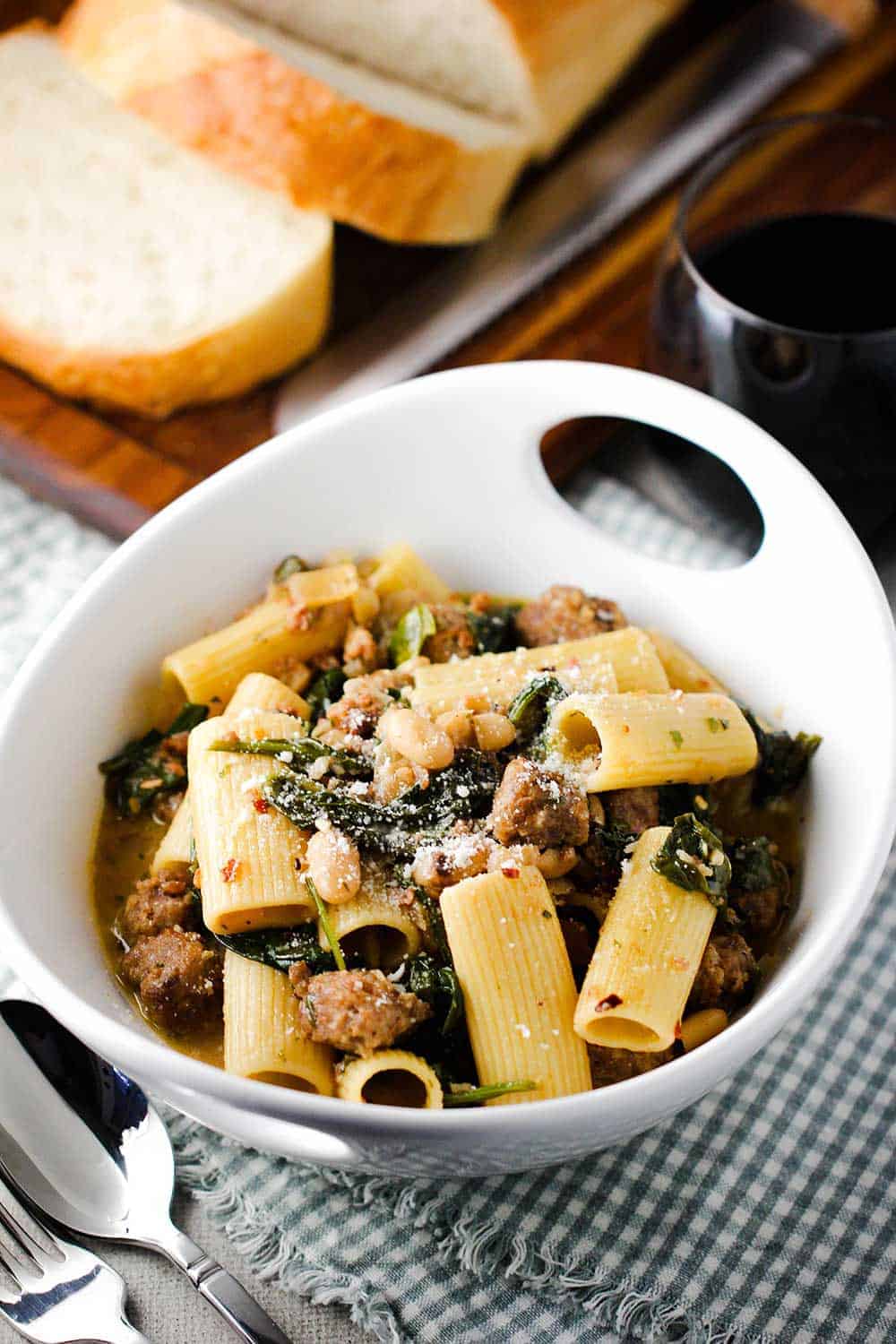 This Country Italian Pasta is hands-down one of the Loon's all-time favorites and one he requests often.  This is especially good during the cold months.  There is just something so comforting and warming about this dish.  Be sure to serve with a nice loaf of crusty bread to help soak up all that amazing broth.   So good!!  Completely Loon Approved!
Watch Kris & Wesley make Country Italian Pasta from the Rustic Italian episode and then see the full recipe below!
Country Italian Pasta
This Country Italian Pasta is perfect on a cold night....or anytime, for that matter! This will truly warm your cockles. A Loon Favorite for sure!
Author: Kris Longwell
Recipe type: Entree
Cuisine: Italian
Serves: 4
Ingredients
1 bag fresh spinach (10 - 12 ounce bag)
¼ cup good olive oil
4 sweet Italian sausage links...casings removed..shaped into small balls (recipe for homemade below)
¼ cup prosciutto, chopped
1 medium onion, chopped
3 garlic cloves, minced
6 fresh basil leaves, chopped
1 tablespoon fresh flat-leaf parsley, chopped
Kosher salt and fresh ground black pepper
¼ cup white wine
1 28 ounce can white cannellini beans, drained
3 cups chicken stock
1 cup freshly grated Parmesan-Reggiano cheese
12 ounces dried rigatoni pasta
FOR THE HOMEMADE ITALIAN SAUSAGE:
3 lbs. marbled pork butt (Boston pork butt is good), cut into ½-in pieces
2 tablespoons garlic, minced
1 tablespoon + 1 teaspoon smoked paprika
1 & ½ teaspoons toasted fennel seeds
1 tablespoon Kosher salt
1 tablespoon fresh ground black pepper
1 teaspoon cayenne
½ teaspoon ground anise
2 tablespoons flat-leaf parsley, chopped
3 tablespoon dry red wine
Instructions
In a large pot, bring 4 cups of water to a boil...add spinach. Cook for 2 minutes. Drain into ice water to stop the cooking. Drain again. Squeeze the spinach to remove excess water. Reserve.
In a large skillet, heat 1 teaspoon of olive oil. When heated add the sausage and cook until browned...place on paper towels to remove excess oil.
In the same skillet, heat the rest of the olive oil over medium high heat. When the oil is hot, add the prosciutto. Cook until browned and crisp, about 7 minutes.
Add the onion. Cook until translucent, about 10 minutes.
Add the garlic, stir for another minute.
Add basil, parsley, and salt (one teaspoon) and pepper (1/2 teaspoon). Stir for 1 minute.
Add the wine to de-glaze the pan, scraping up brown bits stuck to the skillet. Cook, stirring often, for 2 minutes.
Add the spinach, sausage, beans and chicken stock.
Raise the heat to medium high and simmer for about 10 minutes.
Add in ¾ cup of the cheese...stir until slightly thickened.
Meanwhile, bring a large pot of salted water to a boil...add in the rigatoni. Cook for 8 minutes, or until al dente, stirring occasionally.
Drain pasta. Add the pasta to the spinach mixture and mix well.
Top with ¼ cup of grated cheese.
Serve with bread and enjoy!
MAKE THE ITALIAN SAUSAGE (AHEAD OF TIME):
Mix all the ingredients (except casings) in a large bowl, toss well to coat,
Refrigerate covered, overnight.
Pass the mixture through a meat grinder (or, use process in a food processor, in two batches).
Shape into patties, or meatballs.
Cook accordingly, or store in fridge for 3 - 4 days, or freeze.