Is there anything much more comforting than a heartwarming pasta dish made with love in your very own kitchen? We don't think so.
We are over-the-moon excited to have partnered with Three Farm Daughters to bring you this classic dish. They are a brand new company founded by three sisters who have captured our attention for many reasons. Mostly because they produce a phenomenal new premium line of pasta that simply checks ALL of the boxes when it comes to flavor, quality, nutrition, and more than anything: craveability. Just look at this pasta, folks!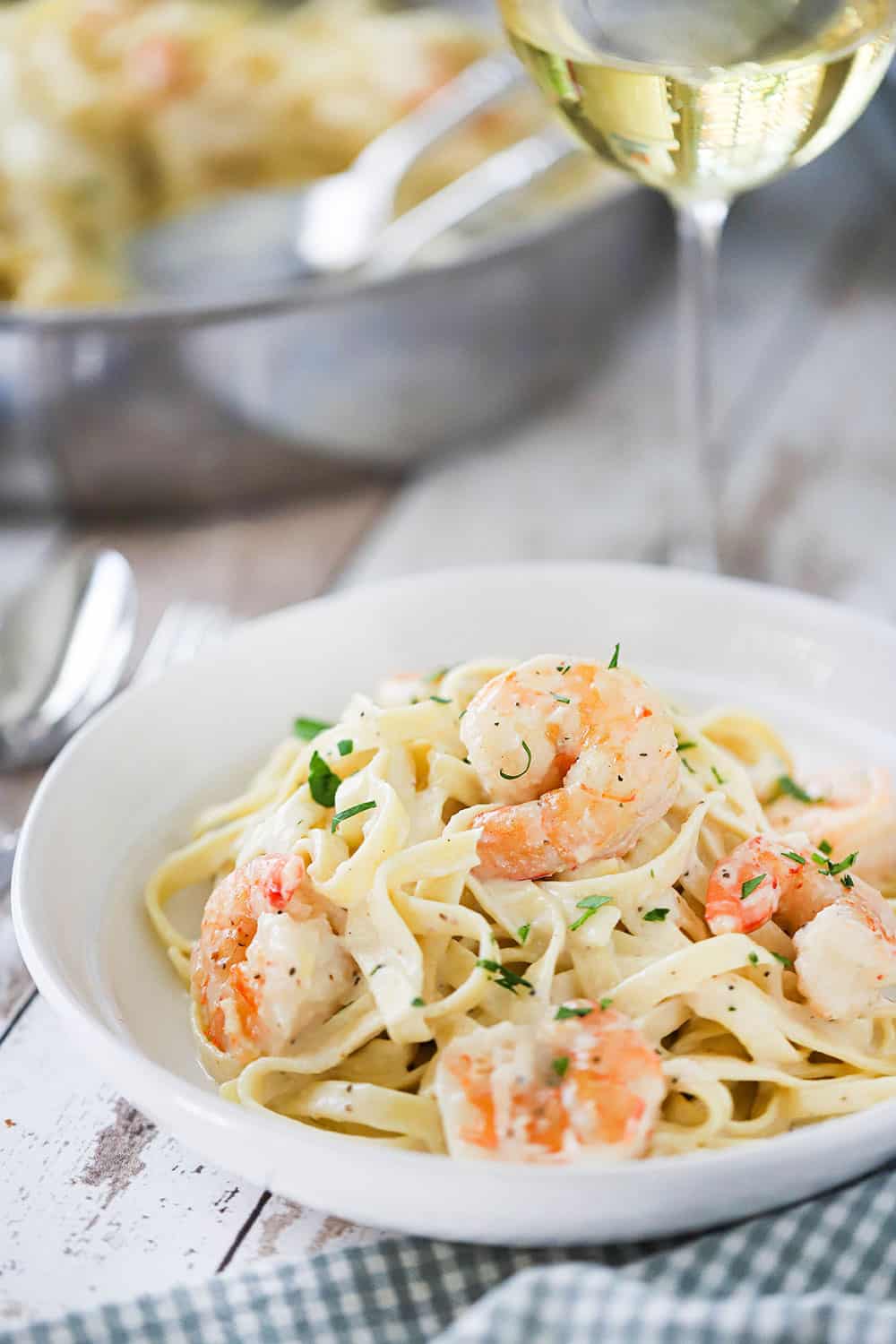 How To Make Shrimp Fettuccine Alfredo
The best fettuccine alfredo recipe is actually not hard to prepare.
There are two really important factors in making this dish sing: Quality ingredients and not over-cooking the sauce.
Choosing the Right Ingredients
This classic pasta dish only has a handful of ingredients, which is why choosing quality ingredients truly does make a big difference in the end result. And, it should go without saying that selecting a superior pasta is key.
Ladies and gentlemen: Meet the cleaner, classic carb from Three Farm Daughters, powered by "GoodWheat." All of their pasta products can proudly boast the following:
High in fiber (11g of fiber per 2 oz. serving – 5x more fiber per serving than traditional pasta)
High in protein (9g per 2 oz serving)
Lower calories (25% less than traditional)
Perfectly al dente in 13 minutes, and makes for great leftovers (but don't worry if you go over 13 minutes, it's almost impossible to overcook the pasta!)
Unmatched in delicious flavor!
What does this mean to you and to us? Simple: This pasta is produced with cleaner ingredients, is uncommonly nutritious, and is over-the-top delicious! And the fettuccine is folded, making it fit perfectly into a pot of boiling water! Major win!
Now, it's time to sauté the shrimp.
There are many types of shrimp to choose from when making this dish. We recommend seeking out certified U.S. wild-caught or farmed shrimp. This means there has been a close adherence to environmental and sustainable guidelines. We often turn to seafoodwatch.org to discover well-informed seafood recommendations.
Fresh is always best, but good quality frozen shrimp will work, too.
EXPERT TIP: Check with a fishmonger at a trusted fish market, if possible, for the best shrimp to select. If using frozen shrimp, be sure to thaw completely before sautéing them. This can be achieved by allowing them to thaw in the refrigerator for up to 24 hours, or, for a quick thaw, place the shrimp in a colander and run cold water over them for about 20 minutes. Pat the shrimp dry with a paper towel before seasoning.
A simple seasoning of salt and pepper is all that's needed. Melt a couple of tablespoons of unsalted butter, swirl around a couple of halved cloves of garlic, and sauté the shrimp, without overlapping, for about 2 minutes per side, until they are curled and bright pink.
The Perfect Alfredo Sauce
Now, transfer the sautéd shrimp from the skillet onto a plate and cover to keep warm.
Add the remaining butter and 1¾ cups of heavy cream to the skillet. Turn the heat on low, allow the butter to melt, and then simmer with the cream for two minutes.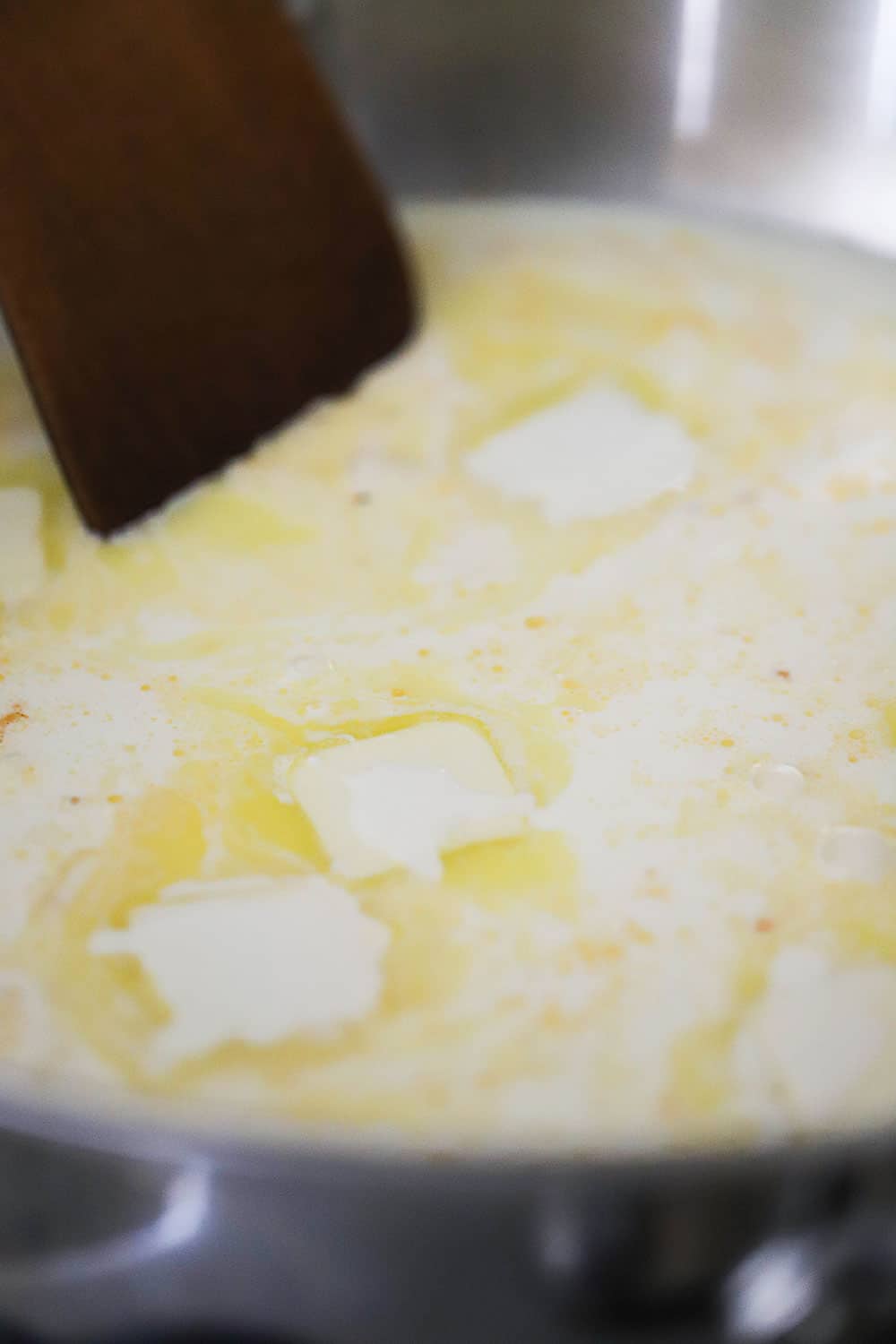 Folks, we're already getting close. Now, it's time to add in the sautéd shrimp and pasta. One of the keys to creating a light, and not overly heavy tasting alfredo sauce is to not overcook the cream.
Use a couple of spatulas or large spoons to coat the pasta and the shrimp and then cook for just a few minutes.
EXPERT TIP: Before draining the pasta, be sure to reserve at least half of a cup of the pasta water. If you prepare the pasta in advance, you can toss the drained fettuccine with about 1 tbsp of oil. We don't recommend preparing the pasta for more than 1 hour before adding it to the sauce. The addition of pasta water and more cream in the final cooking will create the perfect light, yet creamy, sauce that you're looking for.
Finishing Off the Dish
The next, final, and really important ingredient is the cheese and a little more seasoning.
We highly recommend seeking out a nice grated Parmigiano-Reiganno. The price may be a little higher than your standard grated Parmesan cheese, but the taste and texture will add a touch of luxuriousness to the sauce that is sublime. Add the cheese, salt, pepper, nutmeg, and stir until fully incorporated.
EXPERT TIP: Don't worry if at this point the sauce seems thin. As you stir in the cheese and let it heat through, the sauce will cling to the pasta and start to thicken before your very eyes. In fact, this will be the time you'll want to stir in the remaining cream and anywhere from ¼ to ½-cup of the reserved pasta water.
How To Serve Shrimp Fettuccine Alfredo
And that, our dear friends, is all there is to it!
Garnish with a little chopped parsley and you are ready to serve!
EXPERT TIP: The dish is best served fresh off the stove. In fact, we recommend serving the pasta in bowls that you have warmed (on a baking sheet) in a low-temp oven (200°F). This will keep the sauce from thickening up at all when your loved ones are devouring the best fettuccine alfredo they've ever had!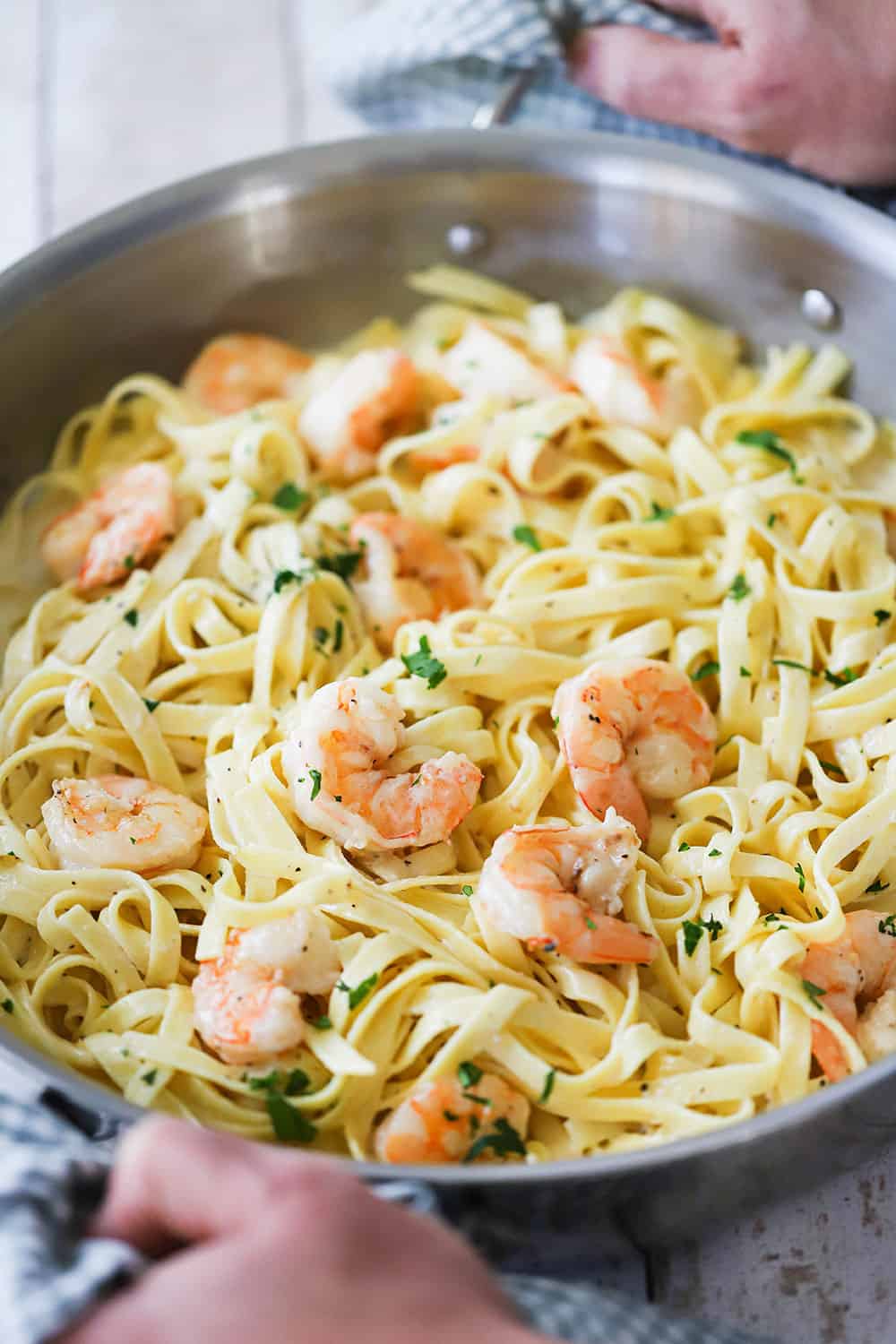 Uncommonly Nutritious and Easily Delicious
If you follow these tips and commit to using quality ingredients, including Three Farm Daughters Fettuccine, you'll have a Shrimp Fettuccine Alfredo that will rival even your favorite Italian-American restaurant, guaranteed.
Three Farm Daughters was founded with one big vision in mind – bringing better food to your pantry.
In addition to this amazing fettuccine, they also offer incredibly delicious fusilli and linguine. Use code 'howtofeedaloon' for free shipping on your order! Try our Pesto Pasta with the fusilli and the Creamy Sausage Pasta with the linguine!
But in the meantime…you must make this legendary Shrimp Fettuccine Alfredo!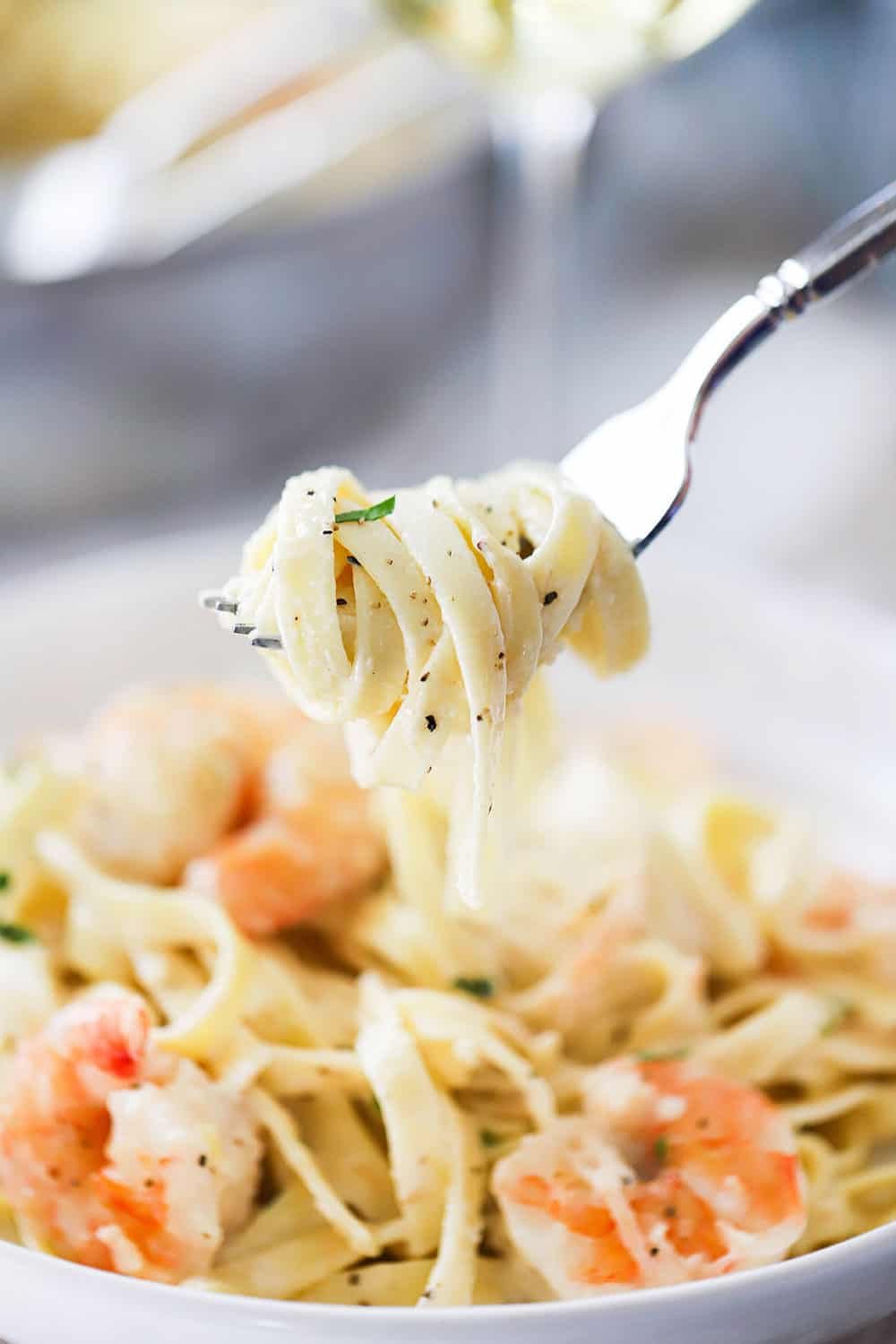 Ready to make an off-the-charts delicious pasta dish that your loved ones will be requesting time and time again? Go for it!
And when you do, be sure to take a photo, post it on Instagram, and tag @HowToFeedaLoon and @ThreeFarmDaughters and hashtag #HowToFeedaLoon and #ThreeFarmDaughters!
Shrimp Fettuccine Alfredo
Shrimp Fettuccine Alfredo is not hard to make at home if you follow a couple of important rules: use quality ingredients and don't overcook sauce.
Print
Pin
Rate
Servings: 8
Calories: 364kcal
Ingredients
1 lb shrimp large, shelled and deveined
Kosher salt and black pepper
8 tbsp unsalted butter divided
2 cloves garlic halved
l lb fettuccine
2 cups heavy cream
1 cup Parmigiano-Regianno grated
½ tsp nutmeg grated or ground
1 tbsp parsley fresh, for garnish, optional
Instructions
Preheat the oven to 200°F. Place your pasta bowls on a baking sheet and place them in the oven to warm until ready to serve.

Bring a pot of salted water to a boil.

Pat the shrimp dry with a paper towel and then sprinkle both sides with salt and pepper.

Heat 2 tbsps of the butter over medium-high heat in a large (12-inch) skillet. Add the garlic, cut-side down, and swirl around with the help of a wooden spoon in the butter until aromatic, about 1 to 2 minutes. Remove the garlic from the butter.

Add the shrimp in one layer, without overlapping, and sauté for 2 minutes, or until turning pink on the underside. Flip and cook for another 2 to 3 minutes, until the shrimp is very pink and curled and cooked through. Use a spatula to transfer the shrimp to a plate and cover with foil to keep warm.

Add the pasta to the water and cook until al dente, usually about 13 minutes.

After the pasta has started cooking, add the remaining 6 tbsp of butter and 1¾ cup of the cream to the same skillet that you cooked the shrimp in. Turn the heat on medium-low and swirl the butter until it melts and is barely simmering. Use your spatula to scrape up any of the bits on the bottom of the pan from cooking the shrimp. Simmer on low for 2 minutes.

Meanwhile, drain the pasta, reserving ½ cup of the pasta water.

Transfer the sautéd shrimp and drained pasta to the skillet with the cream and butter. Use a couple of large spatulas or spoons to coat the pasta completely with the sauce.

Add the grated cheese, 1 tsp of salt, ½ tsp of pepper, and nutmeg (½ tsp) to the pasta and stir to fully incorporate.

Cook for a couple of more minutes. The sauce will thicken as it cooks on low. Thin the sauce slightly with the remaining ¼ cup of cream and a bit of the pasta water.

Carefully remove the warmed pasta bowls from the oven and fill them with the shrimp fettuccine alfredo. Garnish with chopped parsley, if desired.
Notes
You can cook the pasta up to 1 hour before adding to the sauce. Simply drain, transfer to a large bowl, and coat the pasta with 1 to 2 tbsp of olive oil. Don't forget to reserve about 1/2 cup of the pasta water! The recipe can easily be cut in half when serving 2 to 3 people. If you can find non-ultra-pasteurized heavy cream, that's even better. But that can be hard to find, especially in the U.S. Ultra-pasteurized heavy cream is still wonderful to use. Remember not to cook the sauce too long, or it will get thick and gummy. Always keep a little extra pasta water and extra cream on hand if the sauce starts to tighten up on you. To reheat the fettuccine, add back to a large skillet and thin with a little more cream, or seafood stock, or chicken stock, or even a little water until the right consistency is reached. Alfredo sauce is not recommended to be frozen as the texture will be compromised once thawed and reheated.
Nutrition
Calories: 364kcal | Carbohydrates: 2g | Protein: 13g | Fat: 24g | Saturated Fat: 14g | Trans Fat: 1g | Cholesterol: 254mg | Sodium: 465mg | Potassium: 100mg | Fiber: 1g | Sugar: 1g | Vitamin A: 1267IU | Vitamin C: 4mg | Calcium: 127mg | Iron: 1mg