Of all the appetizers we've ever created or served, this may be the most amazing of all of them.
If you love Philly Cheesesteaks and if you love Chinese Egg Rolls, you are going to fall madly in love with this over-the-top delicious party appetizer. Your guests will be blown away when you serve these at your next gathering. Trust us on this one!
How To Make Philly Cheesesteak Egg Rolls
NOTE: If you liked this video, please subscribe to our YouTube channel. Remember to click the little 'bell' icon so you'll never miss a new video! Thank you!
The Ingredients You Will Need
There are a handful of key ingredients to put this party appetizer over the top in deliciousness. Here's what you'll need to have on hand:
Ribeye steak – Freeze it and then let it thaw for 45 minutes before slicing it. You can also use any kind of good quality strip steak.
Oil – Olive oil or vegetable oil for sautéing.
Onion – Chopped.
Green bell pepper – Seeded and chopped.
Seasonings – Salt and pepper.
Soy sauce – Can use regular or low-sodium.
Provolone cheese – Buy a 1/2 lb block from your supermarket deli and then shred it with your food processor or a box grater.
Egg roll wrappers – Usually found with the vegan ingredients in the produce section (or cold section) of many supermarkets.
Water – For sealing the egg rolls.
Oil – Vegetable, for frying.
Hot chili oil – Optional, but it adds great depth of flavor to the egg rolls.
Sour cream topping – Just combination of sour cream and mayonnaise mixed with chili powder and garlic powder.
Chives – Finely snipped, for garnish.
EXPERT TIP: For the perfect filling, we recommend freezing your steak, letting it thaw somewhat, and then very carefully slicing on a mandolin or with a sharp knife. After cooked with the onions and peppers, pulse the mixture a few times in your food processor (or with a knife).
Tips for Perfect Philly Cheesesteak Egg Rolls
Use Ribeye Steak – Ribeye steak is the traditional cut of meat used in Philly cheesesteaks and will give your egg rolls the most authentic flavor.
Use High-Quality Cheese – Use a top-notch melty cheese such as provolone for the best authentic flavor and texture. Get a block from the deli and shred it.
Roll the Egg Rolls Tightly – Roll the egg rolls tightly to prevent them from falling apart during frying and to ensure that they cook evenly.
Fry Until Golden Brown – Fry the egg rolls until they're golden brown and crispy on the outside, which will give them a nice crunch and help the cheese to melt and become gooey.
EXPERT TIP: To roll the egg rolls, place about 1 tbsp of the cheese down the middle of the egg roll wrapper, from one corner to the other. Top with about 1/4 cup of the meat mixture. Top with more cheese, and then roll sealing the ends. Rub the edges of the wrapper with water to help the wrappers completely seal.
How To Bake or Air Fry the Egg Rolls
Frying the egg rolls in hot oil (340 to 345°F) gives them the crispiest, most authentic taste and texture. However, you can bake them or cook them in your air fry, too, if desired.
To bake them, simply assemble as directed and then brush them all over with vegetable oil. Place on baking sheets lined with parchment paper and bake in a 400°F oven for 16 to 18 minutes, until browned and crispy.
To air-fry them, first spray the basket of your air fryer with olive oil or cooking spray. Place the egg rolls in the basket and spray the tops of them with more oil. Air fry for 6 minutes at 400°F, then flip them over and air fry for another 6 minutes.
Or, deep-fry them in oil until crispy. Flip frequently so they will brown evenly.
Other Amazing Party Appetizers to Try
If you are throwing a fabulous party, you'll want to have plenty of fabulous appetizers. Here are a collection of true winners:
Sausage-Stuffed Mushrooms
Oysters Rockefeller
Bacon Parmesan Gougères
Marinated Olives
Spanish-Style Garlic Shrimp
Warm Sausage, Spinach, and White Bean Dip
Southern Crab Beignets
Beef Negimaki
Seared Shishito Peppers
These are absolutely amazing appetizers that are always a hit when served to guest. But, in the meantime, aren't these grabbing your attention?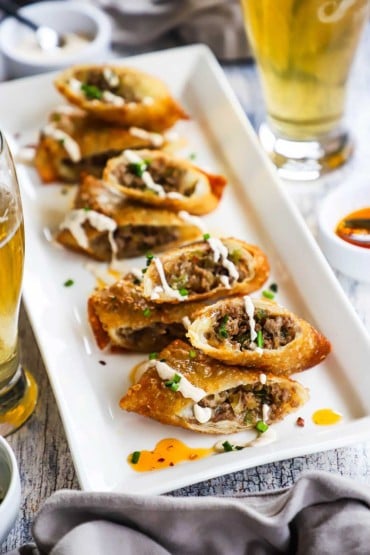 If you're looking for an appetizer to serve at your party that will literally have everyone raving, this is the one.
You can make the eggs rolls up to a day in advance. Simply keep them covered and in the refrigerator. You can even freeze them for a couple of months.
Quickly fry and then serve them. Brace yourself for plenty of 'ooh's' and 'ah's!'
Ready to make the best party appetizer of all time? Go for it!
And when you do, be sure to take a picture of them, post it on Instagram, and tag @HowToFeedaLoon and hashtag #HowToFeedaLoon!
Philly Cheesesteak Egg Rolls
This may be the most delicious appetizer we've ever made or served. The Philly cheesesteak mixture combined with the melty provolone cheese wrapped up in a crunchy fried egg roll wrapper is just amazing. The chili oil and sour cream sauce bring it all together.
Print
Pin
Rate
Servings: 4
Calories: 723kcal
Equipment
Large skillet for frying or a deep fryer

mandolin or sharp knife

Food processor or sharp knife
Ingredients
1 lb ribeye steak frozen, and then thawed for 45 minutes
1 tbsp olive oil
1 medium onion chopped
1 green bell pepper seeded and chopped
1 tbsp soy sauce
½ tsp Kosher salt
½ tsp black pepper ground
6 egg roll wrappers
2 cups Provolone cheese grated
vegetable oil for frying
chili oil optional, for serving
2 tbsp chives snipped
For the Sour Cream Sauce
½ cup sour cream
½ cup mayonnaise
1 tsp chili powder
1 tsp garlic powder
Instructions
Once the steak has started to thaw a bit (not too much), very carefully slice the steak on your mandolin set at ⅛" or slice with a sharp knife. You won't be able to slice the entire steak. Save what you can't slice on the mandolin for another use.

1 lb ribeye steak

Heat the oil in a large skillet over medium heat. Add the onion and peppers and sauté until soft, about 4 minutes. Stir in the soy sauce and cook for another minute.

1 tbsp olive oil, 1 medium onion, 1 green bell pepper, 1 tbsp soy sauce

Add the steak and cook, stirring often, until no longer pink. Stir in the salt and pepper. Carefully transfer the meat mixture to your food processor and pulse a few times (don't over-process, just need a rough chop). Or, give the meat mixture a rough chop with a large knife. Set aside.

½ tsp Kosher salt, ½ tsp black pepper

Place an egg roll wrapper on a cutting board and moisten your fingers with water. Rub water along the edges of the wrapper. Place about 1 tbsp of the grated Provolone cheese down the middle of the wrapper, from one corner to the other. Spoon about ¼ cup of the meat mixture over the cheese and top with another tbsp of cheese.

6 egg roll wrappers, 2 cups Provolone cheese

Fold one edge of the wrapper over the filling and tuck in the other side. Fold in the ends to seal. Roll the wrapper to completely seal. Set aside and repeat the process until all the meat mixture has been used. You should have 6 to 8 egg rolls.

Meanwhile, heat the vegetable oil in a large sturdy skillet (or your deep fryer) to 340°F. Working in batches, very carefully lower the egg rolls into the hot oil, not overcrowding the pan. Use metal tongs (or a couple of forks) to turn the egg rolls in the oil, working to have the rolls turn golden, without burning in any spots. Remove to a paper towel-lined plate. Repeat with remaining egg rolls.

vegetable oil

Meanwhile, mix together the sour cream sauce ingredients.

½ cup sour cream, ½ cup mayonnaise, 1 tsp chili powder, 1 tsp garlic powder

To serve, slice the egg rolls in half, on the diagonal. Drizzle hot chili onto a platter and then place the cut rolls on the platter. Spoon some of the sour cream sauce over the top and sprinkle on chives. Serve at once.

chili oil, 2 tbsp chives
Notes
See the video near the top of the blog post for visual guidance. If you liked the video, please subscribe to our YouTube channel.
If you don't want to slice the steak, you can substitute thinly sliced roast beef from the deli department at your supermarket. But, the thinly sliced steak delivers authentic taste and texture.
The egg rolls can be assembled up to 12 hours in advance. Keep covered in the fridge and let come to room temperature before frying.
See the blog post for instructions on how to bake or air-fry the egg rolls.
Nutrition
Calories: 723kcal | Carbohydrates: 19g | Protein: 44g | Fat: 26g | Saturated Fat: 11g | Polyunsaturated Fat: 9g | Monounsaturated Fat: 10g | Trans Fat: 0.1g | Cholesterol: 145mg | Sodium: 790mg | Potassium: 581mg | Fiber: 2g | Sugar: 4g | Vitamin A: 1123IU | Vitamin C: 27mg | Calcium: 562mg | Iron: 3mg