This is one of those appetizers that people look at and say "Wow!"…then they try one, and say "Wow, oh WOW!"
They are so delicious, and really not difficult to prepare. Make it easy on yourself and get the oysters scrubbed and shucked at your local fish-market. You'll just need to run a knife under the meat of the oyster to disconnect it from the shell. Whip up the spinach mixture and bake for about 20 minutes and serve on top of course salt, like rock salt or sea salt. And you've got a dish that folks will be talking about for years to come.
How To Make Oysters Rockefeller
As mentioned, these really are simple to prepare, and the filling can even be made in advance.
But, you may be wondering where the name Oysters Rockefeller came from. Learn more about that here.
How To Blanch Fresh Spinach
Sautéd fresh spinach is a key ingredient for this beautiful appetizer.
You'll want to start off with 8 ounces (½ lb) of fresh mature spinach. After removing the stems, you'll want to add the spinach to a pot of boiling water and stir for about 3 to 4 minutes, until wilted. Transfer to an ice bath to stop the cooking, and then drain. Use your hands to squeeze out the excess water, then roughly chop and set aside.
EXPERT TIP: You'll want to seek out bunched fresh spinach, usually found in the produce section of most well-stocked supermarkets or farmer's markets. We don't recommend using baby spinach, which is perfect for a salad, but not cooking with. If you can't find fresh, then go with frozen chopped spinach. Let completely thaw and squeeze all the water out. Remember to cut the stems away from the fresh spinach.
The sauce is deeply flavorful.
We love using Pernod liqueur for a slight licorice taste. It's optional, but we think it's really good and doesn't overpower the flavor profile, and is a wonderful match to the oysters.
EXPERT TIP: Make sure to save a cup of the water that you blanched the spinach in. You'll add this to the sautéd onions and garlic in butter, along with the Pernod and hot sauce. As it simmers, the sauce will reduce and concentrate flavor into the cooked spinach.
Once most of the liquid has reduced down, it's time to add more flavor and thicken things up.
Remove from heat and stir in Parmesan cheese and Panko bread crumbs.
EXPERT TIP: Panko bread crumbs can be found in most supermarkets nowadays. They are Japanese in origin and are a little larger than regular store-bought breadcrumbs. If you can't find Panko, regular breadcrumbs will work just fine. Or, even better, take 2 or 3 slices of bread, remove the crusts, and chop in your food processor, or with a sharp knife.
The Perfect Topping
You'll want to save about ¼ cup of the bread crumbs to create a topping for the spinach mixture.
In a small skillet, simply melt two tablespoons of unsalted butter and then add 1 minced clove of garlic. Sauté for about a minute, and then stir in the breadcrumbs and a pinch of salt.
These breadcrumbs will turn slightly browned as they cook in the oven and provide an amazingly delicious crunchy topping, which is a perfect match to the soft, luxurious oyster.
Choosing the Right Oysters
You really can't go with a bad oyster for this dish. Of course, the fresher the better.
We recommend checking with your local fish market and asking for the freshest oysters. And go ahead and have them shuck them for you and save the oyster liqueur (the liquid inside the oysters). See the video for how to shuck oysters at home. To do this, you'll need oyster gloves and a shucking tool. Click here to order a set.
Spoon 1 to 2 tablespoons of the spinach mixture directly on top of the shucked oyster, and then add a pinch of the bread crumbs on top.
EXPERT TIP: The oysters should cook in a 400°F oven for 20 minutes, however, you'll want to loosely tent them after about 8 minutes of cooking to prevent the breadcrumbs from getting too brown.
When To Serve Oysters Rockefeller
There is such a 'wow' factor with this dish, that's it's often served for special occasion events, such as New Year's Eve.
Oysters are also rumored to bring good luck and prosperity in the coming year, another great reason to serve on the night that the big ball drops in Times Square, NYC.
But honestly, these are not difficult to prepare, and they are always such a crowd-pleaser, we serve them as a spectacular appetizer for dinner parties throughout the year.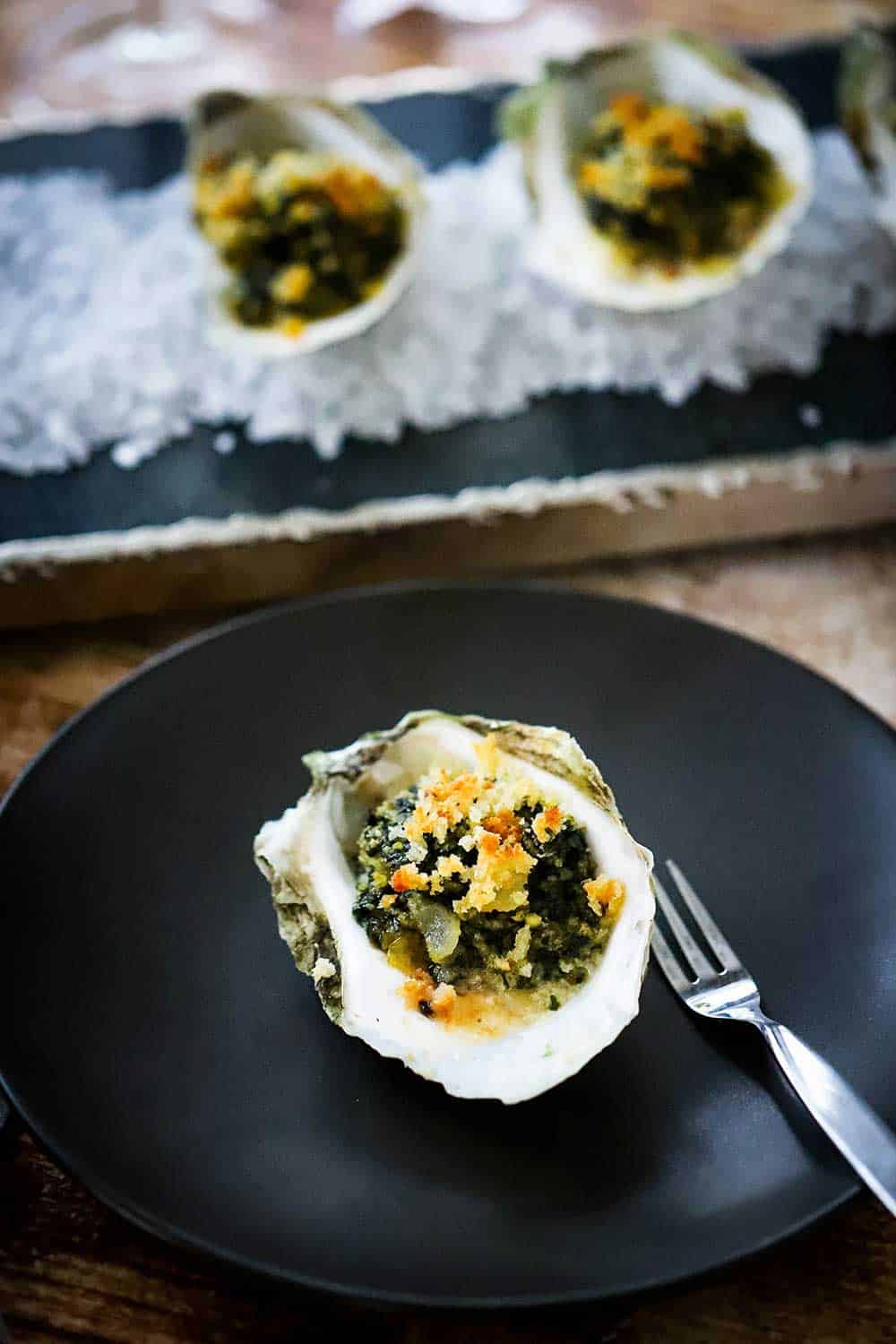 Oysters Rockefeller FAQs
Can frozen oysters be used? Yes, but fresh is always best. Seek out a decent seafood market at your favorite market. Most likely, they will have fresh oysters on hand and will even shuck the oysters for you. We get ours from Whole Foods.
How long will fresh oysters keep before they should be consumed? After getting them shucked, keep them on ice in your refrigerator for 2 to 3 days. If shucking them yourself, they will keep in the fridge (unshucked) for up to 1 week.
Can they be made in advance? The spinach mixture and breadcrumbs topping can be made up to 2 days in advance! Keep in the fridge until ready to use.
Can they be served at room temperature? These are definitely best served warm. They will keep warm for up to 20 to 30 minutes. They are still delicious at room temperature but don't leave them out for more than 1 hour. Don't worry…they'll be devoured.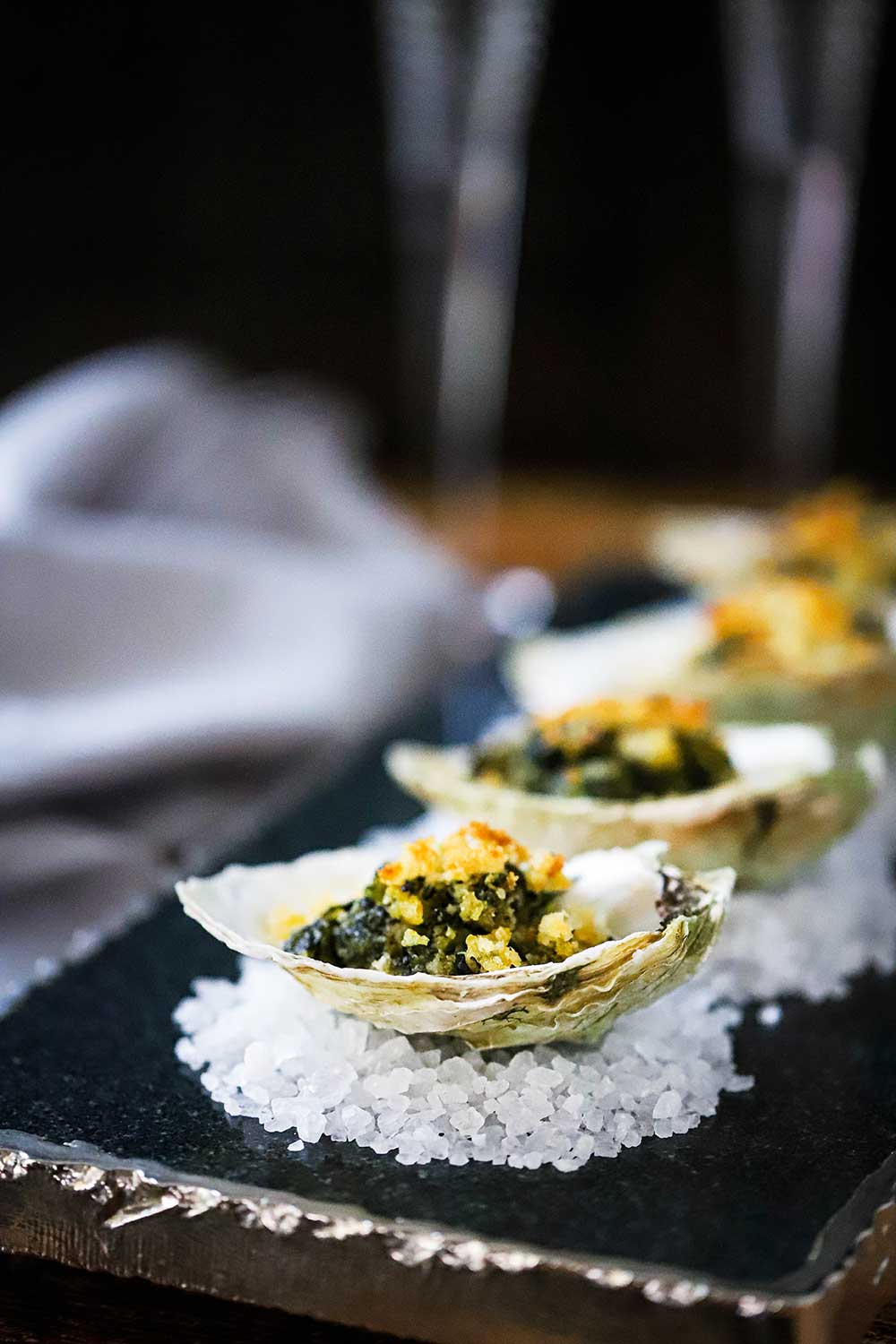 Some of our other favorite oyster dishes are our:
Oyster Casserole
Grilled Oysters with Tomato Compound Butter
Fried Oysters and Clams
BLT with Fried Oysters
But in the meantime, you've just got to make these amazing oysters!
Ready to truly impress with the most elegant appetizer in town? Go for it!
And when you do, be sure to take a picture, post it on Instagram, and tag @HowToFeedaLoon and hashtag #HowToFeedaLoon!
Oysters Rockefeller
Oysters Rockefeller is the perfect 'special occasion' appetizer. This truly has the 'wow' factor. Have your local fish market shuck the oysters for you for additional ease. Serve on coarse salt for a beautiful presentation. And don't worry about the anise-flavored liqueur, it doesn't overpower at all, and adds a wonderful depth. Amazing!
Print
Pin
Rate
Servings: 8 people
Calories: 180kcal
Equipment
Baking sheet and rock salt, or coarse sea salt
Ingredients
8 oz spinach fresh, stems removed and rinsed
10 tbsp unsalted butter divided
1 cup onion chopped
4 cloves garlic minced, divided
¼ cup Pernod liqueur or other anise-flavored liqueur, such as Herbsaint
1 tbsp hot sauce ie, Tobasco
½ tsp Kosher salt
¼ tsp black pepper freshly ground
¾ cup Panko bread crumbs divided
¼ cup Parmesan cheese grated
12 oysters on the half shell, discarding the top shell for each oyster
Coarse salt such as 'rock' or coarse sea salt (about 4 cups)
Instructions
MAKE THE TOPPING
Bring 1 quart of water to a boil in a medium-sized pot.

Add the spinach and cook until very tender, about 3 to 5 minutes. Drain the spinach in a colander set over a large bowl and reserve 1 cup of the cooking liquid. Cool the spinach in an ice bath, or let sit until cool enough to handle, and then finely chop and set aside.

Melt the butter (1 stick) in a large skillet over medium-high heat.

Add the onion and cook until starting to soften, about 4 minutes. Add the garlic and cook for another 1 minute.

Add the reserved spinach water and bring to a boil.

Add the chopped spinach, liqueur, hot sauce, salt (½ tsp), and pepper (¼ tsp). Reduce heat to medium and simmer until the mixture reduces slightly, about 10 minutes.

Remove from heat and mix in the ½ cup bread crumbs and Parmesan cheese (¼ cup).

Meanwhile, make the bread crumb topping by melting the 2 tablespoons of butter in a small pan. Add the extra garlic (1 minced clove), and saute for 1 minute. Mix in the ¼ cup of extra bread crumbs. Remove from heat.
PREPARE THE OYSTERS
Preheat the oven to 400°F.

Spread a ¼-inch layer of the coarse salt on a large baking sheet, as well as your serving platter.

Arrange the oysters on the baking sheet and top with 1 to 2 tablespoons of the spinach mixture.

Top each with a pinch of the bread crumb topping mixture.

Bake until slightly browned on top and sauce is bubbling at the edges of the oysters, about 20 minutes. After about 8 minutes, loosely cover the oysters with a piece of foil, to prevent the breadcrumbs from burning.

Let oysters cool for a few minutes. Using tongs or a spatula, carefully transfer the warm oysters to the salt-covered platter. Serve at once!
Notes
We get our oysters from Whole Foods. They will shuck them for you and keep them on ice. We don't recommend using baby spinach for this recipe. It will get too stringy and not a good consistency once blanched. Mature fresh spinach can usually be found bunched together in the produce section of most well-stocked markets. If you can't find fresh, then go with frozen. Let thaw, and then squeeze the excess water from it. The Pernod, or any anise-flavored liqueur, adds a hint of licorice taste to the oysters. Not overpowering at all, but so good! Decent substitutes for the liqueur are white wine, absinthe, vodka, or fresh lemon juice. The spinach mixture and breadcrumb topping can be made up to 2 days in advance. Oysters Rockefellers are definitely best served warm, however, they'll still be delicious at room temperature. Don't let them sit at room temperature for more than 1 hour.
Nutrition
Calories: 180kcal | Carbohydrates: 8g | Protein: 3g | Fat: 16g | Saturated Fat: 10g | Cholesterol: 41mg | Sodium: 307mg | Potassium: 204mg | Fiber: 1g | Sugar: 1g | Vitamin A: 3126IU | Vitamin C: 11mg | Calcium: 87mg | Iron: 1mg
POST UPDATE: This recipe was originally published in Sept 2015, but was updated with improved tweaks to the recipe, with new tips and photography, and a fabulous new video in December 2020!