Oysters Rockefeller are one of those dishes that people look at and say "Wow!"…then they try one, and really say "Wow, oh wow!"   They are so delicious, and really not difficult to prepare.  Make it easy on yourself and get the oysters scrubbed and shucked at your local fish-market. You'll just need to run a knife under the meat of the oyster to disconnect it from the shell.  Whip up the spinach mixture and bake for about 15 minutes and serve on top of course salt, like rock salt or sea salt.  And you've got a dish that folks will be talking about for years to come. This is great anytime of the year, but truly spectacular at holiday parties and special occasions.  Enjoy!!  100% Loon Approved.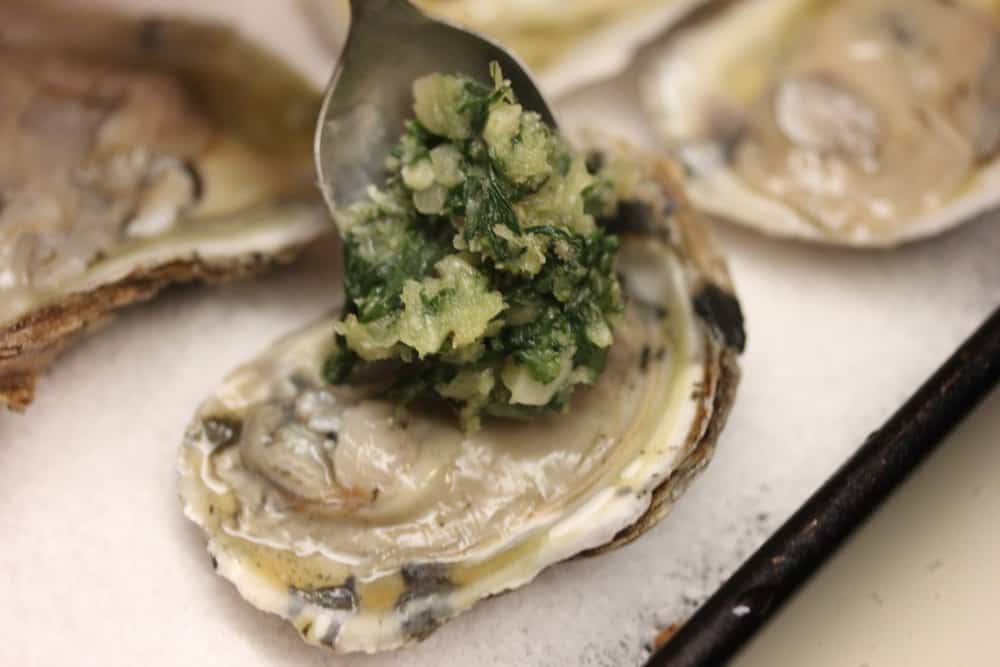 Oysters Rockefeller
This Oysters Rockefeller is the perfect 'special occasion' appetizer. This truly has the 'wow' factor. Have your local fish market shuck the oysters for you for additional ease. Serve on coarse salt for a beautiful presentation. And don't worry about the anise-flavored liqueour, it doesn't overpower at all, and adds a wonderful depth. Amazing!
Print
Pin
Rate
Servings: 8 people
Calories: 312kcal
Ingredients
6 oz spinach stems removed and rinsed
1 stick 8 tablespoons unsalted butter, plus 2 tablespoons for bread crumb topping
1 large yellow onion finely chopped
3 garlic cloves minced, plus an additional clove minced, for bread crumb topping
1/4 cup of Pernod or Herbsaint or other anise-flavored liqueur
1/2 tsp Kosher salt
1/4 tsp freshly ground black pepper
Hot sauce ie, Tobasco, several dashes
1/2 cup Panko bread crumbs plus another 1/4 cup for the bread crumb topping
1/4 cup grated Parmesan
2 dozen oysters on the half shell
Coarse salt such as 'rock' or coarse sea salt (about 4 cups)
Instructions
MAKE THE TOPPING
Bring 1 quart of water to a boil in a medium-sized pot.

Add the spinach and cook until very tender, about 5 minutes.

Drain the spinach in a colander set over a large bowl and reserve 1 cup of the cooking liquid.

Cool the spinach in an ice bath, or let sit until cool enough to handle, and then finely chop and set aside.

Melt the butter (1 stick) in a large skillet over medium-high heat.

Add the onion and cook until starting to soften, about 4 minutes.

Add the garlic and cook for another 1 minute.

Add the reserved spinach water and bring to a boil.

Add the chopped spinach, liqueur, salt, pepper and several dashes of the hot sauce.

Reduce heat to medium and simmer until the mixture reduces slightly, about 10 minutes.

Remove from heat and mix in the 1/2 cup bread crumbs and Parmesan cheese.

Meanwhile, make the bread crumb topping by melting the extra 2 tablespoons butter in a small pan. Add the extra garlic, and saute for 1 minute. Mix in the 1/4 cup of extra bread crumbs. Remove from heat.
PREPARE THE OYSTERS
Pre-heat the oven to 400 F.

Spread a 1/4-inch layer of the coarse salt on a large baking sheet, as well as your serving platter.

Arrange the oysters on the baking sheet and top with 1 to 2 tablespoons of the spinach mixture.

Top each with a pinch of the bread crumb topping mixture.

Bake until slightly browned on top and sauce is bubbling at the edges of the oysters, about 20 minutes.

Using tongs or a spatula, carefully transfer the hot shells to the salt-covered platter.
Nutrition
Calories: 312kcal