If the Loon was forced to pick his all-time favorite sandwich in the entire world, this would be what he would pick.
This is our version of the Philadelphia classic sandwich. Ask your butcher to shave some good-quality sirloin and the rest is a snap. Find some good hoagie bread, grab some provolone cheese, and a little chopped onion and you'll have the real deal on your hands. Wit cheese (that's Philly for, 'with cheese?')…go with melted Cheese Wiz. Or how we like it, with homemade mayonnaise. So crazy delicious!
HOW TO MAKE AN AUTHENTIC CHEESESTEAK SANDWICH
This sandwich is really easier to prepare than you might think. Interested in learning more about the origins of the iconic Philly Cheesesteak? Click here for the details.
As mentioned, you'll need a thinly sliced sirloin for the meat.
You can often find this in the packaged meat section of your supermarket, but, we recommend asking your favorite butcher to slice you about 1 lb of good-quality sirloin.
Sauté one chopped onion in some butter until softened and fragrant.
If desired, throw in a little minced garlic once the onion is nicely sautéed.
This is the base of that wonderful Philly Cheesesteak Sandwich taste.
COOKING THE SHAVE SIRLOIN
Now, it's time to cook the shaved sirloin.
Simply add it in with the onions and cook until just browned.
Don't overcook the meat, otherwise, it will become dried out. Salt and pepper to your own liking.
We're getting close folks!
Open up your hoagie and place the provolone cheese on the inside buns.
Bake, or toast, in the oven until the cheese has melted and the edges are nice and toasty.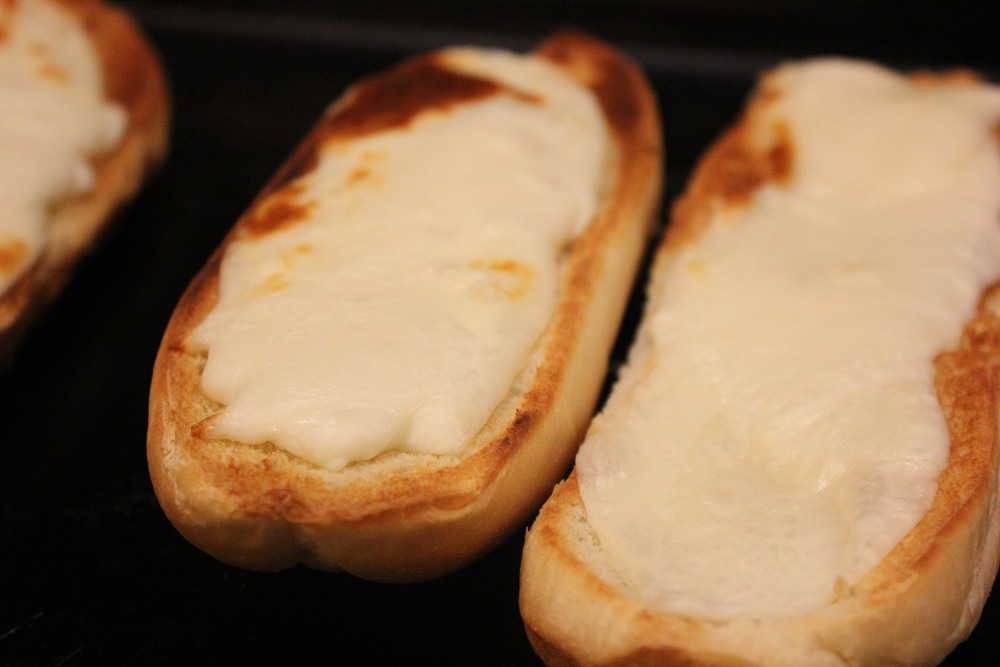 FINISHING OFF THE CHEESESTEAK SANDWICH
Now, all that's left is to pile the cooked meat on top of the toasted bread.
You can certainly add melted cheese (aka Cheeze Wiz) and/or homemade mayonnaise at this point.
And usually, another good sprinkle of salt is nice at this point, too.
Ready to make the best Cheesesteak Sandwich this side of Philadelphia, PA? Go for it!
And when you do, be sure to take a photo, post it on Instagram, and tag @howtofeedaloon and hashtag #howtofeedaloon!
Cheesesteak Sandwich
This cheesesteak sandwich is our version of a Philly Cheese Steak. Amazing! Have your butcher shave a sirloin steak as thin as it gets. Mmmm.
Print
Pin
Rate
Servings: 4 people
Calories: 597kcal
Ingredients
1 onion chopped
2 tbsp olive oil
1½ lbs sirloin thinly shave
½ tsp onion salt
¼ tsp black pepper freshly ground
8 oz Provolone cheese sliced
4 hoagie rolls
¼ cup mayonnaise for condiment (optional)
Instructions
Heat the oil in a skillet

Cook the onion, until soft and translucent

Add the beef. Cook, until just cooked through.

Salt and pepper, to taste.

Toast the open hero bread under the broiler for about 45 seconds.

Add the cheese slices.

Pile the meat on top.

Add a little mayo, if you like, on the bread...slip it under the meat.
Nutrition
Calories: 597kcal | Carbohydrates: 4g | Protein: 52g | Fat: 26g | Saturated Fat: 8g | Cholesterol: 149mg | Sodium: 974mg | Potassium: 700mg | Fiber: 1g | Sugar: 2g | Vitamin A: 499IU | Vitamin C: 2mg | Calcium: 483mg | Iron: 3mg