If the Loon was forced to pick his all-time favorite sandwich in the entire world, this would be what he would pick.
This is our version of the Philadelphia classic sandwich. Ask your butcher to shave some good-quality ribeye and the rest is a snap. Find some good hoagie bread, grab some provolone cheese, and a little chopped onion and you'll have the real deal on your hands. We show you the tips and techniques to make it the way it's made in the City of Brotherly Love!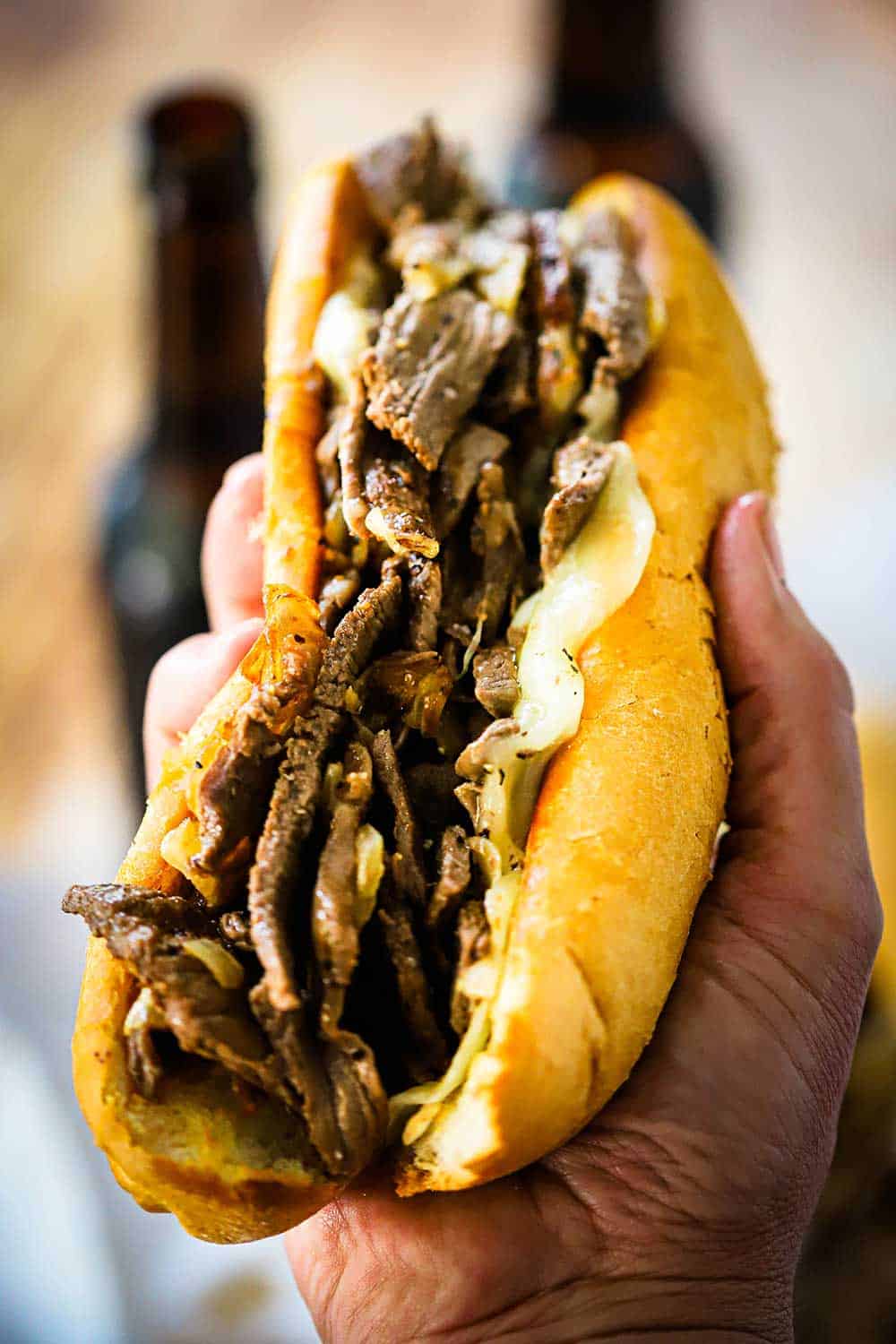 How To Make a Philly Cheesesteak
This sandwich is really easier to prepare than you might think. Interested in learning more about the origins of the iconic Philly Cheesesteak? Click here for the details.
Once you've gathered up the key components to the perfect sandwich, it all comes together in a snap!
The Best Buns
The first key component to this Philly Cheesesteak recipe is the bread.
We love ordering straight from the source, Amoroso's Italian Buns out of Philadelphia. If you live in the U.S., you can have them delivered directly to your home.
Or, just find a good-quality hoagie bun, and you'll still have success.
EXPERT TIP: We love using our indoor griddle, but any type of griddle, or even a large non-stick skillet work just fine. Add a nice slather of softened butter to the inside of the buns that have been cut open (but not separated) with a serrated knife. Place the buns cut-side down on the hot griddle and cook until nice and toasty.
This next component is optional. Sautéd onions.
If you're ordering in Philly…if you want sautéd onions, you say "wit." If you don't want them, you say "wit-out." We think they add a depth of flavor that is unbeatable. We ALWAYS say "Wit."
Add a couple of tablespoons of vegetable oil to your hot griddle or skillet, and heat to shimmering. Add the onions and sauté, stirring often, until browned, and slightly caramelized.
Selecting and Prepping the Meat
As you would imagine, one of the most components of this epic sandwich is the meat. We always go with well-marbled, good-quality ribeye.
You want the ribeye to be in thin slices before adding to the griddle or skillet.
EXPERT TIP: To make slicing thin strips easy, place a thick cut (about 1-inch) of ribeye in the freezer for about 30 to 40 minutes. This will firm the meat nicely, allowing you to trim very thin slices. You can also ask your butcher to cut thin slices for you. If your slices come from a large roast of ribeye, then you'll want to cut the thin slices into smaller strips.
Add a little more oil to the griddle and then add the meat. Let it cook undisturbed for a couple of minutes. Season liberally with salt and pepper, and then stir until most of the pinkness is gone.
What Kind of Cheese Goes on a Philly Cheesesteak?
For purists, there are two options for cheese. Provolone or a cheese sauce called Cheese Wiz.
In Philly, if you want either of these options, you say either "Prov" or "Wiz." So, if you want your sandwich with sautéd onions and provolone cheese, you say: "Prov, wit." If you want your sandwich with Cheese Wiz, but no onions, you say: "Wiz, wit-out."
EXPERT TIP: The size of your bun will determine how much cheese you should add. After you have mixed together the meat and the onions, turn off the heat (you don't want to overcook the meat!), and then push the meat into 4 piles (if making 4 sandwiches). Place three slices of Provolone over each pile and let them melt from the residual heat. If you have a large hoagie, then you may have a larger heap requiring 4 slices of cheese. That's up to you. They should be good and cheesy.
Now, it's time to finish off the sandwich.
Simply place the toasted bun, cut side down, onto the mound of melty cheese meat.
Use a big spatula to help squeeze the meat and cheese into the bun. It's supposed to be kind of messy. And epic.
Ladies and gentlemen, follow these simple, but necessary steps, and you can create this icon of a sandwich in your very own home.
EXPERT TIP: Before adding the cheese, take a sample taste of the meat. Be sure you've seasoned the meat with enough salt. These sandwiches should be nicely seasoned for maximum flavor.
We love to serve them with an ice-cold beer and maybe a side of chips. But really, it's all about this incredible sandwich, right?
Don't you just want a bite of this bad boy?
Ready to make the best Cheesesteak Sandwich this side of the Liberty Bell? Go for it!
And when you do, be sure to take a photo, post it on Instagram, and tag @HowToFeedaLoon and hashtag #HowToFeedaLoon!
Philly Cheesesteak
Philly Cheesesteak is the king of all steak sandwiches. They are not hard to make at home, as long as you follow a few simple rules. But sure to use thinly sliced ribeye, good-quality Provolone cheese, chewy Italian rolls, and caramelized onions. You won't believe how good you can make this classic sandwich at home.
Print
Pin
Rate
Servings: 4 people
Calories: 642kcal
Equipment
Griddle, indoor or outdoor. Or, large skillet.
Ingredients
4 hoagie rolls
4 tbsp unsalted butter softened
3 tbsp vegetable oil divided
1 large onion roughly chopped
1 lb ribeye thinly sliced
¾ tsp Kosher salt
½ tsp black pepper freshly ground
12 slices Provolone cheese
Instructions
Slice the buns with a serrated knife, lengthwise, without cutting them completely apart. Butter the insides of the buns with about 1 tbsp (each) of the softened butter.

Heat your griddle or skillet over medium-high heat. Place the buns on the griddle/skillet, cut side down, and cook until toasted and lightly browned, about 3 minutes. Use a spatula to pick them up and set them aside.

Add 2 tbsp of the oil to the griddle/skillet and heat until shimmering. Add the onions and sauté, stirring frequently, until very soft and starting to turn brown and caramelize, about 10 to 15 minutes. Use a spatula and spoon to transfer to a bowl.

Add another 1 tablespoon of oil to the hot griddle/skillet. Add the sliced meat evenly across the surface. Don't bother them for a minute or so. Then, start to gently stir them around, and cook until almost no longer pink. Add the salt and pepper and stir to combine.

Stir in the caramelized onions and cook for about another minute. Separate the meat/onion mixture into 4 mounds that are roughly the length of the bun. Place 3 slices of cheese over each mound, overlapping them. Wait a couple of minutes until the cheese melts.

Place the buns, toasted side down, on top of the melty cheese. Use a large spatula (or two) to scoop the meat and cheese mixture into the toasted bun. Spoon in any loose meat into the sandwiches. Serve at once.
Notes
To slice the meat, either ask your butcher to do it - or purchase a couple of thick 1-inch ribeye steaks and place them in the freezer for 30 to 40 minutes. Use a sharp knife to cut thin slices of meat from the cold steak. If your butcher gives you large (but thin) slices of steak, then cut them into 1"x2" strips. Cut against the grain, if possible. Be sure to taste the meat before serving. Chances are, you may desire a little more salt. Don't worry if transferring the meat and cheese mixture into the toasted buns is messy. That's normal and expected. Just scoop up the extra meat and pile it into the buns.
Nutrition
Calories: 642kcal | Carbohydrates: 5g | Protein: 38g | Fat: 28g | Saturated Fat: 11g | Trans Fat: 1g | Cholesterol: 139mg | Sodium: 997mg | Potassium: 444mg | Fiber: 1g | Sugar: 2g | Vitamin A: 871IU | Vitamin C: 3mg | Calcium: 452mg | Iron: 2mg
POST UPDATE: This recipe was originally published in October 2014, but was updated with improved tweaks to the recipe with new tips and photography, and a fabulous new video in May 2021!