Looking for a wonderful way to celebrate Cinco de Mayo? How about just making something fun that everyone will love?
This dish is so festive and popular at TexMex and Mexican restaurants. The chicken filling is deeply flavorful and encased in a crunchy, deep-fried corn tortilla. Serve with restaurant-quality salsa, homemade pico de gallo, best-ever guacamole, and you'll have a fiesta in your own home that folks will be talking about for weeks to come!
How To Make Chicken Flautas
This flautas recipe is not hard to make and is actually a lot of fun!
The chicken filling can be made in advance which means all you have left to do is prep the tortillas quickly, fry them up, and then serve with all the fixings!
How To Prepare the Perfect Chicken Filling
As mentioned, you can make the filling up to 2 or 3 days in advance. You can also go with shredded chicken from a rotisserie chicken, and in a pinch, packaged taco seasoning. But, we think that going the couple extra steps of cooking the chicken and putting together homemade taco seasoning puts this dish over the top!
EXPERT TIP: For extra juicy and flavorful chicken, simply pick up a couple of bone-in skin-on chicken breasts from the market. Place them in a large vessel with a lid (ie, Dutch oven), and add 1 onion that has been quartered and cover by a couple of inches with water. Bring to a boil, then lower the temperature to low, cover, and simmer for 20 minutes. Remove with a spatula and let cool. Remove the skin, pull the meat off, and shred with your clean fingers or a couple of forks. Delicious!
As we said before, we're kind of (well, a lot, actually) partial to our homemade taco seasoning and it makes this chicken come alive with fresh TexMex/Mexican taste.
We go with three tablespoons added to the shredded chicken in a large skillet.
EXPERT TIP: When making the filling, be careful with your salt content. Taste as you go. Our homemade seasoning has far less sodium than the packaged variety. We do that so you can adjust according to your own likes. We think the addition of 1 tsp of salt, in addition to our 3 tbsp of taco seasoning is just right. But, remember, taste, and check for yourself after it all comes together!
How To Assemble Chicken Flautas
You may be wondering what's the difference between flautas vs. taquitos. Well, not very much. Some will say one is made with flour tortillas and one is made with corn tortillas. In our books, true flautas are always made with corn. "Taquitos" is just a term created to sell practically the same thing, but named differently. We call 'em flautas and make 'em with corn tortillas. But if you prefer flour, then go for it (they'll fry much quicker).
To assemble them, we need to soften up the tortillas. Heat a few tablespoons of vegetable oil in a large skillet, preferably cast iron. Once the oil is shimmering, gently place one tortilla in the skillet, then almost immediately, very carefully flip it over with a pair of tongs. Transfer to a plate lined with paper towels and continue the process. Each tortilla only needs a total of 2 to 4 seconds in the hot oil to get soft. Any longer, and they will likely fall apart on you.
Line the middle with the filling, top with cheese, tightly roll, and affix with a toothpick, or two, if necessary.
Cooking the Flautas
Now, it's time to fry them up. You can use the same skillet that you used to soften the tortillas in a little oil. Simply add enough oil to go up about 1 inch in the skillet. If possible, use a candy thermometer to get the oil temperature to 350°F. Or, test with a little piece of the corn tortilla. If the oil is too hot, it will sizzle and then burn in less than a minute. If the oil isn't hot enough, it won't sizzle at all, and take a long time to get crisp. You want somewhere in between.
Or, go with a deep fryer. Either way, just keep an eye on them, and take them out once crispy and lightly browned, about 2 to 3 minutes.
EXPERT TIP: You may be wondering: Can you bake flautas? And the answer is yes! For baked flautas, we would recommend going with flour tortillas. Simply roll them up as indicated in the recipe, brush them with a little oil, and then bake in a 425°F oven for about 12 minutes, or until crispy. If you want to use corn tortillas, you'll need to soften them first with a quick trip through some hot oil in a skillet. You could microwave them, rather than oiling them, but they may crack on you.
But, we're partial to a quick deep-fry for that classic taste and texture. Yum.
How To Serve Chicken Flautas
These gems are so delicious by themselves, hot, warm, or even room temperature.
But they really are begging to be dipped in salsa, or smeared with guacamole, and topped with pico de gallo.
EXPERT TIP: For a beautiful presentation, line a serving platter with shredded iceberg lettuce. Place the cooked chicken flautas on top, and then drizzle Mexican crema (or sour cream thinned with a little milk), and then add a layer of fresh pico de gallo down the center of them all. Gorgeous!
These are really a show-stopper of an appetizer.
However, we love them so much, we often serve them as an entree alongside our Best-Ever Mexican Rice and Authentic Refried Beans.
EXPERT TIP: The flautas can be kept in an air-tight container for up to 1 week. After fully cooked, they can be kept at room temperature for 6 or 7 hours. They freeze okay but may lose some of the crunchy texture after being thawed. Reheat (and crisp back up) in a 350°F oven for about 15 to 20 minutes.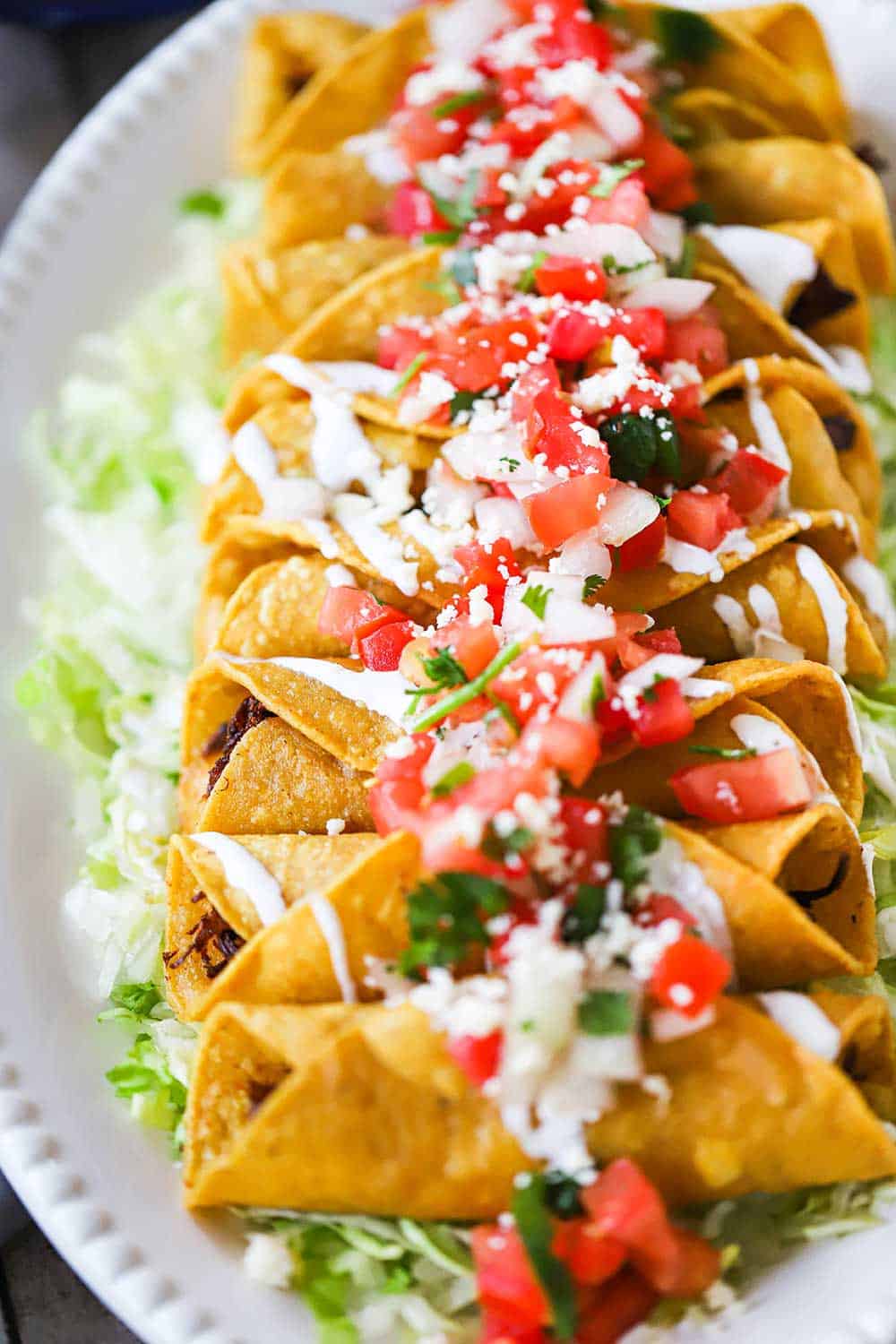 These are truly addictive.
You won't believe how quickly they get gobbled up when you serve them to friends and family.
Just one bite…and you'll be hooked. And they are so much fun to make!
Ready to make the best Tex-Mex appetizer (or entree) in town? Go for it!
And when you do, be sure to take a photo of them, and then post it on Instagram, and tag @HowToFeedaLoon and hashtag #HowToFeedaLoon!
Chicken Flautas
Chicken Flautas are such a wonderful Tex-Mex / Mexican appetizer or entree. We highly recommend making the chicken filling with the homemade taco seasoning, but in a real pinch, you'll still get great results with shredded chicken from a rotisserie chicken and package store-bought seasoning.
Print
Pin
Rate
Servings: 12
Calories: 456kcal
Equipment
Large sturdy skillet (ie, cast-iron), or deep-fryer. Plus cover pot to cook chicken in.
Ingredients
2 chicken breasts bone-in, skin on
2 onions one quartered, and one chopped
1 tbsp vegetable oil
2 cloves garlic
4 oz green chiles or fresh jalapeno or serrano (see NOTES)
3 tbsp taco seasoning preferably homemade (click link)
1 tbsp all-purpose flour
24 corn tortillas
2 cups chihuahua cheese shredded, or Monterey Jack or cheddar
Vegetable oil for frying (see NOTES)
1 cup iceberg lettuce shredded, for plating, optional
½ cup Mexican crema or sour cream mixed with a little cream, for garnish, optional
1 cup pico de gallo for garnish, optional
salsa for dipping, optional
Instructions
Place chicken and quartered onion in a pot (that has a lid) and add enough water to cover by a couple of inches. Bring to a boil, then lower heat to LOW, cover, and gently simmer for 20 minutes. Use a spatula to carefully remove the chicken from the broth and place on a rack to cool.

Save about 1 cup of the broth. Remove the onions and save the remaining broth for another use.

When cool enough to handle, remove the skin from the chicken and then pull the meat from the bones. Use your fingers, or a couple of forks, to shred the meat. Set aside.

In a large skillet, heat the oil over medium heat until shimmering. Add the chopped onion and cook until soft and translucent, about 4 to 6 minutes.

Add the garlic and cook for another 30 seconds. Add in the chilis and cook for another minute, stirring frequently.

Add the chicken, taco seasoning, and flour, stir until the chicken is completely coated. Add about ¾ cup of the reserved broth. Stir to incorporate. Continue cooking until the chicken is warm and a slight sauce has formed (there won't be a lot of sauce). Set aside.

In a cast-iron skillet, add a few tablespoons of vegetable oil and heat over medium heat until shimmering. One at a time, carefully add a corn tortilla to the hot oil, after about 1 to 2 seconds, use tongs or a fork to flip the tortilla, and cook for another 1 to 2 seconds (no more than 4 to 5 seconds total). Carefully transfer the tortilla to a cutting board lined with paper towels. Continue this process until all tortillas are softened.

If using a deep fryer, heat it up to 350°F. If using your cast-iron skillet, add more oil to it until it's about 1 to 2-inches deep. Heat to 350°F, using a candy thermometer to reach the correct temperature, if possible.

Meanwhile, place about 2 tablespoons of the chicken filling down the middle of each softened tortilla. Top with another couple of tablespoons of the shredded cheese. Roll the tortilla tightly and use a toothpick (1 or 2) to affix the edge of the tortilla to the body. (See Photo and/or video for reference).

Working in batches, place the rolled tortillas in the deep fryer (preferably with a basket) of cast-iron skillet with hot oil, and cook until crispy and lightly browned, about 2 to 3 minutes. Remove, keep warm in a low-temp oven (200°F) and repeat with remaining tortillas.

If desired, serve the flautas warm over a bed of shredded lettuce, garnished with Mexican crema, pico de gallo, and salsa for dipping.
Notes
In a pinch, shred the meat from a supermarket rotisserie in place of simmering the chicken breasts. In a real pinch, use pre-packaged taco seasoning. The taste won't be as spectacular, but still yummy. Canned green chilis can be found in the Hispanic/Mexican section of most well-stocked supermarkets. You can also use chopped fresh jalapeno or serrano peppers, however, these do carry more heat than the chilis. If using fresh peppers, add them along with the onions so they will soften, too. The chicken filling can be made up to 3 days in advance. If you prefer flour tortillas, you'll need to shorten the frying period as they brown much more quickly. Flautas can be baked, however, we recommend using flour tortillas brushed with a little oil, then baked at 425°F for 12 to 15 minutes. You can use corn, too, but you'll need to soften them first in a little hot oil (as we do in this recipe) before wrapping and baking. Bake until crispy. We prefer the flautas served hot or warm, but, they are still delicious even at room temperature. They can be stored in an air-tight container in the fridge for several days.
Nutrition
Calories: 456kcal | Carbohydrates: 30g | Protein: 12g | Fat: 18g | Saturated Fat: 4g | Trans Fat: 1g | Cholesterol: 29mg | Sodium: 324mg | Potassium: 274mg | Fiber: 4g | Sugar: 4g | Vitamin A: 234IU | Vitamin C: 5mg | Calcium: 66mg | Iron: 1mg