Classic Spaghetti and Meatballs. Is there a more comforting dish than you can think of.
Perfect Italian-American in every single way. Serve with Classic Caesar Salad and a side of Cheesy Garlic Bread, and you will be in heaven!
Do you know of anyone who doesn't like a good hearty plate of Classic Spaghetti and Meatballs? Okay, you can probably think of one or two. But the vast majority of us, including The Loon and me, can't resist a good meatball, especially when it's made Italian-style and sitting on top of delicious spaghetti! This version takes a little time and some tender-loving-care…but wow, oh wow, is it worth it.
Now is a good time to make some homemade marina, or pull some out of the freezer that you already have frozen!…(click here for marina recipe, or find it in Kitchen Essentials on HTFaL).
Some Saturday or Sunday afternoon, when you've got some time…give this classic Italian-American dish a shot. You won't regret it and neither will your loved ones!! 100% Loon Approved!
Soaking the bread in milk makes the Italian meatballs so moist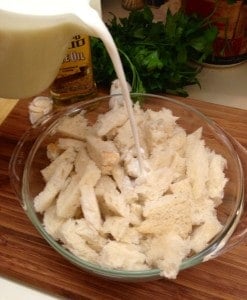 Be sure to use the holy trinity of meats for Italian Meatballs: beef, veal and pork. Mix gently with your hands. Classic Spaghetti and Meatballs conjure the happiest of memories for so many of us. And has for generations and generations! We love the history of Classic Spaghetti and Meatballs!
Browned Italian meatballs are a thing of beauty
Stewing them in homemade marina make these Italian meatballs have unbelievable flavor.Cook the spaghetti until al dente, then warm a little sauce in a skillet, add the pasta and toss. Then add a little more pasta water and the sauce and meatballs
Classic Spaghetti and Meatballs
You can't get much more 'Italian comfort food' than Classic Spaghetti and Meatballs. This recipe takes a little time and some tender-loving-care..but man, is it worth it.
Print
Pin
Rate
Servings: 6 people
Calories: 322kcal
Ingredients
1n & 1/2 lb ground beef 80% is what I prefer
½ lb ground veal
½ lb ground pork
2 large eggs beaten
¼ cup fresh Italian bread crumbs recipe below
3 tbsp fresh parsley chopped
2 tbsp fresh basil chopped
1 tbsp salt
2 cloves garlic finely diced
1 tbsp fresh ground black pepper
4 slices firm Italian bread crusts removed (let them sit out for about an hour to firm up)
1 cup whole milk
1 cup freshly grated Romano cheese
Olive oil for cooking the meatballs
10 cups of fresh marinara sauce
1 lb dried spaghetti
Parmesan cheese for topping
FOR THE FRESH ITALIAN BREAD CRUMBS
3 slices white Italian bread torn into large pieces
¼ cup freshly grated Romano cheese
1 tbsp chopped garlic
1 tbsp chopped parsley
1 tsp dried oregano
Salt and pepper to taste
Instructions
MAKE THE BREADCRUMB MIXTURE
Process the bread in a food processor until coarsely ground. Add the rest of the ingredients and pulse until finely ground.
MAKE THE MEATBALLS
In a large mixing bowl, using your hands, mix together the beef, veal, pork, and eggs. Gently mix, don't over do it! Now add the bread crumbs, parsley, basil, salt, garlic, and pepper and mixt it well.

Tear the bread into pieces and put in a bowl. Add the milk and let it sit for about 8 minutes, press the bread with your fingers, make sure the milk is absorbed by the bread.

Add the soaked bread to the meat mixture and mix it in. Next add the grated cheese, and 1 tablespoon of the milk (discard the remaining milk).

Cover the bowl with plastic wrap and place in the fridge about an hour.

Using an ice cream scoop, pull out chunks of meat and roll them between your hands that have been dampened with water. Place the balls on a baking sheet lined with parchment or wax paper. Refrigerate the rolled balls for at least 10 minutes.

Heat about a teaspoon of olive in a good non-stick skillet. When the pan is hot, working in batches, add the meatballs and cook them for about 10 minutes, turning them until they are browned on all sides. Transfer to a platter and set aside. (They can still be pink in the center - they will finish cooking all the way through in the marina. )

Meanwhile, in a large pot, heat the marina over medium-high heat.

Slowly, and carefully, add the meatballs and any accumulated juice to the marina. Lower the heat to medium and cook them for at least 45 minutes. Give them plenty of time to let the sauce and meatballs to get very familiar.
BRING IT ALL TOGETHER
Bring a large pot of salted water to a boil, and cook the pasta until al dente...about 10 - 11 minutes.

Reserve about a cup of the pasta water, and then drain the pasta.

Heat a large, heavy skillet over medium-high heat, add about a cup of the sauce.

Add the cooked pasta, and incorporate the sauce so it coats the pasta. Add a little of the pasta water to loosen the pasta.

Add more sauce, stir, and transfer to a serving platter. Add meatballs to the top, and pass with extra sauce.

Top with grated Parmesan cheese.
Nutrition
Calories: 322kcal