If there was a list of the most beloved comfort dishes in the world, this one would give the #1 position a good run for the money.
Everyone loves a big plate of this, right? Well, most everyone. This recipe is the real deal. Give yourself time to make the homemade marinara, and, of course, the meatballs from scratch, and we promise you'll have a classic Italian-American dish that will rival any of them out there. It's really that good.
How To Make Classic Spaghetti and Meatballs
We can say, without hesitation, this recipe would be in the top five of our all-time favorite dishes that we have ever made in the How To Feed a Loon kitchen.
It all starts with the homemade marinara sauce, which can be made well in advance. Even the meatballs can be prepared in advance!
NOTE: If you liked this video, please subscribe to our YouTube channel. Remember to click the little 'bell' icon so you'll never miss a new video. Thank you!
The Ingredients You Will Need
The ingredients for this classic dish are not exotic in any way, but they may require a trip to the supermarket.
Here's What You'll Need
Beef – Ground, 85% lean is perfect
Pork – Ground, not Italian sausage
Eggs – Lightly beaten
Fresh Bread Crumbs – Our recipe is awesome, but you can use store-bought, no problem
Parsley – Fresh is definitely the best
Basil – Again, fresh, please
Garlic – Minced
Salt and pepper – For the balls and the sauce
Bread slices – Italian or country white slices are perfect, crusts removed
Milk – Whole is ideal
Parmesan cheese – Or Romano, either will work, grated
Marinara – Homemade is a must
Spaghetti – Dried
EXPERT TIP: After you mixed the meatball ingredients together, the mixture will be somewhat sticky. Chill it for about 15 minutes, and then have a bowl of water handy to keep your hands moist to form the balls. 3 ounce balls are ideal.
Tips For Perfect Spaghetti and Meatballs
Chill Time – If possible, use a kitchen scale to weigh your meatballs. 3 ounces make the perfect meatball size. Weighing them ensures they will be uniform in size and all cook evenly. If you don't have a scale, don't worry, just be precise when eyeballing them. It's important to chill the balls once they are formed to help when cooking them. 1 to 2 hours, covered with plastic, in the fridge is perfect (or overnight).
Cooking the Balls – To keep the meatballs as spherical as possible, gently shape them back into a perfect circle before you place them in your oiled non-stick skillet over medium-high heat. Work in batches (3 to 4 at a time). Use a couple of spoons or forks, and a spatula to keep the balls moving around in the skillet. Gently press them to help them keep their shape. See our video for reference.
Pasta and Sauce – Bringing the pasta together with the sauce is critical for making that classic taste and texture. In a large skillet, add about ½ cup of the sauce over medium heat. And then add all of the cooked pasta and toss. Add pasta water (anywhere from 1/2 to 1 cup) and then plenty more sauce. Keep tossing with tongs until fully coated. For best results, cook the spaghetti to al dente (not too mushy). See package for instructions.
How To Serve
We have to say that serving this dish family style is our favorite way to present it.
Get a nice big platter or large shallow pasta bowl and transfer the spaghetti and marinara and then strategically place the meatballs all over the top.
Use a grate grater or planer to grate a block of parmesan cheese directly over the meatballs. Or, use store-bought grated Parmesan (or Romano) cheese. Garnish with chopped parsley.
Of course, serving the meatballs separately is always a great option, too. You may have more meatballs than will fit on top of the pasta. Let folks grab as many meatballs as they want.
Other Classic Italian-American Recipes to Make
It doesn't get much more classic than spaghetti and meatballs, but here are some other classic dishes that are amazingly delicious and fun to make in your own kitchen:
Baked Ziti
Lasagna Bolognese
White Chicken and Spinach Lasagna
Eggplant Parmesan
Stuffed Shells with Marinara
Pasta Pomodoro
Fettuccine with Creamy Sausage Sauce
Shrimp Marinara
Shrimp Fettuccine Alfredo
Spaghetti Vongole (White Clam Sauce)
Baked Eggplant Rollatini with Ricotta
Of course, these are all classic and so good, but this right here is about as classic as you will find. It just doesn't get better than this!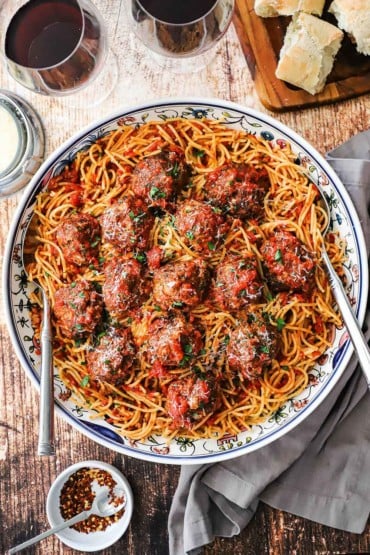 If you want to make a dish that will absolutely delight kids and adults alike, then this classic dish is for you.
Be sure to make the homemade marinara sauce in advance. Give yourself enough time to bring it all together, and you and your loved ones will love the results.
The meatballs are great on their own, over pasta, or in an Italian meatball sandwich. No matter how you cut it, this dish is truly as good as it gets!
Ready to make the best Italian-American dish in town? Go for it!
And when you do, be sure to take a photo of it, post it on Instagram, and tag @HowToFeedaLoon and hashtag #HowToFeedaLoon!
Classic Spaghetti and Meatballs
Classic Spaghetti and Meatballs are always a sure-fire winner. Make the marinara sauce in advance and be sure to chill the meatballs before browning (they can even be prepared in advance). And then bring it all together in a nice large skillet.
Print
Pin
Rate
Servings: 6 people
Calories: 528kcal
Equipment
1 Large non-stick skillet

1 large pot for simmering

Parchment paper
Ingredients
For the Fresh Italian Breadcrumbs
2 slices white bread crusts removed and torn into pieces
2 tbsp Parmesan cheese grated
2 cloves garlic minced
1 tsp parsley fresh, chopped
1 tsp dried oregano
¼ tsp Salt
Pinch pepper
For the Meatballs
3 slices white bread crusts removed (let them sit out for about an hour)
1 cup whole milk
1½ lb beef ground, 85% lean
½ lb pork ground
2 large eggs beaten
¼ cup Italian bread crumbs see recipe below
3 tbsp parsley fresh, chopped, plus more for garnish
2 tbsp basil fresh, chopped
2 cloves garlic minced
1 cup Parmesan cheese grated, or Romano, plus more for garnish
2 tsp salt
1 tsp pepper freshly ground
2 tbsp olive oil for searing the meatballs
1 lb dried spaghetti
Instructions
Do Ahead
Make the marinara sauce (see the link for the recipe in the Ingredients list)

8 cups marinara sauce
Make the Italian Breadcrumbs
Process the bread in a food processor until coarsely ground. Add the rest of the ingredients and pulse until finely ground. Set aside.

2 slices white bread, 2 tbsp Parmesan cheese, 2 cloves garlic, 1 tsp parsley, 1 tsp dried oregano, ¼ tsp Salt, Pinch pepper
Make the Meatballs
Tear the bread into pieces and place it in a bowl. Add the milk and let it sit for a few minutes to fully absorb. Set aside.

3 slices white bread, 1 cup whole milk

In a large mixing bowl, use your hands to mix together the beef, pork, and eggs. Now add the Italian breadcrumbs, parsley, basil, salt, garlic, and pepper. Mix well.

1½ lb beef, ½ lb pork, 2 large eggs, ¼ cup Italian bread crumbs, 3 tbsp parsley, 2 tbsp basil, 2 cloves garlic, 1 cup Parmesan cheese, 2 tsp salt, 1 tsp pepper

Squeeze the milk-soaked bread and add to the meat mixture. Add the Parmesan cheese, and mix until fully combined.

Cover the bowl with plastic wrap and place it in the fridge for about 15 to 20 minutes.

Remove the meat mixture from the refrigerator. Fill a small bowl with water and have it near the meat mixture. Line a baking sheet with parchment paper (or wax paper). Wet your hands and pull enough of the meat mixture to form a ball with your hands slightly larger than a golf ball, approx. 3 oz. Place the ball on the parchment paper-lined baking sheet and continue with the remaining meat mixture. You should yield about 15 to 17 meatballs. Cover with plastic wrap and place in the refrigerator for at least 1 hour, preferably 2, or longer.

Heat the olive oil (2 tbsp) in a non-stick skillet over medium-high heat. When the oil is shimmering, and working in batches, add 3 or 4 meatballs and cook them for about 10 minutes, carefully turning them frequently until they are browned on all sides. Use a couple of forks or spoons to help maintain a spherical shape as they brown. Transfer to a platter and continue until all balls have been browned. Set aside. (They will still be pink in the center - they will finish cooking while simmering in the marina.)

2 tbsp olive oil

Meanwhile, in a large pot, heat the marina over medium heat.

8 cups marinara sauce

Slowly, and carefully, add the meatballs and any accumulated juices to the marina. Simmer for 45 minutes to 2 hours. Watch the pan, gently stir often, and don't let the bottom of the pan burn!
Bring It All Together
Bring a large pot of salted water to a boil, and cook the spaghetti until al dente, about 10 - 11 minutes.

1 lb dried spaghetti

Reserve about a cup of the pasta water, and then drain the pasta.

Heat a large, heavy skillet over medium-high heat, add about a cup of the sauce.

Add the cooked pasta, and incorporate the sauce so it coats the pasta. Add a little of the pasta water to loosen the pasta.

Add more sauce, stir, and add more pasta water if needed. Transfer to a serving platter. Add meatballs to the top, and pass with extra sauce.

Top with grated Parmesan cheese and chopped parsley, if desired. Serve at once.
Notes
See the video near the top of the blog post for visual guidance. If you liked the video, please subscribe to our YouTube channel.
The marinara sauce can be made up to 5 days in advance (keep covered in the fridge) or freeze for up to 2 months.
The meatballs can also be done in advance. Brown them and then refrigerate them (up to overnight). Place cooked meatballs in the marinara and simmer for at least 1 hour.
Leftovers will keep covered in the fridge for up to 5 days. The meatballs freeze nicely and can be frozen for up to 2 months. Let thaw completely and then heat in an oven-proof pot or dish, covered, with a cup or two of the sauce over the top. Bake at 350°F for 30 minutes, or until heated through.
Nutrition
Calories: 528kcal | Carbohydrates: 35g | Protein: 41g | Fat: 28g | Saturated Fat: 9g | Polyunsaturated Fat: 3g | Monounsaturated Fat: 8g | Trans Fat: 1g | Cholesterol: 102mg | Sodium: 2100mg | Potassium: 1530mg | Fiber: 6g | Sugar: 15g | Vitamin A: 1917IU | Vitamin C: 28mg | Calcium: 432mg | Iron: 7mg
POST UPDATE: This recipe was originally published in July 2015, but was updated with improved tweaks to the recipe with new tips and photography and a fabulous new video in March 2023!