If you're looking for a delicious twist on this beloved baked pasta dish, you're in luck.
Like most of us, we simply love lasagna, including our classic bolognese lasagna, but we can honestly say this chicken and spinach version has moved right up to the top of the list of our all-time favorites. And what makes it even better is how easy it is to prepare!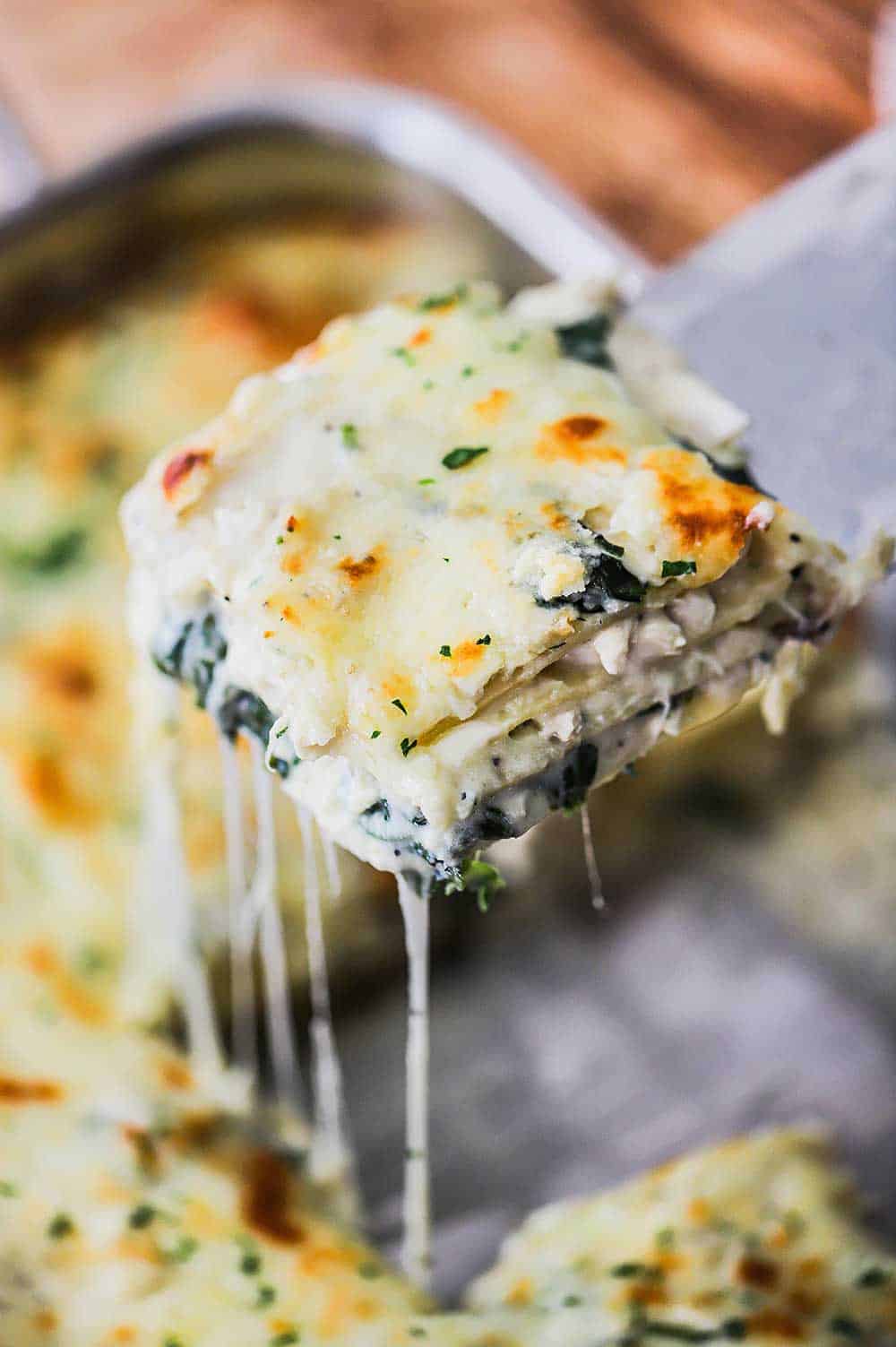 How To Make Chicken Lasagna
It is truly amazing how delicious this lasagna is, especially when you consider how easy it is to assemble.
Make it easy on yourself and go with a rotisserie chicken. You can often find roasted chicken that has already been shredded and packaged in the prepared food section of many well-stocked supermarkets.
No-boil noodles are a great option, too!
NOTE: If you liked this video, please subscribe to our YouTube channel. Remember to click the little 'bell' icon so you'll never miss a new video. Thank you!
How To Make a Béchamel Sauce with Spinach
Béchamel is one of the French five mother sauces and is what gives this lasagna the creamy, luscious taste and texture.
It's so easy to make. You'll need to create a roux first which is simply cooking equal amounts of flour with melted butter.
EXPERT TIP: We love using fresh spinach for this dish. We don't recommend using baby spinach, it's best used in salads. Simply trim away the stems of the fresh spinach and then drop it into the sauce. In a pinch, you could go with thawed (and squeezed dry) frozen spinach.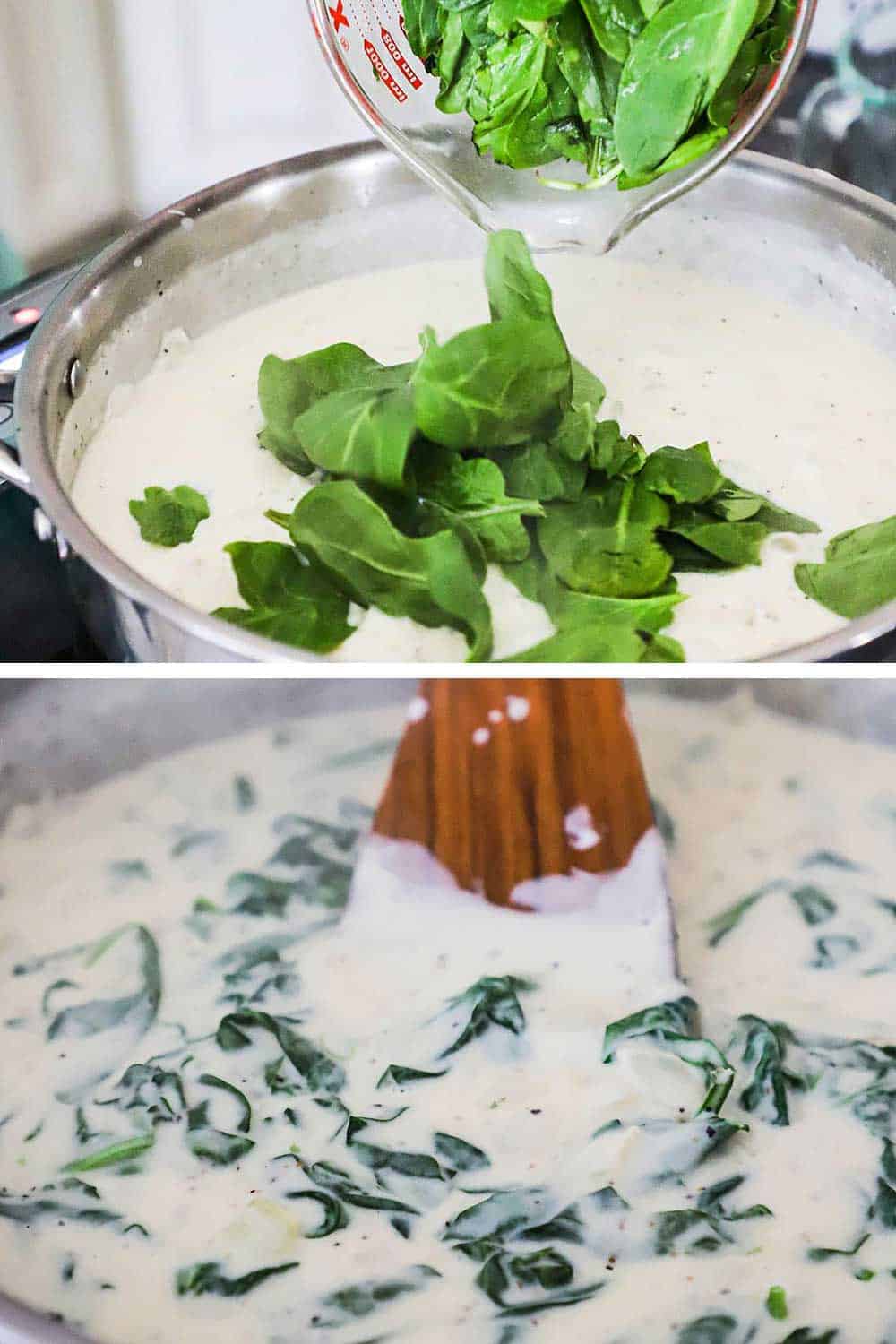 What Other Ingredients Can I Use
Chicken lasagna is the basis for so many options with ingredients.
In addition to fresh spinach, you could also try any of the following:
Vegetables
Sautéed mushrooms
Steamed broccoli
Steamed or roasted cauliflower
Roasted butternut squash
Sautéed zucchini and/or yellow squash
Other protein options
Cooked Italian sausage, sliced
Ground turkey, simmered with salt, pepper, and Italian seasonings
Ground pork, simmered with salt, pepper, and Italian seasonings
Uncooked seafood such as cleaned shrimp, scallops, lobster, oysters, or a combination of them all.
Go with veggies only for a spectacular vegetarian lasagna!
To add even more creaminess to this lasagna, we mix together fresh whole-milk ricotta with freshly chopped parsley, an egg, and freshly grated parmesan. This pairs perfectly with the béchamel, chicken, noodles, and spinach.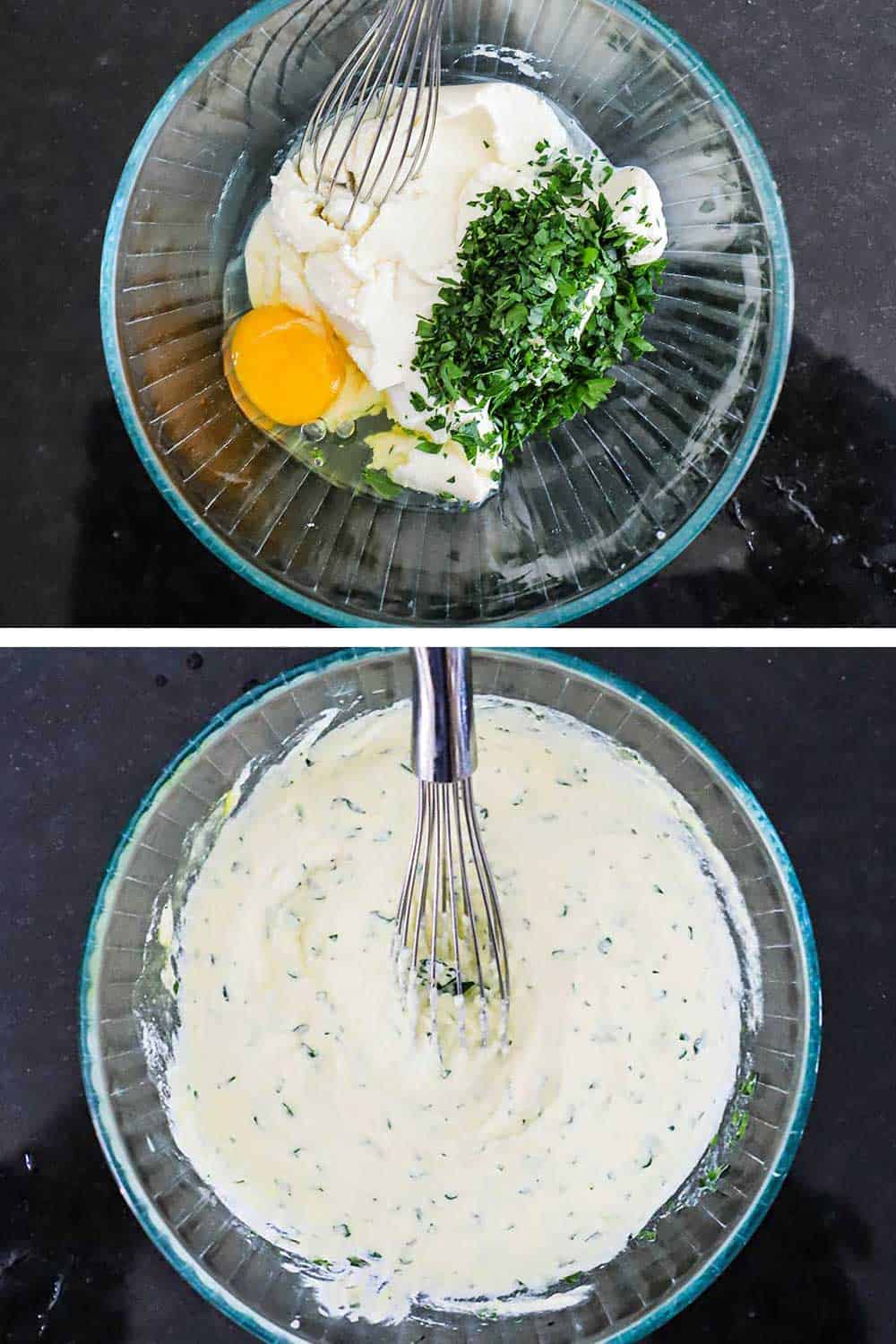 How To Layer Lasagna
A common mistake home cooks make when assembling a lasagna is to add too much of any given layer at first, and then not have enough to evenly finish off the dish.
We recommend using a spoon or spatula to spread thin layers of the ricotta as well as the béchamel sauce. It may seem like there's not enough, but the thin layers work perfectly with the noodles and chicken.
Here is the order that we recommend:
A thin layer of spinach béchamel
Noodles
¼ of the ricotta mixture
⅓ of the chicken
¼ of the shredded mozzarella
A thin layer of grated Parmesan cheese
Repeat this two more times
Add another layer of noodles
Top with the rest of the ricotta mixture and then the rest of the mozzarella
Add one more thin layer of grated Parmesan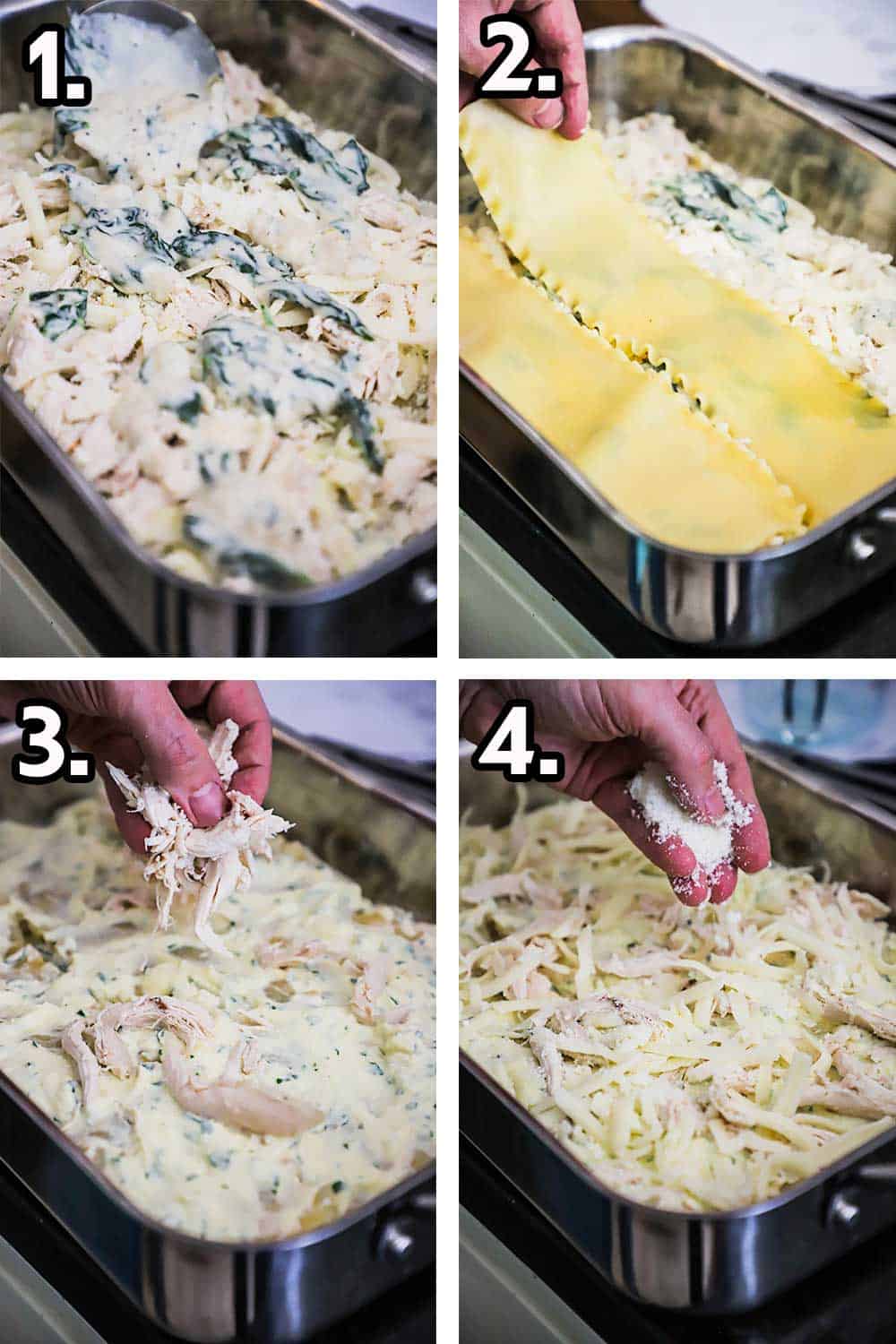 Can I Make Chicken Lasagna in Advance?
Besides the great taste and ease of preparation, this phenomenal dish can absolutely be made in advance.
You can assemble the lasagna up to 24 hours in advance of baking, or you can assemble it and freeze it for up to 2 months.
EXPERT TIP: This lasagne is even amazingly delicious when reheated. Simply cover with foil and bake for about 30 to 45 minutes in a 350°F oven until bubbly.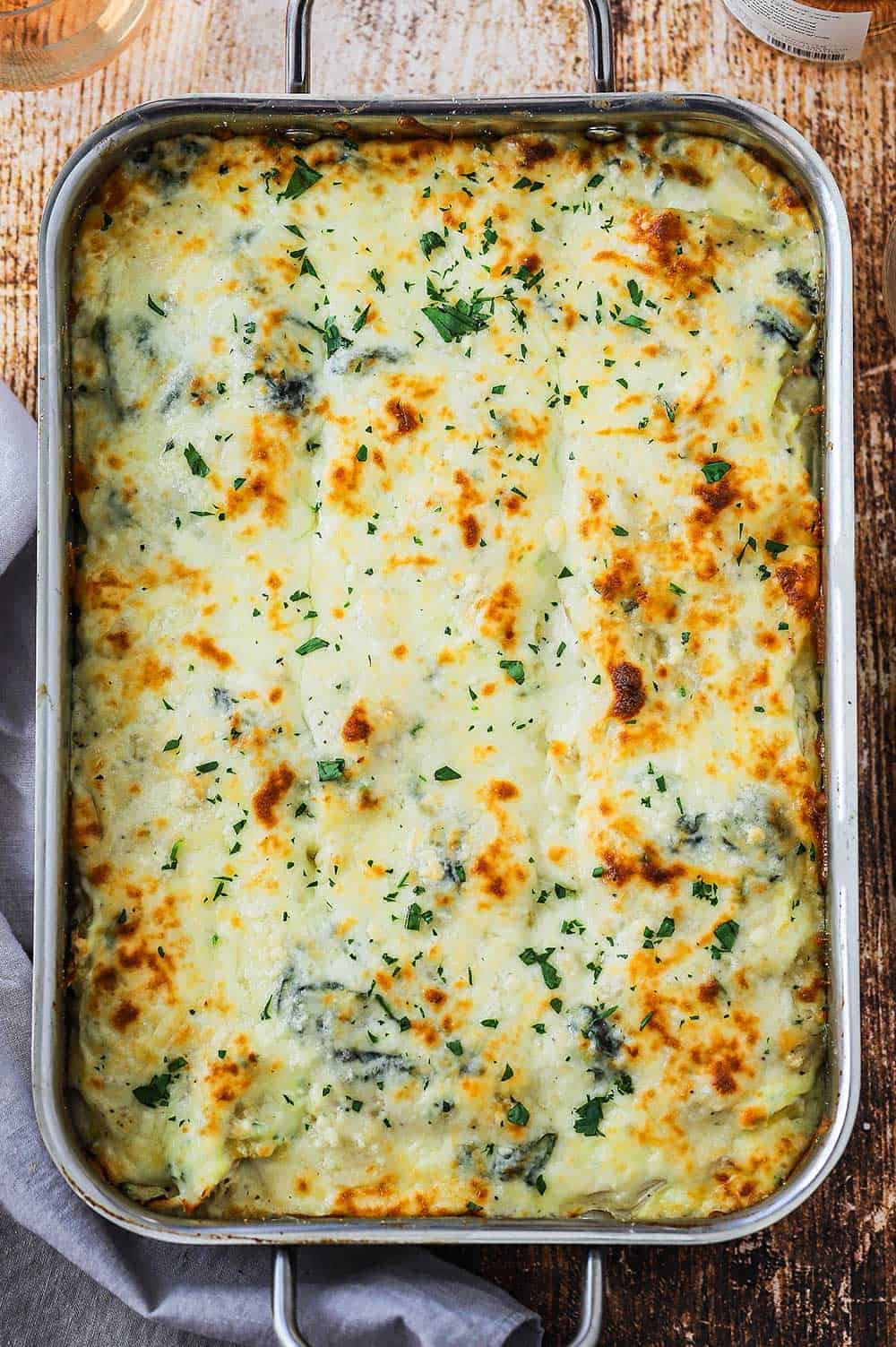 How To Serve
We can assure you that this dish will be an instant hit with the family. The kids may be unsure of the spinach, but we are amazed at how quickly even the pickiest of eaters get past that and devour every bite.
It's perfect to serve to guests for a wonderful dinner party, shower, or potluck dinner.
Serve it with homemade Caesar salad and garlic bread for one of the most amazing Italian dinners you'll ever serve or eat!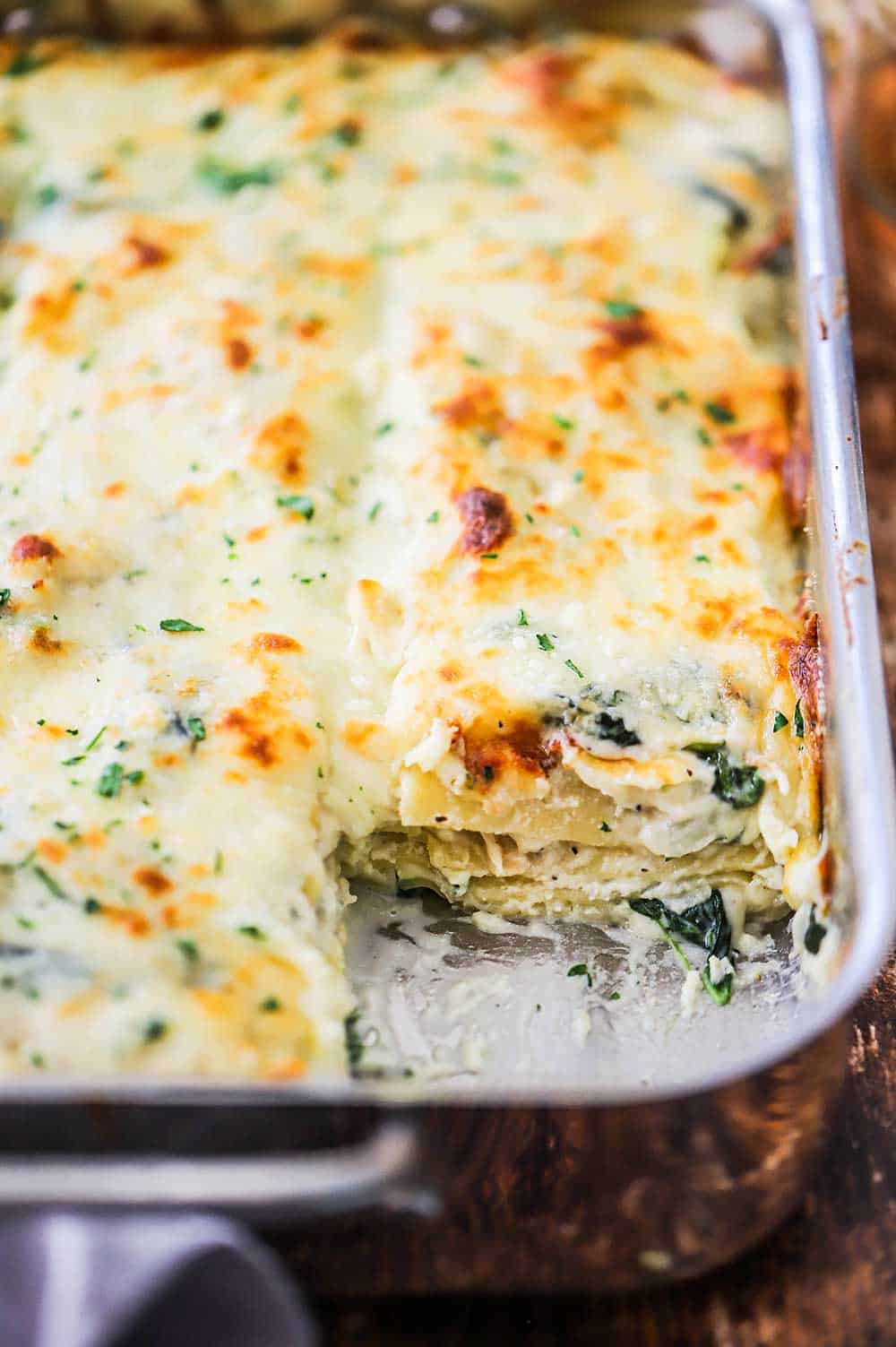 We just can't rave about the lasagna enough.
If you prefer, make it easy on yourself and go with a nice rotisserie chicken, no-boil noodles, and if you're really crunched for time, frozen spinach.
The layers and layers of yumminess will keep your loved ones coming back for seconds time and time again.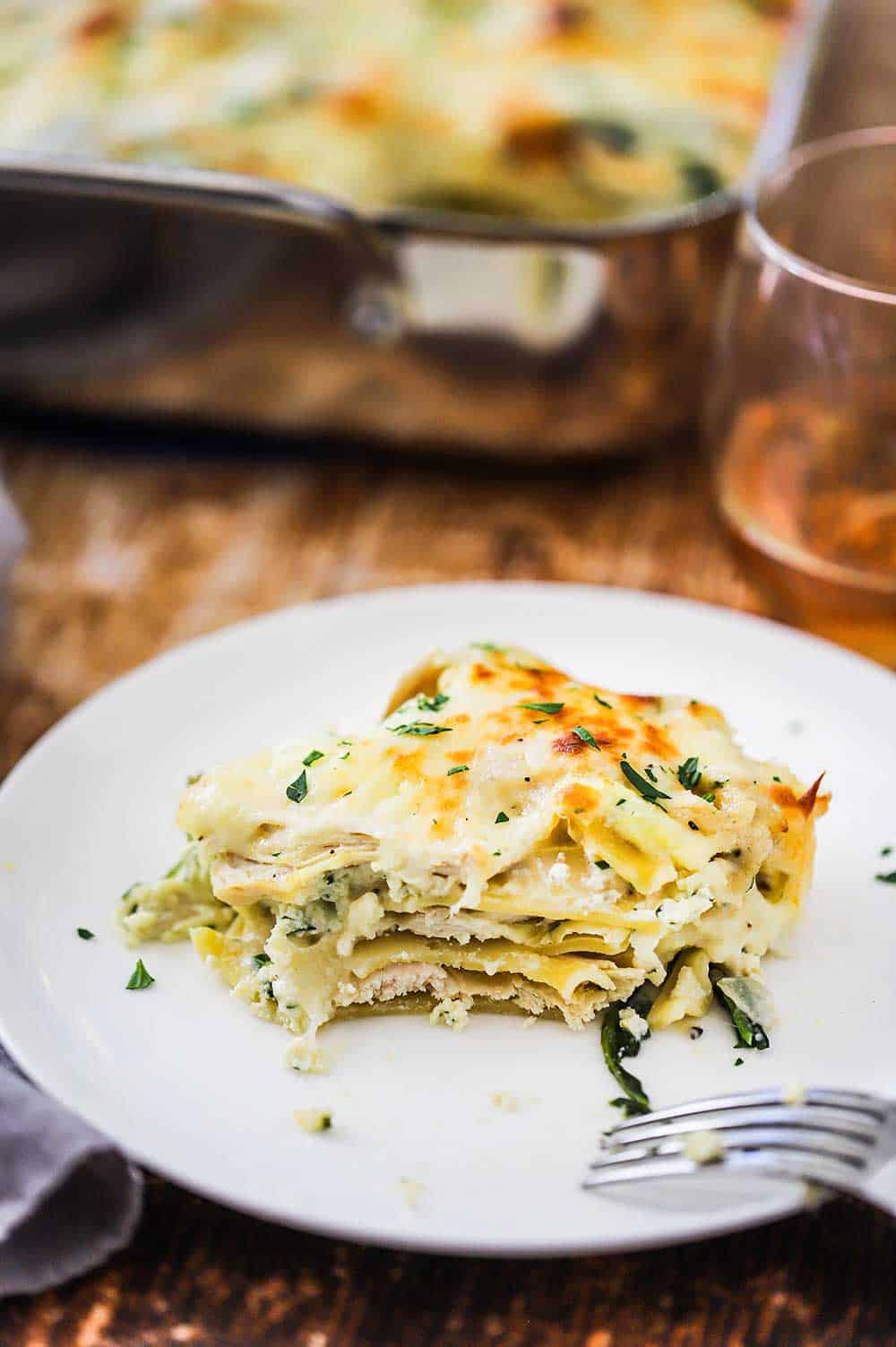 Ready to make a dish that will become an instant family favorite? Go for it!
And when you do, be sure to take a photo of it, post it on Instagram and tag @HowToFeedaLoon and hashtag #HowToFeedaLoon!
White Chicken Lasagna with Spinach
White Chicken Lasagna with Spinach is always such a hit when served to family and friends. You can assemble the lasagna up to 24 hours in advance, keep covered and chilled in the fridge. You can also freeze the uncooked dish for up to 2 months. Rotisserie chicken and no boil noodles make assembly even easier.
Print
Pin
Rate
Servings: 8
Calories: 588kcal
Equipment
1 lasagna dish, or 9"x13" dish
Ingredients
For the Béchamel Sauce with Spinach
4 tbsp unsalted butter
1 cup onion chopped
3 cloves garlic minced
4 tbsp flour
1 cup whole milk
1 cup heavy cream
2 cups chicken broth
4 cups spinach fresh
2 tsp Kosher salt
1 tsp black pepper
2 tbsp Parmesan cheese grated
For the Ricotta Mixture
1 15 oz container ricotta cheese whole milk
1 large egg
¼ cup parsley fresh, chopped
¼ cup Parmesan cheese grated
For Assembling the Lasagna
4 cups chicken cooked, shredded
13 lasagna noodles cooked, or use no-boil (may need more than 13)
2 cups mozzarella whole milk, shredded, plus a little extra for additional topping
1 cup Parmesan cheese grated
1 tbsp parsley fresh, chopped, for garnish
Instructions
Prepare the Béchamel and Cook the Noodles
Get a large pot of salted water to a boil.

Heat the butter in a large skillet over medium heat. Once melted, add the onion, and sauté until soft, about 4 to 5 minutes. Add the garlic and cook for another 30 seconds, stirring often.

Stir in the flour and cook for 1 to 2 minutes. Whisk in the milk, cream, and then chicken broth. Whisk to remove any clumps. Continue stirring with a wooden spoon until thickened, about 5 minutes.

Stir in the spinach and cook until wilted. Season with salt and pepper and then stir in the Parmesan cheese. Set aside.

During this process, add the noodles to the boiling water. Drain and spray with cool tap water.
Prepare the Ricotta Mixture
In a medium bowl, whisk together the ricotta, parsley, egg, and Parmesan cheese. Set aside.
Assemble the Lasagna
Preheat oven to 375°F.

In a lasagna pan, or a large (9x13" dish, or larger) dish, start with a thin layer of the spinach béchamel (¼ of the sauce). Next, add a layer of noodles. Then ⅓ of the chicken, then ¼ of the mozzarella, and a liberal sprinkling of grated Parmesan.

Repeat this process two more times. Add one more layer of noodles and then the rest of the ricotta and then mozzarella. Finish off with one final liberal sprinkling of grated Parmesan cheese.

Bake the lasagna for 20 to 25 minutes until bubbly. Remove from oven and let rest for 5 minutes. Garnish with chopped parsley. Serve at once.
Notes
See the video near the top of the blog post for visual guidance. If you like the video, please subscribe to our YouTube channel.
If you don't have access to rotisserie chicken, you can poach 2 to 3 chicken breast in simmering water, covered, for about 20 minutes. Cool and then shred. Or, roast in an oven for about 40 minutes (for skin-on, bone-in).
The lasagna can be assembled up to 1 or 2 days in advance. Cover and keep in the fridge until ready to bake. Add another 10 minutes to the baking time if chilled. The assembled lasagna can also be frozen for up to 2 months. Let thaw before baking.
Leftovers will keep in the fridge for up to 5 to 6 days or frozen for up to 1 month. Reheat covered in the oven for about 30 minutes at 350°F.
Nutrition
Calories: 588kcal | Carbohydrates: 44g | Protein: 28g | Fat: 26g | Saturated Fat: 11g | Polyunsaturated Fat: 2g | Monounsaturated Fat: 7g | Trans Fat: 1g | Cholesterol: 131mg | Sodium: 971mg | Potassium: 423mg | Fiber: 2g | Sugar: 5g | Vitamin A: 2665IU | Vitamin C: 10mg | Calcium: 445mg | Iron: 2mg