Do you love a good poached egg as much as we do? Well, you're in for a real treat.
We just love breakfast and brunch dishes, and this one is no exception. A little reminiscent of huevos rancheros, but without the tortillas. Serve this alongside our classic breakfast potatoes and you'll have a brunch to remember. And it's so easy to prepare!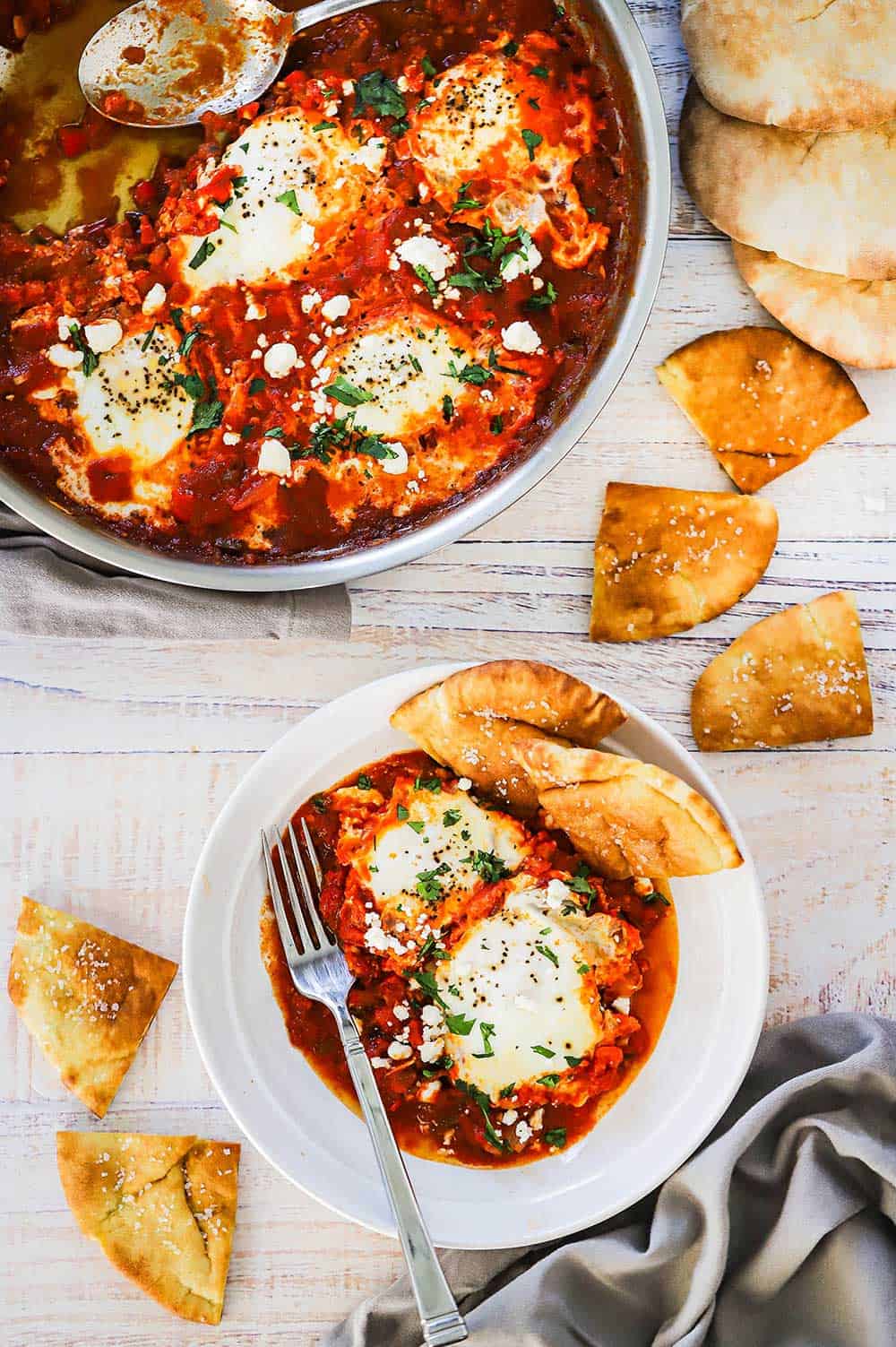 How To Make Shakshuka
The origins of shakshuka are as colorful as the dish itself. It has its roots in North Africa and is hugely popular in the Middle East, as well as Israel. The dish has been made for generations. Learn much more here.
The ingredients are simple and straightforward, and all you need is a nice large skillet.
NOTE: If you liked this video, please subscribe to our YouTube channel. Remember to click the 'bell' icon so you'll never miss a new video. Thank you!
Main Ingredients
The ingredients for this amazing dish are very pantry friendly. Here's what you'll need:
Olive oil
Jalapeno
Onion
Red bell pepper
Garlic
Smoked paprika
Ground cumin
Cayenne (optional)
Canned whole tomatoes
Salt and pepper
Crumbled feta (optional)
EXPERT TIP: Make sure to use a large skillet/saucepan to prepare the dish. We use our 10-inch Sardel and it's best if your pan has a lid. This helps to poach the eggs perfectly.
Next, it's time to add the tomatoes.
You'll want to simmer the mixture long enough until it starts to slightly thicken, about 10 minutes.
EXPERT TIP: For the tomatoes, we love going with canned certified San Marzano whole tomatoes. We use our hands to squeeze and break into the skillet.
How To Poach the Eggs
Once the sauce has thickened somewhat, use the handle of a large wooden spoon to form a small well. Crack the egg directly into the well.
Distribute the eggs evenly around the skillet.
Cover and let cook for about 3 minutes for medium-cooked yolks, and 5 minutes for fully cooked centers.
How To Serve
This dish is absolutely wonderful to serve directly from the pan you prepared it in.
The sauce can be made up to 12 hours in advance. Simply reheat and then add the eggs.
EXPERT TIP: You'll want to serve this with something to dig into the poached eggs. We love to use our pizza cutter to cut pita bread into triangles. Brush on a little olive oil and then lightly sprinkle on salt and pepper. Toast for a few minutes until crispy.
Other Classic Brunch Dishes
We love everything about breakfast and brunch and here are some of most favorite dishes:
And folks, this shakshuka recipe is one you'll be adding to your breakfast and brunch rotation.
If you're looking for a new brunch egg dish, then you really need to try this one!
It is honestly as stunning in presentation as it is in taste.
You and your family will absolutely flip for shakshuka! Don't forget the toasted pita triangles!
Ready to make one of the most amazing brunch dishes in the world? Go for it!
And when you do, be sure to take a photo of it, post it on Instagram, and tag @HowToFeedaLoon and hashtag #HowToFeedaLoon!
Shakshuka
Shakshuka is quintessential brunch fare. You can make the sauce up to 12 hours in advance. Reheat the sauce and then add the eggs. This dish is not terribly spicy, but if you want very little to no spice, cut back on the jalapeno and the cayenne.
Print
Pin
Rate
Servings: 4
Calories: 298kcal
Equipment
10 or 12-inch skillet with lid
Ingredients
¼ cup olive oil
1 jalapeno fresh, seeded, and chopped
1 medium onion chopped
1 red bell pepper cored, seeded, and chopped
5 cloves garlic minced
1 tbsp smoked paprika
1 tsp ground cumin
½ tsp cayenne (optional)
1 28 oz can whole tomatoes San Marzano is great
1 tsp salt
½ tsp black pepper
6 eggs
½ cup feta cheese crumbled (optional)
2 tbsp parsley fresh, chopped, for garnish
Instructions
Heat the oil in a large skillet (with lid) over medium heat until shimmering. Add the onions, jalapeno, and bell peppers and sauté, stirring often, until soft, about 5 minutes.

Add the garlic and cook for another 30 seconds.

Transfer the tomatoes into a medium bowl and use your hands to crush the tomatoes into the skillet. Add the juice from the tomatoes. Allow to simmer for 10 minutes, until slightly thickened.

Use the handle of a large wooden spoon to make a small well in the sauce. Add a whole egg into the well. Repeat this with the remaining eggs, evenly distributing around the pan. Cover and cook for 5 minutes for a slightly runny yolk. Cook for 7 to 8 minutes for a solid yolk.

Uncover and sprinkle with feta (if using) and parsley. Serve at once with toasted lightly salted pita triangles.
Notes
See the video near the top of the blog post for visual guidance. If you liked the video, please subscribe to our YouTube channel.
This dish has a fairly low spice level, but there is a bit of warming heat. If you want little spice or no heat at all, then pull back on the fresh jalapeno and/or cayenne.
We think this dish is best when served fresh, but you can make the sauce the night before and then reheat it the next morning and then add the eggs once simmering.
While the addition of feta cheese is not traditional, we think it is a wonderful complement to the dish.
Nutrition
Calories: 298kcal | Carbohydrates: 9g | Protein: 12g | Fat: 14g | Saturated Fat: 4g | Polyunsaturated Fat: 2g | Monounsaturated Fat: 13g | Trans Fat: 1g | Cholesterol: 262mg | Sodium: 895mg | Potassium: 298mg | Fiber: 2g | Sugar: 3g | Vitamin A: 2550IU | Vitamin C: 48mg | Calcium: 158mg | Iron: 2mg