Ricotta Lemon Pancakes with Vanilla Sauce are incredible!
These pancakes are the stuff dreams are made of. We'll show you how to make the pancakes light, airy, and so flavorful. With an incredible vanilla sauce. All in about 30 minutes, or less!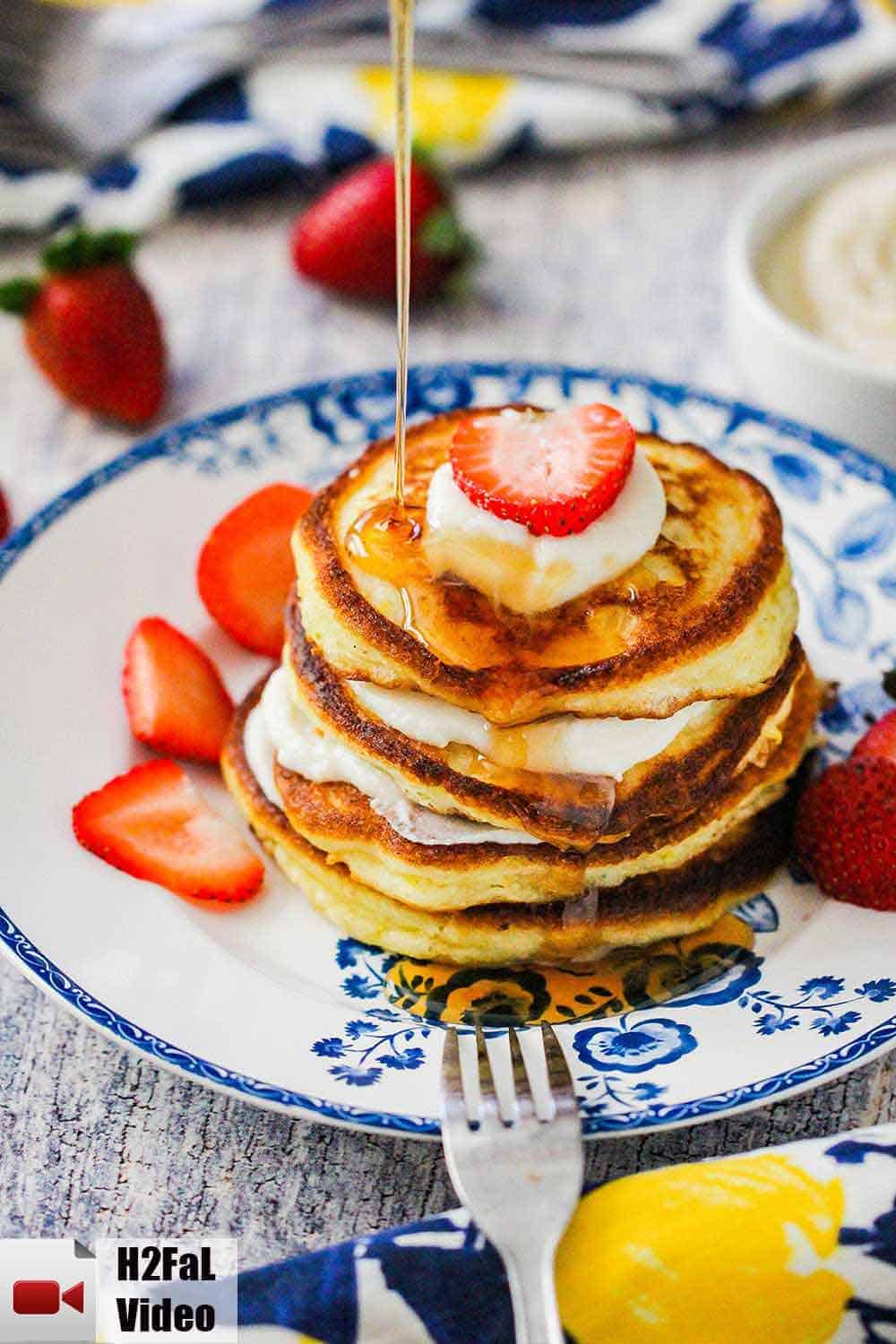 HOW TO MAKE RICOTTA LEMON PANCAKES
Making the perfect pancake from scratch is truly much easier than you might think.
We're going to show you a few tricks to make sure these Ricotta Lemon Pancakes with Vanilla Sauce come out perfect every single time!
Watch us show you how to make these incredible pancakes from scratch!
CAN PANCAKE BATTER BE MADE AHEAD OF TIME?
We always love giving you recipes that can be made ahead of time, and although there are portions of this that can be made ahead of time, we suggest cooking the pancakes as soon as the batter comes together. More on the later.
These pancakes are not overly sweet. The lemon zest and ricotta deliver a wonderful flavor without giving you a toothache.
The vanilla sauce is a bit on the sweet side, and works perfectly against the pancakes. Mix it together in a small bowl and add a tablespoon of milk if it's too thick.
EXPERT TIP: The baking soda and baking powder are called leavening agents and they are what make the pancakes light and fluffy. The longer they sit in the fully incorporated batter, the less and less ability they will have to produce amazingly fluffy pancake ahead of. The vanilla sauce, on the other hand, can be be up to 1 day in advance.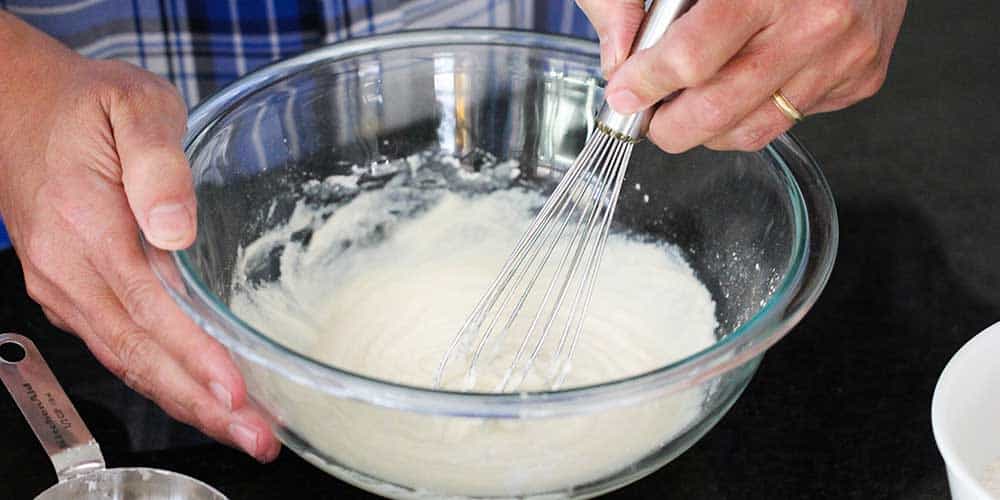 EGG WHITE PEAKS MAKE THE PANCAKES EVEN FLUFFIER
You'll need three egg yolks for the batter for the ricotta lemon pancakes.
That leaves you with three egg whites.
Perfect. Pull our your hand mixer (or stand mixer) and beat them until stiff peaks form.
EXPERT TIP: Egg whites naturally bring even more airiness to the pancakes as they cook.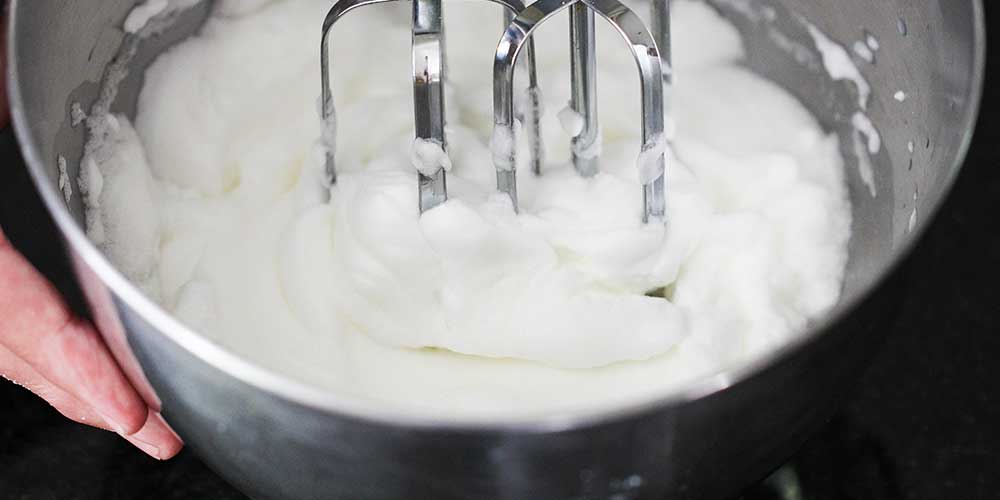 HOW TO MAKE PANCAKE BATTER FROM SCRATCH
As with most batters, you'll need a dry mixture and a wet mixture, eventually bringing them together just until they are incorporated.
We like to start with a nice large bowl and add all the wet ingredients. A hand mixture mixes them together in a snap, but a wooden spoon and some elbow grease will work, too.
For a real flavor boost, we add lemon zest into the dry mixture (in a separate bowl). Then, gently use a large wooden spoon to mix the wet mixture into the dry.
EXPERT TIP: Gently stir the wet and dry mixtures until they are just combined. It's perfectly okay (and good) for the batter to be a bit lumpy. The key is to not over-mix, because if you do, gluten will begin to form which result in a chewier pancake. No chewy pancakes here, please!
Now, just to make sure we're going to have the fluffiest, most delicious pancakes on the planet, it's time to gently fold in the stiff peak egg whites.
Be sure not to stir too hard, you don't want the whites to break down.
This is looking good, folks…
HOW TO COOK THE PERFECT PANCAKE
If you have a griddle, perfect! Griddles are great because they are completely flat and you can cook more than one pancake at a time.
If you don't have a griddle, no worries! Pull out a medium-sized skillet/pan (preferably non-stick) and you'll be just fine.
Heat your griddle or pan to medium heat and a little oil. Scoop out 1/4 cup of the batter and add to the hot pan. Within about a minute, you'll start to see bubbles form. Don't flip yet! Wait until those bubbles open up and form little holes. Now is the time to flip. If a little of the batter splatters, just use your spatula to scooch it back in place.
EXPERT TIP: Although we love cooking with butter, we don't recommend frying the pancakes in it. Butter burns easily and can affect the taste of the pancakes. Because of the extended time needed for cooking all the pancakes, we recommend using good ole vegetable oil, or if you do use butter, clean the pan (or griddle) after every couple rounds of pancakes.
ASSEMBLING THE RICOTTA LEMON PANCAKES WITH VANILLA SAUCE
After you make a batch of pancakes, place them on a baking rack over a cooke sheet and keep them warm in a low-temp (200°F) oven.
Once all the pancakes have been prepared, remove them from the oven and start assembling the pancakes!
We love to smear a thin layer between two, or three, or four pancakes.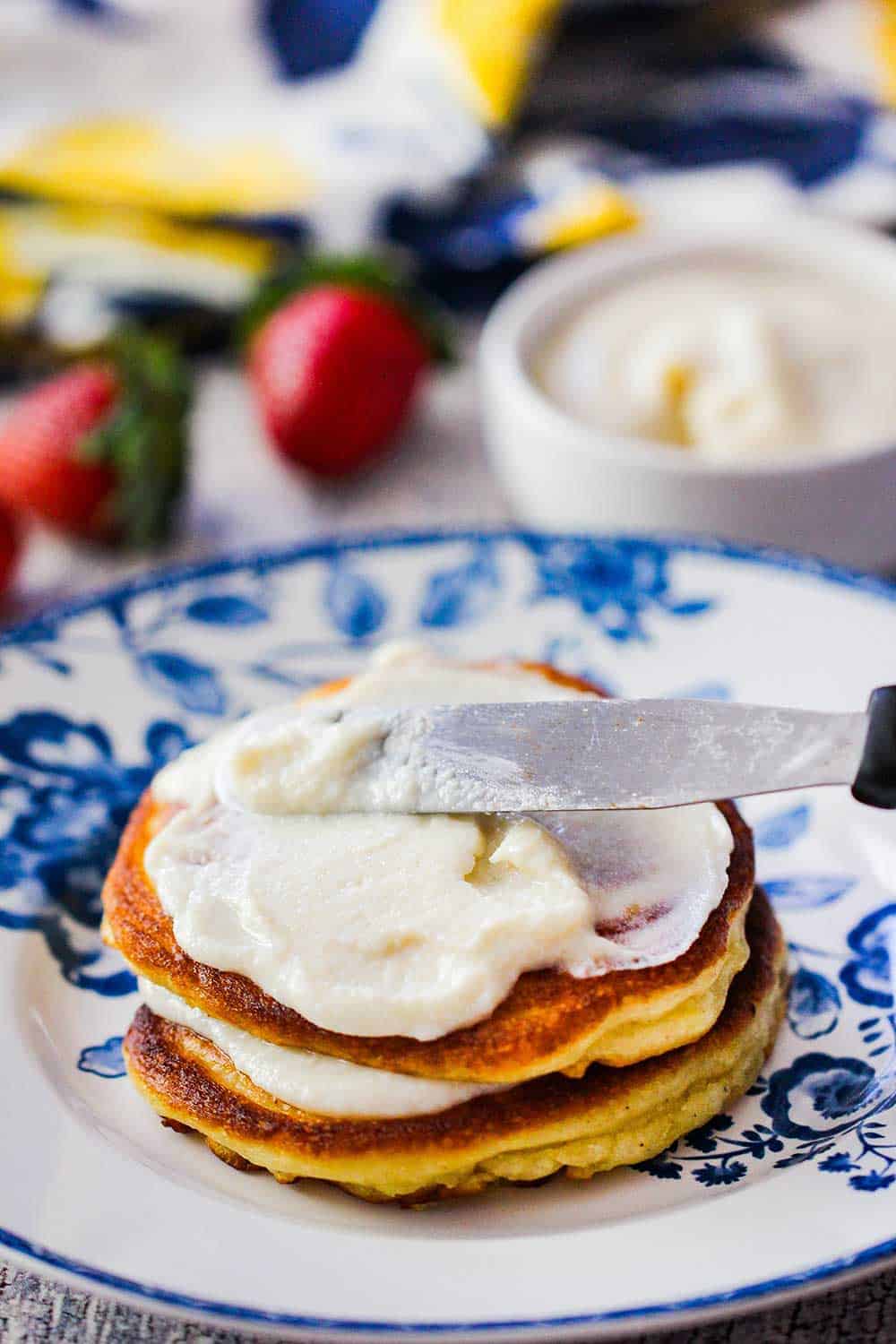 PANCAKES ARE ALWAYS FAMILY FAVORITE
We have loved just about any kind of pancake since we were both kids. I think most families share this same phenomenon.
A few of our other breakfast favorites are Norwegian Pancakes, Buttermilk Waffles with Blueberry Syrup, and Cinnamon Raisin Bread.
But let us tell you, these Ricotta Lemon Pancakes with Vanilla Sauce have become a true family favorite at our house. Can you see why?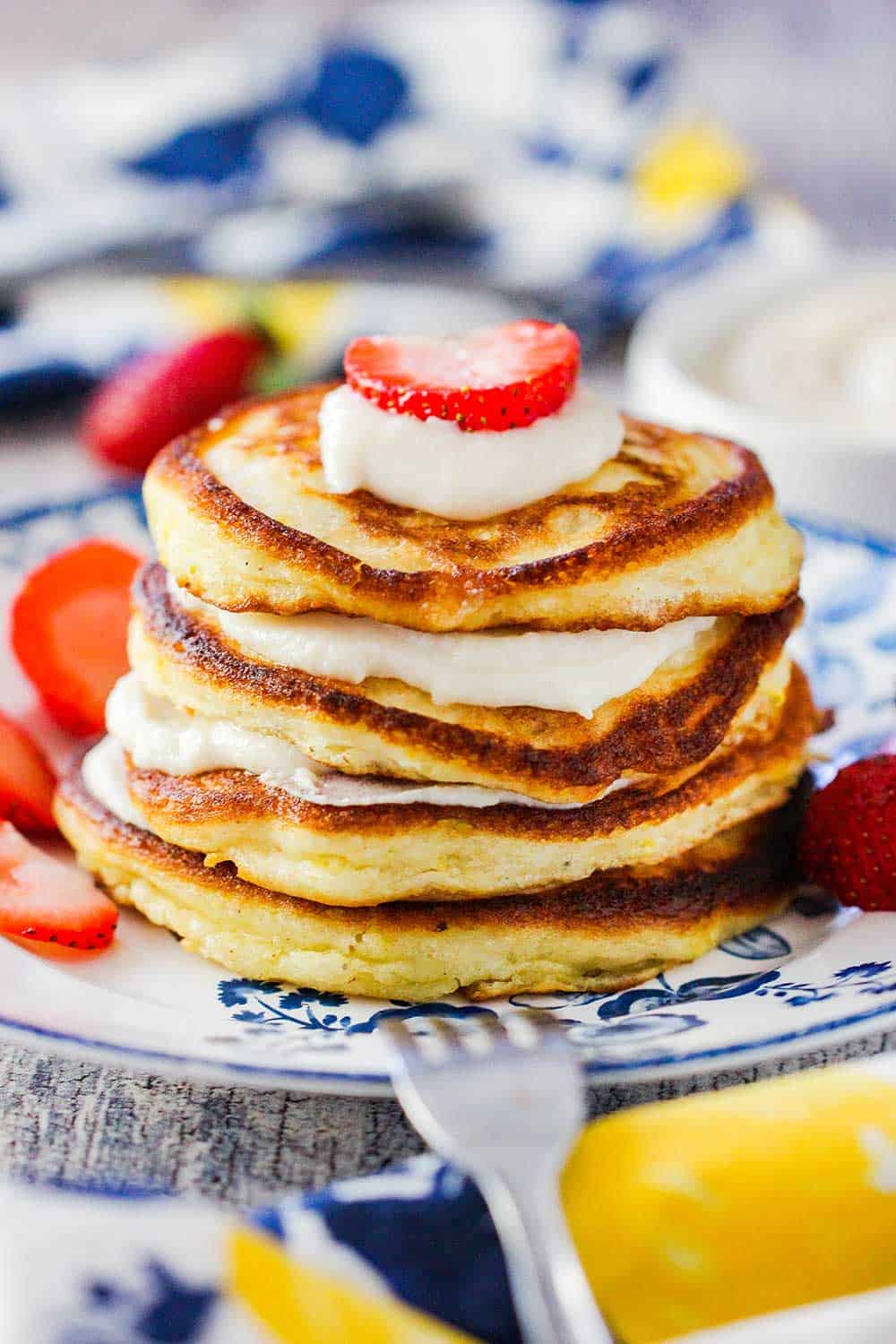 RICOTTA LEMON PANCAKES FAQs
Can the pancakes be made in advance? Yes, they can. We absolutely DO NOT recommend making the batter ahead of time. It's best to cook the pancakes soon after the batter comes together for fluffiest pancakes possible. You can, however, make the pancakes in advance, then wrap them individually in foil. When ready to serve, heat oven to 350°F, unwrap the pancakes, and place on a lightly greased baking sheet and warm for about 5 to 8 minutes. The sauce can be made several days in advance.
Should these be served with syrup? They are spectacular with just the pancakes and sauce, but a little warmed maple syrup is heavenly, too. Just use 100% maple syrup, not imitation pancake syrup! An assortment of berries is a nice addition, too.
Oil or butter for frying? Butter easily burns, so we recommend cooking the pancakes in vegetable oil.
Just look at that…
Okay folks, ready to make a show-stopper breakfast (actually, these are amazing any time of the day or night) in about 30 minutes? Go for it!
And don't forget, when you make it, be sure to take a photo, post it to Instagram, and tag #howtofeedaloon and @howtofeedalon!
Ricotta Lemon Pancakes with Vanilla Sauce
The hint of lemon, mixed with the ricotta cheese, buttermilk, nutmeg bring these to incredible levels. The stiff peaks of the eggs whites make these pancakes amazingly light, yet so flavorful. And the vanilla sauce brings it all together!
Print
Pin
Rate
Servings: 8
Calories: 361kcal
Equipment
Hand mixer, or stand mixer

Griddle, or medium-sized non-stick skillet
Ingredients
RICOTTA VANILLA SAUCE
1 cup ricotta cheese
½ cup confectioners' sugar
1 tsp vanilla extract
¼ tsp Kosher salt
PANCAKE BATTER
3 large eggs separated
1 ½ cups buttermilk
3 tbsp sugar
1 cup ricotta cheese
1 ½ cups unbleached-all purpose flour
1 tsp baking soda
1 tsp baking powder
2 tbsp lemon zest
¼ tsp nutmeg
½ tsp salt
½ cup vegetable oil for frying
FOR SERVING
4 tbsp unsalted butter optional
1 cup maple syrup, warmed optional
1 cup mixed berries optional
Instructions
MAKE THE SAUCE (Can be done 1 day in advance)
Mix all of the ingredients until smooth in a small mixing bowl. For super smooth sauce, blend in a blender or food processor. Refrigerate until needed. Thin with 1 tablespoon of milk if the sauce is too thick.
MAKE THE PANCAKES
In a medium mixing bowl, beat together the egg yolks, buttermilk, sugar, and ricotta cheese.

In a separate bowl, whisk together the flour, baking soda, baking powder, lemon zest, nutmeg and salt.

In a third bowl, beat the egg whites (I use an electric hand mixer), beat the egg whites until stiff peaks start to form.

Mix the dry ingredients into the buttermilk mixture with a few quick strokes. A few lumps remaining are okay.

Fold in the egg whites.

Pour in a little oil (about 1 tbsp) into a medium sized non-stick skillet...or griddle.

Once hot, drop about 1/4 cup of the batter on the skillet/griddle.

Bubbles should rise...cook for about 1 & 1/2 minutes and then flip.

Cook for about another minute on the 2nd side. Pancakes should be light golden brown.

Remove...place each cooked pancake on a cookie rack on a baking sheet and keep warm in a 200°F oven.
ASSEMBLE
Place one pancake on a plate, then add a layer of the sauce. Repeat.

Top with slice of butter and warm maple syrup (optional)

Serve with fresh berries (optional)
Notes
Mix the wet mixture into the dry mixture and stir until just incorporated. Don't over-mix. A slightly lumpy batter is okay. Cook the pancakes until small holes form on the top of the pancake, then flip. About 1 to 1 1/2 minutes on one side, and then another minute on the other. Pancakes should be golden brown in color. Keep the vanilla sauce chilled until ready to use. A thin layer between each pancake is all that's needed. If more is desired, we recommend doubling the vanilla sauce recipe. Pancakes can be cooked and then wrapped individually in foil for up to one day. Re-heat in a 375°F oven, unwrapped, on a slightly greased baking sheet for 5 to 8 minutes, or until warmed through. Butter, pure maple syrup, and fresh berries are all nice additions, but not required.
Nutrition
Calories: 361kcal | Carbohydrates: 37g | Protein: 14g | Fat: 11g | Saturated Fat: 4g | Cholesterol: 131mg | Sodium: 507mg | Potassium: 253mg | Fiber: 1g | Sugar: 16g | Vitamin A: 649IU | Vitamin C: 2mg | Calcium: 227mg | Iron: 2mg