We love everything about making waffles from scratch, and this recipe is a good reason why.
This is breakfast/brunch at its very best. These are classic waffles and are cooked to perfection, and then the lush blueberry sauce with maple and orange is heavenly. And…these come together in just minutes. It doesn't get much better than that!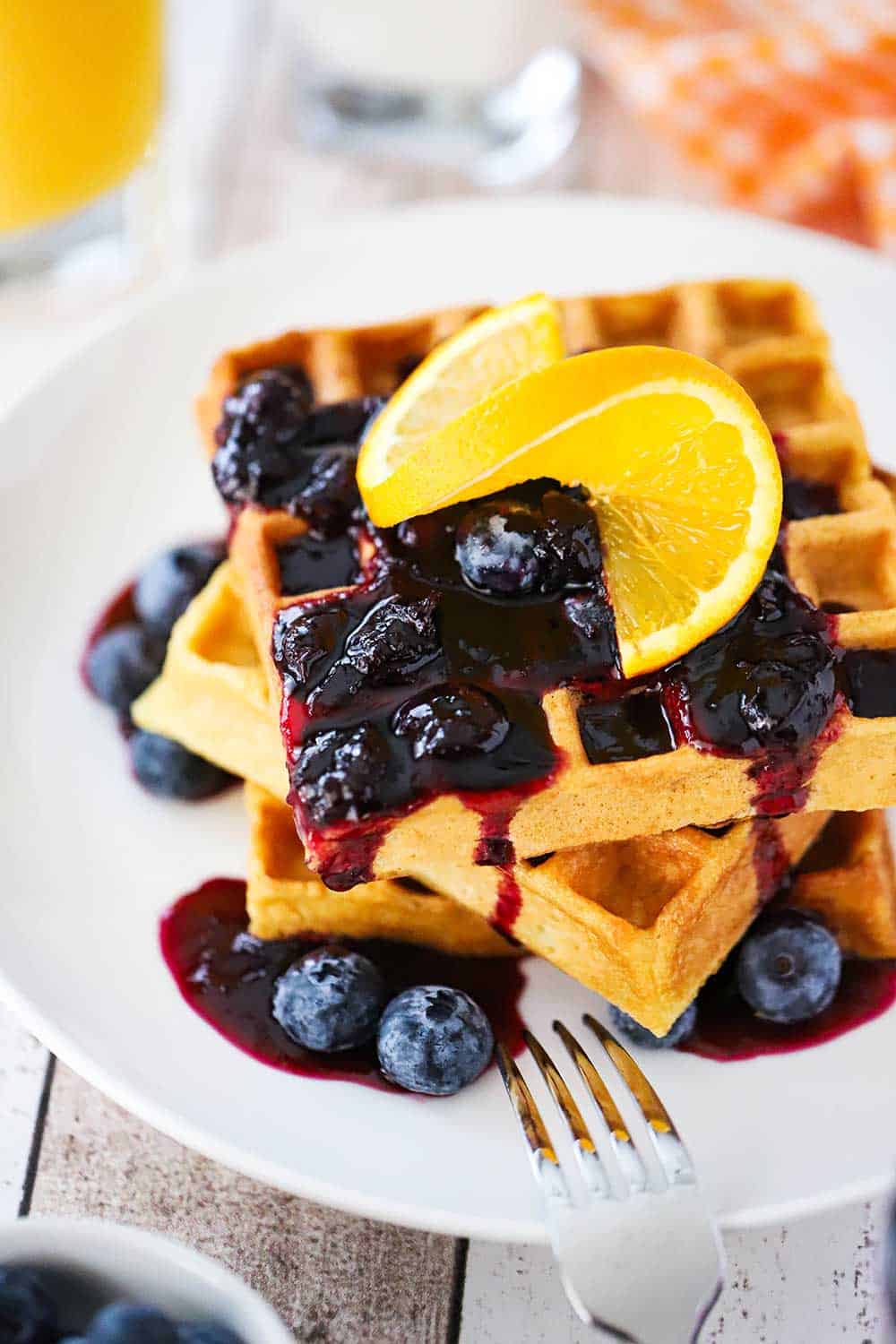 How To Make Buttermilk Waffles with Blueberry Sauce
If you want to know how to make buttermilk waffles from scratch, then you've come to the right place.
The batter comes together very quickly and the sauce can be made up to 24 hours in advance.
The Perfect Waffle Batter
Classic buttermilk waffles are not overly sweet and should be light and fluffy.
We have the tips and tricks to allow you to achieve the perfect waffle.
The addition of ground cornmeal adds a depth of flavor that is not overpowering at all. 3 tablespoons of sugar add just enough sweetness to the batter. The sauce, or even just plain maple syrup, adds a lot of sweetness to the dish, and is the perfect addition for our buttermilk waffles.
EXPERT TIP: Stir the batter until just combined. Over-mixing will cause the waffle to not be airy and light. Lumps in the batter are just fine, too
The next tip is to add egg whites that have been mixed at high speed until soft peaks are formed.
We use our hand mixer to achieve this, however, you could also use a stand mixer with the whisk attachment or even a hand mixer and a good amount of elbow grease.
EXPERT TIP: As with mixing the batter, you want to just gently fold in the egg whites. Don't be too vigorous, otherwise, the whites will break down and not incorporate as well into the batter. When the waffles are cooking, the egg whites bring about a light and fluffy texture that is perfect.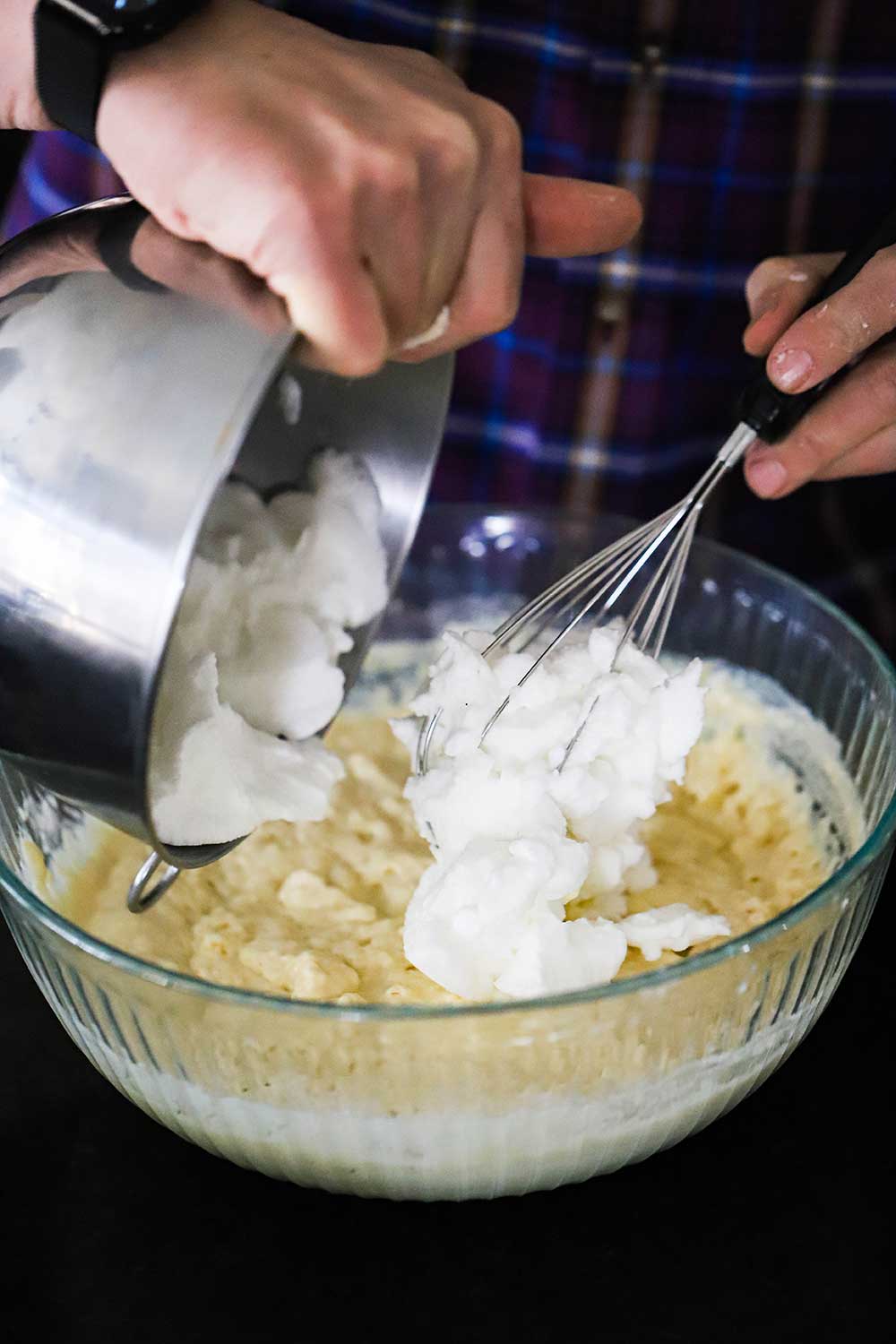 Once the batter is ready (lumps are okay!), it's time to fire up your waffle maker.
We use our electric Breville waffle maker, but you go with whatever is your favorite. We add about 3/4 cups to each quadrant of our waffle maker.
EXPERT TIP: If you prefer, you can use this batter to make pancakes rather than waffles. Simply pour about 1/2 cup to 3/4 cup of the batter into a griddle or skillet that has been heated over medium heat with a couple of tablespoons of vegetable oil. Cook until golden brown and then flip and continue cooking until fully cooked.
Cook until the waffles are golden brown and cooked through.
We use a spatula and a fork to help transfer out of the machine onto a cutting board. Be careful! The waffles and maker are hot!
Yum!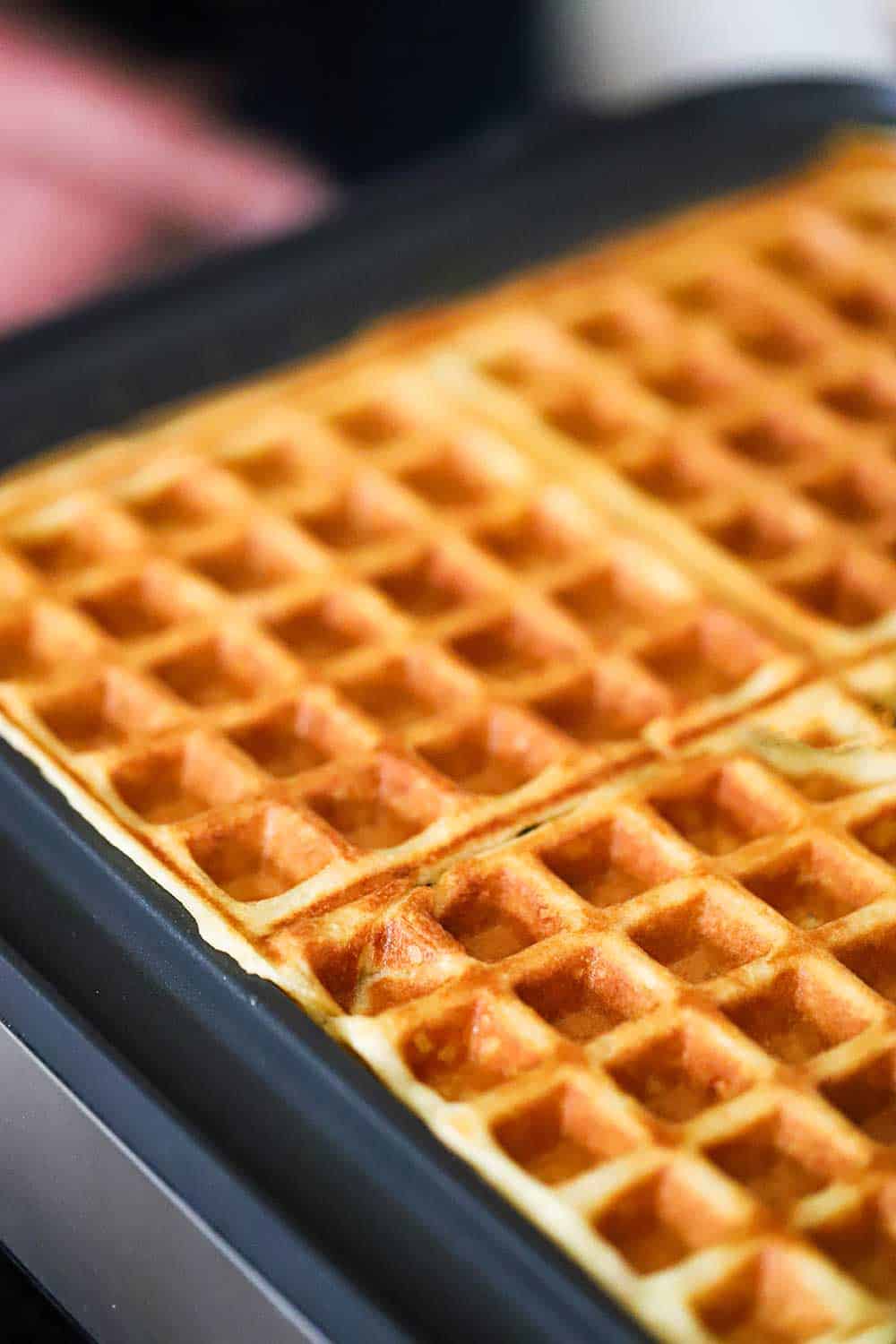 The Perfect Topping for Waffles
Blueberries are loaded with flavor and nutrients. They are even considered a 'super' food.
And who are we to disagree with that statement?
The orange zest and juice, along with the maple syrup, all add up to the best topping we've ever tried for buttermilk waffles!
EXPERT TIP: Heat the ingredients for the sauce in a medium-sized pan over medium heat. As the blueberries cook, they will start to pop open and their juices will be abundant. We like some of the blueberries to still be intact when we serve the sauce. About 5 minutes of simmering is all that's needed! The sauce is wonderful served warm but is also great at room temperature.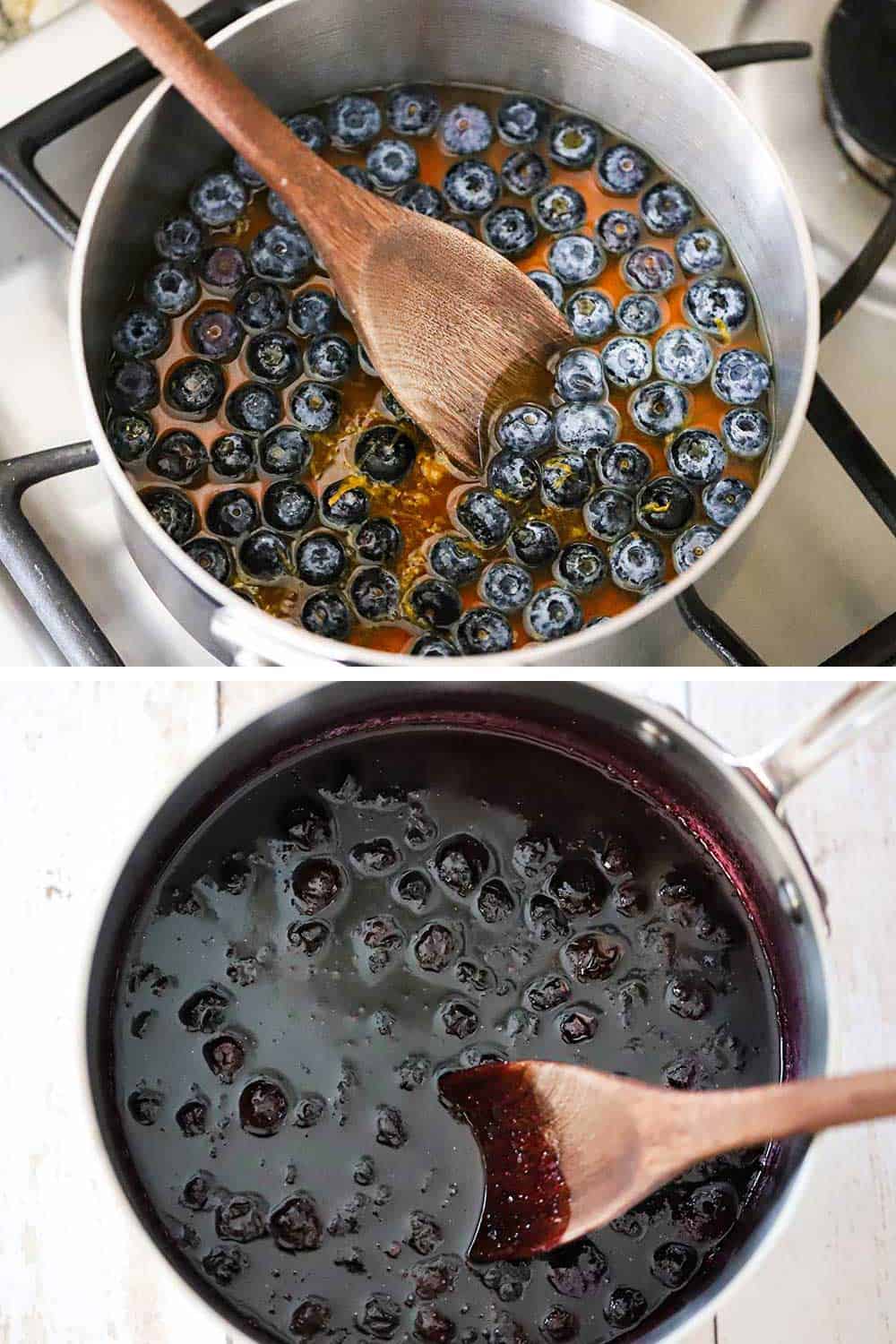 By the way, looking for an amazing pancake recipe? Try our incredible Ricotta Lemon Pancakes with Vanilla Sauce.
In the meantime, these buttermilk waffles are truly a little slice of heaven.
And the blueberry sauce puts it all over the top.
When To Serve Buttermilk Waffles with Blueberry Sauce
Of course, breakfast (or brunch) is the perfect time to serve this dish.
But honestly, they are so satisfying, comforting, and filling, we love to make them for lunch, dinner, or a late-night indulgence!
EXPERT TIP: If serving a crowd, the recipe can easily be doubled or tripled. Keep cooked waffles warm in a preheated oven set to 200°F on a baking sheet until ready to serve. Serve with the blueberry sauce, as well as plain pure maple syrup, just in case someone is allergic to berries. A little softened butter is always nice to have available, too.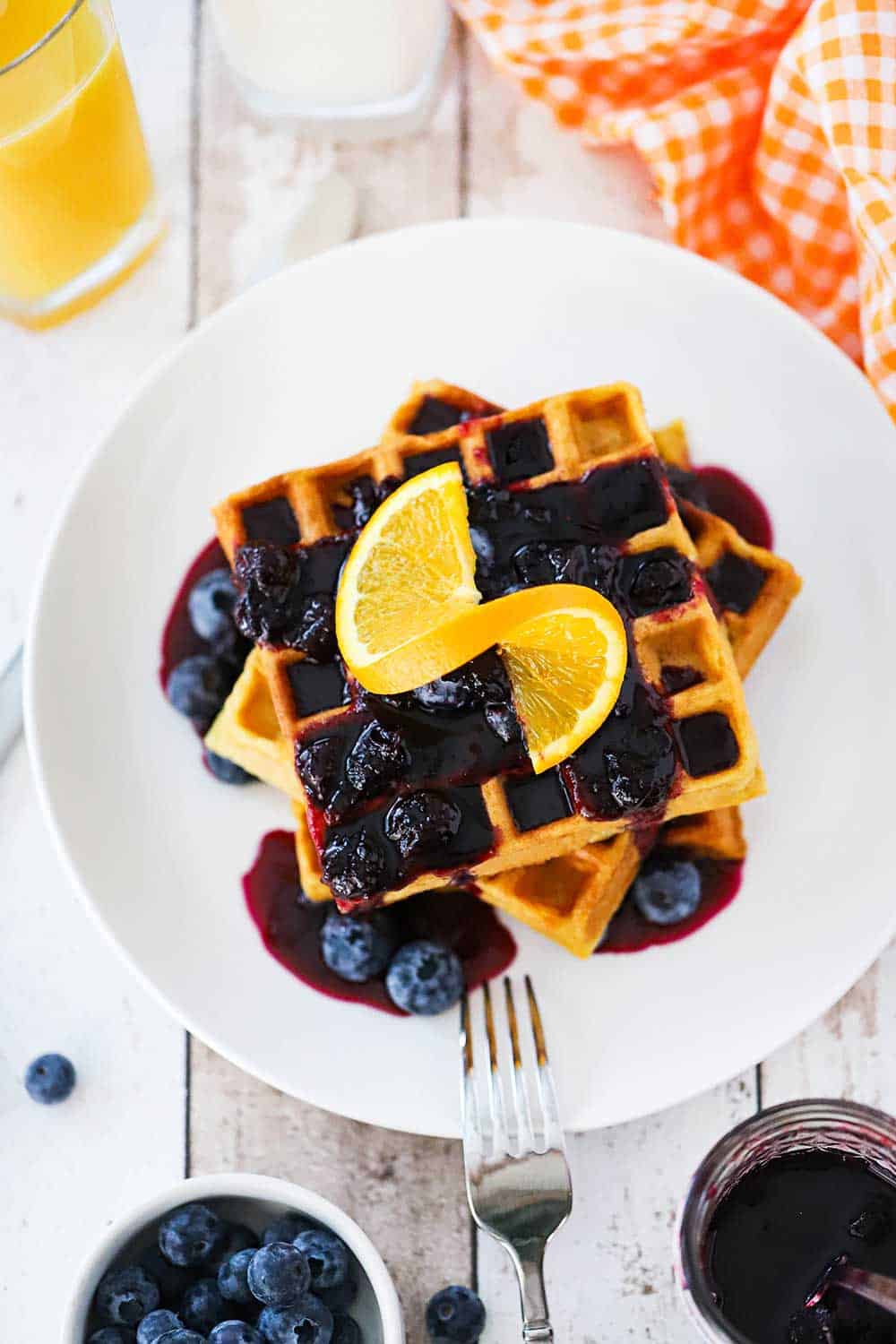 This is without a doubt one of our most favorite breakfast dishes of all time.
It's easy to prepare and when we serve it to guests, we always get rave reviews and requests for the recipe.
After just one bite, you'll understand why!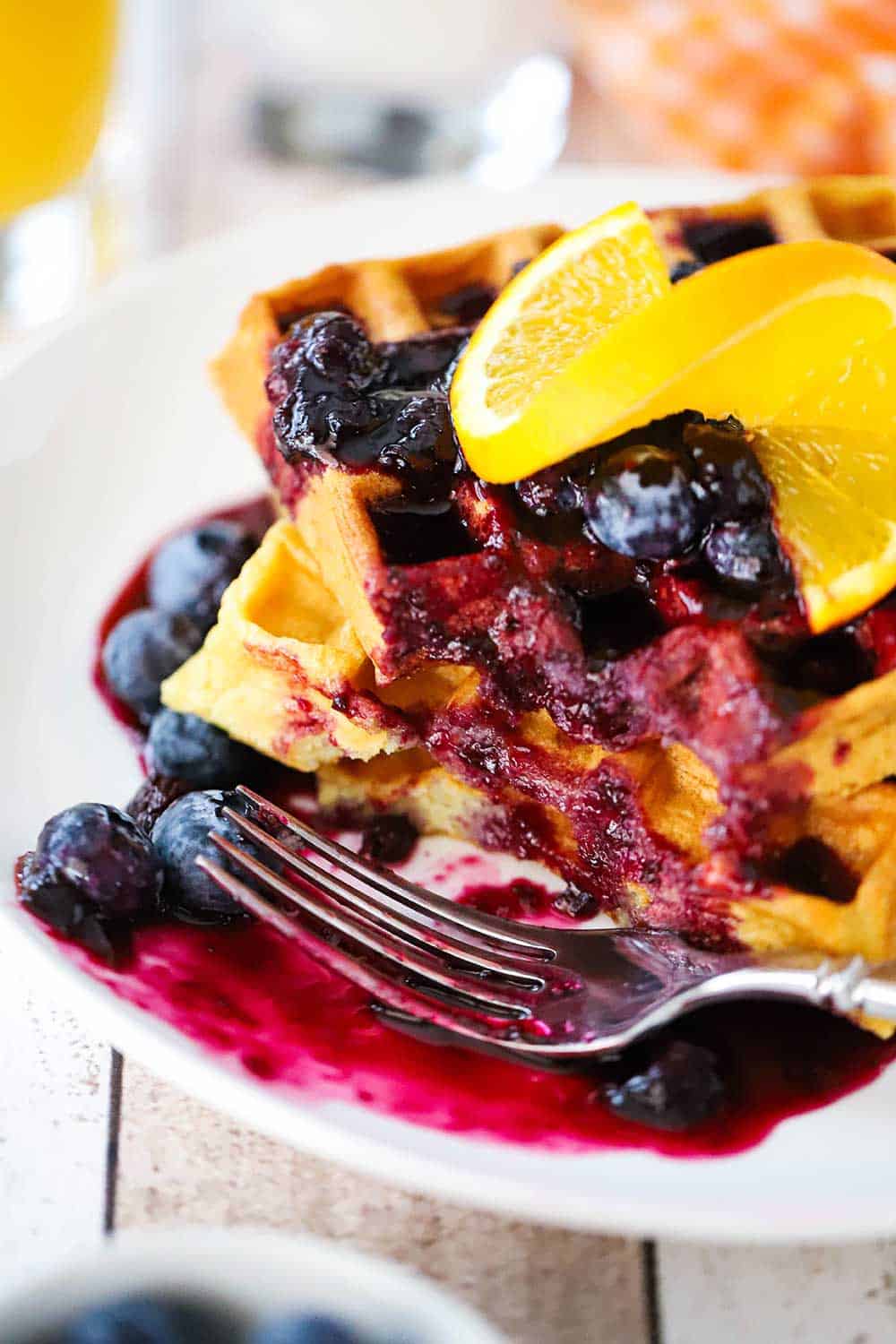 Ready to make the best waffles in town? Go for it!
And remember, when you make them, be sure to take a picture, post it on Instagram, and tag HowFeedalLoon and hashtag #HowToFeedaLoon
Buttermilk Waffles with Blueberry Syrup
These Buttermilk Waffles with Blueberry Sauce is what breakfast was made for. The nutty flavor from the buckwheat flour pairs perfectly with the amazing blueberry sauce. The sauce can be made up to 24 hours in advance!
Print
Pin
Rate
Servings: 4 people
Calories: 734kcal
Ingredients
For the Blueberry Sauce
1 cup pure maple syrup
1½ cups blueberries fresh
Pinch Kosher salt
1 tbsp orange zest usually from 1 orange
2 tbsp orange juice usually from 1 orange
For the Waffles
2 cups all-purpose flour
1 tbsp yellow cornmeal
3 tbsp sugar
1 tbsp baking powder
1 tsp baking soda
½ tsp Kosher salt
2½ cups buttermilk
6 tbsp unsalted butter melted
3 large eggs separated (yolks from whites)
1 tsp vanilla extract
cooking spray
Instructions
Make the Blueberry Syrup
Put all ingredients in a small saucepan set over medium heat.

Bring to a boil and then reduce heat to maintain a simmer to allow the mixture to thicken slightly, about 5 minutes.
Make the Waffles
In a bowl, sift together the flour, cornmeal, sugar, baking powder, baking soda, and salt.

In a separate bowl, combine the buttermilk, melted butter, egg yolks, and vanilla extract and whisk to combine.

Add the liquid ingredients to the dry and whisk or stir with a spoon until combined, the batter will be quite lumpy.

In a small bowl, using a clean whisk or a handheld mixer at high speed and beat the egg whites until soft peaks form.

Using the whisk, or a wooden spoon, gently fold the whites into the batter. Continue working them into the batter until large chunks of the whites are no longer visible.

Spray your waffle maker with cooking spray and follow manufacturer instructions for cooking waffles. Carefully transfer cooked waffles to a platter and continue the process with the remaining batter.

Serve at once sauce on the side.
Notes
Fresh blueberries are best for the sauce, but you could substitute frozen in a pinch. The sauce can be made up to 24 hours in advance and stored in an air-tight container in the fridge. Reheat in a saucepan, or allow to come to room temp if not serving it warmed. We think these buttermilk waffles have just enough sweetness to make them perfect. Not too sweet we think is best. The sauce is quite sweet and counters the waffles wonderfully. However, if you prefer sweet waffles, then increase the sugar to 4 tbsps. The recipe can easily be doubled or tripled if serving a group. Keep cooked waffles warm on a baking pan in your oven preheated to 200°F. Cooked waffles can be frozen. Allow them to come to room temperature and then reheat either in the oven or in the microwave. We must say, however, these are definitely at their best when served soon after cooking. You can make pancakes instead of waffles if you prefer. Simply pour a little less than 1 cup on a hot griddle or skillet lined with a small layer of vegetable oil
Nutrition
Calories: 734kcal | Carbohydrates: 131g | Protein: 17g | Fat: 24g | Saturated Fat: 8g | Trans Fat: 1g | Cholesterol: 201mg | Sodium: 790mg | Potassium: 883mg | Fiber: 3g | Sugar: 71g | Vitamin A: 1028IU | Vitamin C: 12mg | Calcium: 433mg | Iron: 4mg
POST UPDATE: This recipe was originally published in February 2017, but was updated with improved tweaks to the recipe, with new tips and photography, and a fabulous new video in March 2021!