If there was ever a food that brings me (Kris) back to my childhood, it would have to be these amazing rolls.
Grandma Longwell was an amazing cook and baker, and this recipe is in homage to her incredible self-taught skills. She never went by a written recipe, so all of her children and grandchildren who have tried to recreate them have sort of had to figure it out on their own. I've been working on this recipe for years, and I think she would approve.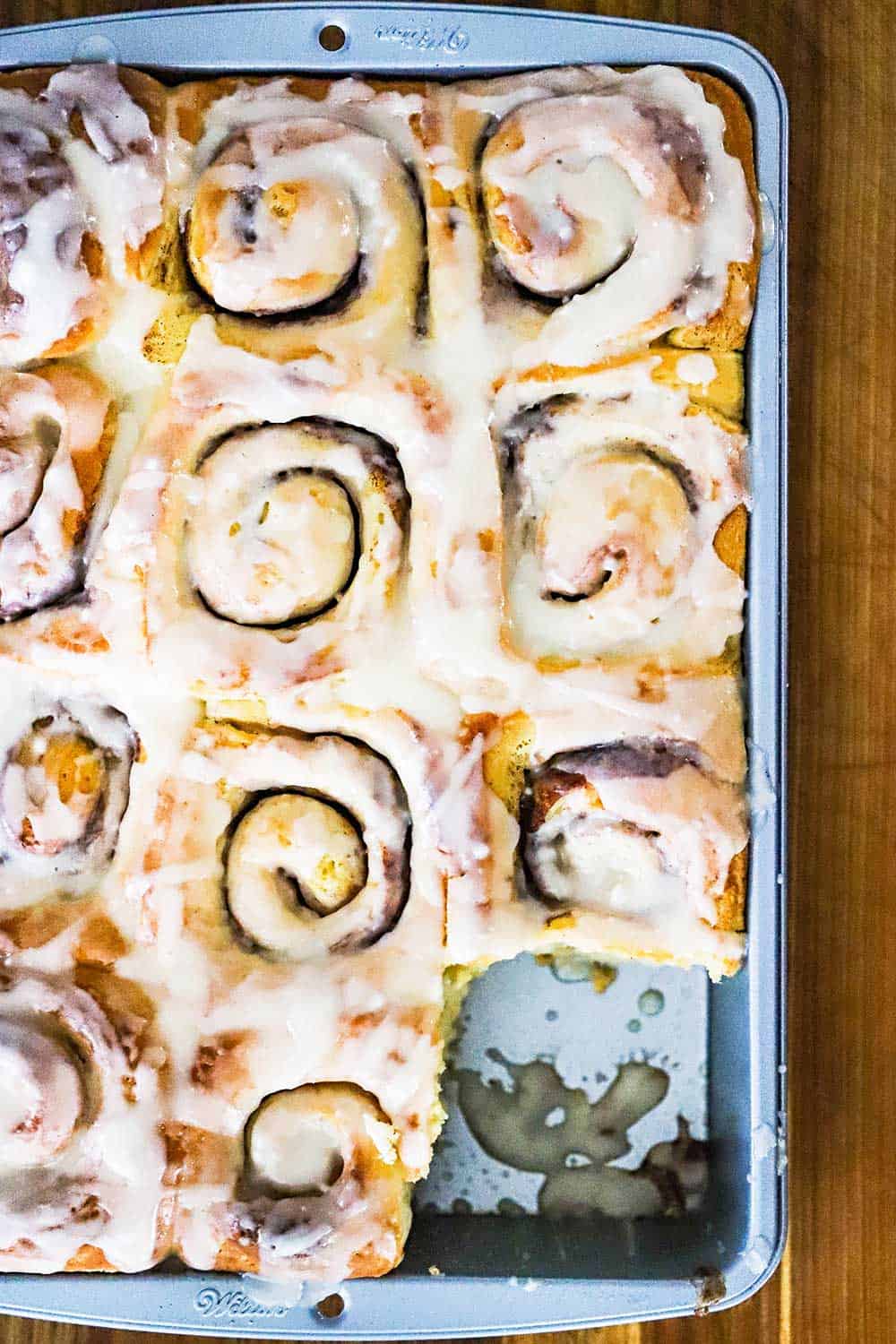 How To Make Homemade Cinnamon Rolls
You may be thinking to yourself that making cinnamon rolls from scratch is just too much of a challenge.
Well, we're here to tell you it's definitely not!
Tips for Making the Perfect the Dough
It should come as no surprise that the best cinnamon rolls recipe is going to have the best dough technique.
Making the rolls that are light, fluffy, and loaded with flavor is honestly easier than you might think.
EXPERT TIP: We use our stand mixer with both the paddle attachment and the dough hook to make our dough. If you don't have a stand mixer, simply mix together the dough ingredients until a dough just starts to form. Then lightly flour a cool surface and add the dough. Use the heel of your hand to kneed to the dough, turning it over on itself repeatedly. You'll need to do this for about 15 to 20 minutes, but you will get a dough that is soft and ready to rise.
After the dough is ready, use a cooking spray or softened butter to grease a large bowl. Place the dough in it, turn it over to coat with oil, cover with plastic, and place in a slightly warm, non-drafty area until doubled in size.
NOTE: You can make the dough the night before, too. If so, cover with plastic wrap and place in the fridge for up to 12 hours.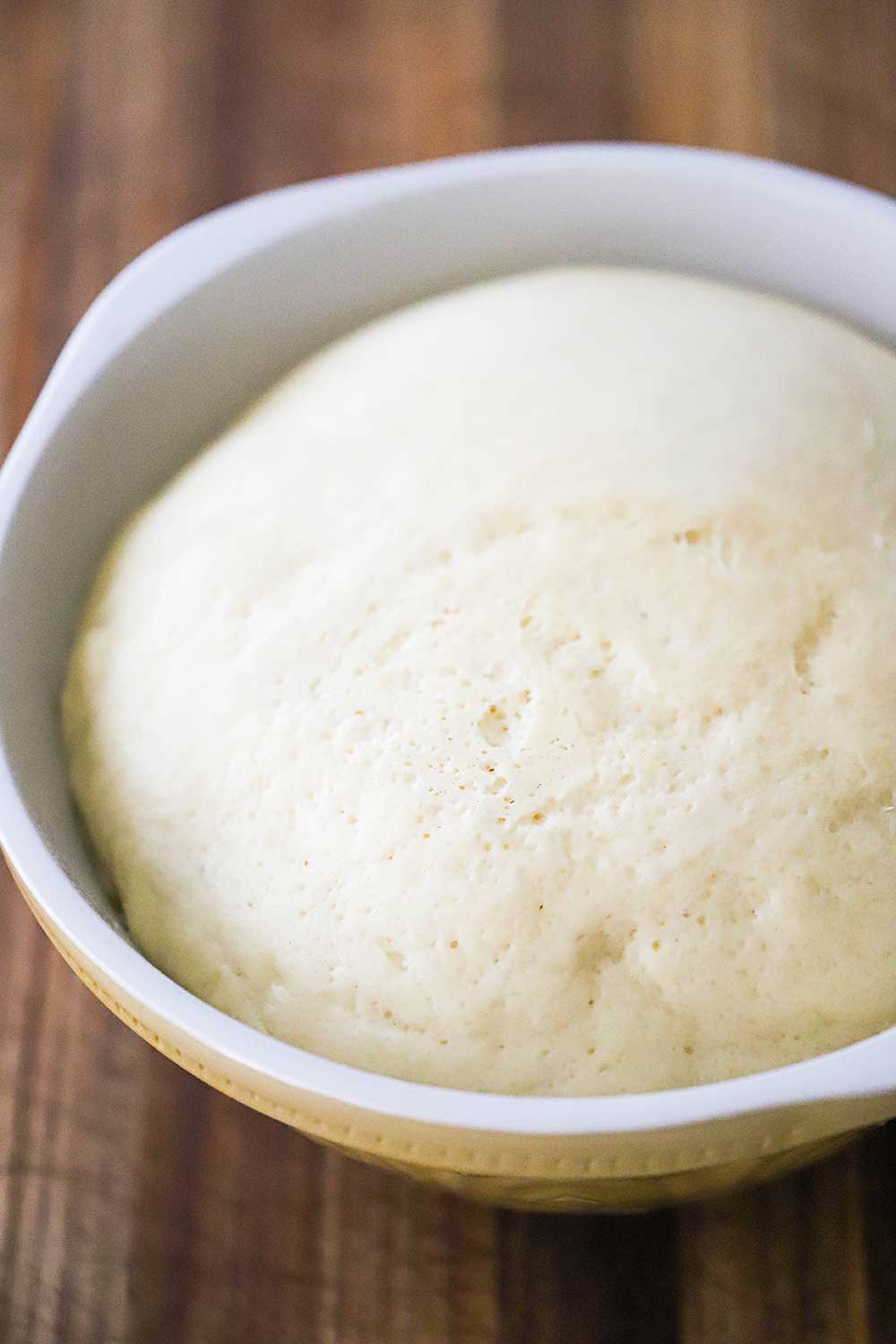 After your dough has doubled in size, then roll it out to a nice large rectangle, about 15 to 17 inches in length.
And then, start to build that amazing cinnamon roll filling.
EXPERT TIP: There are a couple of ways of adding the filling to the dough. Grandma would brush melted butter over the dough, and then add the sugars and cinnamon on top of that. Or, you could spread softened butter and then top with the sugars and spices. We found that when you roll the dough and then cut the rolls, a decent amount of the filling would fall out. Our fix? Mix together softened butter with the sugars and cinnamon, and then spread over the dough. Works perfectly!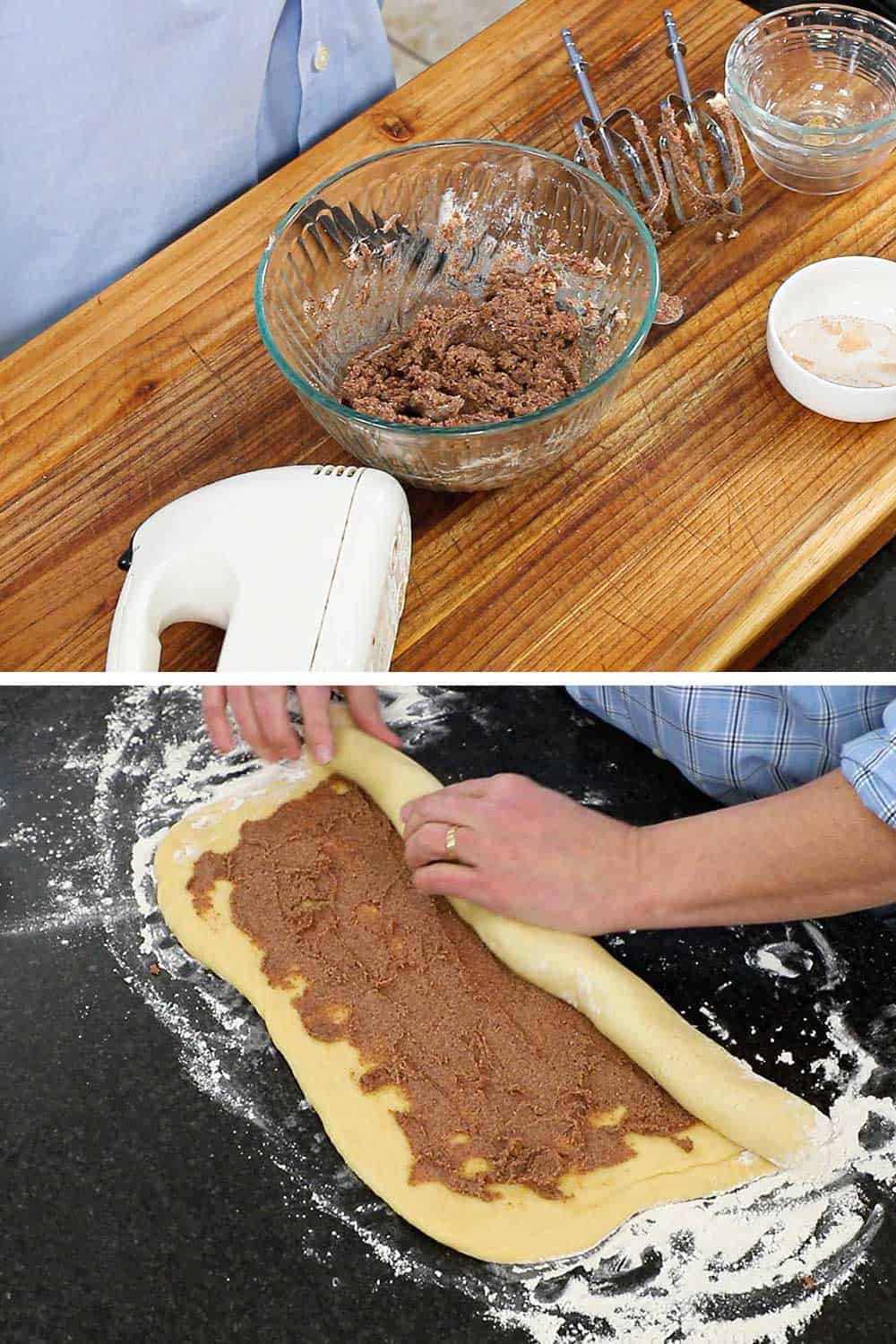 How To Get Fluffy Cinnamon Rolls
Proofing is the process of allowing the yeast to do its work and cause the dough to rise.
We've proofed the dough in the bowl, either overnight in the refrigerator, or in a non-drafty, slightly warm area in your kitchen. Some ovens have a 'Proof' setting. Just make sure the oven is completely cool before utilizing this setting.
After you've rolled the dough up, jellyroll-style, and then cut the rolls out, you'll need to place them in a greased 9″x"13″ pan (preferably metal) and let rise again, usually another 60 to 90 minutes.
EXPERT TIP: For this recipe, we use Instant Yeast (or Rapid Rise Yeast), but you can certainly use regular Active Dry Yeast. You'll get the same results with either, you'll just need to allow the Active Dry Yeast to proof a little longer than dough with Rapid Rise Yeast.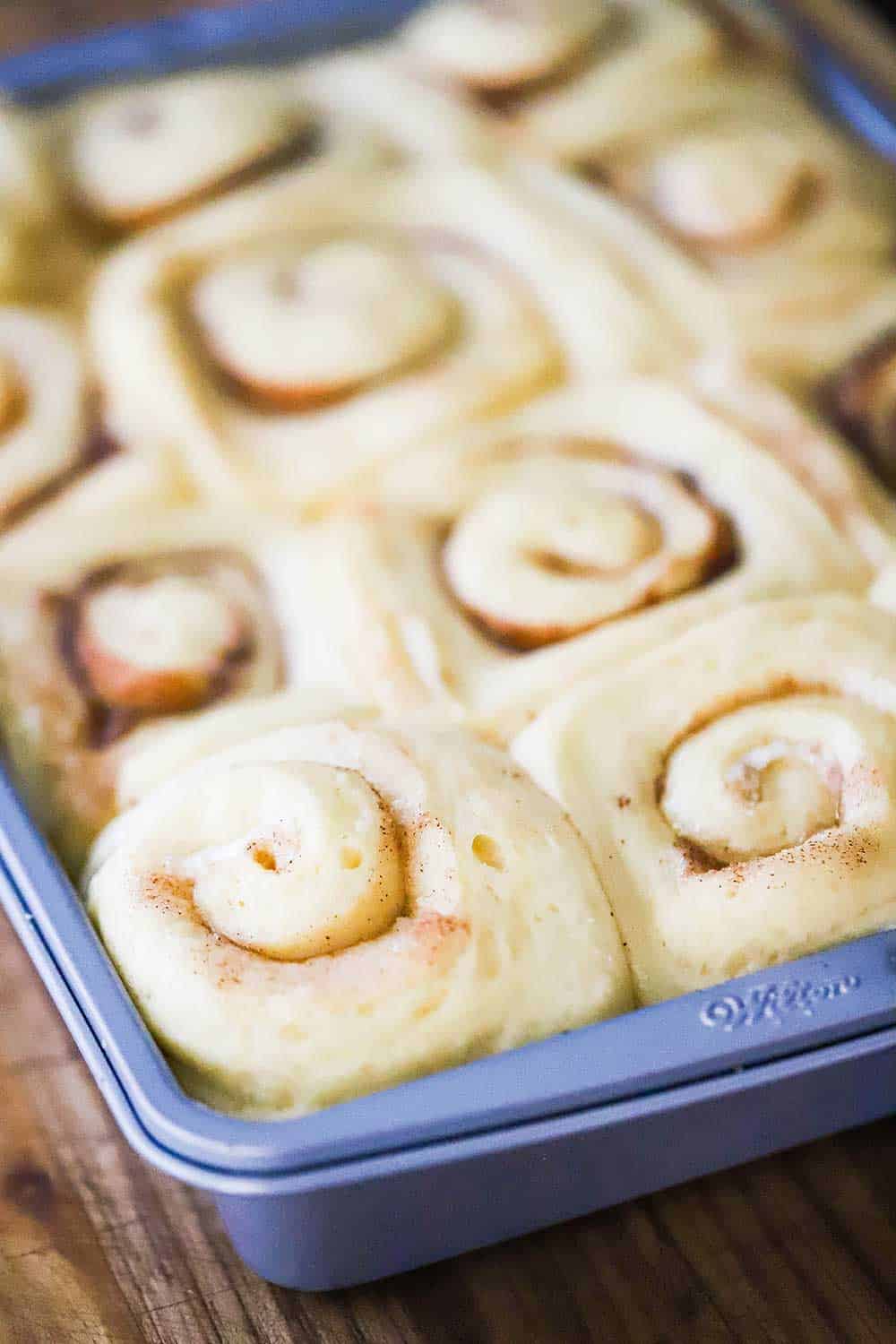 How To Make Cinnamon Roll Icing
After the rolls have nicely risen in the pan, it's time to bake them for 20 minutes in an oven preheated to 350°F.
While the rolls are baking, it's time to whip together the icing.
In a medium-sized bowl, add 2 cups of confectioners' sugar (aka powdered, castor, or icing). Melt 4 tablespoons of unsalted butter and add it to the sugar along with 1 teaspoon of vanilla extract.
EXPERT TIP: You'll want the consistency of the icing to be somewhat thick, yet easily pourable. We mix in the milk in increments of 1 tbsp at a time, stirring all the while. We usually end up adding about 4 tbsps until we reach the right consistency. Let the rolls cool for about 5 to 10 minutes before icing them. Then, just drizzle the icing all over the rolls with a large spoon.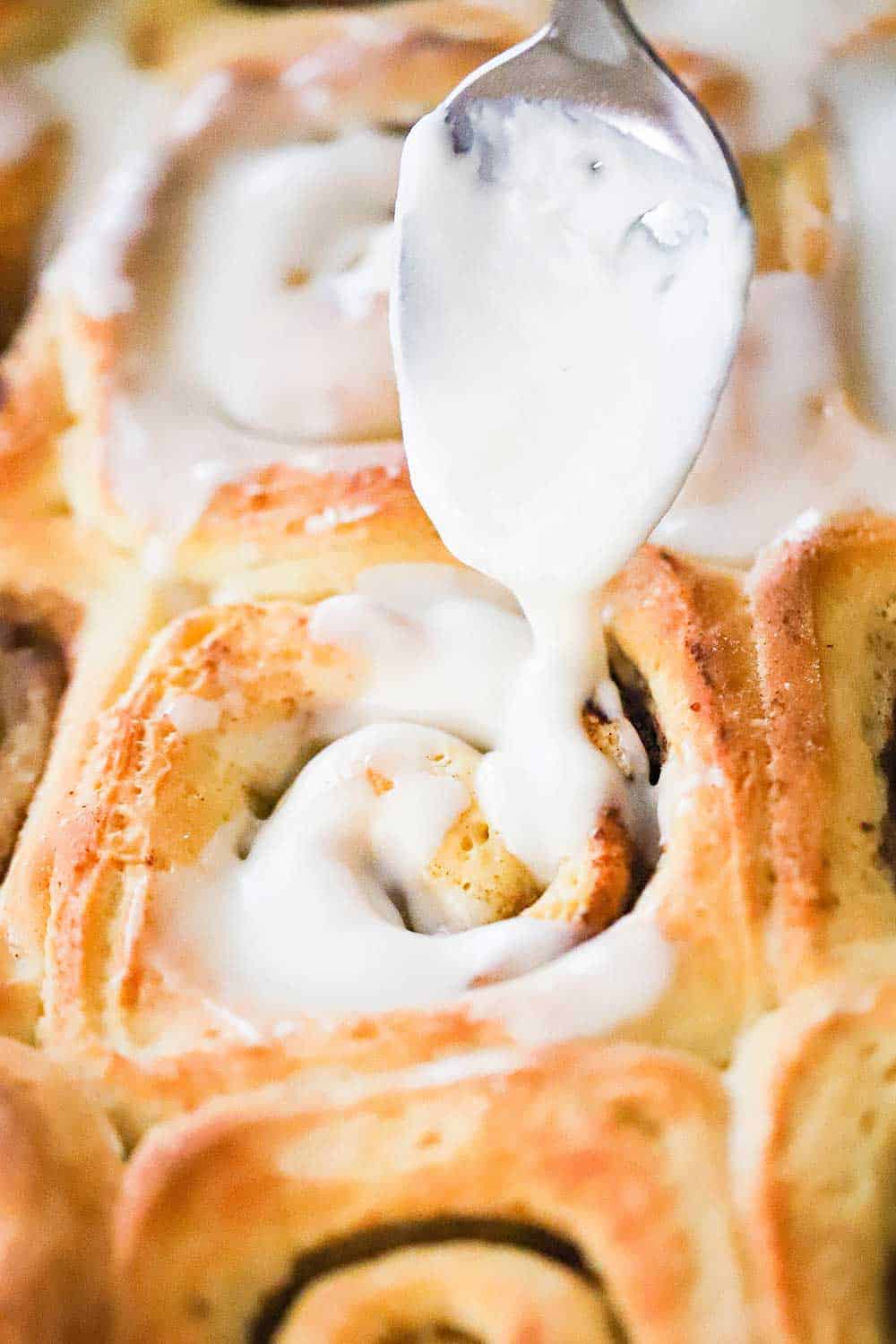 There is something truly magical about homemade cinnamon rolls.
Grandma also made amazing homemade kolaches, too. We also love making Orange Sweet Rolls. So good! And if you love these rolls, you will flip for our Homemade Monkey Bread!
But in the meantime, you've got to make a batch of these incredible pastries.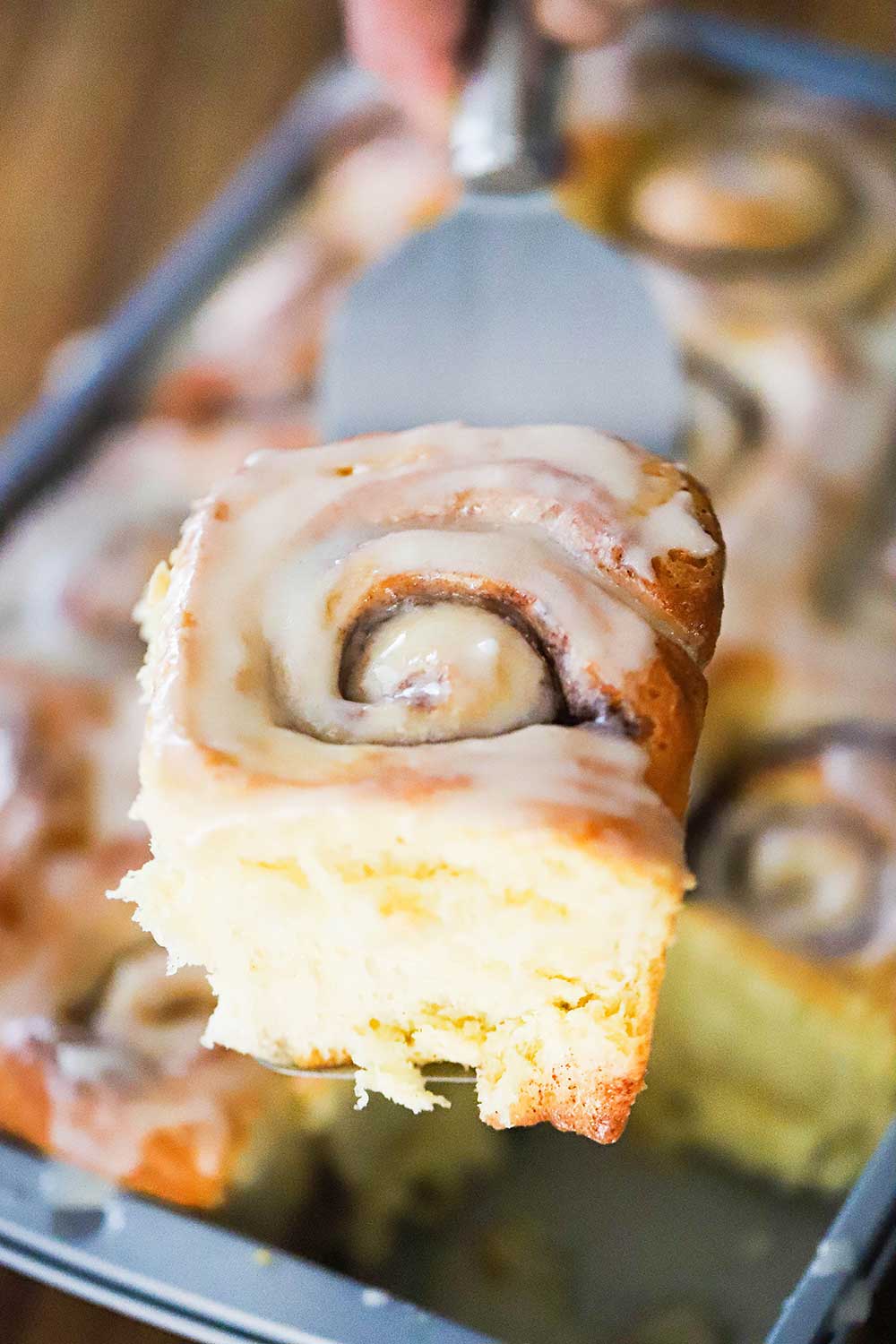 The Perfect Pastry for the Home Baker
These homemade rolls are not difficult to prepare if you follow these steps.
All you need is a little time.
And the results are truly transcendent. Aren't you craving a cinnamon roll right about now?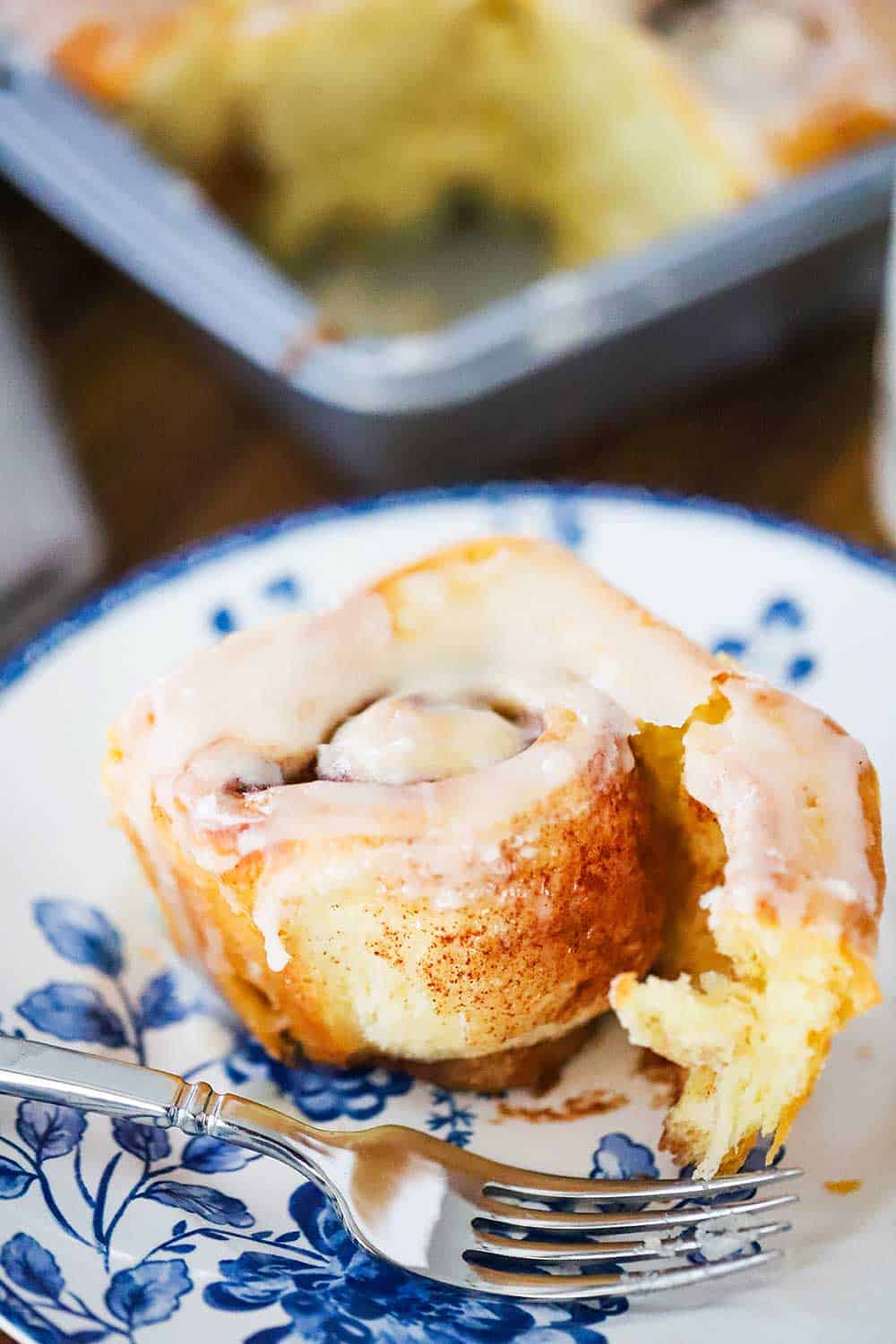 Ready to make a batch of cinnamon rolls that every baking grandma would be proud of? Go for it!
And when you do, be sure to take a photo of it, post it on Instagram, and tag @HowToFeedaLoon and hashtag #HowToFeedaLoon!
Homemade Cinnamon Rolls
There isn't anything much more satisfying than smelling these incredible rolls as they gently bake in the oven. Be sure to let the dough rise sufficiently before rolling them out, and then again, once the rolls have been formed. This is critical to making perfectly fluffy and delicious cinnamon rolls! So delicious.
Print
Pin
Rate
Servings: 8 people
Calories: 780kcal
Equipment
9"x13" baking pan, preferably metal
Ingredients
FOR THE DOUGH
1 cup whole milk lukewarm
½ cup sugar
5 tbsp unsalted butter melted and cooled
3 large eggs
2½ tsp instant dry yeast rapid rise, or active dry yeast (see NOTES)
5 cups all-purpose flour
1 tsp salt
FOR THE FILLING
7 tbsp unsalted butter
½ cup brown sugar dark or light
½ cup sugar
2 tbsp cinnamon ground
1 tsp cardamom ground, optional
FOR THE ICING
2 cups confectioners' sugar aka: powdered or castor
4 tbsp unsalted butter melted
4 tbsp whole milk
Instructions
Add the lukewarm milk, sugar, cooled butter, eggs, and yeast in the bowl of a stand mixer. Mix everything together using the paddle attachment.

Add 4½ cups of flour and salt to the mixture. Mix on low just until a ball of dough has started to form. Use your hands to remove the dough from the paddle attachment. Remove the paddle and replace it with the dough hook. Mix (knead) on medium for 6 to 7 minutes until the dough is soft and does not stick to the bowl, adding the remaining ¼ cup of flour as needed.

Remove the dough from the bowl and smooth it into a ball with your hands. Spray a large bowl with cooking spray or softened butter. Place the dough in the bowl and turn it over a couple of times to coat it with oil. Cover with plastic wrap and place in a non-drafty, slightly warm area until doubled in size, usually about 2 hours. Or, place in the fridge overnight for at least 12 hours.

Remove the plastic wrap and dump the dough onto a cool surface that is lightly floured. Use a rolling pin to roll the dough into an approximate 10"x15" rectangle.

Meanwhile, place the softened butter (7 tbsp), the two sugars, and cinnamon in a medium-sized bowl. Use a hand mixer to mix until all ingredients are well incorporated. If not using immediately, place in the refrigerator until ready to use.

Use a butter knife to smear the butter/sugar/cinnamon mixture all over the dough, leaving about ½-inch around the edges.

Beginning on the long side of the rectangle, roll up the dough completely, and gently pinch the edges together to seal. Use a large, sharp knife to cut 12 rolls from the log.

Grease a 9"x13" baking dish (preferably metal) with cooking spray or softened butter. Place the rolls in the pan. Loosely cover with plastic wrap, and place in a non-drafty, slightly warm area until the rolls have nearly doubled in size, usually 60 to 90 minutes.

Preheat oven to 350°F.

Remove the plastic wrap and bake on the center rack for 20 minutes, or until the rolls are lightly browned on top and fully cooked. Remove from oven and let cool for about 10 minutes.

Use a large spoon to pour the icing over the warm rolls.
Notes
In the video, you will notice we do not add salt to the dough. Salt is not 100% necessary, but we have found out (since filming) the addition of salt adds a small depth to the flavor profile. If you don't have a stand mixer, then after mixing the dough ingredients together, transfer to a cool surface that has been lightly floured. Use the heel of your hand to kneed the dough, turning the dough over and on to itself, repeatedly, until a soft dough forms, about 15 to 20 minutes. We use instant rise (or rapid rise) yeast when making cinnamon rolls, but regular active dry yeast works just as well, you will most likely need to allow the dough to rise a little longer. Always be sure to check the date on the yeast package, it should not be more than a year old. If making the dough the night before, simply place it in an oiled bowl, cover with plastic wrap, and store in the fridge until the next morning, or for up to 12 hours. These rolls are still magnificent up to several days after baking them. We love to gently reheat them in the microwave. Store the rolls in a container with an air-tight lid, or, cover the pan with foil. They can stay at room temperature for up to 3 or 4 days. They will stay fresh longer if refrigerated. They also freeze okay, but will lose the fluffy taste once thawed out.
Nutrition
Calories: 780kcal | Carbohydrates: 125g | Protein: 12g | Fat: 22g | Saturated Fat: 16g | Trans Fat: 1g | Cholesterol: 134mg | Sodium: 341mg | Potassium: 188mg | Fiber: 3g | Sugar: 63g | Vitamin A: 868IU | Vitamin C: 1mg | Calcium: 99mg | Iron: 4mg
POST UPDATE: This recipe was originally published in February 2016 but was updated with improved tweaks to the recipe, new tips and photography, and a fabulous new video in January 2021!