If there was ever a food that brings me back to my childhood, it would have to homemade cinnamon rolls.  This Grandma's Homemade Cinnamon Rolls recipe has been one I have been working on for years.  My Grandma Longwell was an amazing cook and she was masterful at baking.
Her cinnamon rolls were legendary.  But, I do have to say, I believe she would approve of these.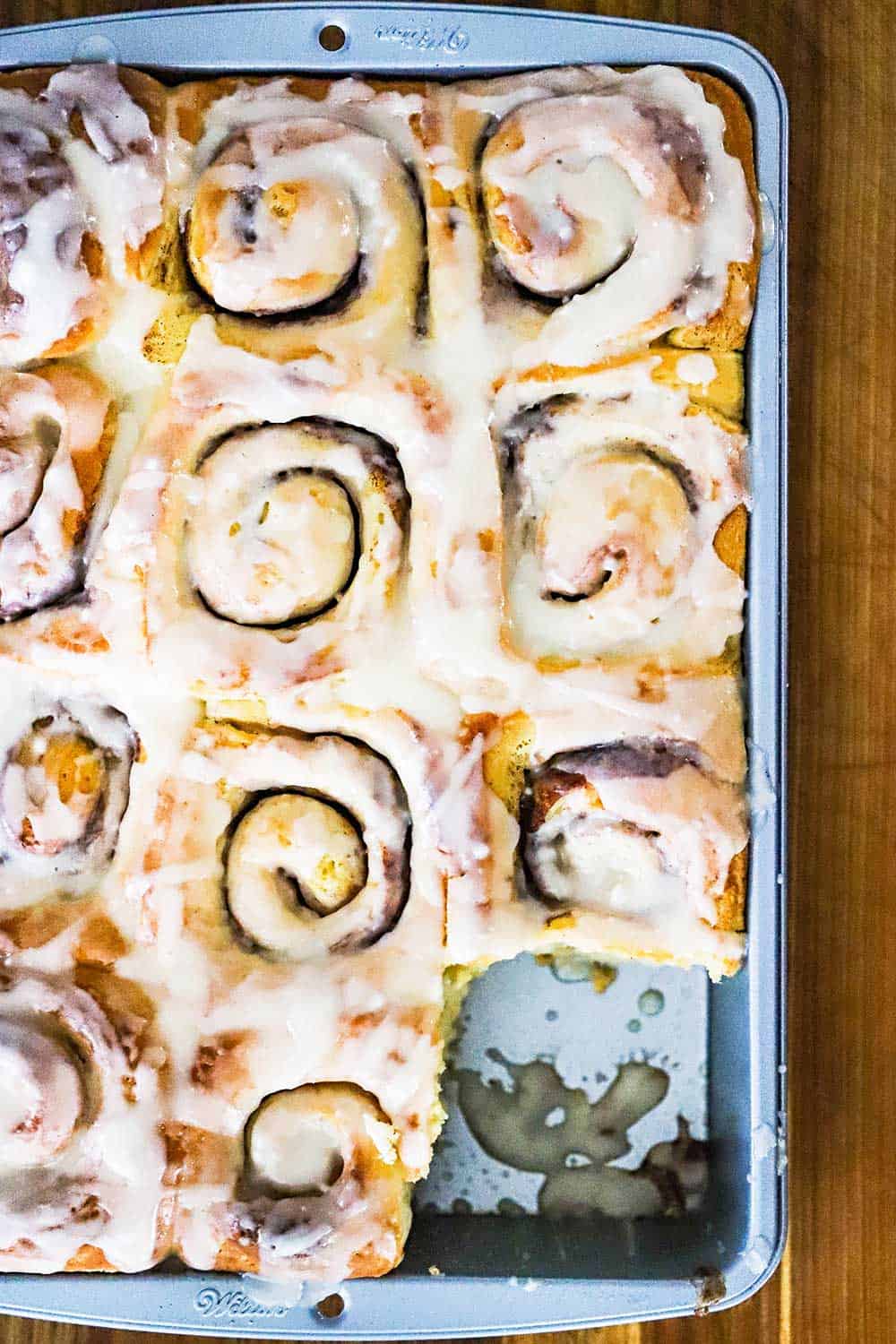 I can still remember walking into Grandma and Grandpa Longwell's house in a small town in Kansas and being overwhelmed with the intoxicating smell of slow-cooked Swiss steak, simmering veggies fresh from the garden, freshly made pies and of course, homemade cinnamon rolls.
Letting the dough proof until doubled in size is critical. This could take an hour, it could take 4 hours. You can even put the dough into a well-oiled bowl, place a kitchen towel over it, and then place it in the fridge for overnight.
The longer the dough rises, the better your rolls will be!
After your dough has doubled in size, then roll it out to a nice large rectangle, about 15 to 17 inches in length.
And then, start to build that amazing cinnamon roll filling. Starting with melted butter. Oh, yes.
Okay, sugar and spice and everything nice is basically what I live for.
Pour some sugar on it!
Here we go!!
What would cinnamon rolls we without cinnamon? They'd still be tasty, no doubt, but nothing like my Grandma's cinnamon rolls.
Pour some cinnamon on it!
Keep it coming!
And now things are really starting to get fun.
Rolling the homemade dough with the butter, cinnamon and sugar is something everyone should experience. There is something so satisfying and almost cathartic about it.
Oh wow…the anticipation is really building.
Then, after you've cut the rolls and placed them into a prepared baking dish, it is super important to let them rise a little longer.
I know it's torture, but remember, letting them rise helps to make the most delicious cinnamon rolls in the world. When I was a kid, I would ask Grandma if I could have an uncooked cinnamon roll. She'd always quietly let me have one.
They were so good, but I knew when they came out of the oven, I would be in cinnamon roll heaven!
And then, to finish off these incredible baked rolls of deliciousness with a simple icing is something to cherish.
I will never ever forget the smell of my Grandma and Grandpa Longwell's house when Grandma was making cinnamon rolls. She was such a kind, loving, generous and special woman and I will always remember her with such fond memories. I'm not sure anyone can ever match the cinnamon rolls that she made on a regular basis, but, as I said before, I think she would approve of these.
Make these and enjoy life.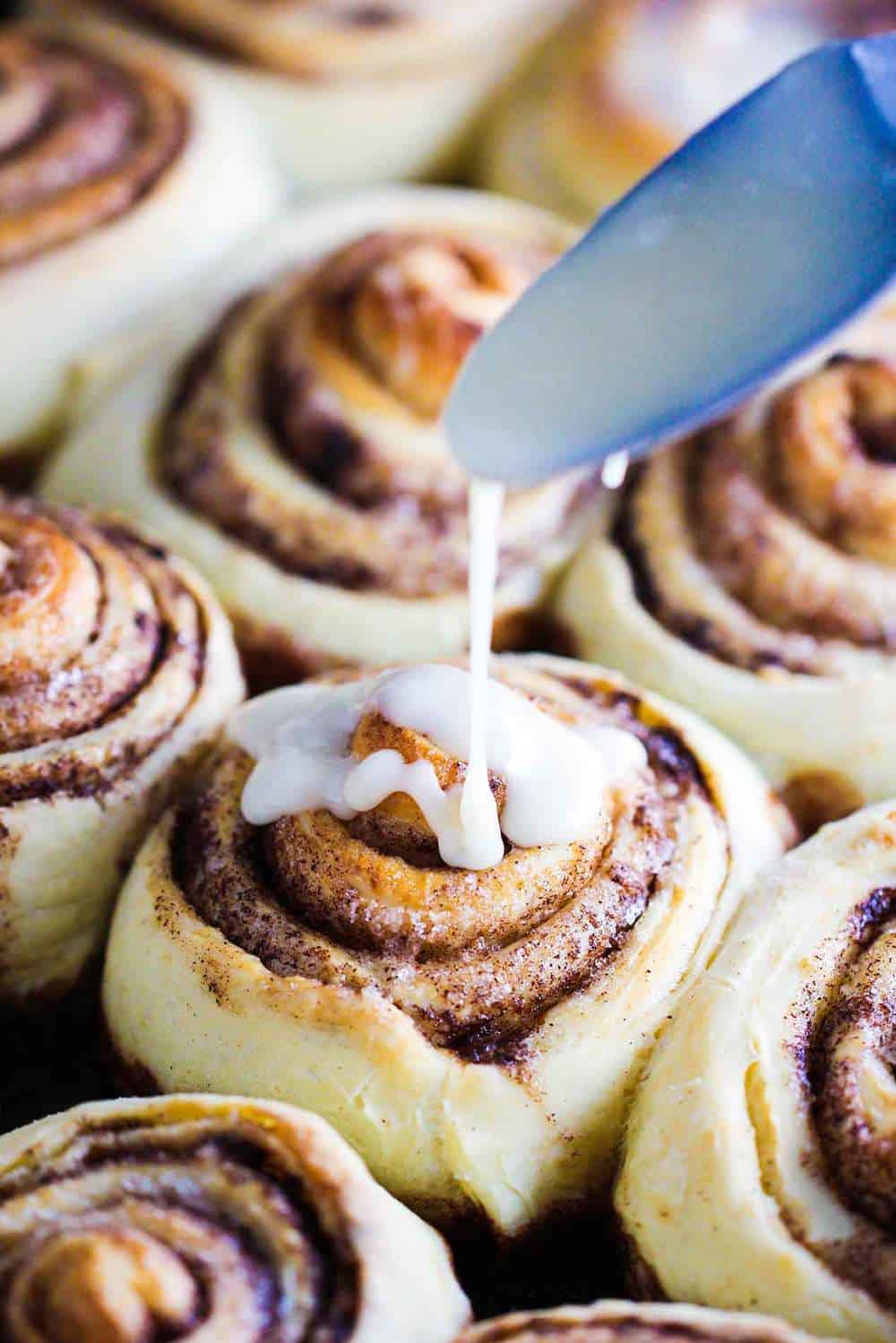 Now, carve out a little time in your busy schedule, and make this amazing Grandma's Homemade Cinnamon Rolls recipe.
You won't regret it, I promise.

Grandma's Homemade Cinnamon Rolls
This Grandma's Homemade Cinnamon Rolls recipe is very special to me. There isn't anything much more satisfying than smelling these incredible rolls as they gently bake in the oven. Be sure to let the dough rise sufficiently before rolling them out, and then again, once the rolls have been formed. This is critical to making perfectly fluffy and delicious cinnamon rolls! So delicious.
Author: Kris Longwell
Recipe type: Baking
Cuisine: Breakfast
Serves: 6 - 8
Ingredients
FOR THE DOUGH:
2 cups bread flour, plus extra for dusting
2 cups all-purpose flour
2½ teaspoons granulated sugar
1 teaspoon Kosher salt
¼ teaspoon ground cardamom
2¼ teaspoons active dry yeast
⅔ cup warm water (105°F to 110°F)
½ cup whole milk
1 large egg
3 tablespoons unsalted butter, plus a little more for greasing the baking pan
FOR THE FILLING:
½ cup (1 stick) unsalted butter, melted
¾ cup granulated sugar, plus a little more for dusting the baking pan
2 tablespoons ground cinnamon
FOR THE ICING:
4 tablespoons unsalted butter, melted
2 cups powdered sugar
1 teaspoon vanilla extract
4 tablespoons hot tap water
Instructions
In the bowl of a stand mixer fitted with the dough hook attachment, add the flours.
Whisk in the sugar, salt and cardamon.
Add yeast and whisk into the flour mixture.
Turn the mixer on low speed, and add the water, milk and egg.
Increase the speed to medium and add softened butter.
Beat until a smooth, elastic dough forms, about 5 minutes. (You can do this by hand, too, but it takes about 15 to 20 minutes of kneading).
Place dough in an oiled bowl and cover with plastic wrap and let rise until doubled in size, usually an hour and a half to 2 hours, but could take longer.
On a floured work area, roll the dough into a rectangle about 15 inches long and 10 inches wide.
Spread the melted butter (1 stick) over the dough.
Sprinkle the sugar and then the cinnamon over the butter.
Beginning on the long side, roll up the dough completely, and gently pinch the edge together to seal.
Cut 12 to 15 slices from the rolled dough.
Coat the bottom of a baking dish with butter and sprinkle with sugar
Place the rolls in the pan and let rise until almost doubled, about another hour.
Pre-heat oven to 350° F.
Bake for 25 minutes, or until lightly browned on top.
Let rolls cool for at least 5 minutes.
Meanwhile, mix melted butter (4 tablespoons), powdered sugar and vanilla.
Add hot water, 1 tablespoon at at time, until the glaze reaches a smooth consistency.
Using a spoon, pour icing over the tops of the warm rolls.
Serve and ENJOY!