I'm so excited to share with you my Grandma's Homemade Kolaches recipe! You may recall, I recently posted a recipe for my Grandma Longwell's amazing homemade cinnamon rolls. Those are a childhood memory I still cherish to this day.
Another one of her classic baked goods was her Homemade Kolaches recipe.
Oh my, what wonderful, delicious memories.
HOMEMADE KOLACHES ARE A SWEET PASTRY ORIGINATING IN CZECHOSLOVAKIA
Whenever we'd travel up to Belleville, Kansas for Christmas…as soon as we walked in the door, the incredible inviting smell of fresh baked pies, pastries, Swiss steak, and vegetables from Grandpa's garden (that had been canned from the previous Summer) immediately said "hello and come in" to your senses. Homemade kolaches are a delicious, sweet Czech pastry.
Grandma was 100% Czech. Her parents were immigrants from Czechoslovakia and she learned to make these wonderful pastries at an early age. As mentioned, she was 100% Czech. My Dad is 50% Czech. And that makes me 25% Czech. Dad says that makes me "a two-bit Czech!"
These take a little time and a bit of tender loving care..but my goodness, are they good.
HOW TO MAKE HOMEMADE KOLACHES
As with any pastry, you've got to start with a good dough. Grandma made lots of baked goods, and she used the same dough for most of her pastries and breads.
Don't rush the dough. It may take an hour for it to double in size, or it may take 2 hours. You can even place the dough in an oiled bowl, cover with a kitchen towel, and let rise in the refrigerator for overnight.
Then, once you form the round pastries, you'll want them to rise until almost doubled in size again. As my Grandma would say: Patience is a virtue. Is there anything better than a warm, loving grandma and grandpa? I loved my grandparents (both mom's and dad's) so very much.
THE BEST TOPPINGS FOR HOMEMADE KOLACHES
Traditional toppings for Homemade Kolaches are fruit (we love cherry and blueberry), as well as cream cheese and poppyseed.
These are easy to make and can be prepared a day or two in advance and stored in a container in the fridge.
I like to use a 3-inch cookie cutter to form the circular dough rings, but you could easily shape them with your hands, or even an inverted clean can or glass.
Create a small well in the center of each dough ring and then fill with the prepared fillings.
The Homemade Kolaches are about to go into the oven!! Wait for that incredible smell!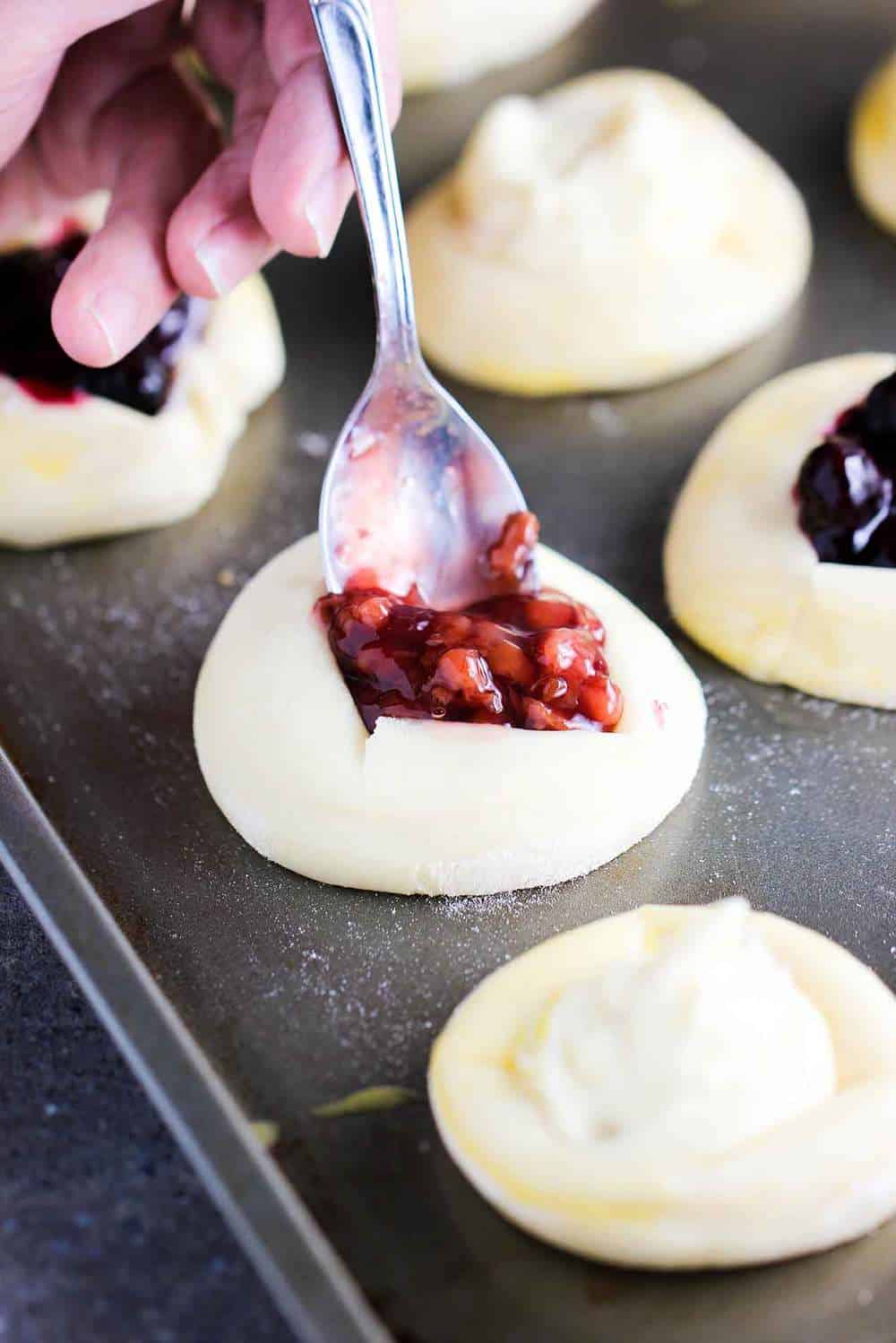 A HISTORY OF HOMEMADE KOLACHES
As mentioned, Kolaches originated in Czechoslovakia, but became popular in the United States in the mid-1800s, and especially popular across the great state of Texas years later.
Being a native Texan, I was fortunate to have Homemade Kolaches all around me. But I must confess, none were better than my Grandma's Homemade Kolaches.
Read about the history of Kolaches and how they became so popular in the Lone Star State.
I tell you what, life is good when Homemade Kolaches are involved.
When these are baking in the oven, I am transported back to that wonderful time with my family at Christmastime. I hope both sets of my Grandparents in heaven can smell these as they are baking and know how grateful I am for all they did to make us so happy for so many years.
Aren't you hungry for Homemade Kolaches? I am.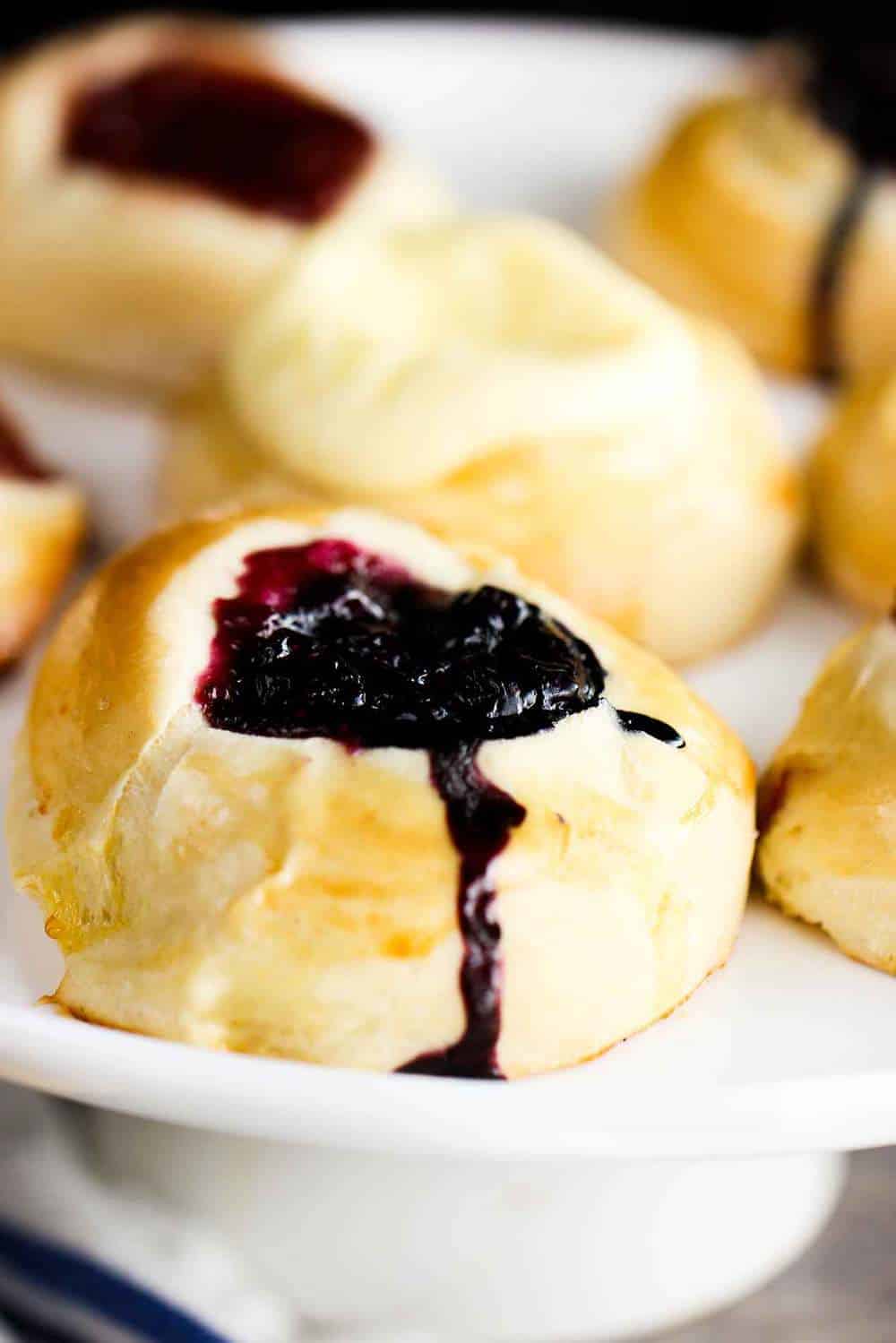 These are as fun to make as they are to eat.
And your family and loved ones will treasure them as much as you do.
If you like delicious pastries, you got to make these Homemade Kolaches.
Grandma's Homemade Kolaches
Nothing conjures memories of special times with family more than when I'm making a batch my Grandma's Homemade Kolaches. They take a little TLC, but they are so worth it. Make sure to let the dough double in size, once in a slightly oiled bowl, and then again once the pastries have been formed. Pastry perfection.
Print
Pin
Rate
Servings: 8
Calories: 423kcal
Ingredients
KOLACHE DOUGH
2 cups bread flour (Plus extra for dusting)
2 cups all-purpose flour
2½ tsp granulated sugar
1 tsp Kosher salt
2¼ tsp active dry yeast
⅔ cup warm water (105°F to 110°F)
½ cup whole milk
1 large egg
3 tbsp unsalted butter, softened (Plus extra for greasing the pan)
CREAM CHEESE TOPPING
8 oz cream cheese, softened
¼ cup granulated sugar
1 large egg
1 tsp vanilla extract
BLUEBERRY TOPPING
½ cup granulated sugar
¼ cup cornstarch
¼ tsp ground cinnamon
2 cups fresh blueberries
2 tbsp fresh lemon juice
CHERRY TOPPING
½ cup granulated sugar
¼ cup cornstarch
2 15 oz cans pitted sour cherries (Drain, but save the juice)
Instructions
PREPARE THE DOUGH
In the bowl of a stand mixer, fitted with the dough hook attachment, add the flours.

Whisk in the sugar and the salt, and then whisk in the yeast.


Turn the mixer on low and add the water, milk and egg.

Increase speed to medium and add softened butter.


Beat until smooth and elastic, about 5 minutes. (You can do this by hand, too, but if take about 20 minutes of kneading).


Place dough in an oiled bowl and cover with plastic wrap and let rise until double in size, usually an hour to 2 hours, but could take longer. (You can also place in the refrigerator for overnight).


On a floured work surface, roll out the dough to 1/2-inch thickness.


Using a 3-inch cookie cutter, or an inverted metal can, or an inverted glass, cut rounds from the dough.


Re-roll the scraps, and cut more rounds.

Place each round on a parchment paper-lined baking sheet, about 1 inch apart from each other, cover with a damp towel and let rise at room temperature until nearly doubled in size, about 45 minutes to an hour.


Pre-heat oven to 375°F.

Using your thumb, press 1 large indention into the center of each round, leaving a 1/2-inch wide rim.


Spoon about 1 tablespoon topping into the indentions.


Bake until golden brown, about 15 to 25 minutes (depending on the size of the kolaches).

Transfer to a wire rack and let cool
CREAM CHEESE TOPPING
In a medium bowl, combine the cream cheese and sugar and mix until smooth. (A hand mixer works well).

Beat in the yolks and vanilla.
BLUEBERRY TOPPING
In a medium saucepan, combine the sugar, cornstarch, salt and cinnamon.

Add the blueberries and lemon juice and cook over medium heat, stirring, until sugar dissolves.

Reduce heat to low and simmer until thickened, about 8 minutes. Let cool.
CHERRY TOPPING
In a medium saucepan, combine the sugar and cornstarch.

Stir in the reserved cherry juices and cook, stirring often, over medium heat, until the mixture thickens, about 8 minutes.

Remove from the heat and stir in the cherries. Let cool.
Nutrition
Calories: 423kcal | Carbohydrates: 89g | Protein: 10g | Fat: 12g | Saturated Fat: -31g | Cholesterol: 48mg | Sodium: 319mg | Potassium: 134mg | Fiber: 3g | Sugar: 34g | Vitamin A: 92IU | Calcium: 34mg | Iron: 2mg