Homemade pastries are just something special. And these delectable treats are nothing short of amazing.

Grandma Longwell was an amazing cook and baker. She was also 100% Czech, as are these pastries. This recipe is in honor of her and the joy she and Grandpa Longwell brought to the entire family. These were her specialty, along with her homemade cinnamon rolls.


NOTE: If you liked this video, please subscribe to our YouTube Channel! And remember to click the 'bell' icon so you'll never miss a new video!
How To Make Homemade Kolaches
Homemade kolaches are not terribly difficult to make, but they do require a little time.
You have numerous options for the filling, but our favorites are blueberry, cherry, and cream cheese.
You can even opt for savory kolaches, but Grandma always made the sweet kind.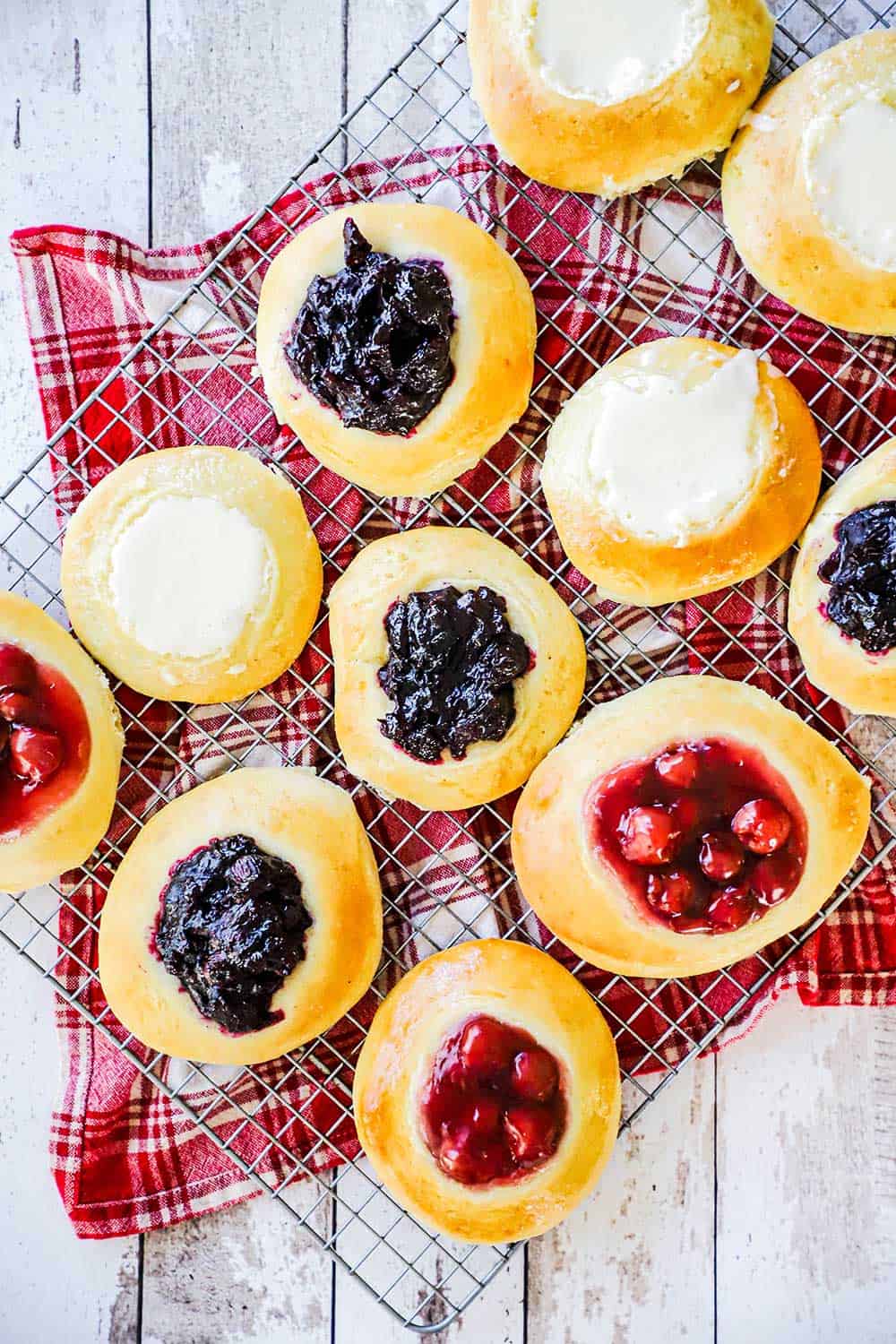 The Best Dough for Kolaches
As with any pastry, you've got to start with a good dough. Grandma made lots of baked goods, and she used the same dough for most of her pastries and breads.
Don't rush the dough. It may take an hour for it to double in size, or it may take 2 hours. You can even place the dough in an oiled bowl, cover it with a kitchen towel, and let rise in the refrigerator for overnight.
Then, once you form the round pastries, you'll want them to rise until almost doubled in size again.
To form the pastries, we use a 2½ to 3-inch circular cutter.
You can also place the dough in a rectangular baking pan and cut them into squares.
EXPERT TIP: Place the cut dough onto a baking sheet that is lined with parchment paper and then allow to rise again. Don't worry if they don't completely double in size, they will expand considerably during the baking process.
The Best Kolache Fillings
As mentioned, we love making blueberry, cherry, and cream cheese fillings.
However, other delicious fillings for homemade kolaches include prunes, apricots, poppyseed, and even cottage cheese.
Create a small well in the center of each dough ring and then fill it with the prepared fillings.
NOTE: The fillings can easily be made 1 to 2 days in advance of baking.
When to Serve Homemade Kolaches
These pastries are incredible when served fresh out of the oven or even at room temperature with a warm cup of coffee.
Grandma would have numerous Tupperware containers filled with all types of pastries, pies, and more.
These are perfect for serving at breakfast, but also make a wonderfully sweet ending to a delicious dinner.
Wondering about the history of Kolaches and why they're so popular in Texas? Read about the history
The smell that emanates from your oven when these are baking is truly magical.
I am transported back to that warm and inviting house in Belleville, KS, every time we make a batch.
And they are honestly as much fun to make as they are to eat.
Ready to make the best pastry this side of Prague? Go for it!
And when you do, be sure to take a photo of them, post it on Instagram, and tag @HowToFeedaLoon and hashtag #HowToFeedaLoon!
Homemade Kolaches
Nothing conjures memories of special times with family more than when I'm making a batch of Grandma's Homemade Kolaches. They take a little TLC, but they are so worth it. Make sure to let the dough double in size, once in a lightly oiled bowl, and then again once the pastries have been formed. Pastry perfection.
Print
Pin
Rate
Servings: 8
Calories: 636kcal
Ingredients
KOLACHE DOUGH
1 cup whole milk lukewarm, 105° - 120°F
½ cup sugar
5 tbsp unsalted butter melted and then cooled
3 large eggs room temperature
2¼ tsp active dry yeast
5 cups all-purpose flour
1 tsp salt
CREAM CHEESE TOPPING
8 oz cream cheese, softened
½ cup granulated sugar
1 egg yolk
1 tsp vanilla extract
BLUEBERRY TOPPING
½ cup granulated sugar
¼ cup cornstarch
¼ tsp ground cinnamon
2 cups fresh blueberries
2 tbsp fresh lemon juice
CHERRY TOPPING
½ cup granulated sugar
¼ cup cornstarch
2 15 oz cans pitted sour cherries (Drain, but save the juice)
Instructions
PREPARE THE DOUGH
Add the lukewarm milk, sugar, cooled butter, eggs, and yeast to the bowl of a stand mixer. Mix everything together using the paddle attachment.

Add 4½ cups flour and salt to the mixture. Mix on low just until the dough starts to come together. Use your hands to remove the dough from the paddle attachment. Remove the paddle and replace it with the dough hook. Mix (knead) on medium for 6 to 7 minutes until the dough is soft and is starting to pull away from the bowl, adding another ¼ to ½ cup of flour as needed.

Remove the dough from the bowl and smooth it into a ball with your hands. The dough will be quite sticky. This is normal. Spray a large bowl with cooking spray and place the dough in the bowl. Turn the dough over to coat with oil all over. Cover with plastic wrap and place in a warm, non-drafty area until it has doubled in size, usually about 2 hours. Or, place in the refrigerator for overnight or up to 12 hours.

On a floured work surface, roll out the dough to ½-inch thickness.

Using a 3-inch cookie cutter, or an inverted metal can, or an inverted glass, cut rounds from the dough. Re-roll the scraps, and cut more rounds.

Place each round on a parchment paper-lined baking sheet, about 1 inch apart from each other, cover with a damp towel and let rise at room temperature until nearly doubled in size, about 45 minutes to an hour.


Preheat oven to 350°F.

Using your thumb, press 1 large indention into the center of each round, leaving a 1/2-inch wide rim. Spoon about 1 tablespoon topping into the indentions.

Bake until golden brown, about 15 to 25 minutes (depending on the size of the kolaches).

Transfer to a wire rack and let cool
CREAM CHEESE TOPPING
In a medium bowl, combine the cream cheese and sugar and mix until smooth. (A hand mixer works well).

Beat in the yolk and vanilla.
BLUEBERRY TOPPING
In a medium saucepan, combine the sugar, cornstarch, salt and cinnamon.

Add the blueberries and lemon juice and cook over medium heat, stirring, until sugar dissolves.

Reduce heat to low and simmer until thickened, about 8 minutes. Let cool.
CHERRY TOPPING
In a medium saucepan, combine the sugar and cornstarch.

Stir in the reserved cherry juices and cook, stirring often, over medium heat, until the mixture thickens, about 8 minutes.

Remove from the heat and stir in the cherries. Let cool.
Notes
See the video near the top of the post for a visual guide. If you like the video, please subscribe to our YouTube channel.
The fillings can be made several days in advance.
The kolaches will keep in an air-tight container on the counter for 4 to 5 days. They'll keep in the fridge for up to a week. They can be frozen for up to 2 months.
Nutrition
Calories: 636kcal | Carbohydrates: 120g | Protein: 13g | Fat: 11g | Saturated Fat: 6g | Polyunsaturated Fat: 1g | Monounsaturated Fat: 3g | Trans Fat: 1g | Cholesterol: 116mg | Sodium: 46mg | Potassium: 189mg | Fiber: 3g | Sugar: 52g | Vitamin A: 402IU | Vitamin C: 1mg | Calcium: 64mg | Iron: 4mg
POST UPDATE: This recipe was originally published in January, 2014, but was updated with improved tweaks to the recipe, new tips and photography, and a fabulous new video in October, 2021!