Wow! This risotto has all those lovely flavors that we love so much during the fall months.
So comforting and so delicious. Slowly add the stock a little at a time to achieve perfectly creamy risotto every single time.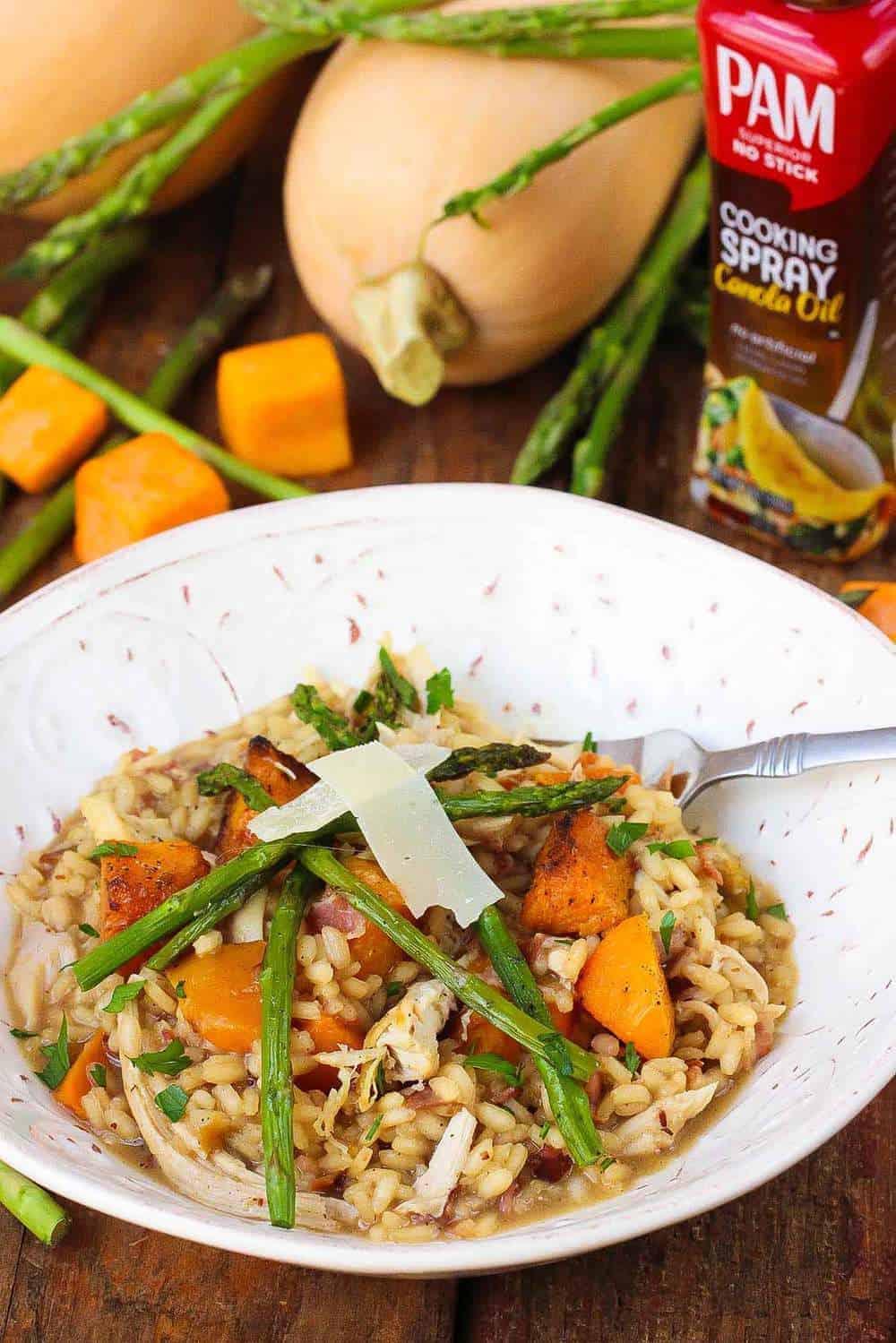 HOW TO MAKE ROASTED BUTTERNUT SQUASH, ASPARAGUS AND CHICKEN RISOTTO
Of course, I have relied on PAM for years when cooking, grilling, baking, and beyond.
These new spray pumps are brilliant. Let me explain why: When I'm developing a recipe, with seasonal veggies, for example, I want the taste and the texture of the farm-fresh vegetables to be the true star of the dish.
I don't want the oil to interfere with the beauty of the gorgeous zucchini, asparagus, or butternut squash that I just picked up from the farm-stand or market.
I need just the right amount of oil to lightly coat the veggies so when I finish roasting them. They are lightly crisp on the outside and tender and super delicious on the inside. Because PAM only uses three simple ingredients of oil, alcohol, and soy lecithin, the end result is clean, unobtrusive, and all about the vegetables and/or protein.
And these non-aerosol bottles still deliver that legendary PAM non-stick promise to all my dishes, and they even come in two varieties, Olive Oil and Canola Oil.
I almost get giddy when I pull freshly roasted butternut squash and asparagus out of a 400°F oven. They are cooked to perfection. The Loon can't resist popping the warm squash and asparagus in his mouth and all he can taste is the beautiful flavor and texture of two of our favorite veggies. To be honest, I can't resist popping them in my mouth, too. Pure taste perfection!
RISOTTO SHOULD BE CREAMY
Wow, oh wow, are these going to be good in my Roasted Butternut Squash, Asparagus and Chicken Risotto. I even spray my chicken pieces with PAM Spray Pumps and then lightly salt and pepper them and then roast until they are cooked perfectly.
Unlike butter or oil, these fabulous spray pumps let me completely control how much cooking spray I use, which is great for reducing unwanted fat and calories.
With fall just around the corner, I love having PAM's Spray Pumps cooking spray to make some of my autumnal favorite dishes. Like Roasted Butternut Squash, Asparagus and Chicken Risotto!
Another amazing risotto recipe with asparagus is our: Asparagus Risotto! We also love Risi e Bisi!
You've just got to pick up PAM's new Pump Spray cooking spray and make this amazing dish. Trust me: You PAM do it!
Disclosure: This is a sponsored post written by me on behalf of PAM Spray Pumps.
Roasted Butternut Squash, Asparagus and Chicken Risotto
This Roasted Butternut Squash, Asparagus and Chicken Risotto recipe is so flavorful and just can't be beat. I love using PAM Cooking Spray to control the amount of oil that goes on the veggies and chicken before roasting them. Adding the stock in stages makes perfect, creamy risotto. You're going to love this dish!
Print
Pin
Rate
Servings: 6 people
Calories: 608kcal
Ingredients
PAM Canola Oil Pump Spray
1 lb chicken pieces skin-on, bone-in
2 cups chopped butternut squash bite-size pieces
8 oz asparagus with about 2 inches of the ends cut off
2 tbsp unsalted butter
¼ cup shallots chopped
8 oz pancetta chopped
1 cup Arborio rice
½ cup of dry white wine
Kosher salt and black pepper
¼ cup pine nuts lightly toasted
7 cups chicken stock
½ cup Parmesan cheese
1 tbsp flat-leaf parsley finely chopped
Instructions
Pre-heat oven to 400° F.

Using PAM Pump Spray, apply just enough oil to lightly coat chicken pieces, butternut squash, and asparagus.

Lightly salt chicken and vegetables.

Place chicken on baking sheet and bake until internal temperature reaches 165° F, approx. 40 minutes.

Meanwhile, place the squash on a separate baking sheet and place in the oven after the chicken has been roasting for 10 minutes.

After another 20 minutes, add the asparagus and cook for 10 minutes more.

(Total baking time: Chicken: 40 mins, Squash: 30, Asparagus: 10).

Remove chicken and vegetables, and once cool enough to handle, shred chicken into bite-size pieces and discard skin and bones. Set aside.

Meanwhile, heat the chicken stock in a large saucepan to a simmer, leave on low.

In a sturdy skillet, or Dutch oven, over medium heat, melt the butter and saute the shallots until soft, about 4 minutes.

Add pancetta and cook until just turning crisp, about 6 minutes longer.

Increase heat to medium-high and add rice to coat with the butter. Cook until the rice is lightly toasted, about 8 minutes.

Add wine and cook until evaporated, about 2 minutes.

Add 1 teaspoon salt and 1/2 teaspoon pepper.

Ladle enough hot stock to cover the rice.

Stir frequently until the stock has been absorbed.

Ladle more stock to cover the rice.

Stir until absorbed.

Repeat this process until the rice is tender and the mixture is creamy, about a total of 25 to 30 minutes.

During the last 10 minutes, add the chicken , squash, asparagus and pine nuts.

Remove from heat and stir in the Parmesan cheese.

Garnish with parsley.
Nutrition
Calories: 608kcal | Carbohydrates: 41g | Protein: 28g | Fat: 14g | Saturated Fat: 6g | Cholesterol: 88mg | Sodium: 823mg | Potassium: 642mg | Fiber: 2g | Sugar: 6g | Vitamin A: 617IU | Vitamin C: 5mg | Calcium: 127mg | Iron: 4mg