Looking for a new way to use up all that leftover turkey? You just found it.
This dish couldn't be easier to make and the flavor profile is pure comfort. It really is such a family-favorite dish and is always a hit when served. And the entire dish comes together and is on the table in less than an hour!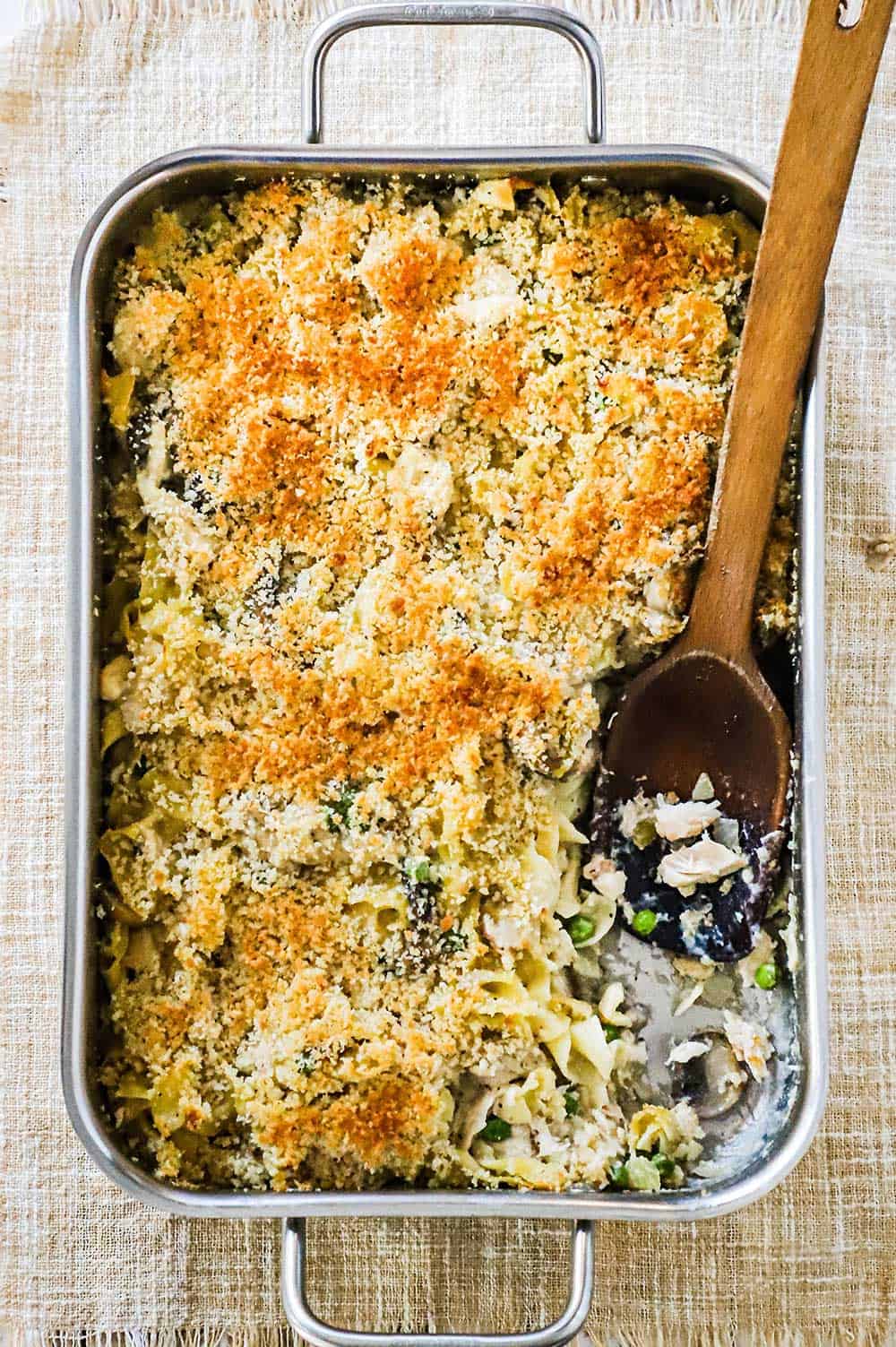 How To Make Turkey Tetrazzini
One of the great things about a big Thanksgiving feast is the leftovers.
Who could ever complain about a roast turkey sandwich with a side of mashed potatoes, Thanksgiving dressing, and gravy? Certainly not us.
But if you've got excess turkey, you will be thrilled with this baked pasta casserole dish
NOTE: If you liked this video, please subscribe to our YouTube channel. Remember to click the 'bell' icon so you won't ever miss a new video! Thank you so much!
The Ingredients You Will Need
This is a very pantry-friendly casserole, and you can easily adapt to your tastes and what you have on hand.
We go with the following items:
Chopped onion and celery
Garlic
Sliced mushrooms
Dry Sherry or White Wine (optional)
Flour
Milk
White cheddar cheese
Parmesan cheese
Chicken (or turkey) stock
Pasta
Leftover turkey
Frozen peas
Breadcrumbs
Butter
EXPERT TIP: After you've added the flour to the mushroom mixture, you'll need to let it cook for about 1 hour. After pouring in the milk and stock, you'll want to stir until slightly thickened. It's okay if the sauce is a little thin, the cheese will thicken it somewhat, and the pasta will absorb some of the liquid as the dish bake.
How Much Turkey Will I Need?
We recommend 3 cups of roughly chopped leftover turkey for the dish.
However, we've gone with 2 cups and we've gone with 4 cups, and it was great every time.
EXPERT TIP: You can make this dish any time of the year with cooked chicken. A rotisserie chicken from the supermarket is simple and perfect for this dish.
Be sure to start with a large skillet or pot, almost every component of the dish will start out in the skillet or pot before it's transferred to your baking dish.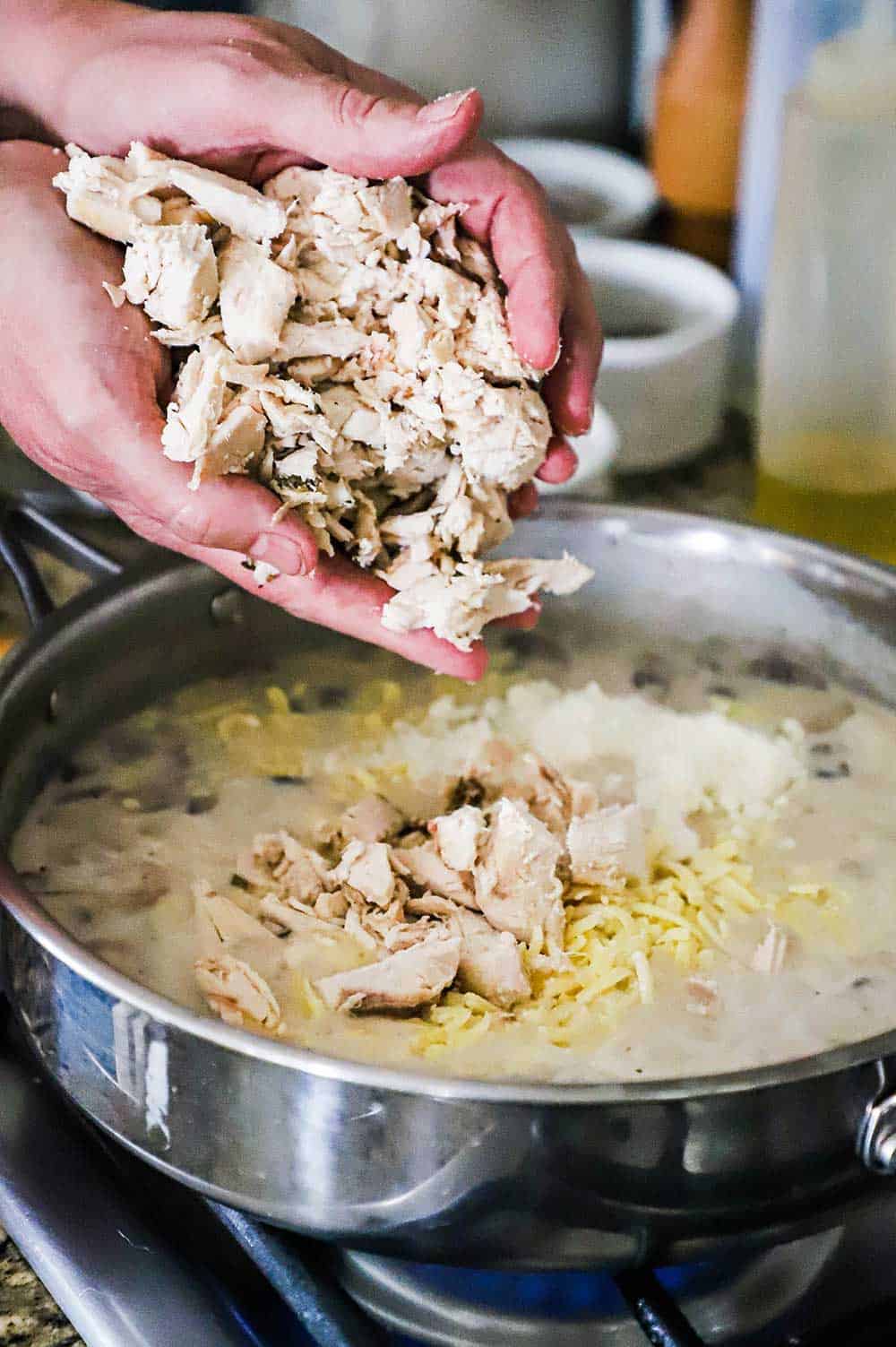 What Pasta Should I Use?
Our favorite pasta to use is extra-wide egg noodles. However, spaghetti is very commonly used in the dish.
Basically, go with what you have on hand. Here are some great options:
Extra-wide egg noodles
Spaghetti
Linguine
Angel Hair
Penne
Elbow
EXPERT TIP: Cook the pasta according to package instruction until al dente (not overly mushy). The pasta will cook further as it bakes it in the oven.
A lightly browned breadcrumb topping adds the perfect texture matched against the creaminess of the casserole.
To boost flavor, we mix the breadcrumbs with 2 tbsp of melted butter and a ¼ cup of grated Parmesan cheese.
EXPERT TIP: For added crunchy texture, we love using Panko breadcrumbs. They are not as fine a regular bread crumbs and brown beautifully. However, either type of breadcrumb will work just fine.
Storing, Freezing, and Reheating Turkey Tetrazzini
The dish will keep covered in the refrigerator for up to 1 week.
It freezes beautifully for up to 2 months. Allow to thaw completely, then cover the baking dish in foil, and bake at 350° for about 20 minutes, or until bubbly.
EXPERT TIP: As this dish sits, the pasta will absorb more of the liquid. When re-heating, we recommend pouring in a small amount of milk and broth over the top of the casserole. This will keep it nice and creamy while re-heating the dish.
By the way, you may be wondering "Why is it called Tetrazzini?" The story is that Italian opera singer Louisa Tetrazzini was staying at the Palace Hotel in San Francisco, and the executive chef created this dish in her honor. Read more about its history here.
But, let's get back to the amazingly delicious dish.
This is a very filling dish and really all you need to serve with it is warm bread and maybe start with a green leaf salad.
Enjoy that amazing Thanksgiving feast in a whole new way with Turkey Tetrazzini!
Read to use up that leftover turkey and have everyone cheering for more? Go for it!
And when you do, be sure to take a photo of it, post it on Instagram, and tag @HowToFeedaLoon and hashtag #HowToFeedaLoon!
Turkey Tetrazzini
Turkey Tetrazzini is not only a great way to use up all that leftover holiday turkey, but it's also an amazingly delicious dish that the entire family will love.
Print
Pin
Rate
Servings: 8
Calories: 384kcal
Equipment
9x13" dish, or lasagna pan
Ingredients
8 tbsp unsalted butter divided
1 cup onion chopped
1 cup celery chopped
¼ cup all-purpose flour
16 oz mushrooms sliced
2 tbsp dry sherry or white wine (optional)
12 oz extra-wide egg noodles
1 cup whole milk
2 cups chicken broth or turkey
2 tsp Kosher salt
1 tsp black pepper
½ tsp ground nutmeg
8 oz white cheddar shredded
½ cup Parmesan cheese divided
3 cups turkey cooked and roughly chopped
1 cup sweet peas frozen
1 cup Panko breadcrumbs
Instructions
Get a pot of liberally salted water boiling (for the pasta).

Preheat oven to 350°F.

Melt the butter in a large saucepan/skillet over medium-high heat.

Add the onion and celery and cook until soft and translucent, about 5 minutes.

Add the mushrooms and cook until soft and starting to release their liquids.

Add the sherry and cook for about 2 minutes.

Add the pasta to the boiling water and cook until al dente, according to package directions.

Sprinkle the flour on the mushroom mixture and stir. Cook for another 2 minutes.

Stir in the chicken broth and milk. Stir until slightly thickened, about 4 minutes. Stir in the salt, pepper, and nutmeg. Stir in the cheddar cheese and ¼ cup of Parmesan cheese and continue mixing until melted and smooth.

Stir in the turkey and peas. Stir to combine.

Meanwhile, melt the remaining 2 tbsp butter and add with the breadcrumbs and remaining ¼ cup Parmesan in a small bowl.

Spray your baking dish (or lasagna pan) with cooking spray. Transfer the turkey mixture into the pan and even out with the back of a large spoon. Sprinkle the breadcrumb mixture all over the top.

Bake uncovered for 20 minutes, until bubbly. Place under the broiler for a minute or two if you want the bread crumbs more toasted (keep an eye on them, don't let them burn!). Serve at once.
Notes
See the video near the top of the blog post for visual guidance. If you liked the video, please subscribe to our YouTube channel. You can substitute whatever your favorite type of pasta for the egg noodles. When reheating, add another couple of tablespoons of milk and broth over all over the top of the casserole. Cover with foil and cook at 350°F for about 20 minutes. The casserole will freeze nicely for up to 2 months. Leftovers keep in the fridge for up to 5 to 7 days.
Nutrition
Calories: 384kcal | Carbohydrates: 15g | Protein: 22g | Fat: 26g | Saturated Fat: 16g | Polyunsaturated Fat: 2g | Monounsaturated Fat: 7g | Trans Fat: 1g | Cholesterol: 94mg | Sodium: 1198mg | Potassium: 475mg | Fiber: 2g | Sugar: 5g | Vitamin A: 813IU | Vitamin C: 7mg | Calcium: 352mg | Iron: 2mg