Don't get us wrong. We love brownies. In fact, check out our Ultimate Fudge Brownies. But wait until you try these babies.
So buttery and delicious, these are always such a huge hit whenever we serve them. They are spectacular fresh out of the oven, but they are incredible at room temperature, too. Add in your favorite add-ins, but we'll show you ours. And it all comes together in about 30 minutes.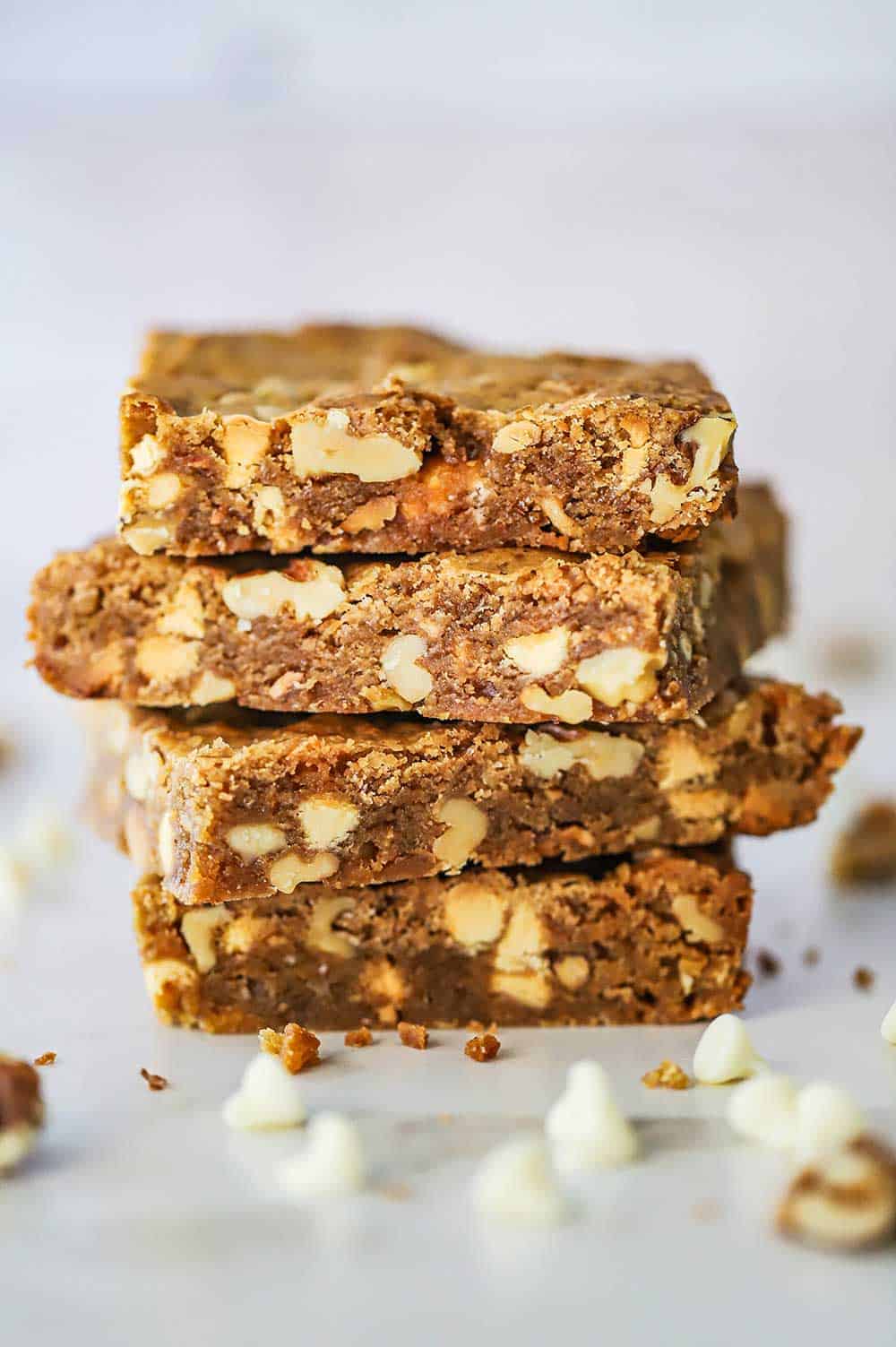 How To Make Blondies
This blondie recipe is a snap to make and can easily be made in advance (just reheat in the microwave, if desired).
You can also double the recipe to feed a group!
Besides being easy to make, they are fun, as well. Get the kids involved!
NOTE: If you liked this video, please subscribe to our YouTube channel. Remember to click the little 'bell' icon so you won't ever miss a new video! Thank you!
What Is The Difference Between a Blondie and a Brownie?
They are somewhat similar to each other in texture in that they are both rich and chewy. Some folks call them blondie brownies, but they are, in fact, not the same.
Chocolate is a key ingredient in brownies and not blondies. Browned butter and brown sugar are key ingredients in blondies and usually not in brownies.
Our blondies are a little darker in color because of the browned butter.
EXPERT TIP: The batter will be quite thick, this is normal. We place two large pieces of parchment paper in the bottom of an 8″x8″ dish with the edges hanging over the sides. This makes removing the blondies from the dish simple. Use your fingers to press the batter into the dish.
What Goes In the Batter?
The main ingredients for making blondies
Butter (unsalted)
Brown sugar (light or dark)
Granulated sugar
Egg
Vanilla extract
Salt
All-purpose flour
"Add-ins"
Vanilla chocolate chips
Chocolate chips
Butterscotch chips
Toffee bits (such as Heath)
M&M's
Walnuts
Pecans
Almonds
EXPERT TIP: The batter will spread a little as it bakes. It will also expand, too. The blondies are done with they are lightly browned on top. This typically takes about 15 to 20 minutes in a preheated oven. Keep an eye on them!
How To Serve and Store Blondies
These are absolutely amazing when served warm fresh out of the oven. But they are also fantastic served room temperature.
And we must say that if any dessert was made for a scoop of vanilla ice cream and caramel sauce, this would be it.
We like to cut ours into 4 large blondies, but you could easily cut them into 9 bars by cutting two slices in one direction and then two more perpendicular slices in the other direction.
The brownies will keep covered on the counter for up to 5 days and in the fridge for a week.
Other Baked Desserts
In addition to these gems, you'll also love these incredible cookies and brownies:
Cheesecake Brownies
Heath Bar Fudge Brownies
Red Velvet Sandwich Cookies
Classic Snickerdoodle Cookies
Pumpkin Whoopi Pies
But in the meantime, you're probably going to want to make these as quickly as you possibly can. Don't forget the ice cream and caramel sauce!
Ready to make one of the yummiest sweet treats of all time? Go for it!
And when you do, be sure to take a photo of it, post it on Instagram, and tag @HowToFeedaLoon and hashtag #HowToFeedaLoon!
Best-Ever Blondies
There is just so much to love about these homemade blondies. You can easily double the recipe and bake them in a 9"x13" baking dish. Served fresh out of the oven or at room temperature are both fantastic. Be sure to have a scoop of vanilla ice cream and some caramel sauce handy once you're ready to dig in! And be creative with the "add ins"! (See the blog post for inspiration).
Print
Pin
Rate
Servings: 4
Calories: 780kcal
Equipment
8"x8" baking dish

Parchment paper
Ingredients
Cooking spray
½ cup unsalted butter 1 stick
¾ cup light brown sugar can also use dark
¼ cup sugar
1 large egg
2 tsp vanilla extract
½ tsp Kosher salt
1 cup all-purpose flour
½ cup white chocolate chips
½ cup toffee bits
½ cup chopped walnuts
vanilla ice cream for serving, optional
caramel sauce warmed, for serving, optional
Instructions
Preheat oven to 350°F. Place two pieces of parchment paper in an 8"x8" dish with the edges long enough to hand over the sides. Spray the paper with cooking spray.

In a medium pan over medium heat, melt the butter. Use a wooden spoon to stir the butter around. Cook for several minutes, stirring constantly, until it starts to smell nutty and small golden dots appear on the bottom of the pan. Remove from the heat.

In a large bowl, whisk the browned butter into both sugars. Use a large wooden spoon to stir in the egg, vanilla, and salt. Once combined, fold in the flour, and keep stirring until just combined. Fold in the chips, toffee, and nuts.

Use your hands to press the batter into the prepared dish. Bake until the top is lightly golden and an inserted toothpick comes out clean, about 15 to 20 minutes.

Let cool and then carefully grab the paper and gently removed the blondies from the dish. Peel away the parchment paper and cut into squares. Serve with ice cream and warmed caramel sauce, if desired.
Notes
See the video near the top of the blog post for visual guidance. If you liked the video, please subscribe to our YouTube channel.
The blondies will stiffen somewhat as they cool. If you slice them right out of the oven, they may still feel a little gooey, but they are very delicious.
Store baked blondies in an air-tight container with a lid on the counter for up to 5 days, or in the fridge for up to a week. They can be frozen for up to 1 month.
Nutrition
Calories: 780kcal | Carbohydrates: 112g | Protein: 9g | Fat: 40g | Saturated Fat: 18g | Polyunsaturated Fat: 7g | Monounsaturated Fat: 12g | Trans Fat: 1g | Cholesterol: 143mg | Sodium: 385mg | Potassium: 260mg | Fiber: 2g | Sugar: 85g | Vitamin A: 1127IU | Vitamin C: 1mg | Calcium: 122mg | Iron: 2mg