These gems are quite simply one of our favorite treats in the world.
Think about it. Chocolate. Cheesecake. Brownies. Sweet treat perfection. These give our Ultimate Fudge Brownies a run for their money!
NOTE: If you liked this video, be sure to subscribe to our YouTube Channel
How To Make Cheesecake Brownies
These incredible brownies come together in less than an hour and are really easy (and fun) to prepare.
As always, go with quality ingredients to achieve the very best taste and texture. Brownies have been delighting kids and adults for many generations and these are no exception.
Swirl in cheesecake and you've got something really special on your hands!
The Ingredients You Will Need
These brownies require just a handful of ingredients, but they come together to make the most delicious brownies!
Here's what you'll need:
1 stick unsalted butter (8 tbsp)
2 oz. unsweetened chocolate (baking chocolate)
1⅓ cup sugar
2 large eggs
¾ tsp vanilla extract
Salt
⅔ all-purpose flour
8 oz cream cheese, room temperature
EXPERT TIP: Cut the butter and chocolate into small pieces and then melt them together in a medium-sized saucepan. Stir frequently. Use a large wooden spoon to mix in the flour and stir until a batter has formed and the flour has been completely incorporated.
Creating the Cheesecake Swirls
We find that a metal (aluminum) 8″x8″ pan produces the best brownies. Moist on the inside and crunchy on the top.
Simply grease the pan then pour in the chocolate batter.
EXPERT TIP: This recipe makes 9 brownies. If you want to make a larger batch, we recommend tripling the recipe and going with a 9″x13″ dish.
After adding dollops of the cream cheese mixture over the top of the brownie batter, use a butter knife to swirl the chocolate throughout the brownie batter. Don't over-mix, otherwise, the two batters will blend together.
How To Serve and Store
These cheesecake brownies are extremely moist when they come out of the oven.
After letting them rest for about 5 minutes, they are ready to serve. With cold milk, of course!
EXPERT TIP: In the unlikely event that you have any leftover brownies, we recommend storing them in an air-tight container with a lid for up to 1 week. They can be frozen for up to 2 months. Reheating the brownies in the microwave is always a great choice.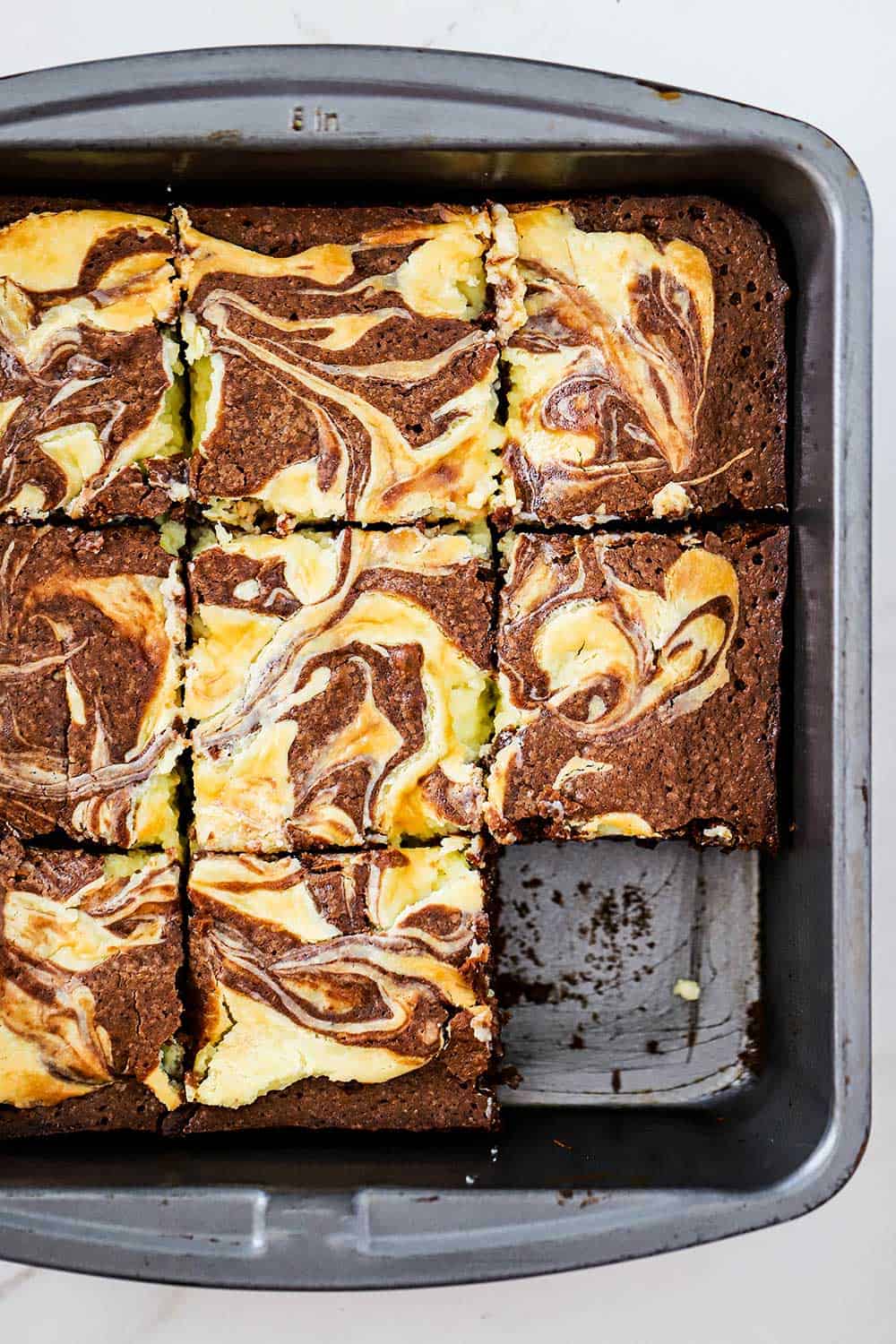 Other Sweet Treats To Make
Here are some of our other all-time favorite sweet cravings:
The Ultimate Fudge Brownies
Lovely Lemon Bars
Chocolate Caramel Shortbread Bars
Heath Bar Fudge Brownies
Raspberry Linzer Bars
But for now, go and make these awesome Cheesecake Brownies!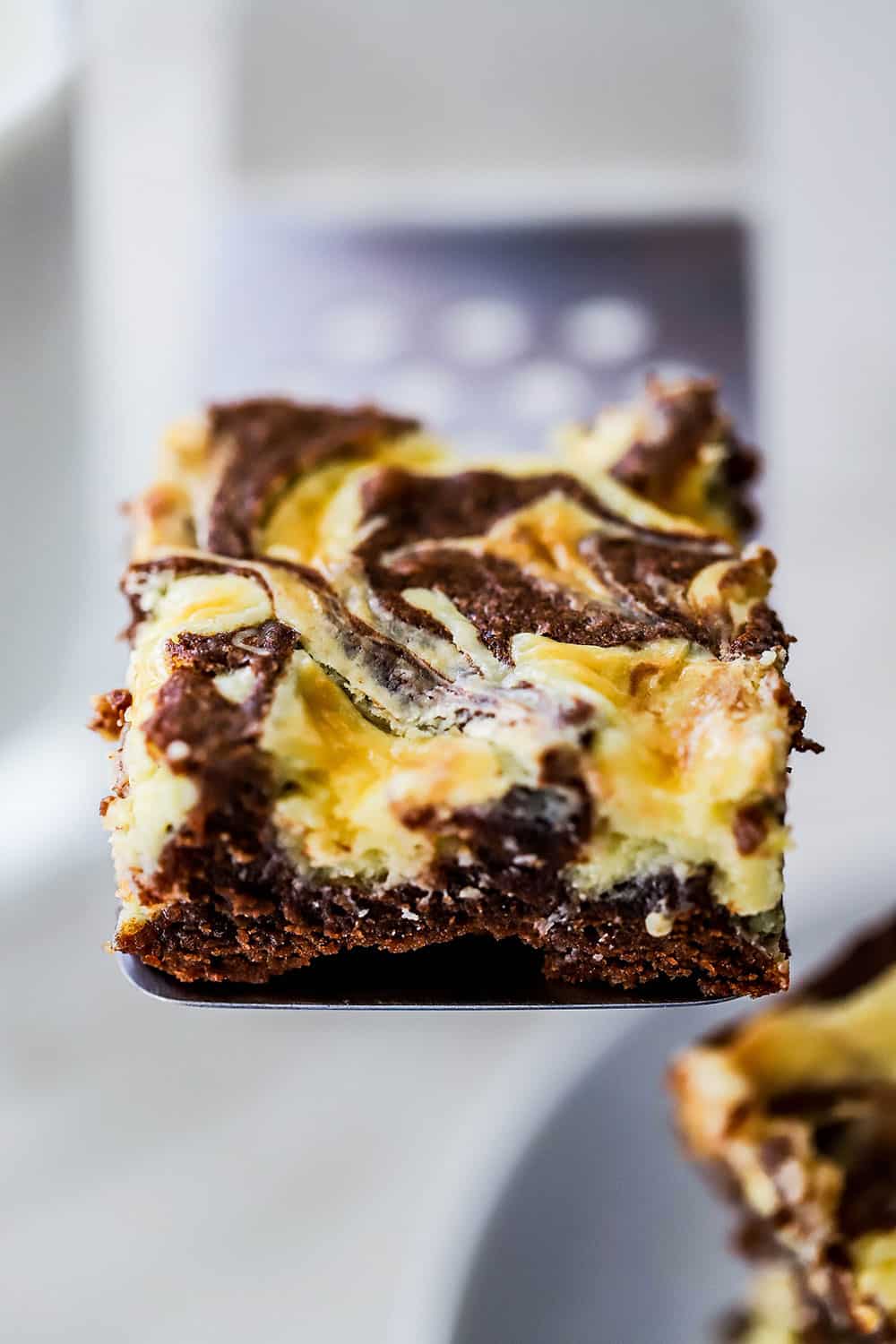 We love these brownies because though they do satisfy our sweet tooth, they are not overly sweet.
There is a slight tartness in the cream cheese swirls that match perfectly against the brownies.
With just one bite, you'll be in love with these amazing brownies.
Ready to make the best brownies in town? Go for it!
And when you do, be sure to take a photo of them, post it on Instagram, and tag @HowToFeedaLoon and hashtag #HowToFeedaLoon!
Cheesecake Brownies
These Cheesecake Brownies combine two of our favorite things in this world: Chocolate and Cheesecake! So gooey, delicious, and really easy to make. Serve with a cold glass of milk! Enjoy!
Print
Pin
Rate
Servings: 9 people
Calories: 363kcal
Ingredients
8 tbsp unsalted butter 1 stick, plus extra for greasing the pan
2 oz unsweetened baking chocolate chopped
1⅓ cups sugar divided
2 large large eggs whole
1 egg yolk
3/4 tsp vanilla extract divided (¼ tsp and ½ tsp)
Pinch salt
⅔ cup all-purpose flour
8 oz cream cheese room temp
Instructions
Preheat oven to 350°F.

Butter an 8"x 8" baking pan.

Cut the butter and chocolate into pieces. Add to a medium-sized saucepan, over medium-low heat, whisking occasionally, just until melted.

Remove from heat and whisk in 1 cup sugar, 2 eggs, ½ teaspoon vanilla, and salt until well incorporated.

Whisk in flour until just combined.

Spread into prepared baking pan.

Using a hand mixer, or wooden spoon, mix together cream cheese, remaining ⅓ cup sugar, egg yolk, and remaining ¼ teaspoon vanilla until smooth.

Drop dollops of the cream mixture over the brownie batter, then swirl with a knife or small spatula.

Bake until the center is just set, about 35 minutes. Let cool for at least 5 minutes before cutting and serving.
Notes
NOTE: See the video near the top of the blog post for visual guidance. If you enjoy the video, be sure to subscribe to our YouTube Channel!
If you'd like to make this in a 9"x13" dish, we recommend doubling or tripling the recipe. If you triple the recipe, you'll get nice thick brownies, and you may need to increase the baking time to 40 to 45 minutes.
Be sure to let the brownies cool for at least 5 minutes for cutting.
Cooked (and cooled) brownies keep in an air-tight container with a lid on the kitchen counter for 5 to 6 days. They will keep in the fridge for 7 to 10 days. They can be frozen for up to 2 months.
Nutrition
Calories: 363kcal | Carbohydrates: 40g | Protein: 4g | Fat: 23g | Saturated Fat: 8g | Polyunsaturated Fat: 1g | Monounsaturated Fat: 6g | Trans Fat: 1g | Cholesterol: 76mg | Sodium: 85mg | Potassium: 103mg | Fiber: 1g | Sugar: 31g | Vitamin A: 678IU | Calcium: 38mg | Iron: 2mg
POST UPDATE: This recipe was originally published in August, 2015, but was updated with improved tweaks to the recipe and new tips and photography, and a fabulous new video in September, 2021!