Chocolate and Cheesecake Brownies are quite simply one of our favorite treats in the world.
Think about it. Chocolate. Cheesecake. Brownies.
Sweet treat perfection.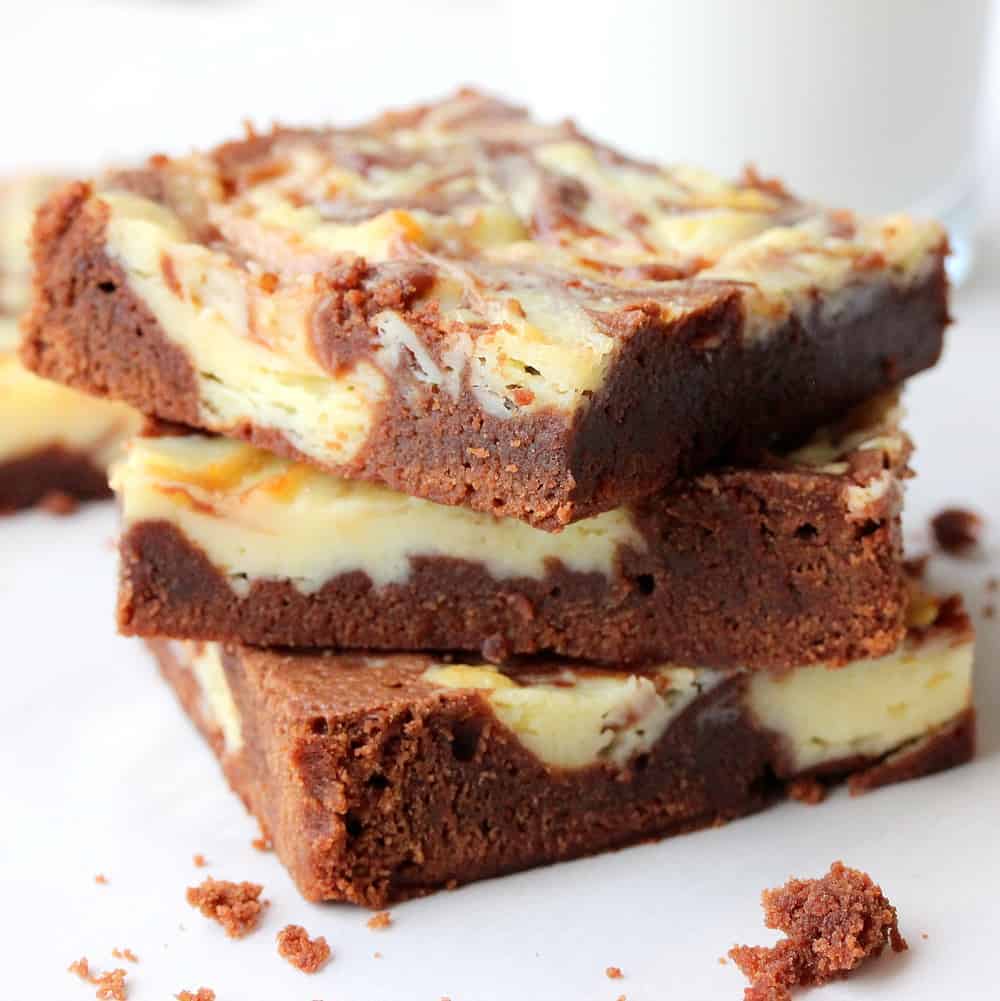 CHOCOALTE AND CHEESECAKE BROWNIES ARE EASY TO MAKE
These incredible brownies come together in less than hour and are really easy to prepare.
As always, go with quality ingredients to achieve the very best taste and texture.
Starting with good chocolate and butter. Melting them together is a beautiful thing to behold!
THE BEST PAN FOR BROWNIES
We find that a metal (aluminum) 8″x8″ pan produces the best brownies. Moist on the inside and crunchy on the top.
Simply grease the pan then pour in the chocolate batter.
Warning: Try and resist eating all the batter! It's a challenge!
The cheesecake portion of the brownies comes together in a stand mixer or in a bowl with a hand mixer.
Make sure the cream cheese is at room temperature.
We're getting close now, folks!
HOW TO MARBLE THE CHEESECAKE
Once the chocolate has been poured into the pan, it's time to add in the cheesecake.
Use a knife to swirl the cheesecake into the chocolate.
As it bakes, it will marble perfectly.
If you love chocolate, and if you love cheesecake, well, of course you're going to love these Chocolate and Cheesecake Brownies.  They pair with each other perfectly. And they just scream for a nice cold glass of milk to accompany them.  Boy, oh boy, are these Chocolate and Cheesecake Brownies super tasty!  Yum!
Here are some other delicious treats you gotta try!
The Ultimate Fudge Brownies
Lovely Lemon Bars
Chocolate Caramel Shortbread Bars
Heath Bar Fudge Brownies
Raspberry Linzer Bars
But for now, go and make these awesome Chocolate and Cheesecake Brownies!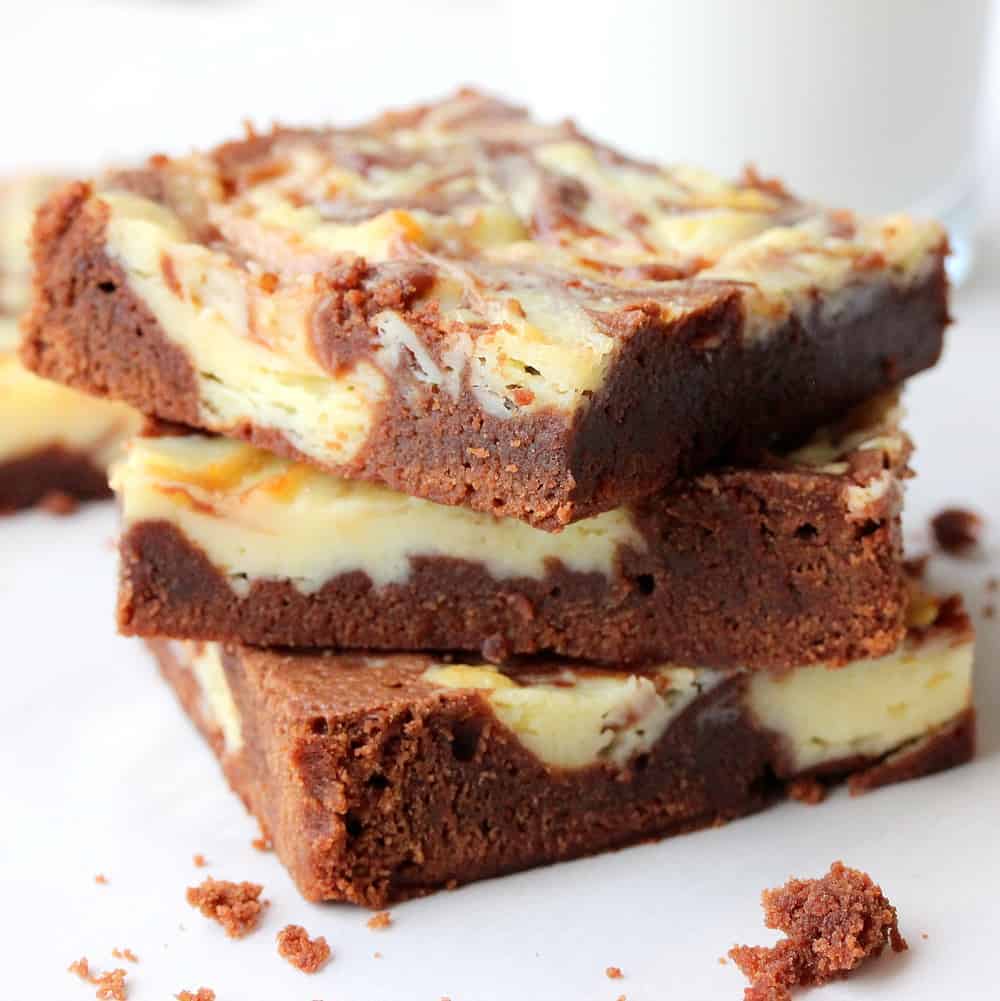 Chocolate and Cheesecake Brownies
These Chocolate and Cheesecake Brownies combine two of our favorite things in this world: Chocolate and Cheesecake! So gooey, delicious, and really easy to make. Serve with a cold glass of milk! Enjoy!
Print
Pin
Rate
Servings: 8 people
Calories: 416kcal
Ingredients
1 stick (8 tbsp) unsalted butter cut into 6 - 8 pieces
2 oz. unsweetened baking chocolate chopped
1 1/3 cups sugar divided
2 large eggs plus 1 large egg yolk
3/4 tsp vanilla extract you'll need 1/2 teaspoon first, and then 1/4 teaspoon later
Pinch salt
2/3 cup all-purpose flour
8 oz cream cheese room temp.
Instructions
Pre-heat oven to 350F.

Butter an 8" x 8" baking pan.

Heat butter and chocolate in a large heavy skillet, or saucepan, over medium-low heat, whisking occasionally, just until melted.

Remove from heat and whisk in 1 cup sugar, 2 eggs, 1/2 teaspoon vanilla, and salt until well incorporated.

Whisk in flour until just combined.

Spread into prepared baking pan.

Whisk together cream cheese, remaining 1/3 cup sugar, egg yolk, and remaining 1/4 teaspoon vanilla until smooth.

Drop dollops of the cream mixture over the brownie batter, then swirl with a knife or small spatula.

Bake until center is just set, about 35 minutes.
Nutrition
Calories: 416kcal