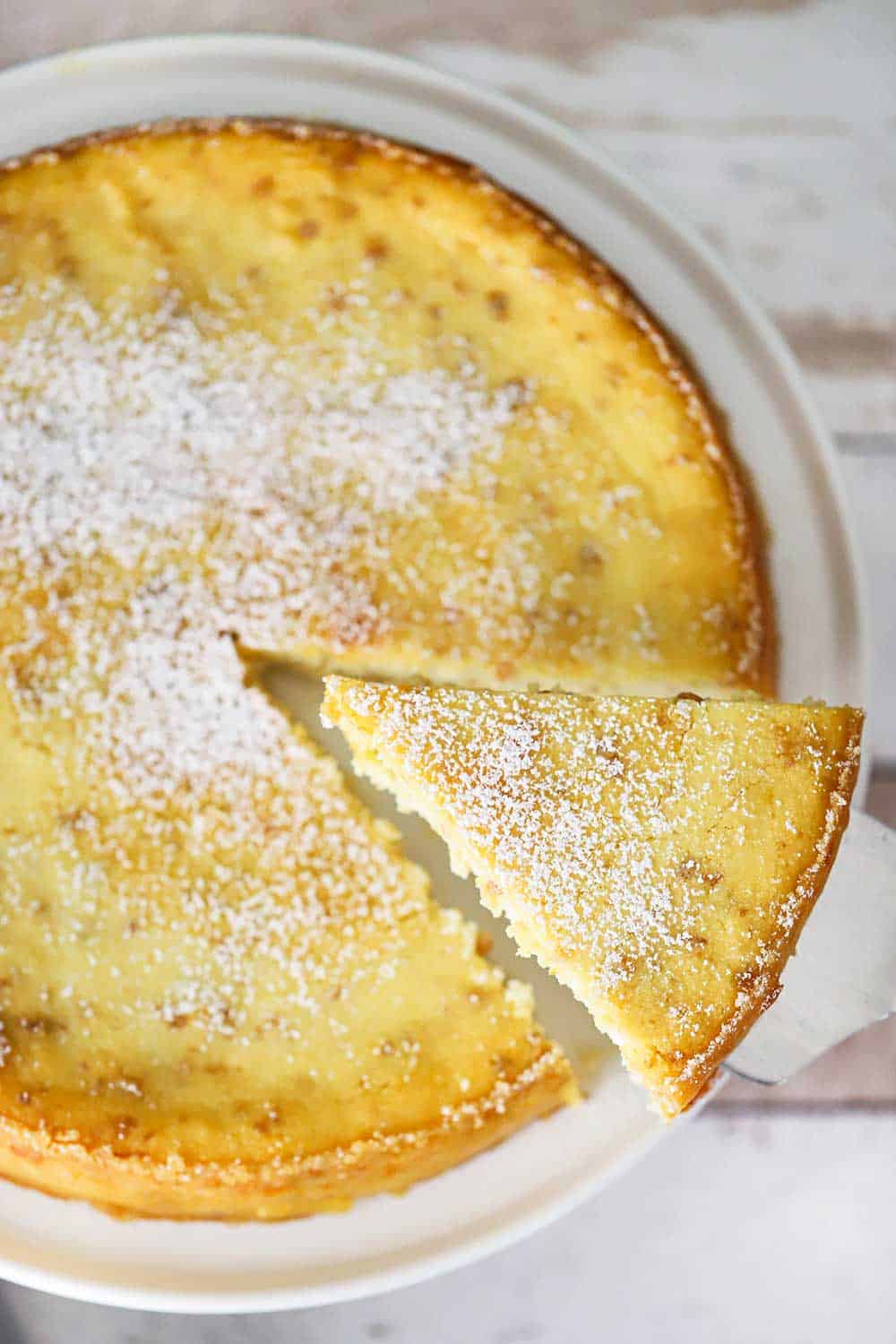 Boy, oh boy, this Rustic Ricotta Cheesecake is so satisfyingly wonderful.   Deep in flavor.   Rich, layered, and really divine.   Make a day in advance of serving…and your guests will be amazed.  A true Loon favorite.
We love everything about cheesecakes! Even the origins of this amazing dessert that we have love for years!
And if you love this Rustic Ricotta Cheesecake, you'll flip for these recipes, too:
In the meantime, make this amazing Rustic Ricotta Cheesecake. You'll be so glad that you did!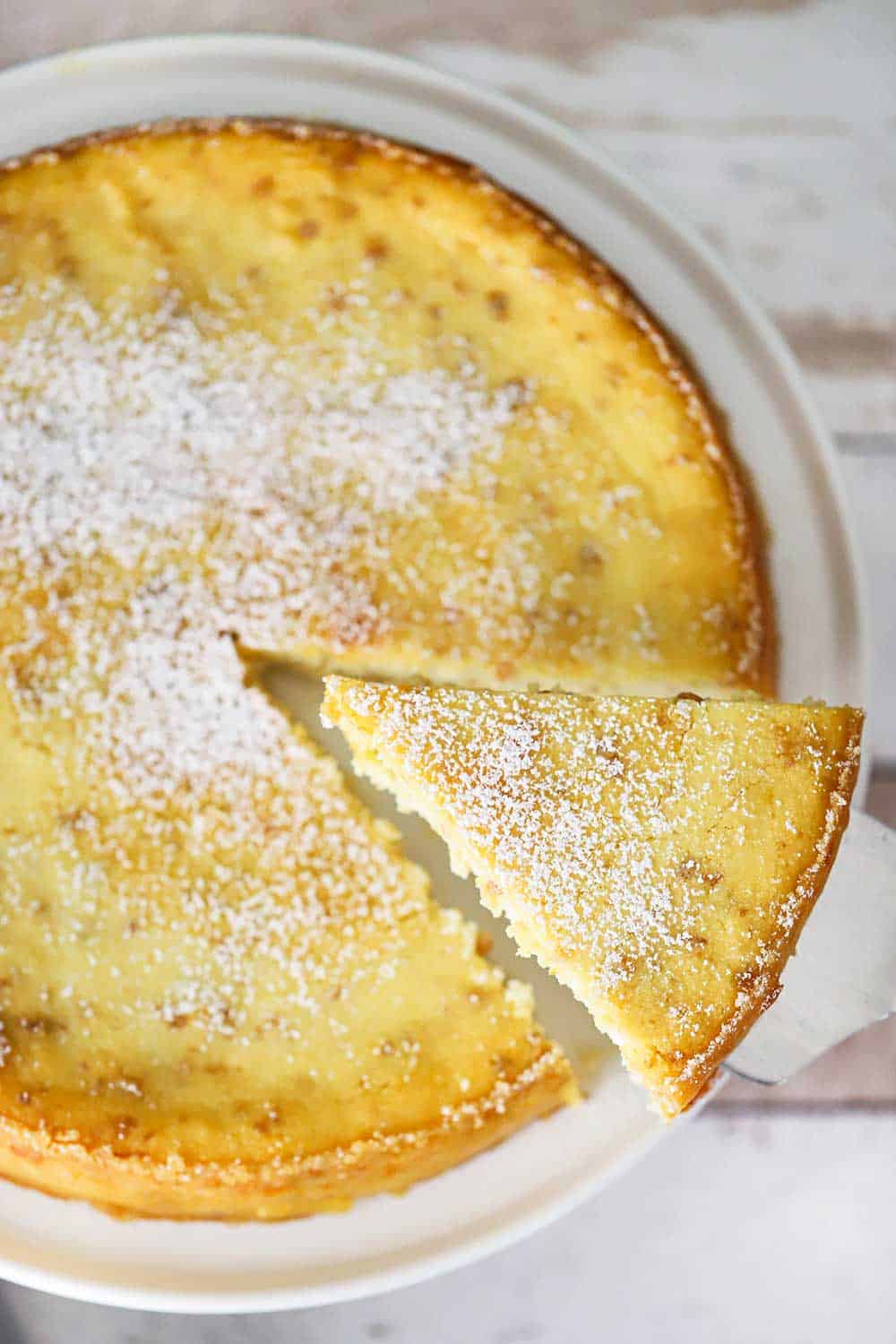 Rustic Ricotta Cheesecake
This rustic ricotta cheesecake is one of the best Italian desserts you can find. I just love making this incredible dessert. And it is, without a doubt, a Loon favorite!
Print
Pin
Rate
Prep Time: 20 minutes
Cook Time: 1 hour 15 minutes
Total Time: 1 hour 35 minutes
Servings: 8 people
Calories: 310kcal
Ingredients
2 15 oz. containers whole milk ricotta
1 tbsp unsalted butter room temperature
1 tbsp sugar plus another cup of sugar
3 tbsp unseasoned dry breadcrumbs
2 8- 8 oz packages cream cheese room temperature, cut into cubes
2 large eggs
2 tbsp Matzos pulverized in your food processor
2 1/2 tsp lemon zest
1 tbsp fresh lemon juice
2 tsp vanilla extract
1/8 tsp Kosher salt
Powdered sugar for dusting
EQUIPMENT REQUIRED: 8" springform pan with 2 1/2"-high sides
Instructions
Put ricotta in a large fine-mesh strainer set over a bowl. Drain for 30 minutes.

Arrange rack in lower third of oven and preheat oven to 350 F.

Grease springform pan with butter.

Mix 1 tablespoon of the sugar and all of the breadcrumbs in a small bowl, then sprinkle over the buttered pan, tapping out the excess crumbs.

Puree ricotta in a food processor for 15 seconds.

Scrape down sides, and puree until smooth, about another 20 seconds.

Add cream cheese and puree until smooth.

Add the remaining sugar and all the other ingredients (except the powdered sugar).

Puree, scraping down sides until smooth, about 30 seconds.

Scrape batter into prepared pan.

Bake cheesecake until golden brown and just set, about 1 hour and 15 minutes.

Transfer to a rack and let cool in pan (the cake will fall a bit).

Refrigerate uncovered until cool, about 3 hours.

Cover and chill overnight.

To serve, wrap a warm towel around the pan to release the cake.

Remove pan sides.

Dust with powdered sugar.

Cut into slices and serve and enjoy!
Nutrition
Calories: 310kcal