This is such a wonderful cheesecake. A spectacular twist on the common cheesecake, which can often be heavy.
Boy, oh boy, this Ricotta Cheesecake is so satisfyingly wonderful. Deep in flavor. Rich, yet light, and really divine. Make a day in advance of serving…and your guests will be amazed. A true Loon favorite.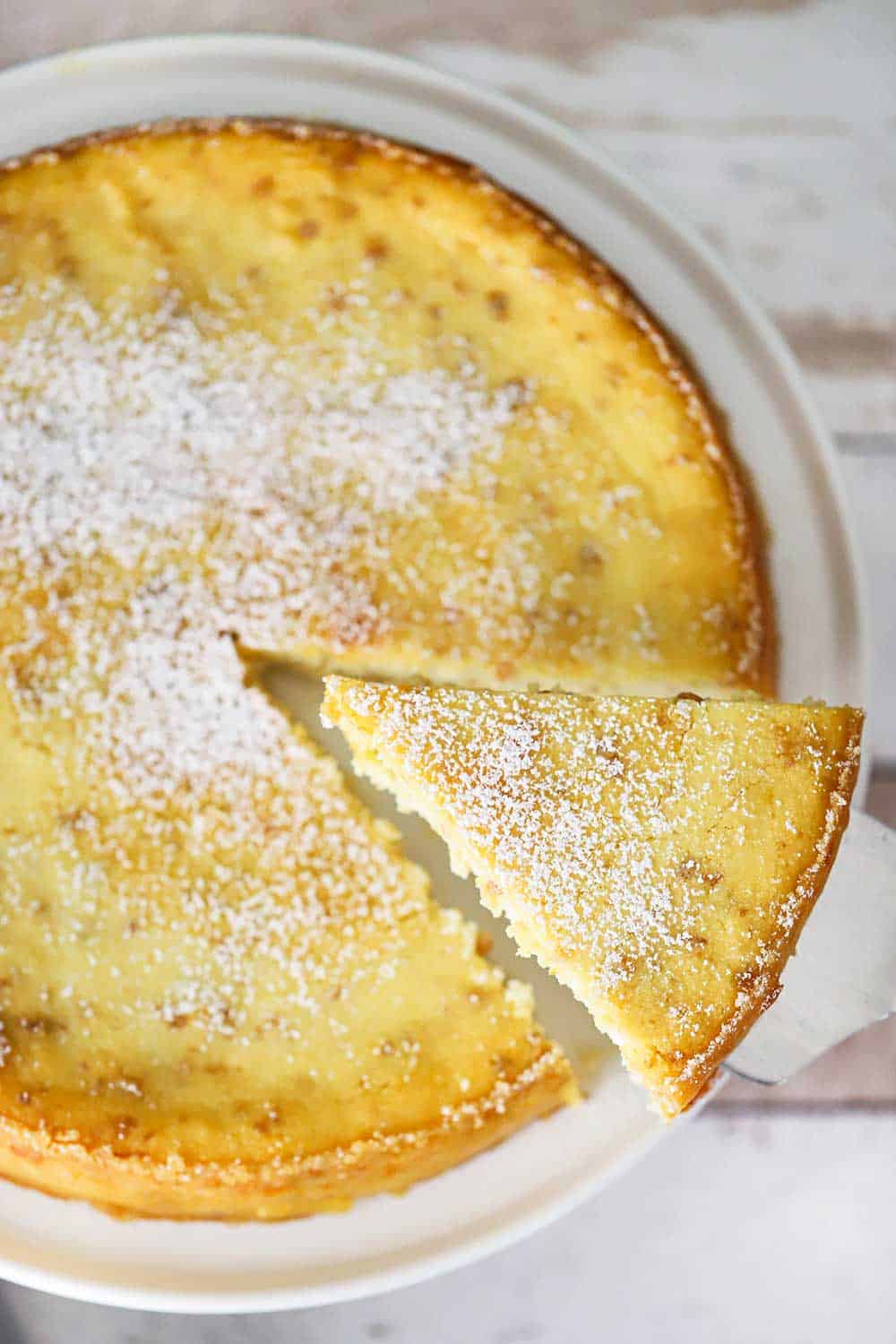 How To Make Italian Ricotta Cheesecake
This is a ricotta cheesecake recipe with no cream cheese in it.
The result? Light, fluffy, yet deeply flavorful.
A No-Crust Cheesecake
You may be wondering, how can you possibly have cheesecake with no crust?
Well, you'll be surprised at how delicious the cheesecake is, even without a thick crust.
EXPERT TIP: All you need is to butter a 9-inch springform pan with butter, and then sprinkle about ¼ cup of your favorite cookie crumbs. As the filling bakes, it will create an almost-crust-like exterior that is the perfect match for the filling. Our favorite cookie to use here are pecan sandies, but you can go with whatever is your favorite, just make sure it crumbles easily.
Creaming the egg yolks with the sugar and vanilla extract will help to yield the light texture for the filling that we want in this ricotta cheesecake recipe.
EXPERT TIP: We use our stand mixer with the whisk attachment to mix the eggs with the sugar and vanilla. You can also use a hand mixer, electric or hand-cranked. You'll want to mix on high until the egg mixture is a very pale color. For electric mixers, this usually takes about 6 to 8 minutes on high. You'll want to stop the mixer after a couple of minutes and scrape down the edges.
Building the Flavor Profile
We have a few tricks up our sleeves to make this one of the best ricotta cheesecakes in town.
First, toasted pine nuts that have been slightly pulverized add a slightly nutty flavor that matches beautifully against the other ingredients. We toast 5 tablespoons of pine nuts and then give a few quick pulses in our food processor.
We just think a lemon ricotta cheesecake is divine. So, we add lemon zest and lemon juice to the party.
EXPERT TIP: Use a large wooden spoon to stir it all together in the mixing bowl. Don't over mix, but make sure the egg mixture is fully incorporated into the other ingredients. Stop stirring once the entire mixture is combined and pourable.
How To Bake Cheesecake
Some cheesecake recipes call for a warm water bath for the pan to rest in during the baking process.
That's not necessary here.
Simply pour the batter into the prepared pan and then bake for 30 minutes in an oven preheated to 350°F. After the half-hour is up, lower the temperature to 325°F and cook for another 35 to 40 minutes.
As the cheesecake bakes, your kitchen will smell heavenly.
Bake until fully set and golden brown on top.
EXPERT TIP: To ensure the cake is fully cooked, insert a toothpick in the center and if it comes out clean, it's ready. Well, almost. You'll need to chill the cake in the refrigerator for at least 4 hours, or overnight.
How To Serve Italian Ricotta Cheesecake
After it's chilled in the fridge, it's time to serve!
We give a sprinkle of confectioners' sugar over the top to add just another hint of sweetness.
It's beautiful and the perfect match to the slight tang and nuttiness that you'll get from the lemon and pine nuts.
We love everything about cheesecakes! Even the origins of this amazing dessert that we have loved for years!
And if you love this Rustic Ricotta Cheesecake, you'll flip for these recipes, too:
Strawberry Cream Cheese Pound Cake
In the meantime, check this masterpiece out!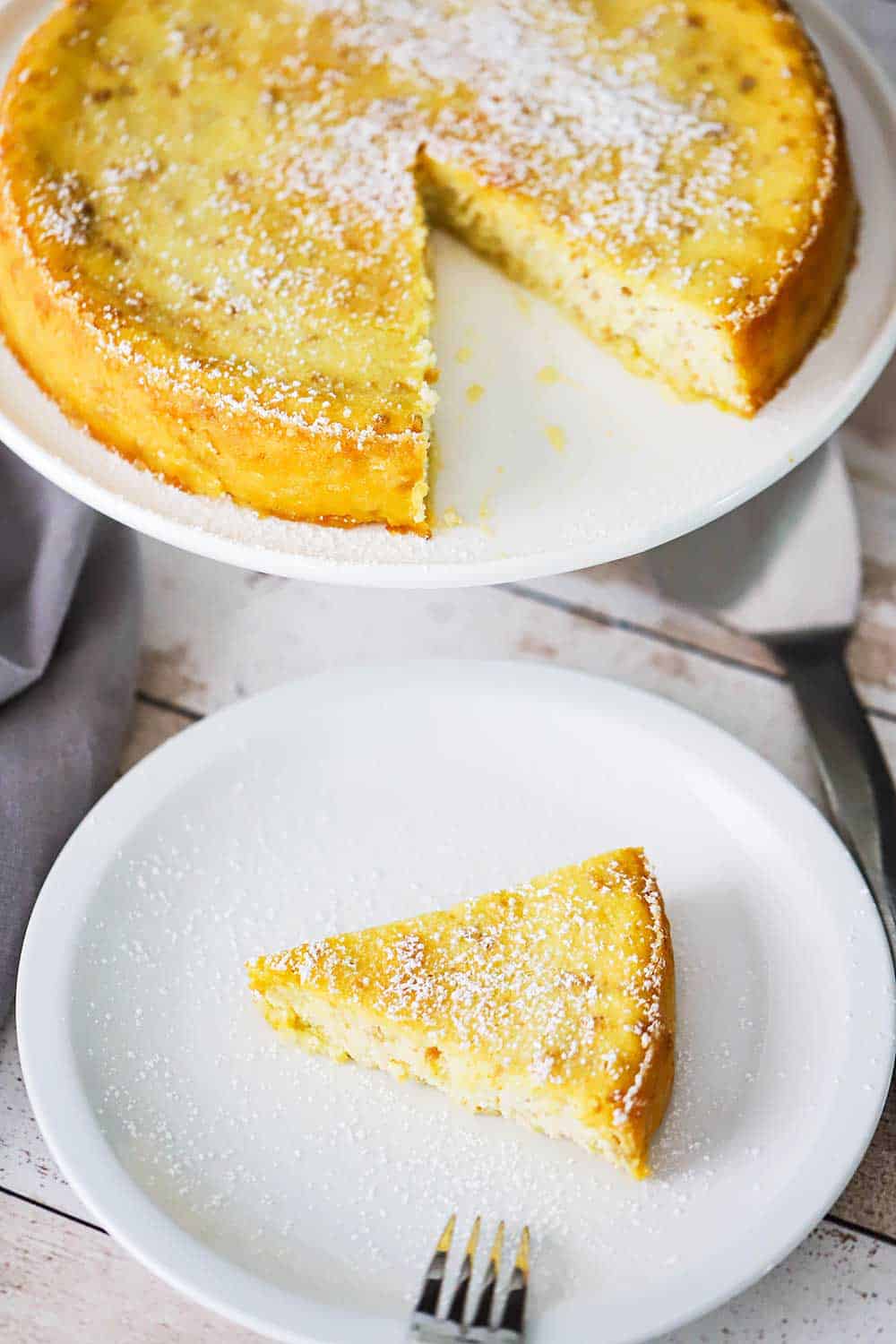 If you've ever wondered how to make cheesecake with ricotta cheese, now you know.
This is a popular dessert served at Italian bakeries and restaurants around the world.
Give yourself some time. It's not labor-intensive, but it does require time to chill to perfection.
The results will speak for themselves.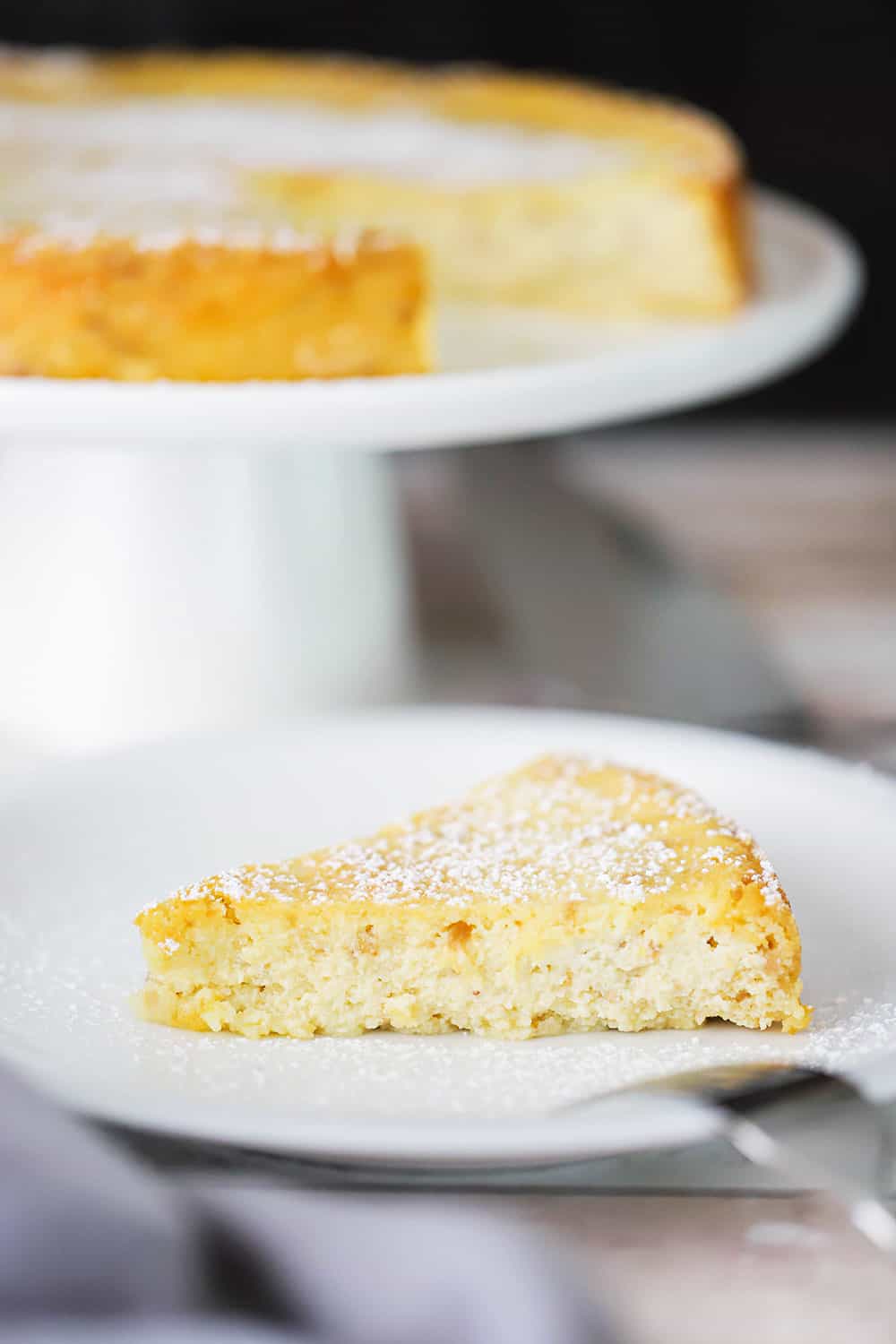 Ready to make the best dessert this side of Vienna? Go for it!
And when you do, be sure to take a photo of it, post it on Instagram, and tag @HowToFeedaLoon and hashtag #HowToFeedaLoon!
Italian Ricotta Cheesecake
This Italian ricotta cheesecake is one of the best Italian desserts you can find. I just love making this incredible dessert. And it is, without a doubt, a Loon favorite!
Print
Pin
Rate
Servings: 8 people
Calories: 393kcal
Ingredients
1 tbsp unsalted butter room temperature
⅓ cup Pecan sandies crushed
4 egg yolks
1 cup sugar
2 tsp vanilla extract
32 oz ricotta whole milk
1 tbsp all-purpose flour
5 tbsp pine nuts toasted, and lightly pulverized
2 tsp lemon zest
2 tsp lemon juice fresh
2 tbsp confectioners' sugar for dusting
Instructions
Preheat oven to 350°F.

Grease a 9-inch springform pan with the butter. Sprinkle the crushed cookies all over the pan, turning the pan to help them stick to the buttered pan.

Place the egg yolks, sugar, and vanilla extract into the bowl of a stand mixer fitted with a whisk attachment. Mix on high until the mixture is a light, pale yellow, about 6 to 8 minutes. Scrape down the sides of the bowl midway with a spatula.

Add the ricotta cheese, flour, pine nuts, lemon zest, and lemon juice to the egg mixture. Stir with a wooden spoon until just combined. Transfer the mixture to the prepared pan.

Place in the oven on the middle rack and bake for 30 minutes. Reduce the temperature to 325°F and bake for another 35 to 40 minutes, or until an inserted toothpick comes out clean.

Remove from the oven and place on a baking rack. Let cool for 15 to 20 minutes. Release the sides of the springform pan and place the cake in the refrigerator for at least 4 hours or overnight.

Before slicing, place the confectioners' sugar in a sieve and sprinkle over the top of the cheesecake. Slice and serve.
Notes
Use whatever is your favorite cookie for sprinkling in the buttered pan. We love pecan sandies. To pulverize, we place about 4 cookies in a large plastic baggie, and then crush with our hands and then a rolling pin. You don't need to completely cover the pan with the cookies, just a nice sprinkling. See photo and video for reference. You can leave the pine nuts whole, if you prefer. Either way is a delicious option. Since oven temperatures can vary, do the toothpick test after 60 minutes of baking. We find that 30 minutes at 325°F and then another 35 minutes at 325° is just the right amount of time, but again, check by inserting a toothpick. If it's still very wet after 60 to 65 minutes, let is go for another 10 minutes. Transferring the cake from the pan to a cake platter can be a little delicate. We find that carefully slipping a flat spatula under the cake helps to release it from the pan. And then, use two spatulas to lift and transfer. The cake is sturdy but will require a delicate hand when transferring. Leaving it on the springform base is perfectly fine, too! The cheesecake will keep in the refrigerator for up to 1 week. It will freeze for up 1 one month, but for best results, serve fresh.
Nutrition
Calories: 393kcal | Carbohydrates: 33g | Protein: 15g | Fat: 23g | Saturated Fat: 11g | Cholesterol: 159mg | Sodium: 100mg | Potassium: 166mg | Fiber: 1g | Sugar: 28g | Vitamin A: 679IU | Vitamin C: 1mg | Calcium: 246mg | Iron: 1mg
POST UPDATE: This recipe was originally published in January, 2015, but was updated with improved tweaks to the recipe with new tips and photography, and a fabulous new video in October 2020!
This recipe was inspired by Alex Guarnaschelli's The Home Cook.