This is such a wonderful cheesecake. Light and so deeply flavorful. The ricotta gives it such a distinct and delicious taste and texture.
Boy, oh boy, this Rustic Ricotta Cheesecake is so satisfyingly wonderful. Deep in flavor. Rich, layered, and really divine. Make a day in advance of serving…and your guests will be amazed.  A true Loon favorite.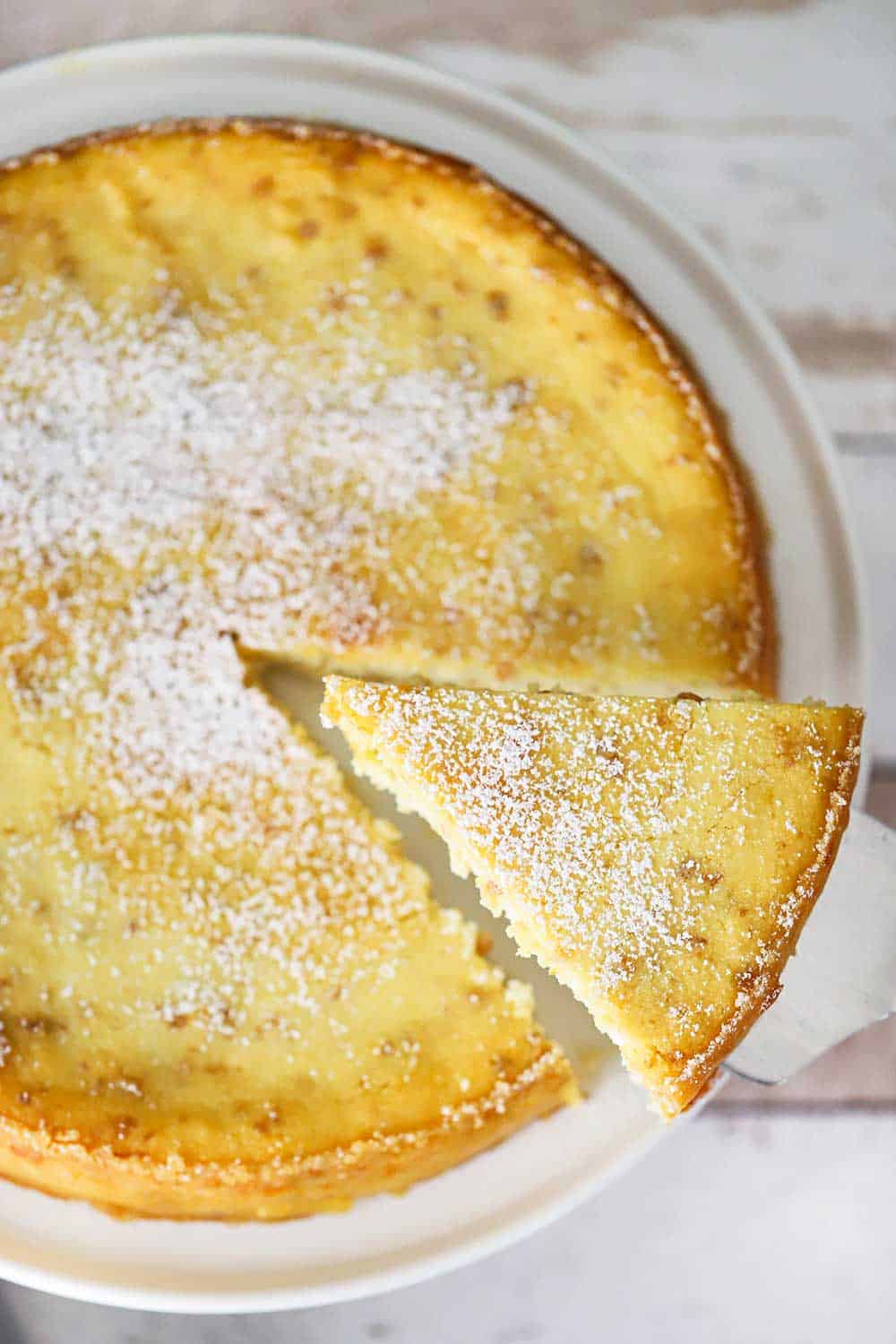 HOW TO MAKE RICOTTA CHEESECAKE FROM SCRATCH
This cheesecake takes a little while to prepare but is really not difficult
Get all the ingredients and set aside a Saturday or Sunday, and have fun with it!
As you would expect, it all starts with wonderful ricotta. We let it drain for about 10 minutes to get rid of any excess liquid.
Next comes the cream cheese.
We cube it and let it sit out until it comes to room temperature.
This helps to make the perfect cheesecake texture as it bakes.
GROUND MATZO GIVES A WONDERFUL TEXTURE
Believe it or not, matzo is a wonderful ingredient to use in cheesecakes. It makes for the perfect binder.
Matzo is typically found in the Kosher/Jewish section of most well-stocked supermarkets.
Next, bring on the eggs!
This ricotta cheesecake is coming together beautifully!
BAKE THE BATTER IN YOUR SPRINGFORM PAN
After the batter is ready, pour it into a 9-inch springform pan.
Bake until fully set and golden brown on top, about 75 minutes.
This is a thing of beauty!
We love everything about cheesecakes! Even the origins of this amazing dessert that we have love for years!
And if you love this Rustic Ricotta Cheesecake, you'll flip for these recipes, too:
In the meantime, make this amazing Rustic Ricotta Cheesecake. You'll be so glad that you did!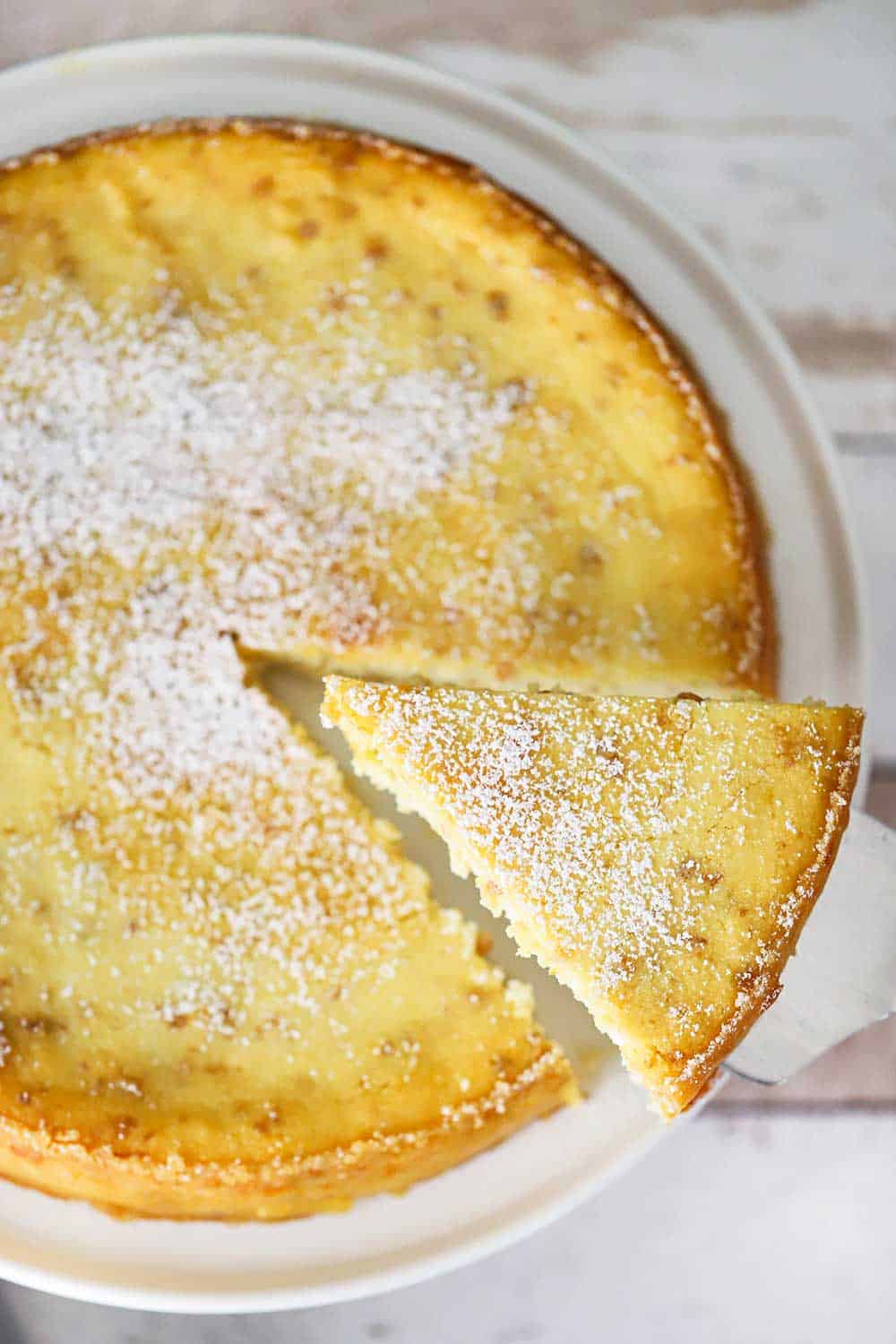 Rustic Ricotta Cheesecake
This rustic ricotta cheesecake is one of the best Italian desserts you can find. I just love making this incredible dessert. And it is, without a doubt, a Loon favorite!
Print
Pin
Rate
Servings: 8 people
Calories: 450kcal
Equipment
8 or 9-inch springform pan
Ingredients
30 oz ricotta whole milk
1 tbsp unsalted butter room temperature
1 tbsp sugar plus another cup of sugar
3 tbsp breadcrumbs unseasoned
16 oz cream cheese room temperature, cut into cubes
2 large eggs
2 tbsp Matzo pulverized in your food processor
2½ tsp lemon zest
1 tbsp fresh lemon juice
2 tsp vanilla extract
⅛ tsp Kosher salt
Powdered sugar for dusting
Instructions
Put ricotta in a large fine-mesh strainer set over a bowl. Drain for 30 minutes.

Arrange rack in lower third of oven and preheat oven to 350 F.

Grease springform pan with butter.

Mix 1 tablespoon of the sugar and all of the breadcrumbs in a small bowl, then sprinkle over the buttered pan, tapping out the excess crumbs.

Puree ricotta in a food processor for 15 seconds.

Scrape down sides, and puree until smooth, about another 20 seconds.

Add cream cheese and puree until smooth.

Add the remaining sugar and all the other ingredients (except the powdered sugar).

Puree, scraping down sides until smooth, about 30 seconds.

Scrape batter into prepared pan.

Bake cheesecake until golden brown and just set, about 1 hour and 15 minutes.

Transfer to a rack and let cool in pan (the cake will fall a bit).

Refrigerate uncovered until cool, about 3 hours.

Cover and chill overnight.

To serve, wrap a warm towel around the pan to release the cake.

Remove pan sides.

Dust with powdered sugar.

Cut into slices and serve and enjoy!
Nutrition
Calories: 450kcal | Carbohydrates: 13g | Protein: 18g | Fat: 28g | Saturated Fat: 14g | Cholesterol: 173mg | Sodium: 356mg | Potassium: 217mg | Fiber: 1g | Sugar: 4g | Vitamin A: 1355IU | Vitamin C: 1mg | Calcium: 290mg | Iron: 1mg