We can honestly say that this bowl of goodness is in the top 5 of our all-time favorite things to eat. It's really that good.
It's steeped in Mexican tradition and heritage and the flavor is unmatched. Just like all great soups or stews that are only as good as their base, such as Chicken Noodle Soup (with Homemade Chicken Broth) or French Onion Soup (with Homemade Beef Stock), this soup is right up with these classics. Make the pork broth well in advance and the rest comes together in no time at all!
How To Make Pozole
This Mexican stew is layered with incredible flavor.
Start by simmering the pork should (preferably bone-in) at least one day in advance.
NOTE: If you like this video, please subscribe to our YouTube channel. Remember to click the little 'bell' icon so you'll never miss a new video!
How To Make Pork Broth
To achieve a pozole that has an amazing depth of flavor, you need to start with a broth that gently simmers on the stove for 2 to 3 hours. And then is allowed to rest for 12 to 24 hours.
You'll add a 5 to 7 lb pork should to a large stockpot. Make sure you've cut away all the excess fat.

EXPERT TIP: The addition of meaty pork bones add incredible flavor. Pork feet and neck bones can be found in the meat department of Hispanic food markets. If you don't have access to one, then you can usually find ham hocks at your supermarket. Or, double up on pork spare ribs for simmering.
Cover with water and bring to a boil and then use a small sieve to skim off impurities at the surface. Lower the heat and simmer gently for another 2½ hours.
NOTE: Once the broth has cooled, we recommend placing the pot (with the roast and bones still in it) into the refrigerator. This just deepens the flavor even more and makes it really easy to skim the congealed fat that will form on the surface of the broth.
Shred the meat from the pork should with your hands, forks, and/or a knife.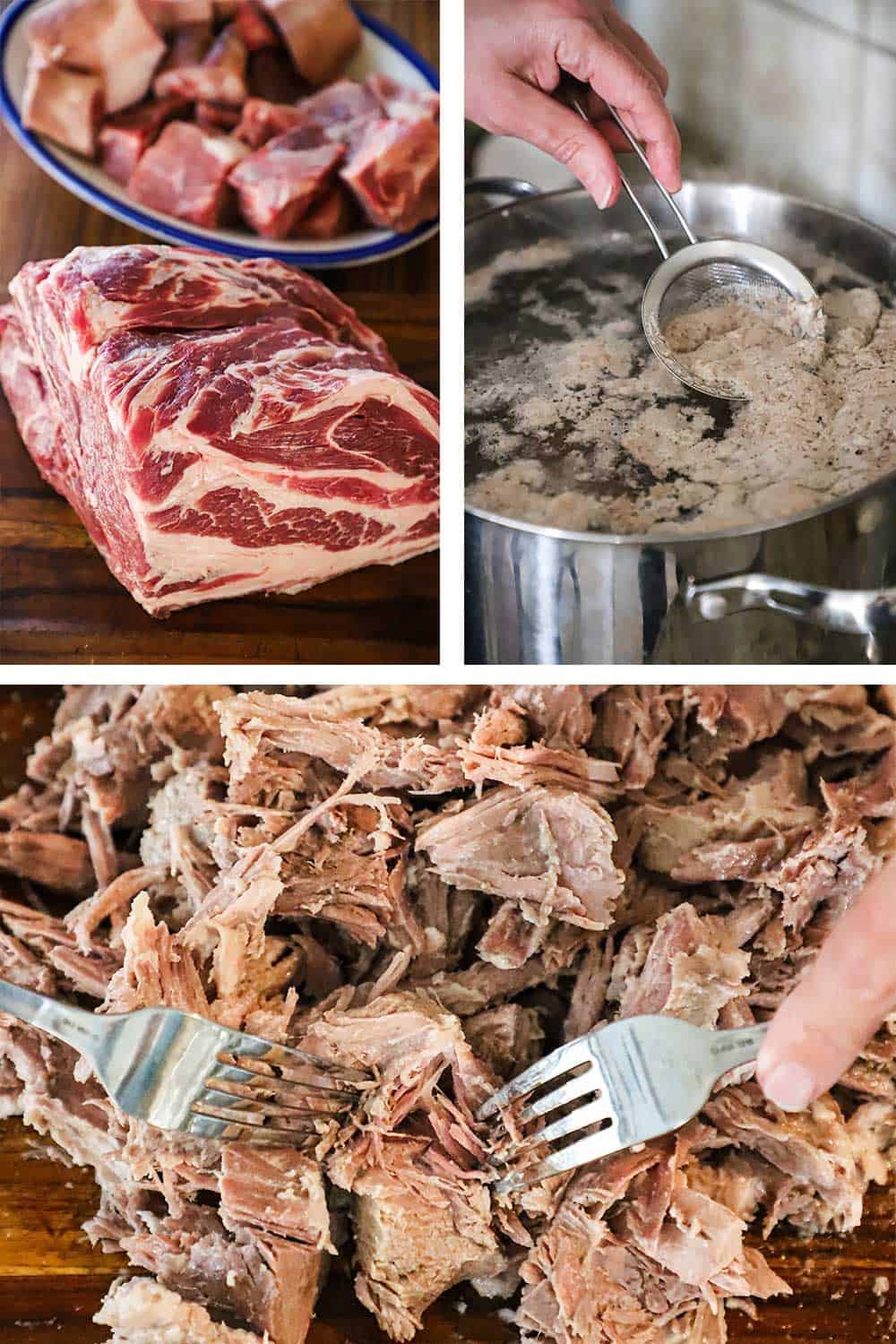 Creating the Classic Mexican Taste
The use of dried chiles is one of the reasons we love this stew so much. Once reconstituted and blended with garlic and seasonings, you get an unbelievable depth of flavor.
We go with a combination of dried chilis including:
EXPERT TIP: Dried chilies can be found in the produce section or the Hispanic section of many well-stocked supermarkets, at Latino food markets, or online.
Adding the chili sauce to the pork broth turns it into a vibrant, gorgeous orange hue.
Finishing the Pozole
Hominy is made from dried corn kernels and has been around for centuries. It was an important part of Native Americans' diets for multiple generations.
We love the earthy, corn-like texture and of hominy. If you were making this dish in the most authentic fashion, you would go with corn that has gone through the nixtamalization process, but we'll just use good-ole store-bought hominy – it gets the job done just fine.
You can go with white hominy or golden hominy, but white is traditional and easier to find, usually in the canned vegetable section of your supermarket, near the corn. If not there, try the Hispanic area.
The hominy goes in right near the end of the cooking process for the pozole.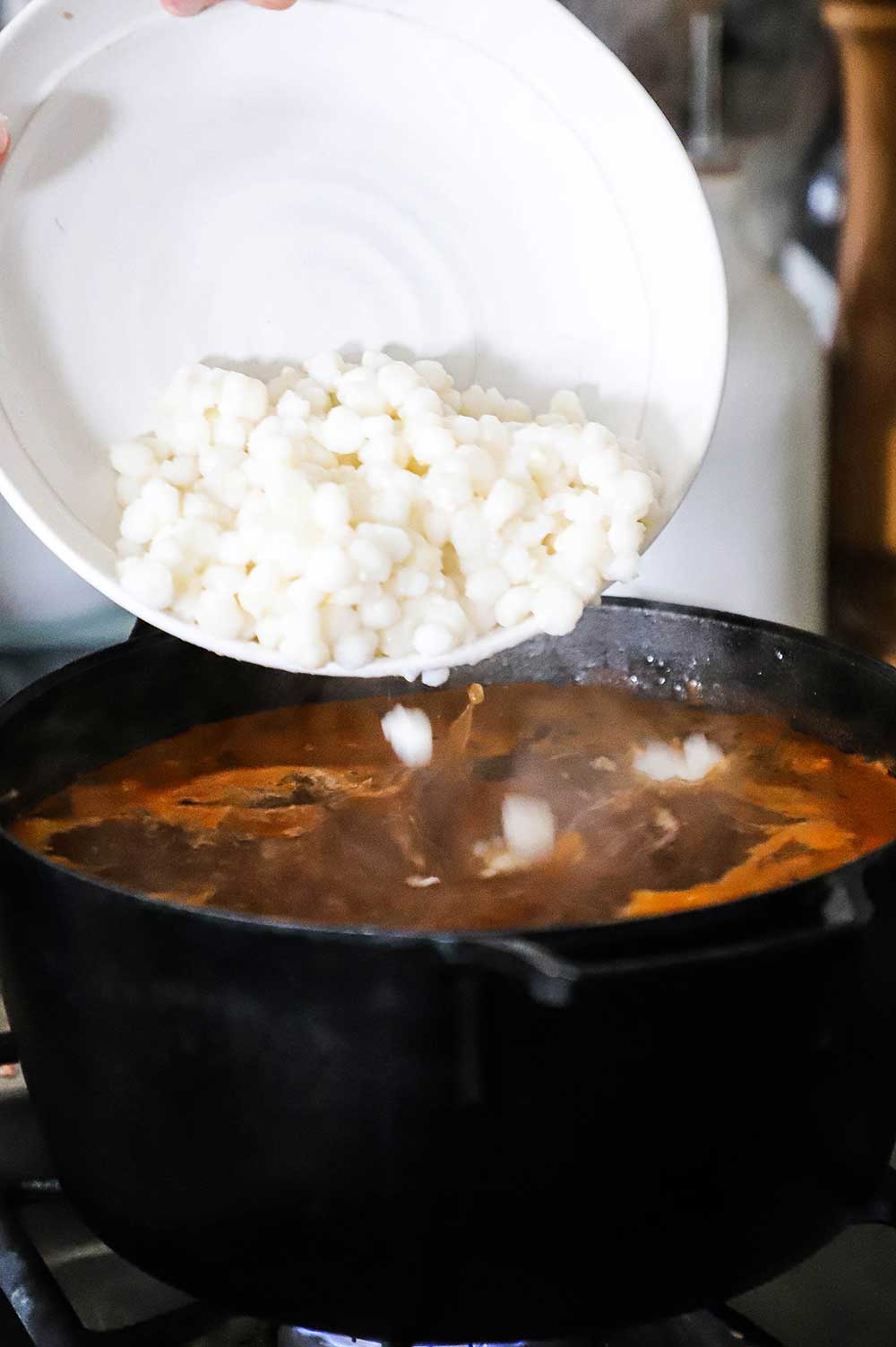 How To Serve
The pork broth, tender pork, and ancho sauce are really the stars of this soup. The hominy is wonderful, too.
But almost as important are the additional "toppings" you serve with it.
Here are the classic ingredients that come together to just make an unforgettable bowl of yumminess.
Shredded Napa cabbage
Thinly sliced radish
Sliced avocado
Crispy corn tortilla strips
Chopped fresh cilantro
Fresh lime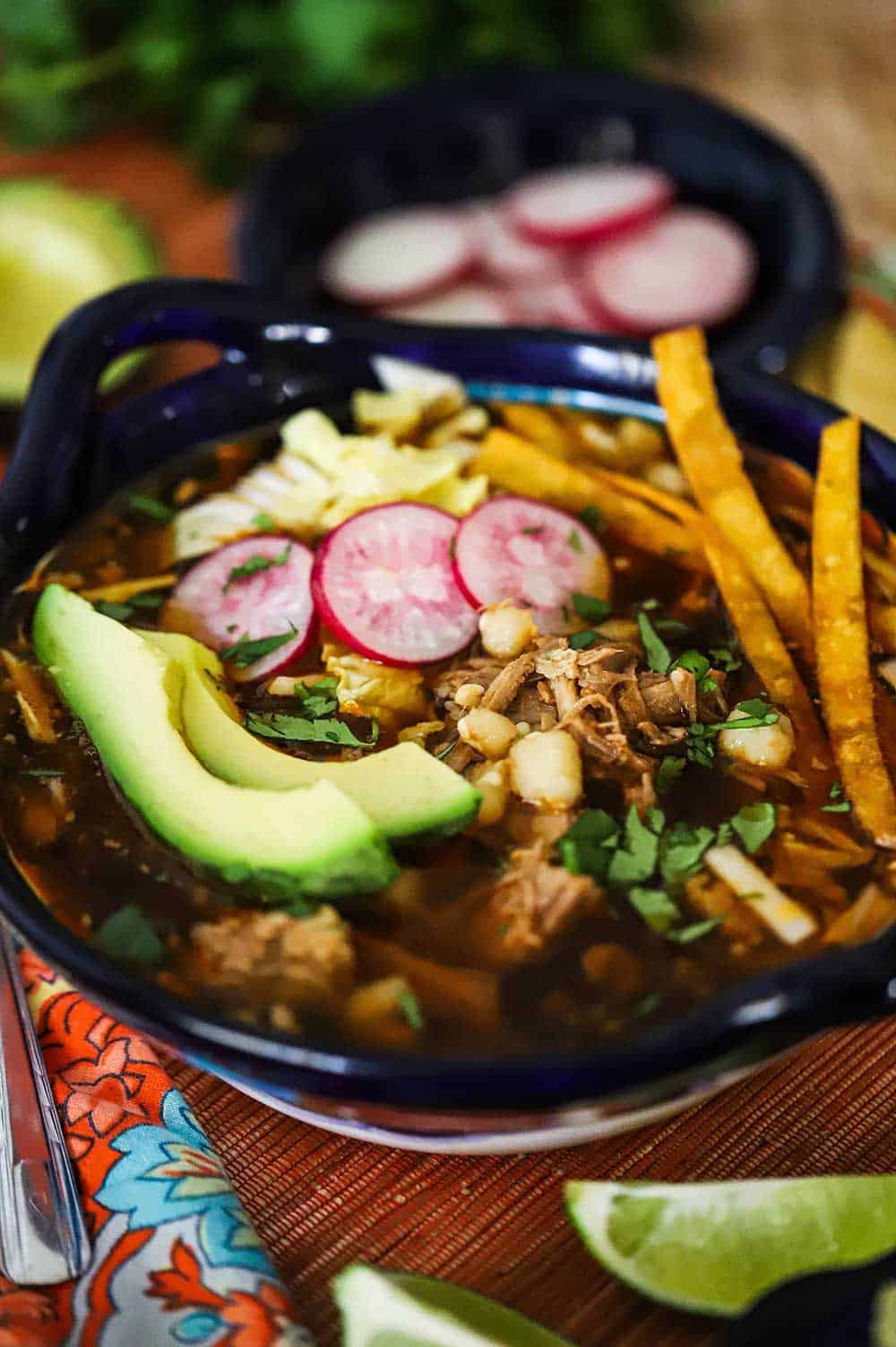 When the temperatures drop outside, you can be sure that this classic Mexican stew will warm you and your loved ones to the bone.
The broth alone is truly something magical.
The melt-in-your-mouth chunks of pork and tangy hominy bring it all together in a way that is unforgettable.
And leftovers freeze beautifully! Hooray for Pozole!
Pozole (Pork and Hominy Stew)
Pozole (Pork and Hominy Stew) is Mexican comfort food at its very best. The deep flavors of the broth, combined with the hominy and ancho chili sauce can not be beaten If you can find pig's feet at your butcher, ask him to cut them in half for you, and add them in with the other pork. You can often find pigs feet and neck bones at your local Hispanic food market. If possible, start the broth the night before, let it simmer for about 2 1/2 hours, and then let it cool in the broth all night, and then I shred the meat the next day. It just continues to deepen the flavors through the night.
Print
Pin
Rate
Servings: 12 people
Calories: 362kcal
Equipment
1 Pot large enough to hold the pork shoulder plus bones (if using).
Ingredients
5 lbs Pork shoulder preferably bone-in, as much of the fat cut away as possible.
2 lbs any combination of: Pigs feet, or trotters, neck bones, pork shanks, or ham hocks (if you can't find any of this, just use country-style ribs)
2 medium Spanish onions peeled and quartered (you'll need one for the broth, and one for the ancho sauce)
12 large garlic cloves you'll need 6 for the broth, and 6 for the ancho sauce
Kosher salt
4 ancho chiles dried, stems removed and seeded
4 guajillo chiles dried, stems removed and seeded
2 arbol chiles seeds removed (as best you can)
1 tsp Mexican oregano
2 15 oz can white hominy drained
FOR GARNISH
2 cups Napa cabbage shredded
4 Radishes thinly sliced
1 Avocado peeled and sliced
½ cup Cilantro chopped
Fried corn tortilla strips See NOTES
Lime wedges
Instructions
Place pork, 1 onion (quartered), and 6 garlic cloves in a large stock pan and fill with water to cover, about 4 to 5 quarts.

Bring to a boil, then lower the heat and simmer for 2 and half hours, skimming the impurities off the top as they accumulate. If necessary, add more hot water to keep the pork submerged.

If possible, let the pork cool in the broth overnight, covered.

Remove the pot from the refrigerator and use a spoon to skim off all of the congealed fat on the surface. If the broth has congealed and become gelatinous, then gently reheat just long enough to liquify. Remove the pork shoulder and then the bones and vegetables. Strain the liquid into a separate bowl.

Use your hands, two forks, and/or a knife to shred and cut the pork into bite-size pieces. Set aside.
MAKE THE ANCHO SAUCE
Bring a medium pot of water to a boil, turn off the heat, and place the chiles in the hot water. Simmer for 15 minutes.

Place the peppers, 1 onion (roughly chopped), 6 garlic cloves, oregano, ½ teaspoon salt, and 1½ cups chili soaking broth into a blender or food processor. Puree until very smooth.

Strain the sauce through a fine-mesh sieve.

Add the sauce to a medium saucepan and simmer over medium heat for 10 to 15 minutes until slightly thickened.
FINISH THE SOUP
In a large pot, add the broth and heat over medium-high heat.

Add the ancho chili sauce and 2 teaspoons salt to the broth and bring to a boil.

Lower the heat and add the meat and simmer for 15 to 25 minutes. Stir in the hominy.

Taste for seasoning, you'll probably need to add about another 1 teaspoon of salt. Add a little at a time (taste first!).

Serve in bowls with garnishes.
Notes
See the video near the top of the blog post for visual guidance. If you liked the video, please subscribe to our YouTube channel.
Pork bones such as pigs feet and neck bones can be found at some meat markets and definitely at Hispanic food markets. Ham hocks can be found at most supermarkets are a decent substitute. If you can't get extra pork bones, it's still delicious after simmering the pork shoulder for 2½ hours.
Allowing the pork to chill in the fridge overnight (after simmering) adds a depth of flavor that is wonderful. Remember to let the pot cool off before placing it in the fridge.
When shredding the pork, you will see strands of fat. Discard any excess fat.
Leftovers will keep in the fridge for up to 1 week and can be frozen for up to 2 months.
Nutrition
Calories: 362kcal | Carbohydrates: 12g | Protein: 46g | Fat: 12g | Saturated Fat: 6g | Polyunsaturated Fat: 1g | Monounsaturated Fat: 17g | Cholesterol: 163mg | Sodium: 142mg | Potassium: 999mg | Fiber: 5g | Sugar: 6g | Vitamin A: 3545IU | Vitamin C: 12mg | Calcium: 77mg | Iron: 4mg
POST UPDATE: This recipe was originally published in January 2019, but was updated with improved tweaks to the recipe with new tips and photography and a fabulous new video in March 2022.