We think we can all agree, this has to be one of the most comforting soups of all time. Not much argument there.
There's a reason moms and grandmas have been preparing this for their kids when they're feeling under the weather…it just makes you feel better! The key here is the stock. The roasted chicken adds so much, too. Make these two components in advance and the soup comes together in about 30 minutes. It's honestly one of the best soups you will ever eat and serve.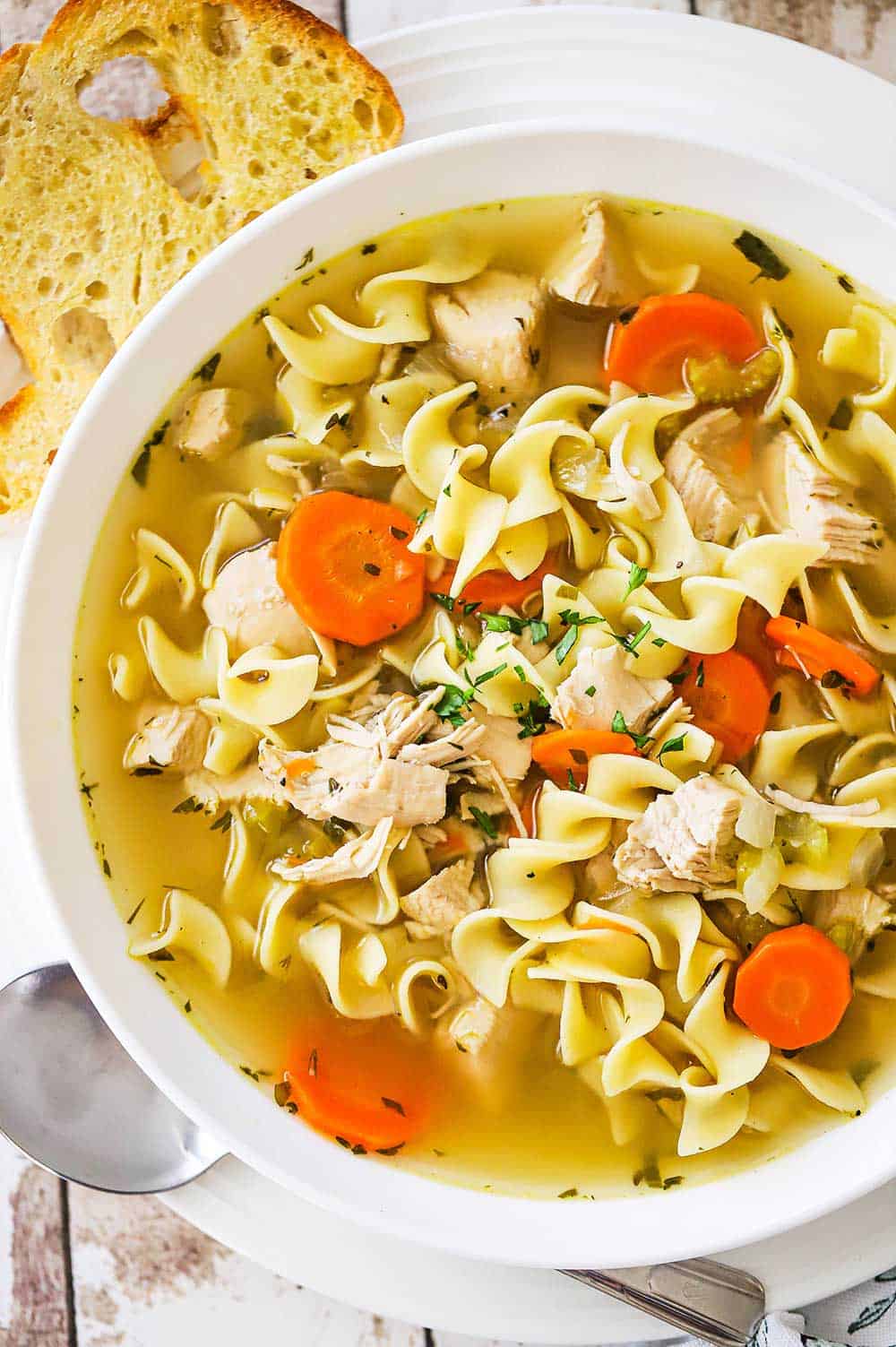 How To Make Chicken Noodle Soup
Chicken Noodle Soup is so iconic, it even has its place in the culinary hall of fame and history, no doubt.
Now, let's get to taking this beloved soup and making it as good as it can possibly be.
It's really not difficult at all, you just need to give yourself some time to make the stock and roast the chicken.
NOTE: If you liked this video, please subscribe to our YouTube Channel. Remember to click the 'bell' icon so you'll never miss a new video!
How To Make Homemade Chicken Stock
There are a couple of different approaches for making the broth for chicken noodle soup.
Our recipe for Roasted Chicken Stock utilizes roasted bones and a long slow simmer. The flavor is deep and very robust.
We find that our recipe for Homemade Chicken Broth works perfectly for the soup. Here's all you have to do:
Simmer 3 lbs of chicken parts (skin-on, bone-in) in 1½ gallons of water for about 30 minutes, skimming impurities from the surface.
Add chopped celery, onion, and carrots, along with a collection of herbs (ie, rosemary, thyme, parsley).
Simmer for 3 hours.
Strain and chill.
Skim congealed fat from the surface.
Store until ready to use.
EXPERT TIP: Get juicy, delicious chicken, we recommend roasting. Simply take about 3 to 4 lbs of skin-on, bone-in chicken breasts. Rub olive oil over them, season with salt and pepper, and then roast for about 50 minutes, or until the internal temperature is 165°F. Once cool enough to handle, pull the chicken from the bones and roughly chop.
Once the broth and chicken are ready to go, it's time to get started on the soup.
Chop up an onion, slice a few stalks of celery, and cut several carrots into chunky pieces.
Sauté in a couple of tablespoons of butter until nice and soft, about 5 minutes.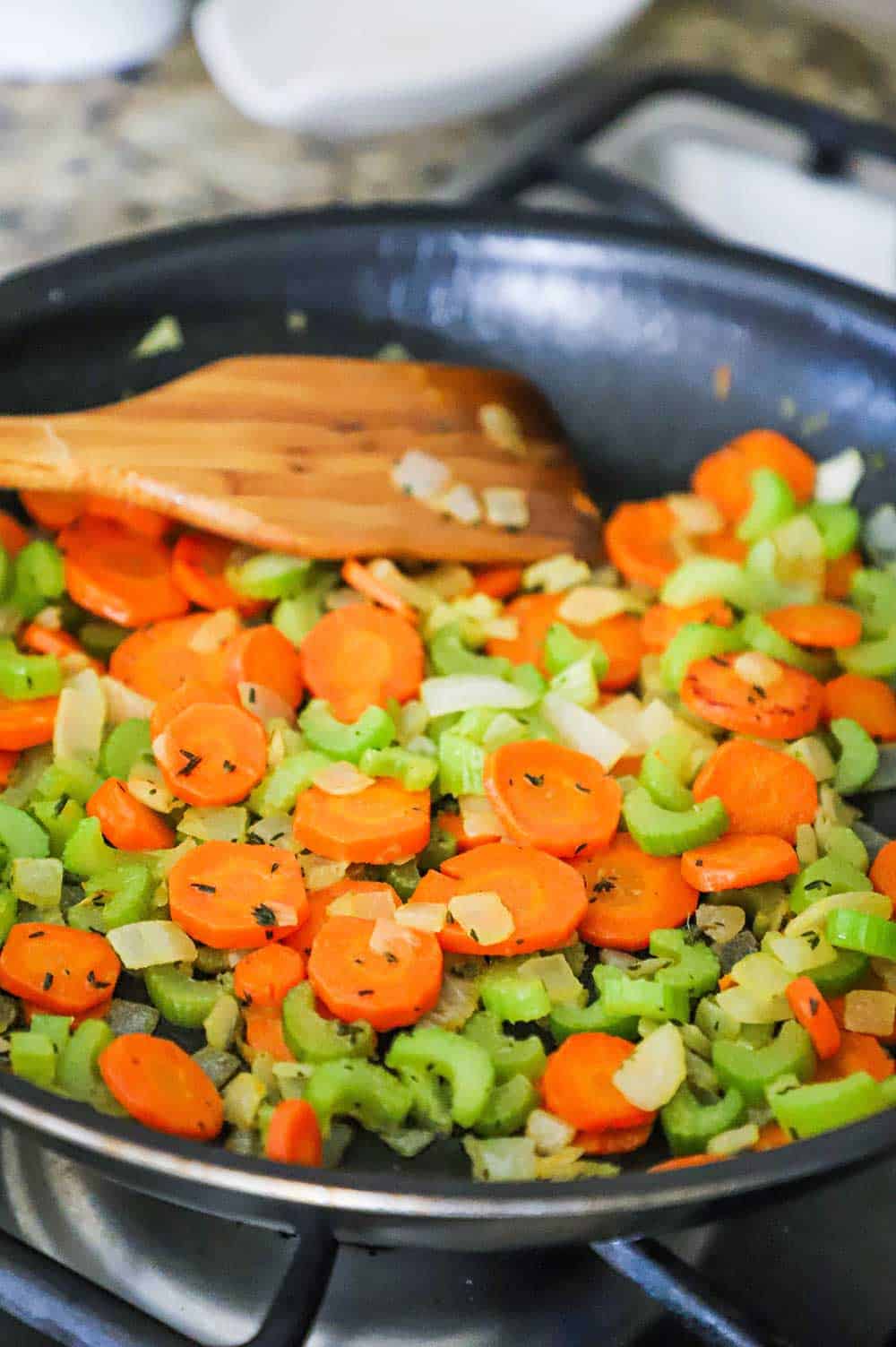 Easy Chicken Noodle Soup
Making the chicken broth and roasting the chicken will take your chicken noodle soup to amazing culinary heights.
But you may be wondering, I don't have much time, can I cut some corners and still have a yummy soup? In a word: YES!
Simmer chicken, with or without skin and bones, for about 1 hour. You now have cooked chicken and chicken broth. Will the flavor be as deeply delicious as homemade stock and roasted chicken? No. But it will still be significantly better than the canned variety. Absolutely
EXPERT TIP: When selecting a noodle, go with a nice wide egg noodle. There are several types of egg noodles. Pick one that is bite-sized. The noodles will go in during the final cooking of the soup. Remember, as the noodles cook and even after the soup sits for a day or two, the noodles will expand. Two cups of pasta are all you need to reach the best ratio of noodles to the broth.
Homemade Chicken Noodle Soup FAQs
Can I use a rotisserie chicken? Absolutely! This is a fantastic option. The chicken is flavorful and already cooked for you! Save the bones to make stock next time you make the soup. We find the 2 rotisserie chickens will give you the 4 cups needed to make the soup.
Is it okay to use boxed/canned chicken broth? Well, in a pinch. Of course, it is. You won't get the depth of comforting flavor as homemade broth. If you don't have time to make the broth from scratch, then remember, you can simmer your skinless boneless chicken breasts in water until cooked. You now have cooked chicken and pretty decent chicken stock!
What are the best seasonings for chicken noodle soup? Keep it simple. Salt and pepper are really about all you need. The addition of fresh parsley adds a nice depth of freshness. If you like fresh dill, add 1 tbsp. It brightens up the soup but does give it a hint of dill. Bottom line: Taste as you go. If your broth is salted, you won't need to add as much salt to the soup. Or the reverse if the broth is unsalted. Taste and adjust.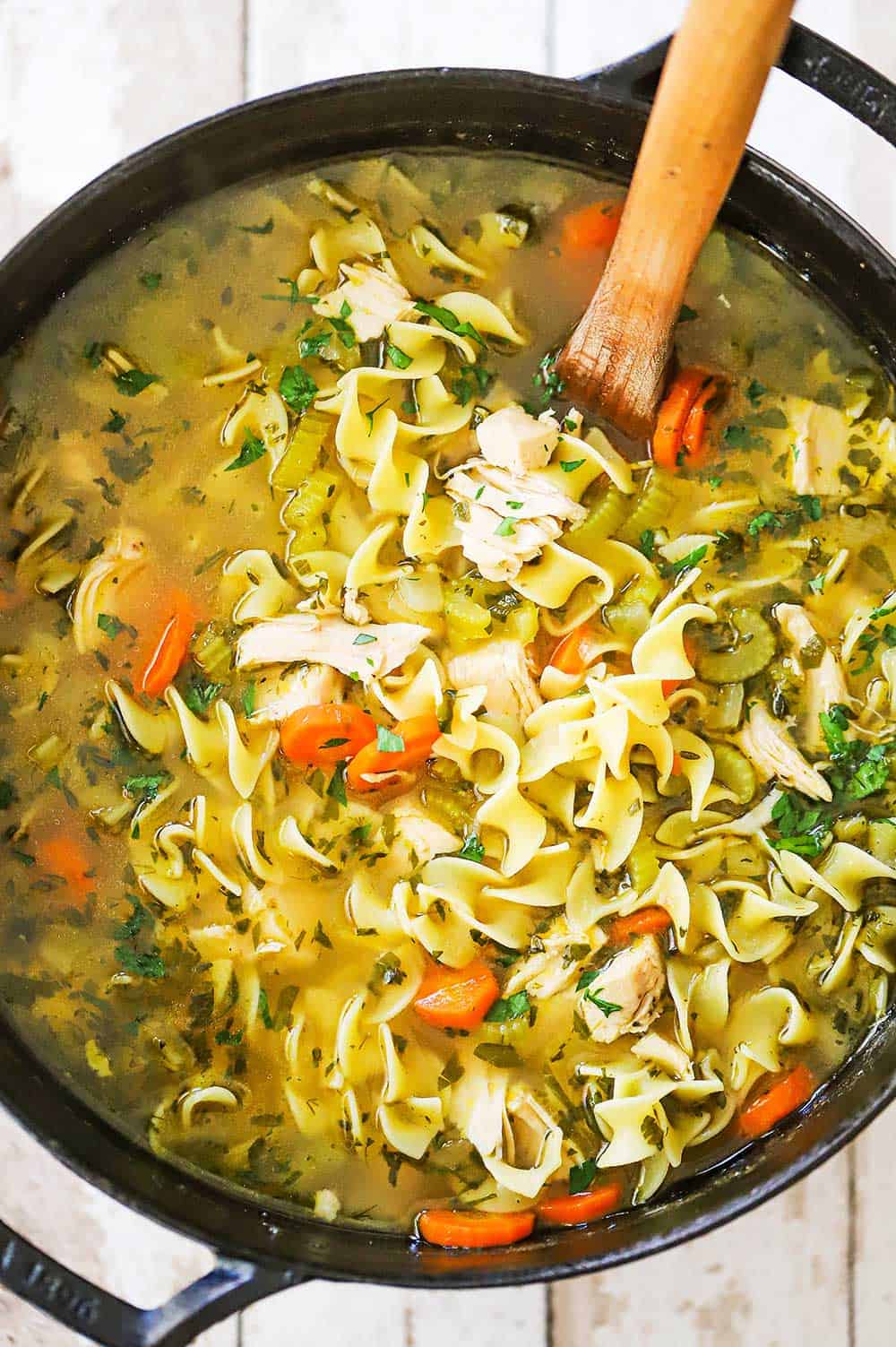 Other Classic Soups to Try
Like most of us, we are simply crazy for a good soup. Here are some of our favorites to make and serve:
Roasted Tomato and Basil Soup
Rustic Lentil Soup
Classic French Onion Soup
Tortilla Chicken Soup
Roasted Butternut Squash Soup
Farm Fresh Corn Chowder
New England Clam Chowder
Cioppino (San Fransicso-Style Seafood Stew
In the meantime, you've just got to make the most classic soup of them all!
Chicken Noodle Soup has been loved by generations and generations of families over the years.
When you make it from scratch, there is something truly magical about it.
Every single bite comforts you and warms you to the core. In our books, it's simply the best. We think you'll agree.
Ready to make a soup that will bring joy to you and your family with every single bite? Go for it!
And when you do, be sure to take a photo of it, post it on Instagram, and tag @HowToFeedaLoon and hashtag #HowToFeedaLoon!
Classic Homemade Chicken Noodle Soup
This Classic Homemade Chicken Noodle Soup is the ultimate in comfort. Make the stock and roast the chicken a day before and then it comes together very easily the next day. This freezes beautifully, too. Nothing much better than homemade chicken noodle soup. Yum!
Print
Pin
Rate
Servings: 8 people
Calories: 315kcal
Equipment
1 6 to 8 qt pot or Dutch oven
Ingredients
For the Roast Chicken
3 lb chicken breast skin-on, bone-in
2 tbsp olive oil
salt and pepper
For the Soup
10 cups chicken broth preferably homemade
2 tbsp unsalted butter
1 medium onion chopped
1 cup carrot sliced, about 3 medium carrots
3 celery ribs sliced
1 tbsp fresh thyme chopped
Juice of 1 lemon about 1 to 2 tablespoons
Kosher salt and black pepper
¼ cup fresh parsley chopped
2 cups egg noodles dried
Instructions
Roast the Chicken
Preheat oven to 350°F.

Rub the olive oil all over the chicken. Liberally salt and pepper. Place on a rack on a baking pan. Roast for 45 to 50 minutes, or until an internal temperature reaches 165°F.

Once the chicken is cool enough to handle, remove the skin and discard. Carefully pull the meat from the bones and roughly cut it into bite-sized pieces. Set aside.
Make the Soup
Heat the stock in a large pot over medium heat to a gentle simmer.

Meanwhile, in a large skillet, heat the butter over medium heat. Add the onion, carrot, celery, and thyme and cook until soft, about 5 minutes.

Add the cooked chicken and the cooked vegetables to the simmering broth.

Add the lemon juice, 2 teaspoons salt, ¼ teaspoon black pepper, and the parsley, leaving some left for garnish.

Simmer for 30 minutes.

Add the egg noodles and simmer for another 15 minutes, or until cooked through.

Taste and adjust seasoning, if necessary. Garnish with extra chopped parsley, if desired.
Notes
See the video near the top of the blog post for visual guidance. If you liked the video, please subscribe to our YouTube channel.
The homemade broth is really what makes the soup extra special. However, you can simplify the process by simmering skinless, boneless chicken breast in water for about 30 minutes until fully cooked. You'll have cooked chicken and a decent chicken broth. Better than the canned variety!
The broth can be made up to 5 days in advance. We often make a double batch of broth and freeze until we're ready to make soup again. The roasted chicken can be prepared up to 3 days in advance.
The soup will keep covered in the fridge for up to 6 days and freezes beautifully for up to 2 months.
Nutrition
Calories: 315kcal | Carbohydrates: 11g | Protein: 39g | Fat: 11g | Saturated Fat: 3g | Polyunsaturated Fat: 1g | Monounsaturated Fat: 5g | Trans Fat: 1g | Cholesterol: 124mg | Sodium: 1289mg | Potassium: 979mg | Fiber: 1g | Sugar: 2g | Vitamin A: 3030IU | Vitamin C: 29mg | Calcium: 46mg | Iron: 2mg
POST UPDATE: This recipe was originally published in April 2015, but was updated with improved tweaks to the recipe with new photography and tips and a fabulous new video in February, 2022!