This extremely comforting soup has been a favorite in our house for many, many years.
The chicken, ancho chiles, and avocado, mixed with the crispy corn tortillas, and the deep flavors of the homemade chicken broth…come together to make the most satisfyingly delicious soup. So good!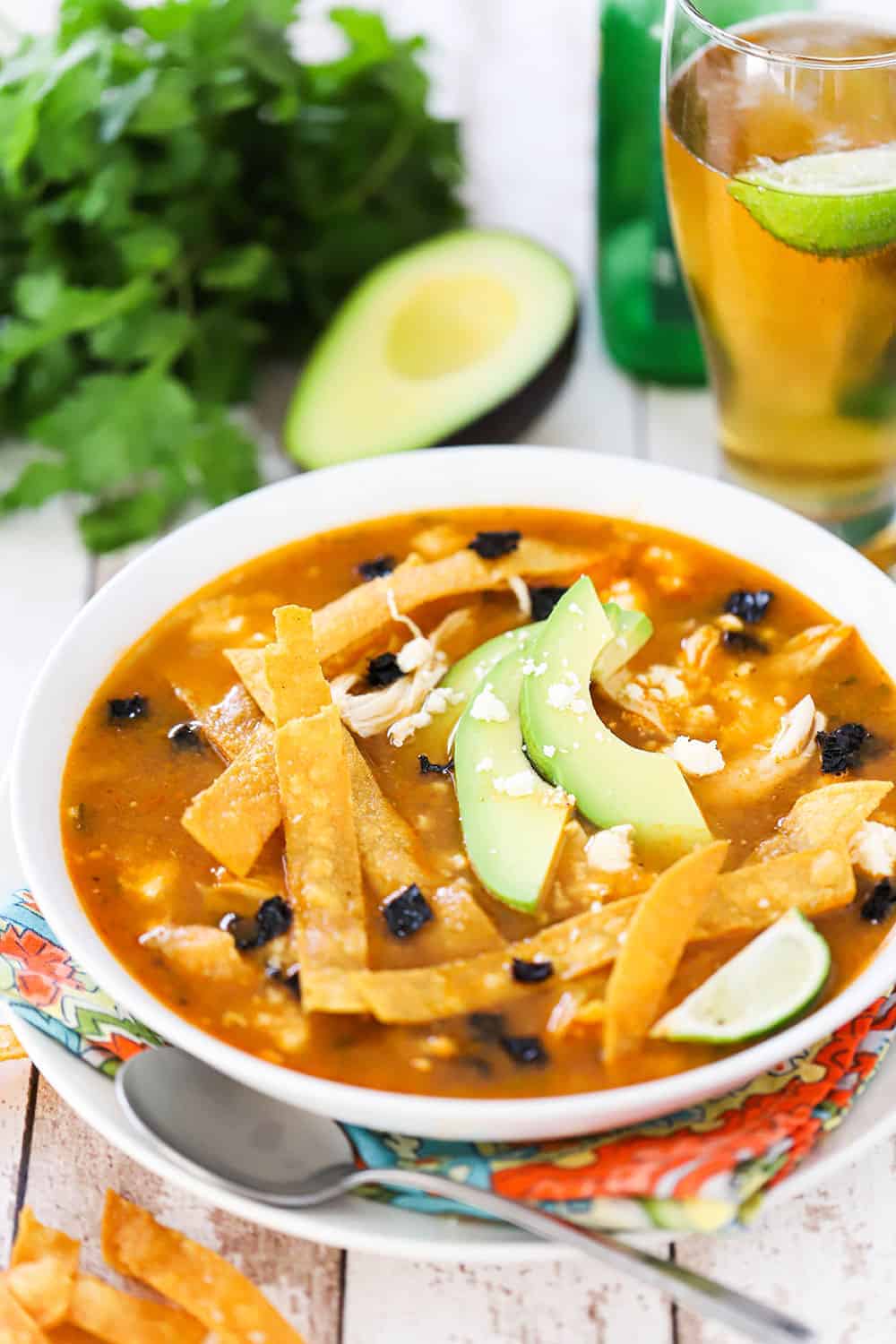 How To Make Chicken Tortilla Soup
This soup is really not difficult to prepare at all, and much of it can be made in advance.
It can also easily be adapted to your own tastes.
The most important element isn't tortillas, although it wouldn't be tortilla soup without them. The real key to making the best chicken tortilla soup recipe is quality chicken broth. More on that later.
Now, as mentioned, there are several components to this soup that can be made in advance.
The tortilla strips add such a wonderful taste and texture to the soup and can be made up to several days in advance.
EXPERT TIP: Frying up the strips is really easy. Simply get yellow or white corn tortillas and use a sharp knife or pizza cutter to cut the strips. Drop them into hot vegetable oil (350°F) until golden and crispy, about 1 to 2 minutes. Sprinkle with a little salt as soon as they come out of the oil. Alternatively, you can bake them in a 350°F oven. Simply brush a little olive oil on the strips and bake them for 10 minutes, toss them around a little, and then bake for another 5 minutes, until golden.
What to Serve with Chicken Tortilla Soup
In addition to the tortilla strips, we love the addition of seared ancho chili bits to deepen the flavor.
Ancho chiles are dried poblanos and pack medium-low heat. They can be found in the Mexican section of many well-stocked supermarkets, Mexican food markets, or ordered online.
Other wonderful garnishes for the soup include avocado, Mexican fresco cheese, Mexican crema (or sour cream), and chopped cilantro.
To prepare the ancho chili, simply cut off the stem, cut the pepper open, lengthwise, and remove the seeds. Then heat a skillet and sear the pepper for about 30 seconds to a minute. Then, use a knife to cut them into small pieces.
Deepening the Flavor Profile
Now, it's time to start building the basis of authentic tortilla soup.
Roasting the tomatoes concentrates the flavor and adds a depth of flavor that is just amazing.
EXPERT TIP: Do be careful when roasting the tomatoes. We find that 40 minutes softens the tomatoes just perfectly, but keep an eye on them. If your oven runs hot, it could burn the tomatoes. They should be extremely soft and just starting to brown on the edges. A baking sheet lined with foil makes clean up easy.
White onion and fresh garlic are key ingredients, too.
We peel the onion and then quarter it.
Heat 1 tbsp of olive oil in a large skillet over medium-high heat along with the onions pieces and whole garlic cloves and cook until starting to brown, about 10 minutes.
Pureé the Roasted Vegetables for Velvety Texture
Carefully transfer the roasted tomatoes and seared onions and garlic to a blender or food processor.
Pureíng the vegetables will create a smooth base for the soup that adds a depth of flavor and texture that is ideal.
EXPERT TIP: For an almost silky texture, you can strain the liquid through a fine-meshed sieve. While this does make the final soup a bit thinner and very smooth, we like a little texture in the soup, so we don't strain the pureé, but again, it's a matter of taste.
Transfer the pureéd vegetables back into the large skillet and cook over medium-high heat until reduced almost to a paste, about 10 minutes.
Now, it's time to stir in the homemade chicken broth and cilantro and let it simmer for 30 minutes.
It's almost soup time, folks!
How To Cook the Chicken
You could absolutely use the meat from a rotisserie chicken from the supermarket with no problem for the soup.
But we have a trick that really is just as easy and helps to flavor the soup even more.
EXPERT TIP: Once you start to simmer the soup, simply add in 1 or 2 boneless skinless chicken breasts. The 30 minutes of simmering will cook the chicken perfectly. Just use a pair of tongs to remove the chicken after 30 minutes of simmering, and then use a couple of forks to shred the chicken. Return the chicken back to the soup and simmer for another 5 to 10 minutes.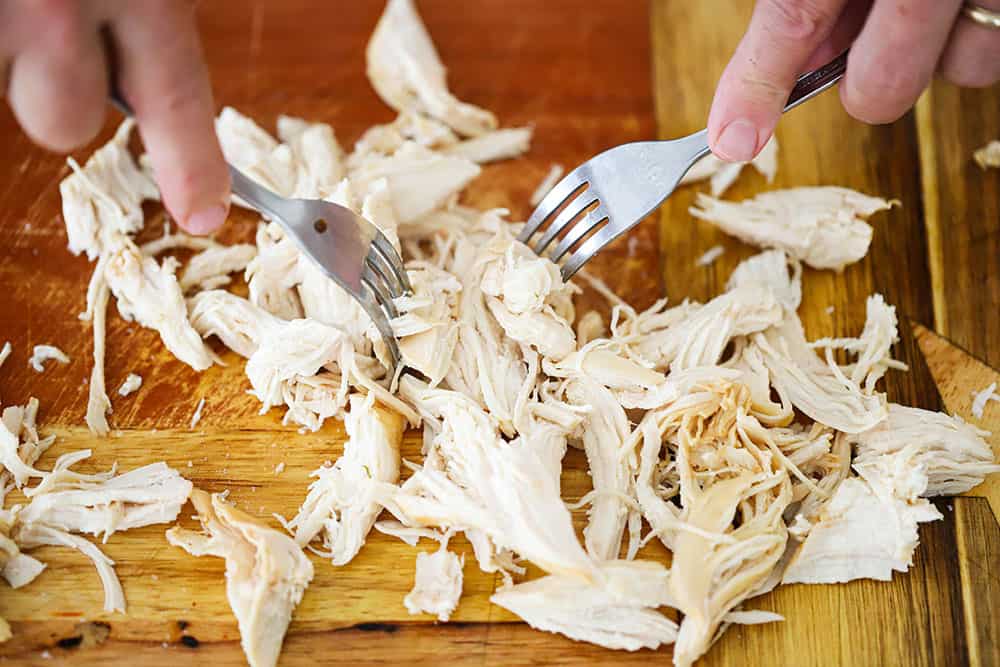 When To Serve Chicken Tortilla Soup
It's the perfect start to a Mexican-themed dinner party including:
Chili Rellenos Stuffed with Mexican Queso
Perfect Mexican Rice
Black Beans
Homemade Flour Tortillas
Or, pour yourself a big bowl of the soup for the perfect go-to lunch.
There is something about homemade chicken tortilla soup that just makes you feel good.
Deeply flavorful and warming, it's one of our most favorite soups of all time.
Mmmmmm….and when it's simmering on the stove, the smell is heavenly.
Ready to make the best soup this side of the Rio Grande? Go for it!
And when you do, be sure to take a photo, post it to Instagram, and tag @howtofeedaloon and #howtofeedaloon!
Chicken Tortilla Soup
Chicken Tortilla Soup is one of the most comforting soups ever. It's not difficult to prepare, and many of the components can be made in advance. This is a soup where the base is the most important element, namely the broth. Go with homemade, if possible (link in recipe).
Print
Pin
Rate
Servings: 8 people
Calories: 198kcal
Equipment
Blender or food processor
Ingredients
4 corn tortillas
Vegetable oil for frying about ½-inch in a heavy skillet, or use your deep fryer
2 tbsp olive oil divided
4 cloves garlic peeled and left whole
1 medium onion skin removed and quartered
2 ancho chiles stems and seeds removed
4 roma tomatoes cut in half, lengthwise
6 cups chicken broth
1 tbsp cilantro chopped, plus extra for garnish
Kosher salt
black pepper freshly ground
2 chicken breasts skinless, boneless
6 oz Mexican cheese crumbled, such as queso fresco, or Monterrey Jack
1 large avocado ripe, peeled, pitted, and thinly sliced
1 large lime cut into wedges
Instructions
Fry the Tortillas (Can be done in advance)
Use a knife, or pizza cutter, to cut the tortillas into ¼-inch strips.

In a large, heavy skillet (or deep fryer), heat the oil to medium-high heat (350°F). Add the tortillas strips and cook until golden and crisp, about 1 to 2 minutes. Use a metal slotted spoon to remove the strips and let drain on a paper towel-lined plate. Lightly salt. Set aside.
Prepare the Ancho Chilies (Can be done in advance)
Heat a large saucepan/skillet over medium-high heat. Make sure the chilis are opened up, with no seeds, and place them on the skillet for 1 minute, or until fragrant. Flip and sear for another 30 seconds. Remove from the heat and then when cool enough to handle, chop the chili into small pieces. Set aside.
BUILDING THE SOUP
Preheat oven to 400°F.

Place the tomatoes, cut-side up, on a baking sheet lined with aluminum foil. Drizzle a little olive oil over the tomatoes. Sprinkle with salt and pepper. Place in the oven and roast for 40 minutes.

Meanwhile, heat 1 tsp olive oil in a large skillet/saucepan over high heat. Add the onions and garlic and cook until soft and they are turning brown. It's okay if they char a little.

Carefully transfer the tomatoes, onions, and garlic to a blender or food processor. Pureé until smooth. Add the mixture back to the saucepan and cook on medium-high until thickened to almost a paste, about 10 minutes.

Add the chicken broth, cilantro, ¾ tsp salt, and ½ tsp pepper to the pan and stir to combine. Add the chicken breast and simmer the soup for 30 minutes. Remove the chicken and shred with a couple of forks. Add the chicken back to the soup and simmer for a few more minutes.

Taste and add more salt, if desired. Transfer soup to bowls and garnish with tortilla strips, ancho bits, cheese, avocado slices, and chopped cilantro. Serve at once!
Notes
Fry the corn tortillas strips in a deep-fryer, or sturdy skillet filled with about a ½-inch layer of vegetable oil. Alternatively, you can brush the tortilla strips with olive oil and then bake them in a 350°F oven for 10 to 15 minutes, tossing them once midway. Lightly salt. Any type of dried Mexican chili will work in place of the ancho. Just check the heat-level first. Some chili's carry quite a bit of heat. Ancho chilis are mild. If you want a spicier soup, then split a fresh jalapeno pepper down the middle and remove some of the seeds. Roast them with the tomatoes and then add them to the blender when pureíng. We strongly recommend making the chicken broth from scratch. You can use the chicken for the soup! The soup will keep in the refrigerator for up to 1 week and freezes beautifully for up to 2 months.
Nutrition
Calories: 198kcal | Carbohydrates: 19g | Protein: 9g | Fat: 11g | Saturated Fat: 4g | Cholesterol: 20mg | Sodium: 811mg | Potassium: 577mg | Fiber: 6g | Sugar: 6g | Vitamin A: 2753IU | Vitamin C: 26mg | Calcium: 180mg | Iron: 1mg
POST UPDATE: This recipe was originally published in January 2015, but was updated with improved tweaks to the recipe with new tips and photography, and a fabulous new video in October 2020!