This dish is classic Italian fare and we absolutely love it.
Fra Diavolo is Italian for "Brother Devil." The sauce is called this because it does carry some heat, but you can easily pull back on the crushed red pepper to make it less devilish. And it comes together in about 30 minutes! So amazing and truly devilishly delicious!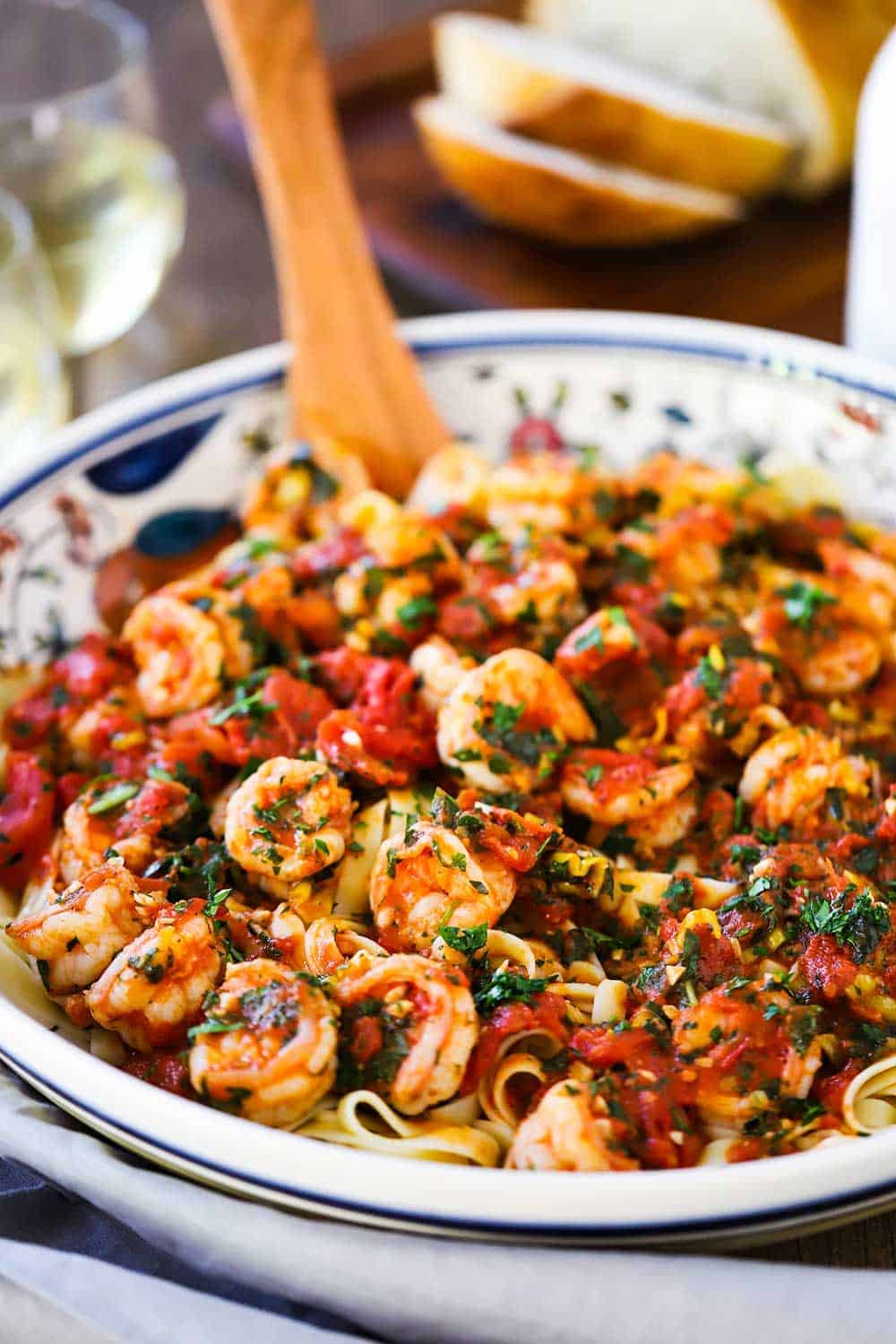 How to Make Shrimp Fra Diavolo
The ingredients in this Seafood Fra Diavolo are simple and straightforward.
And don't be worried about the anchovies and peperoncini, they add depth to the overall taste that really sets this dish apart.
BUILDING THE FLAVOR PROFILE
Be sure to get shrimp with the shells and tails still attached. Sauteeing the shrimp shells in olive oil infuses that wonderful shrimp taste into the sauce.
Drain your tomatoes through a colander into a bowl, crushing the tomatoes with your hands to release their juices. The liquid from the can and the tomatoes go into the shrimp stock and wine sauce. Strain the sauce into a bowl and set aside.
EXPERT TIP: Adding white wine will continue to deepen the flavor of the sauce. Go with a nice dry white, such as Sauvignon Blanc or Chardonnay. Be sure to stand back when pouring in the wine, as there is a chance it could flame. Cook until the wine is reduced, about 5 minutes.
Controlling the Spice Level
So, this Shrimp Fra Diavolo recipe is known for being a bit spicy. That being said, it's really easy to control the heat.
A little later on, we're going to add some chopped pepperoncini peppers with their brine. This will add a little heat to the dish, but not much.
EXPERT TIP: Here is a guide for controlling the heat in this dish:
Minimal spice: ½ to 1 teaspoon red pepper flakes
Medium spice: 2 teaspoons red pepper flakes
Spicy: 3 teaspoons red pepper flakes
Super spicy: 4 teaspoon red pepper flakes
After sauteeing the garlic and spices, next, go in the anchovies. They add depth of flavor to the dish but aren't overpowering. The prepared sauce and finally the shrimp go into the pan to finish off the cooking process.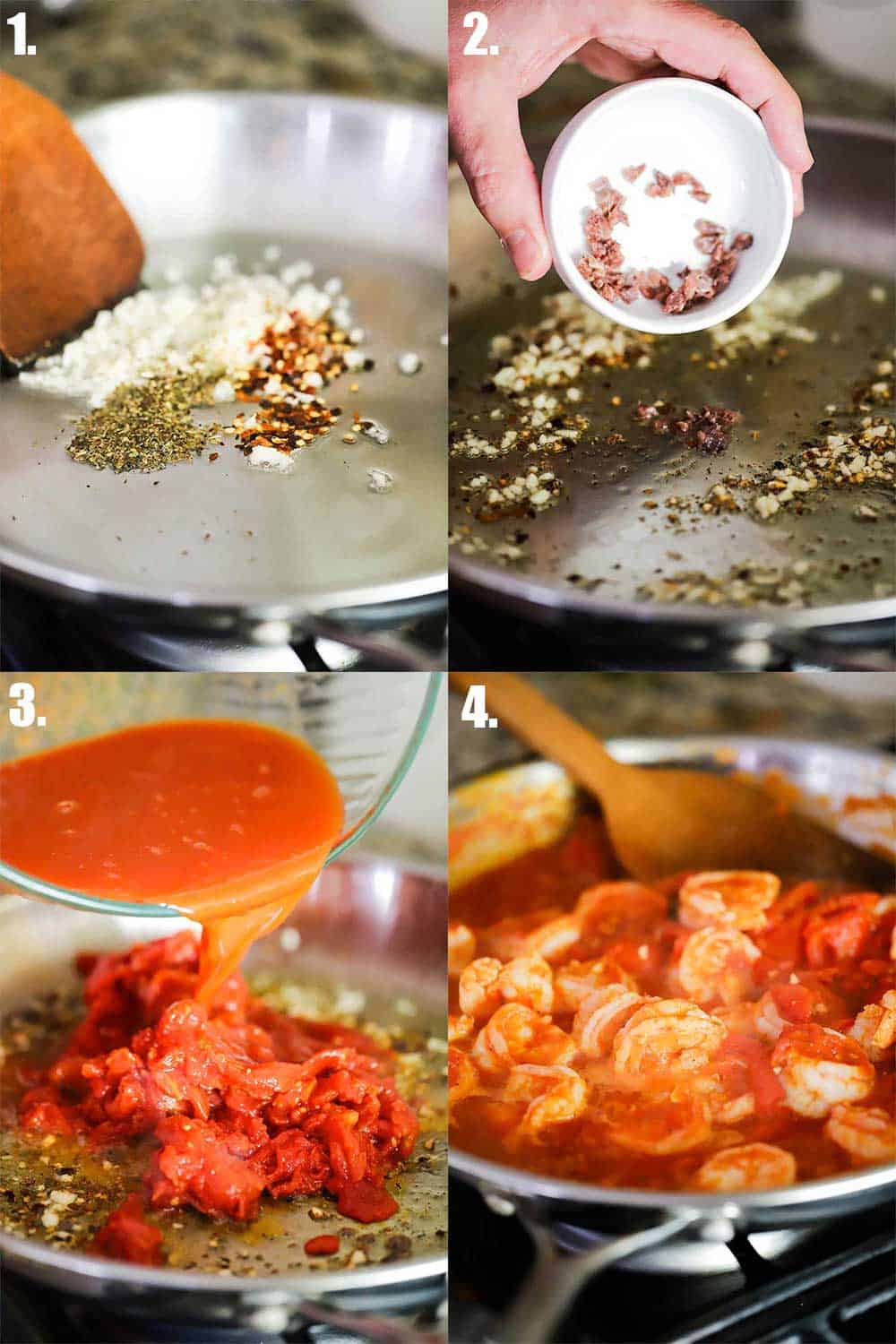 Finishing Off the Dish
We're almost ready folks!
Once the shrimp is fully cooked and nice and pink (about 5 minutes of cooking), turn off the heat and add in the chopped pepperoncini (with brine) and the fresh parsley and basil.
EXPERT TIP: While the dish is simmering, bring a large pot of heavily salted water to a boil and cook your pasta until al dente. Long pasta is best for this dish. Linguine, fettucini, spaghetti, and angel hair are all excellent choices. Be sure not to overcook the pasta and drain it well before transferring to your serving dish.
This dish is truly as impressive in presentation as it is in taste.
If you love this dish, you would also love our Succulent Shrimp Scampi. It is the bomb (and spicy at all).
Learn more about the origins of this recipe and other popular dishes here!
Will Feed a Hungry Family
This dish is filling and easily feeds a family of 4 to 6.
Serve it with a nice green salad and a crusty loaf of Italian bread.
We love to finish the dish off with a little drizzle of good-quality olive oil.
This dish is best served right off the stove.
You can make the sauce, before adding in the shrimp, up to 1 day in advance.
EXPERT TIP: We love going with large shrimp for this dish. We recommend extra large, or jumbo, or extra jumbo. Remember, you want to get shrimp with shells and tails still left on!
Folks, this without a doubt is one of our all-time favorite pasta dishes.
It's easy. It's adaptable. And it's festive.
And more than anything, it's incredibly delicious.
Ready to make a devilishly yummy pasta dish? Go for it!
And when you do, be sure to take a photo of it, post it on Instagram, and tag @howtofeedaloon and hashtag #howtofeedaloon.
Shrimp Fra Diavolo
Shrimp Fra Diavolo is classic Italian cuisine. The dish is known for being spicy, but it's easy to control how much heat you add to the dish (see Notes). And it comes together in about 45 minutes or less!
Print
Pin
Rate
Servings: 6 people
Calories: 542kcal
Equipment
A large skillet/saucepan and a colander.
Ingredients
1 lb pasta linguine, spaghetti, fettuccini, angel hair
1½ lbs shrimp extra large, peeled and deveined, shells reserved
2 tsp Kosher salt divided
1 28 oz. can whole tomatoes San Marzano are best
3 tbsp olive oil divided
1 cup white wine dry
6 cloves garlic minced
2 tsp red pepper flakes 1 for minimal heat, 3 for spicy
1 tsp oregano dried
2 anchovy fillets chopped
½ tsp black pepper freshly ground
¼ cup basil fresh, chopped
¼ cup parsley fresh, chopped
4 pepperoncini peppers pickled, stemmed and seeded, chopped
2 tsp pepperoncini peppers brine from the bottle
2 tbsp extra-virgin olive oil
Instructions
Bring a pot of heavily salted water to a boil. Add the pasta and cook until al dente, following packaging instructions.

Sprinkle salt and pepper all over the shrimp and set aside.

Pour tomatoes into a colander set over a large bowl. Squeeze the tomatoes with your hands to break them apart and release their juice. Transfer the drained tomatoes to a small bowl. Set the reserved juice aside.

Heat 1 tablespoon of the olive oil in a large skillet over medium-high heat until shimmering. Add shrimp shells and cook, stirring frequently, until they start to slightly brown, about 4 minutes.

Carefully add the wine and bring to a boil. Reduce heat to medium and simmer until liquid has reduced somewhat, about 3 to 4 minutes.

Add reserved tomato juice and simmer for 5 minutes.

Pour contents of the skillet into a colander set over a large bowl and press on the shells with the back of a wooden spoon. Discard shells and set the bowl with the tomato/shrimp stock sauce to the side.

Wipe out the skillet with paper towels. Heat remaining 2 tablespoons of oil in the skillet.

Add garlic, pepper flakes, and oregano over medium heat, stirring occasionally, for 2 minutes. Add anchovies and cook, stirring frequently, for 1 minute more.

Add reserved tomato juice mixture and bring to a simmer. Add in the tomatoes and simmer for another 5 minutes, until the sauce has thickened a little further. Stir in 1 tsp of salt and ½ tsp black pepper.

Add shrimp to skillet and simmer gently, stirring frequently, until they are pink, curled, and cooked through, about 5 minutes.

Remove pan from heat. Stir in basil, parsley, chopped pepperoncini, and brine.

Drain pasta and transfer to a serving bowl. Pour sauce over the top and drizzle with olive oil and garnish with extra parsley, if desired. Serve immediately.
Notes
We love using large shrimp for this dish. Extra Large, Jumbo, or Extra Jumbo are all excellent choices. If frozen, place the shrimp in a colander and run cool water over them until they are thawed, usually about 5 to 8 minutes. Be sure to keep the shells and tails! Spice levels: 1/2 tsp red pepper flakes for low heat, 1 tsp for medium-low, 2 tsp for medium heat, 3 tsp for extra spicy, 4 tsp for super hot. The anchovies do add a depth of flavor but aren't overpowering at all. Pepperoncini peppers can be found in the condiments aisle of most well-stocked supermarkets, usually near the pickles and olives. Hot banana pepper rings can be used in place of pepperoncini peppers, too. While you are prepping the ingredients for the dish, get your salted pasta water going. Once you start sautéing the garlic, stick the pasta in. Don't over-cook! Drain completely before transferring to the serving dish. The sauce, up to adding the shrimp, can be made up to 1 day in advance. The finished sauce (without pasta) can be frozen for up to 2 months.
Nutrition
Serving: 1g | Calories: 542kcal | Carbohydrates: 60g | Protein: 34g | Fat: 12g | Saturated Fat: 2g | Cholesterol: 287mg | Sodium: 1678mg | Potassium: 344mg | Fiber: 3g | Sugar: 3g | Vitamin A: 484IU | Vitamin C: 15mg | Calcium: 201mg | Iron: 4mg
POST UPDATE: This recipe was originally published in October 2017, but was updated with improved tweaks to the recipe with new tips, photography, and a fabulous new video in May 2002!