Shrimp Fra Diavolo is a real treat.  Fra Diavolo is Italian for "Brother Devil."
The sauce is called this because it does carry some heat, but you can easily pull back on the crushed red pepper to make it less devilish.
This is one of our favorite Italian pasta dishes of all time!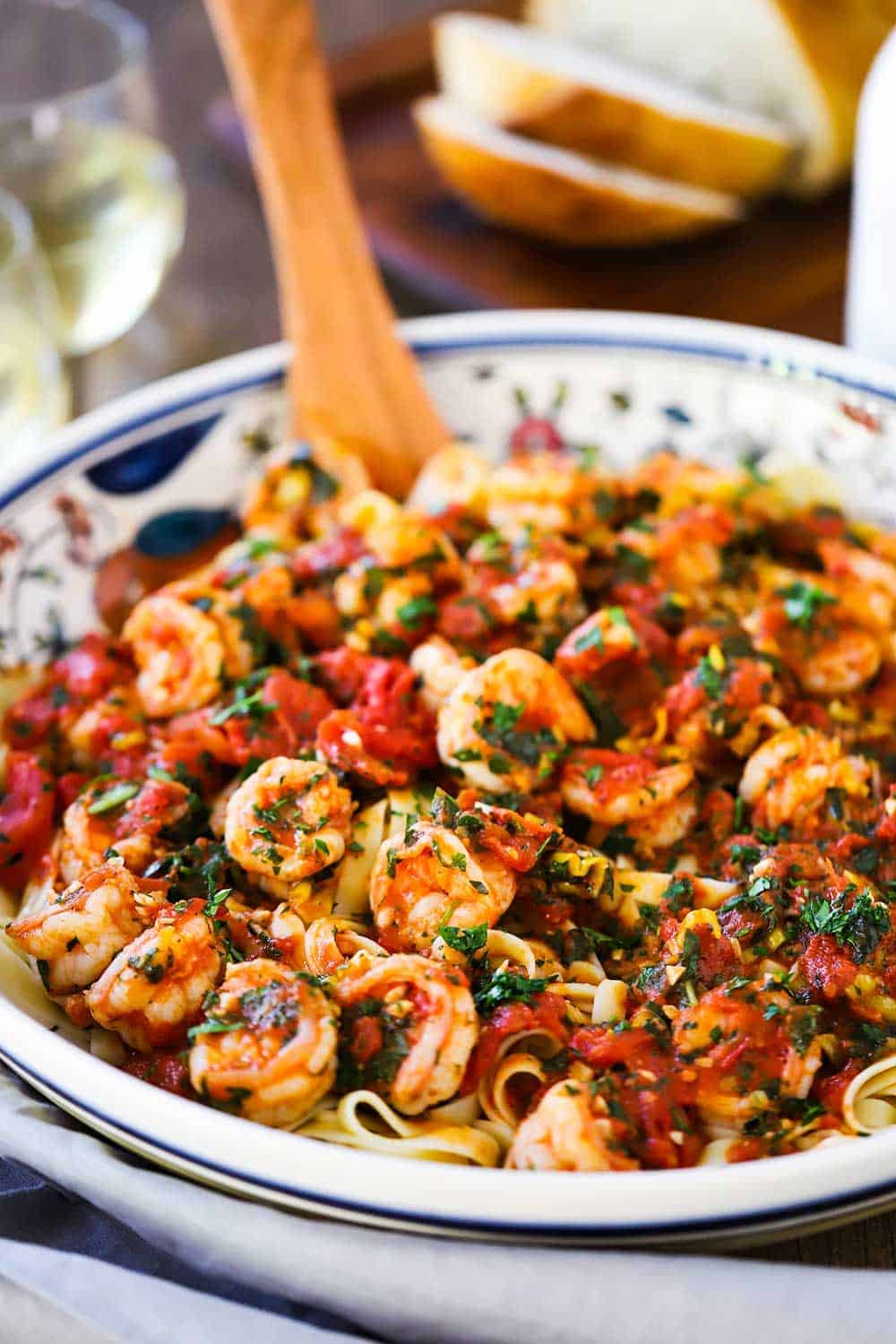 HOW TO MAKE SHRIMP FRA DIAVOLO
The ingredients in this dish are simple and straightforward, and don't be worried about the anchovies and peperoncini, they add a depth to the overall taste that really sets this dish apart.
If you love this dish, you would also love our Succulent Shrimp Scampi. It is the bomb (and not as spicy).
Learn more about the origins of Shrimp Fra Diabolo and other popular dishes from here!
SHRIMP FRA DIAVOLO SPICES THINGS UP A BIT…BUT NOT TOO MUCH
Actually, the Loon likes things spicy, but not too spicy and this dish is perfect in that regard.
This classic Italian pasta recipe makes you feel warm and tingly when you eat it, but trust us, you won't suffer.  You'll just thank heavens for this devil of a good dish!
100% Loon Approved!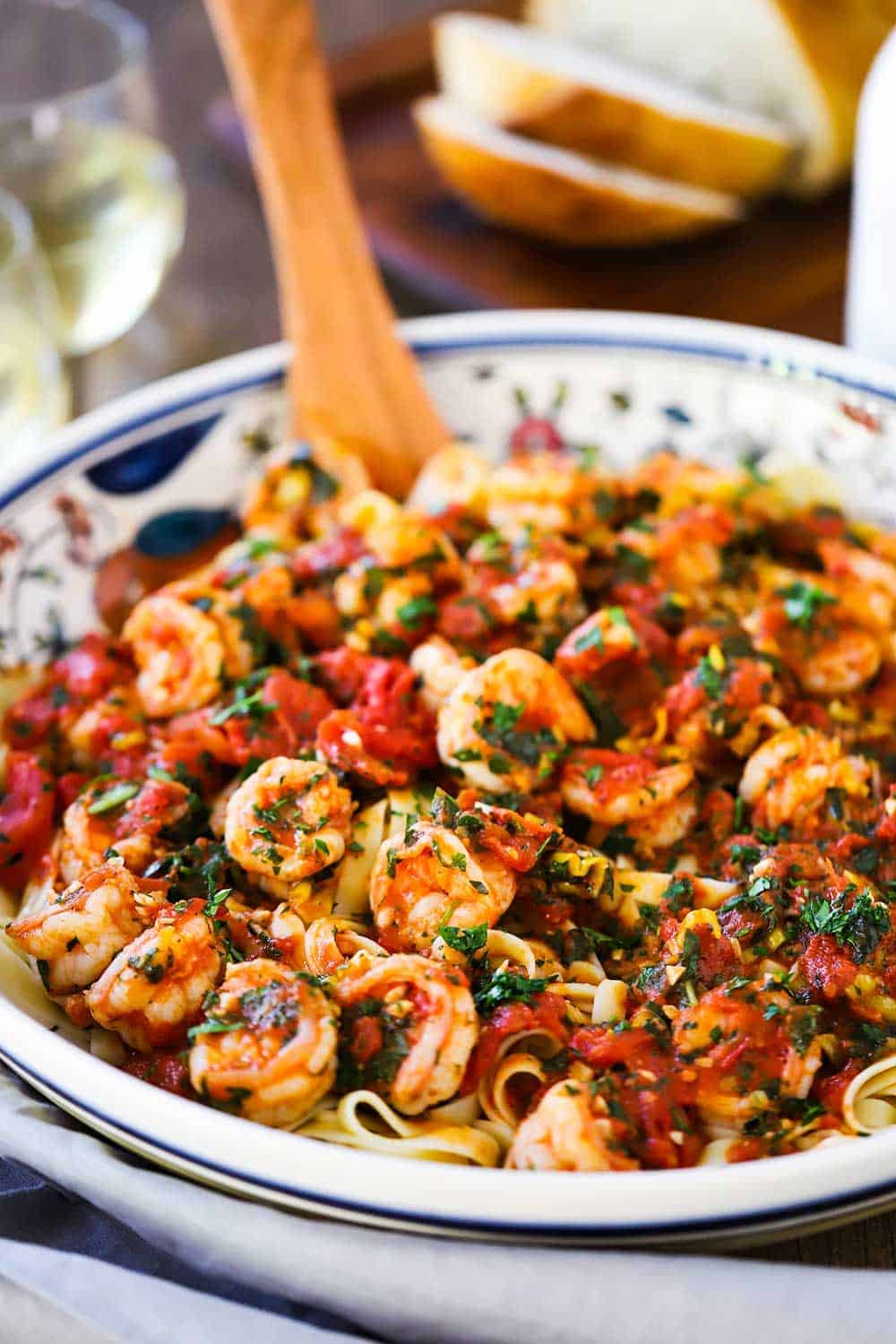 Shrimp Fra Diavolo
Shrimp Fra Diavolo is so good. Just enough heat to make you love it that much more. Comes together in about 45 minutes. This is a favorite in our house!
Print
Pin
Rate
Prep Time: 20 minutes
Cook Time: 25 minutes
Total Time: 45 minutes
Servings: 4 people
Calories: 289kcal
Ingredients
1 1/2 lb large shrimp peeled and deveined, shells reserved
Kosher salt
1 28 oz can whole tomatoes San Marzano are best
3 tbsp olive oil
1 cup dry white wine
6 garlic cloves, minced
1 tsp red pepper flakes
1/2 tsp dried oregano
2 anchovy fillets, minced
1/4 cup fresh basil, chopped
1/4 cup fresh parsley, chopped
1 1/2 tsp jarred pepperonchini, chopped, plus 1 tsp juice from the jar
2 tbsp extra-virgin olive oil
1 lb dried bucatni or linguine, cooked al dente (about 7 - 8 minutes in salted boiling water)
Instructions
Toss shrimp with 1/2 teaspoon salt and set aside.

Pour tomatoes into colander set over a large bowl.

Squeeze the tomatoes with your hands to break them apart and release their juice.

Transfer drained tomatoes to small bowl and reserve juice.

Heat 1 tablespoon oil in large skillet over medium-high heat until shimmering.

Add shrimp shells and cook, stirring frequently, until they start to slightly brown, about 4 minutes.

Remove skillet from heat and carefully add the wine.

Return skillet to heat and simmer until liquid is reduced, about 3 minutes.

Add reserved tomato juice and simmer for 5 minutes.

Pour contents of skillet into colander set over a bowl.

Discard shells and reserve liquid.

Wipe out skillet with paper towels.

Heat remaining 2 tablespoons oil in the same skillet.

Add garlic, pepper flakes, and oregano over medium heat, stirring occasionally, for 2 minutes.

Add anchovies and stir for 1 minute more.

Add drained tomatoes and reserved tomato juice mixture.

Increase heat to medium-high and simmer until mixture has thickened, about 5 minutes.

Add shrimp to skillet and simmer gently, stirring frequently, until they are just cooked through, about 5 minutes.

Remove pan from heat.

Stir in basil, parsley, and pepperonchini and brine and season with a couple pinches of salt.

Place prepared pasta in bowl.

Pour sauce over the top and drizzle with olive oil.

Serve and enjoy!
Nutrition
Serving: 1g | Calories: 289kcal