Spinach and Cheese Cannelloni is classic Italian cuisine and one of our favorites.
These are great by themselves, but also work wonderfully as a 'primi' to your main Italian course. You can even assemble these gems well ahead of serving time (up to a day), then pop in the oven before you are ready to serve, re-heat some of the sauce to top, and you're good to go.
HOW TO PREPARE SPINACH AND CHEESE CANNELLONI
So much of this dish can be prepared in advance.
The sauce is so flavorful and we love the combination of Italian sausage and beef. The sauce and the filling can be made up to a day in advance of serving.
EXPERT TIP: Canned San Marzano whole tomatoes are our tomatoes of choice for the sauce. Make sure the can says "Certified" to ensure the tomatoes are actually imported from Italy.
HOW TO PREPARE THE SPINACH
Wilting the spinach is super easy.
All you need to do is submerge the fresh spinach in salted water and then bring to a boil.
The spinach wilts and reduces in sized. Simply drain and then roughly chop.
A CLASSIC FILLING
Spinach and Cheese Cannelloni is very classic and we just love the combination of cooked fresh spinach with fresh ricotta cheese and grated parmesan.
The creamy ricotta is the perfect match against the salty Parmigiano-Reggiano.
Just look at this incredible filling!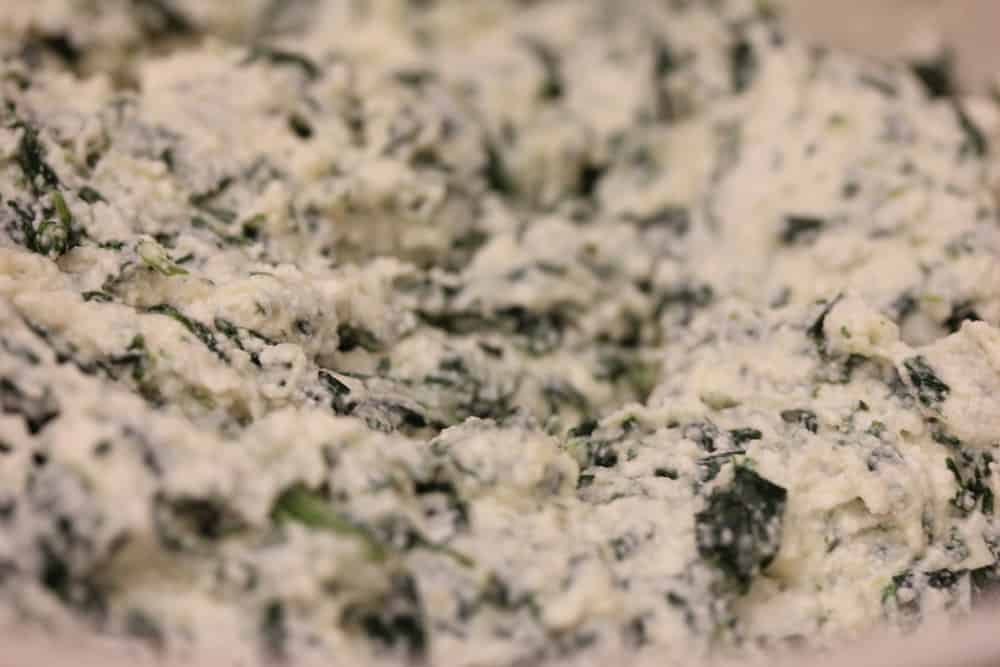 HOW TO ROLL THE SPINACH AND CHEESE CANNELLONI
Rolling the mixture with the cooked pasta is awesome and fun.
Of course, fresh homemade pasta is best here, but you can also cook up dried lasagna noodles, and then cut them to 4″x4″ squares, and they'll work fantastic, as well.
Now, we're ready for the oven.
Simply place the prepare pasta into a baking sheet, cover with sauce, and bake until cheese is bubbly and the edges are slightly browned.
This is Italian cuisine at its very best.
Pure comfort and so much fun to make! Delizioso!
Spinach and Cheese Cannelloni
This spinach and cheese cannelloni is just amazing. Make ahead of time and serve as your lead-in "primi" to your main Italian course. Real authentic Italian...so good!
Print
Pin
Rate
Servings: 8 people
Calories: 286kcal
Ingredients
FOR THE SAUCE
2 tbsp good-quality olive oil
1 yellow onion chopped
2 garlic cloves minced
1/2 lb Italian sweet sausage casings removed and coarsely chopped
1/2 lb ground beef sirloin
Kosher salt and freshly ground pepper
1 28 oz. can whole tomatoes drained and chopped (San Marzano are my favorite)
1 28 28 oz. can tomato puree
6 fresh basil leaves roughly chopped
FOR THE FILLING
1 lb spinach thick stems removed
Kosher salt and freshly ground pepper
2 lb whole-milk ricotta cheese
2 large eggs lightly beaten
1 1/2 cups grated Parmigiano-Reggiano cheese
Instructions
MAKE THE SAUCE
In a large skillet, over medium heat, warm the olive oil.

Add the onion and saute until golden, 6 - 8 minutes.

Add the garlic, and cook for another minute.

Stir in the sausage, beef, and a healthy pinch of salt and pepper.

Cook, stirring and breaking up the meat with a wooden spoon, until meat is browned, about 7-8 minutes. At this point, if too much fat has rendered, tilt the skillet and remove excess with spoon (leave some, or all...it will incorporate as it cooks down).

Add the tomatoes and puree, and simmer until the sauce has thickened, about 15 - 20 minutes.

Stir in basil and set aside.
MAKE THE FILLING
In a large saucepan, combine the spinach, 1/4 cup water, and a pinch of salt.

Cover and turn heat to medium. Spinach will be piled high, but will quickly wilt down.

Cook until tender, about 3 - 4 minutes.

Drain the spinach and let cool, then squeeze out the excess liquid.

Chop the spinach.

In a bowl, stir together the spinach, ricotta, eggs, and 1 cup of the cheese.

Season with salt and pepper (about a pinch each).

Cover and refrigerate until needed.
PREPARE THE PASTA
Make fresh pasta sheets, boil for about 2 minutes...gently drain water and place sheets on board and cut 4"x4" squares with a pizza cutter. OR, boil dried lasagna noodles (according to package instructions), drain, and cut 4"x4" squares.
ASSEMBLE AND FINISH THE DISH
Pre-heat oven to 375F.

Spread a thin layer of the sauce in the bottom of two 9x13-inch baking dishes.

Lay a pasta square on a work surface, spoon about 3 tablespoons of the filling down one end of the square, and then roll into a tube.

Place the tube, seam side down, in one of the prepared dishes.

Fill the remaining pasta squares in the same way and arrange them in the dishes.

Spread the remaining sauce on top of the rolls, dividing evenly between the dishes.

Sprinkle remaining cheese over the top.

Bake the cannelloni until sauce and cheese are bubbling, about 40 minutes.
Nutrition
Calories: 286kcal