Bringing an amazing meal to the dinner table doesn't necessarily require multiple hours in the kitchen. How does 20 minutes sound?
We're taking purchased fresh ravioli and elevating it to a level your family will swear took you hours to prepare. Serve with classic caesar salad and easy cheesy garlic bread for an amazing Italian feast. In about 20 minutes! Wow!
VIDEO ALERT: Be sure to check out our 'How To Prepare Easy Ravioli with Creamy Basil-Tomato Sauce' video in the recipe card. And if you like the video, subscribe to our YouTube Channel!
How To Make Easy Ravioli with Creamy Tomato-Basil Sauce
Ravioli is one of the most beloved types of pasta of all. We love all kinds, with fillings ranging from cheese, meat, seafood, or mushrooms. The pasta can be regular, spinach, or even black squid ink!
Homemade is always best, but sometimes we don't have time to make something like ravioli from scratch.
Good-quality fresh ravioli can be found in most well-stocked supermarkets. Go with your favorite kind.
EXPERT TIP: Because fresh ravioli only takes about five minutes to cook, there is no need to boil the pasta at all. Simmering in your sauce is all you need to cook the pasta. If you use frozen ravioli, then we do recommend following the packaging directions. But we highly recommend using fresh.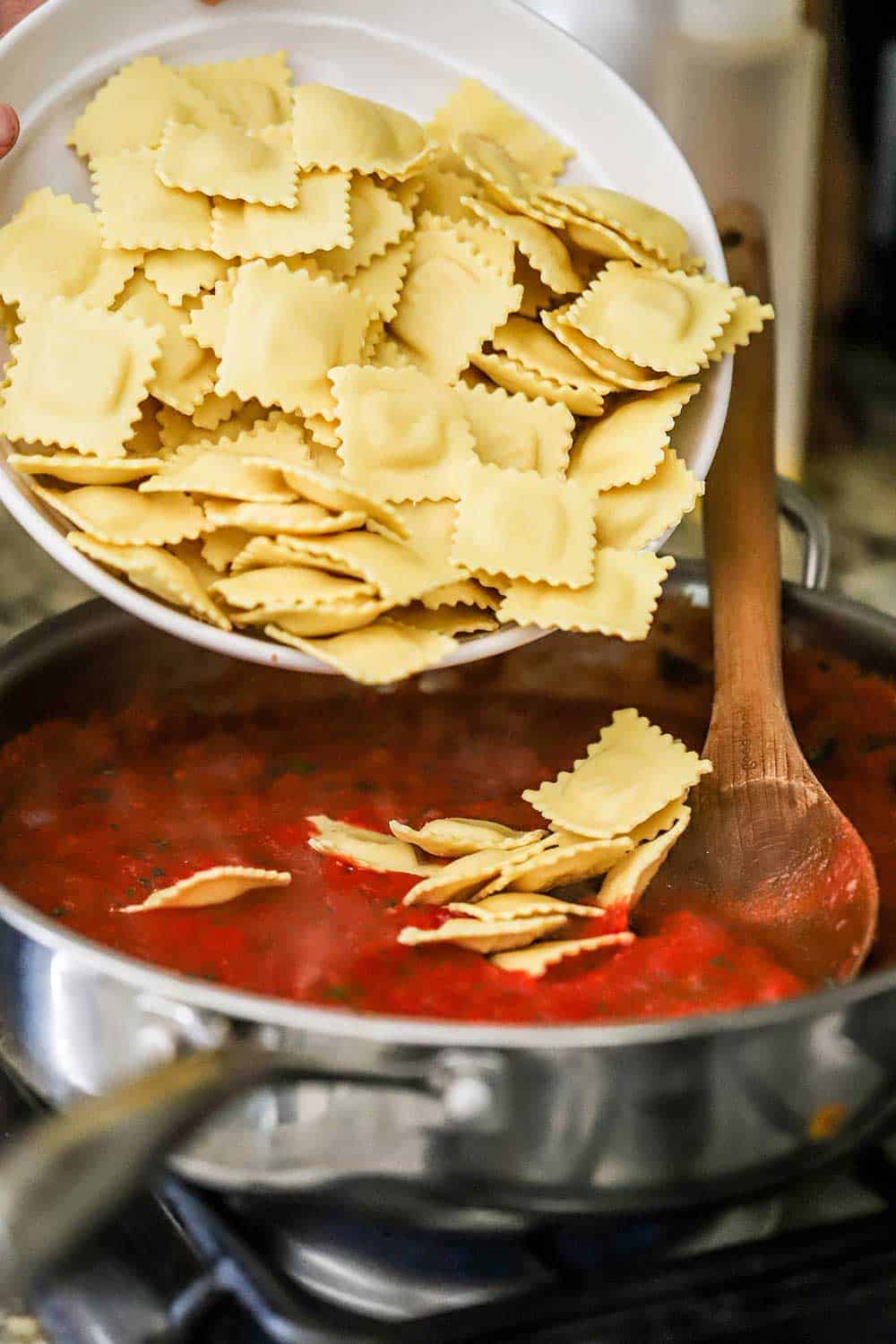 Elevating the Flavor Profile
Starting with simple, yet flavorful ingredients will allow you to quickly create a sauce that takes easy ravioli to the next level.
You can modify these ingredients to your own tastes, or to whatever you have in your pantry, but here are the ingredients we use to make the most amazing sauce (in a matter of minutes).
Onion – chopped
Garlic – minced
Basil – fresh or dried
Oregano – fresh or dried
Salt and pepper
Red pepper flakes
Crushed tomatoes – canned
Chicken broth – or vegetable
Heavy cream – or milk
Sun-dried tomatoes – in herbed oil
Parmesan cheese – grated
Parsley – for garnish (optional)
Other great options to include in the sauce:
Olives – black, green, Kalamata
Sliced mushrooms – lightly sautéed
Artichoke hearts – canned or bottled (in water or oil)
Mozzarella – cubed
Ground beef – browned
Italian sausage – browned and cut into slices.
Easy Ravioli Tips
Fresh is Best – Fresh ravioli can be found in most well-stocked supermarkets, often near the deli and prepared food area. If going with frozen, you'll want to follow the package instructions and boil them first. Be sure not to boil them too long, or they run the risk of opening up and losing the filling.
Herbs Bring Flavor – Fresh or dried herbs are a key component to elevating the flavor profile of the sauce. A good rule of thumb is to use 1 tbsp of fresh herbs or 1 tsp of dried. A combination of oregano and basil is great. The addition of thyme, rosemary, and/or marjoram are nice additions, too.
Cream and Parmesan Cheese Add Luxuriousness – We love to add heavy cream to the sauce. This adds a depth of flavor to the sauce that is really great. Whole milk works perfectly, too. The grated Parmesan cheese adds amazing taste and thickens the sauce. If you like a thinner sauce, increase the amount of broth and/or cream.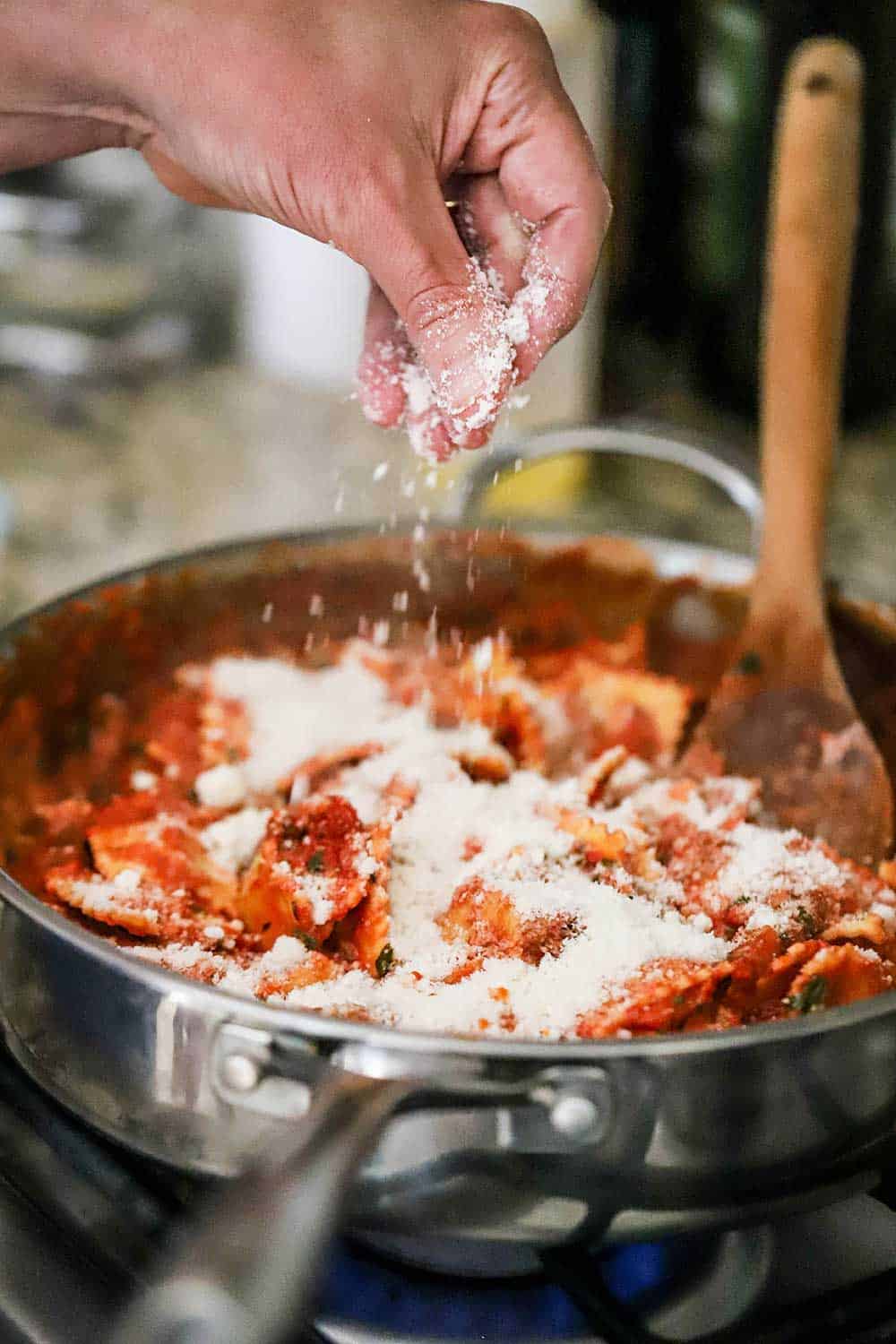 How To Store and Reheat
Make-Ahead: If you would like to make this dish entirely ahead of time, we recommend that you make it without adding the ravioli and the Parmesan cheese. Just about the time you want to serve it, bring the sauce to a low simmer and stir in the fresh ravioli. After about 5 to 7 minutes, stir in the Parmesan cheese and continue stirring until melted, about 1 to 2 minutes.
Storing: Leftovers will keep in the fridge for up to 5 days and it can be frozen for up to 2 months. Completely thaw before reheating.
Reheating: Add the leftovers to a skillet over medium heat. Add ½ cup of broth or water and stir until heated through. About 10 minutes.
EXPERT TIP: We love to serve the dish garnished with chopped parsley, although this isn't 100% necessary. Be sure to have extra grated Parmesan cheese and red pepper flakes for anyone who wants a little extra sprinkled on top of her/his serving.
When and How To Serve
As mentioned previously, this dish is perfect for a weeknight after a busy day. So satisfyingly delicious, and so easy and fast to prepare.
However, the dish is so wonderful and beautiful, you could serve this as part of an Italian dinner party and your guests will never guess how simple it was to prepare.
Start off with a Classic Caesar Salad and then serve with Easy Cheesy Garlic Bread. Dinner perfection!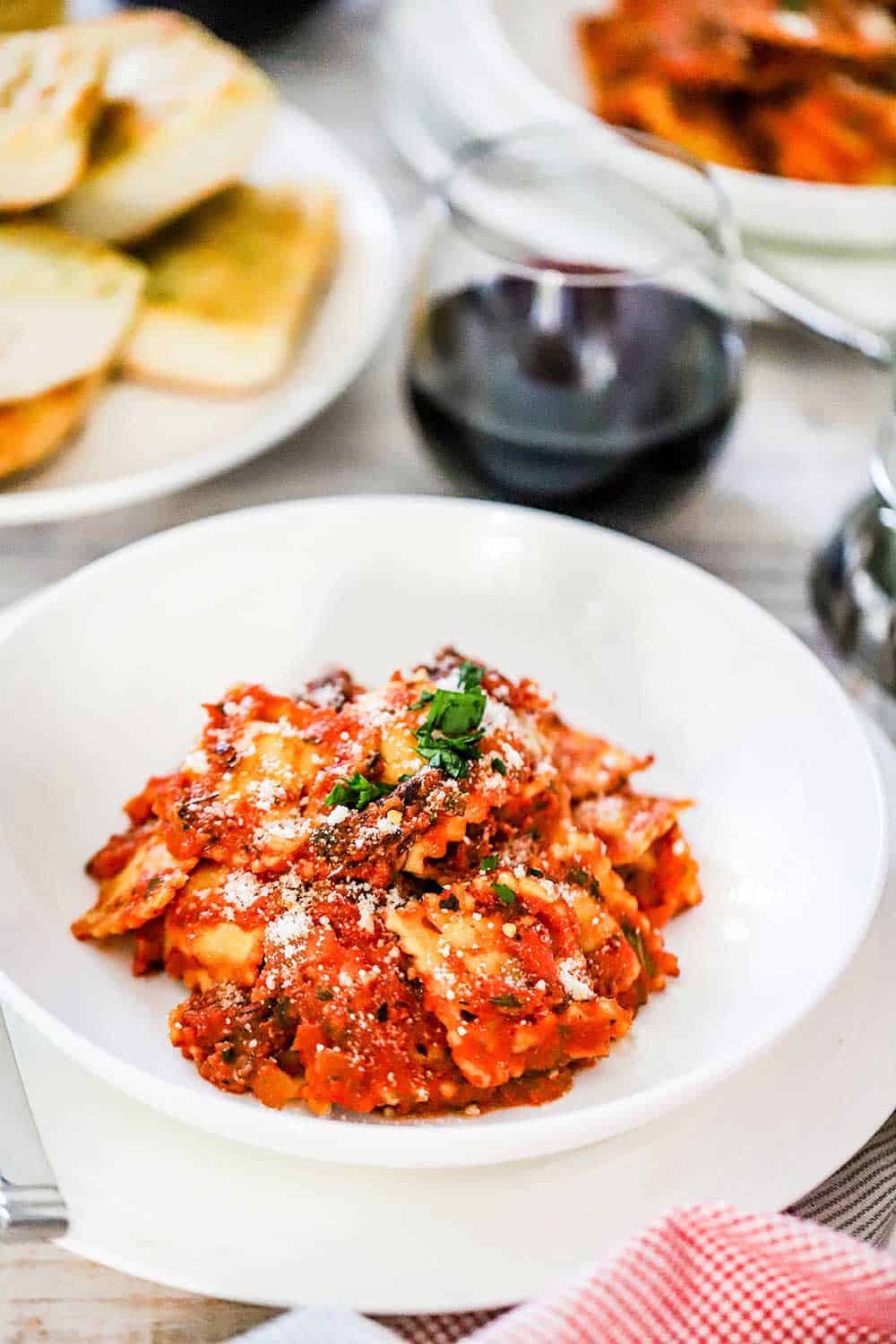 This has become one of our go-to meals, especially when we are crunched for time.
The flavor is top-notch and the preparation is just so quick and easy.
The family is going to be requesting this dish time and time again, much to your delight. Another easy weeknight dinner is our Sheet Pan Greek Chicken!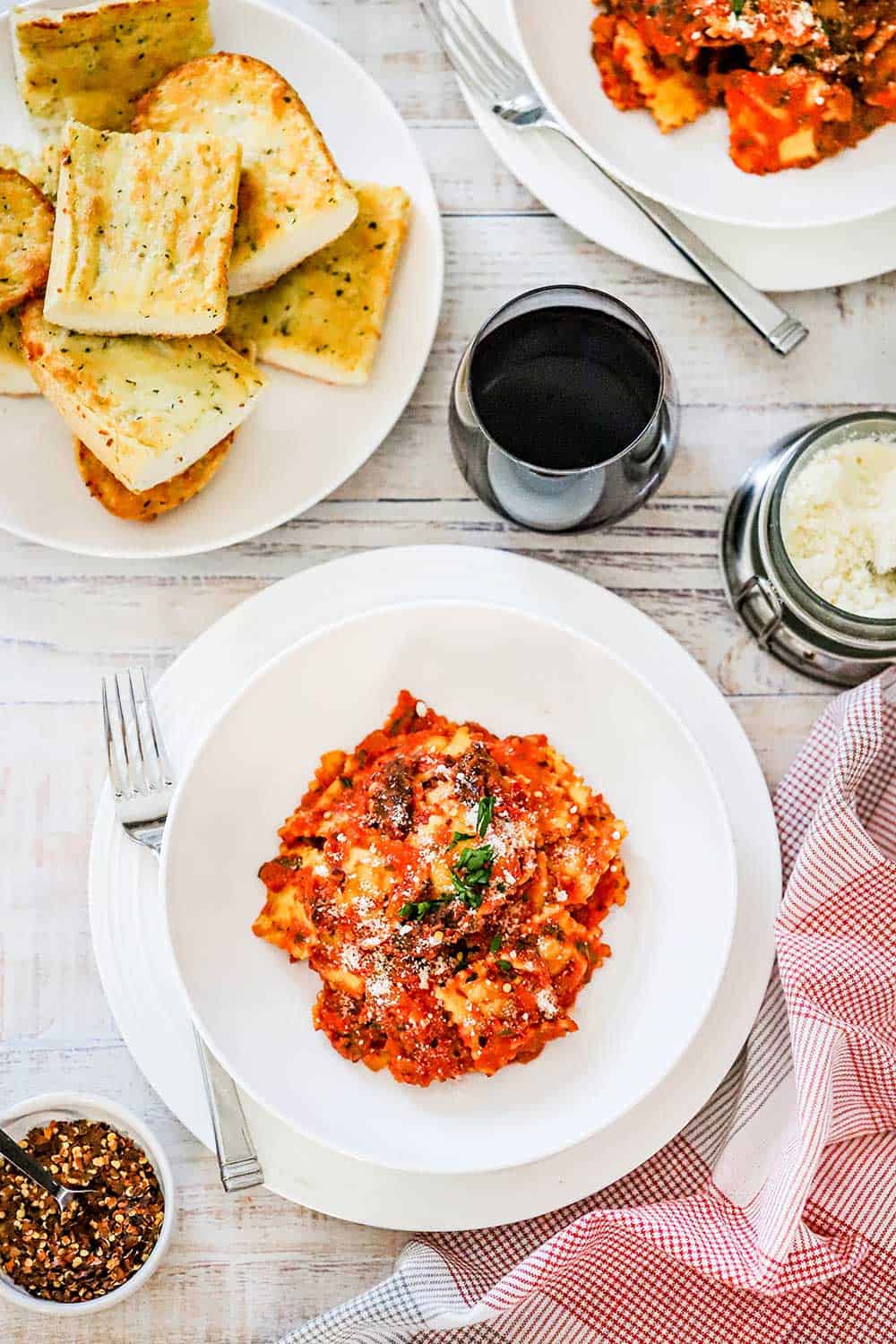 Ready to make the most delicious Italian pasta dish…in about 18 minutes? Go for it!
And when you do, be sure to take a photo of it, post it on Instagram, and tag @HowToFeedaLoon and hashtag #HowToFeedaLoon!
Easy Ravioli with Creamy Basil-Tomato Sauce
This is a wonderful dish that comes together in about 20 minutes. Fresh ravioli can usually be found in most well-stocked supermarkets, often near the deli or prepared food sections. Use your favorite type of ravioli (cheese or meat). To make this 100% vegetarian, go with vegetable stock.
Print
Pin
Rate
Servings: 4
Calories: 578kcal
Ingredients
2 tbsp olive oil
1 cup onions chopped
3 cloves garlic minced
¼ cup basil fresh, or 2 tbsp dried
1 tsp oregano dried
1½ tsp Kosher salt
½ tsp black pepper freshly ground
½ tsp red pepper flakes more if you want a little spice
1 28 oz can crushed tomatoes
½ cup chicken broth
1½ lbs ravioli fresh
½ cup heavy cream
¾ cup sun-dried tomatoes in oil, drained, roughly chopped
⅓ cup Parmesan cheese grated
2 tbsp flat-leaf parsley chopped, for garnich
Instructions
Heat the oil in a large saucepan over medium heat.

Add the onion and cook, stirring frequently, until starting to soften, about 3 minutes.

Add the garlic and cook for another 30 seconds.

Stir in the basil, oregano, salt, pepper, and red pepper flakes. Cook for another 30 seconds, stirring often.

Stir in the crushed tomatoes and chicken broth. Stir to combine and bring to a simmer.

Add the ravioli and simmer for 5 minutes, stirring occasionally.

Stir in the cream and sun-dried tomatoes. Mix to combine.

Stir in the parmesan cheese and mix until melted.

Serve at once and garnish with chopped parsley.
Notes
NOTE: Be sure to check out our 'How To Prepare Swiss Steak' video in the recipe card. And if you like the video, subscribe to our YouTube Channel!
Fresh is definitely best, but if you're wanting to use up some frozen ravioli, then we recommend cooking it first according to packaging instructions, and then adding to the sauce. Don't over boil the frozen ravioli, otherwise, it will start to come apart during the cooking process.
Feel free to use fresh or dried herbs. If using fresh, then use 1 or 2 tablespoons. If using dried, then use 1 or 2 teaspoons.
Leftovers will keep in an air-tight container in the fridge for up to 5 days. The dish can be frozen for up to 2 months. Thaw completely before heating in a saucepan.
Nutrition
Calories: 578kcal | Carbohydrates: 88g | Protein: 32g | Fat: 28g | Saturated Fat: 8g | Polyunsaturated Fat: 1g | Monounsaturated Fat: 9g | Cholesterol: 138mg | Sodium: 2233mg | Potassium: 859mg | Fiber: 9g | Sugar: 13g | Vitamin A: 1016IU | Vitamin C: 17mg | Calcium: 206mg | Iron: 20mg