We truly have a love affair with fresh avocados. Cool, refreshing, and so versatile.
Of course, avocado has long been the reining rock-star ingredient in guacamole. But it's so wonderful when used in other recipes. This dressing is ideal for slaw and for a lovely Southwestern salad. Just the best!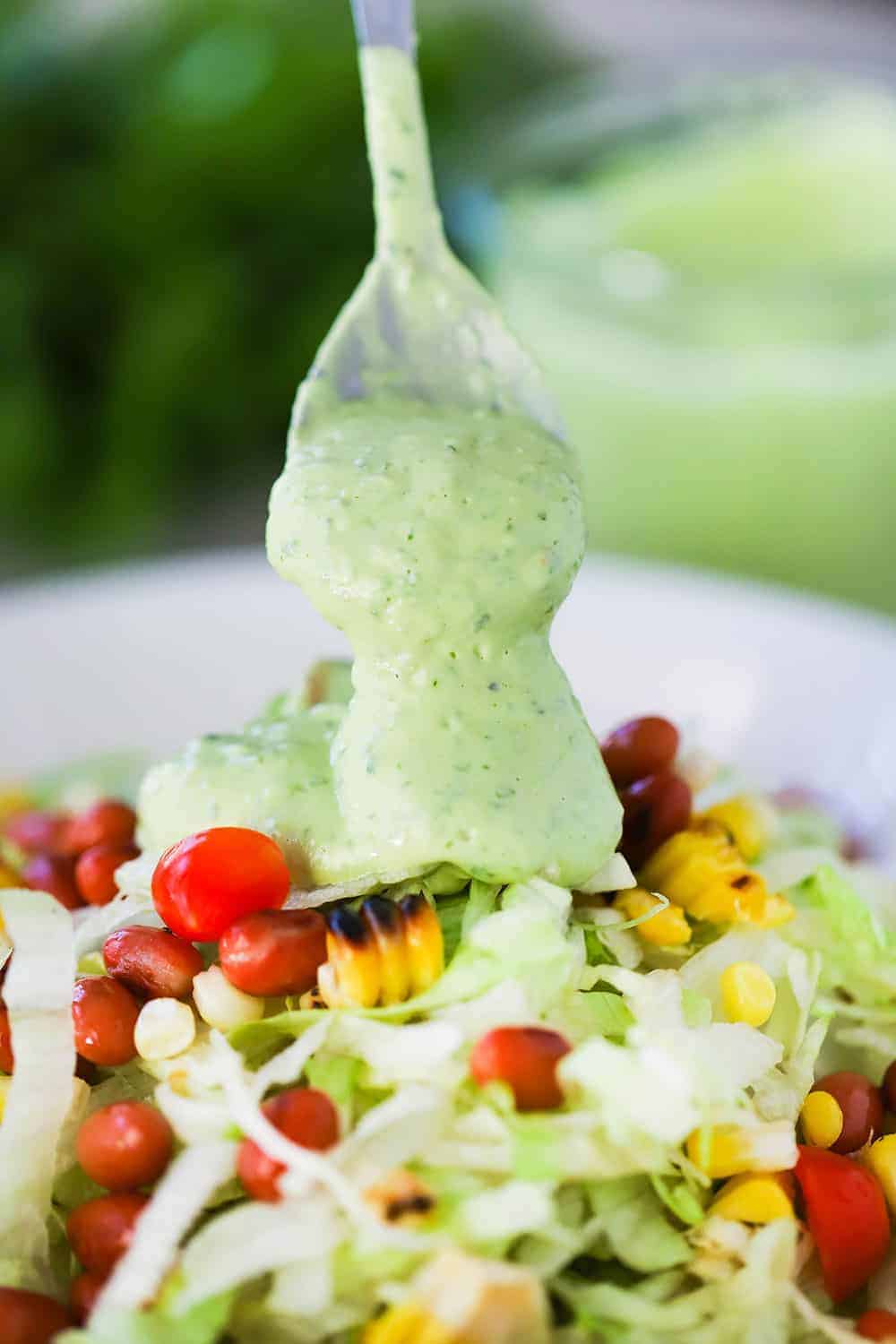 HOW TO MAKE AVOCADO LIME DRESSING
This recipe is simple to bring together.
We use our blender to purée the dressing, but you can easily use your food processor, or even a simple wooden spoon (with a little elbow grease) will do the trick.
It's so delicious, it's tempting to just eat spoonfuls of it before you even serve it!
THE INGREDIENTS YOU'LL NEED
This dressing is really fresh and very straight-forward, yet deep in flavor. Here's what you'll need:
Two ripe avocados
Mayonnaise
Fresh cilantro
Garlic
Lime juice
Jalapeno (Pickled)
Salt and pepper
EXPERT TIP: Non-fat yogurt can be substituted for the mayonnaise, if desired. If you want more heat, go with chopped fresh jalapenos. The more seeds you leave in from the pepper, the more heat you will have.
We love going with Haas avocados, which are readily available in the produce section of most well-stocked markets.
Besides being down-right delicious, avocados also are loaded with good nutritional value.
EXPERT TIP: When selecting avocados for this avocado lime dressing, they should be ripe, but not mushy. The skin should be a bright green that is just starting to turn a darker brown. If the flesh is very soft, and the tip of the avocado is dark brown, chances are, it's over-ripened and will be brown.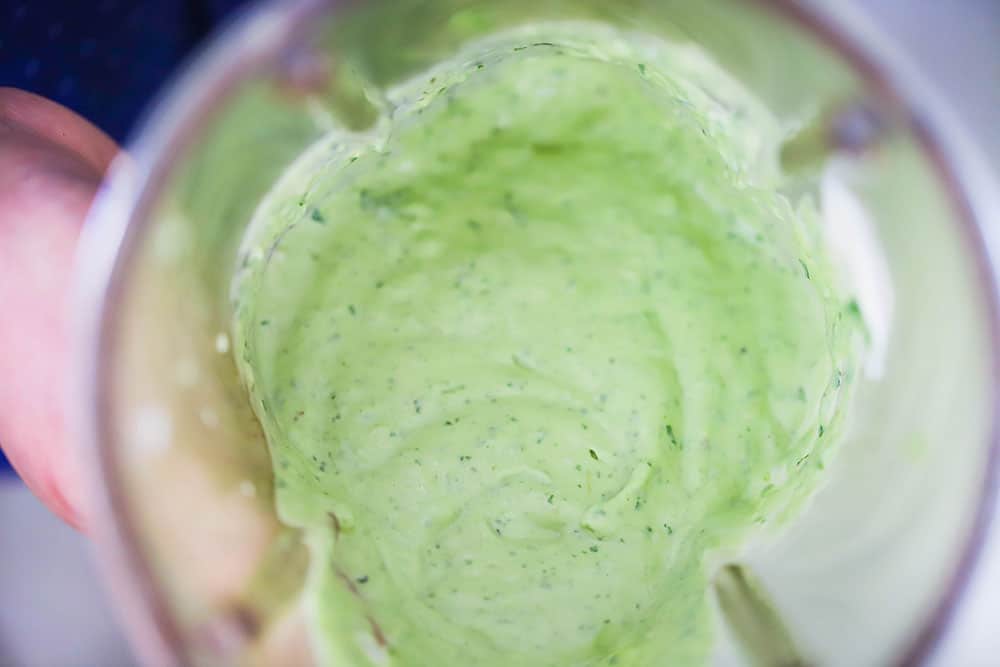 We use this dressing on so many dishes.
Have you checked out our Mahi-Mahi Tacos?
We use this dressing in the slaw for the tacos and it is AMAZING!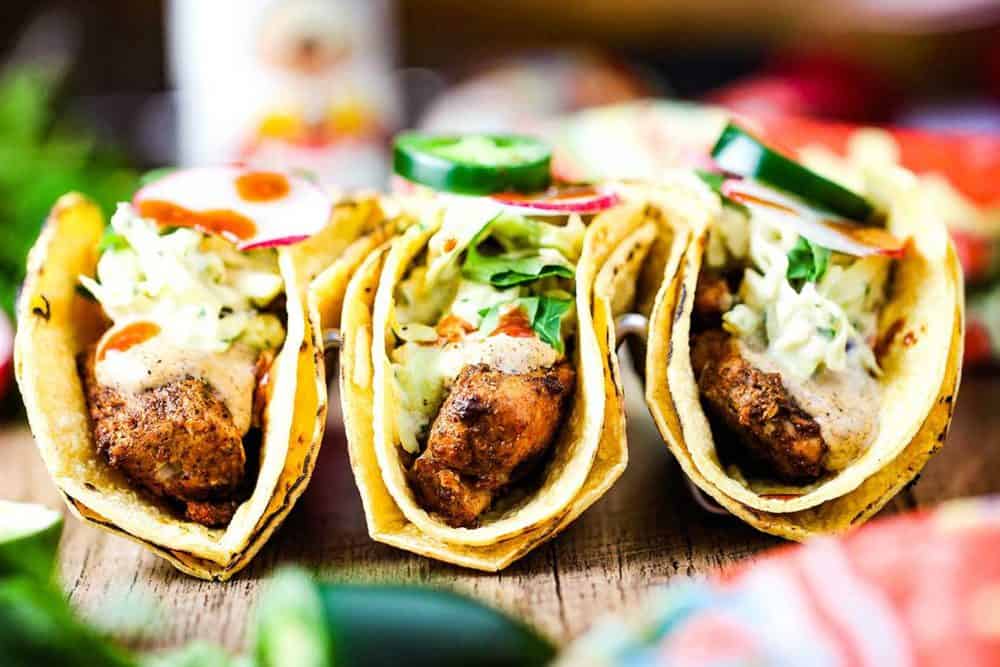 And, of course, it's incredible on a salad.
We love going with cold iceberg lettuce, chopped, and topped with grilled corn, pinto beans, cherry tomatoes, and tortilla strips.
Mix together with about ¼ cup of the avocado lime dressing, and you'll have one of the best salads you've ever made or eaten!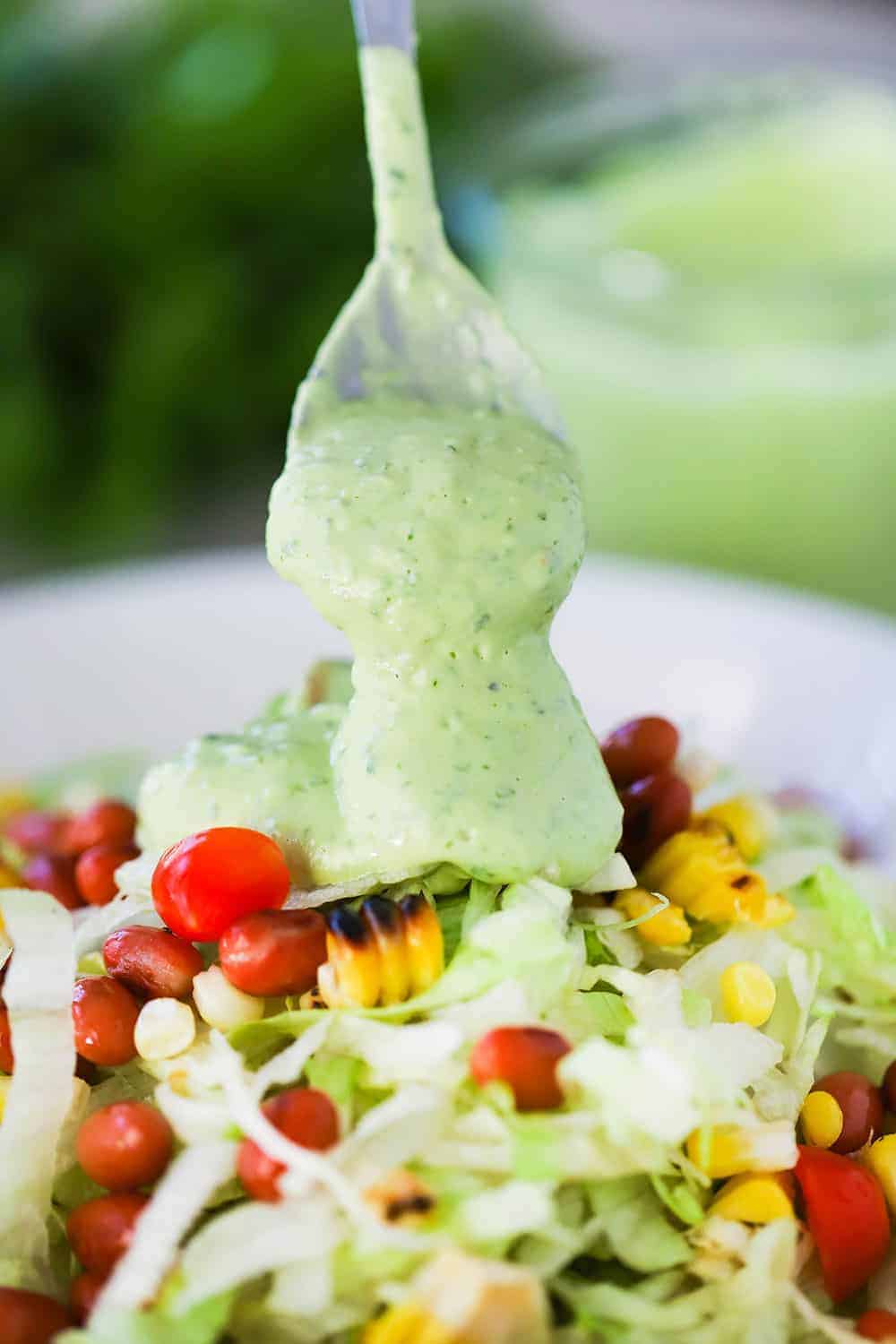 Ready to make one of the most versatile and satisfying dressings in the world? Go for it!
And when you do, be sure to take a photo of it, post it to Instagram, and tag @howtofeedaloon and hashtag #howtofeedaloon!
Avocado Lime Dressing
This avocado lime dressing is so vibrant in taste and is perfect for a Southwestern salad, or mixed with slaw, served on grilled seafood, and more!
Print
Pin
Rate
Servings: 8
Calories: 282kcal
Equipment
Food processor, blender, or whisk/wooden spoon
Ingredients
2 avocados ripe, peeled, split in half, with pit removed
2 cloves garlic roughly chopped
½ cup cilantro fresh, chopped
4 tbsp jalapenos pickled, chopped
3 limes juiced
1 cup mayonnaise
¾ tsp Kosher salt
½ tsp black pepper ground
Instructions
Add all of the ingredients to a blender or food processor and pulse until fully combined. This can also be done with a large spoon in a wooden bowl, mix until desired consistency.

The dressing can be used immediately or transferred to a container with a tight-fitting lid and chilled in the refrigerator. Let dressing sit on the counter for about half-hour before serving, if chilled.
Notes
Be sure to select avocados that are not overly ripe. They should be a bit soft to the touch, but still a little firm. See video for how to remove the skin and pit safely. Yogurt can be substituted for the mayonnaise. This dressing is not spicy at all. However, if you want absolutely no heat, omit the pickled jalapenos and add a tsp of vinegar, such as white, Sherry, or apple cider. For extra heat, go with chopped, seeded fresh jalapenos. For even more heat, include some of the seeds from the fresh peppers. This dressing is nice and thick, which we think is ideal, but that's our taste. If you prefer it a little thinner, add a tbsp (or more) of milk or cream until desired consistency is reached. The dressing will keep in the refrigerator for up to 2 weeks and freezes for up to 2 months.
Nutrition
Calories: 282kcal | Carbohydrates: 8g | Protein: 2g | Fat: 14g | Saturated Fat: 2g | Cholesterol: 12mg | Sodium: 401mg | Potassium: 299mg | Fiber: 4g | Sugar: 2g | Vitamin A: 252IU | Vitamin C: 22mg | Calcium: 18mg | Iron: 1mg