If you're looking for an authentic Mexican dish that is as beautiful in presentation as it is in taste, look no further.
We love Mexican food so much. And this dish is classic. We're crazy for Chile Rellenos Stuffed with Mexican Queso, but this dish is just as delicious, and so many of the components of it can be made in advance!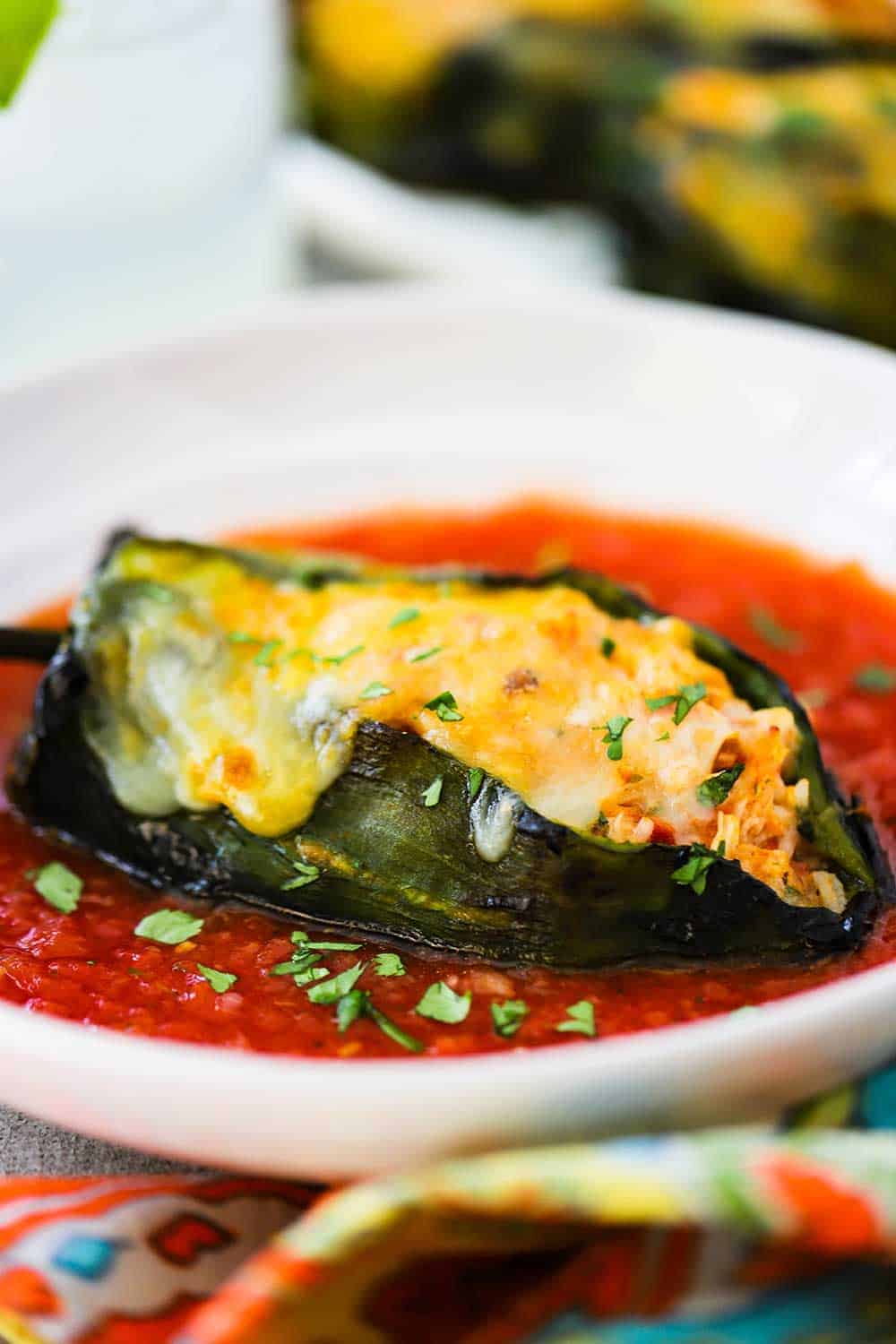 HOW TO MAKE STUFFED POBLANOS WITH RED SAUCE
As mentioned, so many of the elements of this dish can be made 1 to 2 days in advance.
From the red sauce to the stuffing, even the roasting of the peppers can be done ahead of time!
PREPARING THE RED (ROJO) SAUCE
We'll be honest and tell you that these stuffed poblanos are so delicious, they don't necessarily beg for a sauce. But, still. A sauce almost always makes a dish even better.
And we think this sauce is the perfect match for the mild spice of the peppers.
EXPERT TIP: We like going with good-quality canned whole tomatoes for the sauce. If you have beautifully ripe fresh tomatoes, then, by all means, use them. If using fresh, you'll need about 1 lb of them, typically about 3 medium-sized tomatoes. This recipe makes a decent amount of sauce, so if you prefer, you can cut the ingredients in half for less sauce. The sauce can be made up to 2 days in advance. It's also great for other dishes, spooned over an omelet or hamburger.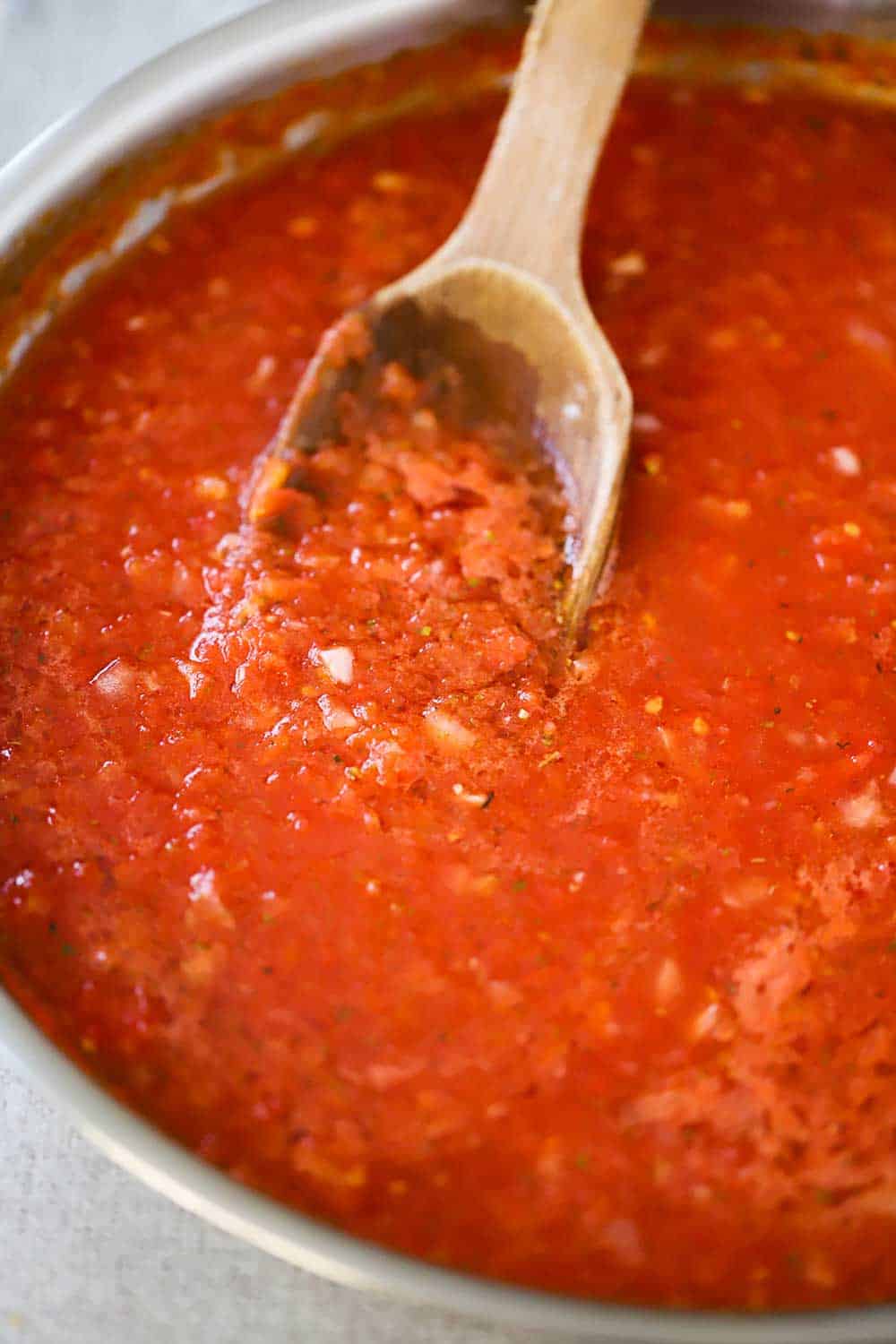 Poblanos are one of our most favorite types of peppers to cook with and serve.
They are considered mild, but they do carry some level of spiciness.
EXPERT TIP: Roasting the peppers under your broiler (4 inches away from the element) will deepen the flavor immensely and makes removing the skin easy, as well as removing the seeds. The seeds and interior ribs are where the spice comes from. Remove them all for minimal spice or leave some in for extra heat. You can even carefully rinse the peppers under water to help remove the seeds.
THE PERFECT FILLING FOR ROASTED POBLANOS
For the filling, we start with fresh tomatoes, onion, garlic. Dried oregano, cumin, and cinnamon deliver classic Mexican taste. We love using Mexican oregano, but regular dried oregano works great, too.
For ease, we use a rotisserie chicken from the supermarket and make our Perfect Steamed Rice in advance (up to 1 day).
EXPERT TIP: Simmering the puréed tomatoes and onions will help to cook out some of the liquid that the vegetables will release. After stirring in the remaining ingredients, you're filling is ready, however, this can be made up to 1 to 2 days in advance. If making in advance, simply gently reheat the filling on the stove before stuffing the peppers.
This recipe makes enough filling to easily fill 6 to 8 large poblano peppers.
Use a spoon or fork to gently stuff the filling into the peppers.
EXPERT TIP: When cutting the slit down the top of the pepper, be sure not to cut too deeply, or you might cut the underside of the pepper. But if that does happen, don't worry, the peppers will still cook just fine and still be easy to transfer to a plate or serving platter.
CHOOSING THE RIGHT CHEESE FOR STUFFED POBLANO PEPPERS
You're going to want to choose a good melting cheese for these stuffed poblanos.
Great options are:
Mexican Chihuahua
Oaxaca
Asadero
Monterrey Jack
Cheddar
Using a combination of these is a great way to go, too!
This dish is so festive and perfect for serving friends and loved ones.
It's the perfect dish for a Cinco de Mayo celebration.
Serve with a side of Homemade Guacamole and our Classic Margaritas, and you'll have the perfect Mexican table!
THE ULTIMATE MEXICAN COMFORT FOOD
As mentioned, this is one of our most favorite Mexican dishes to serve and to eat.
The flavors work together perfectly and the texture is wonderful.
This is truly a deeply satisfying dish your guests will be so impressed with. We can assure you of this!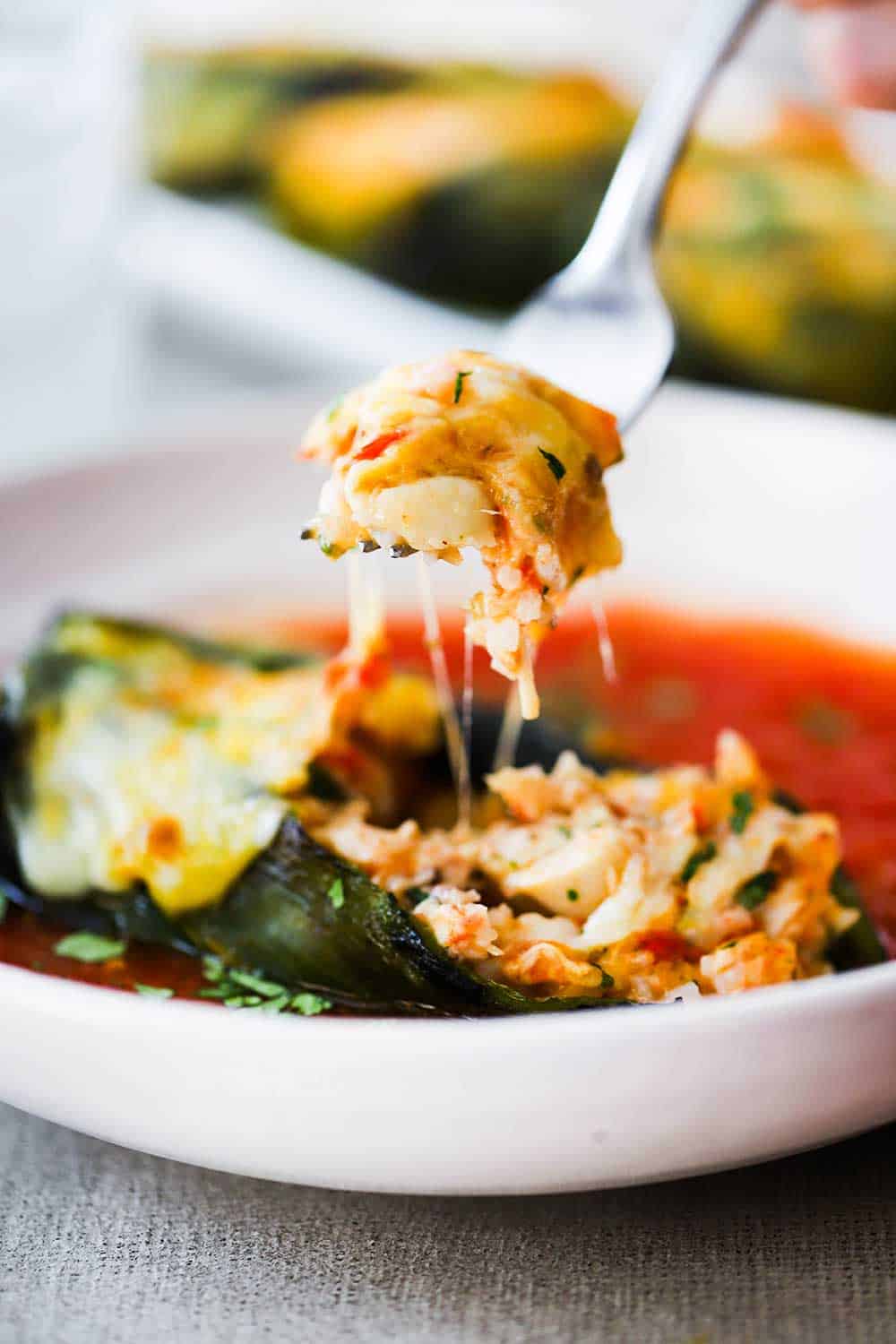 Ready to make one of the most impressive (and delicious) Mexican dishes ever? Go for it!
And when you do, be sure to take a photo of the dish, post it to Instagram, and tag @howtofeedaloon and hashtag #howtofeedaloon!
Stuffed Poblanos with Red Sauce
These Stuffed Poblanos with Red Sauce are a lighter, but equally as delicious, alternative to Chili Rellenos, which are usually fried with an egg batter. Roasting the chicken and the peppers really deepens the flavors. Remove the seeds and inner membranes for a very minimally spicy dish. But one that is exploding with flavor.
Print
Pin
Rate
Servings: 4 people
Calories: 754kcal
Ingredients
FOR THE SAUCE
¼ cup onion chopped
1 28 oz. can whole tomatoes with juice
2 cloves garlic chopped
1 cup chicken stock or vegetable stock
1 tbsp distilled white vinegar
1 tbsp sugar
1 tbsp oregano dried, Mexican oregano if available
2 tbsp corn oil
1 tsp Kosher salt
FOR THE PEPPERS AND STUFFING
4 cups chicken cooked, rotisserie is perfect
6 poblano chiles
2 medium tomatoes stemmed and roughly chopped
1 cup onion chopped
2 cloves garlic chopped
1 tsp oregano dried, Mexican, if available
1 tsp ground cumin
½ tsp cinnamon ground
1 tsp Kosher salt
1½ cups rice cooked
¼ cup cilantro fresh, chopped
2 cups Monterey Jack cheese grated
Instructions
MAKE THE SAUCE

Pulse the onions and garlic in your food processor a couple of times. Add the tomatoes (with juice), stock, vinegar, sugar, and oregano, and pulse until puréed.

Heat corn oil in a deep heavy large skillet over medium heat until it shimmers. Add sauce and simmer for 10 minutes. Stir in salt. Keep warm on the stove, or store in an air-tight container if not using immediately.

ROAST THE PEPPERS

Position a rack about 4 inches from the broiler and turn on HIGH.

Set the peppers on a baking sheet and then place under the broiler for 5 minutes. Remove from oven and use tongs to flip the peppers over. Return to the oven and broil for another 5 minutes until smokey and charred all over. Keep an eye on them, as broilers can vary from oven to oven.

Use a small sharp knife to cut a slit on the top of the peppers from the tip to the end of the pepper, careful not to cut too deeply. Let cool slightly, peel off the skins, and use a small spoon to remove the seeds and inner ribs, or membranes. You can gently run water over the peppers in your sink to help remove excess seeds.

MAKE THE FILLING:

In your food processor, add the tomatoes, onion, garlic, oregano, cumin, cinnamon, and 1 tsp salt. Process until puréed, about 30 seconds.

Heat a large skillet over medium-high heat and add the puréed tomato mixture to the pan. Cook for about 5 to 8 minutes, until about half of the liquid has evaporated.

Take the pan off the heat and stir in the cooked chicken, cooked rice, cilantro, and 1½ cups of the cheese.

FINISH OFF THE DISH:

Portion the filling among the peppers, pressing their sides around the filling.

Broil the peppers on HIGH (4 inches under the heating element) until the cheese begins to melt and the tops begin to brown, about 4 minutes (keep an eye on them, don't let them burn!).

Carefully remove from the oven and top with the remaining cheese. Place under the broiler again until the cheese is completely melted and lightly browned, about 2 more minutes.

Ladle about ½ cup of the sauce into serving plates/bowls and gently place 1 stuffed pepper on top of the sauce on each plate. Serve at once.
Notes
The sauce and filling can be prepared up to 2 days in advance. Cutting up a rotisserie chicken is ideal for this recipe. However, you can also roast skin-on, bone-in chicken breasts that have been lightly rubbed with olive oil and then sprinkled with salt and pepper in a 350°F oven for about 50 minutes to 1 hour. Let cool and then remove the skin and then the meat from the bone and roughly chop. While cutting the slit in the pepper, don't cut too deeply, or you might cut through the other side. Once roasted, the peppers will be soft, but still pretty sturdy. To completely remove the seeds (which contain the heat), carefully rinse the roasted peppers in your sink with cool water. Be sure to keep an eye on your broiler while cooking on HIGH. You want the peppers to get a little smokey and very charred. Be sure to not let the final broiling burn the cheese and peppers.
Nutrition
Calories: 754kcal | Carbohydrates: 79g | Protein: 33g | Fat: 26g | Saturated Fat: 8g | Cholesterol: 93mg | Sodium: 1606mg | Potassium: 847mg | Fiber: 6g | Sugar: 12g | Vitamin A: 1772IU | Vitamin C: 158mg | Calcium: 514mg | Iron: 3mg
POST UPDATE: This recipe was originally published June, 2017, but was updated with improved tweaks to the recipe, new tips and photography, and a fabulous new video in May, 2020!