Stuffed Poblanos with Red Sauce are such an amazingly delicious alternative to Chile Rellenos.  The peppers are not fried, but instead roasted and stuffed with chicken, cheese, rice and seasonings.  Then served with an amazing red sauce.  The flavors meld together absolutely perfectly.  Be sure to remove the seeds and white inner membrane of the pepper to ensure it won't pack too much heat, unless you like the heat – then leave 'em in!  This is one of our favorite dishes of all time, and we think you'll love it, too.  140% Loon Approved!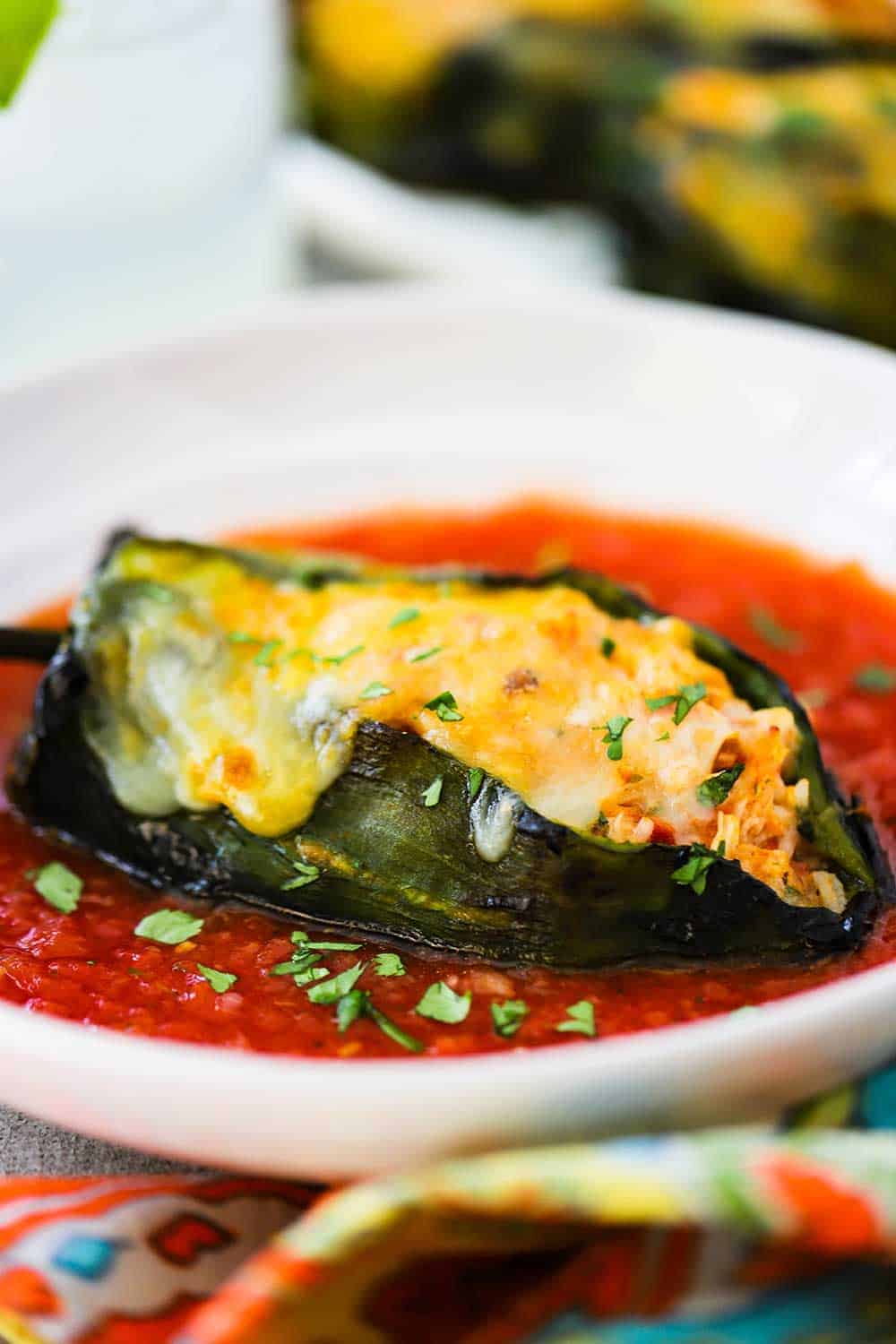 Stuffed Poblanos with Red Sauce
These Stuffed Poblanos with Red Sauce are a lighter, but equally as delicious, alternative to Chili Rellenos, which are usually fried with an egg batter. Roasting the chicken and the peppers really deepens the flavors. Remove the seeds and inner membranes for a very minimally spicy dish. But one that is exploding with flavor.
Print
Pin
Rate
Prep Time: 30 minutes
Cook Time: 45 minutes
Total Time: 1 hour 15 minutes
Servings: 4 people
Calories: 398kcal
Ingredients
FOR THE SAUCE
1 1/2 lbs fresh ripe tomatoes chopped, or 1 28 oz. can of whole tomatoes, with juice
1 cup chicken stock or vegetable stock, or water
1/4 cup chopped white onion
2 large garlic cloves rough chop
1 tbsp distilled white vinegar
1 tsp sugar
1 tsp dried Mexican oregano*
2 tbsp corn oil
*available in most supermarkets specialty food stores, or Mexican markets. Regular oregano can be used in, too.
FOR THE PEPPERS AND STUFFING
4 - 5 bone-in, skin-on chicken thighs
2 tbsp olive oil divided
4 large poblano chiles slit from stem to tip
2 medium tomatoes chopped
1/2 yellow onion chopped
1 large garlic clove minced
1 tsp dried Mexican oregano
1 tsp ground cumin
Pinch of cinnamon
Kosher salt
1 1/2 cups cooked brown or white rice
1/4 cup fresh cilantro chopped
1 tbsp fresh lime juice
2 cups sharp white Cheddar cheese grated
Instructions
MAKE THE SAUCE:

Puree all sauce ingredients except oil with 1 1/4 teaspoons salt in a blender until smooth, then strain through a mesh sieve into a bowl, pressing on solids, then discarding them.

Heat oil in a deep heavy large skillet over medium heat until it shimmers.

Carefully pour in sauce and simmer gently, stirring occasionally, for about 10 minutes. (sauce will still be thin).

Season with salt and pepper.

Set aside, but keep warm over low heat.

ROAST THE CHICKEN:

Pre-heat the oven to 350° F.

Rub 1 tablespoon olive oil all over chicken and the liberally salt and pepper.

Bake until instant-read thermometer reaches 165° F. About 25 minutes.

Remove from oven, let cool slightly, then shred the meat and set aside.

ROAST THE PEPPERS:

Position a rack about 4 inches from the broiler and turn on high.

Line a large rimmed baking sheet with foil.

Set the peppers on the baking sheet and broil, turning every few minutes, until blackened all over, 5 to 8 minutes.

Let cool slightly, peel off the skins, and cut out the seed cores, and any remaining seeds.

MAKE THE FILLING:

Puree the tomatoes, onion, garlic, oregano, cumin, cinnamon, and 1/2 teaspoon salt in a food processor, or blender.

Heat the remaining 1 tablespoons oil in a large skillet over medium heat.

Add the puree and cook, stirring, until the liquid evaporates and the mixture has slightly thickened.

Take the pan off the heat and stir in the cooked chicken and rice, then the cilantro, lime juice and 1 cup of the cheese.

Season with salt and pepper.

FINISH OFF THE DISH:

Portion the filling among the peppers, wrapping their sides around the filling.

Broil the peppers until the cheese begins to melt and the tops begin to brown, about 4 minutes (keep an eye on them, don't let them burn!).

Top with the remaining 1 cup cheese and broil until the cheese is complete melted, about 2 more minutes.

Ladle about 1/2 cup of the sauce into serving plates/bowls and gently place 1 stuffed pepper on top of the sauce in each plate. Serve at once.
Nutrition
Calories: 398kcal