When done just right, these fried little pieces of heaven are addictively delicious.
You just can't believe how yummy these little fried gems are. So easy to prepare and perfect when served along with Homemade Ranch Dressing. And they only take a matter of minutes to make!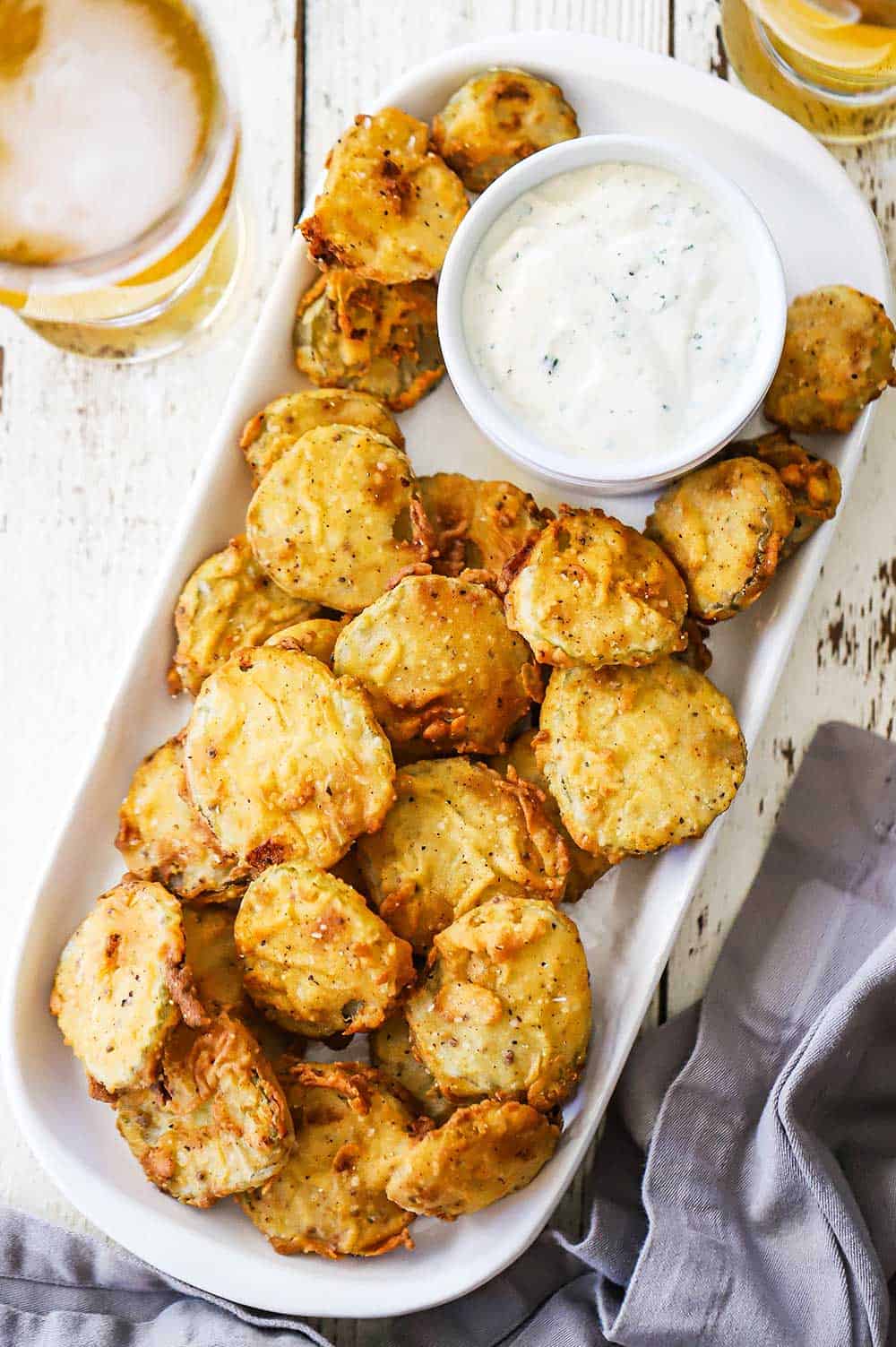 How to Make Fried Pickles
It's hard to decide, which is better, the joy in making this delicious treat, or actually eating them.
Okay, that's easy. They are fun to make, but the taste is off-the-charts.
And they couldn't be easier to prepare!
NOTE: If you liked this video, please subscribe to our YouTube Channel. Remember to click the 'bell' icon so you'll never miss a new video! Thank you!
How to Get Them Extra Crunchy
We've been playing around with this recipe for years, and we finally discovered the secret to extra crispy pickles. Mustard and buttermilk and then seasoned flour!
Bread crumbs are fine, but they don't get the extra crispy exterior that really makes these fried pickles sing.
EXPERT TIP: You'll need to set up a simple dredging station to coat the pickles. Mix the buttermilk with the spicy buttermilk in one bowl and then whisk together the flour with the salt, pepper, and cayenne in another. Simply coat the pickle chips completely in the buttermilk, and then dredge in the flour. That's it! Now they are ready to be fried.
How to Air Fry or Bake Fried Pickels
We've got to say it, pickles that are battered and deep-fried produce the crunchiest and tastiest results of all the methods we've tried.
However, we completely understand that if you're looking for a healthier option, you can absolutely air fry or bake. NOTE: For the air-fryer option, you'll need to omit the wet batter.
Air Fry – Mix together the flour with salt, pepper, and cayenne pepper. For a boost of flavor, add a little garlic powder. Dry the pickles with a paper towel and sprinkle the seasoned flour all over them. Preheat your air fryer to 400°F. Spray the basket liberally with cooking spray. Air fry for 10 minutes. Flip the pickles over, spray them liberally with more cooking spray, and then cook for another 5 minutes.
Oven-Baked – Preheat oven to 450°F. Coat the pickles the same way as if you were deep-frying them: Dry pickles, dip in buttermilk/mustard mixture, then coat in seasoned flour. Spray a baking pan with cooking spray. Add the coated pickles to the pan without overlapping. Bake for 15 minutes. Flip them over and spray them liberally with cooking spray. Cook for another 15 minutes, or until crispy.
If you're giving them a quick fry in vegetable oil, you'll want to remove them just as they are golden brown and crispy.
The Best Pickles To Use
We've tried many types of pickles when making this appetizer.
Originally, we started with a large whole dill pickle and then sliced it ourselves. We found that they were just a little too soft after being fried.
EXPERT TIP: For the best results, look for 'pickle chips' in the olives and pickles section of your supermarket. You'll want chips that are about ¼-inch thick. We love going with Vlassic Sandwich Dill Chips. But there are so many varieties, you can really choose your favorite. Bread and butter, extra spicy, or even whole spears are great choices. Or a combination of them all!
These are such a hit whenever we serve these to guests.
They are perfect for parties or that big game-day spread.
They fry up so quickly, you can make a double batch in no time. Trust us…they really do go fast.
How To Serve Fried Pickles
Fried pickles are wonderful by themselves, of course.
But, everything is even better with a dipping sauce.
Our Homemade Ranch is an amazing accompaniment and so is our Homemade Fresh Marinara. Both can be made up to 2 days in advance.
If you don't have time to make dipping sauces, quality purchased varieties will work just fine. Be sure to serve the pickles nice and hot. If frying in batches, you can keep finished pickles in a low-temp oven until ready to serve.
This is honestly one of our most-requested appetizers whenever we have guests over, especially for a pool day, or watching the big game, or just a fun last-minute get-together for some amazingly delicious food.
We serve this with our Homemade Sausage Bread and Loaded Potato Skins for the ultimate guilty-pleasure comfort food spread!
Every single bite is a taste sensation!
Ready to make a fun appetizer that folks will gobble up before your very eyes? Go for it!
And when you do, be sure to take a photo of them, post it on Instagram, and tag @HowToFeedaLoon and hashtag #HowToFeedaLoon!
Fried Pickles
Fried Pickles are truly addictive and the perfect appetizer for serving guests for the big game, parties, or a fun weekend at home. The cayenne in the seasoned flour adds very little heat, just a nice depth of flavor.
Print
Pin
Rate
Servings: 8 people
Calories: 268kcal
Equipment
Deep fryer or sturdy skillet with an inch of vegetable oil
Ingredients
16 oz jar dill pickle chips
1½ cup all-purpose flour
1 tsp salt
1 tsp black pepper freshly ground
1 tsp cayenne pepper
1 cup buttermilk
2 tbsp stone-ground mustard
Vegetable oil for frying
Homemade Ranch for serving
Instructions
Heat the oil in your skillet or fryer to 350°F.

Place the pickles on paper towels. Use dry paper towels to pat them completely dry.

In one bowl or pan, mix together the buttermilk and mustard until fully combined.

In a second bowl, whisk together the flour with the salt, pepper, and cayenne pepper.

Working in batches, dip the pickles into the buttermilk mixture to completely coat. Next, dredge them in the flour mixture, using your fingers to help ensure the pickle is fully coated.

Add the coated pickles into the hot oil, and cook, flipping once or twice, until golden brown and very crispy, about 4 minutes. Use a spider or metal slotted spoon to transfer the fried pickles to a platter lined with paper towels. Continue with the remaining pickles.

Serve at once with your favorite dipping sauce (such as our Homemade Ranch).
Notes
See the video near the top of the blog post for visual guidance. If you like the video, please subscribe to our YouTube Channel.
Look for pickle chips in the pickle section of your supermarket. We like Vlassic Sandwich Dill Pickle Chips. They have good flavor, are nice and big, have the perfect thickness, and are already crunchy. However, go with whatever is your favorite type of pickle. Bread and butter are really delicious, too.
See the blog post if you'd rather air-fry or bake these pickles (psst....a quick deep-fry is the best, but these options are healthier, no doubt).
These are best served hot. Although they're still tasty after they've cooled, they lose much of the crunchiness, which helps to make them so yummy!
Nutrition
Calories: 268kcal | Carbohydrates: 21g | Protein: 4g | Fat: 12g | Saturated Fat: 4g | Polyunsaturated Fat: 1g | Monounsaturated Fat: 1g | Cholesterol: 3mg | Sodium: 861mg | Potassium: 131mg | Fiber: 2g | Sugar: 2g | Vitamin A: 261IU | Vitamin C: 1mg | Calcium: 66mg | Iron: 1mg
POST UPDATE: This recipe was originally published May, 2015, but was updated with improved tweaks to the recipe with new tips and photography and a fabulous new video in February, 2022!