There are game-day favorite appetizers, and then there is this.
Unbelievably delicious and always a crowd favorite. Making the homemade pizza dough is a plus, but it's still wonderful even with store-bought dough or from your favorite pizza joint. The caramelized onions put this over the top. Serve with homemade marinara!
How To Make Sausage Bread
Making Sausage Bread from scratch is really not difficult at all.
You can easily prepare the caramelized onions and cook the sausage in advance.
Assembly is fun, too. But just wait for the first slice.
NOTE: If you liked this video, please subscribe to our YouTube channel. Remember to click the 'bell' icon so you'll never miss a new video!
How To Make Pizza Dough
Our Easy Pizza Dough is not hard to make. We knead by hand, but you could also use a stand mixer (with dough attachment) or even in a bread maker.
You may be wondering, what's the difference between a stromboli and sausage bread or sausage roll. Typically, stromboli is filled with pepperoni and Italian meats whereas sausage bread is (not surprisingly) filled with sausage.
EXPERT TIP: You'll need to allow about 90 minutes to rise and double in size. Find a warm (not too warm), non-drafty area for your dough. A cool oven works perfectly with the door closed and the oven light on.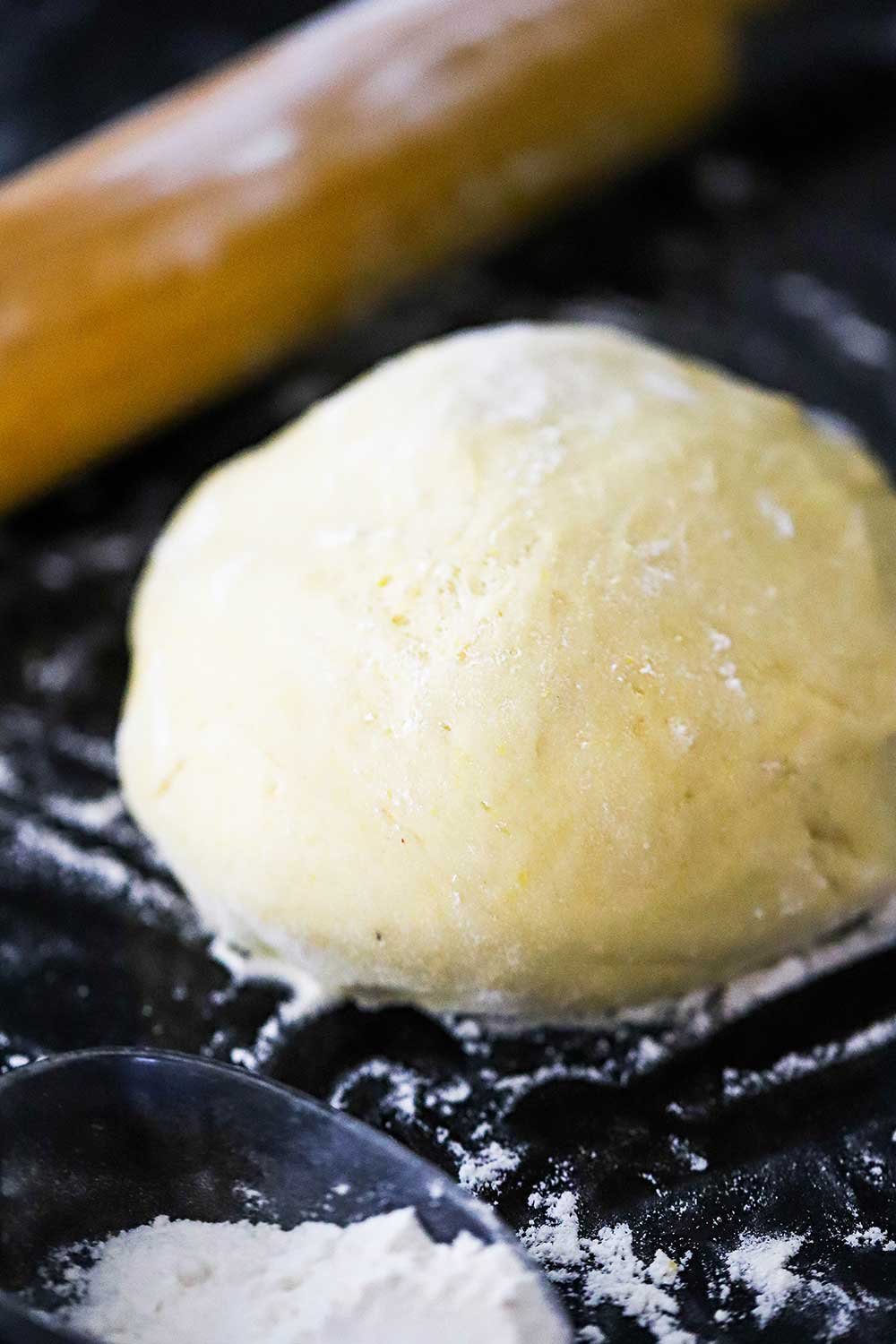 Onions that have been slow-cooked in butter or oil until they are reduced and deeply brown in color is a process of caramelizing.
It is a process that brings out the natural sugars in onions and brown them, giving the onions an irresistible sweet and savory taste.
EXPERT TIP: For this recipe, you'll need two medium-sized onions. Peel them and then cut them into strips. As they caramelize, they will reduce greatly in size. Just enough for one sausage bread. If you were making French onion soup, for instance, you would use many more onions (like 8). The caramelized onions can be prepared up to 24 hours in advance.
Building the Perfect Sausage Roll
After the dough has doubled in size, it's time to build the sausage roll.
On a lightly floured surface, use a rolling pin to roll out the dough to a rough 10″ by 15″ rectangle.
Leaving about 1 inch along the edges of the dough untouched. Add the following components, one after another:
Melted butter
Grated Parmesan Cheese
Caramelized onions
Cooked Italian sausage
Shredded mozzarella cheese
EXPERT TIP: Any kind of sausage will work here, but we really enjoy the mild heat from Italian hot sausage. It works nicely against the sweetness of the caramelized onions. To cook, simply remove the cases from the links, crumble into your skillet, and cook until browned. Discard excess grease if necessary.
Now, it's time to roll the bread!
Starting on the long side of the dough, use your hands to begin rolling the dough over. Keep rolling until you reach the other side of the dough.
Transfer the dough, seam-side down onto a baking pan, preferably lined with parchment paper (for easy clean up).
EXPERT TIP: Brush on an egg wash that is comprised of 1 egg lightly beaten egg and 1 tbsp of water. This will allow the bread to brown beautifully as it bakes. The addition of grated Parmesan and dried oregano on top is tasty and beautiful.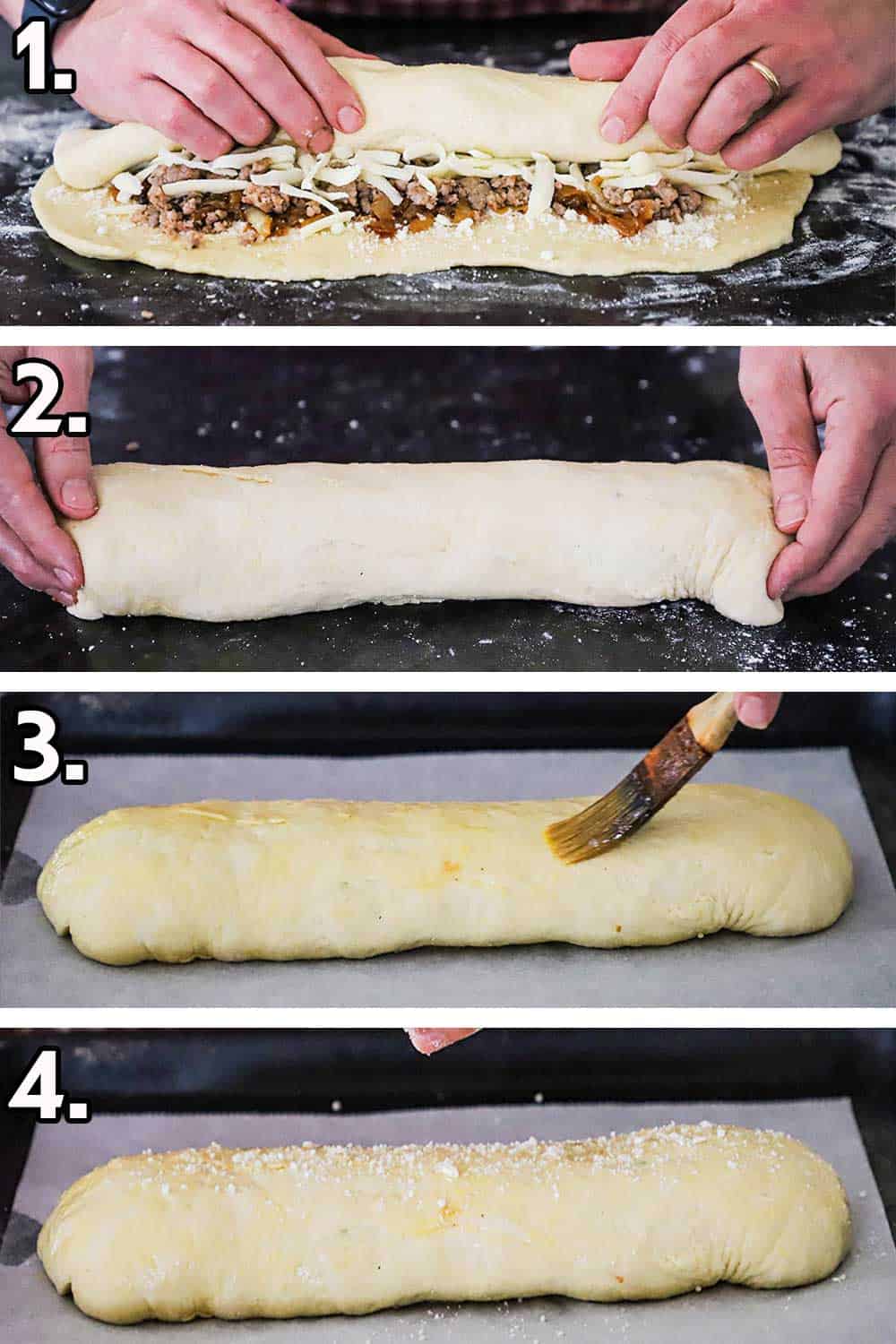 Sausage Bread FAQs
Is it okay to use store-bought pizza dough? Of course! In many well-stocked supermarkets, you can even find fresh pizza dough, usually in the dairy section. Also, ask your local pizza joint or Italian restaurant. They often will sell you made-from-scratch pizza dough. You can also freeze homemade pizza dough for up to 2 months for future use.
What about bread dough instead of pizza dough? We love this! It will create a much softer loaf, but still amazingly delicious. You can go with homemade bread dough or even frozen bread dough from the freezer section of most well-stocked supermarkets.
What else is good in sausage bread? So many options! First, if you're not a fan of the onions, leave them out! Even just sausage and cheese are delicious. We also love to include sautéed mushrooms, spinach, sun-dried tomatoes, and marinated artichoke hearts. Bottom line, anything that's good on pizza would be great here.
How long will leftovers last? Sausage bread is definitely best served fresh from the oven, however, it is still very delicious reheated in the microwave for the next couple of days. Wrap leftovers (if there are any) in foil and keep them in the fridge.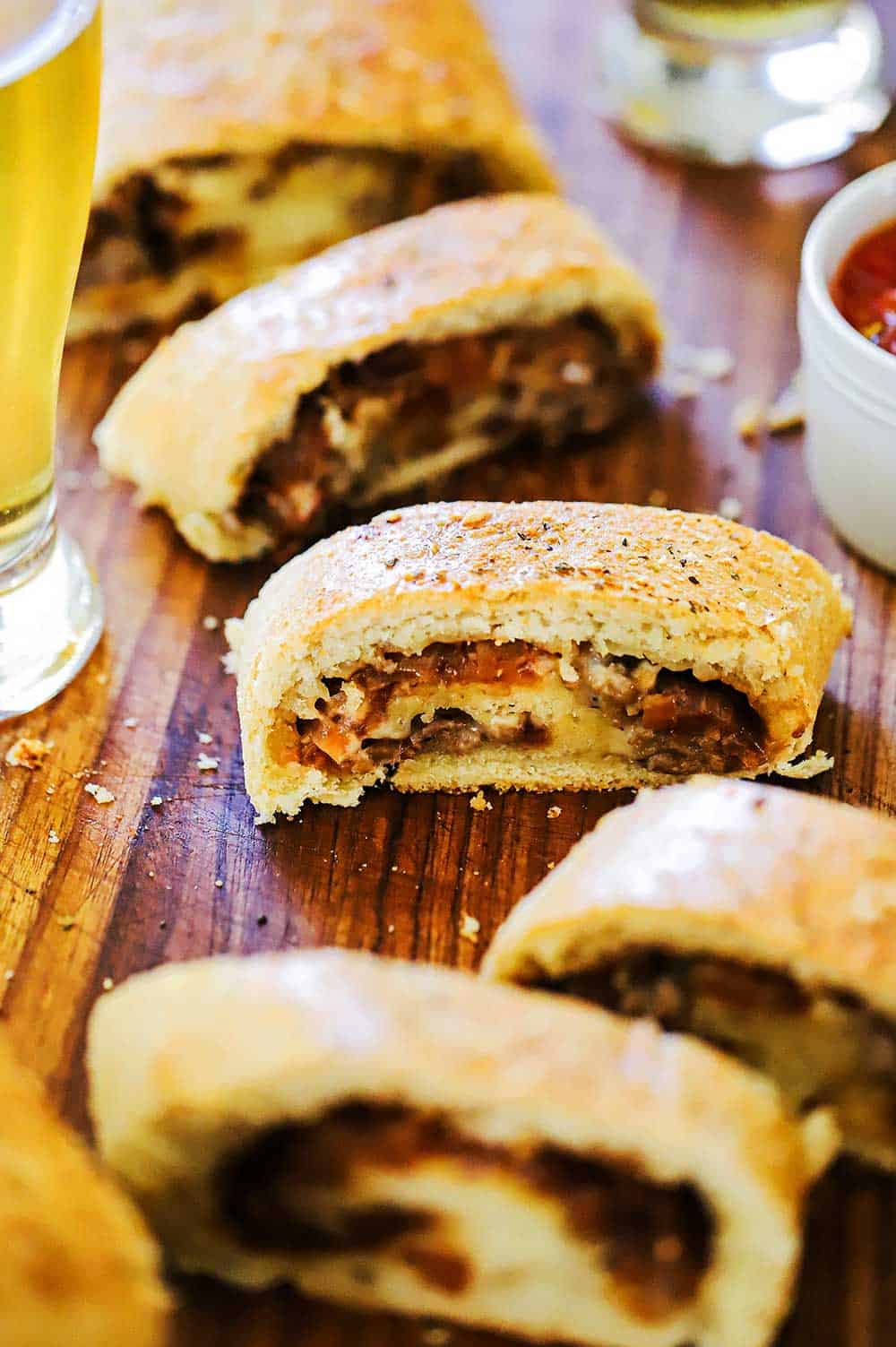 Other Favorite Game-Day or Party Appetizers
Looking to complete your halftime or party spread? Check out these tried and true favorites:
Best-Ever Guacamole
Easy Hummus
Sausage-Stuffed Mushrooms
Loaded Potato Skins
Jalapeno Poppers
Swedish Meatballs
Classic TexMex Queso
And folks, every time we serve this delectable savory treat, it is ALWAYS one of the first items to go! Can't you see why?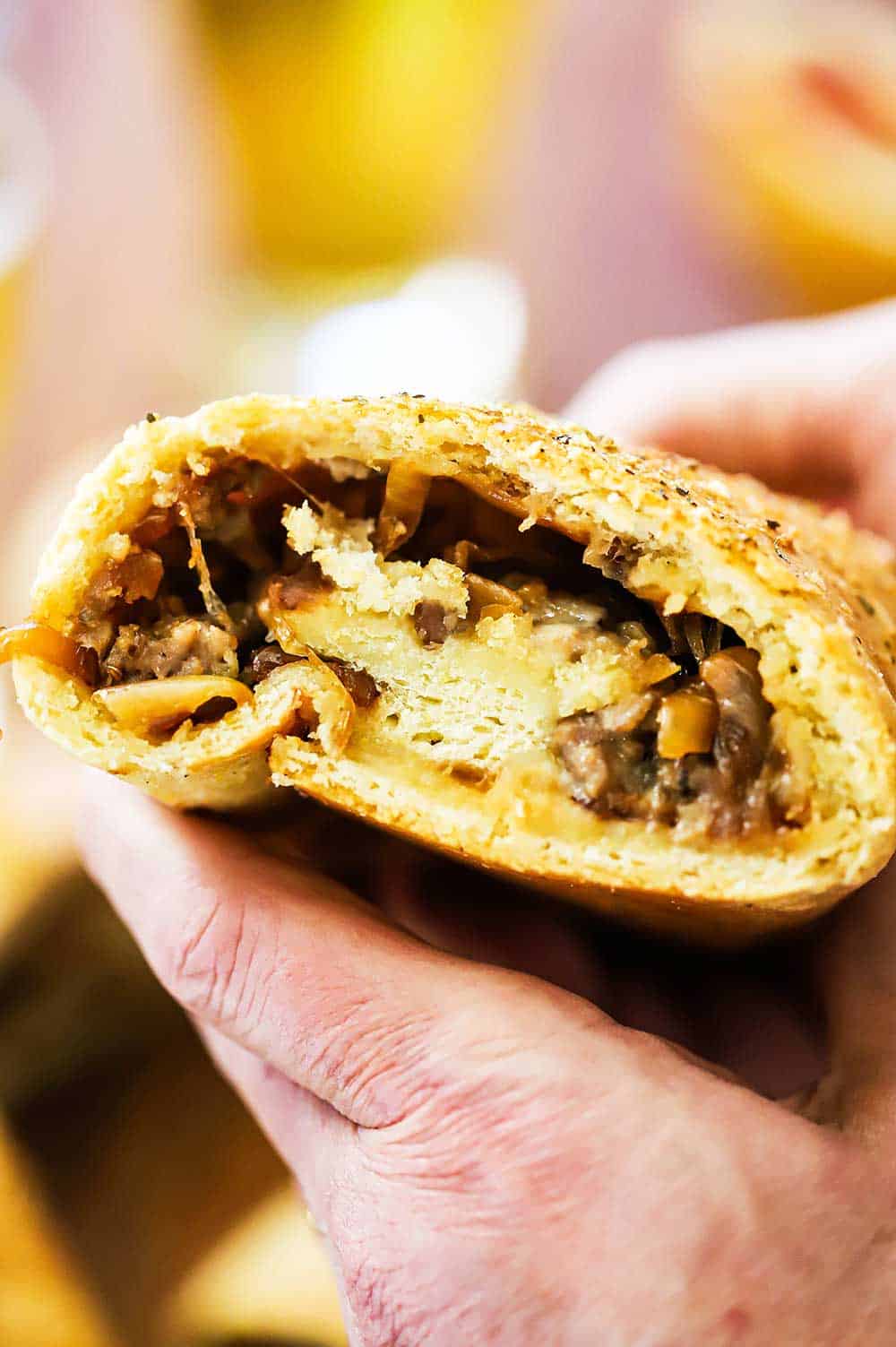 What to Serve with Sausage Bread
This loaded bread is truly a taste sensation all on its own.
When you provide something folks to dip each slice into, you've reached an all-new level of yumminess.
Homemade marinara (or quality purchased) is our preferred choice. But homemade Ranch is another wonderful option. Make them both!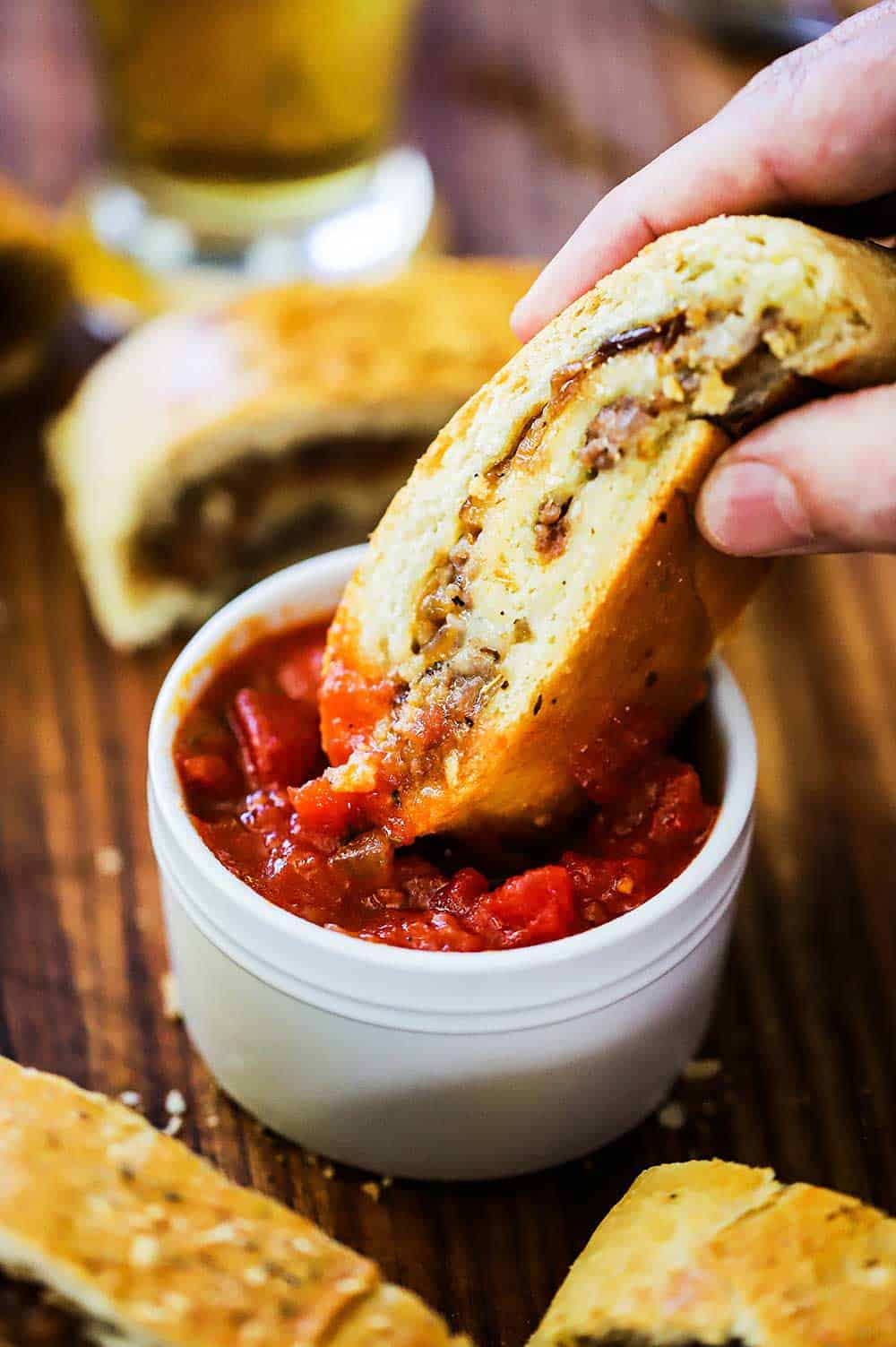 Ready to make an appetizer that will have your guests cheering non-stop? Go for it!
And when you do, be sure to take a photo, post it on Instagram, and tag @HowToFeedaLoon and hashtag #HowToFeedaLoon!
Sausage Bread
Sausage Bread is always one of the first items to go when we serve this to guests for a game-day gathering or party, or even just a fun weekend stay at home. Making the easy homemade pizza dough is awesome, but you can easily go with fresh dough purchased from the store or your local pizza/Italian joint. The onions and sausage can be made up to 24 hours in advance.
Print
Pin
Rate
Servings: 8
Calories: 367kcal
Equipment
Large sturdy skillet or Dutch oven for the onions

Baking sheet (lined with parchment paper)
Ingredients
1 medium pizza dough
6 tbsp unsalted butter divided
2 medium yellow onions peeled and cut into strips
8 oz Italian sausage about 3 links, hot or sweet, casings removed
all-purpose flour
¼ cup Parmesan cheese grated
1 cup Mozzarella cheese greated
1 egg
1 tsp oregano dried
marinara sauce for serving
Instructions
If making from scratch, make the pizza dough.

Melt 4 tbsp of butter over medium heat in a large skillet or Dutch oven over medium heat. Add the onions, and cook, stirring frequently, until reduced and dark brown, about 40 minutes. Let cool and set aside.

In a skillet over medium heat, add the crumbled sausage and cook until lightly browned and cooked through, about 12 to 15 minutes. Remove excess grease, if necessary. Let cool and set aside.

Preheat your oven to 375°F.

Lightly flour your work surface and roll the dough out to an approximate 10" x 15" rectangular, about ¼-inch in thickness (uniform thickness is more important than the size of the rectangle).

Melt the remaining 2 tbsp of butter and brush it over the dough, leaving about 1 inch along the perimeters untouched.

Next, add the caramelized onions, sausage, and then mozzarella cheese.

Use your hands to roll the dough up starting on the longest side. Continue gently rolling until you've reached the end of the dough. Place the dough, seam-side down, on a baking sheet, preferably lined with parchment paper.

In a small bowl, make an egg wash by combining one lightly beaten egg with 1 tbsp of water. Brush the egg wash all over the top and sides of the roll of bread. Sprinkle the top with extra grated Parmesan cheese and oregano.

Bake in the oven for 30 minutes, or until nicely browned all over.

Slice and serve at once with warmed marinara sauce on the side (or your favorite dipping sauce).
Notes
See the video near the top of the blog post for visual guidance. If you liked the video, please subscribe to our YouTube channel.
The onions and sausage can be prepared up to 24 hours in advance. Remember to resist placing hot onions or sausage on the unbaked dough.
Remember to give yourself time to cook the onions, they will take about 40 minutes to caramelize and then another 15 to 20 minutes to cool down.
The bread is best served fresh from the oven, but leftovers can be gently reheated in the microwave and will still be yummy.
Unbaked sausage bread can be frozen for up to 1 month. Thaw completely, and then bake for 30 to 40 minutes.
Nutrition
Calories: 367kcal | Carbohydrates: 27g | Protein: 13g | Fat: 23g | Saturated Fat: 8g | Polyunsaturated Fat: 2g | Monounsaturated Fat: 8g | Trans Fat: 1g | Cholesterol: 78mg | Sodium: 709mg | Potassium: 139mg | Fiber: 1g | Sugar: 4g | Vitamin A: 416IU | Vitamin C: 3mg | Calcium: 129mg | Iron: 2mg