What makes a great pizza? Well, a top-notch dough is a good place to start.
Who doesn't love pizza, right? Well, when you can make pizza from scratch at home, it's even better! This dough is not hard to prepare and is perfect for your favorite toppings, or try with our Deep-Dish Sausage and Spinach Pizza or BBQ Chicken Pizza! Give yourself a couple of hours to make this quick pizza dough, and you'll be set! (Most of that time is just allowing the dough to rise).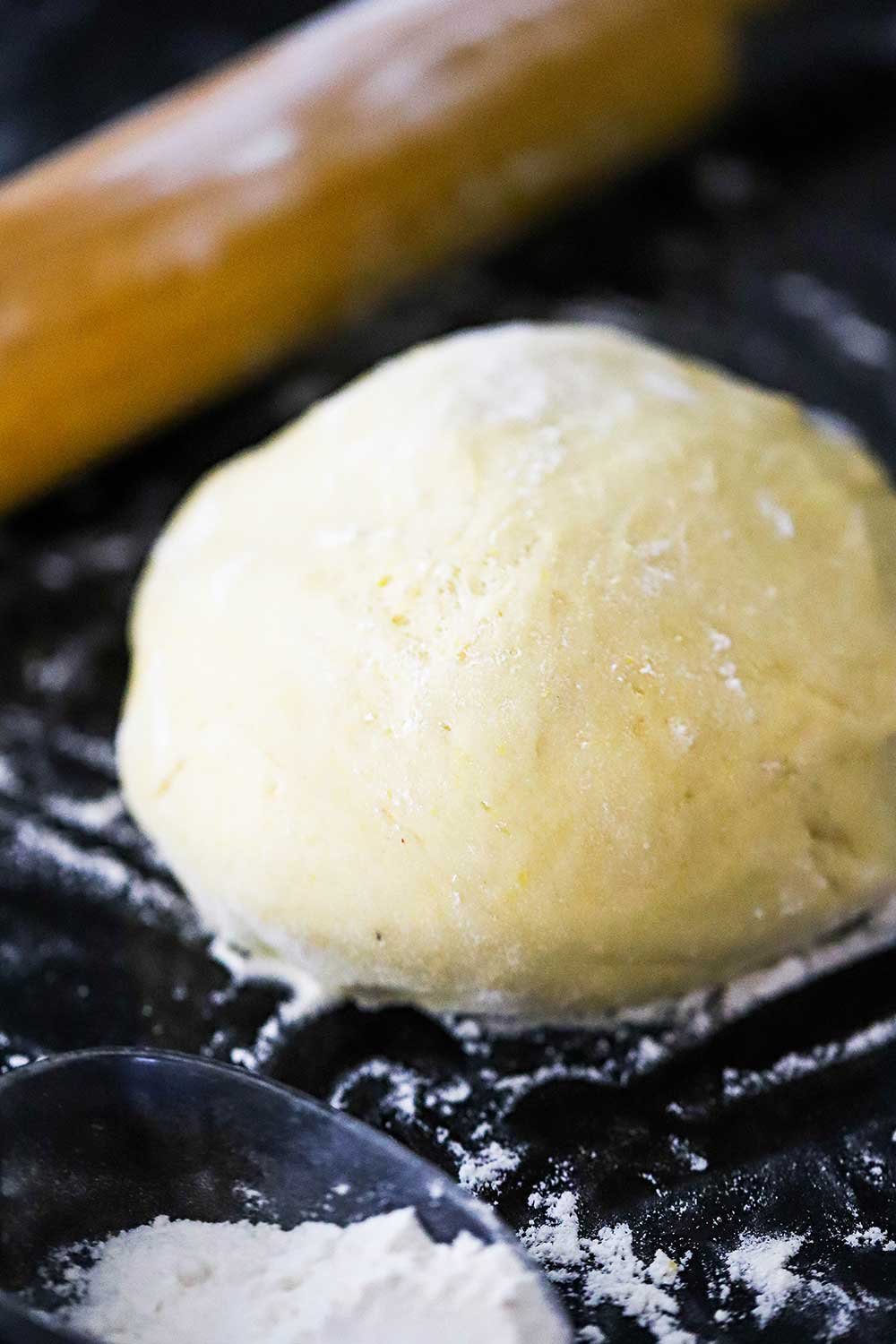 How To Make Pizza Dough
The type of dough you need for your homemade pizza often depends on the type of pizza you want to make.
For a thin crust, such as our Soppressata, Mushroom and Black Olive Pizza, we love making a great Semolina Pizza Dough. For a buttery, extra-thick crust, check out our Chicago-Style Deep-Dish Pizza!
This particular homemade pizza dough is extremely versatile and is great for a crust that is between thin and thick. It also works wonderfully for our Homemade Stromboli.
The Ingredients You Will Need
As mentioned, there are only a handful of pantry-ready ingredients in this pizza dough recipe. All you need is:
Water
Yeast
Sugar
Extra-Virgin Olive Oil
All-Purpose Flour
Cornmeal
Salt
EXPERT TIP: For the yeast, you can use Active Dry Yeast or Instant Yeast (sometimes called Rapid Rise). They will both yield the same delicious result. If using Instant Yeast, your dough may double in less than an hour. No problem if this is the case. To decrease the rise time for Active Dry Yeast, add 1½ tsp instead of just 1 tsp.
EXPERT TIP: For the water, make sure it's not scalding hot. It should be in the range of 105°F to 110°F. A quick nuke in the microwave or even hot tap water usually does the trick. The yeast should start to foam while it rests with the sugar in the warm water.
After adding the oil, flour, cornmeal, and salt into the water/yeast mixture, use a wooden spoon to gently mix it all together.
It takes a few minutes for everything to come together, but keep slowly stirring, and it will.
Keep stirring until a loose dough is formed.
Don't worry if it's still a little flakey, just use your hands to form a ball from the mixture.
How To Knead Pizza Dough
Now, the fun part: Kneading the pizza dough!
Simply sprinkle your surface with a small amount of flour and place the ball of dough on top of it.
Use the palm of your hands to start pressing into the dough. Fold it over on to itself and keep pressing.
EXPERT TIP: If the dough feels slightly wet, sticky, or tacky, add a teaspoon or two of flour to the dough and continue kneading. This takes a little elbow grease, but as you knead, you'll notice how the dough becomes smooth and very pliable. This is good and is setting the stage for perfect pizza dough!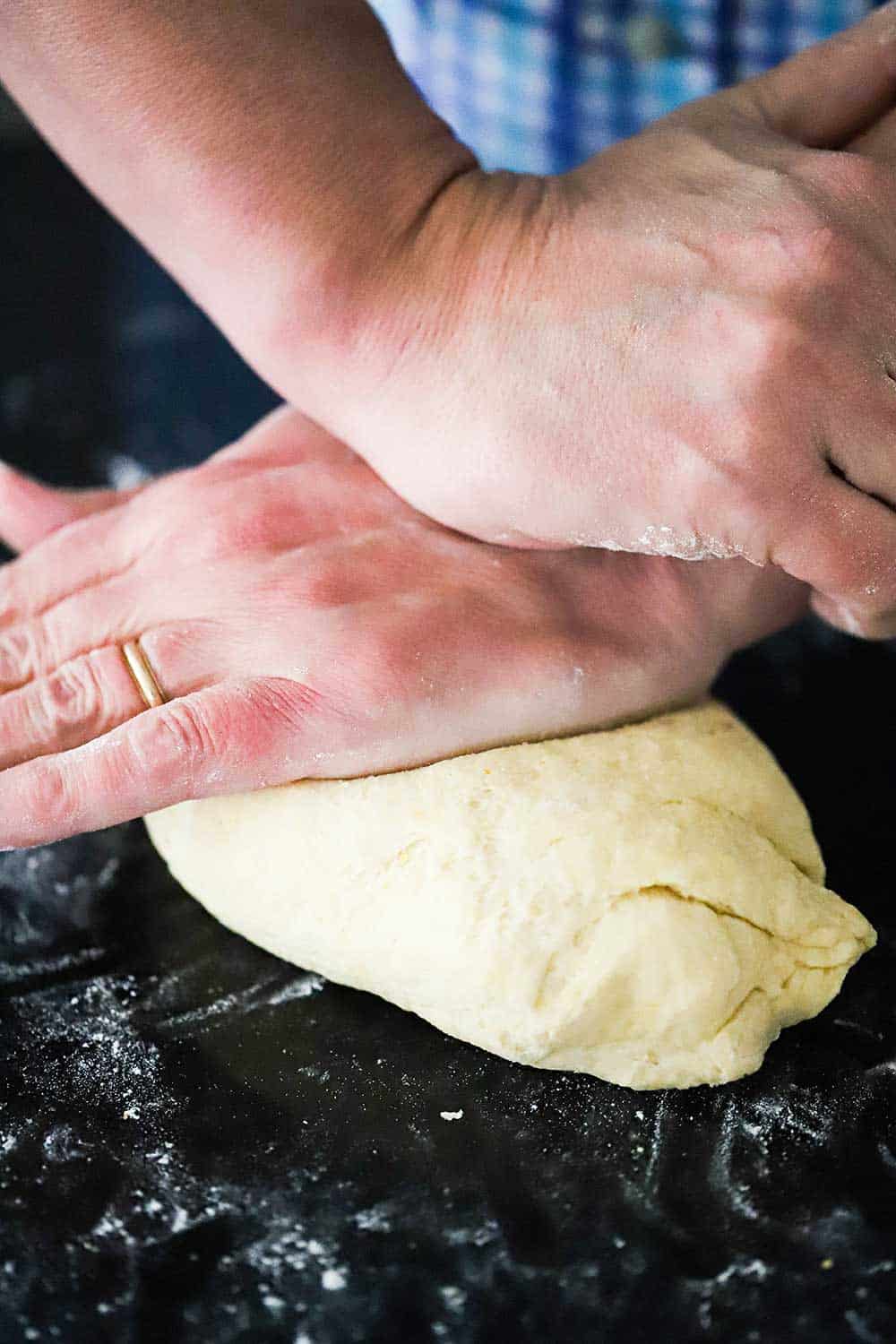 Other Techniques for Making Easy Pizza Dough
Stand Mixer Pizza Dough: In the bowl of your stand mixer, add the warm water, yeast, and sugar and let rest for 5 minutes. Add the paddle attachment, and mix in the oil, flour, cornmeal, and salt until well incorporated. Switch to the dough attachment and mix on medium for about 5 to 6 minutes.
Bread Machine Pizza Dough: In this order, add the water (no need to heat), oil, flour, cornmeal, sugar, salt, and yeast. Press the DOUGH setting and then START. The dough will proof and rise in the machine, so once it's done, you're ready to make pizza.
EXPERT TIP: If hand-kneading or mixer-kneading, you'll now need the dough to rise. Use your hands to form the kneaded dough into a smooth ball and place it in a large oiled bowl. Turn to coat, cover with plastic wrap, and then place in a non-drafty, warm (but not too warm!) area for 60 to 90 minutes, or until doubled in size. Check your stove, many have a Proof Setting that creates the perfect environment for allowing the dough to rise.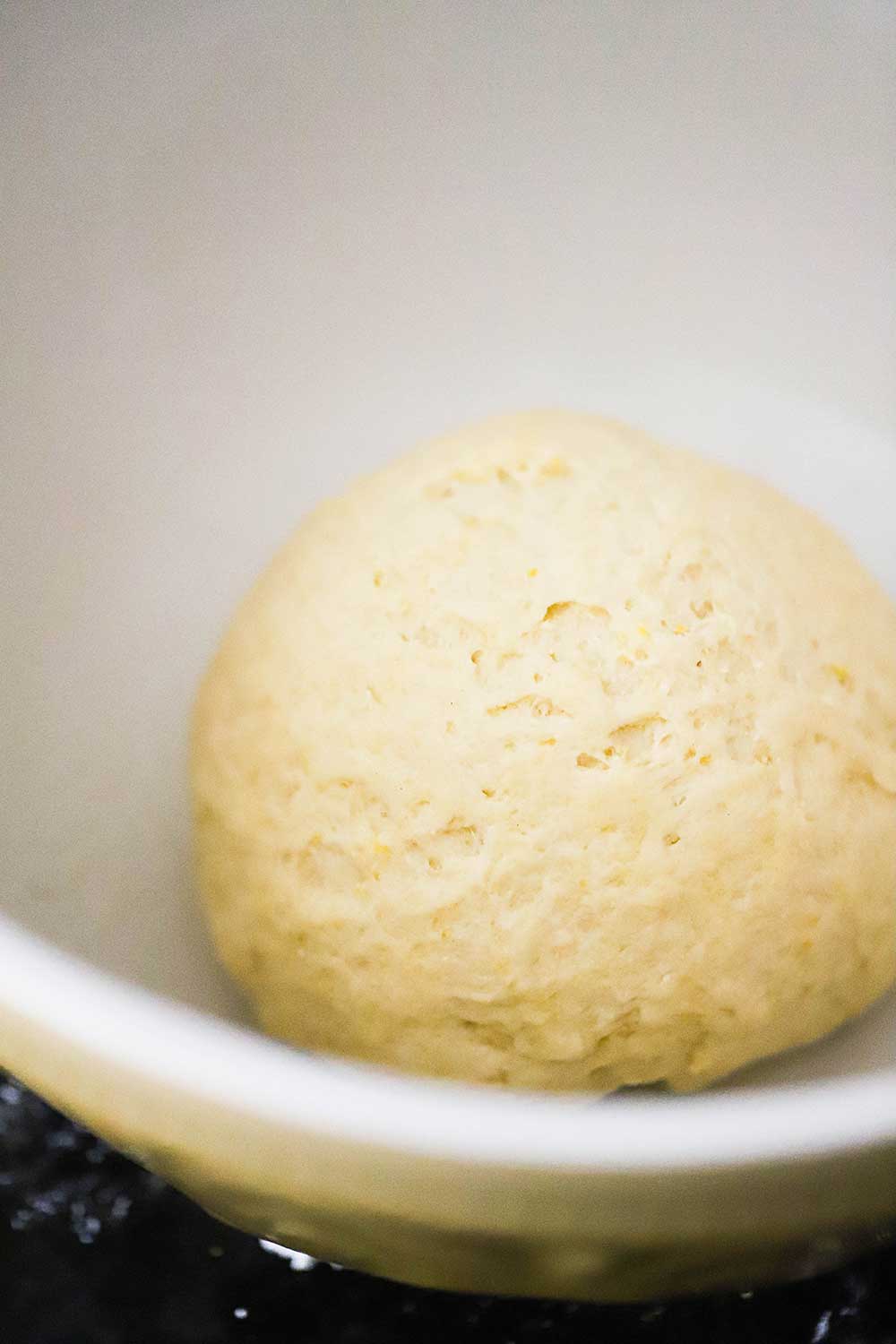 Once the dough has roughly doubled in size, you are ready to make pizza!
You may be asking: Can you freeze pizza dough? The answer is: Yes! Just let the dough thaw completely and then use according to your pizza recipe! We don't recommend freezing the dough for more than 2 months, however.
This dough is easy to prepare and honestly makes the most flavorful, chewy, delicious pizza crust.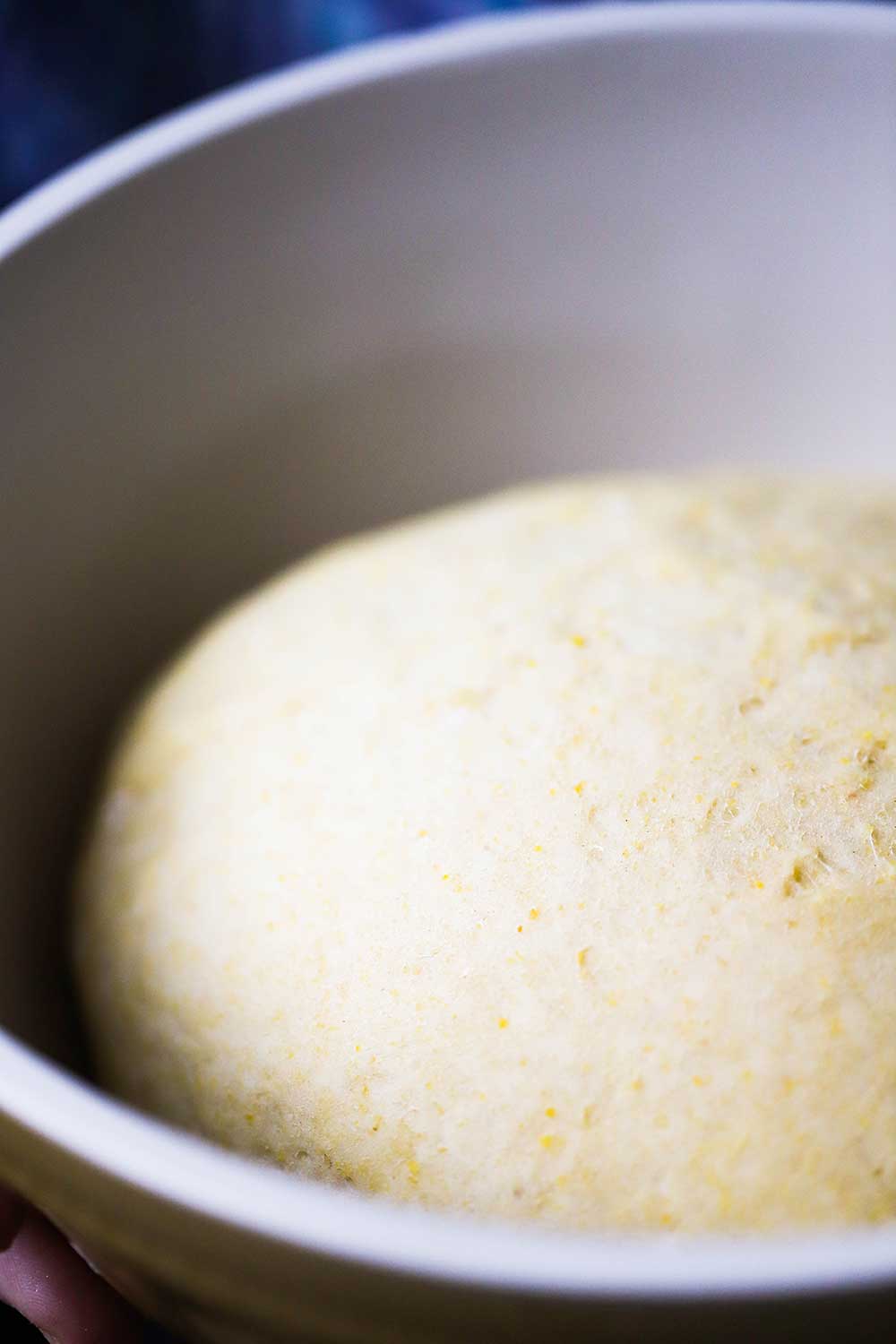 Ready to make the best pizza dough recipe in town? Go for it!
And when you do, be sure to take a photo, post it on Instagram, and tag @HowToFeedaLoon and hashtag #HowToFeedaLoon!
Easy Pizza Dough
Easy Pizza Dough is just that: easy. But it also is super flavorful, and makes the perfect crust for most of your favorite pizza toppings. All you need are a couple of hours, and you'll have a pizza crust that will rival your favorite pizza joint!
Print
Pin
Rate
Servings: 8
Calories: 198kcal
Ingredients
¾ cup water warmed, 105° to 110°F
1 tsp active dry yeast or rapid rise
½ tsp sugar
¼ cup extra-virgin olive oil
2 cups all-purpose flour plus more for dusting and adding to dough
¼ cup cornmeal ground, not coarse
½ tsp Kosher salt
Instructions
Pour the warm water into a large bowl. Add the yeast and sugar. Allow to rest for 5 minutes, or until slightly foamy.

Add the oil, flour, cornmeal, and salt. Use a wooden spoon to gently mix together until a slightly flakey dough forms. Use your hands to form a dough ball.

On a lightly floured surface, add the dough ball. Use the palm of your hands to knead the dough until smooth and elastic, about 6 minutes. You may need need to add a bit more flour as you are kneading if the dough feels slightly wet, sticky, or tacky. Form the dough into a ball, using your fingers to smooth the ball by gently pressing the sides downwards and under.

Use cooking spray or vegetable oil to grease the inside of a large bowl. Place the dough in the bowl and turn to lightly cover with the oil. Cover with plastic wrap and place in a non-drafty, warm (but not hot!) area for 60 to 90 minutes, or until the dough has doubled in size.

Remove the dough from the bowl and either cover with plastic wrap and place it in the fridge until ready to use, or use it immediately.
Notes
You'll want the water to be warm. Don't use boiling water or even really hot water. Usually, hot water from your kitchen faucet will work. You can also place the water in a microwave-safe measuring cup and nuke for 15-second intervals until you reach a temperature in the range of 105°F to 110°F. An instant-read thermometer makes this easier but isn't 100% necessary. The main thing: Don't let the water be too hot or it will kill the yeast. You can go with active dry yeast or instant (or rapid rise) yeast. Both will give you the same results. The only difference is the rapid rise will allow the dough to rise more quickly. Be sure to use fine or medium-fine cornmeal. Don't use coarse cornmeal. The finished dough freezes beautifully wrapped in plastic wrap or in a freezer baggie for up to 2 months. Let thaw completely before using.
Nutrition
Calories: 198kcal | Carbohydrates: 28g | Protein: 4g | Fat: 7g | Saturated Fat: 1g | Sodium: 148mg | Potassium: 64mg | Fiber: 2g | Sugar: 1g | Vitamin C: 1mg | Calcium: 6mg | Iron: 2mg