This deep-dish pizza is so easy to prepare and the flavor profile is off-the-charts good!
Using your cast-iron skillet makes preparing this dish a snap. You can make the Easy Pizza Dough ahead of time and even the various filling ingredients, too. Plus, this recipe is very easily adaptable to your tastes. And it's so much fun to prepare and serve!
How To Make Deep-Dish Pizza with Sausage and Spinach
Okay, folks, we need to be upfront here. We are crazy for Chicago-Style Deep Dish Pizza, and our recipe is truly a knock-out (at least we think so!).
This particular deep-dish is not in the Chicago-style, but it's still deep, and it's so easy, and it perfect for quick weeknight dinner, or to serve for the big game or at a party.
Before you make the filling for this amazing pizza, we strongly recommend you prepare the Easy Pizza Dough. It really does make a BIG difference in the final taste and texture of the pizza, and as the title suggests, it truly is easy to make. Just give yourself a couple of hours (mostly for allowing the dough to rise).
Now, let's get started with the incredible filling.
The beauty of this pizza is everything can be prepared in your cast-iron skillet. We recommend a 10-inch skillet, but a 12-inch would work, too, you'll just need to roll the dough out a little wider (see NOTES for more detail on this).
EXPERT TIP: After sautéing the onion and garlic in a little oil, you'll need to add the sausage. Sometimes we use Sweet Italian Sausage, sometimes Hot, or sometimes a combination of both! You'll need just over a pound of sausage, which is typically 5 links. Use a knife to cut away the casings and crumble the meat into the skillet. After the meat has cooked, use a large spoon to remove any rendered grease from the pan. The grease will make the dough soggy if you don't remove it.
Next, we add 10 oz. of chopped frozen spinach that has been thawed and squeezed to remove excess water, 1 cup of sun-dried tomatoes in oil that has been drained, plus some red pepper flakes, red wine vinegar, and salt.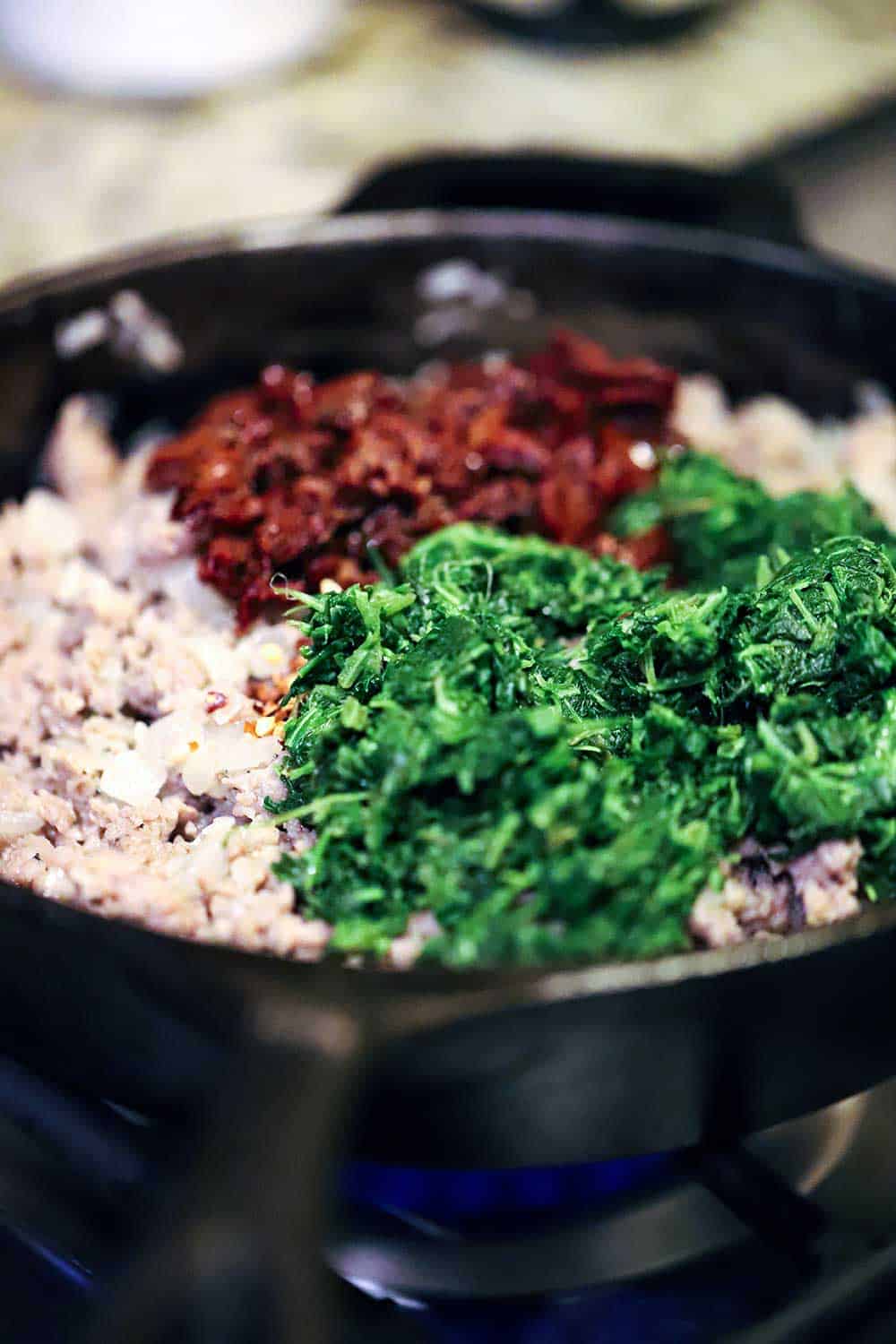 A Deeply Flavorful Filling
Once you have mixed the spinach, tomatoes, vinegar, and seasonings into the cooked sausage, you'll want to cook it for a couple of minutes.
Next, remove from heat and stir in ½-cup of smoked cheddar.
EXPERT TIP: Smoked cheddar does not have as strong of a smokey taste as smoked gouda or smoked mozzarella and is a wonderful match against the sausage and spinach. Stirring just ½ a cup into the filling acts as a binder. Smoked cheddar can be found in the gourmet cheese section of most well-stocked supermarkets. If you can't find smoked cheddar, go with a good-quality sharp cheddar, or just substitute 100% with quality mozzarella. We'll use more of the smoked cheddar (along with mozzarella) for the topping.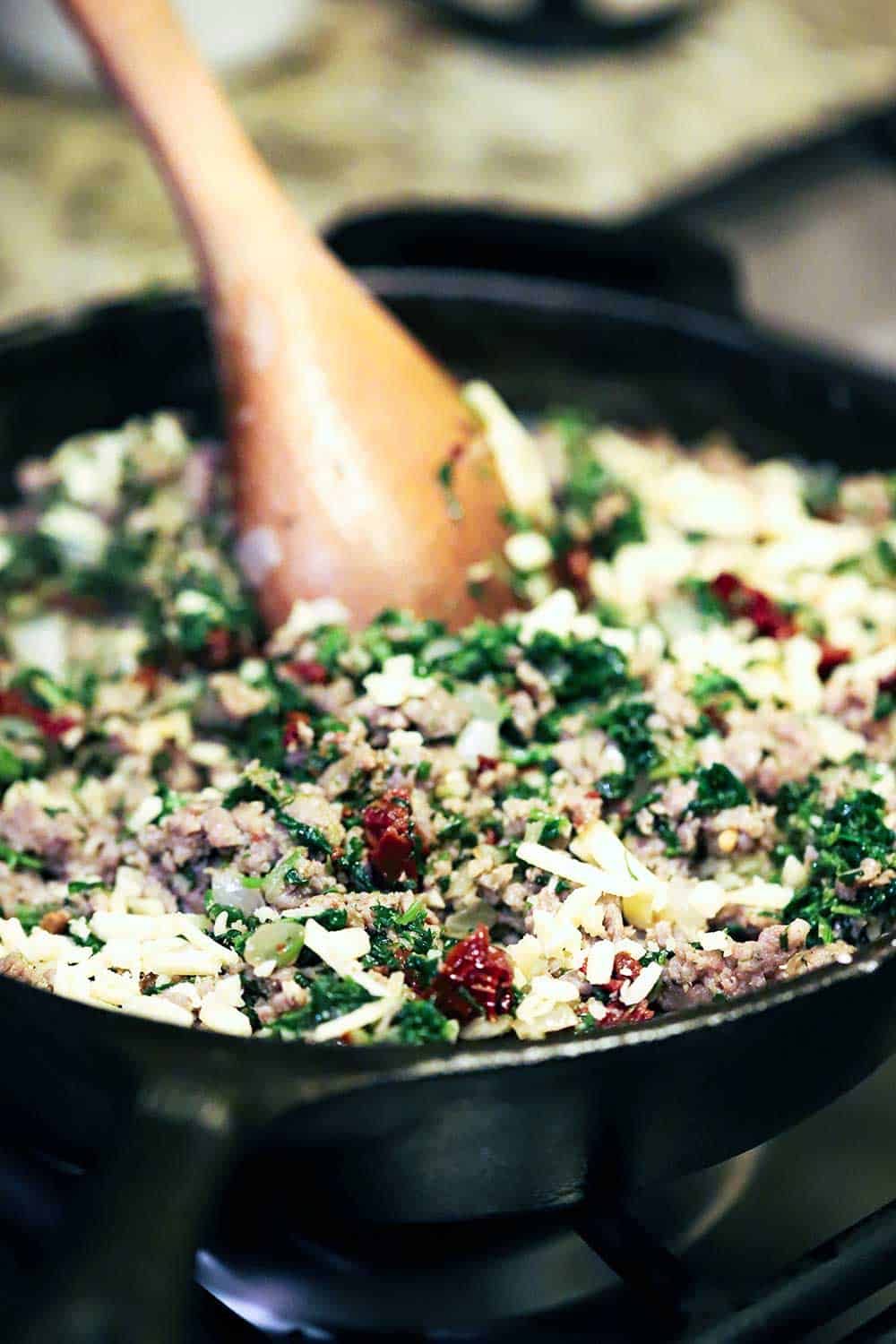 Placing the Pizza Dough in the Skillet
Now, things are really getting fun folks. It's time to bring in the Easy Pizza Dough! Carefully transfer the filling from the skillet into a large bowl and use a paper towel to wipe the inside of the skillet clean. Add a couple of teaspoons of olive oil along with a couple of teaspoons of cornmeal to the bottom of the pan. This will make removing the cooked pizza from the pan a snap!
If using a 10-inch skillet, you'll want to roll the dough out to about a 12 to 13-inch diameter. If using a 12-inch skillet, the dough should be about 14 to 15 inches wide.
EXPERT TIP: To make transferring the dough from your counter to the skillet easier, simply fold the dough in half to form a semi-circle. Then fold it over one more time to make it a quarter circle. This allows you to easily pick the dough up and place it in the skillet and then gently unfold it.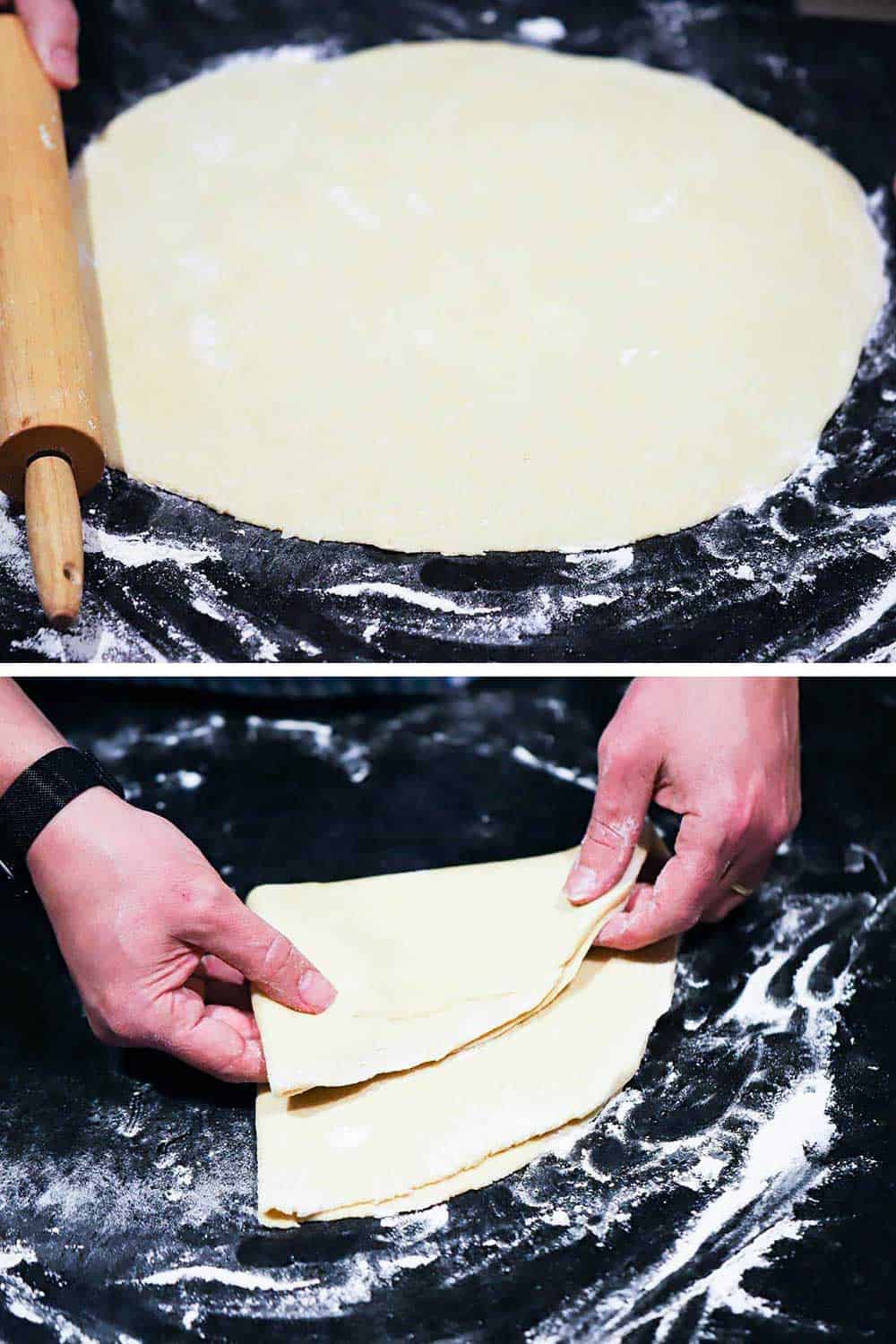 Once the dough is in place, all you have to do is press the sides and bottoms into the inside of the skillet.
If there is any excess dough that is hanging over the sides of the pan, just use a knife or scissors to cut it away.
Once the dough is in place, carefully transfer the filling over the top and spread it out.
We love using a combination of mozzarella cheese and more of the smoked cheddar for the topping.
If desired, sprinkle some dried herbs such as oregano or basil over the top of the cheese before baking.
When To Serve Deep-Dish Pizza with Sausage and Spinach
We can honestly say this pizza is always a huge hit every time we serve it to friends and family.
It's great for entertaining, but we love whipping one up for a quiet weeknight meal, too! Besides, who doesn't love leftover pizza the next day for breakfast?
Just look how beautiful the presentation is for this epic (but easy) pizza!
This pizza is really open for adaptation to your favorite filling ingredients.
We've done this pizza but substituted seasoned ground beef for the sausage and used a combination of mild cheddar and mozzarella for the cheese, and substituted sautéd mushrooms for the spinach. Amazing!
EXPERT TIP: This recipe has about an equal ratio of sausage to spinach. If you prefer not as much spinach, simply use half of the package and save the leftover for another use. Be sure to allow the pizza to rest for about 10 minutes before slicing into it. This allows the juices to settle and makes slicing easier.
We love all kinds of pizza, and this is honestly one of our all-time favorites.
It's a little different but in such a wonderfully addictive way.
Trust us…with just one bite, you'll be wanting to make this deep-dish pizza over and over again!
Ready to make the best (and easiest) deep-dish pizza in town? Go for it!
And when you do, be sure to take a picture, post it on Instagram, and tag @howtofeedaloon and hashtag #howtofeedaloon!
Deep-Dish Pizza with Sausage and Spinach
Deep-Dish Pizza with Sausage and Spinach is amazing in so many ways. The flavors here are bold and go together perfectly. We just love smoked cheddar, and it adds such a depth here that is really unique, but in such a good way! And the Easy Pizza Dough puts it over the top!
Print
Pin
Rate
Servings: 8 people
Calories: 369kcal
Equipment
Cast-iron skillet, 10 or 12 inches in diamter
Ingredients
pizza dough enough for a 12-inch pizza
4 tsp olive oil divided
1 cup onion chopped
1 tbsp garlic minced
1 lb Italian sausage hot or sweet, casings removed
10 oz spinach chopped, frozen, thawed and liquid squeezed out
½ cup sun-dried tomatoes in oil drained and chopped
2 tsp red wine vinegar
½ tsp crushed red pepper or more, to taste
½ tsp Kosher salt
1½ cups Cheddar cheese smoked, shredded, divided
2 tsp yellow corneal
1 cup mozzarella cheese shredded
Instructions
Preheat oven to 450°F.

In a large cast-iron skillet, heat 2 teaspoons olive oil over medium-high heat.

Add the onion and sauté until soft, about 4 to 5 minutes. Add the garlic and cook for another 30 seconds.

Add the sausage and cook until browned and crumbly, approximately 7 to 8 minutes. Turn off the heat and tilt the skillet and spoon out most of the rendered grease.

Turn the heat back to medium, and stir in the spinach, sun-dried tomatoes, vinegar, red pepper flakes, and salt. Cook for 2 minutes, stirring to fully mix.

Remove from heat and then stir in ½ cup of the smoked cheddar. Transfer filling to a bowl and then wipe out the cast-iron skillet with a paper towel.

Brush bottom of the cast iron skillet with 2 teaspoons of olive oil and sprinkle with cornmeal.

On a lightly floured counter, roll the dough into a 12 to 13-inch circle (if using a 10-inch skillet. (Roll out to 13 - 15 inches if using a 12-inch skillet).

Fold the dough in half, and then fold over again to create a quarter circle. Transfer to the skillet and gently unfold, pressing the dough to the bottom and sides of the skillet.

Add sausage mixture over the dough and then sprinkle over the top the remaining 1 cup of cheddar and the mozzarella.

Bake until golden brown, approximately 17 minutes. Tent with foil after about 12 minutes if browning too much on top.

Let stand for 10 minutes before slicing and serving.
Notes
We strongly recommend making the easy pizza dough if you have the time. If not, check with your local pizza joint, or Italian restaurant, they often will sell made-from-scratch pizza dough to you. Fresh dough from the supermarket is fine, too. We don't recommend packaged (canned) pizza dough. If using a 10-inch skillet, you'll want to roll the dough out to about a 12 to 13-inch diameter. If using a 12-inch skillet, the dough should be about 14 to 15 inches wide. The ratio of sausage to spinach for this recipe is about 50/50. If you prefer less spinach, just go with half the package and save the rest for another use. If you prefer less sausage, then just go with the meat from 2 to 3 links. Be sure to squeeze excess liquid from the thawed spinach! If using fresh spinach, remove the stems from a couple of bunches and then blanch in boiling water until wilted, about 4 to 5 minutes. Drain and then chop. The pizza is wonderful the next day (and the following). Simply reheat in an oven preheat to 350°F for about 15 to 20 minutes, or until heated through.
Nutrition
Calories: 369kcal | Carbohydrates: 6g | Protein: 18g | Fat: 26g | Saturated Fat: 9g | Cholesterol: 76mg | Sodium: 823mg | Potassium: 481mg | Fiber: 1g | Sugar: 1g | Vitamin A: 3726IU | Vitamin C: 18mg | Calcium: 278mg | Iron: 2mg
POST UPDATE: This recipe was originally published in November 2016, but was updated with improved tweaks to the recipe, new tips and photography, and a fabulous new video in February 2021!