When strawberries are in peak season, this salad is one of the best there is. Even when they're not in season, it's still fantastic.
Creamy avocado, crunchy pecans, tangy feta cheese, and a silky slightly sweet, slightly tangy vinaigrette dressing brings this amazing salad together perfectly. It's ideal for summer picnics and BBQs. Prepping everything ahead of time makes assembly a snap!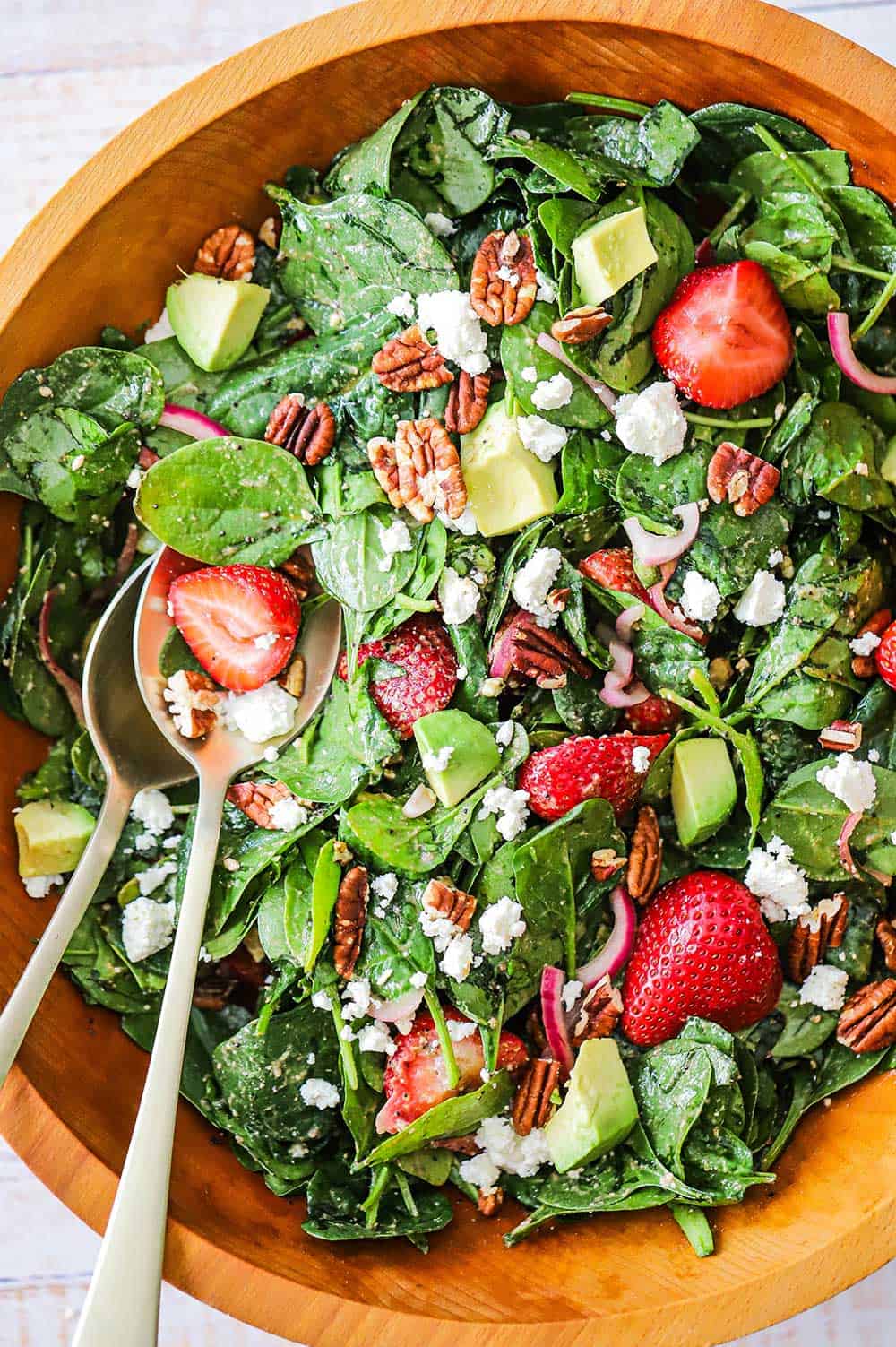 How To Make Strawberry and Spinach Salad with Avocado
This really is one of the simplest salads there is to bring together, but the taste and texture is everything you want in a Spring/Summer salad.
It's the perfect side to our Marinated Grilled Chicken served with a Classic Pasta Salad, and finished off with Old-Fashioned Peach Cobbler.
NOTE: If you like this video, please subscribe to our YouTube channel. Remember to click the little 'bell' icon so you'll never miss a new video. Thank you!
The Ingredients You Will Need
Fresh Strawberries – You'll want to go with fresh here. Look for strawberries that a bright red and firm, but not hard to the touch. Cut off the stems and slice them in half.
Baby Spinach – We recommend using baby spinach. Fresh spinach will work, too, but make sure you clean it thoroughly and chop away the tough stems.
Avocados – When selecting avocados, make sure they are not too soft to the touch. The color should not be bright green, but not dark brown. After peeling the skin away, remove the pit and cut it into cubes or slices. Toss with lime juice or lemon juice to prevent browning.
Onions – If you don't like onions, we have a trick for you. Cut a small red onion into thin strips, and then soak them in any type of vinegar. It pickles the onions and mellows the flavor.
Nuts – We love using pecans, but walnuts, almonds, and cashews are all great choices. Be sure to toast them for maximum flavor.
Cheese – Go with something creamy and crumbly. Block cheese is best that you crumble with your own fingers. Our favorite cheese for this salad is feta, but goat, blue cheese, gorgonzola, and cotija are all wonderful choices, too.
Basil – Fresh is best. You'll need about 1/4 cup. Cut into thin slices. It really brings it all together.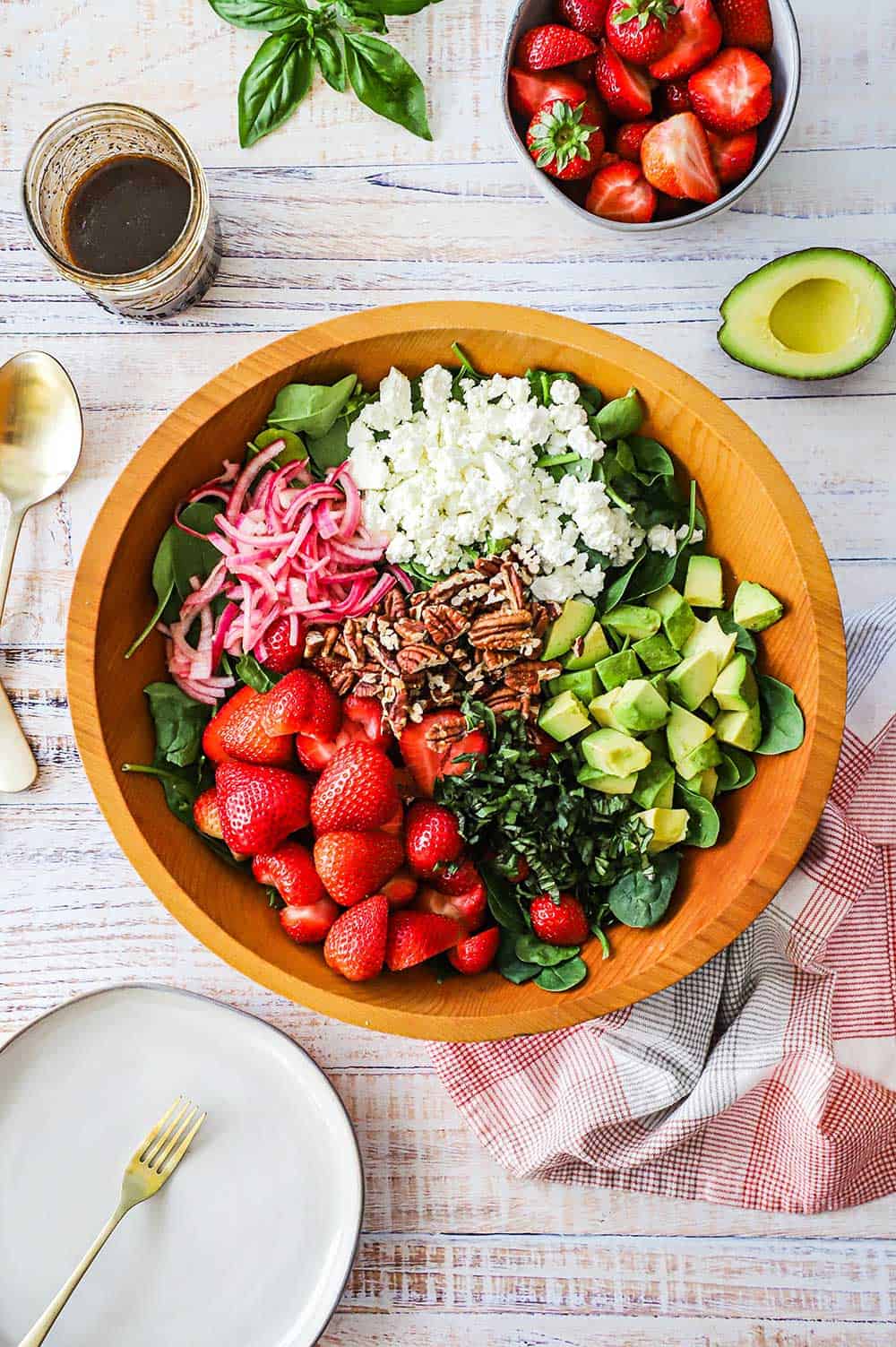 What You'll Need To Make the Poppyseed Balsamic Vinaigrette
This dressing is the perfect accompaniment to the salad components. The dressing can be made up to 2 days in advance.
Here's what you'll need:
Balsamic vinegar
Sugar
Poppy seeds
Ground mustard
Salt and pepper
Extra-virgin olive oil.
EXPERT TIP: We use a jar to emulsify all the ingredients. Place them in a jar with a tight-filling lid and shake vigorously until fully combined. Pour over the salad just before serving. If you don't have a jar with a lid, then pour the EVOO into the other ingredients in a small bowl and whisk continuously.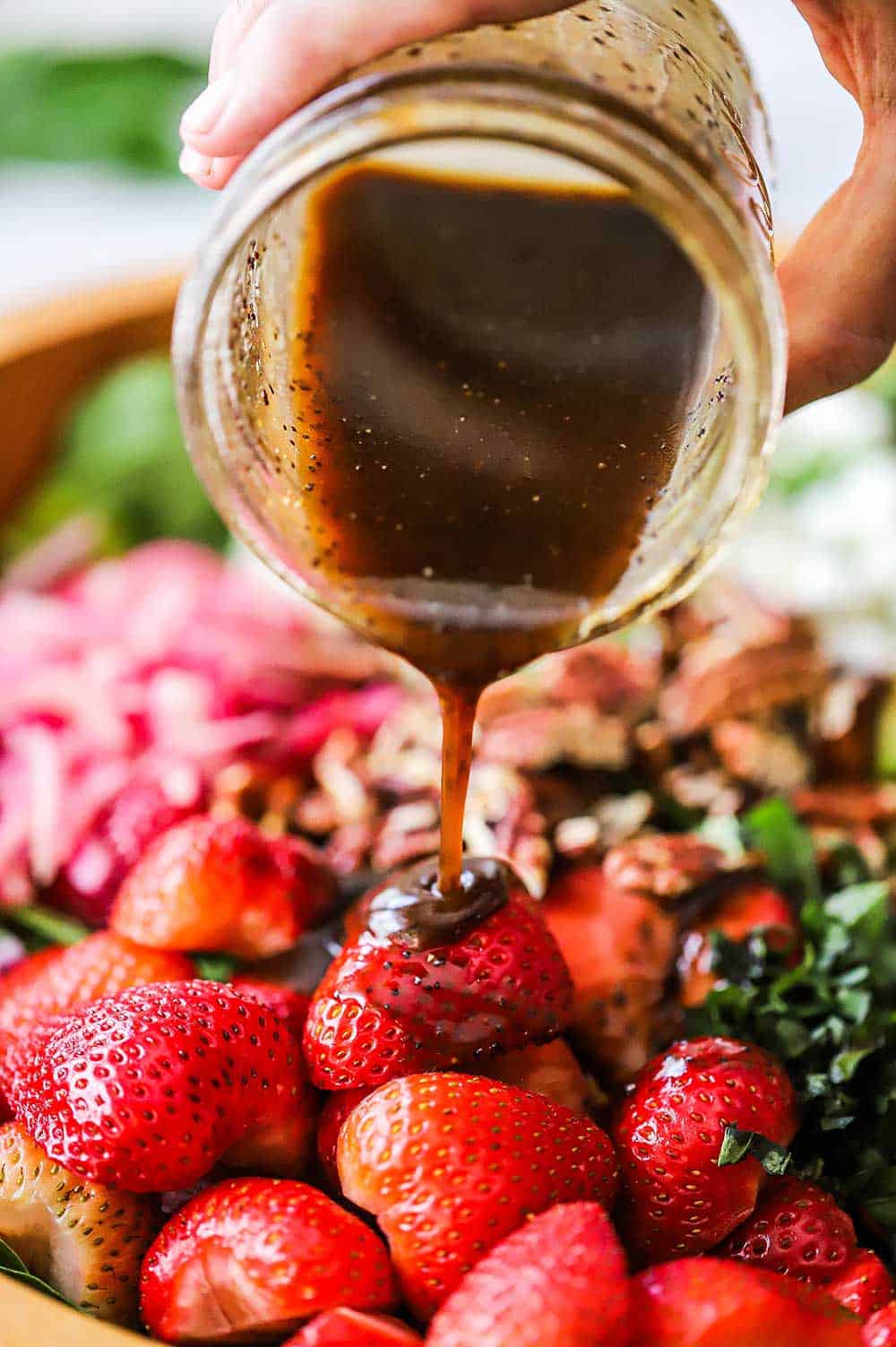 How To Serve and Store
Spinach really is the perfect basis for a wonderful salad. It has a peppery taste and is the perfect match for sweet strawberries and creamy avocado. And, as we all know, it has high health benefits. Pick up a bag of pre-washed spinach, and you're good to go.
We love to serve this family-style with all of the ingredients spread around in groups over the spinach.
Just before serving, add the vinaigrette, and then toss the salad at the table.
EXPERT TIP: This salad is spectacular when served fresh. However, as with many leafy salads, the texture will become soggy as it sits for too long. But don't worry, there is usually very little (if any) salad left once guests begin to leave.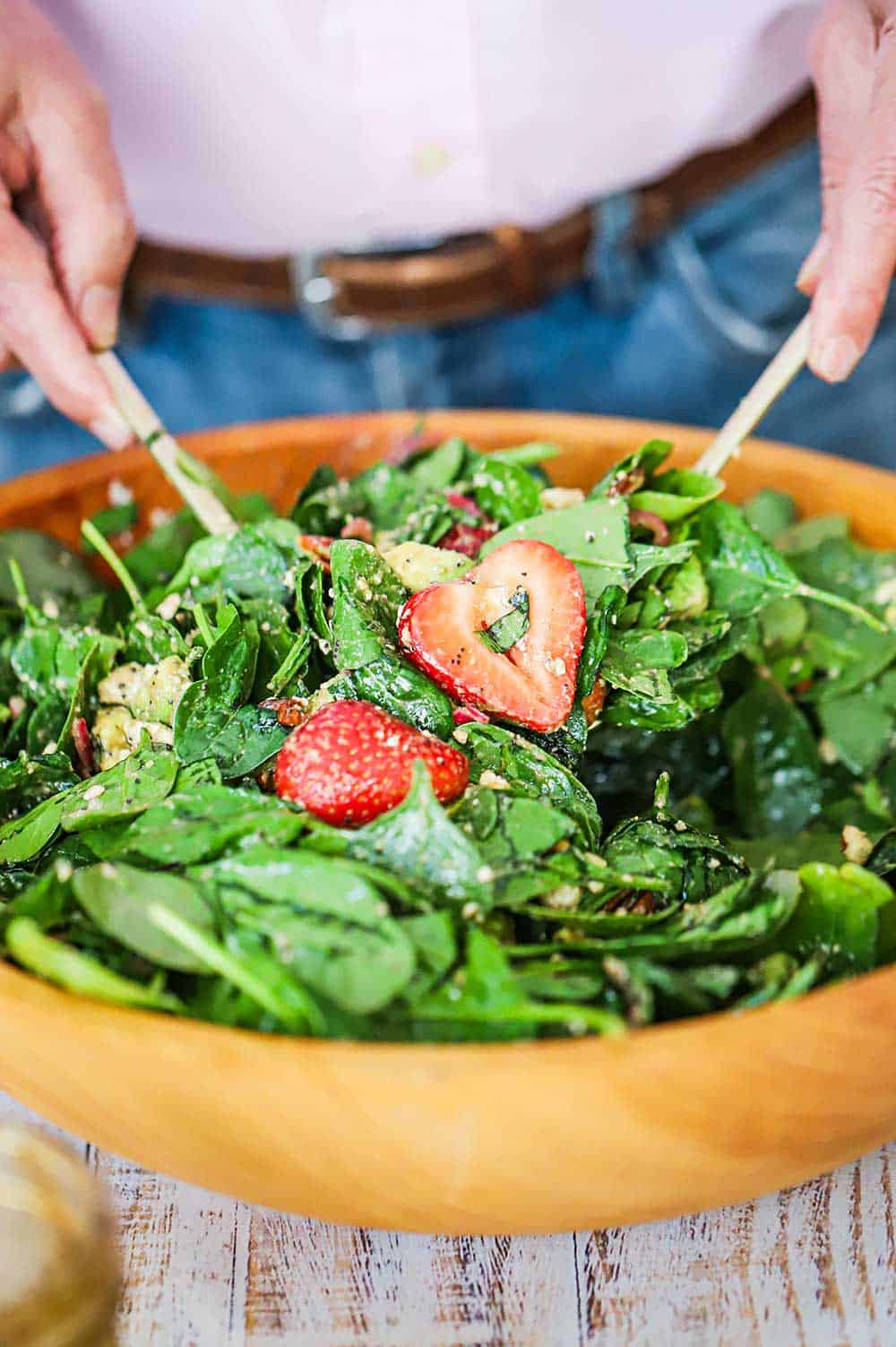 Other Amazing Salads To Make
Here are some other wonderful summertime salads to serve.
Chinese Chicken Salad with Mandarin
Spinach Salad with Warm Bacon Vinaigrette
Classic Caprese Salad
Best-Ever Lobster Salad
Green Bean and Cherry Salad with Scallion Vinaigrette
Roasted Beet with Burrata Salad
But in the meantime, you are going to love everything about this amazing Strawberry and Spinach Salad with Avocado!
Ready to make the most refreshing and delicious salad in town? Go for it!
And when you do, be sure to take a photo of it, post it on Instagram, and tag @HowToFeedaLoon and hashtag #HowToFeedaLoon!
Fresh Strawberry and Spinach Salad
Fresh Strawberry and Spinach Salad with Avocado is truly the perfect salad, especially when strawberries are in peak season. You can easily prep everything in advance and assemble and dress the salad just before serving.
Print
Pin
Rate
Servings: 6
Calories: 312kcal
Equipment
1 Large salad bowl

1 jar with tight-fitting lid
Ingredients
For the Poppyseed Balsamic Vinaigrette
¼ cup balsamic vinegar
2 tbsp sugar
2 tsp poppyseeds
1 tsp ground mustard
½ tsp salt
¼ tsp black pepper
½ cup extra-virgin olive oil
For the Salad
½ cup red onion cut into thin strips
½ cup apple cider vinegar
10 oz baby spinach washed
1 quart strawberries fresh, stemmed and halved
1 avocado peeled, pitted, and cubed
½ cup pecans roughly chopped and toasted
¼ cup basil fresh, cut into thin strips
¾ cup feta block
Instructions
Make the Poppyseed Balsamic Vinaigrette
Place all of the vinaigrette ingredients into a jar. Tightly affix the lid to the jar and shake vigorously for about 1 minute, until the liquids are completely emulsified. Or, mix together all ingredients, except the EVOO in a small bowl. Briskly whisk in the EVOO in a small stream until completely combined and emulsified. Set aside.
Assemble the Salad
Place the onions in a small bowl and cover with the apple cider vinegar. It's best to allow the onions to rest in the vinegar for at least 20 minutes.

Place the spinach in a large salad bowl. Arrange the other salad ingredients on top of the spinach, including crumbling the cheese with your hands. Drain the onions and place them along with the other ingredients. Leave some of the feta and pecans to the side for topping the tossed salad.

Pour the vinaigrette over the top of the salad. Use two salad tongs (or utensils) to fully toss the salad. Add the dressing in increments until you reached the desired coating. Don't overdress! Top with extra toasted pecans and crumbled feta. Serve at once.
Notes
See the video near the top of the blog post for visual guidance. If you like the video, please subscribe to our YouTube channel.
If using fresh spinach (in place of baby spinach), be sure to thoroughly wash it and cut the stems away. You may want to roughly chop the spinach, too.
Nut substitutes: Almonds, walnuts, cashews, peanuts. Toasting them ahead of time enhances their flavor significantly. But keep an eye on them, don't let them burn!
Cheese substitutes: Goat, blue, cotija. We recommend getting a block of cheese and then using your hands to crumble the cheese into the salad. It's creamier than pre-crumbled cheese.
This salad is best served freshly tossed. The salad will become soggy after several hours, so leftovers (which don't exist) aren't ideal for holding on to.
Nutrition
Calories: 312kcal | Carbohydrates: 26g | Protein: 7g | Fat: 16g | Saturated Fat: 4g | Polyunsaturated Fat: 3g | Monounsaturated Fat: 8g | Cholesterol: 17mg | Sodium: 454mg | Potassium: 773mg | Fiber: 8g | Sugar: 15g | Vitamin A: 4636IU | Vitamin C: 111mg | Calcium: 199mg | Iron: 3mg